Tether's USDT and Frax Finance's FRAX are both stablecoins, so they should always be worth 1 USD. But these stablecoins use very different methods to ensure their price stability.
In this Tether vs FRAX review, we'll discuss the risks and benefits associated with each coin and explain how they compare.
The History of Tether (USDT) and Frax Finance (FRAX)
USDT is the world's first stablecoin. It has been issued by Tether Holdings Ltd. since 2014 and dominates the market due to its huge market cap. 
USDT allowed Tether and Bitfinex, Tether's sister cryptocurrency exchange, to connect traditional money markets and financial institutions with the crypto ecosystem. 
Experts suspect USDT was used to increase BTC prices, so much so that the famous asset made several astronomic price jumps between 2017-2018. In fact, the experts think it might still be happening in 2023.
Tether and Bitfinex paid 60 million in fines to the CFTC and New York State after an investigation revealed that Tether had loaned its reserves to Bitfinex to protect the company from bankruptcy, leaving Tether wildly unbacked.
Frax is the first fractional algorithmic stablecoin and was launched by Sam Kazemian, Travis Moore, and Jason Huan in late 2020 on the Ethereum mainnet. Frax is known for its fractional-reserve system (backed partially by the algorithm and partly by reserves).
While Frax became the fifth-largest stablecoin soon after its launch, it couldn't protect its popularity against better-known projects like Pax Dollar, Gemini Dollar, and Dai and quickly fell behind in market share. Terra UST's, another algorithmic coin's crash, may have had a negative impact on the asset.
Frax launched its own liquid staking pool in October 2022, and Frax increased its market share in the first weeks of January 2023 with FXS (the governance token necessary to mint FRAX, tripling its value). 
Frax operates a decentralized exchange and AMM protocol called FraxSwap and its own lending platform Fraxlend.
You can learn more about Frax and Bitfinex in our detailed reviews.
How Do Tether and FRAX Work?
Stablecoins are supposed to be price stable, but there are different opinions on how to make that happen. Tether, the oldest stablecoin issuer, had a pretty straightforward idea when they started: just put a dollar in the bank for each USDT minted. 
USD would be used to collateralize USDT so that people and institutions could comfortably invest and make trades in the crypto sphere with USD. All USDT could be redeemed at a moment's notice if necessary. 
Of course, in reality, things didn't work out as neatly as that. Tether now claims USDT can be backed by various assets other than the US dollar, like cash equivalents, commercial paper, bonds, and other investments.
 FRAX, on the other hand, maintains price stability very differently. It uses a combination of crypto reserves and algorithms to ensure its price. Frax is collateralized by FXS (Frax's own governance token) and other cryptocurrencies.
Other cryptocurrencies (93% USDC) under-collectivize FRAX in reserves at varying rates. Basically, the protocol uses a variable amount of USDC and FXS to mint FRAX. The gap between the reserves and the amount of Frax in circulation is carefully maintained by minting algorithms.
This is known as under-collateralizing, which can be risky if crypto prices fall. However, external stablecoin reserves at least partially guarantee FRAX's price stability. 
What Are the Main Use Cases of USDT and FRAX?
These days it's easy to take stablecoins for granted because we are so used to being able to trade with them. But USDT was a game changer in many ways because suddenly, you could enter and exit the crypto game at a guaranteed price.
USDT's prime use cases include easier transactions. While you can't purchase most crypto with fiat currencies, there are USDT markets for almost all cryptocurrencies out there.
Since USDT has a large market share and its price stability is guaranteed by external reserves, many merchants can accept crypto payments denominated in USDT.
Arguably, the largest use-case for stablecoins remains institutional and skews towards DeFi experiments and derivative earn products. You can stake USDT to earn interest on your holdings.
FRAX has a much smaller market capitalization compared to USDT and other stablecoins like BUSD or USDC. However, Frax Protocol has a staking liquidity pool, a lending protocol, and an exchange on its own that allows people to make a profit through lending and staking their assets.
Frax launched its liquid staking system Frax Ether in October 2022. The system allows liquid staking: locking cryptocurrency in wallets for a return while keeping access to locked funds via derivative coins.
The Frax ether token is a liquid derivative of Ether. It's pegged to ETH, so when users deposit ETH into the Frax ETH Minter contract, they receive an equivalent amount of frxETH.
frxETH owners can use the tokens to earn rewards on decentralized exchanges. Frax offers 6% to 10% annualized returns for staking ETH on the platform. 
USDT vs FRAX Price History
USDT Price History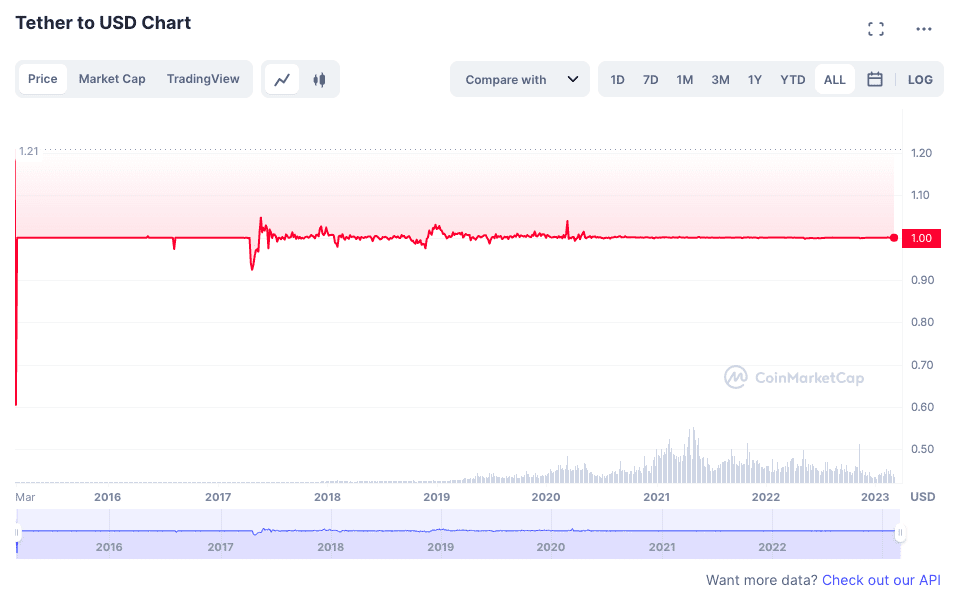 USDT protected its price stability over the years, with 1 USDT valued at $1. Slight price fluctuations occur when the market volatility triggers huge USDT buy or sell orders, but the price quickly recovers to $1, as Tether burns or mints USDT.
FRAX Price History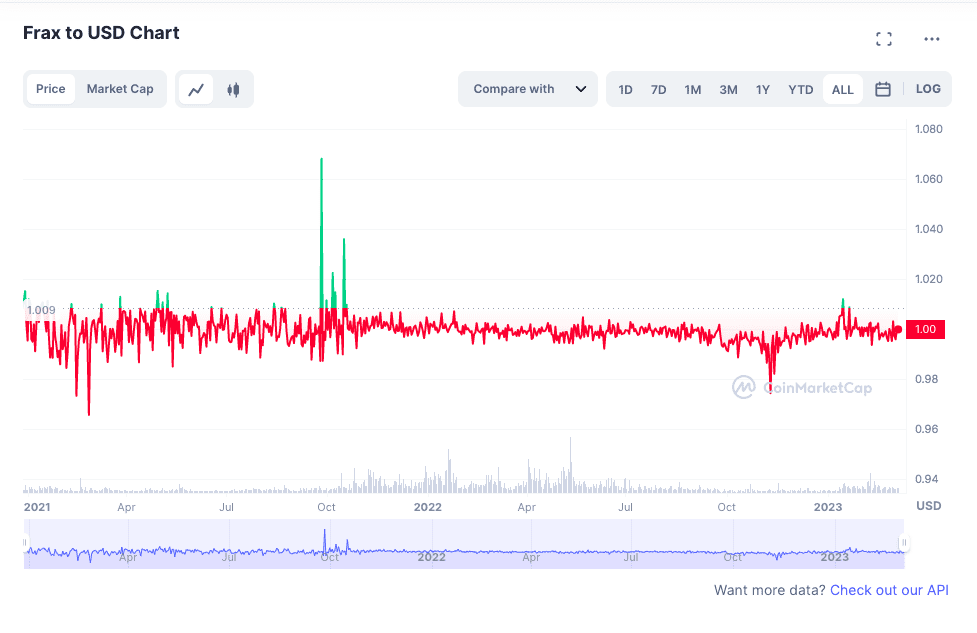 1 FRAX should always be worth $1, though price fluctuations may occur when the demand for the asset rises or falls in a short period. The price quickly recovers to its $1 fixed price. 
Tether vs FRAX Market Cap
USDT Market Cap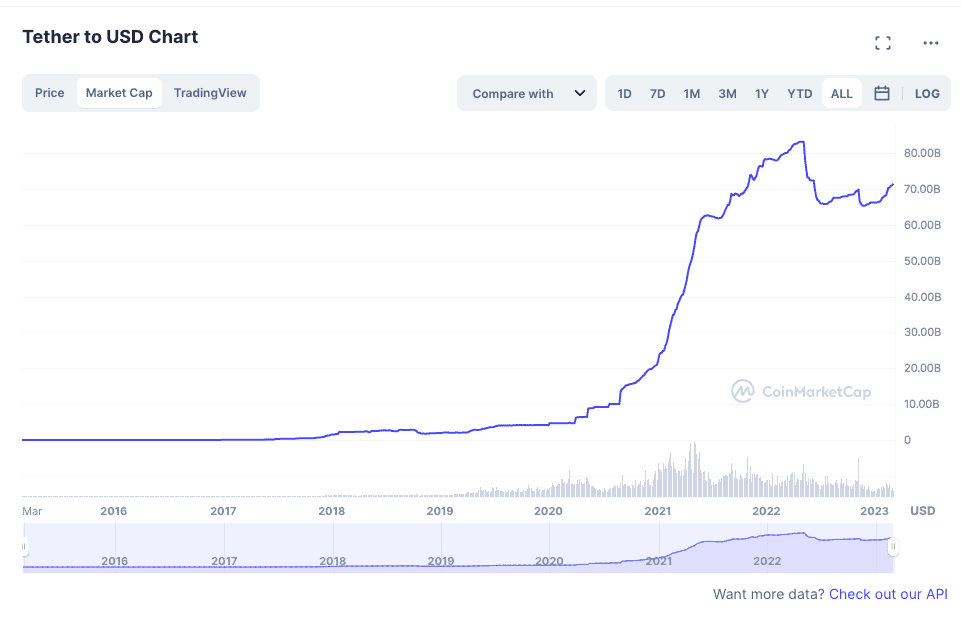 USDT is the largest stablecoin and the third-largest cryptocurrency by market capitalization after Bitcoin and Ethereum.
As of February 2023, there are over 60 billion USDT tokens in circulation. 
There is no set total supply for USDT, as Tether can issue more tokens based on the demand for the asset. When the demand increases, more tokens are created. People and institutions can sell or convert USDT to other coins, in which case the company burns the surplus tokens.
Tether promises to have reserves for every USDT in circulation to protect the asset's one-to-one peg to US Dollar. If the company issues more tokens than its reserves, the price will crash when the demand falls.
USDT is available on most major exchanges and is supported by many blockchain networks, including Ethereum, Algorand, Hedera, Tron, Solana, and more.
FRAX Market Cap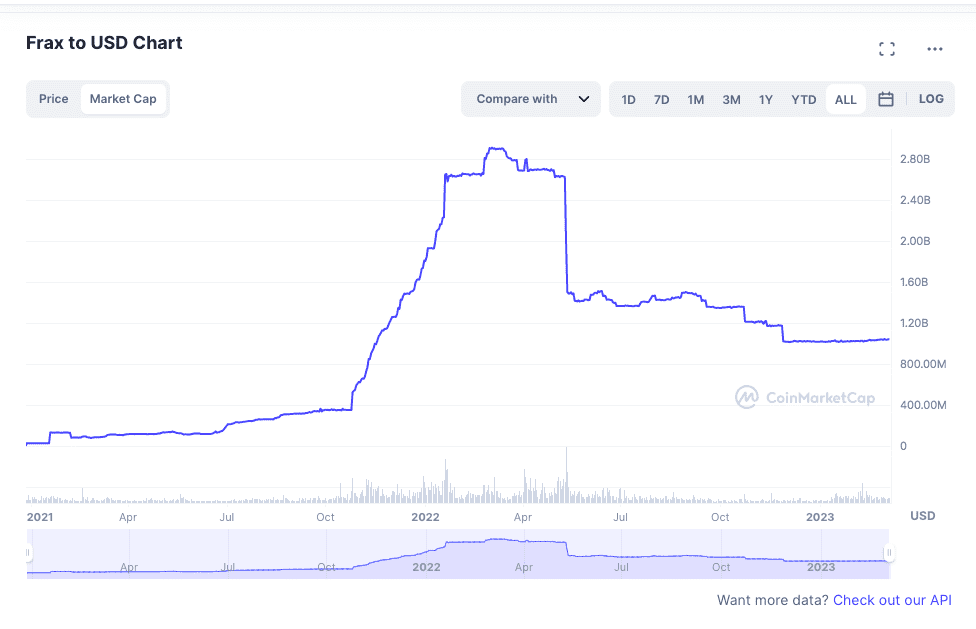 FRAX is the 207th-largest cryptocurrency and the eleventh-largest stablecoin by market capitalization. As of January 2023, there is a circulating supply of 1 billion FRAX.
FRAX doesn't have a set total supply, as the Frax Finance protocol can issue new FRAX tokens or burn existing tokens based on price stability and token demand. The process is controlled by Frax Finance protocol smart contracts and algorithms. The total supply varies depending on the market demand. 
FRAX is minted by locking USDC (and a few other stablecoins) and burning FXS, Frax Protocl's governance token, in smart contracts. For example, you need 0.50 USD worth of USDC and 0.50 USD worth of FXS to mint FRAX.
The total supply of the Frax Shares (FXS) tokens is hard-capped at 100 million. As new FRAX tokens are minted, FXS gains value thanks to excess collateral and fees. The FXS token value can increase or decrease depending on the popularity of FRAX. As the value of FXS increases, you can mint more FRAX tokens with less FXS.
At present, you can only collateralize on-chain stablecoins to mint FRAX, but there are plans to accept ETH and wrapped BTC in the future. 
FRAX runs on the Ethereum blockchain and is available on most crypto exchanges and many DeFi protocols. 
Main Similarities Between Tether and FRAX
USDT and FRAX are both stablecoins pegged to USD on a one-to-one ratio, meaning they should always be worth 1 USD. 
There are no set total supplies for either stablecoin, as more tokens can be created if the demand for these assets increases.
DeFi Staking 
Both assets are available on most crypto exchanges and DeFi protocols. You can borrow and loan USDT and FRAX to make trades or earn interest on your savings.
Frax has a staked ether product that allows users to lock ETH in exchange for a Frax ether token (frxETH), which is backed 1:1 with ether. These tokens can be traded or can be used in liquidity pools to earn interest.
Almost all exchanges offer a rewards program for locking up USDT.
Centralized Governance 
In theory, Tether and Frax Finance couldn't be more different when it comes to decentralization: 
Tether is a centralized company, and Frax Finance is designed to function like a decentralized autonomous organization.
In practice, like most other DeFi projects, Frax isn't really decentralized. DeFi is more or less a marketing term designed to attract retail investors to projects where they can maintain the illusion of control. Usually, the projects are managed by a small pool of developers and investors who have special privileges over the future of the project.
Most of these protocols will likely fail to become truly decentralized, however. The developers will likely still control them or give most of the power to big investors. 
Auditors often find that administrators can control or exploit the smart contracts that "manage" the project. That's also true for FRAX. 
In 2022, an audit revealed that FRAX administrators hold special privileges on the protocol that allow them to change the frxETHminter protocol and mint and withdraw unlimited frxETH. 
Protocol administrators can set validator addresses, and malicious validators can exploit the system.
Other high-risk issues include an accounting error that coils allow actors to steal other users' assets.
It's fair to say that Frax governance might become more decentralized in the future, but that depends on a lot of other factors.
Tether is more obviously centralized, and as a private company, it releases little information regarding USDT minting and other operations.
Main Differences Between Tether and FRAX
There are several differences between USDT and FRAX. They employ different collateralization mechanics and are vastly different in their market reach.
Pegging Mechanism
Tether and Frax protocols use very different pegging mechanisms to back their stablecoins. Tether depends on stable reserves, while Frax employs a mix of algorithmic controls and reserves.
Overall, that means USDT is backed by traditional financial assets like cash, bonds, commercial paper, and other valuables. 
FRAX, on the other hand, is backed mostly by USDC. In the future, FRAX may be backed by other assets like Ether (ETH) and Wrapped Bitcoin. 
State of Reserves
Tether's reserves have been a controversial subject. The company refuses to release audits of its reserves or relevant information regarding its assets. Over the years, suspicions regarding the state of Tether's reserves fueled many reports and a few investigations by government authorities. 
In 2021, Tether paid 60 million in fines to settle with US authorities after it came out that the company intentionally misled the public regarding its reserves.
Since FRAX is backed by crypto collaterals, the reserves are more transparent. However, FRAX has its own issues when it comes to reserves, mainly the fact that FRAX can be under-collateralized due to its algorithmic structure.
FRAX protocol uses other stablecoins to mint FRAX. The necessary collateral ratio varies depending on FRAX's moving peg.
FRAX, like most other DeFi projects, offers decentralized governance to the public. The governance protocol manages the code and the smart contracts. However, it's been pointed out that FRAX isn't decentralized as it's advertised, and administrators and the developing team can control the project.
Market Capitalization
Last but not least, USDT and FRAX have a massive difference when it comes to market cap. USDT is the biggest stablecoin and the third-largest cryptocurrency in the market. You can trade almost all cryptocurrencies with USDT, and it's commonly used in DeFi projects and pools.
FRAX is only the eleventh largest stablecoin in the market, and it doesn't even break the top 100 list among cryptocurrencies in general. 
However, FRAX is very new compared to USDT, so the difference is expected. FRAX has seen relatively little adoption compared to most other stablecoins in the market, but its Ether-based staling liquidity pool has made quite a splash in the markets in late 2022.
Risks Associated With Tether and FRAX 
Risk of Losing Their Peg
The biggest risk for all stablecoins is price volatility. If a stablecoin isn't properly backed with reserves, a strong bank run could cause it to lose its peg. 
When stablecoins lose their peg, the ensuing price crash creates a snowball effect that affects almost all other markets that have been exposed to that crypto.
As you can guess, in the case of USDT, the risk is huge because USDT itself is huge. If USDT crashes, it could create a ripple effect that can bring down the entire crypto market. That's pretty much why the public demands an audit from Tether about their reserves, and the authorities take action to regulate stablecoins.
Of course, even a relatively small-cap stablecoin like FRAX could cause a huge upheaval if it can't protect its peg. If FRAX collapses, it can wipe billions from the market.
But how likely are these scenarios? Well, that's very hard to say.
Tether's refusal to publish an official audit doesn't instill confidence in USDT reserves. But on the other hand, USDT has managed to protect its price stability over many controversies.
The situation is very different with FRAX. The risk here isn't that FRAX doesn't have the reserves it says it does. Since FRAX is mostly backed by USDC, a blockchain-based asset, technically, the reserves can be audited by the public.
However, FRAX uses a combination of under-collateralization and algorithms to ensure a 1:1 peg to USD. That has two problems: first, it's questionable whether the algorithmic nature of the stablecoin can keep up with rapid market changes.
Terra UST, an algorithmic stablecoin, wiped off 60 billion USD from the market when it crashed, destroying sentiments that code might be enough to keep a stablecoin stable.
And while FRAX uses collaterals to back it up, the question remains as to whether its price stability can be protected under different market conditions.
The second issue with FRAX concerns the collateral itself: it is made up of other stablecoins and mostly USDC at this point.
USDC itself is an externally-backed stablecoin. If USDC can't maintain its peg, then FRAX is in big trouble as its reserves can melt. But also, USDC is a centralized stablecoin that's subject to many regulations.
Legal and Financial Risks
Tether is under investigation regarding bank fraud. Tether founders have also come under fire due to their business relations with known financial criminals across Europe.
FRAX, while safe from investigations so far, deals with another kind of legal risk that became apparent in 2022. When the US authorities enforced sanctions against Tornade Cash, a crypto mixer pool for anonymous trades, several exchanges, including Coinbase, Aave, and Uniswap, blacklisted wallets linked to Tornado Cash. 
USDC's parent company Centre banned 38 wallet addresses storing 75,000 USDC, effectively preventing the owners from redeeming their crypto.
While USDC can benefit from more legal compliance and USDC's parent company Centre has the means to deal with the impact of such events, the move constitutes a wake-up call to USDC-dependent assets that brand themselves as decentralized.
Where Can You Buy USDT and FRAX?
USDT and FRAX can be purchased on crypto exchanges, including centralized crypto exchanges like Coinbase, KuCoin, Gate.io, and Binance, or decentralized exchanges like Changelly, Sushiswap, or Oasis. 
Note that Crypto.com delisted USDT for Canadian customers due to regulatory issues, and other exchanges in Canada may follow in its footsteps.
You can purchase USDT with other cryptocurrencies or with fiat currency through wire transfers, credit and debit cards, Apple Pay, Google Pay, or other third-party payment providers. You can buy FRAX with USDC, USDT, ETH, and other cryptocurrencies.
How Can You Exchange USDT for FRAX?
You can exchange USDT for FRAX on most crypto exchanges, including Binance, Coinbase, Kucoin, and Bitfinex. As long as the exchange lists USDT/FRAX paring, you won't have trouble.
Future Plans for Tether and FRAX
The US government plans to regulate stablecoins with more scrutiny. One of the drafts for regulation included banning algorithmic stablecoins that use other stablecoins as collaterals. This could spell trouble for FRAX if the bill passes, but according to Frax founder Sam Kazemian, the team can build a stablecoin that complies with the regulations if the bill passes.
As for Tether, many in the cryptosphere have hope that the company will be more transparent regarding their reserves.