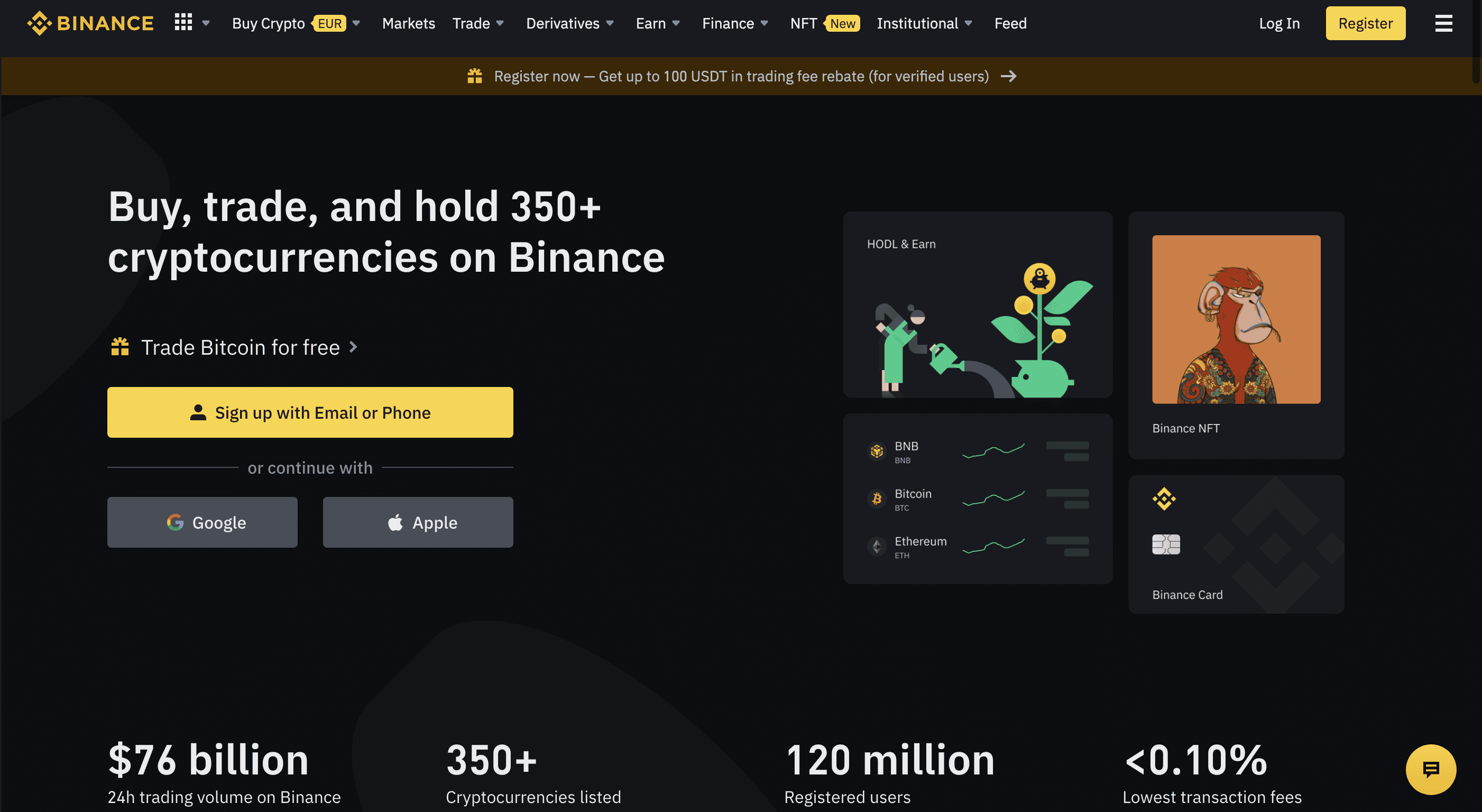 Binance is one of the leading cryptocurrency trading platforms, with a high trading volume of over $1 billion worth of transactions per day. It offers various markets and trading opportunities. 
In this Binance review, we'll look at the features that make this exchange one of the most popular in the world. We will also look at some of the drawbacks of using Binance so that you can make an informed decision about whether or not it's the right exchange for you.
Pros & Cons of Binance
Pros:
The world's largest cryptocurrency exchange by trading volume.

One of the most

popular crypto exchange

platforms.

A wide range of altcoins and many trading pairs.

Low fees

so traders can keep more of their earnings and investments.

Peer-to-peer trading for local currencies.

Low spot trading fees (0.10%).

The Binance blog is

available in multiple languages.

The

Binance blog is a great source of information

for cryptocurrency trading.
Cons:
The global Binance platform isn't available in the US. US residents can use Binance.USA platform instead.

The advanced trading interface can be confusing to beginners.
About Binance
The Binance crypto exchange was founded in 2017 and became one of the largest crypto trading platforms within six months of its launch. The exchange grew into a whole blockchain ecosystem with the launch of Binance Academy, Research, Labs, Trust Wallet, Launchpad, Charity, Info, and NFT.
As the world's largest exchange in terms of trading volume, Binance offers deep liquidity and over 350 cryptocurrencies. The platform draws users from all over the world due to its low trading fees but has been banned in several countries, including the US and the UK, due to its status as an unregulated exchange. US-based customers can access the Binance.US platform.
Crypto Coins Available on Binance
Binance offers more than 350 cryptocurrencies, including all the major large-cap coins like Bitcoin, Ethereum, Tether, USD Coin, Binance USD, Cardano, Solana, Dogecoin, Polkadot, and many other low-cap altcoins.
Binance Coin (BNB) is the native currency of the Binance Exchange and comes with a long list of benefits. For example, you can pay your transaction fees with BNB to receive a 25% discount on your trades.
Binance Coin has a fixed supply of 200 million BNB and is currently the 4th largest cryptocurrency by market capitalization.
Fiat Currencies Supported on Binance
Binance is one of the most popular crypto exchanges in the world and supports a variety of fiat currencies, including the US Dollar (USD), Euro (EUR), Russian Ruble (RUB), Turkish Lira (TL), Ukrainian Hryvnia (UAH), Indian Rupees (INR), Kazakhstani Tenge (KZT) and Nigerian Naira (NGN). You can use any of these currencies to buy and sell cryptocurrencies. 
First, you must deposit USD into your account to buy cryptocurrencies with fiat on Binance. You can do this by wire transfer or credit/debit card. Once your USD is deposited, you can use it to buy any of the supported cryptocurrencies on Binance.
Binance also offers peer-to-peer (P2P) trading with local currencies, including CAD, AUD, and GBP. Payment methods vary by currency but generally include bank account transfers, wires, and other third-party payment options.
Countries Supported on Binance
Binance can be used in over 100 countries. Currently, it's available in countries in Europe, Asia, South America, North America, and Australasia, so it does have a global reach. 
Binance is no longer available in Ontario (Canada), China, Malaysia, Thailand, Japan, the US, and the UK. Certain services like derivatives trading may be restricted to users based in Europe.

Buy & sell 70+ Cryptoassets
Practice risk-free with a $100K demo account
30+ Million users
Also trade stocks, shares and other assets
Staking service enables you to grow your crypto holdings, simply by owning crypto

350+ Cryptocurrencies Listed
<0.10% Transaction Fees
120 million Registered Users
Secure Asset Fund for Users
Earn On Deposits

200+ Cryptocurrencies Listed
Get Crypto After Your First Buy
Protected By Insurance
Secure Storage With Vault Protection
The Most Trusted Cryptocurrency Platform
Binance Fees
Binance is one of the most popular crypto exchanges out there, thanks to its low fees. They offer a wide variety of digital assets to trade, including crypto-to-crypto, fiat-to-crypto, and derivatives products. 
Here's a breakdown of the fees that Binance charges.
Spot Trading Fees
For spot trading, Binance charges a mere 0.10% fee, and if you're using their native token, BNB, to pay for your trades, you can get an even lower fee of just 0.075%. That's much lower than the industry average of around 0.25%. So if you're looking to save on fees, Binance is definitely worth considering.
Binance also started offering zero-fee spot trading for 13 trading pairs, including BTC/EUR, BTC/GBP, BTC/USDC, and ETH/BUSD pairs. 
Deposit and Withdrawal Fees
Deposit and withdrawal fees vary depending on the currency and payment method. 
You can deposit EUR and GBP to the platform through bank transfers via SEPA and Faster Payments for a flat fee of 1 EUR and 1 GBP, respectively. However, you can't withdraw fiat money with the same methods.
You can use third-party payment provider Etana to fund your account with 15 currencies, including EUR, GBP, AUD, and CAD. While Binance doesn't charge fees for Etana deposits and withdrawals, Etana fees may apply.
Does Binance Offer Users Any Rewards?
Yes, every Wednesday, Binance Earn will present users with rewards such as savings, staking, dual investment, and liquid swap. The rewards are distributed on a first-come-first-served basis for crypto traders.
Main Features of Binance
Binance is one of the most popular crypto exchanges out there. It offers a great variety of features and is constantly adding new ones. In this part of the Binance review, we'll look at some of the main trading services.
Binance Convert
Binance convert allows you to swap any cryptocurrency you have on the platform with another digital currency on the fly with no fees.
Spot Trading
Binance offers a spot trading market that allows you to buy and sell cryptocurrencies quickly at dynamic market prices. Users place buy and sell orders on the order book, and orders are matched automatically. 
This is a great way to get started in the world of cryptocurrency trading, and it can be done on many different exchanges.
Margin Trading
Binance offers margin trading, where you can trade with borrowed funds. This type of trading is also known as leveraged trading and can be quite risky, but it can also lead to larger profits if you know what you're doing. Margin trading is best suited to professional traders.
Derivatives 
Binance offers a number of derivatives products, including futures trading, options trading, and leveraged tokens. Derivatives trading is considered a high-risk, high-profit endeavor and is generally more suitable for experienced traders.
Staking
Binance offers staking, which means you can earn interest on your holdings. This is a great way to passively earn income from your cryptocurrencies.
Binance offers staking opportunities for over 100 digital assets. The feature is easy to use and allows you to earn rewards by simply holding your digital assets in your Binance Earn wallet. You receive the rewards in your spot trading wallet every month. 
You can choose between "flexible" and "locked" contracts when you stake your assets. Flexible staking allows you to withdraw your assets any time you want, hence the name. 
Locked contracts have to remain in the Earn wallet for a given period, and you can't withdraw your assets before the agreed-upon period ends without forsaking your rewards.
Staking isn't without its risks, but Binance offers some protection against common risks associated with staking operations. Since you don't have to move your funds to an external wallet, you are safe from scams.
Binance also offers DeFi staking, allowing you to participate in various DeFi projects through the Binance platform.
Borrowing
Binance also offers borrowing, which lets you borrow funds from other users. This can be helpful if you need more funds to trade.
You can borrow many crypto assets from the platform, including BTC, ETH, BUSD, and USDT. You can use crypto loans for margin, futures, or spot trading. It's also possible to stake your borrowed crypto to earn rewards.  
P2P Trading
Binance's P2P trading platform allows you to connect with other traders in your area and trade directly. Users can place sell offers and name their prices and preferred payment methods. This is a great way to trade with your local currency without converting your fiat money to a Binance-supported currency.
Binance Cloud
This platform allows businesses to create and run their own cryptocurrency exchanges. It's designed to be easy to use and includes all the features and tools users need to get started.
Binance Cloud is also scalable, so it can grow with users as their needs change.
Binance Blog
The Binance blog is the go-to source for all things Binance, from company news and announcements to educational articles and tutorials.
The Binance blog offers readers a behind-the-scenes look at the company and its products. In addition to company news and announcements, the blog features educational articles on topics such as cryptocurrency trading, blockchain technology, and more.
Binance Customer Service
Binance's customer support has a live chat option that is available 24/7.
Their FAQ section is also very helpful, and they have a comprehensive knowledge base that covers all aspects of using the exchange. 
How Easy Is It to Open a Binance Account?
Opening a Binance account is pretty easy and only takes a few minutes. All you need to do is go to the Binance website and click on the "Register" button. 
You will then need to complete a security verification, and a code will be sent to your email or phone. Remember, if a friend sent you a referral code, you need to make sure to fill in the referral ID section.
Once you've registered, you'll be able to log in and start trading. If you want to make sure the security of your account is enhanced, you'll have to enable two-factor authentication. There is no minimum deposit.
In order to be able to use all Binance features, you have to complete a KYC identity verification process.
How Secure Is Binance?
Binance is one of the most popular crypto exchanges out there, but how secure is it? Let's take a look at some of the security features of Binance. 
Binance uses two-factor authentication (2FA) for all account login attempts. This means that even if someone knows your password, they won't be able to log in unless they also have access to your 2FA code.
You can set up 2FA using either an app like Google Authenticator or a hardware token like YubiKey.
All of the communication between your browser and Binance's servers is encrypted using SSL/TLS. This ensures that no one can eavesdrop on your conversations with Binance or tamper with the data in transit.
Binance also keeps all of its user funds in cold storage. This means that the majority of user funds are stored offline and not accessible by hackers. Only a small portion of user funds are kept in hot wallets for everyday withdrawals and deposits.
Overall, we can say that Binance employs multiple layers of security to protect your account and your funds. However, that doesn't necessarily mean Binance is a very secure exchange.
Has Binance Ever Been Hacked?
The short answer is yes; Binance has been hacked multiple times. In 2019, the exchange lost over 7000 BTC in a hack. The exchange lost 570 million USD in a separate hack in 2022.
Is Binance a Regulated Exchange?
Binance exchange is not a regulated exchange in most countries. In fact, Binance is no longer allowed to operate in the US, UK, Japan, and other regions due to its refusal to comply with regulations. The exchange has often been used for money laundering and other financial crimes.
The company is a fully regulated digital asset service provider in France and plans to become fully regulated in Spain, Portugal, Slovakia, Bulgaria, Romania, and Scandinavia.
How Does Binance Compare to Other Crypto Exchange Alternatives?
Binance is one of the most popular crypto exchanges on the market today. But how does it compare to other trading platforms?
Let's take a look at the exchange's fees, features, and security below.
Fees
Binance has a 0.10% starting trading fee for all spot trades. This is lower than what most exchanges charge. Plus, Binance also offers a discount for traders who use its native currency, BNB. If you pay your trade fees with BNB, you can get a 25% discount.
Binance competitor Poloniex charges a 0.14% maker fee and a 0.15% taker fee for spot trading. KuCoin charges a 0.08% maker fee and a 0.10% taker fee.
Features
Binance offers a number of features that make it a great choice for both beginner and experienced traders. For example, the platform has an easy-to-use interface, a wide variety of supported coins, staking opportunities, and advanced features like margin trading. It also supports fiat currency.
Very few exchanges can compete with Binance when it comes to available features. 
Security
Binance implements all the industry-standard security practices, including 2-factor authentication and cold storage for customer funds.
However, the exchange also has been hacked a number of times. Exchange hacks are pretty common in the crypto sphere, though Binance is a huge target since it handles a lot of money. 
In terms of security, Binance doesn't fare as well as Kraken, which has never been hacked.
Does Binance Have an App?
Yes, Binance has a Binance mobile app available for iOS and Android devices. The app is well-designed and easy to use. It has all the same features as the website, including the ability to buy, sell, and trade cryptocurrencies.
Binance Review
Final Thoughts
Binance offers a lot of features, including over 350 cryptocurrencies, deep liquidity, low trading fees, and a mobile app.
The platform is suited to advanced traders, thanks to its sophisticated user interface and many features, which can be confusing for beginners. 
However, Binance does a good job explaining how to use the features on its site. Beginners can benefit from Binance Convert, a simple way to swap cryptocurrencies with no fees.
Unfortunately, Binance is a huge target for hackers. In October 2022, Binance Smart Chain suffered an attack that seems to have cost the exchange half a million dollars.
Another thing to note is that Binance isn't available in all countries. So, if you're looking for a local exchange, this might not be the right choice for you.
Therefore have a look at out list of the 10 Best Binance Alternatives.
You can also check out our comparison guides:
Binance User Reviews
Review Summary
5 out of 5 stars (based on 1 review)
Recent Binance Reviews
Love the low fees
Binance is the best crypto exchange for one reason only: Low fees!
Submit a Binance Review