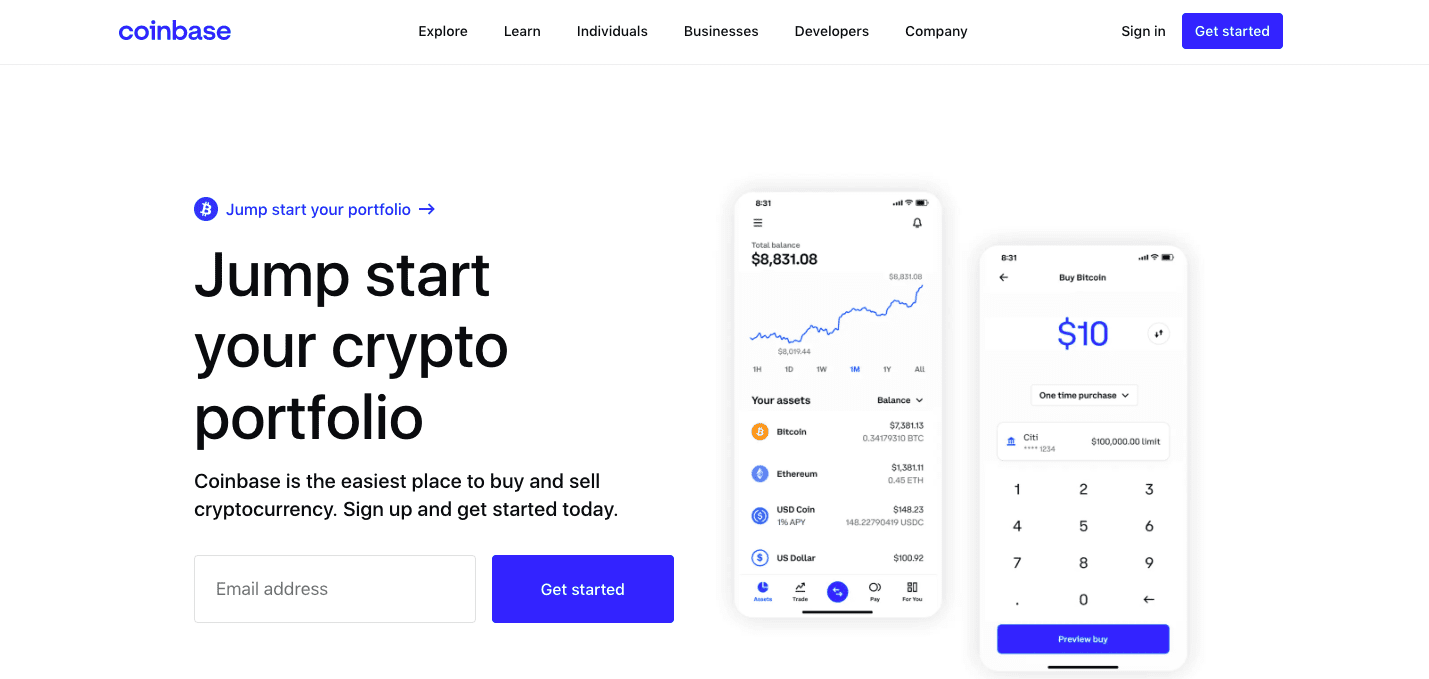 Coinbase is a regulated cryptocurrency exchange available in over 100 countries, including the US, UK, and Europe. It's ranked second on CoinmarketCap's top exchanges list thanks to its deep liquidity and high trading traffic.
Coinbase also has an advanced brokerage platform called Coinbase Pro (formerly GDAX) for advanced traders who require more trading tools at their disposal. The two platforms are not mutually exclusive, though the company announced in June 2022 that the Coinbase Pro platform will shut down in the following months, as they're rolling out an advanced trading feature in the main platform to replace it.
Coinbase is a comprehensive crypto platform that provides everything from cryptocurrency trading and storage to a wallet for retailers, an NFT market, and a stablecoin. Without further ado, let's move on to our detailed Coinbase review.
Pros & Cons of Coinbase
Pros
One of the biggest cryptocurrency exchanges in the US.

A regulated platform.

The platform offers around 150 digital assets.

You can fund your account with fiat currency via several payment methods.

The basic platform has a clear user interface.

The signup process is simple.

US users can enjoy more benefits as it's a US-based exchange.

It has an easy-to-use mobile app.

It's geared towards beginners.

You can earn crypto by participating in quizzes/user education.
Cons
Trading fees are more expensive than other cryptocurrency exchanges.

You may not be able to use the platform's core features if you aren't based in the US.

Beginners face a big learning curve on Coinbase Pro and the advanced trading feature.
About Coinbase
Coinbase is a US-based veteran exchange founded in 2012 by Brian Armstrong and Fred Ehrsam. It initially started as a Bitcoin exchange to make Bitcoin more accessible to the general public, and over the years became one of the biggest cryptocurrency exchanges in the world. The company went public in April 2021, listing its shares on NASDAQ. 
As a regulated and licensed crypto platform, it operates in 49 states in the US and over 100 countries throughout the world. Since it's based in the US, users from other countries may not have access to all Coinbase features. 

Buy & sell 70+ Cryptoassets
Practice risk-free with a $100K demo account
30+ Million users
Also trade stocks, shares and other assets
Staking service enables you to grow your crypto holdings, simply by owning crypto

Free Mystery Box Worth Up to $500 On Sign-Up
<0.10% Transaction Fees
700+ Coins
20+ Million Users
200+ Countries Covered

1,400+ Cryptocurrencies Listed
12+ million users
New account bonuses of up to $5,500
Deposit using 20+ fiat currencies
HODL and Earn
Crypto Coins Available on Coinbase
Coinbase supports over 150 digital assets, though the number can vary based on your geographical location. 
Let's take a look at some of the more popular crypto choices:
Fiat Currencies Supported on Coinbase
Coinbase supports USD, GBP, and EUR. Coinbase users can deposit fiat currency to their accounts through bank account transfers, with ACH in the US and SEPA in Europe. Bank transfers can take up to 3 to 5 days. 
If you're based in a non-US, non-European country, and your bank doesn't enable SWIFT, you can fill out a special form to deposit funds to the platform via wire transfer. 
You can also make crypto purchases with debit cards and ApplePay, PayPal, and Google Pay. 
Coinbase charges a flat fee of $10 for wire deposits and withdrawals. You can see other payment options and costs on the list below.
| | | |
| --- | --- | --- |
| Fiat Deposit | Deposit Fee | Withdrawal Fee |
| Wire (USD) | $10 | $10 |
| SWIFT (USD) | $25 | $25 |
| Swift (GBP) | Free | Free |
| SEPA (EUR) | €0.15  | €0.15  |
| ACH | Free | Free |
Countries Supported on Coinbase
Coinbase is supported in over 100 countries around the world, including the US, the United Kingdom, Australia, and South Africa, to name a few.
Coinbase Fees
Coinbase fee schedule has been criticized over the years for its complicated structure. Unfortunately, the platform has become more opaque regarding their fees as of late, and they no longer list specific fees until you place your order. That means there is no way of knowing how much you'll pay in fees until you create your order.
Transaction fees can vary depending on the size of your order, market conditions at the time of the order, and your payment method. The main platform charges a spread fee of around 0.5%, calculated dynamically based on market conditions. Credit and debit card purchases cost 3.99%.
The Coinbase Pro platform offers cheaper transaction fees and a maker/taker model with no spread fees.
If you're using advanced trade or Coinbase Pro, transaction fees start at 0.60% for takers and 0.40% for makers. You can earn discounts on trading fees based on your 30-day trading volume.
Main Features of Coinbase
Coinbase offer multiple user-friendly features, including a decentralized wallet and a Coinbase card. Let's see each feature in more detail.
Coinbase Wallet
When you open a Coinbase exchange account, your digital assets are stored by the platform in a custodial wallet managed by the company. However, you can also download a separate decentralized Coinbase wallet to manage your assets.
Coinbase wallet allows you to store over 500 cryptocurrencies and NFTs. Since you have your own private keys, you manage and control your digital assets.
The biggest advantage of the Coinbase wallet is the swap feature. Swapping allows you to exchange one crypto token for another through decentralized exchanges without leaving the wallet interface. 
You can swap tokens on the Ethereum blockchain, Polygon network, BNB Chain, Solana network, and Avalanche C-Chain through the wallet.
Coinbase Card
Coinbase Card is like a prepaid debit card. You can use your digital assets to purchase goods and services or withdraw USD from Visa-supported ATMs. Coinbase automatically converts your cryptocurrency to USD when you make purchases or withdraw money. 
Staking
Finally, you can also stake your crypto holdings on the Coinbase exchange to earn passive income. Coinbase offers staking opportunities for Cardano (ADA), Cosmos atom, Ethereum (ETH), Solana (SOL), and Tezos (XTZ).
Staking rewards vary depending on the asset and market conditions. The platform receives %25 of your profits as a commission. 
Advanced Trading and Coinbase Pro
Coinbase Pro will be replaced by an advanced trading feature in the following months, but both features work similarly. On these platforms, you can place complex orders, including limit and stop limit orders.
Transaction fees for Coinbase Pro and Advanced trading are much cheaper compared to usual Coinbase fees, especially since you don't have to pay spreads.
Coinbase Pro and advanced trading interfaces are more complicated compared to Coinbase's simple buy and sell interface, but once you learn your way around the order book, you'll be able to make more profitable trades.
Coinbase Earn
Coinbase Earn offers a beginner's guide with tips, tutorials, and a section on crypto basics, crypto rewards, and market updates so you can really get your head in the game.
Coinbase Earn is a great way to incentivize beginners since the educational content helps newcomers learn faster while earning free crypto. You heard that right – you get to earn while you learn!
The educational content includes informative and fun video classes and quizzes about cryptocurrencies.
How Easy Is It to Open a Coinbase Account?
It's quite easy to open a Coinbase account. All you need is proof that you are 18 years or older, your ID, a smartphone or computer connected to the internet, and a cellphone number so they can send you a message.
Visit the Coinbase website, select Get Started, and enter your personal information. Once you approve the user agreement and privacy policy, you can click on Create an Account. Lastly, verify your email address, phone number, and identity and link a payment method. Remember that you'll have to submit a photo ID to verify your identity.
How Secure Is Coinbase?
Coinbase has a security team that works around the clock to make sure all users and their assets are safe. 
The platform holds 98% of assets in their custody in offline storage at multiple locations across the world. The website is protected by bank-standard encryption. Users must enable two-factor authentication to prevent third parties from logging into their Coinbase accounts.
However, as always, it's important for individuals to take security measures seriously and not share their information with third parties. 
Has Coinbase Ever Been Hacked?
Unfortunately, yes. Just like with most other online platforms that deal with cryptocurrency, Coinbase has been hacked before. When the platform was hacked in 2021, the exchange compensated users for their losses.
Is Coinbase a Regulated Exchange?
Yes. Both Coinbase and Coinbase Pro are fully licensed to engage in money transmission in most US jurisdictions and in several countries. Coinbase complies with local regulations in the areas it serves.
How Does Coinbase Compare to Other Crypto Exchange Alternatives?
Coinbase is often recommended as the best beginner exchange since the layout and user interface are quite user-friendly. Let's see how it compares to some other popular exchanges when it comes to fees, features, and security.
Fees
When it comes to trading fees, both Coinbase and Coinbase Pro offer higher fees than other top exchanges. Coinbase's main platform fees are quite high, and Coinbase Pro fees start at 0.40% for makers and 0.60% for takers. In comparison, Binance fees are 0.10% or less.
Features
For US-based customers, Coinbase offers around 150 cryptocurrencies, staking opportunities for five cryptocurrencies, fiat support, and a decentralized wallet. 
That's a hard score to beat, as its biggest competitors can't provide as many services as Coinbase to US customers. For example, Binance.US and Gemini offer around only 120 cryptocurrencies. 
However, if you're based outside the US, you can find more crypto pairs and trading markets on Binance Global.
Coinbase Security
When it comes to security, Coinbase is a decent choice, as it is a regulated platform that conforms to all standard industry practices. It has compensated users for losses due to platform-wide hacks that resulted from exchange problems. 
However, if you're looking for unbeatable security (or at least security that hasn't been beaten yet), Kraken can be a better choice. Kraken is famous for its security practices and has never been hacked.
Does Coinbase Have an App?
Yes, you can download the Coinbase mobile app from App Store and Google Play store.
Coinbase Review Final Thoughts
Overall, Coinbase is a safe and straightforward exchange if you're just starting with crypto trading.
Coinbase can help you learn your way around digital assets if you are a beginner in crypto trading. It offers many conveniences, including easy fiat deposits and withdrawals, a decentralized wallet, and around 150 digital currencies to US-based customers. The intuitive interface is perfect if you don't want to deal with complicated charts and other complex features. 
As a beginner-friendly platform, Coinbase is a great starting point if you don't mind the slightly expensive fees. However, there are a lot of Coinbase alternatives with cheaper fees that offer plenty of cryptocurrency trading pairs. If you want to learn more about other exchanges, check out our post on the 22 Best Crypto Exchanges.
Coinbase User Reviews
Review Summary
5 out of 5 stars (based on 1 review)
Recent Coinbase Reviews
Easy to use
Coinbase is great because it's easy to use, and has a large selection of coins to choose from.
Submit a Coinbase Review