When faced with a plethora of alternatives, picking the best one can be a daunting task. Even if you can narrow your options to two, it only sometimes helps. Many traders, for instance, may need time to decide between Bitfinex and Binance, which offer similar services.
This is why we weighed the merits of Bitfinex against those of Binance. Let's compare and contrast these two cryptocurrency markets to see where else they overlap and where they diverge. 
After reading this Binance vs Bitfinex guide, you'll be better equipped to decide which trading platform is right for you.
About the Exchanges
Binance
It is improbable that a cryptocurrency investor has never come across Binance or, at the very least, given some thought to the possibility of using it as a trading platform for their cryptocurrency endeavors.
The fact that this global fintech company founded by Changpeng Zhao ranks first on various metrics—including trading features, payment methods, support for fiat currencies, and others—is not surprising. Binance, in fact, dominates the cryptocurrency exchange market in terms of both user base and trading volume. 
In addition, this platform boasts the most extensive depth of liquidity and the lowest overall cost structure for trading the widest variety of digital assets.
Bitfinex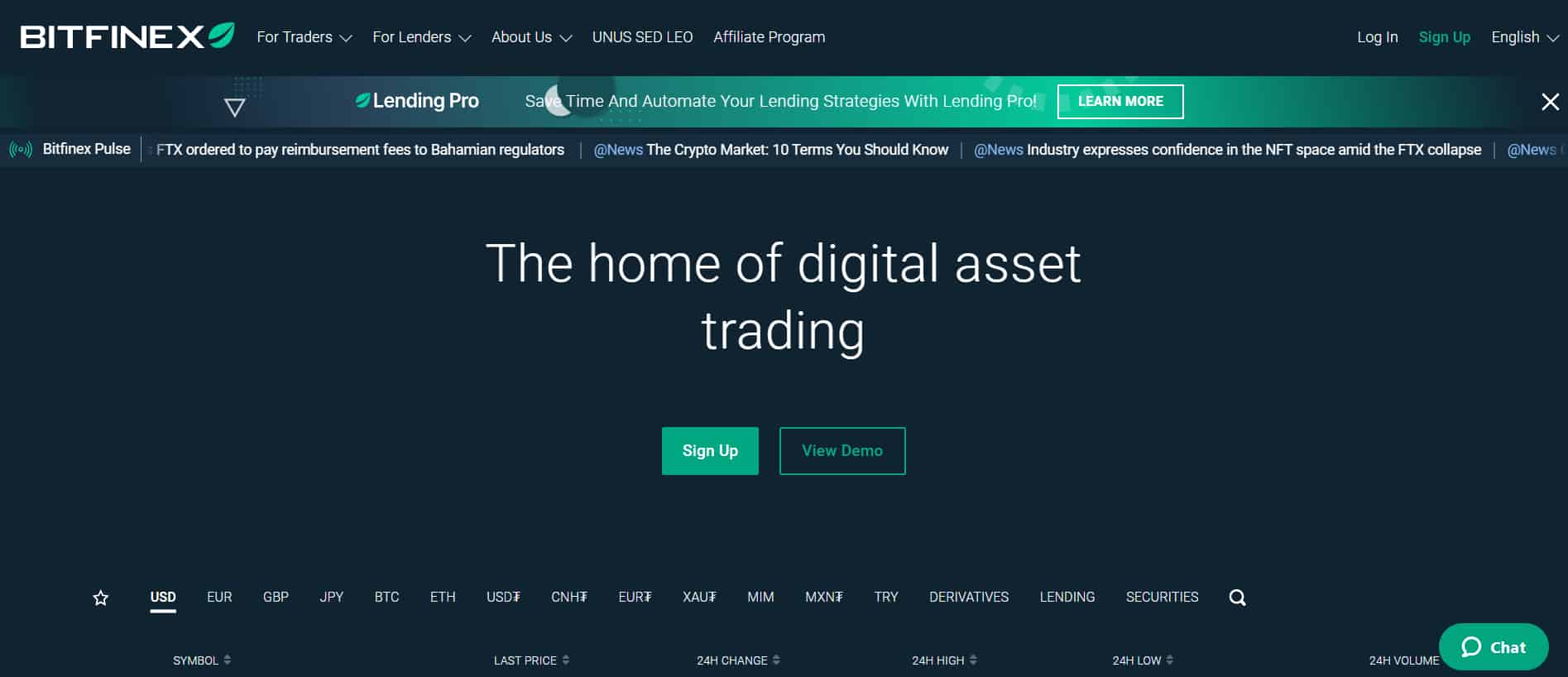 Bitfinex is one of the veteran crypto exchanges in the industry, established in 2012. At first glance, this British Virgin Islands-registered trading platform offers a wide variety of investment tools ideal for seasoned traders. Nonetheless, Bitfinex is an excellent option for those just starting in the world of cryptocurrency trading, too, because the platform's user interface is easy to navigate, engaging, and educational.
As a matter of fact, Bitfinex makes it possible for crypto enthusiasts, companies, and institutions to put into action well-planned and comprehensive investing strategies thanks to the vast trade tool offering and top-tier protection mechanisms it employs.
Pros and Cons
Binance Pros
A P2P (Peer-to-Peer) trading platform that is the industry's leader in terms of size and volume;

Provides some of the most competitively priced trading fees;

Offers the most comprehensive range of digital currencies, traditional currencies, trading pairs, and investment options;

Paves the way for accessible financial products for both novice and seasoned investors;
Has a specialized trading platform for US citizens; 

Provides an NFT marketplace;

Allows for the use of margin, derivatives, and futures trading.
Binance Cons
An unregulated marketplace;

The wide variety of trading tools available may be overwhelming for newcomers.

Encounters difficulties on the regulatory front with several countries;

Concerns have been raised about the reliability of the platform's security features.
Bitfinex Pros
99.5% of customer funds are kept in offline multi-signature cold storage wallets;

Trading on margin with a leverage of up to 10x, lending out cryptocurrency, and using complex order types;

Offers automated trading bots;

Outstanding assistance for customers;

Excellent for both novice and seasoned traders due to the platform's high degree of flexibility.
Bitfinex Cons
There has been a history of hacking problems;
Binance vs Bitfinex: The Crypto Exchange Comparison 
Opening an Account
Establishing a Binance account takes very little time. Using the web or a mobile device, you can simply enter your email address or telephone number into the application form. At Binance, ID verification is optional. Nonetheless, consider providing more details on yourself, as this will help you increase your daily withdrawal and deposit limits.
The process of establishing your identity only takes a few minutes. You have to submit your recent selfie, check your account details, and provide an identification document issued by the government. After that, you'll be ready to fund your trading account and plot your first crypto move.
Trading on the Bitfinex platform requires first registering for one of the many types of trading accounts offered. Individual traders, virtual traders, and institutional investors can all open accounts on Bitfinex that are tailored to meet the specific requirements of their trading activities.
After you have established a trading account with Bitfinex, you will be asked to complete the Know Your Customer (KYC) identity verification process and activate two-factor authentication (also known as 2FA). To proceed with either of these two phases, you are going to be asked to supply specific categories of personal information as well as documents that can authenticate your identity.
Main Features
The aspect of Binance that I value the most is how simple it is to switch between the primary interface, which consists of only a few streamlined trading choices, and the more complex trading layout, which grants access to all of the platform's advanced trading tools. This is something that I find to be one of the platform's greatest strengths. In point of fact, transitioning between Binance's Lite version and its Pro option is a piece of cake.
In addition, Binance has developed a wide variety of cutting-edge trading tools specifically to assist expert traders in improving their trading performance. One of the financial products that I found most enjoyable to trade on Binance was the perpetual futures trading market. 
This platform also offers an incredible 125x leverage margin, making it one of the most exciting trading options available. If you ask me why, I'll give you a relatively straightforward explanation: it gives traders the ability to settle a deal at a later time for a stated price, despite the fact that the price of the underlying asset can swing wildly. 
Additionally, investing through this option can get significant market exposure while using a relatively small amount of capital.
Moving on to Bitfinex now. Each user of Bitfinex can tailor their user experience to their individual preferences by customizing their desktop layout, background color, and notification settings.
Due to the comprehensive selection of cutting-edge financial products that it provides, traders frequently go with Bitfinex as their exchange of choice. A few examples of these instruments are over-the-counter trading for huge volumes, margin trading, cryptocurrency exchange, derivatives trading, paper trading, crypto lending, securities trading, staking option, and advanced order types.
Supported Cryptocurrencies
Binance is a platform that facilitates Bitcoin trading and provides exposure to over 360 alternative coins. The fact that the exchange is compatible with such a wide variety of cryptocurrency projects makes it very easy to trade using any coin of your choosing. It involves an astounding number of trading pairs, which is the exchange's biggest strength.
Because of this, Binance will likely continue to attract an even more significant number of crypto market participants who place high importance on having various trading options.
Similarly to Binance, Bitfinex offers a wide offer of tradable cryptocurrencies. More than 170 distinct cryptocurrencies, including stablecoins such as Tether, are presently supported. 
Additionally, this trading platform offers its customers order books that are renowned for their high levels of liquidity. As a direct consequence, traders can now successfully trade multiple virtual currencies with only minimal slippage.
Payment Methods
To facilitate the purchase of Bitcoin and other cryptocurrencies on the Binance exchange, the company accepts various payment methods. SEPA/wire swaps, bank account transactions (P2P), and third-party payment services like Simplex are all viable choices.
Also, a wide range of fiat currencies, such as the Australian Dollar (AUD), the Canadian Dollar (CAD), the Euro (EUR), the Japanese Yen (JPY), the British Pound (GBP), and the Swiss Franc (CHF) are accepted by Binance as payment for cryptocurrency purchases.
In the bargain, you can use your credit or debit card issued by a bank that works with Simplex when making a cryptocurrency purchase on Binance. Using this payment method, you can anticipate receiving your cryptocurrency within 10-30 minutes. On the downside, considering that you have to pay a fee of 3.5% for every transaction or USD 10 (depending on which is higher), instant fiat payments are the costlier funding option of Binance. 
Additionally, there's a vast majority of today's standard payment methods, including bank wire transfers, credit cards, debit cards, and many other options you can use with Bitfinex without any problems. Users of the Bitfinex exchange can use their credit cards or debit cards to purchase cryptocurrencies with the assistance of a third-party payment processor such as Mercuryo.
Trading Fees and Limits
Compared to other exchanges, Binance's trading costs are among the lowest in the business. Here's how it works.
To begin with, Binance's fee-free fiat and cryptocurrency deposits are ideal for active investors. You can fund your Binance account with a credit card or a bank transfer even if you don't have a lot of cryptocurrency on your balance. It's important to know that the method you use to deposit funds could, in rare cases, cost you extra money.
For instance, using a debit card typically incurs relatively high costs, whereas sending money through your bank is generally free. Binance, for one, charges a 1.8% fee when you use a credit card to fund your trading account on this exchange.
Every time coins are moved to a different blockchain, Binance, like most other cryptocurrency exchanges, will charge a network fee. Any cryptocurrency's withdrawal fees are subject to change at any time by the blockchain network in response to its popularity.
In addition, trading costs on Binance are not predetermined; instead, they vary on a daily basis and are calculated by your 30-day trading volume as well as the amount of Binance Coins (BNB) you currently hold. Typically, the fees for purchasing and selling cryptocurrencies run from 0.5% to 1%, with spot trading fees adding 0.1% to your trading costs on Binance.
When you want to buy, sell, or trade digital assets on the Bitfinex trading platform, the first thing you'll need to do is fund your trading account. You can top off your Bitfinex balance with fiat currencies like the US Dollar, British Pound, Japanese Yen, Euro, Chinese Yuan, or any of the digital currencies featured on the vast list of cryptocurrencies available for trading operations on this exchange.
The Bitfinex deposit fee is currently set at 1% of the total sum transferred to your account within 24 hours if you finish the purchase with an expedited wire transfer. To withdraw cryptocurrency from Bitfinex, you must also pay various service fees.
In addition to this, the market maker/taker fee schedule imposes a fee of around 0.1% of the trade to market makers, while a higher fee of approximately 0.2% of the trade is levied against market takers.
How Safe Are Binance vs Bitfinex?
Since the United States does not regulate digital currency exchanges like Binance and Bitfinex, they have a small footprint in the country. For this reason, Binance has a distinct branch in the United States (called Binance US) that does not provide entry to the futures market so that it can operate legally here. Also, some international restrictions prevent the use of these transactions in prohibited jurisdictions and territories, including North Korea, Syria, and the Republic of Crimea. 
In this respect, Bitfinex's regulatory story is similar to Binance's. Namely, Bitfinex has been the subject of numerous penalties and legal actions from American oversight bodies. In particular, the New York Attorney General's office and the Commodity Futures Trading Commission brought legal action against the exchange. Many of the accusations concerned the stablecoin Tether (USDT) and the potential for investor deception. 
Another shared experience of these two exchanges is that both Binance and Bitfinex have been hacked in several instances in the past, resulting in the theft of crypto worth tens of millions of dollars. 
To prevent any future security breaches, both markets comply with Know Your Customer (KYC) and Anti-Money Laundering (AML) regulations, as required by the international financial authorities. The exchanges work with numerous countries to provide information on potentially illegal trades by their customers.
Customer Support
Customer service is one area that has room for improvement in this company, particularly concerning the speed with which problems are treated. If a trader cannot immediately reach a support representative, they can still learn more about the platform and its various tools by visiting the Help Centre. Here, investors can find the solution to their issue immediately by browsing the vast knowledge base comprising all things crypto.
As is the case with Binance, Bitfinex provides users with access to a comprehensive knowledge library that can help them overcome any challenges they face when using the site. If you still need help, you can always reach out to Bitfinex's support team. The Bitfinex customer support team makes themselves available via email around the clock (24/7), responding to inquiries within a day of getting them.
Mobile Trading
The Binance app, as far as I can tell, serves as a one-stop destination for crypto exchanges. It offers a diverse selection of crypto and fiat currencies for exchanging, simple financial instruments for accruing interest on your assets through crypto lending or staking, loan application forms, and many more services.
An increasing number of cryptocurrency exchanges contributes to a steep learning curve for new market makers. Since there are many novices in the cryptocurrency industry, Binance developed Binance Lite, a simplified version of the Binance App, to make it simpler for them to use the service to buy and sell cryptocurrencies on the go.
On the other hand, the Bitfinex mobile app brings the complete functionality of the Internet platform to all Android and iOS mobile devices. With the help of this software, you won't have any trouble exchanging hundreds of the most popular cryptocurrencies, and you'll also have access to some of the most advanced trading tools.
How Do Binance vs Bitfinex Compare to Other Crypto Exchanges
Coinbase vs. Binance vs. Bitfinex
Coinbase is a popular cryptocurrency exchange that's based in the US and is suitable for both new and seasoned investors, trailing only behind Binance in terms of trading volume and market cap. Due to Coinbase's strong liquidity, cryptocurrency investors can make trades without worrying about losing a considerable amount due to price fluctuations. 
Even while Coinbase's trading fees are slightly higher than those of a regular crypto exchange, it is still the ideal choice for traders who are just getting started. In comparison, Binance and Bitfinex offer more complex trading tools that might feel overwhelming for less experienced traders. 
Coinbase, and Binance all share more than just a large user base and supreme liquidity. That's right, even the most user-friendly exchange for newcomers was hacked. Ultimately, the security measures taken by Coinbase, and Bitfinex, and their stringent adherence to financial standards, have paid off, considering the ever-growing number of expert users that use these three exchanges as their go-to trading hubs. 
Conclusion
Without any doubt, Binance is head and shoulders above the competition, given its comprehensive list of coins, numerous investment opportunities, and low trading costs. As Binance facilitates the trading of volatile products and streamlined cryptocurrency trading alternatives, experienced traders will undoubtedly find this service to their liking.
Along the same lines as Binance, Bitfinex is an industry-leading exchange that gives its customers and liquidity providers worldwide access to cutting-edge cryptocurrency trading products. 
Even though the security of both platforms has been breached on several separate occasions, I still value the trading capabilities I've discovered on both Binance and Bitfinex. It's clear that these globally recognized exchanges are doing magnificently in all other aspects of their functioning and are constantly working to improve their capabilities.