Binance offers a broad scope of crypto-related services to users in most global regions, and it's among the largest crypto trading platforms in the world. As for Uphold, it's a multifunctional trading platform that unites stocks, commodities, and crypto in one platform.
Product
Number of Crypto Currencies Listed
Number of Crypto Currencies Listed
350+
250+
Fees
Fees
0.10% or less
Varies, but starts at 0.9%
Number of Users
Number of Users
120 million
10+ Million
Let's find out how Binance vs Uphold compare and what are the essential features of both platforms.
About the Exchanges
Binance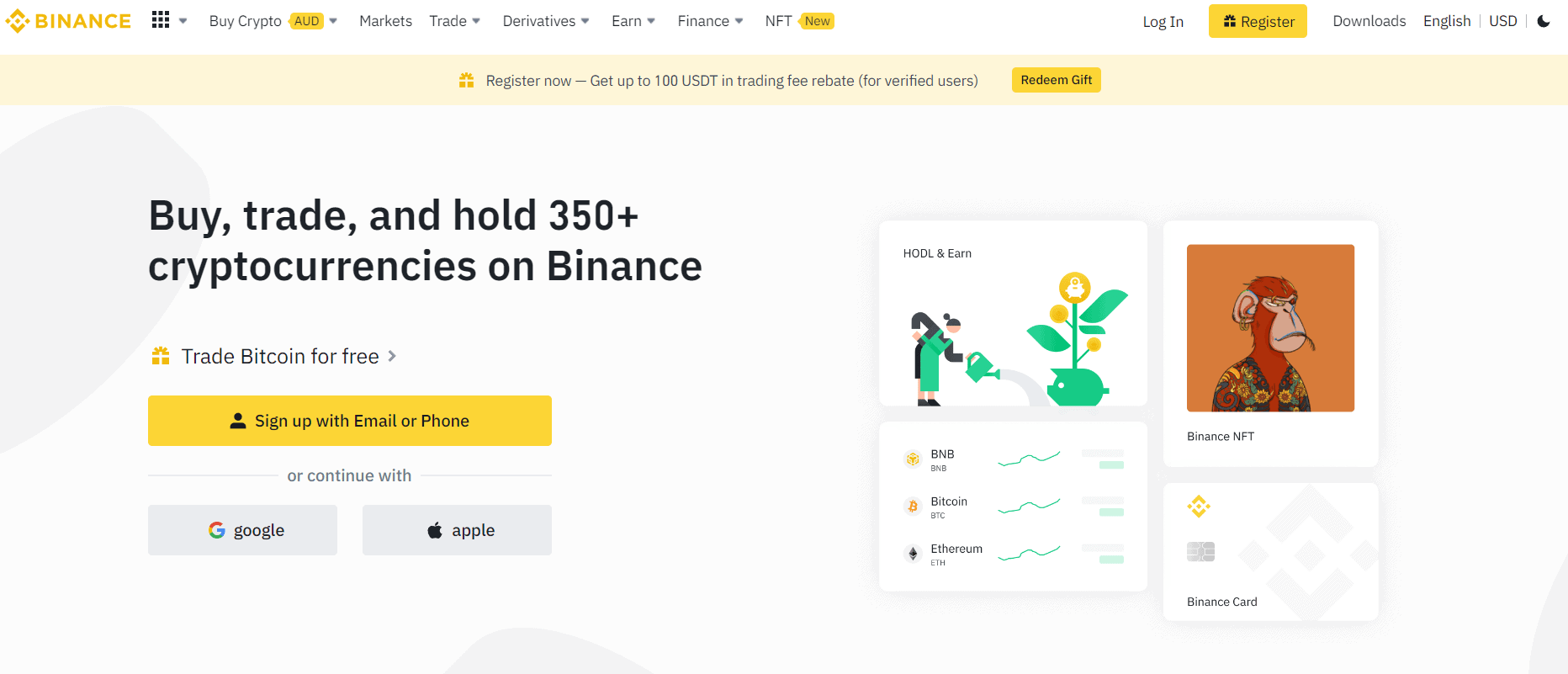 The Binance exchange is a crypto powerhouse providing superb-quality services to millions of customers since 2017. This exchange is the prime destination for many traders of different experience levels.
Beginners can find Binance an ideal choice for making their first crypto investments. As they gain experience, users can shift to the spot trading feature with a super-detailed interface and a multitude of trading options. The most experienced users looking for high-risk high-profit opportunities can try margin trading, derivatives, and futures trading options.
Since its launch, Binance took over the most significant chunk of the crypto exchange market in just a few years, thanks to its numerous smoothly-working services. Crypto traders trust Binance, and the platform has a strong reputation and a broad selection of hundreds of coins and tokens with deep liquidity levels.
Uphold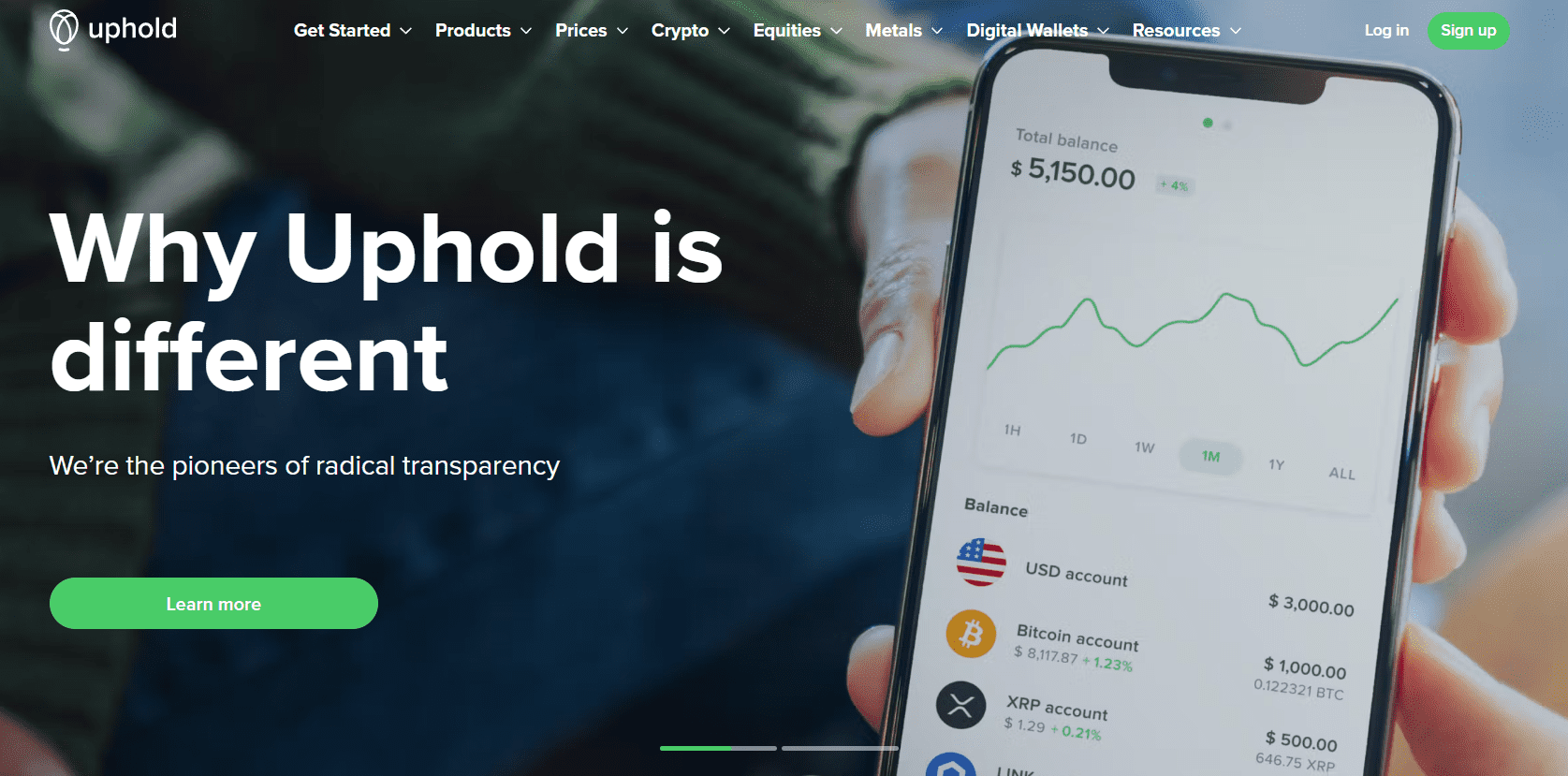 Uphold is best described as a multipurpose investment platform that allows users to invest in various assets. Uphold isn't primarily a crypto exchange, although it has a convenient and feature-rich crypto exchange section.
Users can invest in crypto, company stocks, and precious metals on Uphold, which is rarely seen among trading platforms. Additionally, users have different financial services available, such as staking, automated trading, and the Uphold debit card, which lets users spend their Uphold funds at retail payment spots.
The platform has provided services in more than 150 countries since 2013, which makes Uphold a veteran trading platform. However, its crypto trading volume is much lower compared to leading crypto exchanges. 
Pros and Cons
Binance Pros
One of the largest selections of cryptocurrencies among exchange platforms.

Binance NFT market.

Hundreds of spot and margin trading pairs.

Crypto derivatives and futures contracts.

Low fees.
Binance Cons
Users have little legal protection because the platform isn't regulated.

The support team is often slow to respond to user issues.
Uphold Pros
Multipurpose investment platform that supports crypto, stocks, and precious metals.

A wide range of coins and tokens. 

No fees.

Great mobile app.
Uphold Cons
Although there are no fees, the trading spreads are high for some assets.

Support service needs to be improved.
Binance vs Uphold: The Crypto Exchange Comparison 
Opening an Account
Before you can start trading, you need to create a user account on Binance:
To get started, click on

Register

and choose your registration method.

Enter your phone number or your email address. Additionally, you may proceed with a Google or Apple profile if you have one.

The next step is to create your primary protection layer, a password for your account. Make sure to include different types of characters for added security.

Agree to the Binance platform user terms and privacy policy.

If you have a referral code, enter it. 

Proceed with account creation, and you're done.

There's one last step. Binance will send you a code to your phone number or email address to activate your account. Copy the code to Binance, and your account is officially active.
Account creation on Uphold is different because it requires you to verify your identity:
Click on

Sign up

to start creating your Uphold account.

Choose the

Individual

account option and enter your email address.

Next up is password creation. 

You'll need to select your country of residence and your citizenship.

Accept the terms and conditions and click on

Next

.

Enter the code Uphold sent to your email address, and you've officially created an Uphold account.

Identity verification is the final step before you start using the platform.

You must choose an official identification document, such as your ID card, and provide photos of the front and back of the document.

Finally, take a live selfie with your webcam or your mobile camera and submit it to Uphold.

The verification process should take up to 15 minutes, and once it's done, you're free to start investing and trading on Uphold.
Main Features
With Binance, you really can't go wrong with any crypto services you're looking for because the platform has you covered in all segments. The easiest way to invest in crypto on Binance is through the instant trading feature that lets you buy crypto with a bank card.
Also, you can use the quick swap option to exchange various coins and tokens. The key trading features are spot and margin trading, done on the detailed Binance trading interface. You can choose among hundreds of trading pairs for both types of trading.
Furthermore, Binance excels at offering derivatives trading features and leveraged futures contracts, but these are only recommended for experienced users. Also, the platform provides both staking, lending, and crypto borrowing services.
NFT collectors also have a segment of the platform for themselves where they can trade Binance Chain and Ethereum-based NFTs. Finally, the Binance debit card lets users spend their crypto balance just like any other prepaid debit card.
Uphold has far more limited features when it comes to crypto trading. The platform doesn't have an advanced interface for trading. Instead, all the crypto purchases and sales are made through an instant buy/sell feature. However, the platform does allow users to place up to 50 limit orders through its Limit Orders section.
Another available feature is the Automated Trading option that allows users to automate their crypto investment operation by specifying how much money they wish to invest in specific cryptos regularly. This feature is suitable for automating dollar-cost averaging. 
Additionally, users can swap crypto and stake various coins and tokens on Uphold. What makes the platform stand out is the option to invest in stocks and precious metals besides crypto. Furthermore, users can easily convert different types of assets. For example, you can trade Bitcoin (BTC) for gold or exchange your gold for one of the 40 available stocks, including companies like Tesla and Amazon.
Supported Cryptocurrencies
Binance supports a ton of altcoins. In total, there are more than 600 digital currencies available on the platform, including most of the top cryptos, except for competitor exchange platform tokens.
Also, the platform is constantly adding new BEP-20 tokens that use the Binance Chain. However, many of these tokens have little development perspective. Still, if you're looking for the leading cryptos and some promising projects positioned among the top 300 digital currencies, Binance has you covered. 
Let's have a look at some of the crypto you can find: Bitcoin (BTC), Fantom (FTM), Flux (FLUX), Dogecoin (DOGE), Compound (COMP), Kadena (KDA), Ethereum (ETH), Cardano (ADA), Litecoin (LTC), Bitcoin Cash (BCH), The Sandbox (SAND), Binance Coin (BNB).
Although Uphold is a multi-asset platform, it has a vast selection of cryptocurrencies. The platform offers 250+ coins, and the company regularly adds new cryptos. 
Uphold supports digital currencies such as BTC, Polkadot (DOT), Cosmos (ATOM), Dash (DASH), Gala Games (GALA), Ripple (XRP), ADA, ETH, DOGE, Stellar Lumens (XLM), Polygon (MATIC), and many more.
Payment Methods
On Binance, users can invest in crypto through various payment methods. One of the easiest ways is to buy crypto directly with your debit or credit card, but bank card purchases incur high percentage fees imposed by card providers. If you're looking to fund your account with fiat currency, it's best to either use a bank account transaction or some of the additional payment providers like Google Pay or PayPal. 
Additionally, Binance's peer-to-peer (P2P) feature supports dozens of payment options, mainly depending on your geographical region. This method supports services like MoonPay, Mercuryo, Banxa, and other.
Uphold supports two payment methods. You can use a bank card to make an instant purchase or send your money to Uphold with a bank account transfer. 
Trading Fees and Limits
The fee policy is one of the most attractive elements of the Binance exchange platform. Your starting fee is only 0.1% per trade if your trading volume is below one million USD per month. However, the fees can be even lower for higher trading volumes and large-scale investors. Additionally, you can get a 25% fee discount if you hold a certain amount of BNB coins in your account. 
For example, users with a trading volume below one million USD get a 25% fee discount if they hold anywhere between one and 25 BNB in their account. The daily withdrawal limit on Binance is super-high and set at eight million USD.
Uphold's crypto investment service isn't a classic crypto exchange because the platform fetches your crypto from third parties. That's why it's more of a crypto brokerage service. Because of this, Uphold doesn't charge any trading fees. Instead, you'll pay market spreads that can vary depending on how easy it is for Uphold to fetch your crypto from third parties and how much it pays for it. 
The crypto spreads are between 0.8% and 1.2% for most cryptocurrencies on Uphold. However, the spreads can get higher for some less popular altcoins. The spread for precious metals is 3%, while stocks incur a 1% spread. You can withdraw only 10,000 USD per day from the platform.
How Safe Are Binance and Uphold?
Binance has high-security standards and uses SSL (secure sockets layer) encryption to encrypt all platform data, while user accounts have the optional two-factor authentication (2FA) besides their account passwords.
Unfortunately, the Binance Chain suffered a huge hack in 2022, but this didn't directly impact the platform's safety. No Binance user funds were stolen from the platform in the Binance Chain hack.
It's also worth mentioning that Binance isn't regulated, and users don't have protection from authorities if something happens to the platform.
Uphold is a regulated, licensed trading service that requires users to provide extensive personal information. The information is used to prevent money laundering, and in case the platform goes out of business, users are protected by law since Uphold is a registered money service provider.
Uphold uses the same password protection, encryption, and 2FA measures as Binance. There haven't been any platform hacks since Uphold's launch in 2013.
Customer Support
Both Binance and Uphold have customer support services that are considerably below the general quality of these platforms. While Binance only supports email and support ticket inquiries, Uphold also has a direct phone line for customer support. However, users report that the support team often doesn't answer the phone. On the other hand, many Binance users report that the platform's support team is slow to answer their messages. 
Mobile Trading
Some crypto exchanges offer a smaller scope of services on their mobile apps compared to their web versions. However, Binance is among the trading platforms whose mobile app covers all of the exchange's services. You can do everything, from trading to staking, lending, buying NFTs, and more. The app is very easy-to-use, with a simplistic design that's great for beginners.
Uphold's mobile app is also very well-designed, but it goes even further than Binance in some aspects. For example, the Uphold app allows users to integrate 26 different third-party partner apps into their Uphold app.
Recap.io enables users to calculate their crypto taxes, Ausecure is great for users looking to invest in precious metals, while PassiveCrypto.io allows users to automate their crypto trading operations. This feature makes the Uphold app next level compared to Binance, even though Uphold lacks NFT trading or an advanced trading interface.
How Do Binance and Uphold Compare to Other Crypto Exchanges
These two platforms have huge differences because Uphold is a multipurpose investment platform rather than a crypto exchange, while Binance is an exclusively crypto-oriented platform.
Some of Binance's main competitors are KuCoin and Gate.io. While KuCoin supports over 300 cryptocurrencies, Gate.io allows users to trade more than 1,400 coins and tokens, which is more than double the 600+ coin selection on Binance.
If we look at platform fees, both exchanges maintain a fee structure close to that of Binance. However, both KuCoin and Gate.io have failed in terms of security because KuCoin was hacked in 2020, while Gate.io suffered a successful cyber attack back in 2018. 
eToro is one of Uphold's main competitors because of the similar services it provides. The eToro investment platform mainly focuses on company stocks, but it also provides users with around 30+ cryptocurrencies for investing. Uphold's crypto selection is far more extensive, with more than 250 available coins and tokens.
In terms of fees, eToro charges a 1% fee on all crypto trades, which is exceptionally high compared to popular exchanges that charge between 0.1% and 0.5% per trade. However, Uphold's trading spread is also 1% or even higher for some cryptocurrencies.
Conclusion
If we look exclusively at crypto trading features, Binance is, without a doubt, a better choice than Uphold. The platform has various trading features, such as instant, spot, margin, derivatives, and futures trading, while Uphold is limited to instant trading and the limit orders option.
However, Uphold's main strength is that it also allows users to invest in crypto, stocks, and precious metals while enabling them to easily convert these different asset classes between each other.