Finding a reliable exchange to trade your coins on can seem like an overwhelming task if you're just getting started with cryptocurrencies. You don't want your money stuck in a compartmentalized system that delivers few benefits. At the same time, you don't want to miss out on many of the advantages available on a single platform.
Even though there is a myriad of options when it comes to cryptocurrency exchanges, Binance.com and Crypto.com stand out as two of the best due to their reliability and longevity. 
At the end of the day, though, it's likely that you'll want to choose a single cryptocurrency exchange as your default trading venue. In this Binance vs Crypto.com review, you'll find a comprehensive analysis of the key differences and similarities between the two services, along with all the other information you'll need to make an informed decision. Read on. 
About the Exchanges
Binance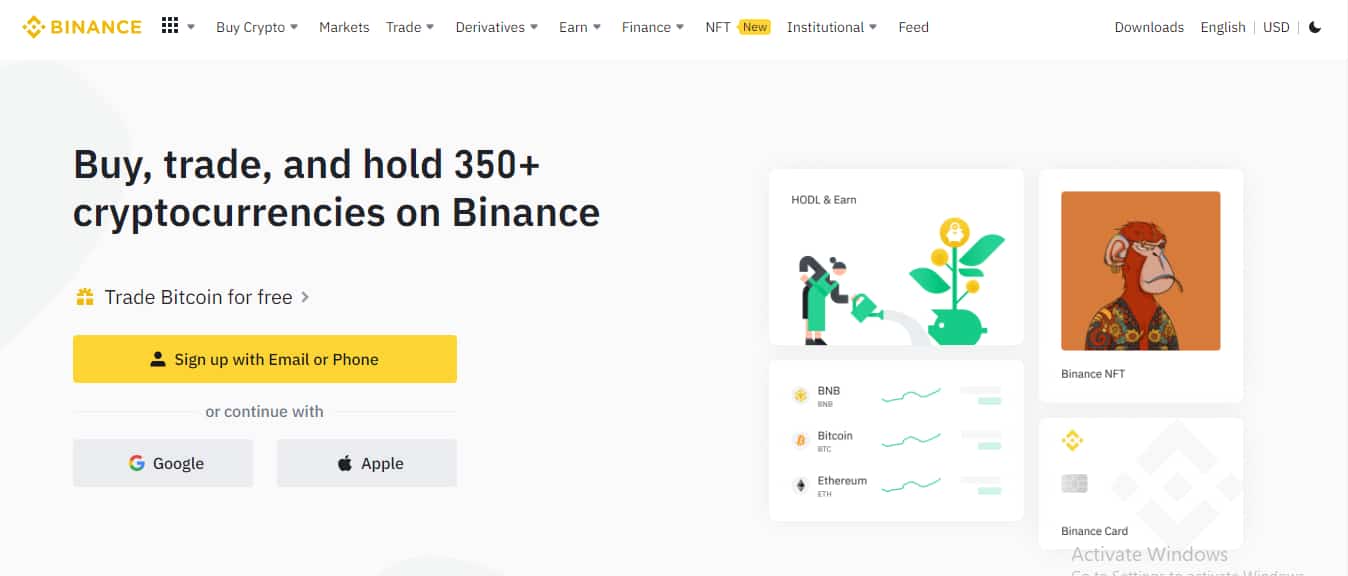 Changpeng Zhao launched the Binance trading platform in 2017. To date, the company has developed into the most successful cryptocurrency exchange on the planet, measured by trade volume.
Given that it supports more than 360 different cryptocurrencies, it's not hard to see why Binance has the highest trading volume out of any cryptocurrency exchange. In addition to the extensive number of cryptocurrencies it supports, Binance's platform also features more than a thousand other market pairs. 
Furthermore, Binance offers numerous trading options, such as a futures and derivatives marketplace, a spot exchange, and a margin trading option with up to 125x leverage. Also, Binance is another NFT marketplace where you can make trades or even mint new ones, similar to Crypto.com. 
Crypto.com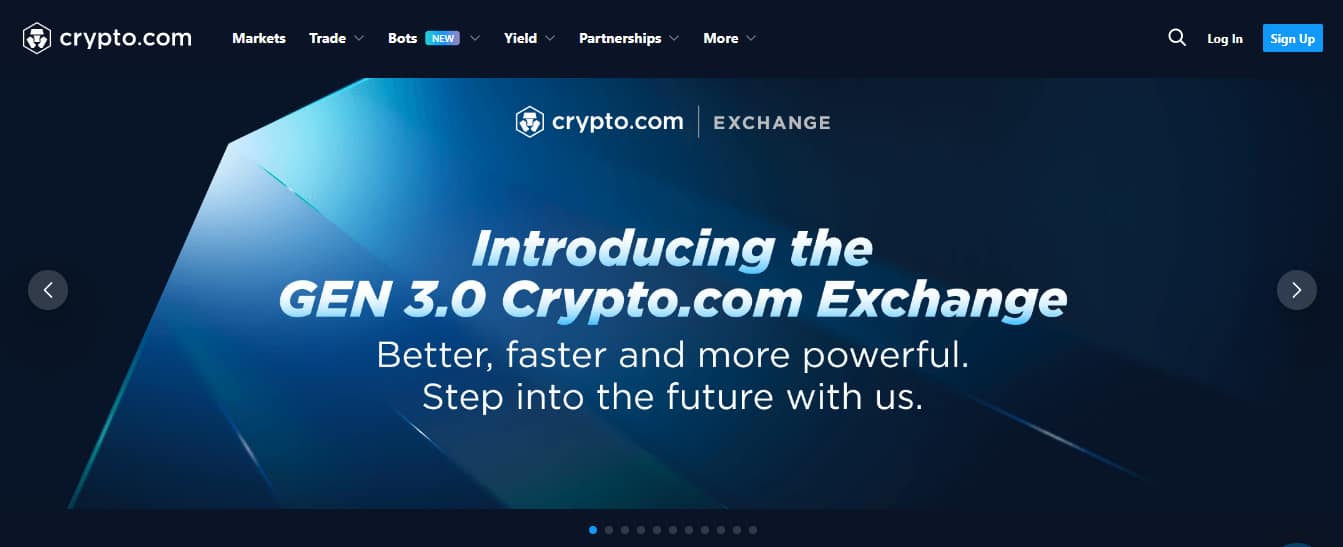 Founded in 2016 by Kris Marszalek, Crypto.com is an online marketplace for buying, selling, and staking cryptocurrencies. More than 10 million people visit Crypto.com every month, and the company's 900-person strong staff is ready 24/7 to accommodate them.
The various elements of this cryptocurrency exchange and online brokerage include a crypto credit service that provides loans in crypto, a cryptocurrency wallet that comes with a smartphone application, and a metal Visa card that offers an 8% return on all crypto expenditures. In addition, a new NFT marketplace for users to explore and trade NFTs has recently been opened on Crypto.com.
In summary, there have been no incidences of fraud or hacking against the cryptocurrency exchange and platform Crypto.com. Services on this platform are of the highest quality and are designed with your privacy, security, and adherence to applicable laws and guidelines in mind.
Pros and Cons
Binance Pros
A low-fee trading platform;

Provides dedicated markets for both beginner and professional traders;

Lists a vast number of tradeable fiat and cryptocurrencies;

Provides multiple payment options;

Enables derivatives and margin trading with up to 125x leverage.
Binance Cons
Suffered several security breaches;

Deals with regulatory issues in several jurisdictions.
Crypto.com Pros
Offers a large selection of digital currencies;

Provides a Visa card with cash-back rewards;

A safe and regulated platform;

There's a potential for a better rate of return on your crypto holdings.
Crypto.com Cons
Levies relatively high fees for credit card/debit card payments.
Binance vs Crypto.com: The Crypto Exchange Comparison 
Opening an Account
Both Binance and Crypto.com have very similar sign-up procedures. To authenticate their accounts, customers on both platforms are required to go through the KYC and AML protocols, respectively.
When using Binance, the larger the number of user authentication documents you provide, the higher your VIP level will be and the more money you will be able to withdraw from your wallet. Because of this, you can anticipate that the verification processes on Binance will take more time. 
The sign-up process on Crypto.com, on the other hand, is only a tad bit quicker. Here's the deal. If you want to use the services offered by Crypto.com, you will need to go through the KYC (Know Your Customer) user identification process because the platform is a legitimate cryptocurrency trading exchange. 
To do so, the exchange requires you to submit evidence of your identity, such as your full legal name, age, citizenship, a government-issued photo ID, and a selfie image. Your trading account will be activated nearly immediately once the platform accepts your application and verifies your identity.
Main Features
When compared to other exchanges, Binance stands out due to the sheer number of cryptocurrency pairs and the scope of cryptocurrencies available for trading. Binance is also an excellent starting point for those interested in trading crypto-related futures, perpetual swaps, and other derivatives. 
One of Crypto.com's best features is a metal Visa card that can be loaded with cryptocurrency and offers cash back on all purchases. The only drawback is that the rewards are paid out in the volatile Crypto.com token (CRO). The exchange also provides you with the opportunity to earn interest on your cryptocurrency holdings, and despite the fact that it is a centralized platform, it provides a DeFi service that enables you to trade a range of DeFi tokens.
One striking similarity between the two markets is the abundance of passive earning options. On Crypto.com, investors can earn up to 14.5% APY on their cryptocurrency holdings, while on Binance, investors can earn up to 20% on prominent coins such as AVAX or NEAR. Additionally, staking is available on Binance, while Crypto.com incorporates it within its separate CRO DeFi wallet.
Supported Cryptocurrencies
When it comes to the number of supported cryptocurrencies, Binance is the clear winner because it hosts more than 350 cryptocurrencies on its exchange and provides you with a wide variety of market pairs to choose from. 
On the other hand, Crypto.com is compatible with approximately 250 different digital currencies. And while Crypto.com's list of supported cryptocurrencies may seem to offer traders virtually unlimited choice, only a subset of these can actually be staked.
Payment Methods
Users of Binance have several choices for making cryptocurrency purchases. A credit card, bank transfer, or exchanging Bitcoin for alternative cryptocurrencies are all viable payment options. Users of the Binance P2P exchange can also buy cryptocurrency from other traders using their local currency.
On the other hand, Crypto.com traders can easily and quickly obtain their chosen coins by purchasing them on the exchange.
You can buy them or add money to your Crypto.com account with a variety of payment options, including cryptocurrencies, instant ACH payments, credit/debit cards, and SEPA bank transfers, all of which are accepted by TransferWise and PayPal. When buying your favorite cryptocurrency, you can also use a wide variety of fiat currencies.
Trading Fees and Limits
When it comes to fees, both platforms appear to be on the same playing field. Both platforms charge maker and taker costs, and the fees are calculated based on the trading volume created by the trader.
A maker fee and a taker fee of 0.1% will be assessed for trade volumes on Binance that are less than 50 BTC during a period of 30 days. Moreover, a discount of 25% will be applied automatically whenever Binance's native coin (BNB) is used.
On the other hand, traders with a 30-day trading volume of less than $25,000 will be subject to a maker fee of 0.05% and a taker fee of 0.07% when using the Crypto.com platform. If your monthly trading volume on Crypto.com is less than $50,000, you will be charged a fee of 0.04% for makers and 0.065% for takers, proportionately.
How Safe Are Binance and Crypto.com?
Several financial institutions, including those in the United States and the United Kingdom, are presently looking into Binance, while the exchange itself is not regulated anywhere. Additionally, in 2019, hackers successfully stole 7,000 BTC from the exchange.
Binance has now strengthened its security system with more stringent Know Your Customer (KYC) and Anti-Money Laundering (AML) procedures, and it has used its Secure Asset Fund to compensate users for damages they incurred as a result of the incident.
Crypto.com, on the other hand, has never been the subject of a hacking attempt, and like Binance's, its platform incorporates multi-factor verification and anti-phishing safeguards. Crypto.com boasts that all of its users' cryptocurrency holdings are safely stored in offline cold storage.
Customer Support
Binance's most pressing area for development is customer support. Although the platform does offer a comprehensive knowledge base to help you learn about trade operations and operations, customer care leaves much to be desired in terms of efficiency and promptness.
If you are having a pressing issue with one of the trading operations or registering for an account on Crypto.com, the chatbot, available 24/7, is possibly the very first option that you see and reach for. 
You can also utilize the email ticket system to submit your inquiry and associated information and expect a reply within a few hours at the very most. The Help Page is a good location, too, to investigate solutions to your issue since it contains answers to numerous frequently asked questions that should, at the very least, help you narrow down your options.
Mobile Trading
The majority of newcomers could find the Binance mobile app to be a little overwhelming because of its high level of sophistication. Because the Binance desktop software is just as complex as the Binance mobile app, you'll face an even greater period of adjustment when you browse the desktop version of the Binance app. 
At the end of the day, the mobile app's user interface offered by Crypto.com is more streamlined and straightforward, making it ideal for novices. Indeed, if you sign up for Crypto.com, you'll have access to a user-friendly mobile app that works with both iOS and Android smartphones.
How Do Binance and Crypto.com Compare to Other Crypto Exchanges
Coinbase vs. Crypto.com vs. Binance
We can't talk about Crypto.com and Binance without mentioning the industry giant that is Coinbase.
Coinbase is an excellent choice for anybody who is just getting started in the world of cryptocurrencies because it is the only cryptocurrency exchange that satisfies the regulatory requirements to be freely traded on the Nasdaq Stock Market.
This makes Coinbase a very desirable alternative to Binance and Crypto.com. It is, without a doubt, one of the key entry points into the world of cryptocurrencies that is the most welcoming to new crypto traders. 
However, this does not indicate that other alternatives, like Crypto.com and Binance, are ineffective compared to Coinbase. In comparison to other exchanges, Binance is preferable because of its lower fees, higher volume, and greater diversity of cryptocurrency pairings that are accessible for trade. 
I also like the debit card that Crypto.com offers because it has so many great features, but the choice that's best for you is the one that takes into account the things that are most important to you and your trading strategy.
Conclusion
The decision between Crypto.com and Binance is ultimately a matter of each trader's unique requirements. As is customary, various trading methods call for unique collections of trading tools.
Crypto.com is a fantastic choice if you're searching for a simple way to buy and trade cryptocurrency with a credit or debit card. When it comes to high-frequency trading and other tactics that rely on ample market liquidity, though, Binance is your best bet.