About the Exchanges
Binance is the largest crypto exchange on the market, while Binance US is the company's US subsidiary, built to serve US customers and adhere to local crypto regulations. 
Let's have a closer look at how Binance vs Binance.US compare against each other.
Binance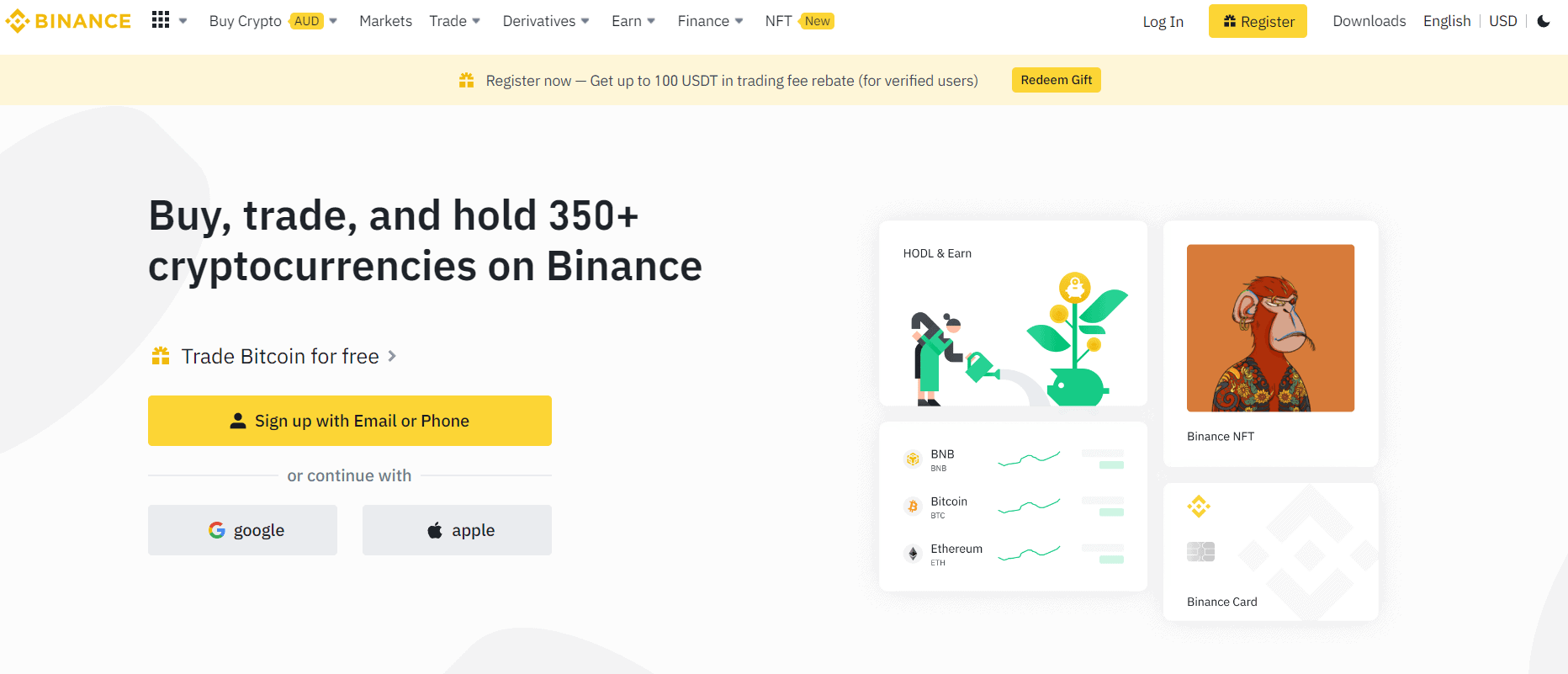 Binance is the number one crypto trading platform on the market and has millions of active users worldwide. The platform was launched in 2017 and based in the Cayman Islands. In just a few years, Binance became the leading global crypto exchange thanks to its huge selection of cryptocurrencies, low fees, and high-quality services.
Binance is great for both beginners and experienced traders because it has numerous trading features, such as instant trading and quick swaps for crypto newcomers, while experienced traders have access to a classic trading interface.
The platform has hundreds of trading pairs for spot and margin trading. Additionally, Binance has numerous crypto derivatives options, futures contracts, and even its own NFT marketplace.
Binance.US

Binance.US is a subsidiary of the Binance international crypto exchange. It was launched in 2019 to provide US customers with crypto trading features after US regulators decided that Binance can't operate in the US.
The platform is licensed to operate in most US states except Hawaii, Texas, New York, and Vermont. Since Binance isn't a regulated exchange, the company decided to launch Binance.US for the US market.
Binance.US is a great platform for beginners and average crypto users. The platform supports far fewer cryptocurrencies than Binance, but the selection is still pretty good and includes the most trending digital currencies. Traders can use the instant buy/sell feature, quickly swap coins, or use the advanced trading interface for spot trading.
Similarly to Binance, Binance.US also has very low fees.
Pros and Cons
Binance Pros
The largest crypto exchange on the market.

Huge selection of 600+ cryptocurrencies.

Low trading fees.

Numerous trading options for beginners and advanced users alike.

Various crypto staking features.
Binance Cons
Non-regulated exchange platform.

Isn't available in some major global regions, such as the US.
Binance.US Pros
The platform is regulated under US law.

Great selection of 120+ digital currencies.

Low fees.

Great for beginners. 

Supports crypto staking.
Binance.US Cons
A somewhat limited selection of cryptocurrencies compared to competitors.

Lack of crypto derivatives and futures contracts.

No margin trading options.

Doesn't have an NFT marketplace.
Binance vs Binance.US: The Crypto Exchange Comparison 
Opening an Account
Follow these steps to open an account on Binance:
Go to the Binance

website

and click on

Register

to start creating your user account.

If you have a Google or Apple account, you can choose one of these options to register a Binance account.

The other options are mobile phone and email registration.

If you choose an email address or mobile phone, you'll need to provide the platform with the necessary data.

Now, you need to create a custom password for your account.

If you have a referral code, you should enter it now in order to receive a welcome bonus from Binance.

Agree to the terms of use and the privacy policy.

Hit the

Create Personal Account

button, and you're done.

Before using your Binance account, you just need to activate it by entering the code sent to your mobile phone or email address by Binance.

Once you've activated the account, you're ready to start trading.
This is how you can create an account on Binance.US:
Go to the Binance.US

landing page

and click on

Get Started

.

You'll need to provide your email address to register an account.

Create a strong password to protect your account.

Enter your referral code if you have one.

Confirm that you're over 18 years old and that you agree to the terms of service, privacy policy, and biometric data policy.

Once you're done, click on

Create Account

.

You'll receive an email with an activation code you'll need to enter on Binance.US to activate your account.

Before you can start trading, you'll also need to verify your identity and pass the Know Your Customer (KYC) procedure which is mandatory under US law.

To do this, navigate to the user

Dashboard

section in your Binance.US account and choose the

Verify Identity

option.

Enter the last four digits of your US social security number (SSN), your full name, date of birth, and your address.

Completing the basic verification will enable you to trade on Binance.US, but you'll have some limitations. You should complete the advanced verification process to unlock all of the Binance.US features and higher deposit/withdrawal limits.

Go to the

Basic Info

page in the settings section of your dashboard and choose the

ID Verification

option. You can submit a photo of your driver's license, passport, or state ID.

Submit your ID verification, and you'll receive a confirmation shortly.

You now have access to all Binance.US features, along with the highest platform limits.
Main Features
Binance provides users with all the crypto features they need in one place. It's far more than just a trading platform. Experienced users can engage in spot trading and margin trading on the Binance trading interface, including a detailed price chart, order book, various technical analysis tools, a list of active orders, and multiple order types. Beginners have the easy-to-use instant trading option at their disposal, along with the quick swap feature for exchanging hundreds of coins and tokens. 
Binance is a great choice for users with a high-risk appetite looking for advanced financial instruments, such as crypto derivatives and futures contracts.
Additionally, the platform has dozens of crypto staking options, as well as DeFi yield-generating features. Users can deposit different cryptocurrencies, lock them up on the platform for a certain period of time and receive an annual percentage yield (APY) as a reward. 
Binance also has a crypto borrowing and lending service where users can borrow crypto or lend their funds for an interest rate. On top of this, the exchange has its own NFT marketplace and a Visa-powered debit card for spending crypto at millions of retail spots around the world.
Binance.US is focused on providing users with basic crypto trading features. The platform is easy to navigate and great for beginners. Traders can easily use the Buy, Sell & Convert feature to quickly trade crypto or exchange coins and tokens.
Users looking to broker a better trading deal with more options can use the advanced trading interface. The interface comes with a standard price chart, order book, and all the necessary tools to analyze price movements and implement different trading strategies. 
Binance.US allows users to stake 22 cryptocurrencies and earn staking rewards. The platform also has an over-the-counter (OTC) trading desk for large-scale traders.
Supported Cryptocurrencies
Binance is known for its huge selection of digital currencies. The platform allows users to buy, sell, and trade more than 600 coins and tokens. You'll find most of the top 200 cryptocurrencies along with loads of less-known cryptocurrencies. 
You'll find Bitcoin (BTC), Litecoin (LTC), Decentraland (MANA), The Sandbox (SAND), Ethereum (ETH), Ripple (XRP), BNB (BNB), Binance USD (BUSD), Avalanche (AVAX), Fantom (FTM), Dogecoin (DOGE), Algorand (ALGO), Filecoin (FIL), and hundreds of additional altcoins on Binance.
The only exceptions among the leading cryptocurrencies are the USD Coin (USDC) stablecoin, along with official tokens from competitor exchange platforms. There's also a bunch of micro-cap tokens based on the Binance Chain, the native blockchain of the Binance exchange.
Binance.US supports far fewer cryptocurrencies, but it still has a great selection of more than 120 trending cryptocurrencies. You can find most of the leading digital currencies on Binace.US, such as Bitcoin (BTC), Cardano (ADA), Ethereum Classic (ETC), Gala Games (GALA), Harmony One (ONE), BNB, Solana (SOL), and others. 
Binance.US supports fewer cryptocurrencies than Binance because it adheres to strict regulatory rules in the US, which require exchanges to obtain a license for every crypto they offer. This is quite difficult when it comes to low and micro-cap cryptocurrencies. That's why Binance.US only supports the most popular coins and tokens.
Payment Methods
Binance supports a bunch of payment methods to make it super easy for users to invest fiat currency in crypto. The platform supports more than 20 popular fiat currencies, including USD, AUD, CAD, EUR, GBP, and others.
Users can quickly buy crypto with their credit or debit cards through the quick buy feature. It's also possible to fund your Binance account with a standard bank account transfer and spend your fiat balance on crypto later, at your own pace. 
The peer-to-peer (P2P) trading feature on Binance allows users to pay for crypto with bank account transfers and over 100 payment service providers, such as Banxa, Google Pay, PayPal, and other services.
Binance.US supports two payment methods. Users can buy crypto through the instant buy feature with a bank card. As far as fiat deposits to Binance.US are concerned, users can deposit cash through standard bank account transactions.
Trading Fees and Limits
Binance has some of the lowest trading fees on the crypto market, which is one of the platform's major strengths. Traders incur a 0.1% fee for a monthly trading volume below one million USD. The fee can go even lower for large-scale investors or if you hold a certain amount of the platform's BNB coin in your account. 
Binance also has one of the largest daily withdrawal limits among crypto exchanges. Users can withdraw up to 8 million USD worth of assets on a daily basis. 
Binance.US has a somewhat different fee structure divided into several tiers but also charges very low fees. Tier 0 trades don't incur any fees, but this tier only includes three Bitcoin trading pairs with USD, BUSD, and USDT. Other trades fall into Tier 1 and Tier 2, depending on the trading pair in question.
Tier 1 fees start at 0.075% for makers, and 0.15% for takers. Tier 2 fees start at 0.3% for makers and 0.75% for takers. These are the fees for monthly trading volumes below 10,000 USD. As your trading volume increases, the fees start to drop. 
How Safe Are Binance and Binance.US?
Binance uses multiple security measures to keep platform assets and user accounts safe.
All information on the platform's website and mobile app is encrypted, while user accounts use passwords and optional two-factor authentication (2FA) to prevent unauthorized access. Most of the platform's funds are kept offline in the company's hardware wallets.
Binance doesn't have a history of platform hacks, but the platform's Binance Chain suffered a major hack in 2022 that resulted in 500 million USD of stolen crypto. As far as regulations are concerned, Binance isn't regulated, and users don't have much protection in case the platform gets hacked or goes bankrupt.
Binance.US uses the same security measures as Binance, and the platform has never been hacked. Unlike Binance, the Binance.US platform adheres to strict US regulatory policies. That's why users have to pass the KYC protocol and provide personal information. This measure is used to prevent scams and money laundering on the platform.
What's more, in case of any unfortunate events, all platform users have legal protection in the US.
Customer Support
Binance and Binance.US have the same features when it comes to customer support options. Users can submit a support ticket or contact the support teams via email.
Unlike Binance users, who report that the platform's support team is often unresponsive, Binance.US users have overly positive experiences with the exchange's support team. 
The customer support team on Binance could use some improvement.
Mobile Trading
Binance has one of the best mobile trading apps on the market. The app is well-designed and offers quick access to all of the platform's numerous features. Users can do everything, from quick trading, token swapping, spot trading, and margin trading to crypto derivatives trading, futures contracts, crypto staking, and buying NFTs. 
The app works very smoothly, except that the trading interface with the price charts is a bit more complicated to use on the mobile app compared to the browser version of the exchange. However, this isn't a major drawback because using a trading interface is generally always more practical on a computer than on a mobile device.
Binance.US also has a great mobile app for Android and iOS mobile devices. The app has a simplistic, straightforward design and allows users to easily buy, sell, trade crypto, and stake assets.
How Do Binance and Binance.US Compare to Other Crypto Exchanges
Binance is an all-in-one crypto trading platform that covers everything from basic trading features to derivatives and NFTs. It's best compared to platforms that offer similar services like KuCoin and ByBit. 
Both of these competitor platforms have similarly low fees like Binance, however, they have a much smaller selection of cryptocurrencies. KuCoin supports 300+ cryptos, while ByBit supports around 200 coins and tokens for trading.
The crypto selection makes Binance a better choice than both of these competitors. However, in terms of crypto derivatives features, ByBit is a better choice than Binance because it specializes in a broad range of derivatives contracts.
Binance.US, on the other hand, has a much smaller selection of trading features. The platform only supports instant trading, basic spot trading, and a limited selection of crypto staking features. Binance.US is best compared with Coinbase and Kraken. 
Both competitors support 150+ coins and tokens, which is more than the Binance.US selection. On the other hand, Binance.US has much better fee rates compared to Coinbase and Kraken, making it a better choice for users looking to pay less in trading fees.
Conclusion
Both Binance and Binance.US provide users with top-quality trading services. However, Binance has far more trading options, such as margin trading, crypto derivatives, and futures contracts. Also, the platform supports more than 600 cryptocurrencies, which is far more than Binance.US's selection of 120+ coins and tokens.
On an international scale, Binance is a far better exchange, but if you're a US user, Binance.US is better because it's regulated and users have legal protection from US authorities in case of unexpected events.