About the Exchanges
Binance and Gemini are among the top cryptocurrency exchange platforms on the market. Both exchanges provide users with a broad range of exceptional services. 
Let's take a deeper look at how Binance vs Gemini compare against each other.
Binance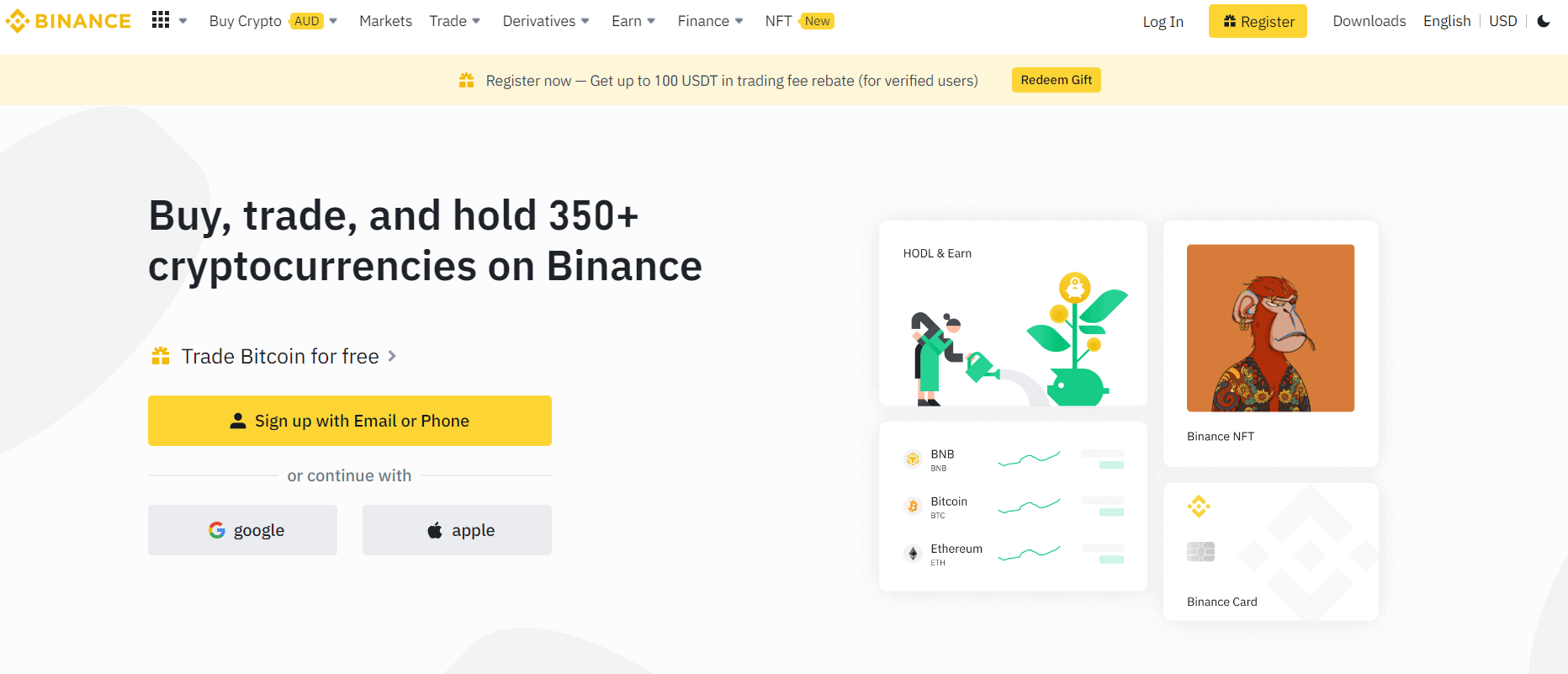 Binance was launched in 2017 as an international crypto exchange platform registered in the Cayman Islands. Although the platform is relatively young, it became the world's largest crypto exchange within just a few years after its launch.
Binance provides users of all experience levels with a wide range of crypto features. Beginners have easy access to crypto through the instant buy/sell feature and the quick swap option, while experienced users have the detailed Binance trading interface for conducting advanced trading operations, such as spot and margin trading.
Even NFT enthusiasts can use Binance thanks to the platform's NFT marketplace, which has loads of NFTs built on the exchange's native Binance Chain. Finally, Binance has a Visa prepaid debit card that allows users to spend crypto at millions of payment spots.
Gemini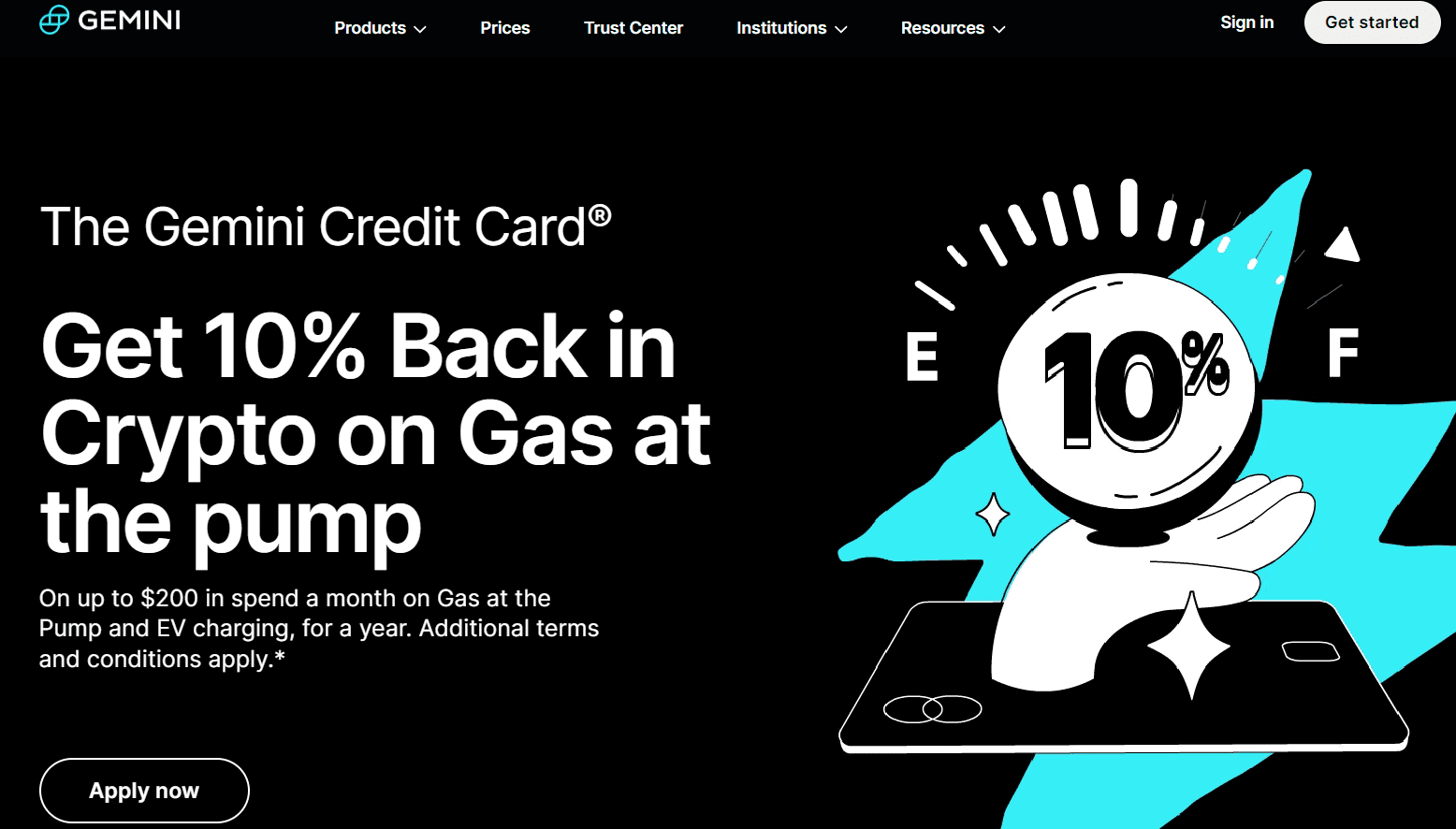 Gemini is a veteran crypto exchange that's been operational since 2014. The exchange is famous for its high security, compliance with US regulations, and its top-quality services.
Gemini is available in all 50 US states, which is very rare even for regulated exchange platforms due to strict crypto regulations in states like New York and Vermont. The platform is great for beginners because it has a simple interface for instant trading.
Experienced users have the Gemini Active Trader section at their disposal to conduct spot trading and implement advanced trading strategies. Gemini supports crypto staking for a broad range of digital currencies. Additionally, US customers have access to the Gemini crypto credit card issued by MasterCard.
Pros and Cons
Binance Pros
The largest exchange on the market. 

600+ cryptocurrencies.

A broad range of advanced trading features.

Crypto derivatives and futures contracts.

Native NFT marketplace.

Low fees.
Binance Cons
The platform isn't regulated.

US customers don't have access to the platform. 
Gemini Pros
Fully regulated crypto exchange available in all 50 US states.

120+ cryptocurrencies.

Very beginner-friendly.

Great selection of educational resources for beginners.

Supports crypto staking.
Gemini Cons
High fees.

Lack of margin trading, crypto derivatives, and futures contracts.

Doesn't have an NFT marketplace.
Binance vs Gemini: The Crypto Exchange Comparison 
Opening an Account
Opening a user account on Binance is very simple:
Go to

Binance

and click on the

Register

button.

Binance will offer you four choices for registering your account. You can choose to proceed with a Google or Apple account. Also, you can choose to provide your email address or mobile phone number to create a user account.

In case you decide to go with a phone number or email address, you'll need to fill out the adequate fields.

Create a strong password to protect your account.

Enter your referral code if you have one. Binance referral codes will grant you a small welcoming bonus on the platform.

Agree with the terms of service and the privacy policy. 

Proceed to create your account, and that's it. Binance will send you a text message to your phone or an email message with an activation code. 

Enter this code when logging into your Binance account to activate your account.

You're ready to start trading on Binance.
Follow these steps to create a Gemini account:
Go to the

Gemini

website

and click on the

Get Started

button.

You need to provide your full name and email address and create a password for your account.

Agree with the privacy policy and the user agreement and click on the

Create My Account

button.

Gemini will send you an activation code in an email message. Enter the activation code in the appropriate field on Gemini.

You've now created a Gemini account, but you need to go through additional steps to activate your account.

Click on the

Get Started

button on the screen. 

Enter your country or state of residence if you're a US customer.

Enter your phone number, and Gemini will send you another verification code to verify your mobile phone number.

The next step is to verify your identity. You'll need to provide your full name again, along with your address, profession, social security number, city, state, and zip code.

Now, select an identification document. You can choose between your passport or driver's license. 

Finally, you need to submit a photo of your chosen document with your personal details and photo.

Click on the

Submit for review

button, and you'll receive a confirmation message within two business days. 

You can start trading on Gemini once your identity is confirmed.
Main Features
Binance is more than just a crypto exchange with basic trading features. It's more of a crypto ecosystem that offers users all the crypto services they need on one platform.
Crypto beginners can stick to instant trading and quick swaps to exchange tokens, while experienced users have various trading tools at their fingertips. Binance supports spot trading, margin trading, various crypto derivatives, and futures trading contracts.
There are hundreds of trading pairs on Binance, and the platform has the highest liquidity levels of all crypto exchanges.
Binance supports dozens of crypto staking options for Proof-of-Stake cryptocurrencies, but it also allows users to earn interest on numerous cryptocurrencies by participating in Binance liquidity pools and yield farming. Users can even borrow or lend crypto on Binance.
Additionally, the platform has a prepaid Visa card for spending crypto at retail payment spots. Binance is also tapping into the NFT trend with its own NFT marketplace. 
Gemini has far less features than Binance because the platform is mainly focused on crypto trading and a few additional functions. The basic Gemini interface uses instant trading to allow users to buy or sell crypto. It's very easy to use and ideal for beginners who want to quickly buy crypto with fiat currency.
For advanced users, Gemini has the Active Trader interface, which is a classic trading interface with a price chart, technical analysis tools, order books, and different order types.
Gemini supports crypto staking, and it also has a Gemini MasterCard credit card for crypto payments. Users get various discounts and cashback rewards when using credit card to make purchases with crypto.
Moreover, the platform has a great educational section with loads of materials to help beginners understand how crypto trading works. On top of that, Gemini has a Gemini Custody feature for individual investors and businesses that want to use Gemini as a custodian for their assets.
Supported Cryptocurrencies
When it comes to the selection of cryptocurrencies, Binance is one of the market leaders. The platform supports more than 600 cryptos, which is more than enough for most crypto traders.
Binance supports all of the trending cryptocurrencies, except for the USD Coin (USDC) stablecoin and a few tokens issued by competitor crypto exchange platforms. Additionally, the platform allows users to invest in numerous BEP-20 tokens that use the Binance Chain network.
From trending cryptocurrencies, you'll find coins like Bitcoin (BTC), Avalanche (AVAX), Fantom (FTM), Tether (USDT), Cardano (ADA), Cosmos (ATOM), Chainlink (LINK), Ethereum (ETH), Ripple (XRP), Algorand (ALGO), Near Protocol (NEAR), Ape Coin (APE), Eos (EOS), Tezos (XTZ), and all other major coins. 
Gemini has a much smaller selection of cryptocurrencies. The exchange has a strong selection of around 120 trending coins and tokens. The selection of cryptos on Gemini is smaller compared to that of Binance because, unlike Binance, Gemini is a fully regulated crypto exchange. Because of this, the platform needs to obtain a trading license for every digital currency they want to list for trading. 
Gemini supports USD Coin (USDC), BTC, ETH, XRP, VeChain (VET), Chiliz (CHZ), ADA, Polygon (MATIC), Polkadot (DOT), Dogecoin (DOGE), Litecoin (LTC), Shiba Inu (SHIB), Aave (AAVE), The Sandbox (SAND), Decentraland (MANA), Dai (DAI), Solana (SOL), and more than 100 additional cryptocurrencies.
Payment Methods
Binance supports numerous payment methods. The instant trading feature allows users to pay with their debit cards and bank cards, while fiat deposits are made with bank account transfers.
When you deposit fiat currency into your Binance account, you don't need to spend the cash right away. You can convert it to various cryptocurrencies later. Binance supports more than 20 leading fiat currencies, including EUR, USD, HKD, AUD, and many more. 
Binance also has a peer-to-peer (P2P) trading feature that connects platform users and facilitates trades between them. This trading method supports more than 100 payment methods, including various third-party payment providers and gateways like PayPal, Banxa, Google Pay, and local payment services, depending on your region. 
Gemini supports credit card and debit card purchases for their instant trading feature, however, you can also deposit fiat currency with a bank account transfer and spend the money later. Bank account transactions are cheaper compared to card purchases, and bank transfers are the only way to exchange fiat for crypto on the Gemini Active Trader interface. Gemini supports seven fiat currencies, including USD, HKD, EUR, CAD, AUD, GBP, and SGD. 
Trading Fees and Limits
Binance is great for users looking to pay as little as possible in terms of fees. The platform charges just 0.1% on all trades for monthly trading volumes below one million USD. Most traders fall into this category, which makes Binance fees some of the lowest in the industry.
However, the fees can drop even lower for large-scale traders. The daily withdrawal limit is incredibly high. Users can withdraw up to eight million USD of crypto or fiat currency daily. 
Gemini is the stark contrast to Binance when it comes to fees. The platform has considerably high fees, which can be a deal breaker for many users. Trading orders on the instant trading interface incur a fixed fee of 0.99 USD for orders up to 10 USD of value, 1.49 USD for orders between 10-50 USD, and 2.99 USD for orders between 50-200 USD. Orders above 200 USD incur a 1.49% fee, which is extremely high compared to the 0.1% fee on Binance. 
The Gemini fees are lower if you're using the Gemini Active Trader interface. Traders with monthly trading volumes of up to 9,999 USD incur a 0.2% maker fee and a 0.4% taker fee. The fees drop lower for traders with higher trading volumes, so users with a monthly trading volume between 100,000 USD and one million USD incur a 0.08% maker and 0.2% taker fee. The Gemini withdrawal limit is 100,000 USD per day.
How Safe Are Binance and Gemini?
Binance has strict security protocols in place to protect all platform assets and user accounts. Most of the crypto on the platform is stored in cold wallet devices, making it impossible for cyber attackers to steal it. A tiny portion of the assets is kept online for platform liquidity purposes. 
User accounts use passwords as a primary protection layer, and users can set up the optional two-factor authentication (2FA) feature. Additionally, the platform uses SSL encryption to protect all of the data. 
Binance was never hacked, but the Binance Chain suffered a major hack in 2022 when hackers stole around 500 million USD of crypto. The platform isn't regulated by reputable regulatory institutions, and users aren't legally protected in case of platform hacks.
Gemini is regulated by US institutions and in case the platform gets hacked or goes bankrupt, users can rely on the US legal system to protect them. Platform assets are insured, and users will get reimbursed in case of any unfortunate events. 
Gemini is known for its strong security measures and clear record. It uses similar safety measures as Binance and goes through regular third-party security audits to improve its security and stay ahead of potential cyber-attacks. 
Customer Support
The customer support segment is the only aspect of Binance where the exchange is underperforming. Users can contact the Binance support team through the support ticket system or by emailing them. However, users report that the support team is often unresponsive, and they have to wait a long period of time to get an answer. 
Gemini has even fewer customer support options. The only way to contact the team is by submitting a support ticket through the platform. Both Binance and Gemini could work on improving their customer support system. 
Mobile Trading
Just like the browser version of the platform, Binance also has a smooth-working mobile app. Unlike many competitor apps that only offer limited platform features, the Binance app supports all of the Binance features. You can engage in instant trading, margin trading, derivatives trading, and all other aspects of the Binance platform. 
Using the Binance trading interface might be a bit complicated on a mobile device because of small mobile screens, but it isn't a major setback. 
The Gemini mobile app is simple-to-use and comes with a smooth interface. All the key options are clearly visible, and users can easily engage in instant trading. However, the app has a major drawback because the Gemini Active Trader interface isn't available in the app. Users can only access the advanced trading interface through their mobile or desktop browsers. 
How Do Binance and Gemini Compare to Other Crypto Exchanges
Binance provides users with an all-encompassing crypto service that includes trading, swapping, staking, NFTs, crypto derivatives, and more. It's best to compare the platform to the likes of KuCoin and ByBit since these platforms have a similar scope of features. 
Both KuCoin and ByBit have low trading fees, however, the Binance fee structure is a bit better compared to these platforms, and the withdrawal limit is higher.\
In terms of security, Binance is better than KuCoin because the platform had a major hack a few years ago, but ByBit hasn't experienced any hacks in its history. Both competitors support a lower number of digital currencies than Binance. The only key advantage of ByBit over Binance is the broader selection of crypto derivatives features. 
Gemini is best compared to Coinbase because of its focus on instant trading and limited advanced features. Coinbase is really easy-to-use, just like Gemini, and it also charges relatively high fees.
However, Coinbase doesn't have an integrated advanced trading interface. Instead, users need to use the separate CoinbasePro platform to access spot trading features. The only advantage of Coinbase over Gemini is that it has its own NFT marketplace.
Conclusion
Binance is the largest cryptocurrency exchange for a good reason. The platform has everything users need to conduct all sorts of trading operations, stake assets, buy NFTs, and more. It caters to all types of users, from beginners to advanced traders. 
Gemini is a totally different class of crypto exchange because it's more geared toward average users who just want to quickly buy or sell crypto.
Compared to Gemini, Binance has significantly lower fees and a much larger selection of cryptocurrencies. However, Binance lacks the level of security you get when trading on a regulated platform like Gemini.