Product
Number of Crypto Currencies Listed
Number of Crypto Currencies Listed
350+
185+
Fees
Fees
0.10% or less
0.9% for stablecoins, 1.5% for all other coins
Number of Users
Number of Users
120 million
9 million
I decided to see how Binance vs Kraken compare.
To assist you in your decision, I have compared the two exchanges side by side so you can see how they match up in terms of security, features, and user experience in general.
About the Exchanges
Binance – The Best International Trading Platform
Binance is a global cryptocurrency exchange that dominates the cryptocurrency exchange market. This crypto trading platform is an excellent place to start if you're interested in buying cryptocurrency but want to avoid the hassle and pressure of dealing with a smaller, less liquid platform. 
This gigantic financial technology company, established by Changpeng Zhao, is currently at the top in every significant area of cryptocurrencies, covering a wide array of trading features and (fiat) payment options and enjoying one of the largest market caps and trading volumes, and a huge number of registered users.
You can partake in P2P trading, staking, diverse investing methods, simple crypto swaps, or more sophisticated trading strategies like futures and margin trading with up to 125x leverage. With the platform's cheap trading fees compared to the competition, you can maximize your profit from every trade you make through Binance.
Kraken – The Safest and Most Trusted Cryptocurrency Exchange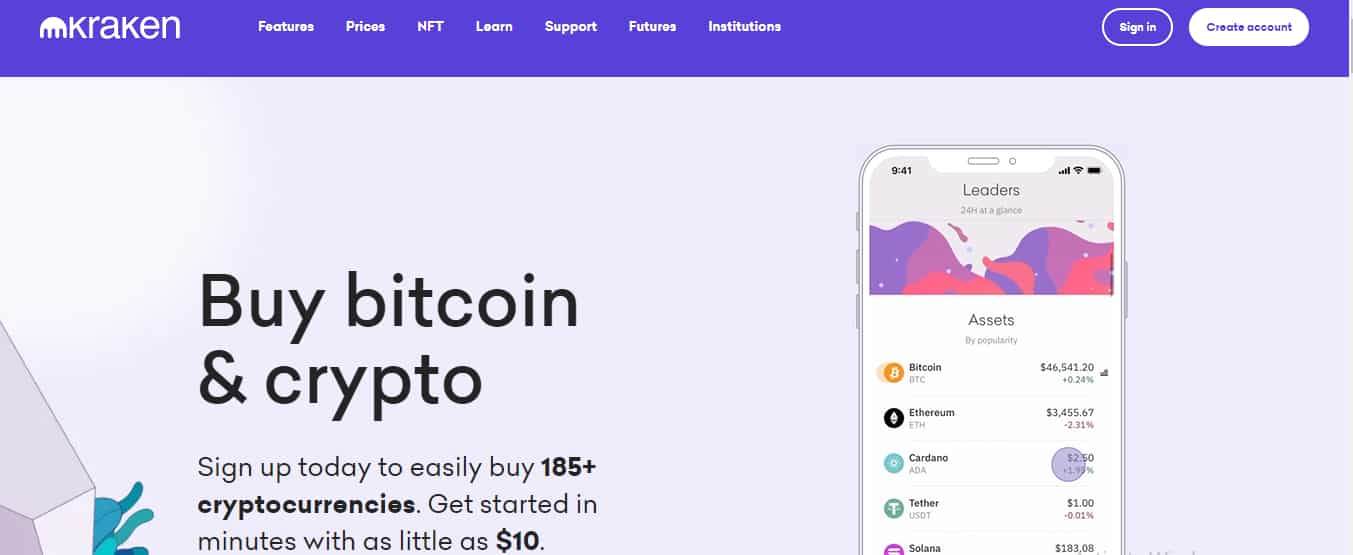 Since 2011, Kraken has been a reliable cryptocurrency exchange for users worldwide. New users consistently sign up for Kraken thanks to its reliable security and helpful customer service team. During the years of its functioning, this trading platform, situated in San Francisco, has earned a remarkable reputation for its user-friendliness and stability.
After recognizing Bitcoin's potential and the impact digital currencies could have on the financial sector, Kraken's founder, Jesse Powell, quickly realized the relevance of cryptocurrency exchanges in the crypto sector. 
As a result, this Bitcoin and cryptocurrency exchange was established two years after Bitcoin's release to give crypto investors a simple and secure entry point into the cryptocurrency market.
Pros and Cons
Binance Pros
The world's largest and busiest exchange in the industry;

Good for both novice and seasoned traders;

Supports both online and offline wallets and prompts users to use two-factor authentication (2FA);

Offers peer-to-peer (P2P) and NFT markets;

Provides over-the-counter (OTC) trading services and margin trading of up to 125x for high-volume investors;

Offers the broadest range of tradable cryptocurrencies, trading pairs, and payment methods available on the market today.
Binance Cons
Not regulated by the relevant financial authorities;

Has regulatory problems in a number of different countries; 

It does not offer a live chat option; 

Provides an overall mediocre level of customer support assistance.
Kraken Pros
The platform safeguards user funds with military-grade encryption and stores 98% of them offline, in cold storage;

Compatible with trading skill levels ranging from novice to expert;

There are two different platforms

: one with basic trading tools and

Kraken Pro

for experienced cryptocurrency investors;

Offers a comprehensive library of blockchain-related terms and definitions;

Users receive first-rate assistance via phone and email around the clock;

Staking your assets can yield annual dividends of up to 23%, and the process takes only a few minutes to complete.
Kraken Cons
The

Instant Buy

option on Kraken is pricey;

Supports a significantly smaller selection of cryptocurrencies compared to similar services.
Binance vs Kraken: The Crypto Exchange Comparison 
One of the easiest and best ways to analyze two markets and learn about their strengths and shortcomings is to compare and contrast them. Read on. 
Opening an Account
To begin with, there is a minimum age limit of 18 to join Binance. You must also be located in a jurisdiction where the platform can offer financial services. Anybody who satisfies these conditions can create a Binance trading account.
Signing up for a Binance account is straightforward using either the mobile app or the desktop client, requiring only a valid phone number or email address. Participation in Binance's identity verification process is entirely optional. If you complete it, though, you'll be able to increase your daily limit on both fiat withdrawals and deposits.
A selfie, a government-issued ID, and account confirmation are all needed to establish your identity, and the whole procedure takes no more than a few minutes. The next thing to do is fund your trading account, so you can start making plans for the cryptocurrency market.
Before you can start trading crypto on Kraken, you must sign up for an account and deposit funds (in either Canadian or US Dollars, Euros, British Pounds, Japanese Yen, or Swiss Francs). User registration necessitates a real email address, a distinct identifier, and a secure password.
In addition, there are five distinct verification levels, each of which directly impacts the minimum waiting time that must elapse before the exchange can authorize your trading account. The user's verification level determines which trading features and deposit/withdrawal limitations are available on Kraken. 
Finally, to establish a personal or business/corporate account with Kraken, you could be required to complete a lengthy Know Your Customer (KYC) form.
Main Features
Binance is, indeed, an excellent spot for newcomers to the world of cryptocurrency trading to get their feet wet, and it also offers a wealth of advanced options for more experienced investors. Your cryptocurrency holdings can experience rapid growth if you take advantage of the many investment opportunities, including passive earnings on idle coins through staking. 
Considering that Binance offers the broadest selection of trading instruments available in the sector, it can definitely cater to every trader's needs. Moreover, Binance users have access to a wide variety of trading alternatives, including peer-to-peer (P2P) trading and crypto swapping, as well as more advanced trading alternatives such as futures markets and margin trading.
Although Kraken may not provide quite as many cryptocurrencies as Binance, it nevertheless provides a convenient and secure environment for making cryptocurrency transactions. 
To be more specific, this veteran cryptocurrency exchange offers its clients access to a wide array of advanced cryptocurrency investing services through its Kraken Pro platform. These services include trading margin and futures, trading over the counter (OTC), staking, and much more.
Supported Cryptocurrencies
Product
Number of Crypto Currencies Listed
Number of Crypto Currencies Listed
350+
185+
Fees
Fees
0.10% or less
0.9% for stablecoins, 1.5% for all other coins
Number of Users
Number of Users
120 million
9 million
Binance supports the trading of 350+ cryptocurrencies. These digital currencies encompass Bitcoin (BTC), Litecoin (LTC), Ethereum (ETH), Bitcoin Cash (BCH), Solana (SOL), Stellar Lumens (XLM), Cardano (ADA), Dogecoin (DOGE), and a significant number of other altcoins. 
In my opinion, the exchange's greatest strength is the incredible breadth of crypto projects it supports, making it simple to trade with your favorite currency using an equally staggering number of trading pairs. Because of this, I believe that Binance's vast range of digital assets will appeal to a sizable number of cryptocurrency traders and investors who take pleasure in having a variety of choices available to them.
Regardless of the fact that Kraken was launched as a Bitcoin exchange, this crypto exchange now lists over 65 other digital currencies. Additionally, the platform offers more than 70 distinct trading pairs for crypto-to-fiat, crypto-to-crypto, and fiat-to-fiat trades. 
On the list, you will find a wide variety of cryptocurrencies such as Ethereum (ETH), Bitcoin Cash (BCH), Dogecoin (DOGE), Litecoin (LTC), Monero (XMR), Eos (EOS), Tether (USDT), Dash (DASH), Ripple (XRP), and Cardano (ADA), to name just a few. 
Even while Kraken's list of accepted cryptocurrencies is far shorter than Binance's, it still includes several of the most well-known and actively traded digital assets on the market.
Payment Methods
When trading on Binance, you can choose from a wide variety of available payment methods to fund your Bitcoin and altcoin purchases. Visa and Mastercard-issued debit/credit cards, Single Euro Payments Area (SEPA) wire transfers, peer-to-peer (P2P) bank account transfers, and third-party payment processors like Simplex are all viable possibilities.
Additionally, Binance accepts a wide range of fiat currencies for cryptocurrency purchases, including the Euro, Australian Dollar, United States Dollar, Swiss Franc, Canadian Dollar, Japanese Yen, and British Pound, to name a few.
Similarly to Binance, Kraken also accepts payments made by wire transfers, debit cards and credit cards issued by Visa and Mastercard, cash deposits, ACH transfers, and payments processed by third-party payment services.
The most common method of funding a Kraken account involves moving money from your bank account to Kraken's trading account with the help of a specific reference number. The exchange will impose withdrawal restrictions upon you if your account has not been verified.
In particular, whenever you level up, your maximum deposit allowance will increase accordingly. When you upgrade to the top tier, your Kraken deposits and withdrawals will become unlimited.
Trading Fees and Limits
Binance has solidified its position as a market leader in the cryptocurrency arena by ensuring that its trading costs remain the most affordable in the field. Namely, the exchange's already minimal trading fees are further discounted by several alternatives. 
If you own the exchange's native BNB token, for instance, you could qualify for a discount of 25% on all trading costs.
Binance follows the trend of other cryptocurrency exchanges in charging a network fee whenever funds are transferred to a different blockchain. As the price of a cryptocurrency rises in response to the increased demand, the blockchain network may decide to adjust the transaction fees associated with withdrawing that currency.
On the other hand, the exchange does not impose any transaction costs on the deposits or withdrawals from your Binance account.
When it comes to Kraken, the exchange utilizes a maker-taker fee structure to cover the costs of providing its crypto trading services. The percentage you'll pay on every trade you make on this exchange will vary from zero to 0.26%, depending on how much trading you do in a 30-day period.
With this market's pricing structure, investors are incentivized to trade more frequently, increasing the market's liquidity by paying reduced transaction costs.
How Safe Are Binance vs Kraken?
Binance makes use of a wide variety of security measures to safeguard its platform and the accounts of its users against the fraudulent operations of hackers and other fraudsters. Some examples of safeguarding mechanisms implemented in the platform's architecture include the Know Your Customer (KYC) procedure and two-factor authentication (2FA), which can be activated via SMS or Google Authenticator.
I also feel obligated to draw your attention to the regulatory concerns in many jurisdictions related to Binance's unregulated services and stock tokens. Additionally, on May 7, 2019, a security breach costing over $40 million USD in bitcoins affected this widely used network.
As previously stated, Kraken is a well-established marketplace with state-of-the-art safety measures to safeguard its customers' payments. Therefore, it's often regarded as the most secure and well-protected platform in the crypto sphere. 
In addition to the platform's previously integrated military-grade security features, Kraken stores nearly all user funds (98% of them, to be more precise) in cold storage wallets in various locations of the world under the constant watch of armed guards. 
Also, SSL encryption of all communications and data transferred over the Internet and real-time surveillance of the trading accounts' activity are standard features of this seasoned trading platform.
Customer Support
If there were one area of this trading platform's functioning that might use some improvement, it would be the customer service department, especially regarding how quickly issues are resolved. 
However, even if you're a trader who doesn't have easy access to such assistance, don't worry; the Binance Help Centre has loads of info on all features of the exchange, so you can easily figure out what you need to do on your own.
Kraken stands apart from the crowd of cryptocurrency exchanges by providing superior support to its users. If you run into any issues with Kraken or your trade, the support team is available via live chat 24/7 to help you out.
This San Francisco also provides its customers with a phone line, which is not very common among exchanges but certainly comes in handy when you need immediate assistance or a complex answer to your question. The Kraken team is at your disposal even when most individuals and businesses are closed for major holidays.
If you need support during some of your trading feats, you can quickly get in touch with Kraken's help desk via email, priority support tickets, or any messaging or texting app you want.
Mobile Trading
From what I can tell, the Binance app serves as a consolidated hub for transacting in cryptocurrencies on the go. The app provides access to a wide variety of tradable cryptocurrencies and fiat currencies, as well as straightforward trading tools that can be used to generate passive income in addition to your investment gains, as well as crypto loan applications and other financial products.
It seems to me that the expanding number of cryptocurrency exchanges can be a bit of a steep learning curve for those who are just getting started in the industry. That's why the Binance executives have decided to go with the Binance Lite version, a stripped-down version of their original app.
How Do Binance and Kraken Compare to Other Crypto Exchanges
Coinbase vs. Binance vs. Kraken
As a first point, I'd like to highlight that Coinbase's trading fees are much higher than those of Binance and Kraken. However, Coinbase is a good place to begin trading cryptocurrencies since it is user-friendly and geared toward newcomers, despite having higher fees than other exchanges.
Kraken and Binance, on the other hand, cater to the more advanced traders and feature some of the most volatile products in the industry, such as margin and futures trading.
So, if you're a beginner in the trading world, it can be worth it to shell out the extra money for a service like Coinbase, that's known worldwide for being user-friendly and fast at processing trade orders.
Conclusion
Binance is the ideal cryptocurrency exchange if you're searching for a crypto trading platform that lives up to a lot of hype in terms of trading volume, market capitalization, and user traffic.
However, Binance does have some shortcomings, just like any other service. This exchange's absence of regulations is a major downside because it absolves dealers of responsibility in the event of a security breach. 
Kraken, in contrast to Binance, is a fully regulated veteran platform that offers exceptional security features and trading costs that are among the most competitive in the industry. Ultimately, you should decide whether you value safety (Kraken) or diversity (Binance). The decision is yours to make.