From the get-go, the article's title Binance vs MEXC Global should tip off any astute crypto investor that the subject depicts the similarities and differences between two of the industry's most prominent cryptocurrency giants. 
Continue reading to find out how the MEXC Global exchange stacks up against Binance if you are just starting in the world of cryptocurrency trading and enjoy having a variety of options available to you.
About the Exchanges
Binance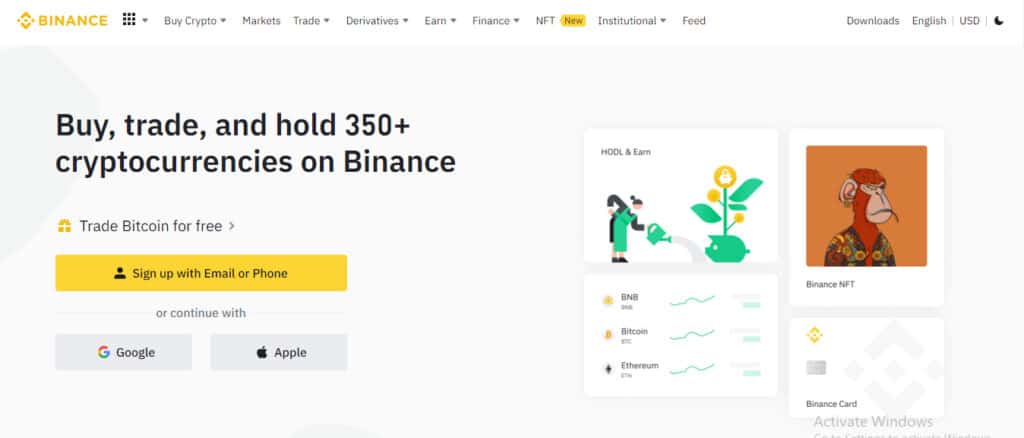 Binance is a decentralized cryptocurrency exchange established in 2017 by software engineer Changpeng Zhao. The company's headquarters were initially located in China.
Binance is presently the largest crypto trading platform in the world in terms of trading volume. Yet, the exchange is encountering regulatory concerns in various countries. As a result, the site is restricted in several jurisdictions.
However, Binance provides people worldwide with access to hundreds of different cryptocurrencies. Traders with more experience may value the diversity that Binance provides, but newcomers to the platform may find its numerous sophisticated features challenging to navigate. 
Keep in mind that the worldwide Binance platform is not the same as its US equivalent, Binance.us, which only provides access to over 65 different cryptocurrencies.
MEXC Global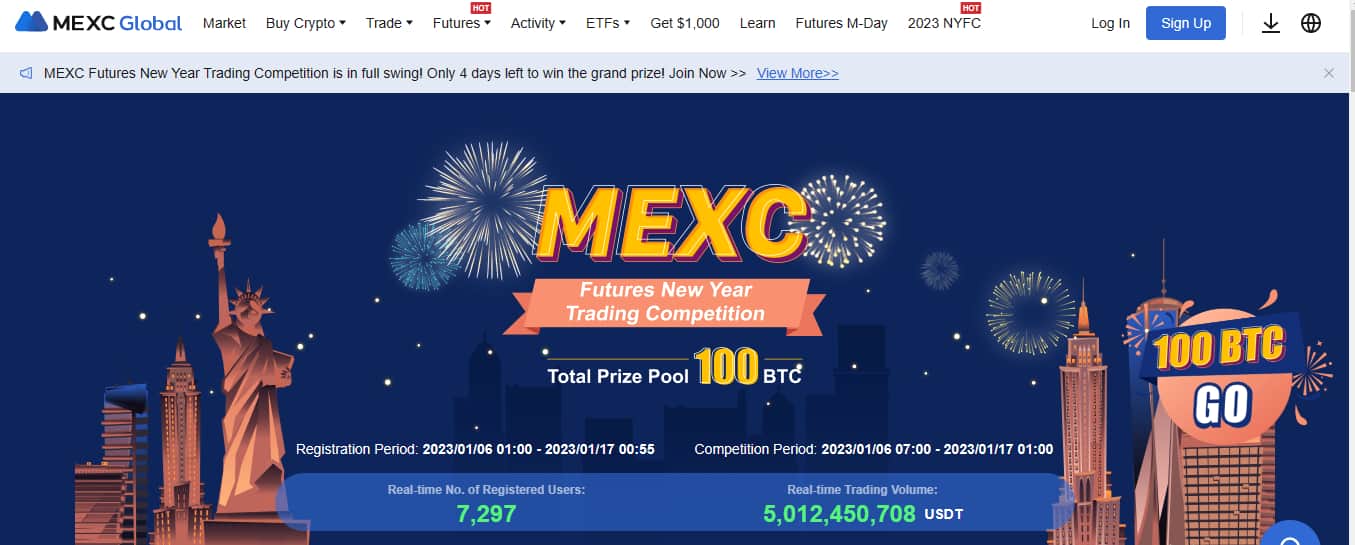 MEXC Global Exchange was launched in May 2018 in Seychelles, East Africa, and has quickly become one of the world's most prominent digital asset trading platforms. The key members of the development team all came from prestigious companies and financial institutions, pouring their knowledge in fintech and blockchain technology into the platform.
The MEXC Global exchange has successfully developed a one-stop trading facility for digital assets. This service provides customers with various trading options, including spot trading, margin trading, ETF trading with leverage, and futures trading. MEXC has also assembled a seasoned security team and is collaborating with other industry-leading security companies to guarantee the safety of all user data and assets.
Since its launch, MEXC has enjoyed burgeoning growth, and the company has successfully applied for compliance certificates in several jurisdictions worldwide, including the United States of America, Switzerland, Canada, and Estonia.
Pros and Cons
Binance Pros
The largest trading platform in the industry;

Features a large number of cryptocurrencies and fiat currencies;

Provides a wide range of trading options;

Enables futures, margin, and derivatives trading;

Features an NFT market;

Offers staking service for generating passive income on your idle coins. 
Binance Cons
Has a history of security breaches;

Faces regulatory issues in several countries.
MEXC Global Pros
A regulated and safe global trading platform;

Holds a US-based MSB (Money Service Business) license;

Holds an Estonia-based MTR cryptocurrency trading license; 

Suitable for use with a diverse range of cryptocurrencies;

Reasonable trading costs and free deposits;

Ability to access the platform via a downloadable app;

Advanced security measures;

A variety of accepted payment methods.
MEXC Global Cons
Customer service could use some improvement. 
Binance vs MEXC Global: The Crypto Exchange Comparison 
Opening an Account
Many crypto users prefer Binance since it supports a large selection of cryptocurrencies and provides safe, fast exchange between coins.
To finalize your Binance account registration, you must finish the KYC (Know Your Customer) verification process. The proof of identity check varies from region to region and depends on your account type.
Nonetheless, if you are a US resident, you can get through Binance's KYC with any of the following:
A current, valid passport.

Identity documents issued by the state.

Valid driver's license for operating motor vehicles.

Document proving your identity, such as a passport or social security card.

The identification card you use to vote with.
When prompted to verify your identity, select the serial number option rather than the scanning option. Scanning documents like a driver's license or passport is common practice, but the process can be time-consuming. However, Binance's automated system makes using number input verification methods like your SSN or BVN quicker.
Back to MEXC Global. The process of registering for MEXC Exchange is a straightforward one. It's as simple as doing what's outlined below:
First, get the MEXC Pro app from the App Store, open it, and tap the

Register

button. You can register by either selecting

Email

or

Phone

from the drop-down menu that appears.

After that, you will need to input your mobile number, email address, and login code and then press the

Enter

button. Click the

Get Code

button to get an SMS verification code.

If other MEXC Global registered traders have invited you to join the platform, you will be prompted to enter the referral code at the end of the process. If this isn't the case, you can leave the field empty.
When you sign up for the MEXC Global exchange, it's essential to know that you won't have to go through the KYC process. However, you will be required to provide evidence of your identity before you open a trade, participate in referrals, or enter competitions.
Main Features
On Binance, users can choose between two primary interfaces when engaging in spot trading. The basic Binance interface is more suitable for novice users because it doesn't include advanced elements, such as charts and complex order types. 
Skilled users are welcome to use the advanced trading platform labeled Binance Pro. Here, the spot trading dashboard comes with all sorts of market indicators, order books, and various order types.
To continue, Binance provides margin trading for specific trading pairs, allowing users to trade with leverage of up to 10x on some cryptocurrencies. There's also the option of choosing between cross margin, which puts the whole amount of the margin account at risk, and isolated margin, which limits the possible losses to a single trading pair. 
Binance also provides a derivative known as Leveraged Tokens, by which traders speculate on the price of specific cryptocurrencies. These provide the investor with leveraged exposure to cryptocurrency without the risk of having their holdings liquidated.
MEXC Global is an exceptionally well-managed exchange that offers a wide variety of services and what I'd describe as an intuitive and powerful user interface. One of the platform's greatest strengths is that traders of all skill levels can benefit from using MEXC.
Particularly useful for experienced traders, MEXC is a powerful tool for any investor's portfolio. Excellent leverage, sophisticated future trade options, staking, practically daily competitions and games, a springboard for newcomers, and referral incentives are just a few of the features available. Indeed, there are numerous advantages for those who use MEXC.
Supported Cryptocurrencies
Although you can trade more than 600 cryptocurrencies on the Binance exchange, only 65+ are offered in the United States. Also, this trading platform supports a wide range of fiat currencies, including US Dollars, Euros, Australian Dollars, British Pounds, Hong Kong Dollars, and Indian Rupees, to cater to a larger portion of international users.
The selection of tokens and currencies available on MEXC is broad and includes coins that are hard to find on other exchanges. A total of 1,916 coins and 2,108 trading combinations are presently available on the exchange. This number exceeds that of Binance, the world's most significant cryptocurrency trading platform.
The company also provides its clients with a Supernode Proof-of-Stake (a high-performance distributed consensus algorithm that can withstand 51% of cyber attacks), effective cybersecurity defense, and a high-performance processor that can handle 1.4 million transactions every second. Also, there is the opportunity to improve performance even further.
Payment Methods
Binance has partnered with Simplex to offer a brokerage service compatible with both credit and debit cards. This means you can use your card to fund your account with fiat money or make direct cryptocurrency purchases. However, using a debit card to deposit USD incurs a fee reaching as high as 4.5% of the total amount deposited. 
As a result of recent partnerships with new third-party providers, Binance also supports direct fiat-to-cryptocurrency purchases through SEPA and bank transfers. This approach is particularly appealing given that there are no transaction fees associated with SEPA wire deposits at all.
The privacy-centric browser incorporates a Binance widget for in-browser trading. However, this payment mechanism is currently limited to a small number of fiat currencies. These include SEPA for EUR and GBP and wire transfers for USD. Thanks to the widget, users can see and manage their cryptocurrency portfolios and purchase and sell cryptocurrencies through Binance.
On MEXC, you can try spot trading and derivatives such as futures, perpetual swaps, and options. You can also buy cryptocurrencies using a credit card, make a global bank transfer (using SWIFT), engage in peer-to-peer trading, or use third-party payment services (using Simplex, Banxa, or Mercuryo).
Trading Fees and Limits
Binance's pricing structure is at the forefront of innovation in a highly competitive market. The members of this team have taken the time to sharpen their blades, and they are currently dismantling the competition. 
Spot trading fees begin at 0.1%, which is a very attractive proposition for any trader who does not require fast liquidation of fiat currency. A trader's VIP level on Binance is determined by the amount of money they have traded over a period of thirty days. When a trader reaches VIP level 9, the lowest possible spot rates for maker and taker orders are 0.02% and 0.04%, respectively.
Even more enticingly, Binance's futures markets platform offers costs as low as 0.00% / 0.01% for the greatest volume VIP level 9 traders and as little as 0.02% / 0.04% for VIP level 0 maker and taker trades. Remarkably, Binance offers lower fees than the vast majority of other major exchanges, many of which levy fees of up to 0.2%. When dealing with huge orders, the fees get really low and significantly affect the total cost.
The MEXC Global Exchange fee structure is incredibly simple: a flat 0.2% is added to every trade. Withdrawal fees depend on how much it costs to make a transaction on the blockchain network at the time, but deposits are completely free. 
Instant purchases done with a bank card are subject to the costs charged by the credit card processor. In general, the price of these purchases can reach up to 5% of the combined worth of the transaction.
On the MEXC website, users can also use the perpetual futures trading market, which comes with a tiered charge schedule. If you do a lot of futures trading, you may be eligible for a discount, which might be anywhere from 5% to 30% of your contractual account balance or monthly transactions. 
How Safe Are Binance vs MEXC Global?
Binance has many safeguards in place, including two-factor authentication (2FA) via the Google Authenticator app or SMS, whitelisting of IP addresses, device control, and access restrictions. Moreover, Binance.us customers can rest easy knowing that the FDIC protects their USD holdings.
Even with these safeguards in place, users should still proceed with caution after Binance's image was damaged by a series of security incidents. Two-factor authentication failures have also been a problem in the past for the Binance exchange, though this seems to no longer be the case.
In general, their security offerings fall somewhat in the middle of the pack compared to those of Binance's competitors.
MEXC Global Exchange, on the other hand, has gone to great lengths to provide its platform with reliable security mechanisms. Because of their extensive knowledge and experience in the digital asset market, the technical team at MEXC has implemented a cutting-edge vulnerability assessment control system and an anti-DDOS mechanism.
MEXC Global stores its digital assets in a cold storage wallet that manages over $500 million in crypto holdings and employs security measures like multi-signatures, offline authentication, and a tiered architecture. There have been zero incidents with the exchange's security so far.
Moreover, to strengthen the safety of user accounts, MEXC has implemented a new security protocol that mandates binding a mobile phone number or Google Authenticator for all users. 
Last but not least, the MEXC executives advise regularly updating your passwords for logging in and withdrawing money from various exchanges. In the event of a suspected phishing website, you should compare it with the official MEXC website before logging in, as well.
Customer Support
Binance provides a detailed support area with a wealth of frequently asked questions to help you solve any issues you may have. An automated bot is available to assist you in solving your problem or answering your query if you are unable to locate it in the FAQ. If this doesn't solve your problem, you can ask to speak with a representative via live chat.
If you already have a case ID, you can send a direct message to the Binance Twitter account or use the Binance Support Thread on Reddit and quote your case ID. However, please be aware that the sheer number of filed issues may cause a delay in getting a response.
Ever since Binance imposed mandatory identity verification, complaints concerning their verification procedures and support via live chat have increased. There are reports of customers waiting long hours for help using the Live Chat feature, often without receiving answers to their questions or having their verification difficulties resolved. There is no telling if this is just a temporary hiccup caused by the site's popularity or an ongoing issue for Binance customers.
MEXC's customer service is available around the clock, seven days a week. However, in my experience, finding what you're looking for (on this site) via the search bar could prove challenging. If you want to communicate with a real person, you can always use the chat feature or send an email to the support team. 
Traders interested in learning more about the inner workings of the MEXC exchange are encouraged to chat with the exchange's staff. Additionally, this platform features several social media platforms, which you can use to interact with other users and discuss your concerns.
Mobile Trading
The Binance Android and IOS app is essentially the same thing as the Binance exchange but formatted for use on mobile devices. The app offers access to all of the functionalities available on the desktop version of the Binance Exchange.
The Binance app includes a feature called Binance Lite that makes purchasing cryptocurrency simpler. The Lite mode emphasizes speed, ease of use, and simplicity. Most first-time cryptocurrency investors don't need more than what this mode provides, as it has Binance's most popular features. In addition, customers may check pricing and place orders without becoming sidetracked by detailed order histories and charts. 
Active traders and more experienced users of Binance may consider upgrading to Binance Pro. Here, you will have access to services such as Binance Earn, the Binance P2P marketplace, and crypto derivative contracts with Binance Futures.
If you are a daily trader, using the MEXC mobile app will quickly become second nature. Using the app is a breeze, and your trades are executed smoothly and efficiently. Compared to other trading apps, MEXC is one of the most dependable ones.
What's more, I like the alerts and updates on price changes that MEXC offers via push notifications. By enabling streamlined on-the-go trading, MEXC's goal is to facilitate commerce and economic success for all traders, regardless of their background or experience.
Since its initial launch, MEXC has released several significant app updates, each of which demonstrates the company's commitment to further developing a solid platform supported by a thriving community.
How Do Binance and MEXC Global Compare to Other Crypto Exchanges
KuCoin is a renowned cryptocurrency exchange that gives its users access to more than 700 different coins to trade and employs security on par with that offered by banks. All this places it in a competitive position with Binance and MEXC Global.
KuCoin vs Binance vs MEXC Global
MEXC Global's 7 million users and KuCoin's 11 million users are both incredibly high numbers, but Binance's 90 million daily active traders make it the largest cryptocurrency exchange in the world by trading volume. All of these three markets provide similar financial products and operate on a business strategy that is strikingly comparable to one another in many respects. 
To begin, each of these exchanges provides their crypto investors with exposure to several hundreds of cryptocurrencies, many of which would be difficult to obtain through any other route.
In addition to the standard buying and selling of digital assets, Binance, KuCoin, and MEXC Global offer a multitude of diverse trading options. Some of these services include futures markets, crypto lending, trading bots, a P2P marketplace, margin trading, and referral programs. 
Additionally, their famously low trading charges begin at 0.0/0.2% (on MEXC Global) and 0.1% (on Binance and KuCoin), with the option to cut them even further if you advance up the trading tiers or hold their native cryptocurrency.
Conclusion
The cryptocurrency industry is home to potentially hundreds of thousands of crypto exchanges. Within the realm of cryptocurrencies, Binance and MEXC Global are undeniably household names that have captured the attention of virtually all market makers.
It can be hard to tell if an exchange is safe, feature-rich, or profitable. To this end, I hope that by the end of this article, you'll better understand the benefits and drawbacks of trading cryptocurrencies through these two exchanges and choose the most suitable platform for your trading needs.