Binance is the world's largest cryptocurrency exchange platform, while Bitstamp is among the top 10 crypto exchanges according to trading volume. 
Let's dive into the Binance vs Bitstamp comparison review and find out how they compare against each other. 
About the Exchanges
Binance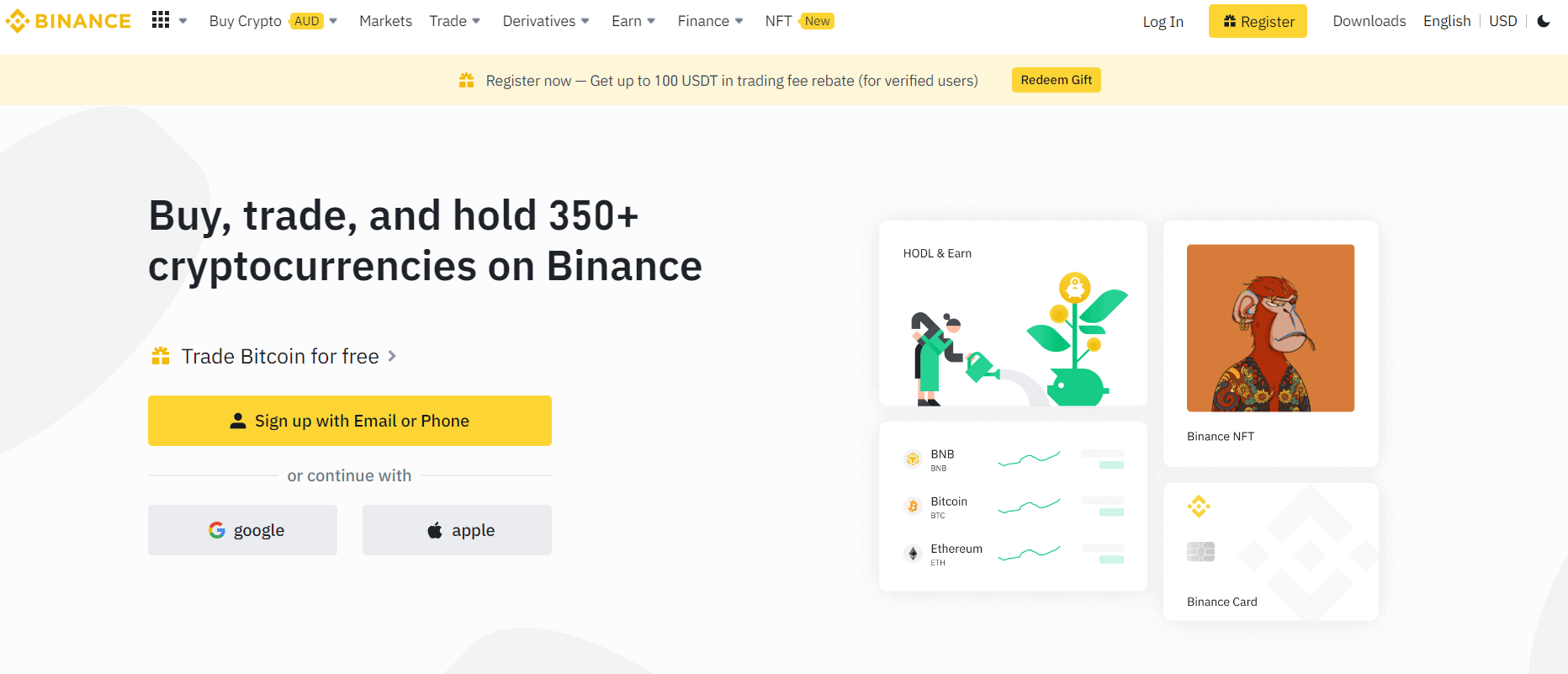 Binance is the number one crypto exchange platform in the world. The exchange has been active since 2017 to provide users across the globe with a one-stop-shop for everything crypto-related.
Binance is designed to cater to both beginner crypto traders and experienced crypto enthusiasts. The platform offers a simple instant trading option for beginners, while advanced traders have features such as spot and margin trading, as well as crypto derivatives and other trading options. 
Binance is known to have one of the best selections of cryptocurrencies among exchanges and deep liquidity for all the trading pairs on the platform. Users can find an abundance of DeFi options on the platform, such as crypto borrowing, lending, staking, and other yield farming possibilities.
Binance has its own NFT marketplace with a solid selection of non-fungible tokens. Additionally, the platform even has a Visa prepaid debit card that allows platform users to spend crypto at millions of payment spots around the world.
Bitstamp

Bitstamp is a true veteran crypto exchange platform since it was launched back in 2011, during the early days of crypto. Bitstamp is, in fact, one of the oldest crypto exchanges on the market. The platform is based in Luxembourg and is available in more than 100 countries across the globe.
The Bitstamp crypto exchange is great for both beginners and advanced users since it offers both a simple instant trading option, along with an advanced trading interface and numerous trading order options.
Bitstamp also supports crypto staking and has a comprehensive educational section to help new users learn the basics about cryptocurrency and trading.
The platform has a specialized service for institutional investors, such as banks, corporations, hedge funds, and property traders. Also, Bitstamp has a separate over-the-counter (OTC) trading desk for large-scale investors.
Pros and Cons
Binance Pros
One оф the largest cryptocurrency exchange platforms with the highest liquidity levels.

More than 600 crypto coins and tokens.

Various crypto lending, borrowing, and staking options.

Has its own NFT marketplace.

Low fees. 

The platform has a prepaid Visa crypto debit card.

Easy-to-use.
Binance Cons
Binance isn't a regulated crypto exchange.

Customer support could use significant improvement.
Bitstamp Pros
Competitive fees.

Very beginner-friendly.

Great mobile app.

Regulated exchange platform.
Bitstamp Cons
A limited selection of 50+ cryptocurrencies.

Lack of margin trading and crypto derivatives features.

The platform suffered a major hack in 2015.

Bitstamp doesn't have an NFT marketplace.

A limited selection of crypto staking features.
Binance vs Bitstamp: The Crypto Exchange Comparison 
Opening an Account
This is how you can open a  Binance account:
Navigate to 

Binance's landing page

and click on the

Register

button.

You can create an account with your Apple or Google profile or create an account with your mobile phone or email address.

If you choose to proceed with a phone number or an email address, you'll need to provide the data in the next step.

Also, you have to create a custom password for your account.

Enter your referral code if you have one to get a welcome bonus.

Agree to the privacy policy and the platform use terms. 

Click on the

Create Personal Account

button to create your Binance account.

You'll receive an email or a text message depending on your account creation method. The message will contain an activation code, which you need to enter on Binance to activate your account.

You're ready to start using Binance and trade crypto.
Creating an account on Bitstamp is far more complex:
Go to the

Bitstamp website

and click 

Get Started

.

Choose to create a personal account.

Provide your full name and email address.

Agree to the use terms and privacy policy.

You'll now receive an email from Bitstamp with a confirmation code to activate your account.

The next step is to set up your account password.

Now you have to verify your account because Bitstamp is a regulated exchange and requires users to provide personal details for money-laundering prevention purposes.

Click on the

Start Verification

button.

Select your country and provide information about your address, city, and postal code.

Next, verify your ID by providing a photo of a personal document. You can choose between a passport and your driver's license and upload a photo of your document to Bitstamp.

The next step is to film yourself performing two simple tasks to ensure no one is stealing your identity.

Bitstamp will ask permission to access your web camera. You'll need to position your face in the oval on the screen. You'll be required to film yourself while identifying the numbers that will appear on the screen.

The next step is to film yourself again, following the instructions on the screen, turning your head from one side to the other.

Now, you can move to the basic financial information section, where you'll have to enter details about your current job, annual deposit estimation, and the source of your funds.

Bitstamp will also ask you the reason you're using the platform and whether you intend to make crypto deposits into your Bitstamp account. 

If you deposit crypto, you'll have to answer where you got your crypto assets from.

The next step requires you to provide proof of residence, such as a bank statement, utility bill, or tax statement with your address clearly visible.

Now, you need to secure your account. You need to download Google Authenticator, scan the Bitstamp QR code with the app, and enter the 6-digit code provided by Google Authenticator.

Submit your account for verification, and you should receive a confirmation message in the next 15 minutes.

Once your account and identity are verified, you're ready to start funding your account and trading on Bitstamp.
Main Features
Binance is a multi-functional crypto platform focused on crypto trading, but it's actually much more than just a crypto exchange. The platform has easy-to-use trading features for beginners, such as the instant trading option and the quick swap feature for exchanging coins and tokens.
Advanced traders can use the Binance trading interface for spot and margin trading. Additionally, Binance supports a wide range of crypto derivatives trading options and futures contracts.
The Binance Earn section has numerous options for earning crypto by staking assets and lending crypto to third parties. There are loads of staking possibilities and options to participate in various liquidity pools to earn liquidity provider rewards.
The platform issues a Visa debit card for its users, allowing them to instantly convert crypto to fiat and spend their crypto at Visa payment spots around the globe.
Binance supports various investment options for large-scale institutional investors and has an over-the-counter (OTC) trading desk. Additionally, Binance has its own NFT market where you can find loads of NFT collections, especially focusing on its native Binance Chain (BSC). 
Bitstamp is one of the 10 leading crypto exchanges according to trading volume, and it's known for reliable trading services. The platform caters to both beginners and experienced traders. 
Beginners have a simple, instant trading feature at their disposal with a price chart and an overview of the current buy/sell offers on the platform. Experienced traders can use the TradeView feature that takes them to the Bitstamp advanced trading interface. The interface has a detailed price chart, various order types, and an order book.
Bitstamp also supports crypto staking, but the staking features are limited to only two cryptocurrencies, Algorand (ALGO) and Ethereum (ETH). Additionally, the platform has an OTC brokerage service for institutional investors. There's no margin trading on Bitstamp.
Supported Cryptocurrencies
Binance is among the market leaders when it comes to the selection of cryptocurrencies. You'll find an excess of 600 digital currencies for trading on the platform.
The platform supports most of the cryptocurrencies from the top 100 list on CoinMarketCap, except for the USD Coin (USDC) stablecoin, and various tokens issued by competitor crypto exchanges. Additionally, the platform acts as a BEP-20 token launchpad for assets built on the Binance Chain. 
The supported cryptocurrencies include Bitcoin (BTC), Avalanche (AVAX), Fantom (FTM), Ethereum (ETH), ALGO, Binance USD (BUSD), Tether (USDT), Ripple (XRP), Decentraland (MANA), Chainlink (LINK), BNB (BNB), Polkadot (DOT), and more than 600 additional coins and tokens.
Bitstamp has a far more limited selection of cryptocurrencies because it's a regulated crypto exchange that needs to obtain licenses for every listed crypto. Binance can list any crypto they want because they aren't a regulated exchange. In total Bitstamp supports around 70 leading cryptocurrencies. The cryptocurrencies on Bitstamp are a careful selection of the top digital currencies on the market.
You'll find BTC, ETH, AVAX, Cardano (ADA), Polygon (MATIC), DOT, Dai (DAI), Litecoin (LTC), Solana (SOL), UniSwap (UNI), Stellar Lumens (XLM), Bitcoin Cash (BCH), Near Protocol (NEAR), Aave (AAVE), Axie Infinity (AXS), and more than 50 additional altcoins.
Payment Methods
Binance supports a multitude of fiat currency payment methods to allow users to fund their accounts easily. The exchange supports various fiat currencies, such as USD, EUR, GBP, HKD, AUD, CAD, and JPY, and allows you to fund your account with a classic bank account transaction or bank card.
The instant trading option lets traders quickly purchase crypto with a debit or credit card. 
Additionally, users can pay with more than 100 different payment channels using the Binance peer-to-peer (P2P) trading method to buy crypto. This method allows users to pay with services like PayPal, ApplePay, GooglePay, Banxa, Simplex, and other payment providers.
Bitstamp allows users to fund their accounts with three payment methods. Users can transfer cash to their Bitstamp account with an ACH, SWIFT, or SEPA bank account transfer.
The second method is to fund your Bitstamp account through a credit card or debit card transfer. Users can also purchase crypto on the instant buy interface with payment cards. The third method is a wire transfer to your Bitstamp account. 
Trading Fees and Limits
Binance fees are some of the lowest fees on the crypto market. Trading fees for users with a monthly trading volume below one million US dollars are 0.1%. For investors with a higher trading volume, the fees decrease even more.
As far as withdrawal limits are concerned, Binance has an 8 million USD daily withdrawal limit, which is more than enough for most users. 
Bitstamp has much higher fees than Binance, but compared to other similar platforms, Bitstamp's fees are quite reasonable. The fees start at 0.5% for all types of trades, and they can drop down if you trade more than 10,000 USD per month. The Bitstamp daily withdrawal limit is far lower compared to Binance. Users can withdraw just 50,000 USD daily.
How Safe Are Binance and Bitstamp?
Binance has a clean track record regarding platform hacks, but the platform's Binance Chain suffered a serious, large-scale hack in 2022, resulting in 500 million USD of stolen assets. The platform itself wasn't hacked, but the Binance Chain hack might cause concern among some users. 
Binance protects user accounts with passwords and two-factor authentication (2FA). Additionally, all the data on the platform is encrypted, and the largest portion of the funds is kept offline in hardware wallets. Binance is a non-regulated exchange, meaning users have little protection in case the platform goes bankrupt or suffers a hack. 
Bitstamp uses similar security measures to Binance, but unfortunately, the platform suffered a hack in 2015 when around 5 million USD  of Bitcoin was stolen. However, since then, the platform has improved its security measures, and there haven't been any successful hacks recently.
Unlike Binance, Bitstamp is a regulated exchange and requires users to prove their identity before trading on the platform. Bitstamp complies with strict anti-money laundering laws in all countries where it is available.
Customer Support
Binance provides users with top-quality services in most segments except for customer support. Many users report that the support team is often unresponsive and slow to react to user inquiries. You can reach the support team either through an email message or by submitting a support ticket on the platform. 
Bitstamp has considerably better customer support features than Binance. Users can reach the customer support team by email and directly contact the team by phone. The platform has a dedicated support team phone number available 24 hours a day, which is rarely seen among crypto trading platforms. 
Mobile Trading
Binance is known for its great mobile app that supports r Android and iOS operating systems. Many platforms offer limited features on their mobile apps, but Binance's app really supports all the options from the browser version of the platform.
Users can engage in instant, spot, and margin trading as well as quick swaps,  crypto derivatives, and futures contracts on the mobile app. The NFT market and the Binance staking features are also available on the mobile version of the platform.
Bitstamp's mobile app is well-designed and very practical. Both the instant trading and advanced trading interfaces are available on the mobile app. Users can execute a trading order with just a few clicks and shift between the instant buy and advanced interface with one click. 
How Do Binance and Bitstamp Compare to Other Crypto Exchanges
Binance is best compared to exchange platforms that offer a similarly wide choice of options, such as KuCoin and Gate.io. Both of these competitor platforms have similar low fees like Binance.
Unfortunately, both exchanges were victims of cyber hacks. When it comes to trading features, they support all the same options like Binance. KuCoin supports some 300 cryptocurrencies, which is half as many as Binance. 
However, Gate.io is the absolute leader among centralized crypto exchanges when it comes to the selection of cryptos because it supports more than 1,400 cryptocurrencies. Both platforms have their own NFT marketplaces.
Bitstamp offers similar services to Coinbase, the second largest crypto exchange on the market. Coinbase works on a similar basis like Bitstamp. The platform is super-easy to use and has a simple instant trading feature for beginners. Advanced traders can use the CoinbasePro trading interface.
However, Coinbase supports more than 130 digital currencies, which is considerably more than the 70 cryptos on Bitstamp. Coinbase's major downside compared to Bitstamp is its high trading fees, which can be over 1%, ranking Coinbase among the most expensive exchange platforms.
Conclusion
When comparing Binance vs Bitstamp we are looking at two very different trading platforms. Binance is an all-encompassing crypto exchange that supports various types of trading features, along with crypto staking, loans, and NFTs, and has its own Visa prepaid debit card. Not to mention that it supports more than 600 digital currencies. 
Bitstamp, on the other hand, is an old-school exchange platform focused purely on crypto trading through instant buying and spot trading features. In total, Binance provides much more choices to users than Bitstamp and has far lower fees.