There are more than 500 cryptocurrency exchange platforms on the market, but Binance and Gate.io are some of the best available trading platforms. Both exchanges offer a wide variety of essential trading services, along with extra features to satisfy all of your crypto needs.
Let's have a look at all of the key characteristics of these platforms and compare Binance vs Gate.io. 
About the Exchanges
Binance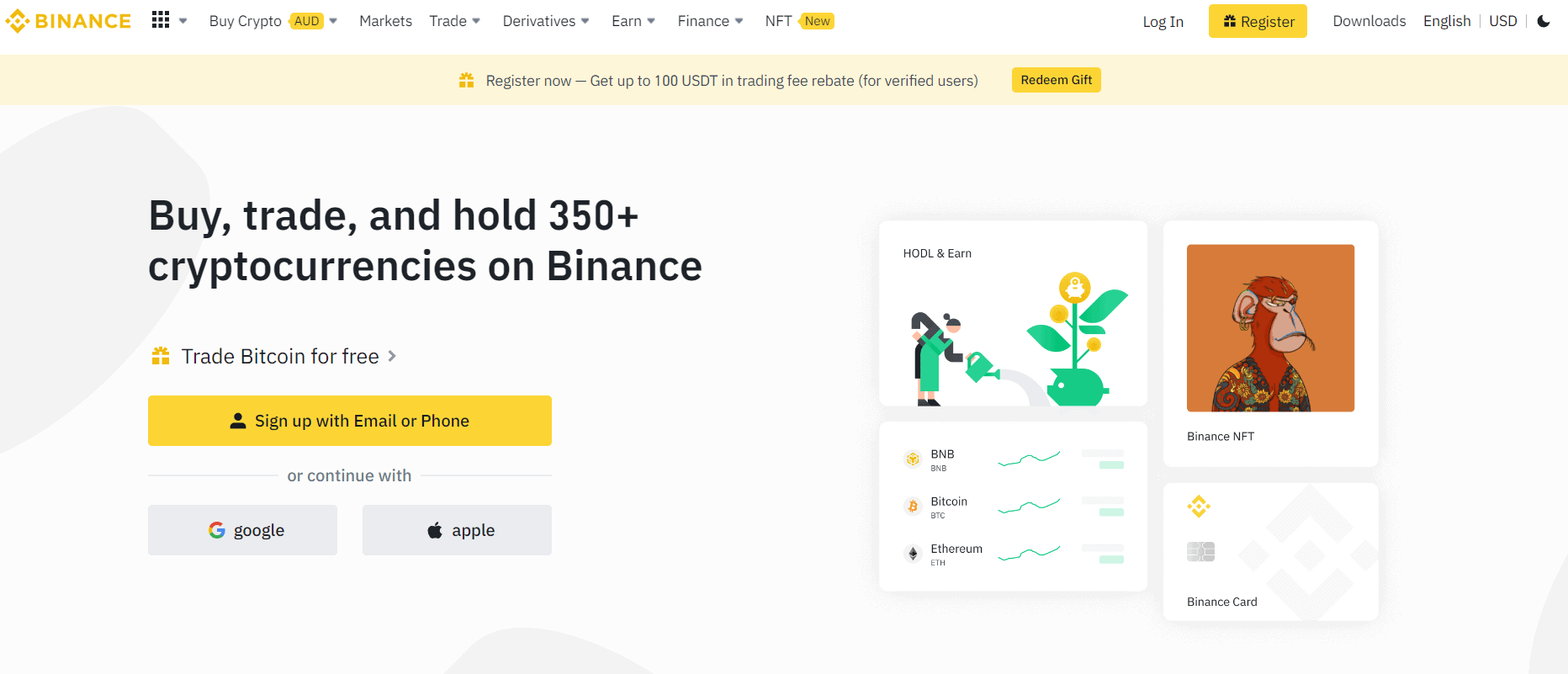 Binance is the top crypto exchange on the market, with the largest trading volume among all exchanges. It started operating in 2017 and became the number-one trading platform in just a few years.
Unlike many crypto exchanges on the market, Binance offers numerous crypto services besides standard spot trading and instant buy/sell options. The Binance exchange supports more than 600 cryptocurrencies and users can engage in advanced types of trading like leveraged margin trading, futures, and collateralized crypto derivatives. 
Apart from trading, Binance also allows users to stake numerous coins and earn an annual percentage yield (APY) on their deposited crypto. Since Binance is a fiat-friendly exchange platform, users can pay for crypto with more than 20 fiat currencies through bank account transfers, payment cards, and third-party payment services.
Gate.io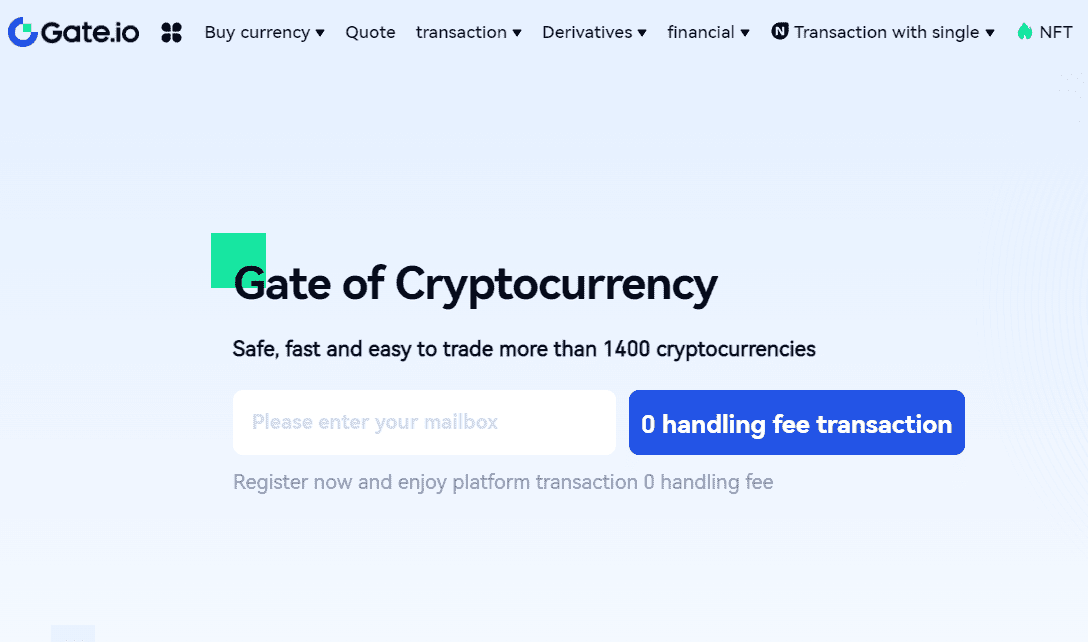 Gate.io is a very popular international crypto exchange platform originally from China, now based in the Cayman Islands. Gate.io has been operational since 2013 and is one of the leading cryptocurrency exchanges on the Asian market. However, it's also popular in other global regions except for the US, where it doesn't provide services due to strict local regulatory policies. 
Gate.io is the market leader when it comes to cryptocurrency selection because it supports more than 1,400 cryptos, a number that grows constantly. Users can engage in instant buying, peer-to-peer (P2P) trading, margin trading, and much more.
For those looking for riskier trading features, Gate.io also offers crypto derivatives and futures contracts.
Pros and Cons
Binance Pros
The leading crypto exchange with the highest trading volume on the market.

More than 600 coins and tokens.

Some of the lowest fees on the market.

Broad range of trading features.

Numerous crypto staking options.

Binance NFT marketplace.
Binance Cons
The platform isn't regulated.

Non-responsive customer support team.
Gate.io Pros
The largest selection of digital currencies among centralized exchanges: 1,400+ cryptos.

Various trading features, from spot and margin trading to derivatives and futures contracts.

Gate.io NFT market.

Supports crypto staking.
Gate.io Cons
Non-regulated crypto exchange.

The platform was hacked in 2019. 

A bit complicated for beginners.
Binance vs Gate.io: The Crypto Exchange Comparison 
Opening an Account
Follow these steps to open your Binance user account:
Click on the

Register

button on Binance's

official website

. 

You can create an account with your phone number, email address, or Apple/ Google account. 

If you choose to use your email or phone, fill in the adequate field with the necessary data.

Now, create a strong password for your account.

If you have a referral code, enter it to receive a bonus once you activate your account.

Agree to the terms of service, and you're done.

Before you start using your Binance account, you need to activate it. You'll receive a text message or email message depending on whether you have chosen to create an account with your phone number or email address.

Enter the code from the message and activate your account.

You're ready to start trading on Binance.
This is the account creation process on Gate.io:
Go to the Gate.io landing page and navigate to the

Register

section.

Choose a method for creating your account. The available options include a phone number, email, Google, and MetaMask account.

Provide your phone number or email address if you've chosen one of these registration methods.

Create a password for your account. Enter your referral code if you have one.

Check the user agreement and accept it.

You're now ready to create your Gate.io account.

Once you're done, you just need to activate the account before you start trading.

You'll receive a text message or email message with your activation code. Enter the code into the appropriate section on Gate.io to activate your profile. 
Main Features
Binance is an exchange platform fit for both beginners and advanced traders. Beginners can use the instant trading features, while advanced users have the traditional trading interface at their disposal.
Besides spot trading, Binance supports leveraged margin trading, various types of crypto-collateralized derivatives contracts, along with futures contracts. Binance has an over-the-counter (OTC) trading desk for large-scale investors, a crypto loaning service, and dozens of coins available for staking. 
The platform has its own Binance Pay service for facilitating fiat to crypto payments and even issued a debit card in collaboration with Visa. This card allows users to directly spend their crypto balance at merchants across the globe. On top of that, Binance has a great NFT marketplace with numerous NFT collections built on the Binance Chain.
Gate.io allows beginners and average crypto enthusiasts to quickly buy crypto with their bank cards, while experienced traders can deposit fiat currency and use the Gate.io trading interface to get the best prices or try some advanced order types. There are more than 2,500 trading pairs on Gate.io, and most of them are available both for spot and margin trading.
Gate.io is great for derivatives trading, as it supports various types of perpetual contracts collateralized by different stablecoins or cryptocurrencies. You can stake a lot of different cryptos on Gate.io and earn an annual percentage yield (APY) or even take out a crypto loan from the platform. Gate.io also has an NFT collection, but the selection is rather limited. 
Supported Cryptocurrencies
The  Binance trading platform has a huge selection of more than 600 digital currencies. This huge number of cryptos includes all market-leading cryptocurrencies, except for the USD Coin (USDC) stablecoin and a few other tokens belonging to competitor crypto exchanges.
You'll find Bitcoin (BTC), Tether (USDT), Decentraland (MANA), Bitcoin Cash (BCH), Fantom (FTM), Solana (SOL), Ethereum (ETH), UniSwap (UNI), BNB (BNB), Binance USD (BUSD), Ethereum Classic (ETC), and hundreds of additional cryptos on Binance.
The Binance Chain, Binance's own blockchain, allows developers to easily launch tokens on top of the platform's infrastructure by using the BEP-20 token standard. There are hundreds of BEP-20 tokens available on Binance. Since the exchange isn't regulated, it doesn't need a trading license for each crypto on its list. The platform can freely list any token with a significant market demand.
Binance has one of the largest selections of cryptos among exchange platforms, but in this segment, Gate.io is definitely a superior platform because it supports more than 1,400 digital currencies. This is the highest number of cryptocurrencies available on any centralized crypto exchange platform. You can find all the market-leading digital currencies, along with hundreds of low-cap and micro-cap tokens that aren't available on most exchange platforms. 
Gate.io is great if you want to test the water with some volatile micro-cap altcoins such as Efinity (EFI), Utrust (UTK), Ark (ARK), Plex (PLEX), Revain (REV), SafePal (SFP), StormX (STMX), Metal DAO (MTL), Kirobo (KIRO), etc.
Payment Methods
Users can pay for crypto or fund their Binance account through multiple payment methods. If you want to use the instant trading feature, you can pay for crypto with a credit or debit card.
In case you decide to fund your account with one of the 20+ available fiat currencies, you can do so with a classic bank account transfer or with the help of a fiat-to-crypto payment service like SImplex, Binance Pay, Apple Pay, or Google Pay.
The peer-to-peer (P2P) trading feature allows users to choose from more than 100 payment options, including numerous local payment gateways depending on the buyer's region.
Gate.io also supports a lot of payment methods. The instant trading feature relies on bank cards and third-party payment providers like Banxa and Simplex. Users can also fund their accounts with various fiat currencies, such as USD, GBP, JPY, CHF, and EUR, through a bank account transfer that uses Coinify or Legend Trading as an intermediary service. 
The Gate.io P2P trading feature supports SEPA and SWIFT bank account transfers, as well as multiple additional payment services like PayPal, Google Pay, ADVcash, Skrill, PayMe, and Western Union. 
Trading Fees and Limits
One of Binance's key selling points is its very low trading fees. The standard trading fee for both market makers and market takers is only 0.1%. This is the trading fee for users with a monthly trading volume below one million USD. If you're a large-scale investor with a 30-day trading volume above one million USD, your fees will drop even lower. 
You'll also get trading fee discounts depending on how much of the platform's native BNB coins you have in your account. For example, if you have between one and 25 BNB in your account, and a trading volume below one million USD, you'll get a 25% discount, which effectively drops your fees down to 0.075% per trade.
Binance has a very high daily withdrawal limit of 8 million USD, which is more than enough for the average trader. 
Gate.io also has low fees, except that the platform has more fee tiers. The first fee tier is for users with a monthly trading volume of up to 60,000 USD, incurring a 0.2% fee, which can drop down to 0.15% for users with at least one Gate Token (GT) in their balance.
Makers with an average trading volume of around one million USD pay 0.109% per trade, while takers pay 0.116%. Keeping GT tokens in your balance is useful for getting massive fee discounts.
Unverified user accounts get to withdraw up to 100,000 USD of crypto daily, while Level 1 verified accounts have a 2 million USD limit. Users with a Level 2 verification have the highest daily withdrawal limit of 5 million USD.
How Safe Are Binance and Gate.io?
Binance is one of the safest crypto exchange platforms on the market because it has never been hacked and uses a wide range of safety measures. User accounts are protected by passwords, the whole platform is encrypted, and users can set up two-factor authentication (2FA) as an additional protection layer. More than 90% of the platform's funds are kept in cold storage devices.
However, in 2022, the Binance Chain suffered a serious hack where more than 500 million USD worth of assets were stolen. The fact that the company's blockchain was hacked might mean that there could be potential safety issues with the exchange too. 
It's also important to emphasize that Binance isn't regulated by reputable international institutions, and users don't have much legal protection in case the platform goes bankrupt or their funds get compromised.
Gate.io uses similar security measures to protect the platform from hacks and ensure the safety of user accounts. Apart from passwords and SSL encryption, users have the 2FA option at their disposal, and it's highly recommended to activate this feature to secure your transactions. 
However, Gate.io was subject to a platform hack back in 2019, when cyber attackers made off with around 300,000 USD worth of Ethereum Classic coins. The platform managed to recover around 100,000 USD of assets.
Although the hack was minor in comparison with the hacks that happened to some competitor platforms that have lost tens of millions of USD, the fact that the Gate.io happened is concerning. The platform claims to have stepped up its security measures since then, including a security bug bounty program for white hat hackers. 
Moreover, Gate.io is a non-regulated crypto exchange and isn't available to users in some parts of the world, such as the US. 
Customer Support
In all honesty, the Binance customer support could really use an improvement, given the fact that the platform is the leading crypto exchange on the market. Users can contact the support team through email or by submitting a support ticket on the platform, but it takes quite a long time before they can get an answer, if at all.
The fact that Binance has millions of users might be an explanation as to why it takes so long for the support team to answer their queries, but the fact remains that the customer support quality is lower than expected.
Things can be much better on Gate.io's end as well. The platform also tells users to submit support tickets or contact the support team via email. However, the upside of Gate.io is that it also has live chat support that enables users to talk with customer assistants directly.
Mobile Trading
The Binance mobile app is one of the best on the market because the developers managed to successfully pack all trading features into a single app for iOS and Android mobile devices. Users can fund their accounts and engage in instant trading, coin swapping, margin trading, futures contracts, or crypto derivatives trading with just a couple of clicks.
The only issue with the Binance app is that the trading interface and technical analysis tools can be a bit tricky to navigate on the small screen.
Gate.io has its own mobile app that supports the broad range of features available on the browser version. Users can easily shift between instant trading, spot, margin trading, and the rest of the exchange's key features. 
However, the Gate.io mobile app can be a bit complicated for beginners who aren't sure which options to use for basic crypto purchases. The Binance app has a more straightforward interface. 
How Do Binance and Gate.io Compare to Other Crypto Exchanges
Binance and Gate.io are crypto trading platforms that cover everything from various types of trading to crypto staking and NFTs. That's why these platforms should be compared with exchanges that also support these services.
The most notable competitors are KuCoin and ByBit. KuCoin is known for its great selection of 300+ cryptocurrencies, extremely low fees, and numerous payment methods. The platform offers a similar service quality to that of Binance and Gate.io, but the selection of digital currencies is simply much more modest compared to these two platforms. It's also worth noting that KuCoin was subject to a massive 300 million USD hack a few years ago.
The same can be said for ByBit, except that ByBit is definitely a better choice than Binance or Gate.io for users focused on crypto derivatives. The ByBit platform has one of the largest selections of crypto derivatives, with hundreds of available crypto-collateralized perpetual contracts. However, in terms of cryptocurrencies, ByBit supports around 200 coins and tokens, which is much less than Binance and Gate.io.
Conclusion
Binance and Gate.io offer a great selection of high-quality services. Beginners can engage in instant trading or token swapping, while experienced traders have advanced technical analysis tools, trading orders, and high-risk trading features at their disposal.
Gate.io outperforms Binance in the cryptocurrency selection segment, but in all other aspects, Binance offers somewhat better services and surprisingly low fees.