The Coincheck cryptocurrency exchange is considered to be on par with Binance in terms of its reputation as the leading cryptocurrency exchange in the Japanese market. We'll look at the similarities and differences by comparing Binance vs Coincheck, so you can make an educated decision about which one is right for you.
About the Exchanges
Binance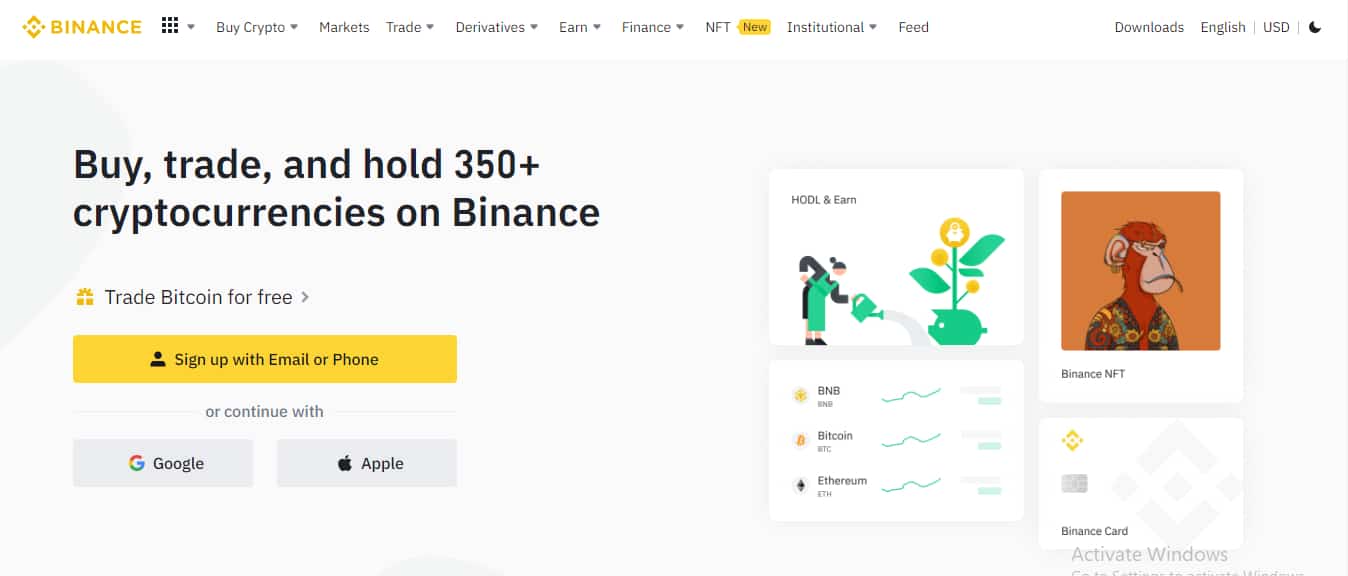 Binance is a highly popular trading platform established in 2017 by its current CEO, Changpeng Zhao, who transferred the company's headquarters from China to the crypto-friendly country of Malta. 
Binance provides its users from all around the world with access to hundreds of different cryptocurrencies. However, it is essential to keep in mind that the worldwide Binance platform is not the same as its equivalent in the United States, which is referred to as Binance.us and only provides access to over 65 different cryptocurrencies.
In addition, Binance is both a major player in the cryptocurrency market and one of the most popular exchanges overall. The reason for this is that a huge volume of coins can be traded for a negligible percentage fee (just 0.1%!!!). Moreover, the website has a very streamlined user interface, making it simple for first-timers to find their way around. 
On the other hand, newbies might have a hard time with the complex trading tools offered by the exchange.
Coincheck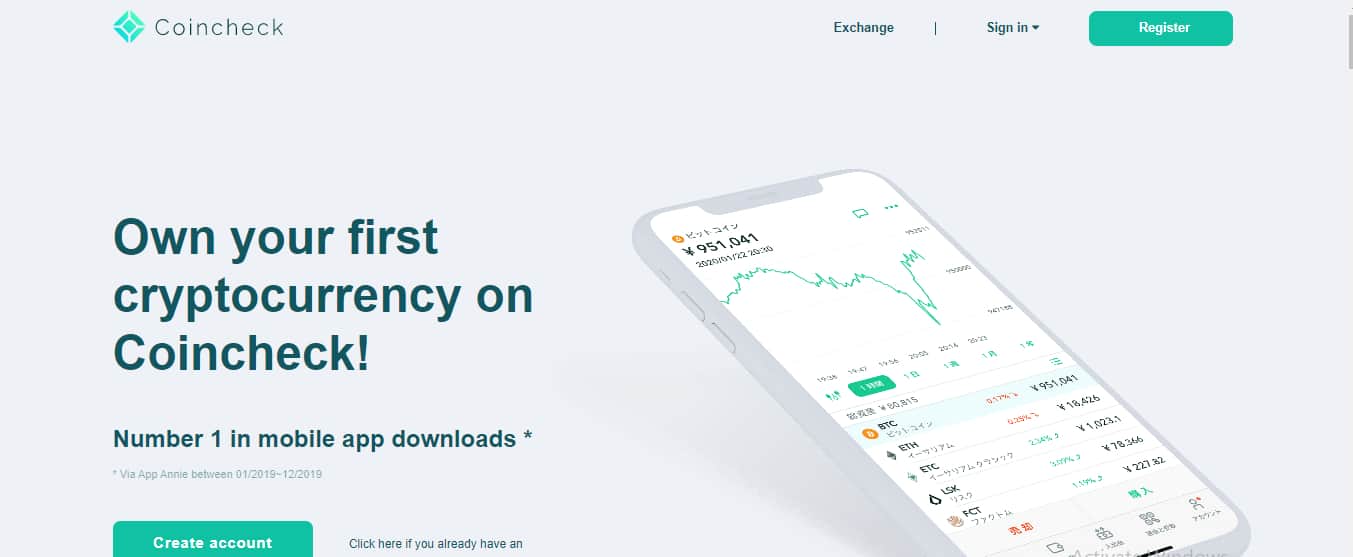 In 2012, Keisuke Wada and Yusuke Otsuka founded a company that would later become Coincheck. The cryptocurrency exchange itself didn't start doing business until 2014. Both of the company's founders continue to serve as directors, with Wada assuming the role of CEO and Otsuka serving in the COO role. 
Coincheck may have its headquarters in Japan, but it is accessible to users all over the world as a Bitcoin wallet and exchange. Namely, Coincheck facilitates transactions in Bitcoin and Ether, as well as exchanges between Bitcoin and fiat currencies in Japan, but serves as a Bitcoin wallet in a number of countries.
Here's a fun fact. In 2017, more bitcoins were traded in Japan through Coincheck than on any other exchange in the world! Also, the Android and iOS apps offered by Coincheck have a larger user base than those offered by any other Asian exchange combined. All these and more make Coincheck the largest and the most popular Japanese crypto trading platform. 
Pros and Cons
Binance Pros
The largest trading platform by market cap, liquidity, and trading volume in the industry;

Offers two distinct markets, one catering to international customers and another to US residents;

Levies some of the lowest trading fees on the market;

Features P2P, NFT, and OTC marketplaces;

Offers the largest number of tradeable cryptocurrencies, trading pairs, and payment options;

Enables margin trading with up to 125x leverage.
Binance Cons
Has regulatory issues in several jurisdictions;

Has a history of security breaches.
Coincheck Pros
Largest crypto exchange in Japan by trading volume and liquidity;

A regulated crypto trading platform;

Levies no trading fees or crypto withdrawal fees;

Provides cold (offline) wallet storage for digital assets;

Features a dedicated NFT marketplace;

Enables OTC trades for large-volume investors;

Provides an excellent mobile app for trading on the go;

A crypto lending service with the possibility of earning a 5% Annual Percentage Yield (APY).
Coincheck Cons
Lists a handful of tradeable cryptocurrencies;

High spread fees;

Not available for US residents;

No margin or derivatives trading;

Doesn't support credit card/debit card payments;

Supports only JPY as fiat currency;

Charges the withdrawal of fiat currencies;

Suffered a security breach in 2018;

A few deposit options. 
Binance vs. Coincheck: The Crypto Exchange Comparison 
Opening an Account
Binance makes it easy to sign up for an account by placing a "Register" button prominently on its homepage's upper right-hand corner. What you need to do is simply fill out the form, which typically asks for your email address or mobile phone number and for you to set a password. 
Once you've received your verification code, you can fund your account with fiat currency, cryptocurrency, or a credit card to buy more crypto. Please be aware that in order to utilize any of the deposit options that are accessible to you, you will first need to go through the full user verification process. 
This procedure requires that you provide certain papers to verify your identity, such as an ID issued by the government, your address of residence, and other similar information.
Being a regulatory-compliant exchange, Coincheck mandated going through the KYC protocol before you can open a trading account on this exchange. Namely, every new Coincheck account must first go through the Know Your Customer (KYC) verification process before it can be activated. Accounts that have not yet completed their KYC requirements won't be able to make deposits, perform trades, or request withdrawals.
On the "Identity" section of the Coincheck account page, you must enter your full legal name, physical address, and social security number to complete the account verification process. You will also be required to provide a photo of yourself holding a government-issued ID alongside the ID photo for a more accurate comparison.
Additionally, you will be required to present a second form of identification to confirm your place of residency, such as a copy of a recent utility bill with your full name and address on it, dated within the past six months. After submitting the required paperwork to Coincheck and confirming its accuracy, the platform will activate your account.
Finally, Coincheck welcomes customers from all over the world to open accounts. Non-Japanese account holders have no restrictions, although the verification process takes longer.
Main Features
As previously mentioned, Binance is the world's largest cryptocurrency exchange based on trading volume. It provides a comprehensive set of services to traders and investors to encourage them to buy, sell, and invest in cryptocurrencies.
Binance also allows traders to leverage their cryptocurrency holdings for increased profit. Through this platform, you can trade cryptos on margin with up to 125 x leverage.
Furthermore, Binance's OTC platform serves as a trading venue for those individuals who are interested in engaging in larger trades by providing better pricing and more expedient settlements. And this is just a drop in the ocean when it comes to Binance's trading options. It is essential to keep in mind, however, that there will be restrictions imposed on you until you have successfully completed the verification process.
Coincheck, on the other hand, provides both a simple crypto order form and a sophisticated trading platform.  Both novice and seasoned investors can make use of this popular Japanese exchange. Users can quickly and conveniently select any of the 17 supported cryptocurrencies, enter the amount they would want to exchange, and effortlessly complete the transaction.
A more complex trading platform, TradingView, is also available through Coincheck. In addition to order books and current transaction history for each asset, the interface incorporates TradingView's premium charts displaying market trends and price fluctuations. Coincheck's buy/sell dashboard also features stop-loss and market order functionality.
In addition, Coincheck also offers a payment processing service to companies. This service enables businesses to accept payments in cryptocurrencies, which are then instantly converted into the local currency. In addition, there is a "loan" service that functions similarly to a checking or savings account at a standard bank.
Supported Cryptocurrencies
When contrasting Binance vs Coincheck in terms of supported cryptocurrencies, Binance trading platform offers investors access to one of the most comprehensive selections of cryptocurrencies currently on the market. The available cryptocurrencies range from the market's most valuable coins and tokens to some of the market's lesser-known and more obscure coins and tokens.
Binance provides users with access to a diverse selection of cryptocurrencies and a wide variety of trading and investment opportunities within the cryptocurrency market. It is important to keep in mind, however, that not every cryptocurrency can be purchased through the Futures, OTC, Margin, or P2P platforms offered by this exchange.
Coincheck is an exchange that allows you to buy and sell 17 different cryptocurrencies, including Bitcoin (BTC), Ethereum (ETH), Litecoin (LTC), and Bitcoin Cash (BCH). 
Apart from some of the most liquid coins, the short list of approved digital assets to acquire on Coincheck does not include widely used cryptocurrencies like Solana (SOL) or Avalanche (AVAX). In the same vein, stablecoins like USD Coin (USDC), Tether (USDT), and TerraUSD (UST) are missing from this list.
Since the only currencies that can be used to buy the supported cryptocurrencies are JPY and BTC, the number of available trading pairs is equally small.
Payment Methods
Binance gives its users a number of different options to choose from when it comes to depositing funds into their accounts. Here are some of them:
Users who hold one of the accepted coins on Binance can deposit it into a Binance-compatible wallet.

Users of Binance are able to make direct deposits into their bank accounts using a variety of fiat currencies from across the world.

Both Visa and Mastercard are supported as methods of payment.

More than 60 different payment methods are supported by PTP Trading, including bank wire transfers.

Banxa and Simplex will be used to handle the processing of the money received from the third party.
If you want to add fiat currency to your Coincheck account, you can do it with a bank transfer, or you can use a debit or credit card. There is no fee for depositing JPY, but there is a fixed fee of $25 (or 2500) for deposits in other currencies from accounts outside of Japan.
If a user has an existing balance in a supported cryptocurrency and would like to make a purchase using that currency, they may simply transfer their balance into their account. All prices are expressed in Japanese yen.
Again, if the funds are held in a cryptocurrency wallet, they can be withdrawn to a cryptocurrency exchange or to a bank account or credit card if the funds are held in fiat currency. Withdrawals in the local fiat currency cost 400 yen, while those in dollars cost 2,500 yen.
Trading Fees and Limits
Trading fees on Binance are based on a sliding scale, with the lowest cost applicable to those who trade less than 5,000 BNB per day. From 0 to 9, VIP Traders are ranked according to their trading activity and other factors.
Market making and taking trades cost 0.1% in fees, with the latter dropping to 0.02% and the latter rising to 0.04% for VIP users. In addition, 25% off is available for both makers and takers when BNB is used.
It costs nothing to purchase or sell cryptocurrency on Coincheck right now, though that may change in the future when the exchange begins to impose trade transaction fees. Namely, despite being labeled as a no-fee platform, Coincheck exchange may add a spread fee of up to 5% to the reported price of the cryptocurrency. 
Due to the opacity of this spread, you can end up spending way more on cryptocurrency than it's actually worth, so be mindful of that. 
How Safe Are Binance and Coincheck?
Binance provides a high level of security to its users in order to safeguard their private data and assets. The platform incorporates a full range of security features, including but not limited to the following:
When you establish an Anti-Phishing code, you can tell the difference between legitimate Binance communications and phishing emails.

Using the address management feature, customers can store several withdrawal addresses and add notes for each one. To further safeguard your assets, you can choose to "Whitelist" and restrict withdrawals to a select group of approved addresses.

Withdrawals and changes to security settings both support SMS authentication.

To further fortify your Binance account's safety, you can deploy a YubiKey as a second factor of authentication (2FA).

To see what gadgets are authorized to access your account, click the "Manage" button and then "Devices." In this section, users can also uninstall hardware they no longer need.
Despite its position as the largest cryptocurrency exchange by trade volume, Binance is encountering regulatory hurdles in a number of jurisdictions. The United States government, for example, is looking into it for possible tax and money laundering violations. Many nations have outright banned the Binance platform, which has been the target of multiple hacking attempts, with the latest raid resulting in a loss of $570 million in crypto. 
Back to Coincheck, now. The Japanese government and several cryptocurrency-related organizations, such as the Financial Services Agency, the Japan Virtual Currency Business Operator Association, and the Japan Blockchain Association, monitor and audit Coincheck to a great degree, making it one of the most secure cryptocurrency exchanges in the world.
To protect its customers' money and valuables, Coincheck employs a set of security measures similar to those employed by banks, alongside the industry's best practices, which include 2FA and cold wallet storage. For further safety, the exchange employs end-to-end encryption and daily offsite backups of all cryptocurrency. Moreover, Coincheck's reserve funds are utilized to protect user balances rather than for lending or other objectives.
Even though Coincheck is a relatively safe platform at the moment, it was compromised in 2018, and more than $500 million worth of NEM crypto tokens belonging to its users were stolen. Since then, the platform has stopped keeping any cryptocurrency in a "hot wallet" that is open to the public, which is why the security breach happened in the first place.
After being reported as stolen, hackers' cryptocurrency couldn't be traded or sold on any of the major markets. In addition, Coincheck promised to begin compensating users for stolen funds, which it has already begun doing.
Binance vs Coincheck Customer Support
Sending in a ticket, chatting with an agent, and using Twitter are the three most fundamental methods of contacting Binance's support team. On the Binance website, you can fill out a form to submit a ticket and obtain assistance by email.  Users who are having trouble with Binance are encouraged to tweet their concerns to the company's help channel on Twitter (@BinanceHelpDesk).
Coincheck, much like the majority of other cryptocurrency exchanges, offers customer help in the form of a "Help Centre" that contains frequently asked questions as well as an email-based ticketing system for resolving problems that are not addressed in the offered articles. The FAQs are available in Japanese, English, Chinese, and Indonesian, and support agents can reply to tickets in those languages alone.
Mobile Trading
The Binance app is a top-tier crypto trading software solution that allows for easy trading on the go. It gives an affordable option to buy and sell many distinct coins without being tethered to your PC. The software itself doesn't cost anything, but there are
When comparing Binance vs Coincheck, the Japanese exchange also offers services for holding cryptocurrency wallets, and there are apps for both Android and iOS that can be used to access digital wallets. With iOS, you can add money to your exchange account as well.
How Do Binance and Coincheck Compare to Other Crypto Exchanges?
Binance vs Coincheck vs Coinbase Pro
Some of the most prominent cryptocurrency exchanges in the world are Binance, Coincheck, and Coinbase Pro. All three give active traders a wide variety of trading alternatives and assets to choose from. 
Among the many cryptocurrency exchanges, Coinbase has a reputation for safety and reliability, as opposed to Binance, which has security and compliance concerns, and Coincheck and its recent security breach.
Trading costs on Binance are among the lowest in the market. Coincheck may not charge any transaction fees, but the exchange's 5% spreads are far higher than those of other popular options. The same is true of Coinbase Pro's trading costs.
Conclusion
Among Coincheck's many merits is its innovative exchange system, which is to be expected from a technology-focused Japanese company like Coincheck. First-time users and individuals with limited exposure to financial markets will welcome the exchange's clean interface and straightforward functionality.  
On the other hand, Coincheck only supports a limited number of cryptocurrencies, so it may not be a suitable solution if you are searching for a trading venue that will allow you to diversify your crypto holdings. 
Traders who prefer access to a wide range of possibilities should consider utilizing a global cryptocurrency exchange like Binance. This exchange supports a diverse range of digital assets, in addition to a large number of trading pairs, fiat currencies, and payment methods. 
Ultimately, if you want to get a good grasp on the cryptocurrency market, go no further than Binance, the leading cryptocurrency exchange. When it comes to cryptocurrency trading platforms, few others can match Binance's breadth of selection, worldwide reach, and depth of features.