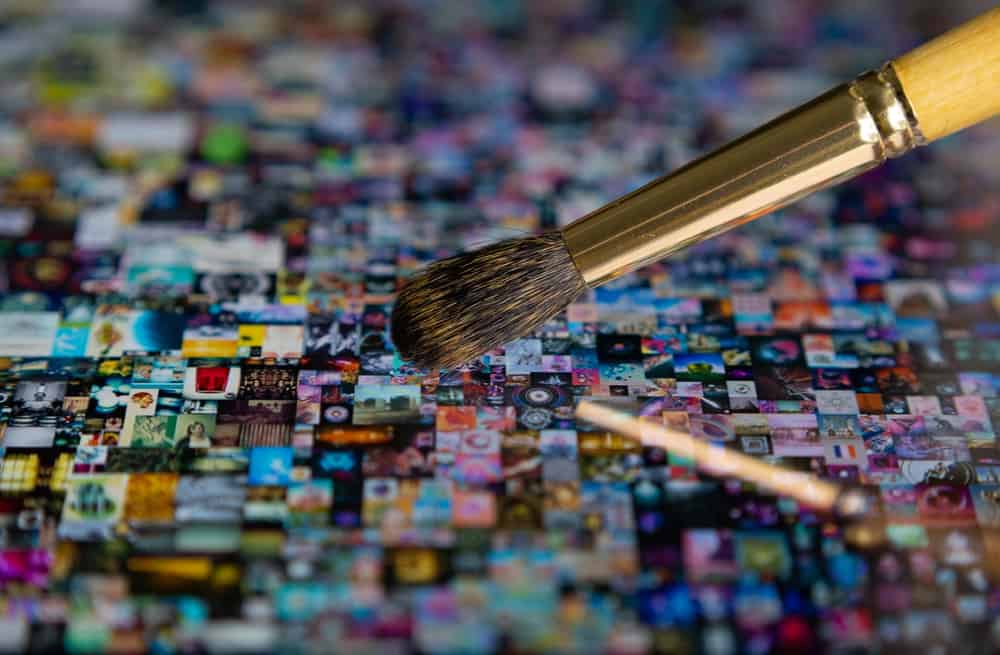 The internet is full of all kinds of digital art created with various tech solutions, such as digitizing existing artwork, uploading photographs on the web, or using 3D rendering programs, drawing apps, and computer animation solutions. 
However, for the most part, digital art lacks clear proof of ownership. In the digital space, you can endlessly copy and reproduce these artworks, contradicting the artistic concept of uniqueness.
Crypto art, on the other hand, is a type of digital art created using blockchain technology, which has managed to solve the issues of uniqueness and proof of ownership over digital art with non-fungible tokens (NFTs).
Let's find out what crypto art is, how it works, and the different types of this new art form.
NFTs: The Medium for Crypto Art
There can be millions or even billions of identical crypto tokens. That's why cryptos like Bitcoin (BTC), Ethereum (ETH), or any other digital currency's tokens are referred to as fungible tokens. Users can exchange, trade, and buy or sell these tokens. 
NFTs, however, are different because each NFT represents a unique asset. There can't be two copies of a specific NFT.
This particular type of crypto asset is designed to be one-of-a-kind. Anyone can prove their ownership over a certain NFT by showing that its unique blockchain identity is stored in their crypto wallet.
Both cryptocurrencies and NFTs use blockchain technology, and users need to store them in their crypto wallets. However, NFTs have a visual element, while cryptocurrencies don't.
Every BTC unit is just a number in your crypto wallet next to the Bitcoin logo. NFTs, on the other hand, are visual assets, and their visual content is also unique for every NFT. Essentially, both the NFT's blockchain identity and its content are unique. 
These characteristics make NFTs a practical tool for proving ownership over a tokenized asset. While the first NFTs were artwork-focused, creators later realized they could tokenize numerous types of digital and physical assets with the new technology. That's how NFTs became a medium for tokenizing art, event tickets, music, books, documents, contracts, web domains, and more.
However, in this guide, we'll focus on NFTs as a medium for crypto art.
The Birth of Crypto Art
NFTs originally started as crypto art, and artwork remains the leading NFT content today. NFT marketplaces like OpenSea are mostly filled with a variety of crypto art. 
The leading blockchain for creating NFTs is Ethereum, but it isn't the first network to allow users to create NFTs. In fact, the first NFT is called Quantum, launched by crypto enthusiast Kevin McKoy in 2014 on the Namecoin blockchain.
However, NFTs didn't become popular until the introduction of the ERC-721 token standard for non-fungible assets on the Ethereum blockchain in 2017. This token standard allowed Ethereum users to create NFTs, which is when the NFT market started taking off.
At first, NFTs didn't attract any considerable attention from users because crypto trading was the main focus of the blockchain industry. However, in 2021, the NFT market rapidly expanded, and NFTs became immensely popular. The NFT market grew so quickly that it expanded by 21,000% from 2020 to 2021 and had a trading volume of 17 billion USD. 
This massive growth of the NFT market happened mainly due to NFT artwork sales. Artists were minting (creating) NFT collections with different artworks and selling them on NFT marketplaces, while many buyers were scooping up those collections and then reselling them to other users for much higher profits. 
The main driver of the NFT price growth was the hype surrounding different NFT collections, especially among large communities on Discord and Twitter, and, of course, the quality of the artwork.
Suddenly, tens of thousands of users were competing to get their hands on one of the NFTs from those collections. However, each collection only had a couple of thousand NFTs, while the demand was much higher, driving the prices up.
In just one year, from 2020 to 2021, crypto art became a highly competitive blockchain market segment, with users battling to outbid each other for specific digital art pieces, just like live art auctions. 
What Makes Crypto Art Popular?
One of the critical questions surrounding NFT artwork is what made crypto art gain popularity.
A Unique Possession
It's important to emphasize that crypto art is digital art, but unlike artworks you can find on Google and simply download as JPEG files, NFTs are unique, and you get proof that they really belong to you.
Just like you can buy a unique painting and hang it on your living room wall, you purchase crypto art, store it in your crypto wallet, and show it to friends.
NFT artwork has no utility besides letting its owners visually enjoy the art, which is another similarity to traditional, physical art. However, the knowledge that your NFT is one-of-a-kind and that you're the only person in the world owning that particular piece of artwork gives more value to this type of digital art. 
Versatility
Crypto art has numerous categories and styles, catering to different groups of users. Also, owning an NFT from a famous collection is a matter of privilege since hyped-up collections can become extremely expensive, with individual NFTs selling for hundreds of thousands of US dollars. 
High-Profit Potential
There's a lot of profit potential from trading NFTs. Many NFT enthusiasts tend to use this opportunity by buying NFTs when prices are low and selling them when the popularity of a specific collection increases.
All of these elements add up and contribute to the rising popularity of crypto art as a new form of trendy artistic expression with a rapidly increasing global trading volume.
Different Types of Crypto Art NFTs
The sheer variety of crypto art forms means that users with different art preferences can find something they like among trending NFT collections.
Let's look at some of the critical categories of crypto art NFTs.
Generative Crypto Artwork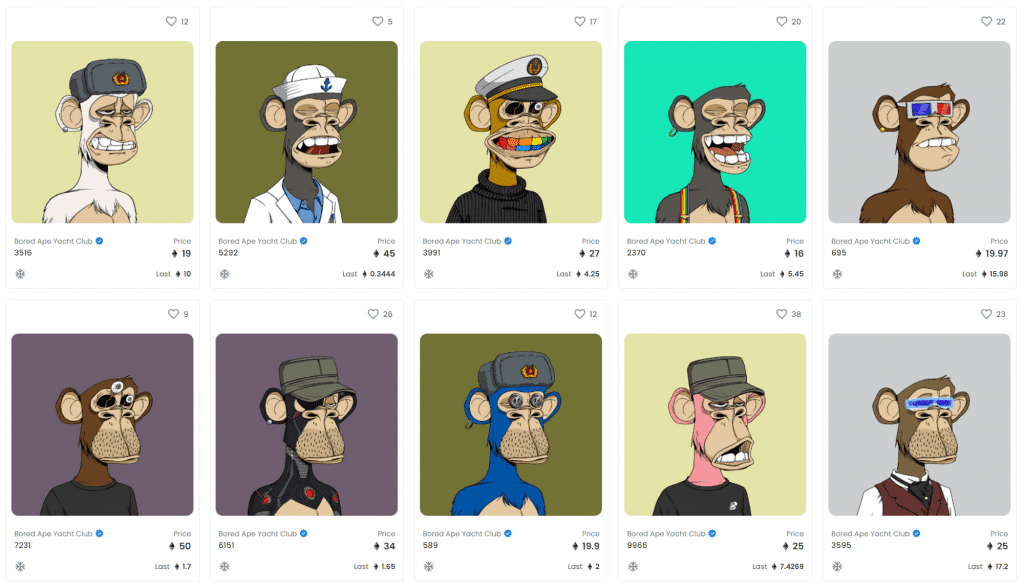 The leading type of artwork NFTs is generative NFT collections. NFT artists create the basis of these collections, which can have different forms, such as drawings, 3D images, cartoon-style characters, and more.
These NFTs consist of various elements. For example, an NFT collection depicting certain human-like characters uses different face shapes, clothing, and accessories such as sunglasses, hats, cigars, and earrings. All of these elements are predesigned by artists.
The artists then combine these elements with computer code that generates a whole collection of NFTs with thousands of unique tokens. Some of the initial NFTs are entirely created by artists, and they serve as the blueprint for the computer code to generate thousands of NFTs using various predefined elements. 
A vast portion of artwork NFTs belongs to the category of generative art, especially those collections with thousands of tokens that share similar elements. The computer code creates NFTs with common, rare, and super-rare characteristics.
For example, Bored Ape Yacht Club NFTs all depict apes with different styles and accessories, and it's pretty common for the apes to have a shirt with stripes, but it's super rare for an ape to have a pizza slice or a sailor hat. NFTs with rare elements are always more valuable on the market. 
1 of 1 NFT Artwork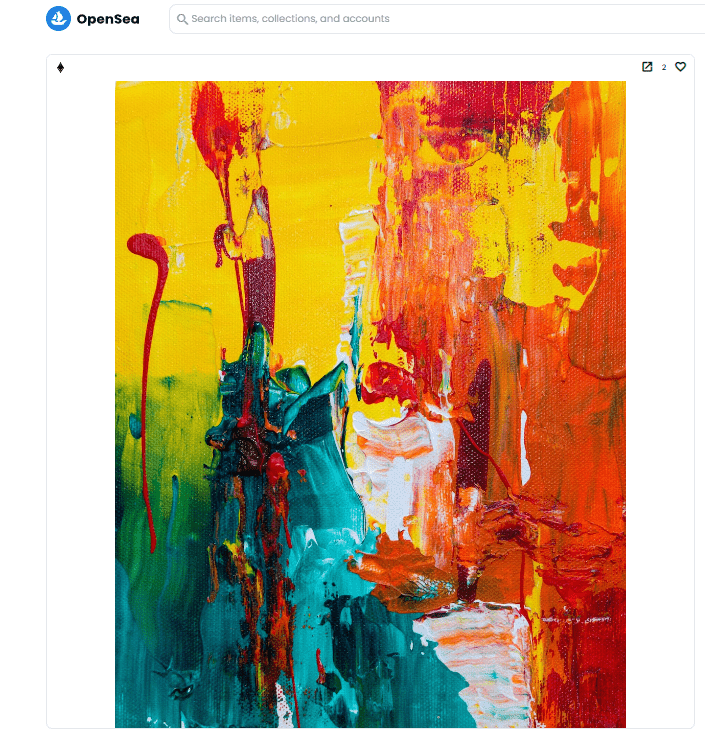 Source: OpenSea
Some artwork NFTs are referred to as 1 of 1 NFTs. There are two classifications of 1 of 1 NFTs. 
The first one refers to NFTs that either don't belong to any collection or are part of a very limited collection. These NFTs usually depict complex art, such as paintings or detailed drawings, which are impossible to create through an automated, computer-generative process.
The second classification of 1 of 1 NFTs refers to the first pieces in a specific collection. Every NFT has a mint number, which refers to its position in a particular collection. An NFT with a 1/1000 number is far more valuable than a 500/1000 one because it was minted earlier.
3D Artwork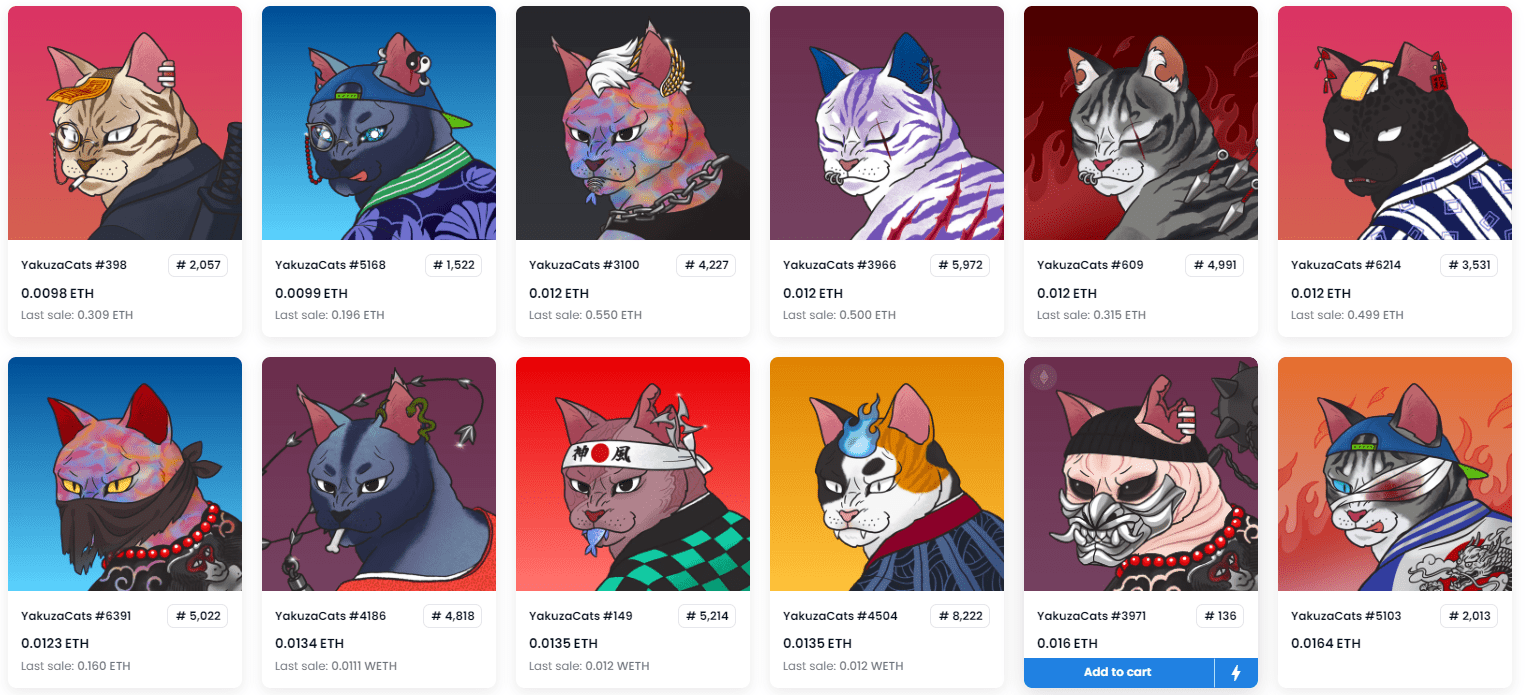 3D crypto art mostly depicts characters with 3D elements that stand out from the image, creating a deep 3D perspective, like in the case of Supreme Kong. 
These collections are computer generated and resemble characters from animated movies. Animals with human-like characteristics and accessories, such as hoodies, sunglasses, and hats, are a common theme among 3D NFT collections.
Also, many collections feature different types of robots, fantasy creatures, or even real-estate objects such as houses or buildings. 
The artwork of 3D NFTs is very modern and illustrates the power of computer-generated 3D image rendering technology. It's pretty fascinating how detailed and different from each other several thousand NFTs within a single collection can be, even though a computer algorithm is responsible for combining different characteristics and putting together the images. 
Drawing Style NFTs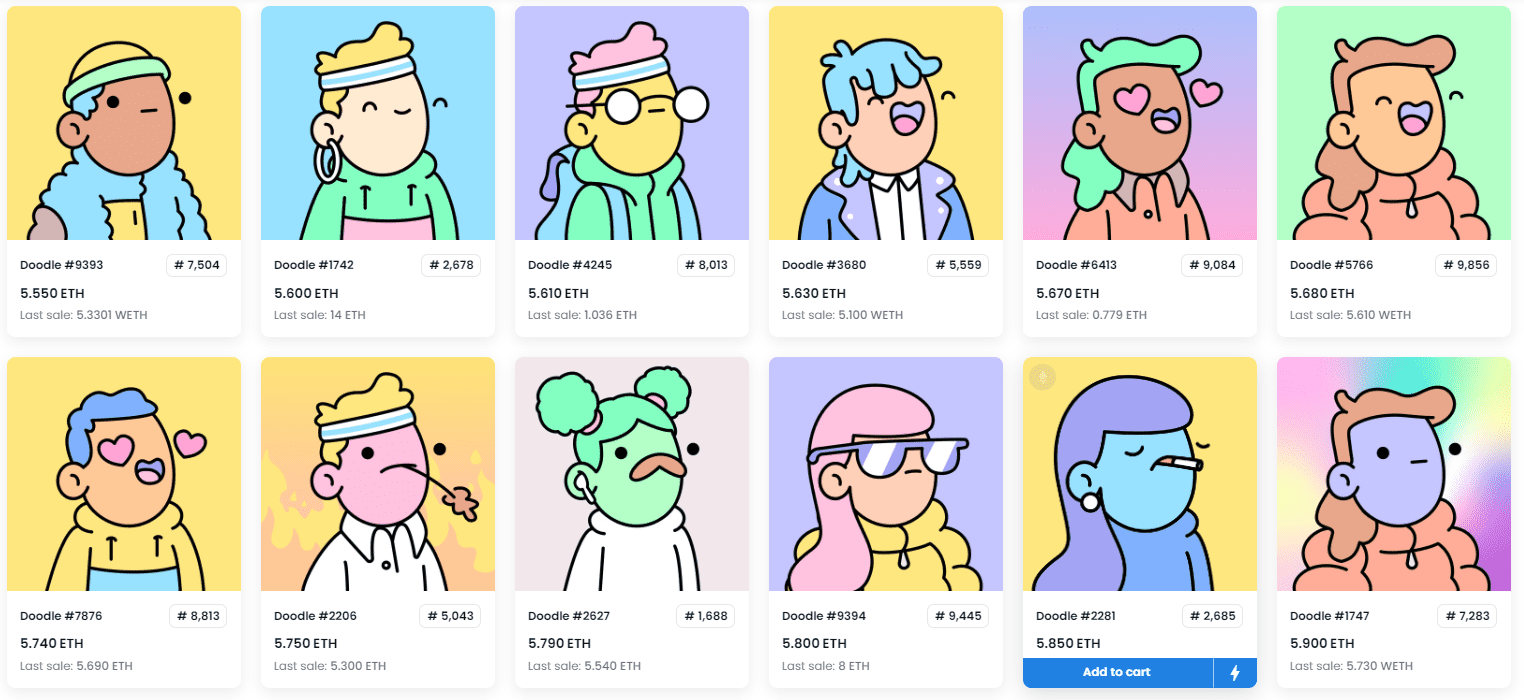 Drawing style NFTs are another popular form of generative crypto art. These NFTs rely on initial artist drawings to create entire collections. The drawings of the whole collection are simulated by computer code based on the initial drawings of the key NFT elements.
Doodles and the famous Bored Ape Yacht Club are some of the most popular generative art collections based on initial drawings. Drawing-style NFT collections resemble animated movies, but unlike 3D pictures, this type of crypto art is far closer to classic cartoons.
Instead of the 3D character depth pioneered by Pixar Animation Studios in the early 2000s, drawing based-NFTs rely on the cartoon legacy of bright colors, high contrasts, and generally upbeat cool images. You can hardly find a drawing-style NFT collection dominated by grim, dark colors.
It's no wonder this type of NFTs has become popular among high-profile celebrities buying the likes of Bored Apes to "stay cool."
Pixelated NFT Artwork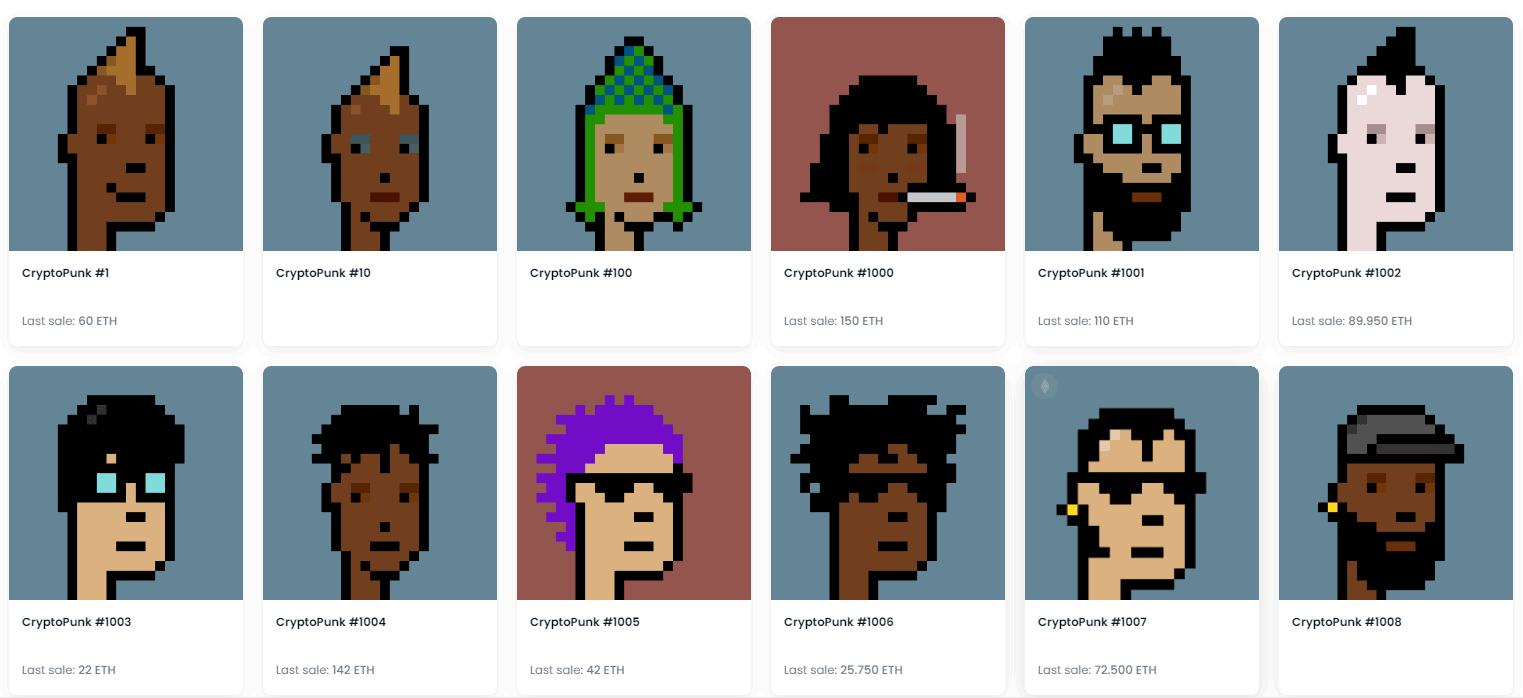 One of the most famous artistic NFT collections is the 10,000 NFT-strong Crypto Punks. This generative crypto art collection pioneered the pixelated NFT art style. The style usually displays different types of animated characters, which can be in a 2D format like Crypto Punks or in a 3D format like some newer NFT collections.
However, both types of NFTs use heavy pixelation to emphasize the central position of the character on the NFTs, and all of the NFT features, such as accessories or facial expressions, are also pixelated. 
At first look, people unacquainted with this crypto art style might think that these NFTs are incomplete or just poorly designed. The truth is that pixelated NFT artwork uses this style on purpose, and it's closely related to the arcade games of the 80s and 90s.
The style's main inspiration comes from arcade game classics like Space Invaders, Super Mario Bros, and Pacman. These games used pixelated images for in-game characters because of the technological limitations of arcade machines and graphics in the 80s and 90s. There wasn't any advanced 3D image rendering for games back then. 
Pixelated art NFTs took this arcade game style and brought it to the blockchain through unique collectibles with a retro vibe like Crypto Punks or Cyber Kongz.
Anime Style Artwork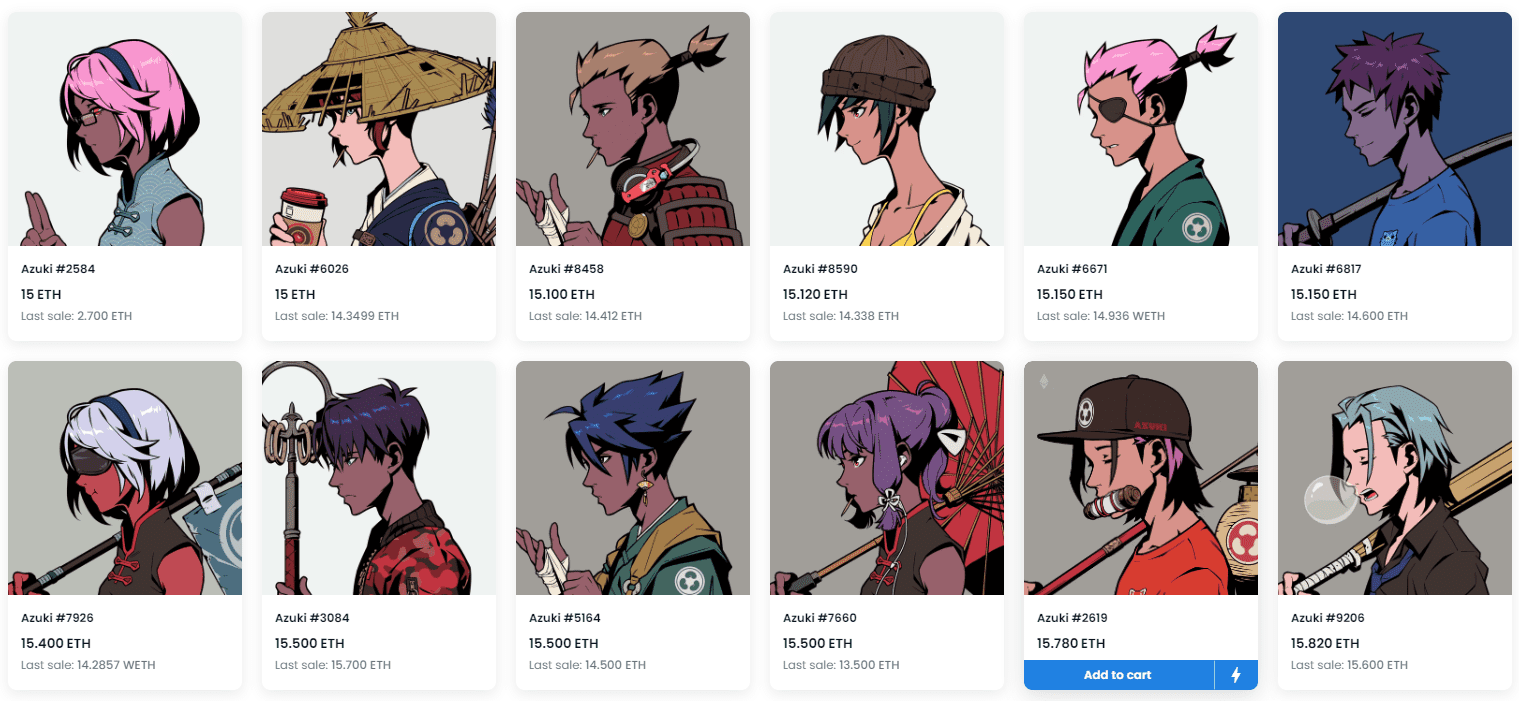 Anime movies and anime-based games are tremendously popular way beyond Japan, their original birthplace. Like other art styles described in this guide, anime also found its way to the world of crypto thanks to anime enthusiasts who are also into NFTs. 
The result was extremely positive because anime NFT collections like the blue-chip Azuki became some of the most popular collections on the NFT market. We can divide anime NFT collections into roughly two categories. 
The first one displays humans, or human-like characters with various types of clothes, hairstyles, accessories, ancient Japanese weapons, or traditional mythical creatures from Japanese folklore. While some of these collections show modern-day characters in combination with traditional elements, other collections show cyberpunk-themed characters with robotic characteristics like Kiwami. 
The other essential type of anime crypto art is NFTs that depict non-humanoid creatures with fun, comical, and over-exaggerated elements, like the Karafuru collection, where characters either have huge heads and tiny bodies or the exact opposite.
NFT Painting Art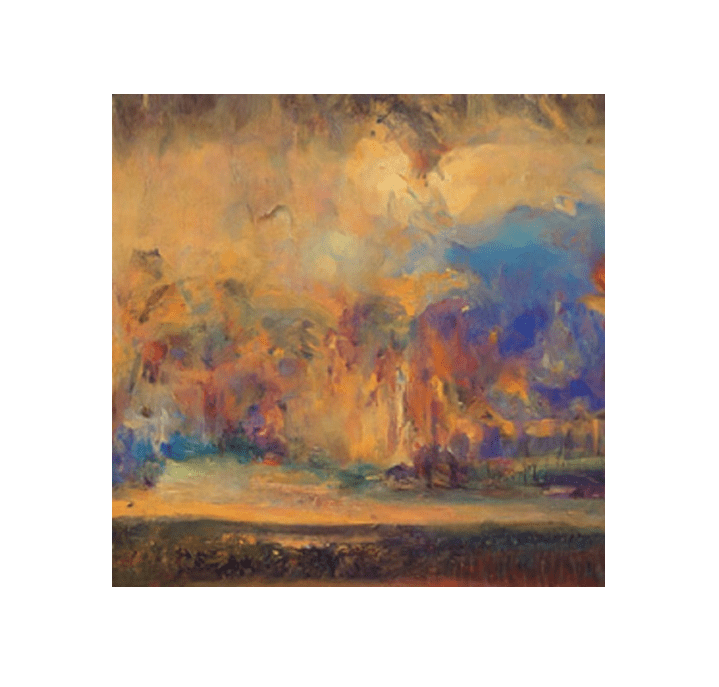 Source: OpenSea
NFT painting art is far less popular than generative art forms such as pixelated, anime, or 3D NFTs. NFT paintings cater to a more artistically defined target group, focused on unique, hand-painted art. 
That's because NFT paintings are digital paintings. They are unique, there are no two identical NFT paintings, and their main difference from traditional paintings is that they are digitized. 
You won't find NFT paintings among the top trending NFT collections on OpenSea. You'll need to dive deeper to find different types of paintings according to your taste. The best way to do this is to search NFT markets with the "painting" tag.
When you do this on OpenSea, you'll get thousands of results, depicting everything from nature and portraits to animals and modernistic paintings with abstract art. 
While painting NFTs aren't as popular as other art forms, they showcase how traditional art can also use blockchain technology.
Photography NFTs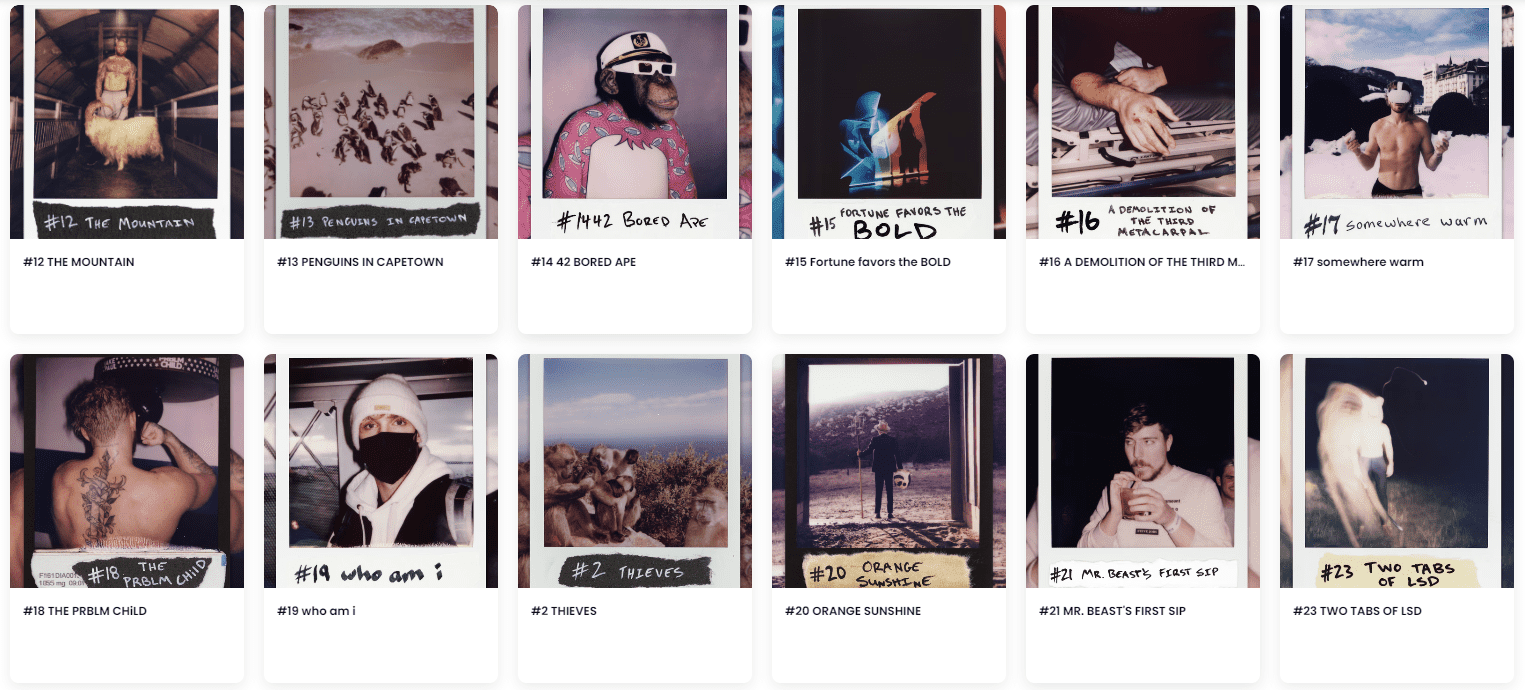 Blockchain technology gives photographers a whole new range of possibilities to monetize their artwork. With NFTs, photographers can turn their art into blockchain assets they can sell as NFTs on a rapidly expanding digital market.
Creating unique photos and minting them as NFTs can make photographers a lot of money. For example, the Twin Flames NFT photo collection has some photos selling for as much as 60 ETH, which is a super-high amount of money in regard to the current ETH price of around 1,500 USD. 
Where my Vans go is another popular NFT photo collection that depicts the author's legs and Vans sneakers in different, breathtaking locations, such as sitting on top of a skyscraper or a bridge. 
Artists can come up with all sorts of photo concepts, and if their photos possess high quality and capture fascinating moments, they can earn vast amounts of money for their art. 
NFT Cards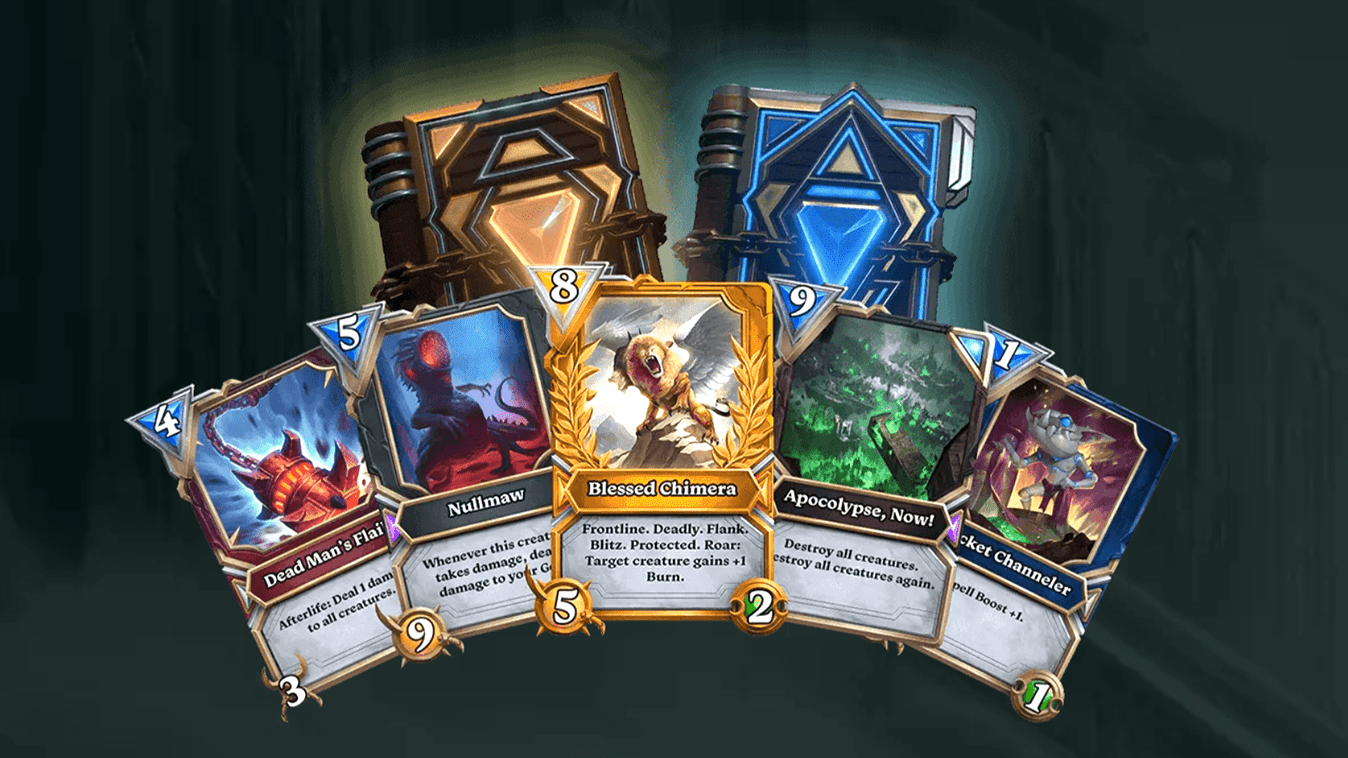 NFT cards are a specific type of crypto art because they are usually tied to blockchain games that use NFTs as a core gameplay element.
Games like Gods Unchained and Calvaria require users to buy unique NFT cards that depict different avatars and characters, such as knights, wizards, dragons, and other fantasy elements. 
The NFTs display artistic images, usually drawings or 3D animations, in the upper portion of the NFT card. The lower section of the card is reserved for the characteristics of the NFT, such as how much damage it can inflict on enemy NFTs and what are its special features or skills.
Conclusion
Crypto art utilizes the concept of NFTs to allow users to purchase, sell, and trade numerous types of artwork in a digital, blockchain environment just by connecting their crypto wallets to an NFT marketplace. 
This digitalization of different art forms makes art more easily accessible since users don't have to go to physical stores and search for specific art forms.
However, crypto art is adding a price tag on numerous art forms that used to be available for free to Internet users. This is especially visible with trending NFT collections where a single art piece can cost several hundreds of thousands of US dollars.
Additionally, some people are skeptical regarding NFTs because of the high potential for scams and financial fraud. 
Either way, we can't ignore the fact that crypto art is transforming how people access art and opening new possibilities for creators.