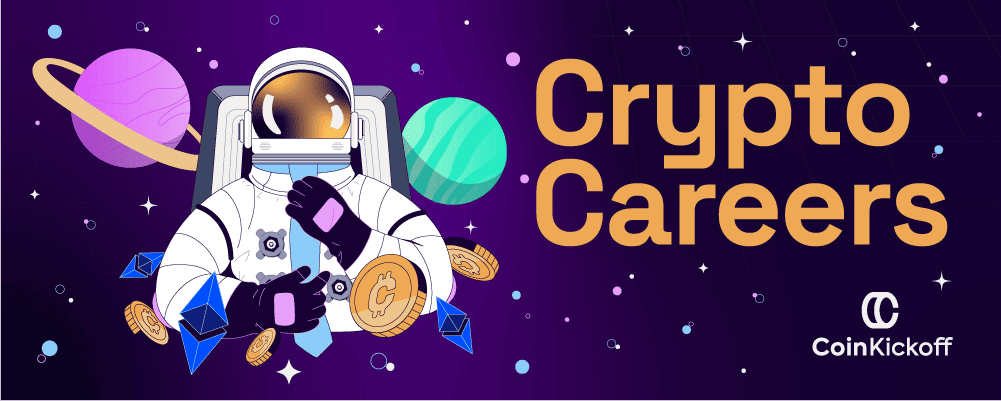 While the cryptocurrency industry's value and reputation continue to ebb and flow, the sector is creating a highly skilled workforce capable of sustaining the blockchain technology that underpins it. According to a study by LinkedIn and coin exchange OKX, the number of people working in blockchain has increased by 76% year-on-year as of mid-2022.
Currency exchanges are a crucial part of the sector and comprise almost half of all blockchain roles, according to industry publication The Block. Industry analysis conducted by them states that 42% of people at 158 companies work for digital currency exchanges, including Coinbase and Binance.
Trends also suggest that crypto jobs are becoming increasingly well-paid. Software engineers at major currency exchanges, according to research from tech careers experts Blind, can earn as much as $900,000 per year. While not everyone lives the lavish 'crypto bro' lifestyle on a diet of Lamborghinis and luxury yachts, the industry is still rich with opportunities to earn a good living.
But which cities and countries are you most likely to find a role in cryptocurrency, and which areas are thriving when attracting talented people in the industry? To find out, Coin Kickoff has analyzed the crypto job market in more than 150 countries.
How We Conducted This Study
We analyzed cryptocurrency-related jobs using LinkedIn, gathering all advertisements for roles that contained 'cryptocurrency' in the job title and/or description.
This data was then used to compare the number of crypto jobs to local populations in every country, major city and U.S. state, as well as the industries where cryptocurrency-related jobs are most prevalent.
Key Findings
Georgia has the world's highest concentration of crypto jobs (127.1 jobs per million people).
The retail sector hires the most crypto-related jobs (2,041 jobs) of any industry.
Wyoming is home to the highest proportion of crypto jobs of any U.S. state (693.2 jobs per million people).
In the U.S., more crypto-roles exist in financial services (1,925 jobs) than any other sector.
Tbilisi's Tech Hub Makes Georgia a Crypto Career Hub
Despite global interest in cryptocurrency and other Web 3.0 ventures like the metaverse, the majority of its workforce is still concentrated in the West. Data from K33 research shows that 55% of jobs in crypto are located in North America and Europe. However, many non-Western countries have comparatively high proportions of cryptocurrency roles to their populations.
One such location is Georgia. Despite a population of just 3.6 million residents, our research shows that its job market is home to 127.12 roles in cryptocurrency per million people, more than any other country in our dataset.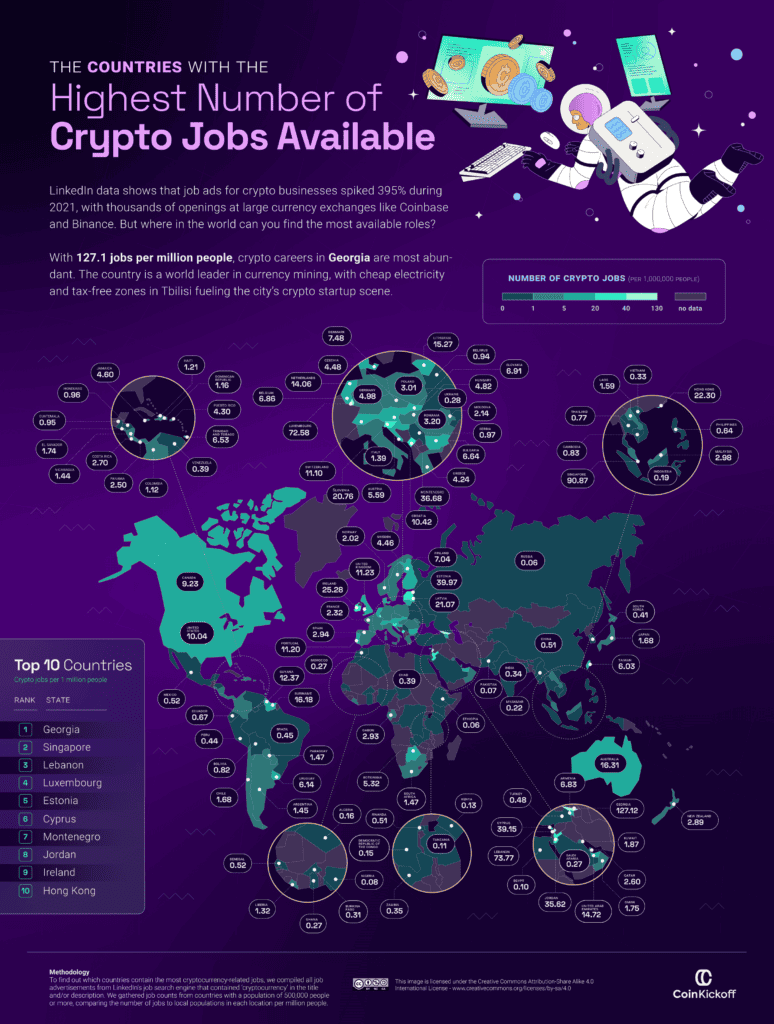 Click here to see the image in full size
Located at the crossroads of Eastern Europe and Western Asia, Georgia has developed itself to become a crypto-friendly nation, leading the world in coin mining thanks to cheap electricity. More recently, currency exchange Binance has expanded into the country, opening a blockchain hub that will create 'dozens of new jobs' in 2023.
Second on the list is Singapore, with 90.86 roles in crypto per million people. Since 2013, the Monetary Authority of Singapore has taken steps to closely regulate the industry, including a ban on promotion of cryptocurrency exchanges, despite its attractiveness as a low-tax investment hub. However, Independent Reserve data shows that Singaporeans are active traders of cryptocurrency, and the country continues to compete with other Asian financial centers like Hong Kong to attract crypto talent.
Retailers Most Actively Hiring for Crypto Jobs
The benefits of cryptocurrency in commercial retail have long been touted since its origin. The very first Bitcoin transaction was used to purchase two Papa John's pizzas all the way back in 2010. Today, 93% of retailers that accept crypto as payment have noticed a positive impact on their customer growth and brand perception, according to the Wall Street Journal.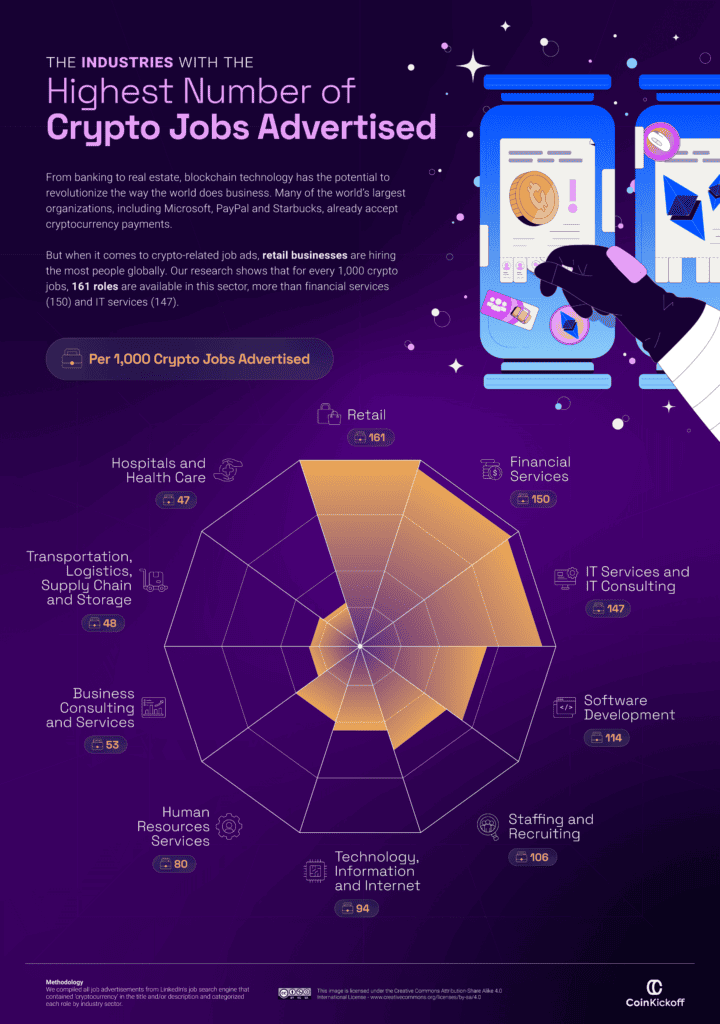 Click here to see the image in full size
Our analysis shows that retail businesses are most keen when it comes to seeking out people with cryptocurrency experience. For every 1,000 crypto jobs advertised, 161 roles were available in this sector, more than financial services (150) and IT services (147).
However, the retail industry at large remains uncertain about the role cryptocurrency will play in its future landscape. The National Retail Federation casts doubt on the speculative nature of Bitcoin and other coins but stops short of discouraging businesses from accepting it as payment.
Wyoming- and Dallas-area Suburbs Hotspots for Crypto Roles
While crypto has the potential to support a vibrant and skilled workforce, the winter crash of 2022 wreaked havoc on job stability, particularly in the U.S., in the wake of FTX's stunning collapse. In December 2022, CoinDesk reported that 26,702 jobs had been lost throughout the year, with layoffs at major U.S. crypto exchanges like Coinbase continuing into 2023. However, our research indicates that job roles in cryptocurrency are still being advertised in all 50 U.S. states and in all major cities across the country.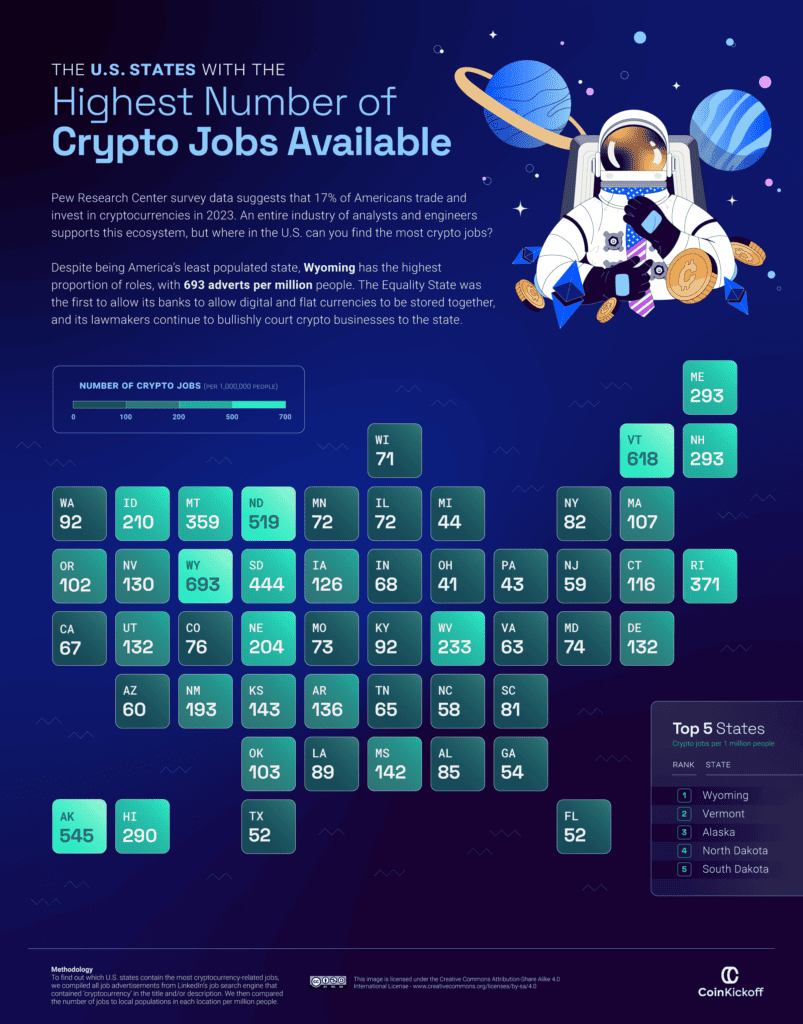 Click here to see the image in full size
When it comes to the states themselves, Wyoming is home to America's most crypto jobs per capita, with 693 roles per million people. While the rest of the world has every right to feel bearish about crypto, Wyoming is actively seeking to entice businesses to settle in the state, with representation from the most crypto-friendly senator in Congress and state legislators passing a series of laws and tax exemptions to allow blockchain businesses to thrive.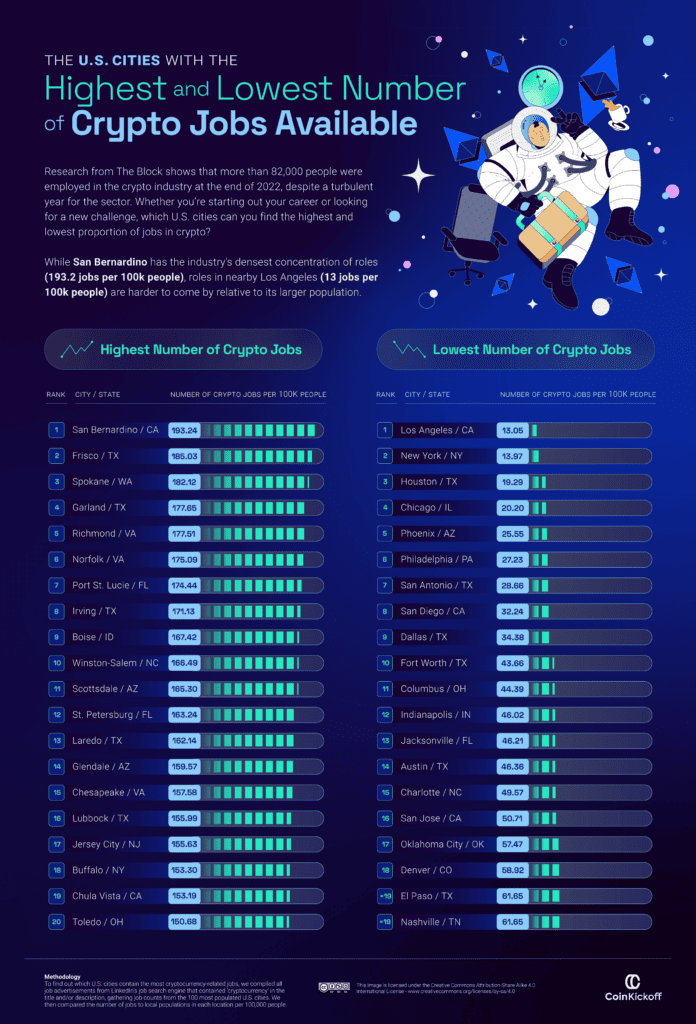 Click here to see the image in full size
Despite a study by Recap.io listing major American cities, including New York, Los Angeles and Chicago, among the most crypto-friendly cities in the world, our analysis shows that per capita, jobs in the industry are relatively hard to come by. Los Angeles (13.05 jobs per 100k people) and New York (13.97 jobs per 100k) have two of the lowest proportions of roles of any U.S. city.
However, Los Angeles suburb San Bernardino boasts the highest proportion of roles, with 193.24 jobs in crypto per 100k people. Meanwhile, two Dallas suburbs, Frisco (185.03 jobs per 100k) and Garland (177.65 jobs per 100k), are hotspots for crypto jobs. Not to be deterred by FTX's bankruptcy filing, the Texas Blockchain Summit in November 2022 revealed that the state's crypto community remains optimistic about the sector's long-term future.
America's Financial Services Sector Keenest on Crypto Hires
Cryptocurrency regulation is on the lips of everyone in America's financial services sector. Mick Mulvaney, former budget director and White House chief of staff during the Trump administration, believes that Congress will pass meaningful legislation on blockchain and cryptocurrency before the 2024 election cycle.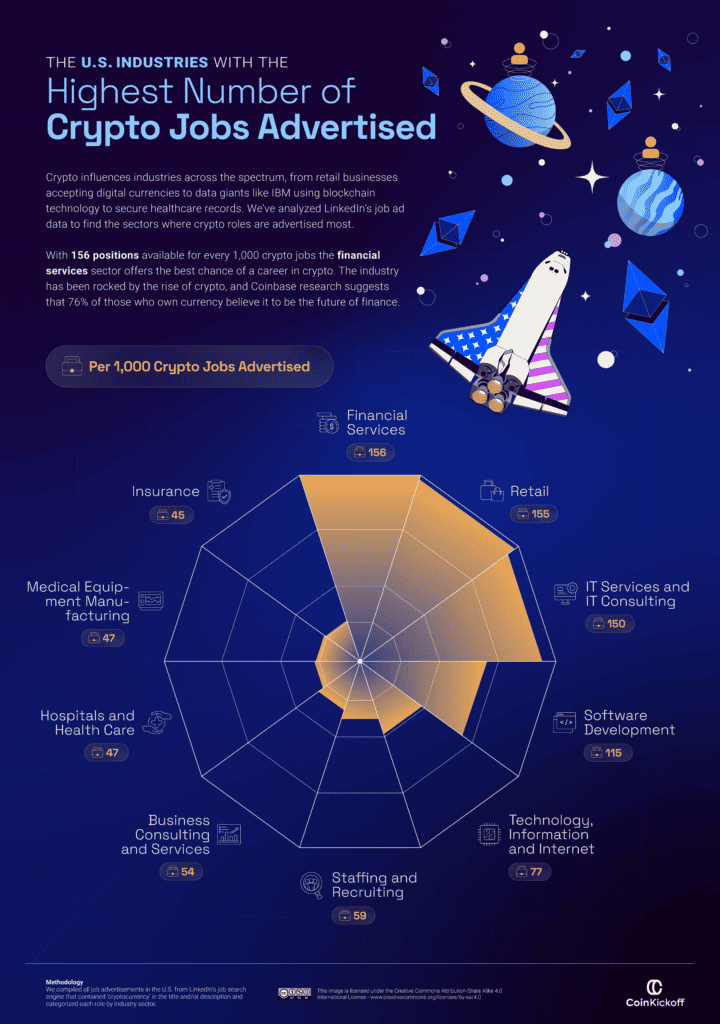 Click here to see the image in full size
As financial services evolve, regulating digital assets within the current framework has been a challenge for the Securities and Exchange Commission, exposing the industry to misconduct by exchanges, including Coinbase and Binance.
Yet our research shows that cryptocurrency roles are most prevalent in America's financial services space, with 156 job postings for every 1,000 being for this sector. This figure is higher than that of retail, which has the most vacancies on a global level. In the U.S., we found 155 listings in the consumer industry for every 1,000 crypto jobs.
Clarity on U.S. Crypto Regulation Needed for Crypto Career Growth
There are plenty of reasons to consider a career in cryptocurrency. Those who understand the ins and outs of the currency market and possess a sharp eye for economics will undoubtedly do well in the industry, despite all of its ups and downs. The startup environment of many coin exchanges and blockchain businesses is full of talented, ambitious people seeking to disrupt a rapidly evolving industry.
However, the perception of cryptocurrency doesn't always match up with reality, particularly in the economically fraught world of 2023. A detailed study by the Brookings Institution argues that while crypto's potential remains untapped, the industry still lacks the financial inclusion that it was established to disrupt. Combine this with sluggish decision-making from global lawmakers on cryptocurrency regulation, and you find yourself an industry lacking trajectory.
A study by the World Economic Forum argues that legislators, particularly in the U.S., are creating unfavorable economic conditions for crypto to thrive sustainably, hindering innovation and limiting career opportunities for those in the industry. If policy were to be put in place, a vibrant crypto sector with jobs aplenty could emerge.
The Method Behind The Study
To find out which cities and countries contain the most cryptocurrency-related jobs, we compiled all job advertisements from LinkedIn's job search engine that contained 'cryptocurrency' in the title and/or description.
We gathered job counts from countries with a population of 500,000 people or more, every U.S. state and the 100 most populated U.S. cities. We then compared the number of cryptocurrency jobs to local populations in each location — calculated per million people for countries and U.S. States and per 100,000 people for U.S. cities.
We also gathered figures on a global and U.S. level related to industries to rank the 10 industries on each level that were hiring for the most cryptocurrency-related jobs overall.
Figures on global jobs represent worldwide job ads that are visible to applicants searching from the United States. This worldwide figure can vary depending on which country a job seeker uses LinkedIn from.
Data is correct as of July 2023.