How to Buy Shiba Inu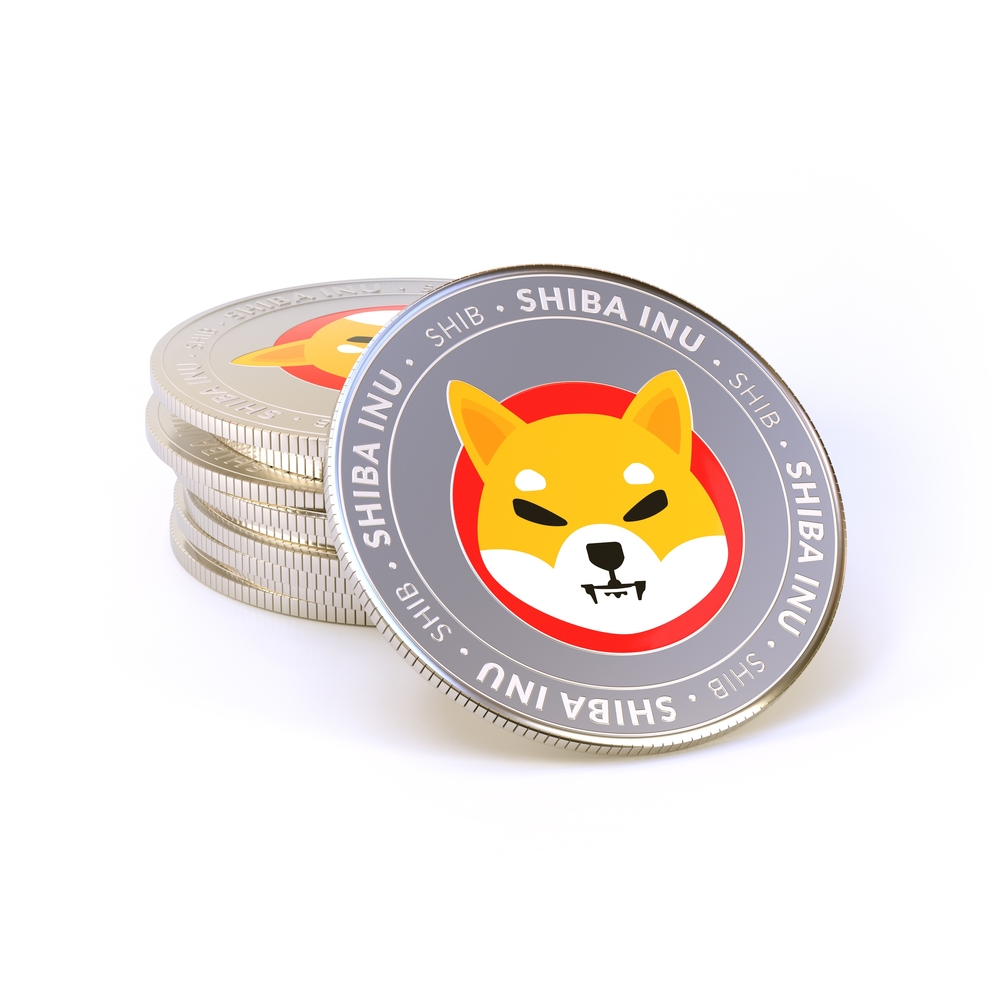 Are you interested in buying Shiba Inu but don't know where to start? You are in the right place. Here is everything you need to know about buying Shiba Inu. 
What Is Shiba Inu?
Shiba Inu token (SHIB) was created in August 2020 as a meme coin by a pseudo-anonymous developer called "Ryoshi." The coin became popular after "Ryoshi" sent half of the total supply to the Ethereum founder Vitalik Buterin as a way to market the coin to the masses. Buterin burnt 90% of the supply and donated the remaining 10% to a charity in India during the Covid-19 pandemic.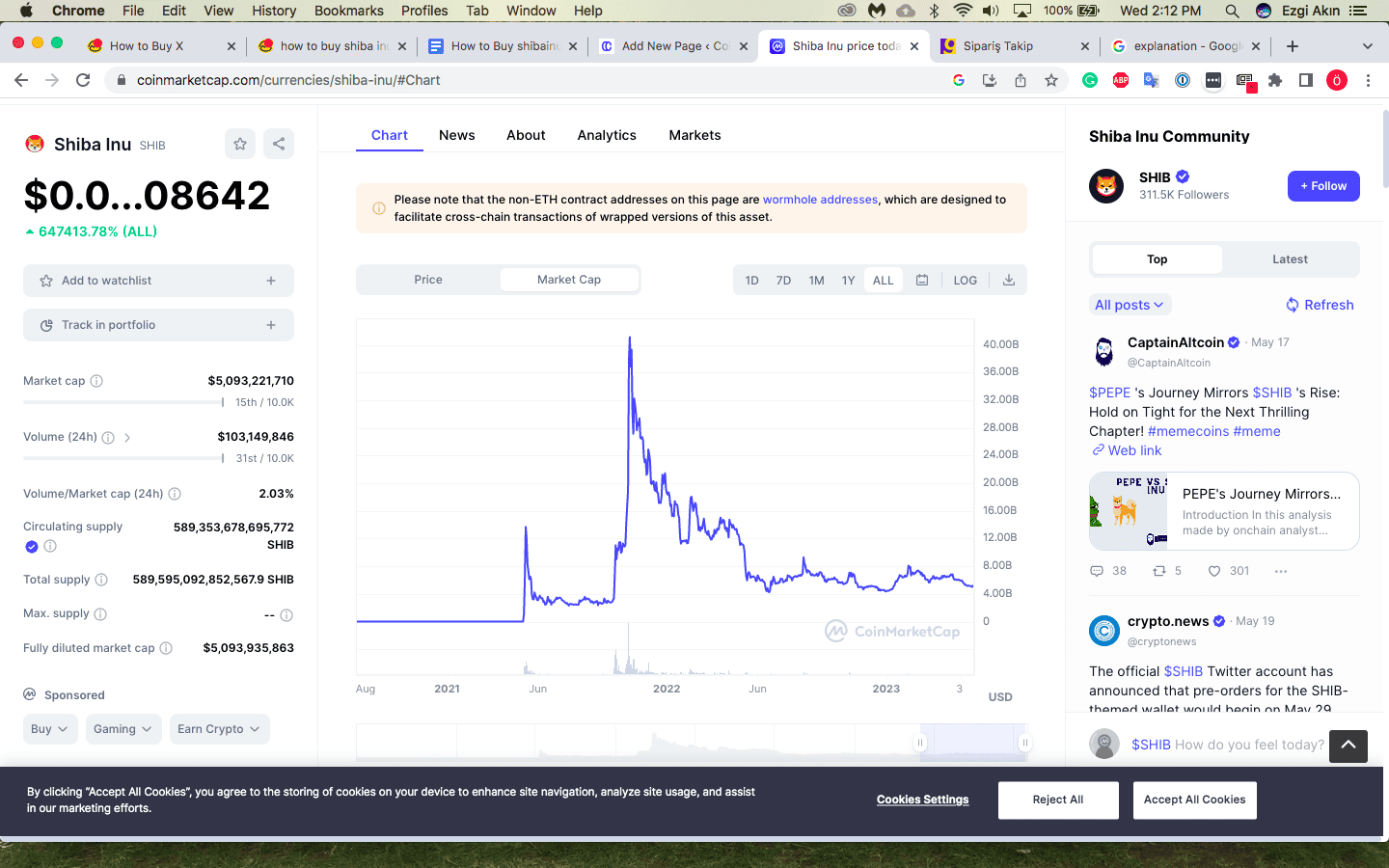 Shiba Inu closely resembles its rival meme token Dogecoin, as both projects use the image of the Shiba Inu dog (which inspired the Doge meme) and are essentially considered joke coins. SHIB has been dubbed "DOGEKILLER" by the creator team and the Shiba Inu community, as the project aims to surpass the popularity of DOGE.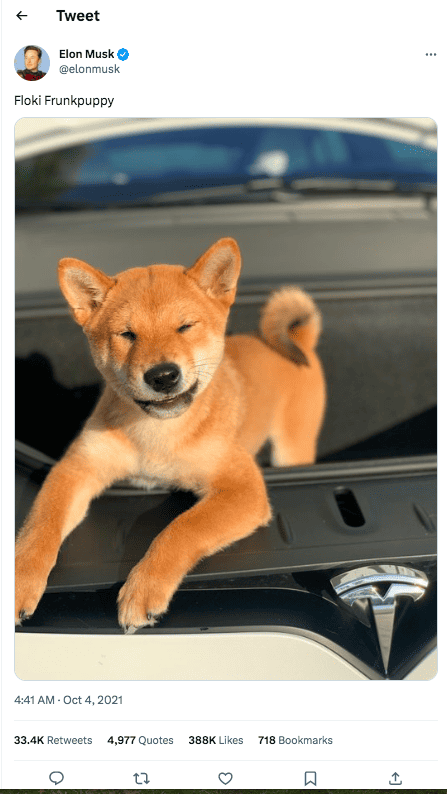 Much like Dogecoin, Shiba Inu doesn't really have a use case. It's mainly popular due to internet culture and speculation. In 2021, the coin's price spiked 10-fold after Elon Musk tweeted a picture of his own Shiba Inu breed dog, though the token price plunged back to its previous levels later on.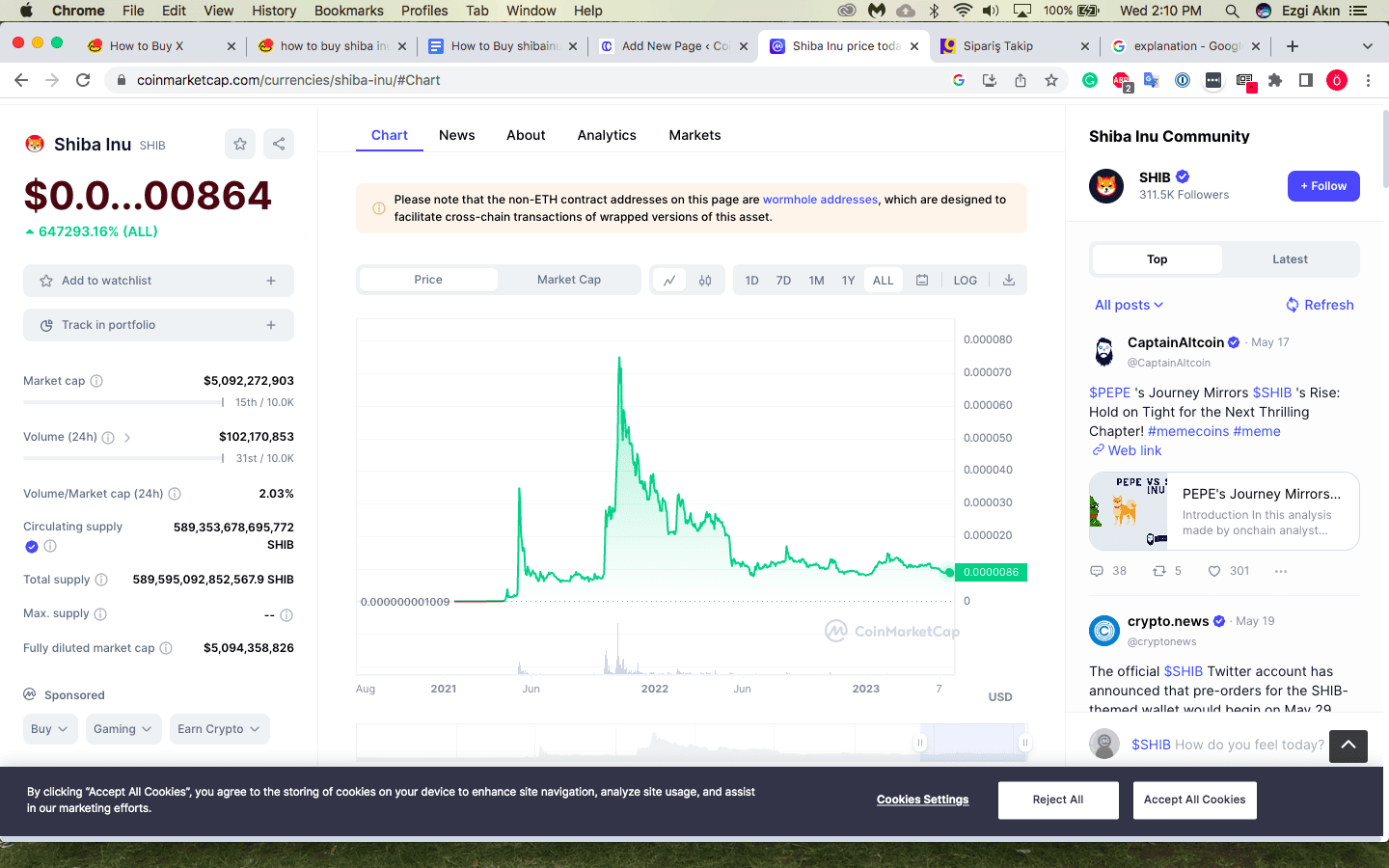 Overall, meme coins like Shiba Inu and Dogecoin can be considered pump-and-dump coins because they lack usefulness. People often buy them hoping to dump their assets at a sudden price increase.
Nevertheless, like DOGE, Shiba Inu is incredibly cheap and quite popular. You can easily buy a huge amount of SHİB with a hundred dollars. Overall, their easy accessibility, high visibility, and price volatility make these coins attractive to those who don't mind making risky investments in the hopes of high profits. 
Where Can I Buy Shiba Inu?
SHIB is the 14th largest crypto by market cap, so almost all popular exchanges list allow you to trade it.
You can buy SHIB with fiat currencies at centralized crypto exchanges like Binance, Kraken, Coinbase, Kucoin, Bitfinex, and OKX.
You can also trade SHIB on decentralized exchanges like Uniswap and Sushiswap. You can't purchase crypto with fiat currency on these exchanges, but if you already own crypto, you can trade it for SHIB.
How to Buy Shiba Inu
So you decided to take the plunge and buy some Shiba Inu. Great, but first, you must make two decisions: First, decide which exchange you want to use to purchase the coin. Then, decide on a storage method. Once you figure that out, you are ready to buy your SHIB. 
Here is a breakdown of each step to make your purchase easier.
Choose Your Exchange
Since Shiba Inu is very popular, and you can find it on almost all cryptocurrency exchanges. However, since there are many exchanges around, choosing the right one can be daunting. Don't fret, though, as we have a short guide on the best crypto exchanges you can use.
When choosing an exchange, there are a few things to consider. If you want to invest in various altcoins, you may prefer a larger platform that offers several digital assets, like Binance or Coinbase. 
You must also think about exchange fees. Most exchanges offer two separate pricing systems: One is a tiered and hence cheaper fee schedule for professional trading, and the other is a simple buy feature that's more expensive. 
If you are a beginner who wants to buy coins easily, the easy buy feature is your best option. When comparing exchanges, check out their fees for simple buy operations. Usually, the rates differ between %1 to %5, depending on the exchange and the payment method.
Store Your SHIB
It's a good idea to research crypto wallets before you purchase any coins. Crypto storage is a serious matter: since crypto assets exist only on-chain, the only way to access your funds is through your crypto wallet.  
There are two main types of crypto wallets: hot and cold wallets. Between the two types is a simple but important distinction – hot wallets are internet-connected, while cold wallets store your assets offline.
Hot wallets are exchange wallets and software wallets, while cold wallets are paper wallets and hardware wallets.
Exchange Wallet
Exchange wallets are a popular solution to crypto storage simply because they are so convenient. When you buy cryptocurrency on a centralized exchange like Coinbase or Binance, your coins are immediately deposited into a wallet hosted by the exchange. That allows you to sell or trade your coins on the exchange easily and rapidly.
The downside of exchange wallets is their lack of sufficient security. Since the wallet is hosted by the exchange, you don't have direct control of your funds. If the exchange goes bankrupt or gets hacked, your funds can be lost forever.
Some exchanges offer limited protection schemes against security breaches, but compensation is never guaranteed as the decision ultimately lies with the exchange owners and managers.
Crypto enthusiasts often assert that "not your keys, not your coins" to warn crypto traders about the dangers of leaving large amounts of crypto in exchange wallets. For example, when FTX declared bankruptcy, users were unable to move their assets from the exchange wallets because they didn't have access to exchange wallet keys.
If you are uncomfortable leaving your assets in an exchange wallet, consider moving them to a self-custodial wallet.
Self-Custody Hot Wallets
If you don't want to use an exchange wallet to store your coins, you can download a self-custody hot wallet to your mobile device or desktop. There are several wallet software solutions that allow you to manage your own wallet keys so that you're always in control of your coins. 
For example, you can store SHIB in Exodus, Coinomi, or Atomic Wallet. However, self-custodial hot wallets come with a caveat: since they are hosted on internet-connected devices, they are quite vulnerable to hacking attempts. In fact, you may have seen or heard on the news that hackers often target both retail traders and professional crypto projects that use hot wallets.
If you are not a cybersecurity expert, keeping a hot wallet may not be a great idea. Crypto thieves are very creative and strategic: they use complex methods like social hijacking, phishing, and other methods to access and drain your funds. If your internet-connected device is compromised (and it can easily happen if you click on the wrong link, for example), your funds are also compromised.
Cold Wallets
Cold wallets aren't connected to the internet and are therefore considered impervious to hacking. 
There are two main types of cold wallets: Hardware wallets that look like USB sticks with pre-installed wallet software, and paper wallets, which are basically pieces of paper with your private key and wallet address information written on them.
Paper wallets are generally considered very secure but hard to use. You must carefully use a paper wallet generator, then print the information and keep it in a safe location. 
One big disadvantage of paper wallets is that they are cumbersome to use: you can't make partial transactions with your funds, so they aren't practical.
Hardware wallets, on the other hand, are incredibly practical and very secure but have a pretty big disadvantage: they are a lot more expensive than other options. 
Normally, crypto wallets are free, but hardware wallets are the exception to the rule. Paying between 80 to 200 USD for a wallet can be an expensive investment for a beginner crypto trader.
Ledger and Trezor are two of the most famous hard wallet companies in the industry, and both sell a basic model at a decent price range for the curious investor.