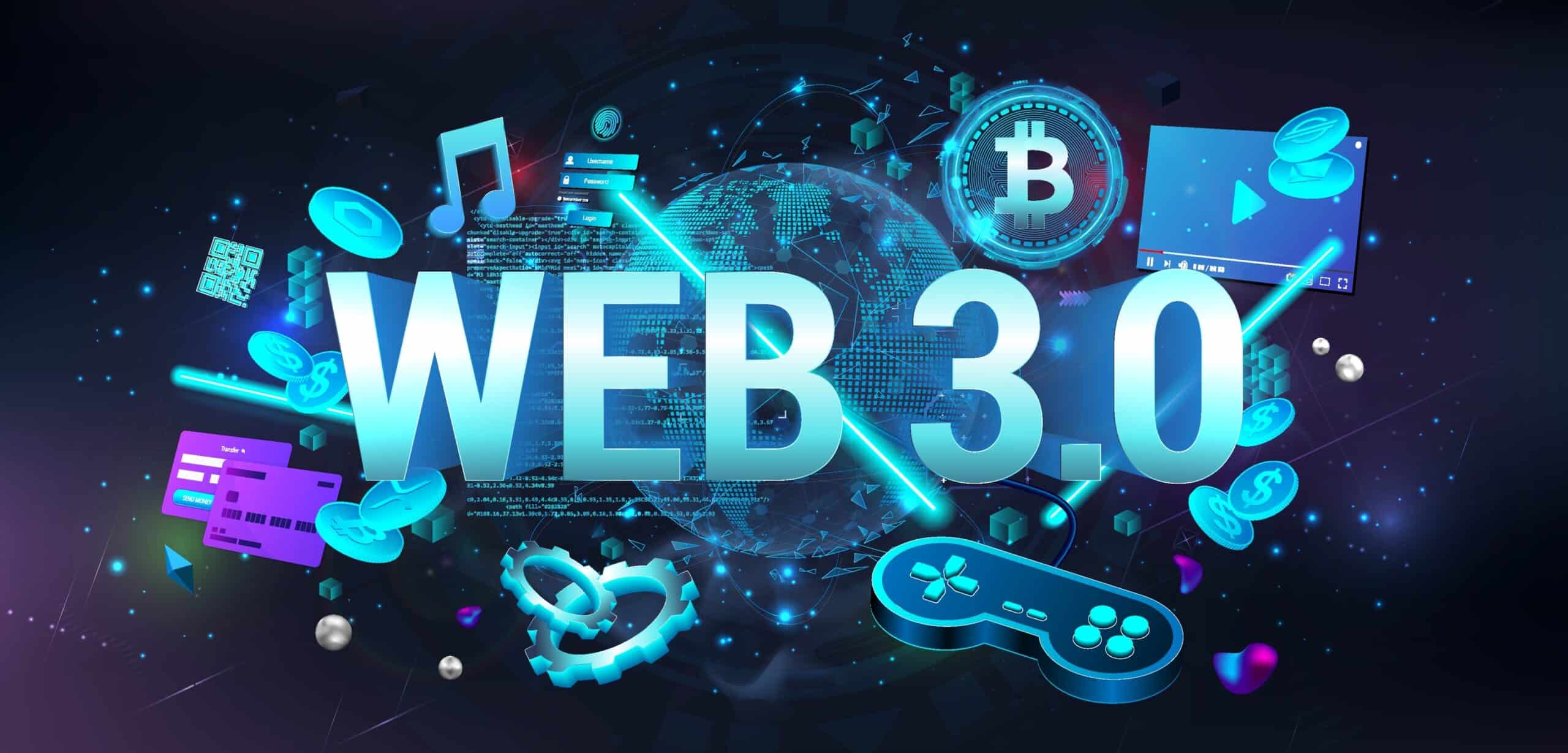 Web 3.0 is something that, even if you don't know much about blockchain or cryptocurrencies, you've taken note of from your tech-savvy besties. They undoubtedly spent countless hours discussing how revolutionary Web 3.0 technology would be for the advancement of the WWW and how this Internet upgrade would affect our ability to collaborate and conduct business.

Buy & sell 70+ Cryptoassets
Practice risk-free with a $100K demo account
30+ Million users
Also trade stocks, shares and other assets
Staking service enables you to grow your crypto holdings, simply by owning crypto

350+ Cryptocurrencies Listed
<0.10% Transaction Fees
120 million Registered Users
Secure Asset Fund for Users
Earn On Deposits

200+ Cryptocurrencies Listed
Get Crypto After Your First Buy
Protected By Insurance
Secure Storage With Vault Protection
The Most Trusted Cryptocurrency Platform
But, before we get to the third version of the Internet, let's look at the evolution of the World Wide Web that changed the speed and ways of obtaining information. 
A Brief History of the Internet
Internet's primary information-gathering platform is known as the World Wide Web (WWW), hence the abbreviation "Web."
When looking for a particular information resource on the Internet, one of the very first symbols entered into a web browser was the abbreviation WWW, which used to come before a web address and still does. Sir Tim Berners-Lee, an early proponent of online communication, is generally acknowledged as the person who first used the term "World Wide Web". 
The Internet currently exists in two different versions. Between its inception in 1989 and the turn of the millennium, the Internet existed as Web 1.0 or the read-only Web. 
Web 1.0
As a computer scientist at the European research facility CERN in the 1990s, Sir Berners-Lee was a driving force in the early dawn of the Internet. Sir Tim observed that although scientists worldwide flocked to CERN's accelerators to conduct their research, they had trouble communicating with one another and sharing information.
To overcome this problem, this London-born computer scientist developed the first website editor/browser, i.e., the WorldWideWeb.app, in October 1990. Sir Berners-Lee developed three foundational technologies that would eventually form the web:
HyperText Markup Language

, also known as

HTML

, is the programming language used to format or markup content on the World Wide Web;

Uniform Resource Identifier

, also known as a

URL

, is a string of characters and a hostname that can be used to access any specific piece of information on the World Wide Web;

HyperText Transfer Protocol

, or

HTTP

, is used to access linked resources all over the World Wide Web. 
The World Wide Web was designed to disseminate data, but it didn't allow users to engage with the content in any way. It was possible to either host one's web pages or visit those of others. The end. There was no means of contact besides email. A server housed all the data, and only a computer could retrieve it.
Web pages back then were largely static, pulled from servers, and were not nearly as presentable as they are now. Online banking and trading helped advance the state of content creation, but in the early days of the Internet, users had few options for utilizing multimedia applications.
Web 2.0
The Internet gradually developed into Web 2.0, also known as the Read-Write Web. We've been using it officially since around 2004. With this update to the WWW, users can now discuss and debate topics they see online via comment threads, social networks, and other channels. 
In Web 2.0, data is stored in a "cloud" or on remote servers and can be accessed from any device with an Internet connection, not just PCs. This includes smartphones, tablet computers, and even smart refrigerators and digital TV sets.
What Is Web 3.0?
Web 3.0, also known as the 'Web of Value,' is the collective name for a range of next-generation technologies that are set to hugely transform how people interact, exchange, and collaborate on the Internet. 
Web 3.0 expands upon and improves upon earlier versions of the Internet. Therefore, Web 3.0 is the third generation of the World Wide Web, the first generation being text-based and the second being graphical.
Basically, it's the web's read/write/own/execute counterpart. Web 3.0 is the third generation of the World Wide Web, the first generation being text-based and the second being graphical. Many of the characteristics that will define Web 3.0 are already beginning to emerge, including a focus on decentralization, confidentiality, advanced analytics, AI, and security. Here are the specifics.
The Inception of Web 3.0
Web 3.0 was conceptualized in 2014 by Gavin Wood, one of the proud founders of Ethereum, the second most popular cryptocurrency token. Gavin made an effort to offer a creative answer to a problem that many crypto enthusiasts had noticed: the World Wide Web required excessive trust. When Web 1.0 came out, the world saw the first clumsy attempts at technological progress, but when we reached Web 2.0, we made great strides toward a more accessible and intuitive Internet. 
On the other hand, with Web 2.0, a small number of capitalists got complete sway over all of our private data and public records. As a result of this dependence, the Internet's potential was largely limited.
Gavin held that industrial goliaths wield disproportionate influence over Web 2.0 and that ordinary people must trust these entities to look out for their most significant advantage. So when he introduced Ethereum (ETH), he pushed the idea of Web3 technology as a potent precursor for boosting the worldwide technology sector.
Web 3.0 aspires to be built on the concept of a decentralized Internet, in which control does not rest with a select few individuals, groups, or institutions. Web3's foundational framework is based on blockchain technology, which provides users with unparalleled safety, accountability, and data integrity. In essence, it's based on a distributed network of peers worldwide.
According to computer scientists, the decentralized web will radically alter how society functions. It will restructure entities, finances, the Internet, price, etc., laying the groundwork for a more liberal and democratic Internet architecture. Therefore,  learning more about blockchains is a step toward mastering Web 3.0.
Key Characteristics of the Web 3.0 Technology
Fundamentally, Web 3.0 is underpinned by blockchain infrastructures, digital currencies, and non-fungible tokens (NFTs) to give individuals back control of their digital assets. Defining it precisely is challenging because Web 3.0 is still in its infancy at the time of this writing. Here are some of the technology's most distinguishing features.

Buy & sell 70+ Cryptoassets
Practice risk-free with a $100K demo account
30+ Million users
Also trade stocks, shares and other assets
Staking service enables you to grow your crypto holdings, simply by owning crypto

350+ Cryptocurrencies Listed
<0.10% Transaction Fees
120 million Registered Users
Secure Asset Fund for Users
Earn On Deposits

200+ Cryptocurrencies Listed
Get Crypto After Your First Buy
Protected By Insurance
Secure Storage With Vault Protection
The Most Trusted Cryptocurrency Platform
Decentralization
The concept of Web3 is centered on the idea of decentralization, which creates online communities that are collectively owned and promotes open and honest information exchange.
Centralized databases like Google won't be able to keep information to themselves. Instead, information will be shared and stored in a large number of decentralized nodes. This process is referred to as distributed computing. Decentralized Autonomous Organizations, i.e., DAOs, will be responsible for holding all information and sharing it among themselves. 
More specifically,  DAOs are systems that are established from the ground up to serve a specific function, like decision-making, management, and ownership of a given entity (such as a crypto initiative, for instance). These organizations are community-governed and rely on all of their members to cooperate in the pursuit of a shared objective. 
DAOs truly evolved among crypto aficionados and are generally utilized for making decisions in a bottom-up, egalitarian management system. 
Bottom-Up Design
With the bottom-up approach to designing the Internet's architecture, each component is specified in detail, as opposed to the top-down approach, which focuses on formulating an overarching system design without getting into the weeds of the finer details. 
The components are then interconnected to form larger units, further interconnected to form a whole network. Also, the objects in a program are identified from the bottom up in object-oriented programming languages like C++ and Java.
Blockchain Security 
Blockchain technology is often regarded as an essential component of decentralization. The blockchain, a decentralized and distributed ledger that anyone can access, will be used to record who owns what on the Internet.
A common use case for blockchain is the registration of non-fungible tokens (NFTs) and cryptographic currency tokens, which enable the frictionless transfer of digital commodities between parties who need not know each other. When using a cryptocurrency wallet (considered a personal Web 3.0 ID) to conduct transactions, individuals' identities remain concealed unless and until they voluntarily expose them.
Databases are the primary distinction between blockchain technology and previous forms of web-based infrastructure. Previously, databases were managed by one individual or group, who had absolute authority and control of that infrastructure.  
This allowed them to change the data as they wanted and whenever they wanted, which opened the door to mistakes and scams. But with blockchains, even non-technical people may create verifiable systems with transparency. Because of its availability, anyone can gain users' trust by discovering how their apps interact with other networks.
Cryptography 
Web 3.0 also includes encrypted communication. It basically guarantees that only authorized entities have access to the data. Encryption is a term for the technical procedures that protect information and networks from prying eyes, thereby making it more challenging for hackers to crack private data or tamper with networks and systems. 
In modern cryptography, encryption typically involves the employment of cryptographic algorithms or ciphertext (i.e., unreadable text protected by a complex combination of numbers) to transform the plaintext (the original data) into encrypted data. This ensures that only those with access to the information may decipher it. 
A.I. Machine Learning
The WWW concept envisioned that computers would be able to reinterpret information in a way analogous to that of the human brain. Artificial Intelligence (AI) was projected to understand not only the content of the information but also its significance and the feelings associated with it. As a result, it would present the data to people in a manner that is more insightful than what is currently provided by search engines.
In the same way that a human shop assistant would consider your personal tastes and sense of style when making a footwear purchase recommendation, AI would be able to do the same. It would also do research on your behalf and present you with tailored marketing options for things like vehicles and travel packages. 
More than just targeted advertising, which currently accounts for the bulk of computerized efforts, machine learning will allow computers to deliver faster and more relevant results in a wide range of fields, including medicine advancement and novel technologies.
In fact, artificial intelligence is already being used in some popular Web 3.0 applications. There is, for instance, artwork produced by AI systems subsequently traded as NFTs.
The Web 3.0 Drawbacks
Whether or not Web 3.0 has any negative aspects remains to be seen. This new Internet version is still in its formative stages at this point. However, there are some speculations. 
One reason is the widespread concern that DAOs will eventually break up into factions. As an example, in the absence of a governing body, the spread of false information and incitement to violence spread through the Internet could increase. At some point, implementing policies could help bring order to such disarray.
Although DAOs may be opposed to centralized authority, they must still incorporate data governance policies. Since distributed autonomous organizations (DAOs) exist solely in the digital realm, good data governance is essential for ensuring the safety of the organization's information systems, its members, and any other online interactions. 
Blockchain technology is the foundation upon which DAOs operate. In determining governance protocols, prioritizing the proper management of this data with a dedicated tool should be an absolute must.
The Web 3.0 Future
The future of Web 3.0 looks bright, as you will have complete control over your data and can utilize it to make positive changes in your life. As more and more people make purchases and searches online, the days of companies collecting personal information may soon be over.
In the bargain, AI has the potential to serve you as a personal assistant, tailoring experiences to each individual based on the information you provide. Also, AI might potentially be used to create unique games and settings for them.
Conclusion
Web 3.0 may bring many changes, but some overarching trends are starting to emerge. Already, there is a radical departure from the big pool of data with a focus on protecting and empowering end users.
As intriguing and intimidating as the prospect of Web 3.0 may seem, it is vital to keep in mind that not much will actually change in the short term. Internet 1.0 gave way to Internet 2.0, and the current iteration of the World Wide Web will inevitably change over time. 
To this end, the majority of users won't even notice the change because so many of the web's original features will still be available when Web 3.0 rolls out to its fullest design.