The history of cryptocurrency can trace its origins back to the opulence of the 1980s, a time when finance culture was glamorized in movies such as Trading Places and Wall Street. In 1983, pioneering cryptographer David Chaum published research that laid the foundations for electronic payments, blockchain and virtual currency.
They were ideas ahead of their time, and decentralized virtual currency was rarely discussed outside of free-market libertarian policy circles for many years. This all changed with Satoshi Nakotomo and his development of bitcoin software and currency in 2009 — using a source code that would later lead to an explosion of cryptocurrencies onto the market throughout the 2010s.
With tens of thousands of currencies in existence today, it is a challenging market for investors and regulators alike. Many argue that there are too many coins in circulation, likening it to the 'dot-com bubble' around 25 years ago.
To analyze the coin currency market, CoinKickoff has created a visual analysis of a decade's worth of dead crypto coins, from failed Initial Coin Offerings (ICOs) to loss of market interest.

Over 50 major coins supported
Trade with as low as $10 equivalent
Crypto Loans up to 90% LTV
Regulated EU platform.
Available in 221 countries

250+ Cryptocurrencies
10+ million users
Uphold is 100% reserved
Earn up to 16% APY staking assets (not available in US)
Registered with FinCEN (US), FCA (UK), and FCIS (Lithuania)
Terms Apply. Cryptoassets are highly volatile. Your capital is at risk. Don't invest unless you're prepared to lose all the money you invest. This is a high-risk investment, and there's no safety net if things go south.

200+ cryptocurrencies
Get started from $10
10M+ customers
190+ countries supported
High rate limits: Trade crypto fast with their robust, low latency API.
What We Did
We reviewed data on over 2,400 dead coins from Coinopsy, compiling data on the current status of each coin. We then analyzed the performance of each coin over the last 10 years, noting when coins were killed off and why.
After compiling this data, we compared it against CoinMarketCap's historical snapshots for each year, giving us an accurate picture of all coins that were once on the market.
Key Findings
704 now-dead coins started in circulation in the crypto-boom of 2017, more than the 224 established in 2016.
2018 was the sector's most fatal year for cryptocurrency, as 751 coins became defunct.
The highest mortality rate for crypto can be found in 2014. 76.5% of the 793 coins are no longer in circulation.
551 of the 793 coins established in 2014 were abandoned. No other year has seen so many currencies lose as much trade interest.
91% of Coins from 2014's Crypto Crash Are Now Dead
When looking back on the history of cryptocurrency, 2013 will be seen as its first major boom. In a year dominated by emerging technology from drones to smartwatches, the price of Bitcoin surged from $150 to $1,000, peaking out at $1,127 in November 2013. Before the surge, just 14 coins were on the market — with only Bitcoin and Litecoin remaining in the top 10 as of 2022.
The surge in Bitcoin's price led to a wave of rival currencies vying for relevance. Our data shows that 84 coins entered the market in 2013, and 607 joined in 2014 — all aiming to cash in on the Bitcoin crash in early 2014 amid a scandal involving its links to the online drugs marketplace Silk Road.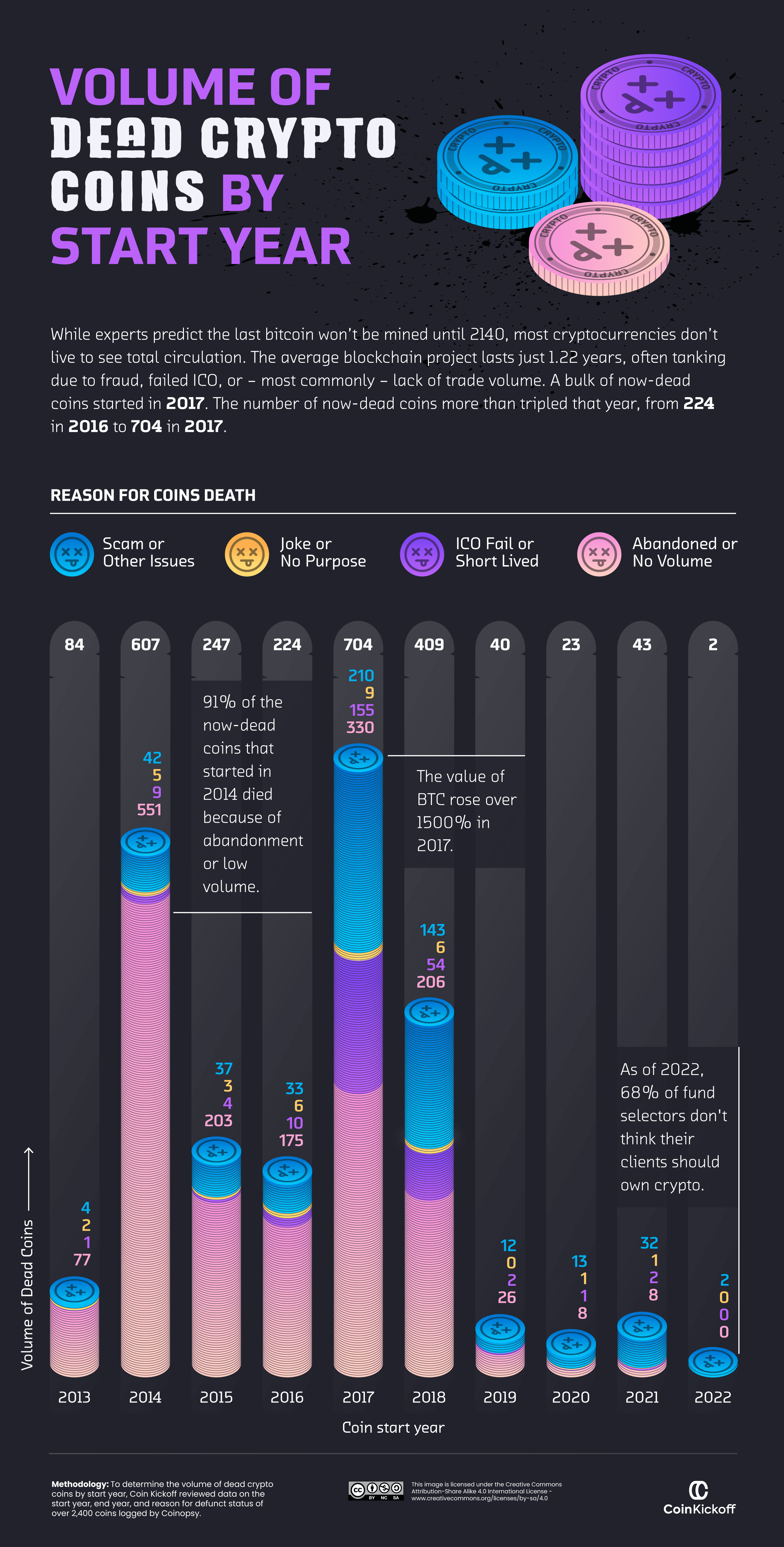 However, the run on emerging cryptocurrencies in 2014 did not last. According to our data, 91% of coins established in 2014 eventually died due to low trade volume or abandonment. With the notable exception of meme currency Dogecoin, many opportunistic attempts to corner the early crypto market ended in failure.
Crypto's Second Surge leads to 750 Dead Coins
2017 will go down as the 'summer of love' for crypto historians. For the first time, emerging blockchain technologies attracted the attention of business leaders worldwide, leading to a surging investment. In July 2017, Goldman Sachs' chief technician Sheba Jafari predicted that crypto would reach $3,600 by the end of the year.
The year saw a number of lucrative ICOs —  most notably Filecoin, which amassed $257 million. However, all was not as it seemed. 704 now-dead coins entered the market that year, the most of any year in the last decade. A report in 2018 by ICO advisory firm Stasis Group found that 80% of offerings in 2017, of which $11.9 billion was raised, were identified as scams.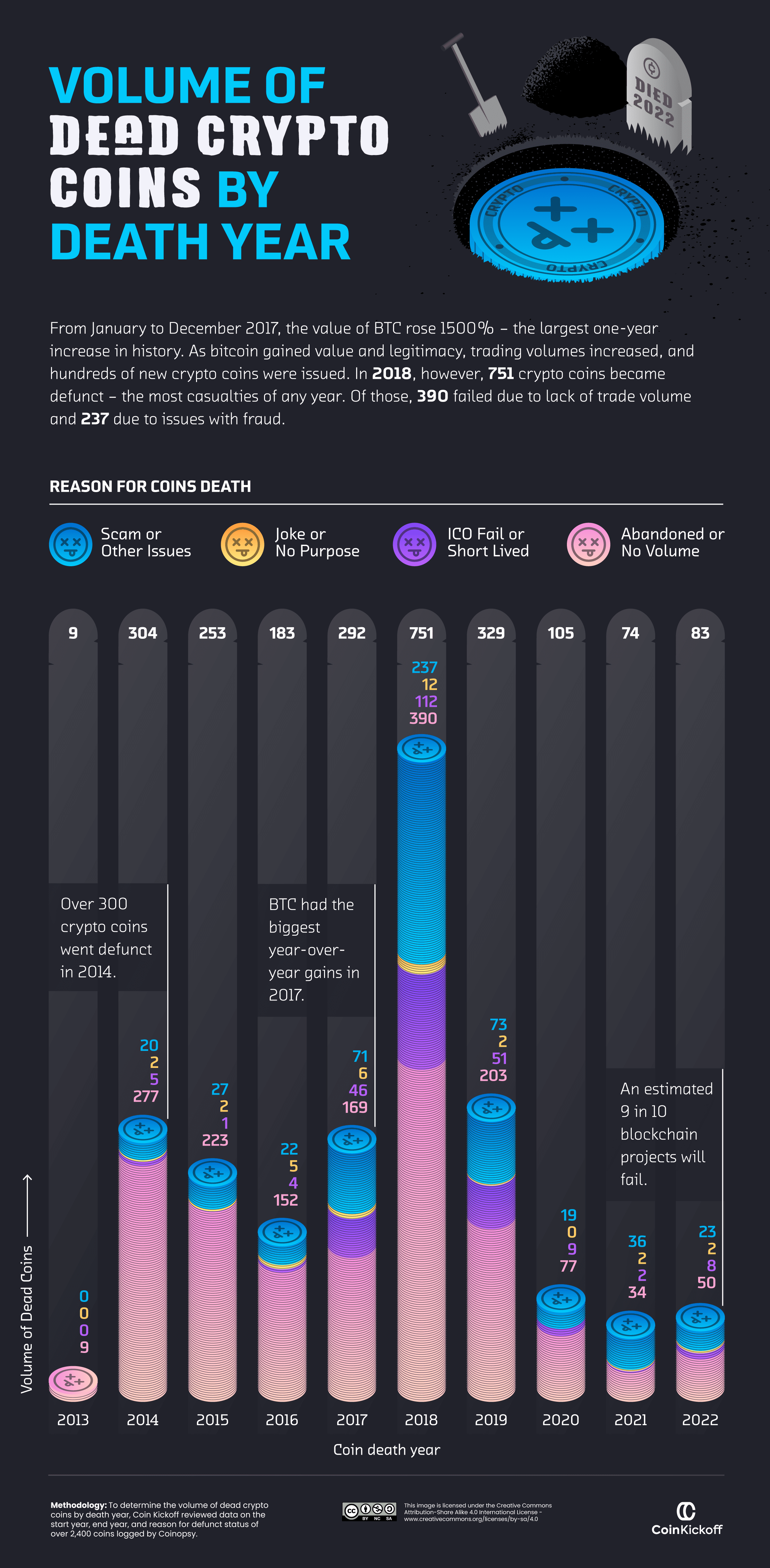 Our research shows that 30% of the 751 coins that died in 2018 were fraudulent — the highest of any year in the last decade. The most notable ICO scams were the Vietnamese coins PinCoin and iFan. Local journalists exposed the firms for scamming as many as 32,000 investors to the tune of $660 million, which police in Ho Chi Minh City subsequently investigated.
Three-Quarters of Crypto Coins from 2014 No Longer Exist
It's easy to forget that cryptocurrency is still in its infancy. While investors have been trading stocks and shares for hundreds of years, the first Bitcoin transaction was made in a Florida pizza restaurant as recently as 2010. The market has yet to truly find its feet, with economists divided on the sector's future.
While crypto has shown it can disrupt traditional finance with crypto trading and investment, the sector has been prone to high-profile failures. A report from the China Academy of Information and Communications Technology (CAICT) found that 92% of blockchain projects ever launched are inactive today, with a lifespan of just 1.22 years.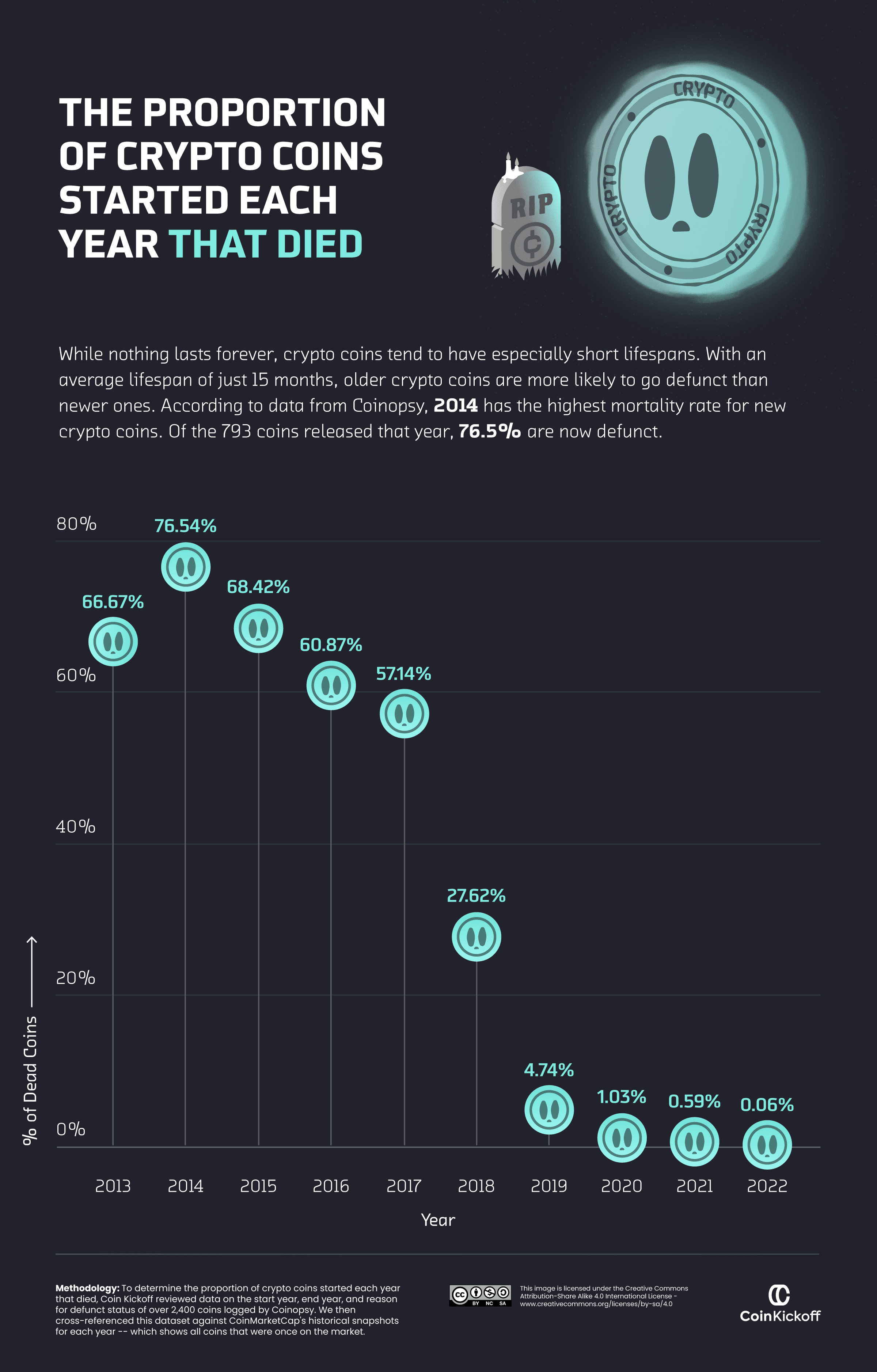 The early years of crypto proved fatal for many aspiring coins. More than half of all coins introduced each year between 2013 and 2018 no longer exist, according to our research. More than three-quarters (76.5%) of currency introduced in 2014 off the back of crypto's first major boom are now dead.
Just 16 Crypto Coins Have Been Abandoned Since 2020
According to blockchain research platform LongHash, 63.1% of dead crypto coin projects were dropped by investors, sending their prices plummeting. In a saturated market with over 12,000 currencies, it is natural that well-intentioned projects fail to attract interest. Coinopsy suggests a number of reasons why a coin may become abandoned, from outdated blockchain to the developer's personal circumstances.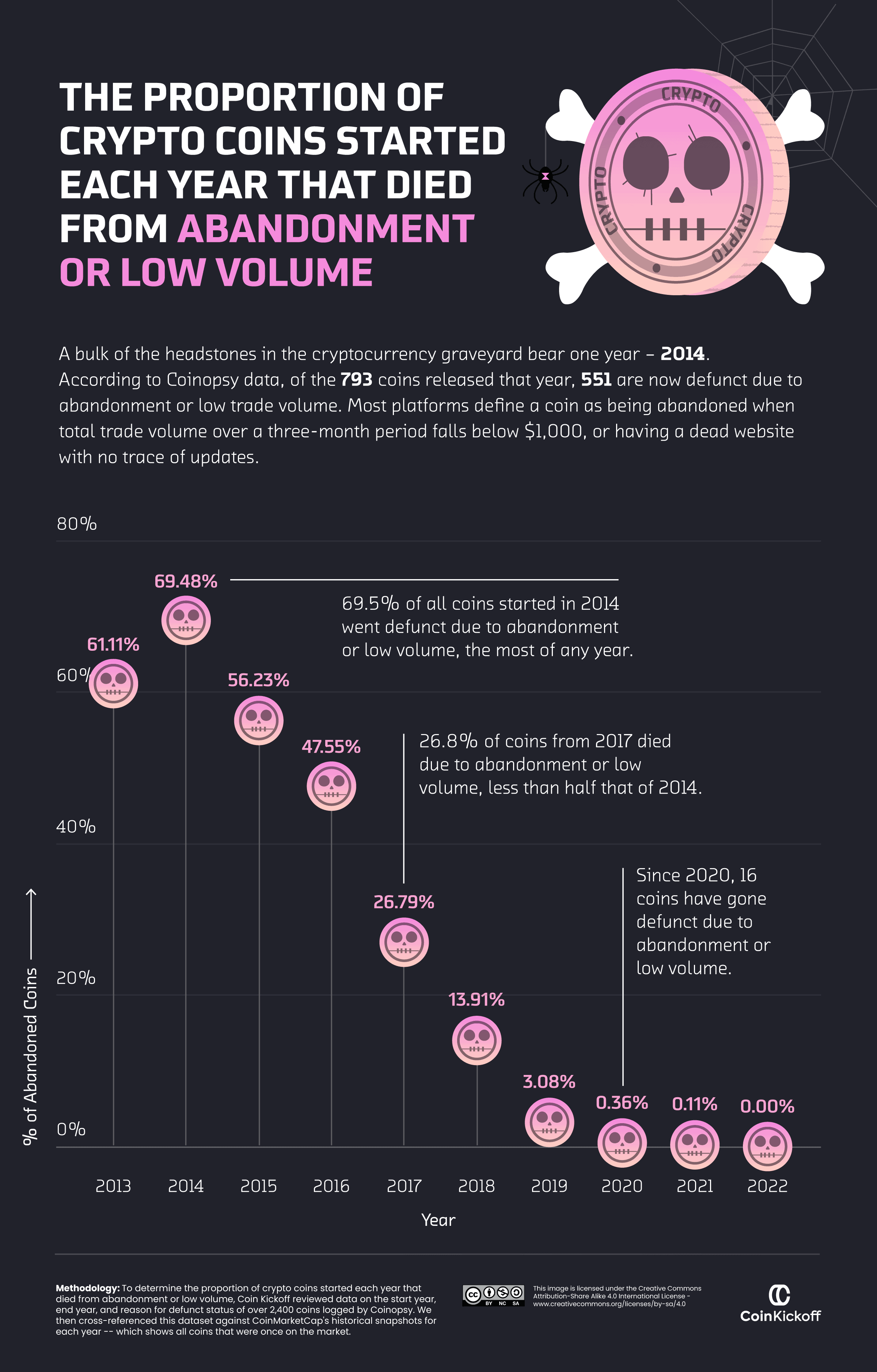 The data shows that crypto's first price boom in 2013 led to the most abandoned currency. 61.1% of coins from 2013 and 69.5% from 2014 have since been neglected. However, recent trends suggest that currencies are losing interest less frequently, as just 16 coins since 2020 have been removed from the market due to lack of investment. Despite this, there are fears that 2022's major slump in crypto value will see more coin abandonments in the future.
2017 Was Crypto's Peak Year for Scam Coins
The lack of regulation over cryptocurrency continues to make it a prime target for fraudulent schemes and opportunistic scammers. Not only can the coins themselves be established as scams, but criminals also use established currencies like Bitcoin and Ethereum to dupe investors.
The Federal Trade Commission reports that since the start of 2021, more than 46,000 people have become victims of crypto scams, losing over $1 billion in total. Renewed interest in the market following 2021's latest price surges has led to a wave of crypto crime — to the tune of $14 billion, according to Chainanalysis.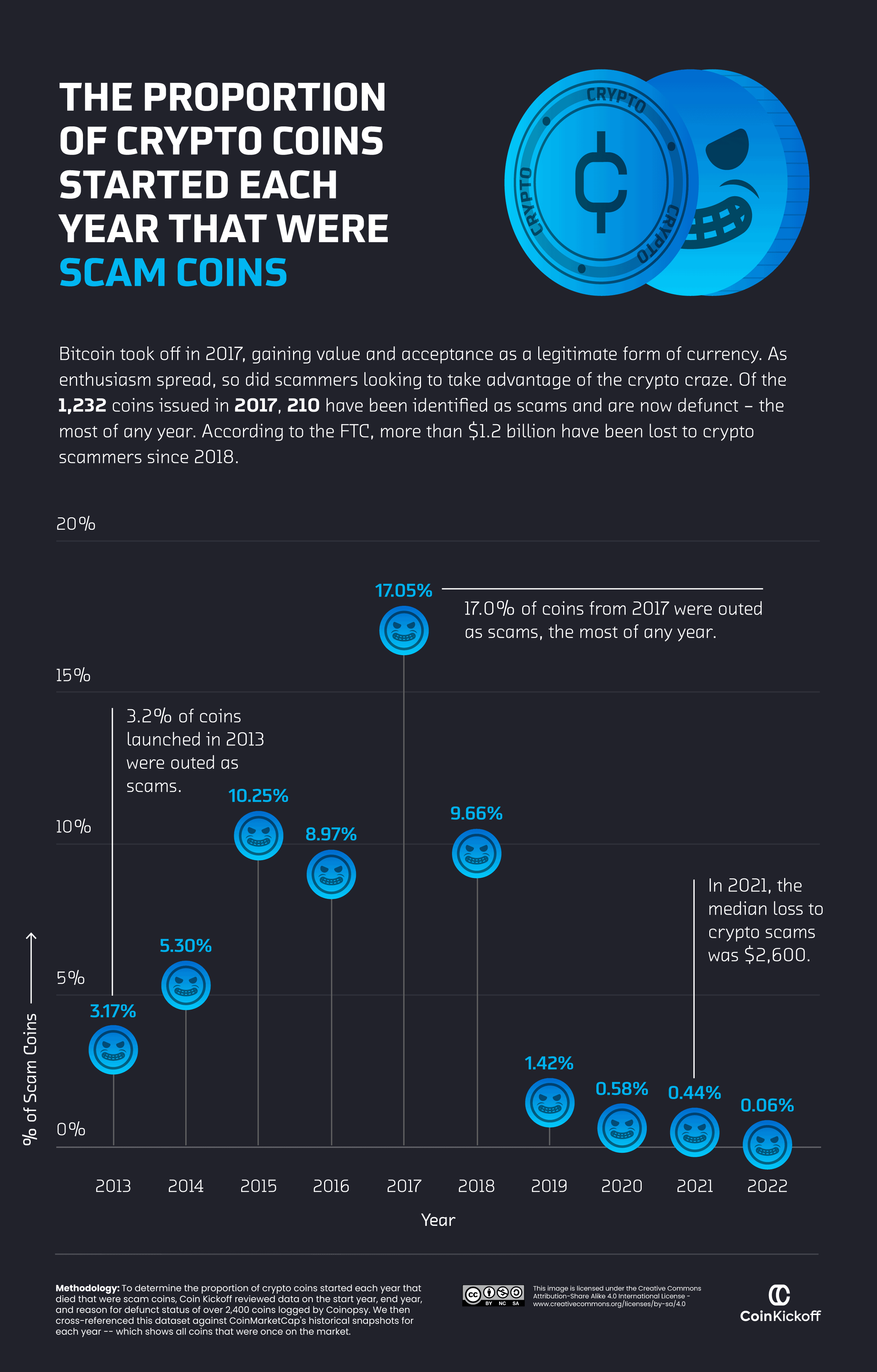 Despite this, less than 2% of coins established since 2019 have been outed as scam coins. The market reached its peak in 2017, when 17% of currencies were fraudulent. Fraudsters took $490 million during the year's ICO bubble, and the Securities and Exchange Commission continues to investigate crimes from this period.
Initial Coin Offering Craze of 2017 Led to Most Failed Coins
When companies become large enough to trade on the stock market, they launch an initial public offering (IPO) to raise equity capital from public investors. By contrast, an initial coin offering (ICO) is an opportunity to attract interest in the launch of a new cryptocurrency. This can primarily get investors to buy into the coin, but they can also offer wider benefits that tie into the company's product — including a stake in the business itself.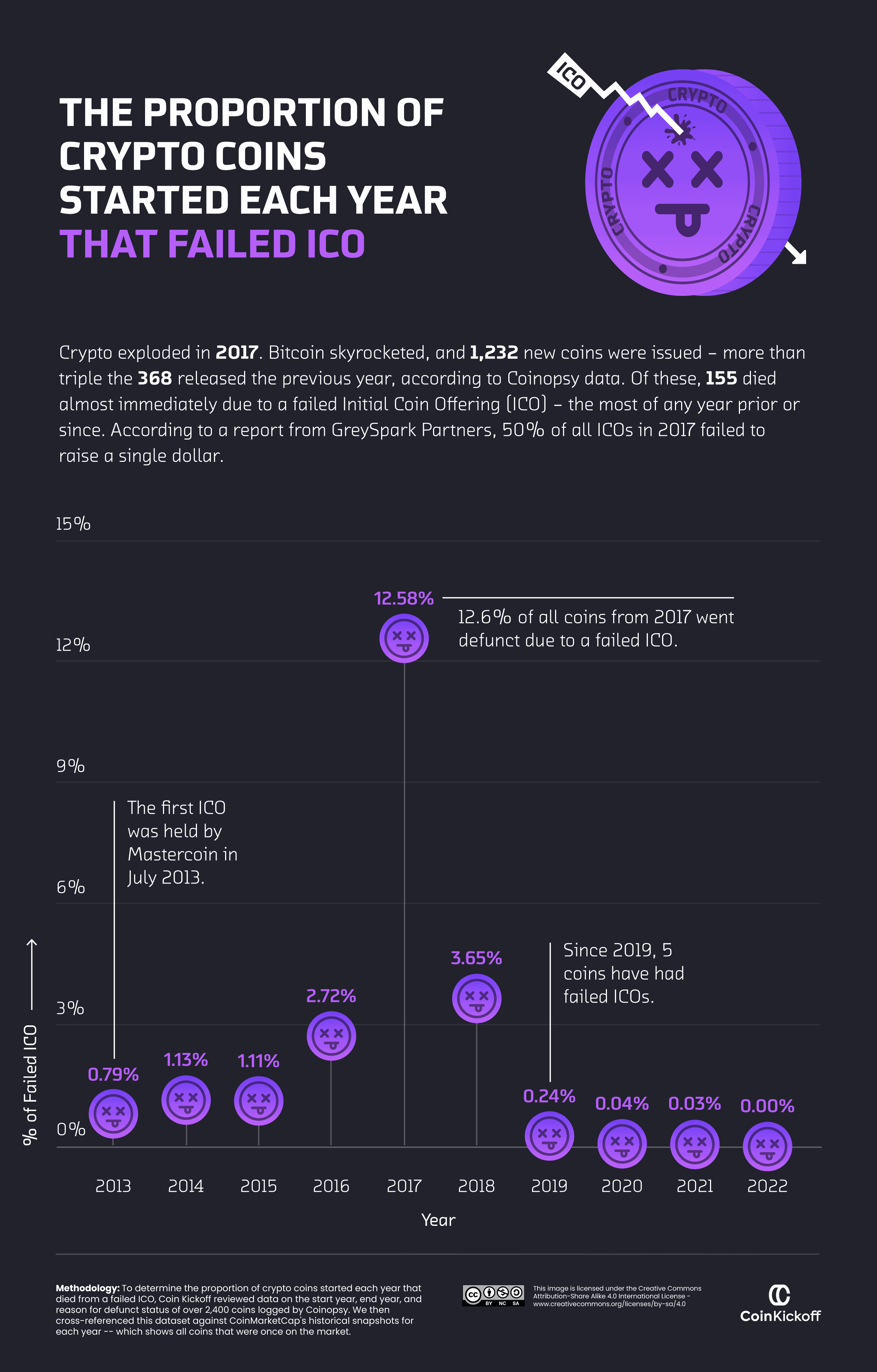 Mastercoin was the first to launch an ICO in 2013, and the practice exploded in 2017 as mainstream interest in crypto grew with its price boom. Despite this, our research shows that 12.6% of all coins launched that year went defunct as a result of a failed ICO — more than any other year in the last decade.
Research from consulting firm GreySpark Partners found that nearly half of all ICOs launched in 2017 and 2018 failed to raise any funds, and the susceptibility of the practice to fraud eventually led to increased federal regulation with harsh penalties for abuses in the industry. As a result, our data shows that just five coins have had failed ICOs.
Crypto Survived A Turbulent First Decade — But What Happens Next?
The cryptocurrency market is growing at an unprecedented rate, and rapidly advancing technology is resulting in new investment opportunities — most notably the NFT craze of 2021. Bitcoin still dominates the market, and some investors predict it could reach a price of $100,000 by 2023. However, Ethereum's value grew 409% in 2021. Despite a global downturn led by global instability as a result of Russia's invasion of Ukraine, analysts expect it to contribute to an industry value of $4.9 billion by 2030.
But how did we get here? Many experts draw parallels between crypto's growth and the 'dot-com bubble' of the early 2000s, where innovation led to an explosion of internet companies and investors searching for the next Amazon or eBay. By contrast, crypto's investment surges in 2013 and 2017 flooded the market with new coins and investors vying to cash in on 'the next big thing.'
While many of these coins died through lack of investment, failed ICOs or scams, it forced the investment community to sit up and take note. The U.S. government and global markets face numerous challenges to regulate crypto to better protect investors in the future. Still, crypto has demonstrated its ability in the last ten years to disrupt traditional financial markets.
Methodology
To create a visual analysis of 10 years of dead crypto coins, Coin Kickoff reviewed data on the status of over 2,400 dead coins from Coinopsy. We compiled data on the current life status of each coin and the reason and year of its death.
Reasons for dead coins include failed Initial Coin Offerings (ICO), abandonment with less than $1,000 in trade volume over a three-month period, scams or that the coins were meant as a joke.
We then cross-referenced this dataset against CoinMarketCap's historical snapshots for each year — which shows all coins that were once on the market. Data on the total number of coins released in a given year was used to calculate dead coins as a percentage of all coins.
The data was collected in August 2022.
Other Popualr Guides