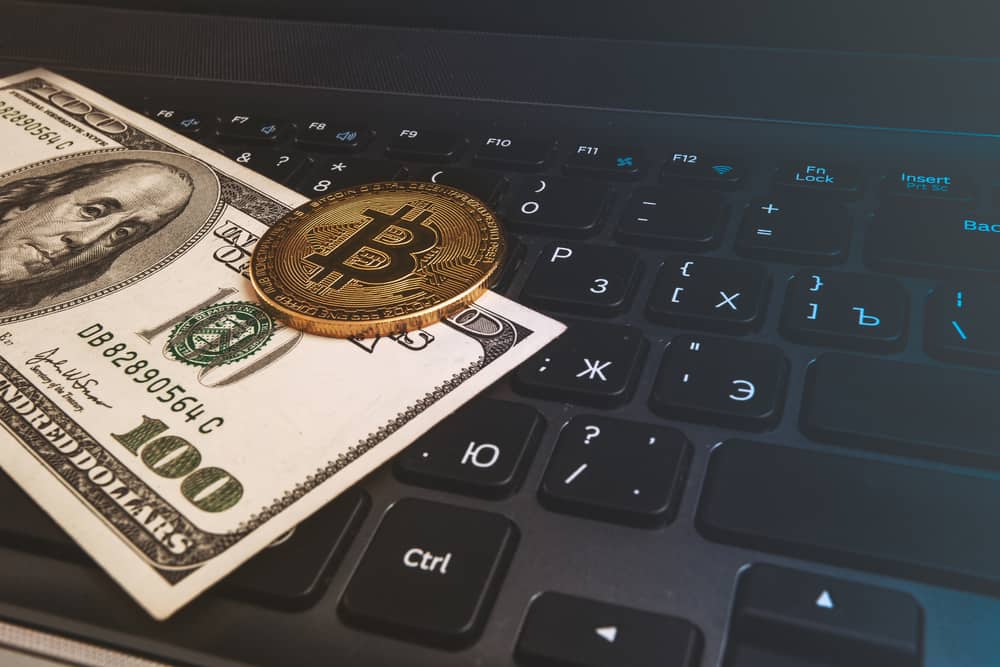 This Coinbase vs BitMart comparison review will walk you step-by-step through the essential features of these two major international crypto exchanges. Both platforms support beginner and advanced services, along with various added crypto features.
By the end of our review, you'll be able to make an informed decision about using these cryptocurrency exchanges in your everyday trading activities. 
About the Exchanges
Coinbase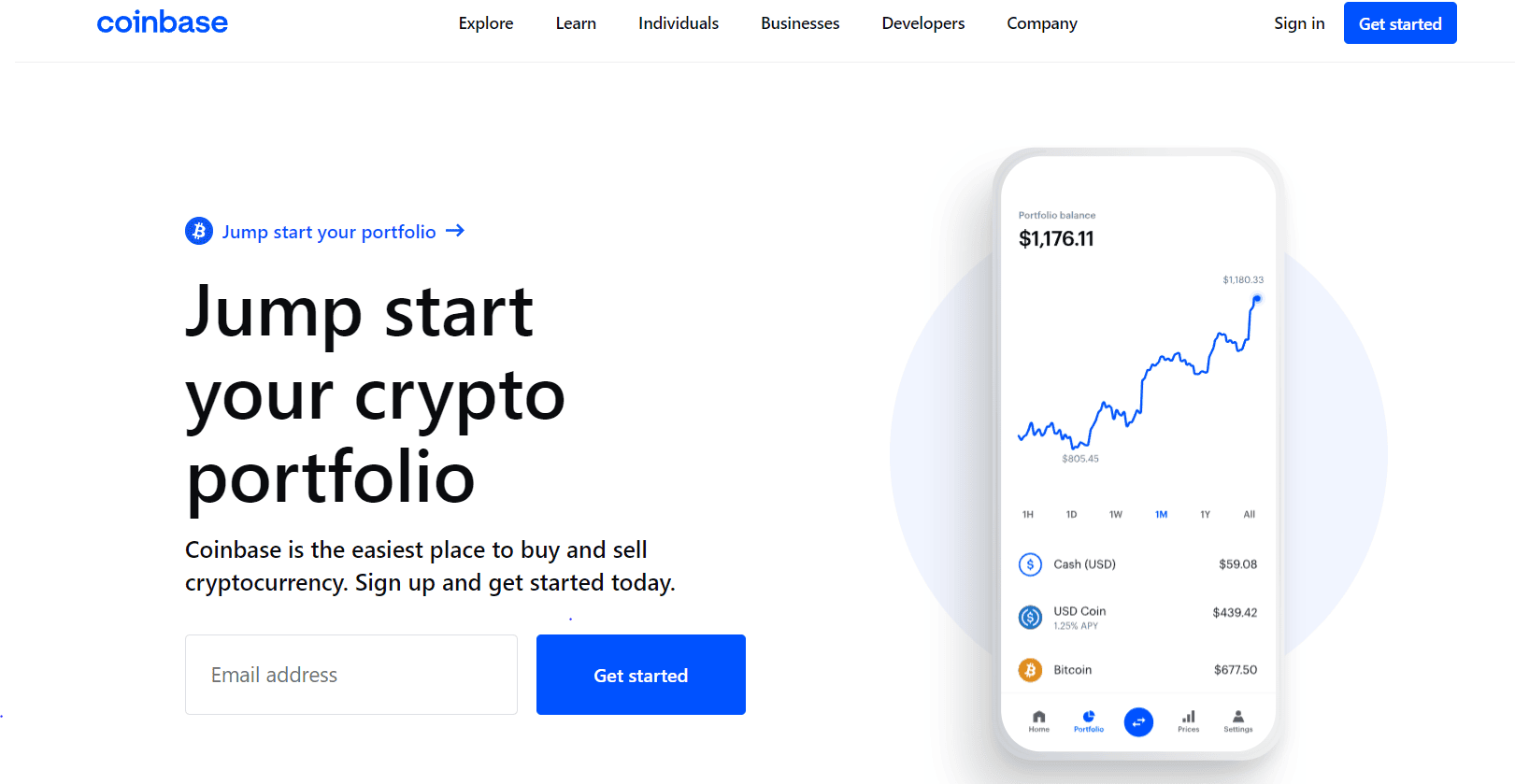 The story of Coinbase began in 2012 when there were very few crypto exchanges around, and digital currencies weren't nearly as popular as they are today. Coinbase seized the opportunity to establish a major crypto trading ecosystem that soon became the world's second-largest crypto exchange. 
Today, Coinbase is one of the pillars of the crypto market, and it's an onboarding platform for millions of new crypto users, thanks to its simple design and user-friendly interface that allows traders to deposit fiat currency and spend it on crypto. 
The Coinbase exchange simplifies crypto trading and makes it accessible to average users who want to quickly get exposure to trending cryptos without using complex trading tools. However, the platform also has advanced features for traders acquainted with classic trading interfaces and technical indicators.
BitMart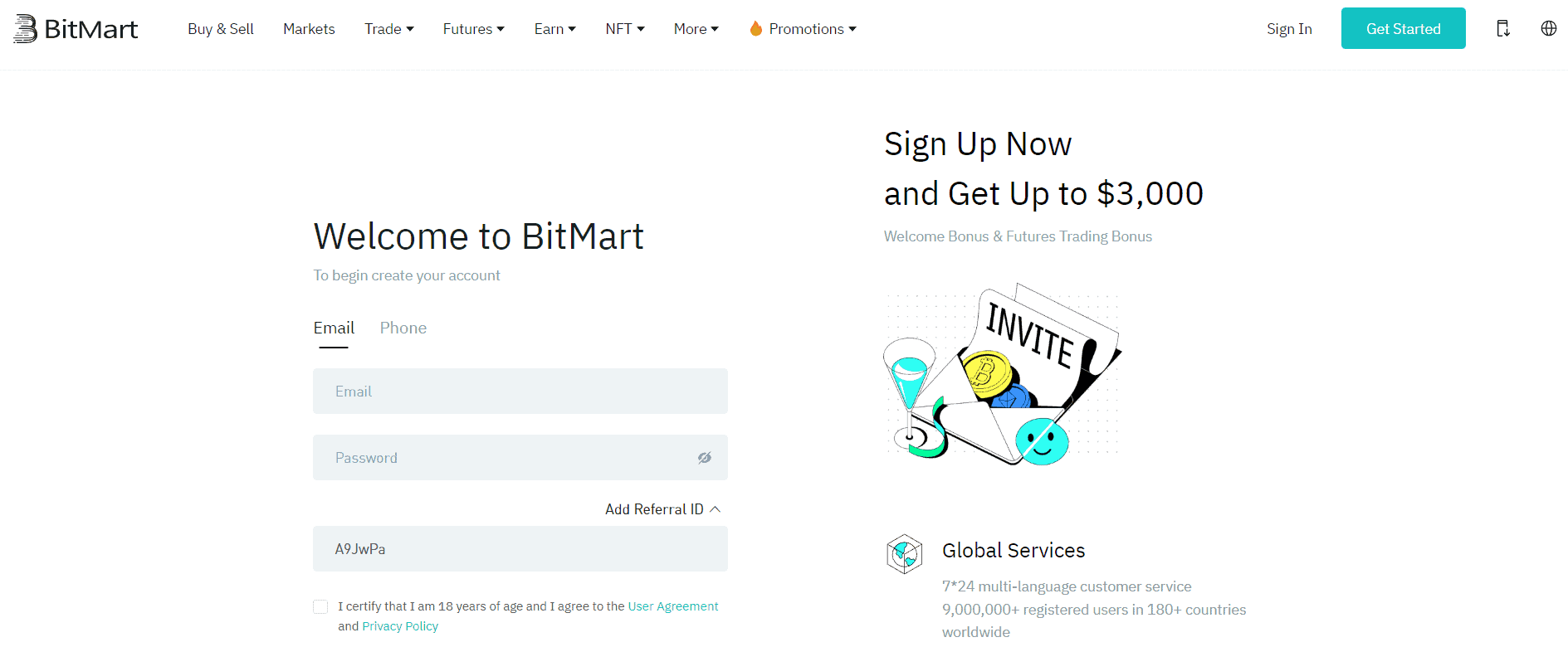 BitMart joined the crypto market in 2017, considerably later than Coinbase. However, the company behind the exchange used the experiences of well-established competitors to create a massive trading platform with all the services and features sought after by crypto enthusiasts.
Because of this, BitMart is packed with a vast array of features for all types of users. The average crypto trader can use the instant trading or standard spot trading feature, while pro users have a highly detailed advanced trading section at their fingertips.
Those adept at technical analysis have leveraged margin trading, perpetual futures, and other types of derivatives trading options available. BitMart even has its native crypto token that gives holders special discounts and additional benefits.
Pros and Cons
Coinbase Pros
One of the largest and most reliable regulated US crypto exchanges.

Strong selection of top cryptocurrencies: 160+ altcoins.

Straightforward design and practical trading experience for new crypto users.

Users can link their exchange accounts to the Coinbase Wallet and store their private keys on their devices.

Various added features, such as crypto staking and crypto collateralized loans.

Coinbase allows users to buy NFTs directly with fiat money. 
Coinbase Cons
The platform's security suffered a

severe breach in 2021

. 

No support for margin trading or futures contracts.

The fees are high unless you use the Advanced Trade section of the platform.
BitMart Pros
Users can trade over 1,000 crypto coins, which puts BitMart among the top centralized trading platforms regarding the number of supported assets. 

The BitMart Token (BMX) gives special fee discounts and added benefits to users who hold a certain amount of tokens in their accounts.

Broad choice of services, including instant, spot, margin, and derivatives trading.

BitMart is licensed as a money transmitter by the US FinCEN.
BitMart Cons
In 2021, BitMart fell victim to one of the largest

hacks

ever suffered by a crypto trading platform. 

BitMart has a considerable amount of negative user reviews. 
Coinbase vs BitMart: The Crypto Exchange Comparison 
Opening an Account
To open a Coinbase account:
Visit the platform's landing page and navigate to the

Get Started

button. By using our registration

link

, you're eligible for a sweet welcome gift. You can either continue the registration process on your desktop device or download the Coinbase app and continue on mobile.

Coinbase will ask you to enter an email address and create a unique password with upper and lower case letters, along with special characters to protect your account.

Before proceeding, you must also comply with the exchange's privacy terms.

Now check your inbox to find the activation code sent by Coinbase and use it to log into your platform account.

The following step is to initiate the phone number verification protocol in the

Accounts

tab. Just enter the code from the SMS message sent by Coinbase to verify your phone number.

Click on

Accounts

once more and choose

Document Verification

. This is the start of Coinbase's Know Your Customer (KYC) protocol, where you'll need to provide a clear photo of your passport's first page or photos of the front and back sides of your ID card. Coinbase requires this step to confirm your identity and comply with regulatory rules.

Coinbase states that the verification process might take a whole day, but users usually get a confirmation email message within 10 minutes.
Register your BitMart account by following these steps:
The initial steps are identical to the ones on Coinbase. Use our

link

with an applied affiliate code to get a referral gift and enter the necessary details, including your email address or phone number, along with a freshly created password for your account. 

Confirm that you're at least 18 years of age and click

Sign Up

.

Use the activation code from the BitMart email message or SMS message to log into the platform.

BitMart allows users to access the platform without KYC verification, but you'll need to provide your personal details if you want to access all of the BitMart services.

Go to the account settings section and choose the

Identity Verification

option.

There are two levels of ID verification on BitMart. The first level protocol asks users to enter their country of residence, name, and birth date. 

The level two verification is called

Advanced Verification,

and to complete it, you need to download BitMart on your mobile phone and scan the QR code in the verification section.

Choose an ID document from the list of available options and photograph your document. 

BitMart will ask you to take a face verification photo with your front camera to compare your face with the image on your document.

BitMart will get back to you within the next 24 hours to confirm that you've passed the advanced verification step. 
Main Features
Coinbase manages to pack numerous crypto services within a single, simplistic platform framework accessible both on desktop and mobile devices. The exchange has an Advanced Trade section for experienced users looking to take advantage of technical indicators and other analysis tools to implement different spot trading strategies, but the real focus of Coinbase is on instant trading.
Coinbase is quite famous for being an ideal onboarding exchange for users who are new to the world of crypto and want to make their first purchases of Bitcoin (BTC), Ethereum (ETH), and other top-rated cryptos.
Users can deposit cash through multiple popular payment methods and then invest in crypto tokens by selecting which asset they wish to buy and how much money they want to spend. The trades through the instant buy service are lightning fast, and you'll have the crypto delivered to your Coinbase account wallet in no time. 
Besides trading digital currencies, users can start earning staking rewards of up to 6% by depositing some of the leading cryptos and letting Coinbase do the rest of the work. The platform also has a strong selection of NFTs based on the Ethereum and Polygon (MATIC) blockchains. Furthermore, traders can utilize the Coinbase debit card to make real-world payments and withdraw money at ATMs.
While Coinbase deliberately focuses on beginners, BitMart supports a wider range of services that are more geared toward advanced users looking to step up their trading operations.
This doesn't mean that BitMart lacks beginner-friendly features, such as instant trading. In fact, the exchange offers numerous possibilities for instant purchases because traders can choose between four payment service providers for each trade, including MoonPay, Banxa, Simplex, and Legend Trading. 
Once you've purchased some crypto with cash, you can start using BitMart's advanced services. The exchange has a standard spot trading interface more suitable for less experienced users, while the advanced interface comes with way more tools, including dozens of indicators, measurement tools, patterns, and trend lines. Also, users can easily shift between spot and margin trading, which comes with up to 5x leverage options.
For really experienced traders who prefer using crypto derivatives services, BitMart offers various types of futures contracts, including those with fixed expiration dates and perpetual contracts. When it comes to NFTs, BitMart users can purchase NFTs with ETH, Solana (SOL), and Tether (USDT), depending on the NFT's native blockchain.
Finally, BitMart supports dozens of yield-farming options, including standard crypto staking, crypto savings accounts, as well as dual crypto yields, which give users rewards in two cryptocurrencies. 
Supported Cryptocurrencies
Some advanced traders might find Coinbase's roster of over 160 coins a but limited because of the lack of micro-cap altcoins, but for the average trader, Coinbase truly supports all the assets they need.
If you want to start out by investing in some of the leading crypto assets on the market, Coinbase supports the likes of BTC, Bitcoin Cash (BCH), Decentraland (MANA), Chiliz (CHZ), Flow (FLOW), Axie Infinity (AXS), MultiversX (EGLD), BitDAO (BIT), ETH, Avalanche (AVAX), Tether (USDT), and scores of popular cryptos. 
Coinbase users can also stake leading Proof-of-Stake (PoS) projects, such as SOL, ADA, Tezos (XTZ), and a couple of additional tokens. 
BitMart allows traders to invest in more than 1,000 digital currencies. The crypto selection includes most of the top 200 global crypto projects, with the addition of hundreds of micro market cap projects trending on the market. Furthermore, BitMart has a token launchpad section, which helps startups launch their crypto tokens on the market. 
However, you can't purchase all of the 1,000+ cryptos with the instant purchase feature. You can buy around 50 popular coins with cash, but once you have some crypto, you can trade it for more than 1,000 additional cryptos.
Besides the most significant coins on the market, you'll find projects like Pepe (PEPE), Cheelee (CHEEL), Inery (INR), Aptos (APT), Gmt (GMT), Optimism (OP), True USD (TUSD), Trader Joe (JOE), LunaFi (LNF), Kava (KAVA), and hundreds less popular coins. 
Users have around 40 staking options on BitMart, and the staking rewards depend on whether you've chosen flexible staking with no lockup period or a specific lockup period between three and 90 days. The longer the lockup period, the higher the rewards. 
You can stake ETH, Sui (SUI), PEPE, APT, Arbittrum (ARB), BitMart Token (BMX), SOL, Polkadot (DOT), MATIC, Eos (EOS), and more. 
Payment Methods
Coinbase supports several popular payment methods to make it easy for traders to purchase crypto with fiat currency. The exchange supports three major fiat currencies: GBP, EUR, and USD. 
The most affordable way to purchase crypto on Coinbase is by first making a deposit with a bank account transfer. US customers can use an ACH bank transfer to make a deposit without any additional fees.
Traders from other countries have SEPA and SWIFT transactions at their disposal, but they'll need to pay a 1.49% deposit fee. Bank account withdrawals are free of charge, but your bank might charge you a service fee independently of Coinbase. 
If you're in a hurry, you can buy crypto with a debit card, credit card, Google Pay, or Apple Pay, but the service fee is relatively high at 3.99%. 
BitMart primarily uses third-party payment services to facilitate fiat-to-crypto payments. When purchasing crypto on BitMart, you must use one of the provided services, including MoonPay, Simplex, Legend Trading, and Banxa.
These services act as gateways for facilitating debit card, credit card, Apple Pay, Google Pay, and bank account transactions. All of these services support bank cards except for Legend Trading, which only supports bank account transactions.
The platform doesn't list fees for these payment channels because the fees don't depend on BitMart. However, the standard fee structure for using these third-party payment services is between 2% and 5%. 
Trading Fees and Limits
Coinbase prides itself on its ease of use, but this user experience comes at a price. Every Coinbase trade incurs a 1% trading fee, regardless of your instant trading volume.
The instant trading service has a fixed fee, and it's best to combine it with bank account transactions. If you always pay for your trades with a debit card, you'll pay much more because of the 3.99% bank card fee.
However, if you're an experienced user looking to broker better deals and pay fewer fees, you should definitely shift to the Coinbase Advanced Trade section because it uses an affordable maker-and-taker fee model. There are multiple fee tiers that depend on your 30-day trading volume. 
You'll start out by paying 0.6% or 0.4% in fees, depending on whether you're a taker or maker with a relatively low trading volume of up to 10,000 USD. This is way lower than paying the 1% fee for every trade. Of course, the fees are way lower for big-time traders with more than 250 million USD of monthly trades. Makers with such high volumes are free of fees, while takers pay a modest 0.08% fee.
As far as asset withdrawals are concerned, traders can transfer up to 100,000 USD from their Coinbase accounts daily. 
BitMart uses different instant buy/sell fees depending on which third-party service you're using. For example, MoonPay charges a 3.85% purchase and 2.5% selling fee, while Simplex charges 4.2% for purchases and 0.5% for sales. Legend Trading charges a 3.5% buy/sell fee for trades of up to 2,000 USD, while trades above 500,000 USD incur a 1.5% fee. BitMart doesn't list any fees for Banxa payments. 
BitMart has a maker-taker fee model for its spot trading service, just like many competitor exchanges. Traders with up to 150 BTC of trades per month pay 0.1% in trading fees, regardless of whether they're makers or takers. 
The fees drop depending on how many BMX tokens you have in your exchange account. If you have between 1 and 500 BMX tokens, the fees are 0.075%. Major BMX holders can considerably decrease their fees. The lowest fees are reserved for users with over one million BMX tokens in their accounts, who pay 0.0225% maker and 0.03% taker fees.
Traders with more than 150 BTC of monthly volume are classified as Pro traders and pay a 0.02% or 0.03% maker/taker fee. Investors with a 30-day exchange volume of over 40,000 BTC pay the lowest 0.01% and 0.015% maker/taker fees.
BitMart margin trading incurs a 0.002291% fee, while futures contracts incur a 0.02% maker and 0.06% taker fee.
BitMart's daily withdrawal limit is at the industry's lower end. You can only withdraw 20,000 USD per day, which is apparently due to the fact that BitMart doesn't have high liquidity levels.
How Safe Are Coinbase and BitMart?
In 2021, an elaborate cyberattack jeopardized the Coinbase exchange's safety, and some 6,000 traders got their accounts robbed. Apparently, the cyber attackers targeted a weakness in the two-factor authentication (2FA) measure that enabled them to breach user accounts and facilitate transactions without the approval of the account owners. 
Coinbase's security team noticed the attack and moved swiftly to patch up the breach and improve the safety system. Also, the company publicly acknowledged the incident and covered all the losses sustained by platform users. Coinbase claims they've considerably improved the platform's security so that no similar attack happens in the future. 
It's worth noting that Coinbase stores over 90% of user funds in secure hardware wallets that aren't connected to the internet. However, this didn't stop the hackers because they breached the 2FA protocol. 
If you decide to use Coinbase, it's a good idea to install the Coinbase Wallet app because it's a non-custodial software wallet you can link to your Coinbase trading account. By doing this, you'll reap all the benefits of trading on Coinbase, but without the risk of getting your account hacked.
However, even in the case of platform hacks, you can rest easy because Coinbase is obliged to refund affected users as a regulated crypto exchange licensed by some of the most influential financial institutions in the world. 
Since its launch, BitMart has had an image as a top-quality crypto exchange with tight security measures. The platform used all of the industry-leading safety precautions, including website encryption, protection against DDOS attacks, and a mix of account passwords and 2FA. Also, BitMart keeps nearly all of the funds in cold wallets, just like many competitor exchanges.
However, in an unprecedented turn of events, hackers stole the private keys for two software wallets used by BitMart to store a small percentage of funds necessary for providing sufficient trading liquidity on the exchange. Nearly 200 million USD of crypto was stolen. The stolen cryptos were a nearly 50/50 mix of Ethereum and Binance Smart Chain-based tokens, which the hackers immediately started exchanging on decentralized exchanges to cover their tracks.
BitMart openly took the blame for the security breach and acknowledged that the private keys weren't stored securely. This incident created a major downside for the exchange, and despite claiming they will reimburse affected users, there hasn't been any news on whether this actually happened.
It's worth noting that 200 million USD is an extremely large amount of cash, and it might take an extended period for the exchange to pay out all of its users.
Since BitMart is a regulated exchange with an operating permit from the US FinCEN, users will probably receive full compensation at one point. 
Customer Support
Coinbase has remarkable customer support. Users have a bunch of communication channels available, and the team members are quick to respond to their inquiries.
The most popular way to contact support is through the Coinbase customer support phone line. Also, there's a standard email and support ticket filing method. Furthermore, users can share their social media profiles in their Coinbase support ticket and ask the team to contact them on Twitter or Linkedin. 
BitMart has a similar range of customer support options. The most direct method for contacting support is by dialing the BitMart support phone number. There's also a support form section on the platform where you need to provide your email address, BitMart ID, and a detailed description of your issue. The support team usually responds within one business day.
Additionally, you can browse the BitMart help section, which is filled with detailed guides on essential operations, such as how to verify your identity, deposit funds, conduct trades and use other BitMart services.
Mobile Trading
Coinbase puts particular effort into its mobile trading experience, and the platform's app is recognized as one of the most user-friendly mobile crypto trading solutions on the market.
Once you've deposited some fiat currency into your Coinbase account, you can use the app to quickly purchase over 160 cryptocurrencies. Traders can swap cryptos or use the Coinbase Earn service for staking.
Also, traders can purchase NFTs and use the Advanced Trade section for professional-grade spot trading. Initially, Coinbase planned to release a new Advanced Trade application but then decided to integrate beginner and advanced trading services into the already existing Coinbase app. 
Finally, we mustn't forget the Coinbase Wallet, which is among the most popular software non-custodial crypto wallets. Once you install the app, you're in full control of your crypto because the private keys to your assets always stay on your mobile device. When you connect the wallet to Coinbase, you can trade without storing your assets in Coinbase's platform wallets.
BitMart's mobile app merges all of the platform's services into one practical, easy-to-use mobile app. It's always a challenge to create a functional app when a crypto exchange has many different features for beginners, intermediate, and advanced users alike. BitMart is quite successful in this segment because users can shift between instant, spot, margin, and futures trading with one click in the upper section of the BitMart app.
Compared to the browser version of BitMart, the mobile app is considerably easier to use, and even beginners can use advanced features such as spot trading because the available options and order types are clearly visible. For comparison, the browser version of the advanced trading interface is packed with dozens of details that are quite overwhelming for beginners. 
How Do Coinbase and BitMart Compare to Other Crypto Exchanges
There are numerous competitor platforms that offer a full suite of crypto services, like the two exchanges we're reviewing. Binance and KuCoin are two massive international crypto exchanges to which we'll compare Coinbase and BitMart. 
The main difference is that Binance and KuCoin aren't regulated like Coinbase and BitMart. In fact, these two platforms provide services across the globe without any relevant licenses.
Both exchanges support more than 300 cryptocurrencies, have their NFT marketplaces, and support advanced trading services, such as spot, margin, and futures trading. In terms of advanced features, Binance and KuCoin support way more services than Coinbase and offer a larger crypto selection. BitMart, however, supports a lot more digital currencies than its competitors.
In the fee segment, Binance and KuCoin are very similar to BitMart, with their fees around 0.1% for spot trading, while Coinbase's Advanced Trade service has a quite high 0.4% and 0.6% starting maker and taker fee.
Conclusion
For the average crypto enthusiast, Coinbase is a great crypto exchange because it combines ease of use, a broad range of trending coins, and key services such as instant and spot trading, along with staking and NFTs.
However, if you're a seasoned crypto trader looking for high-risk trading features and less-known altcoins that might yield higher returns compared to leading projects, then you might want to check out BitMart.