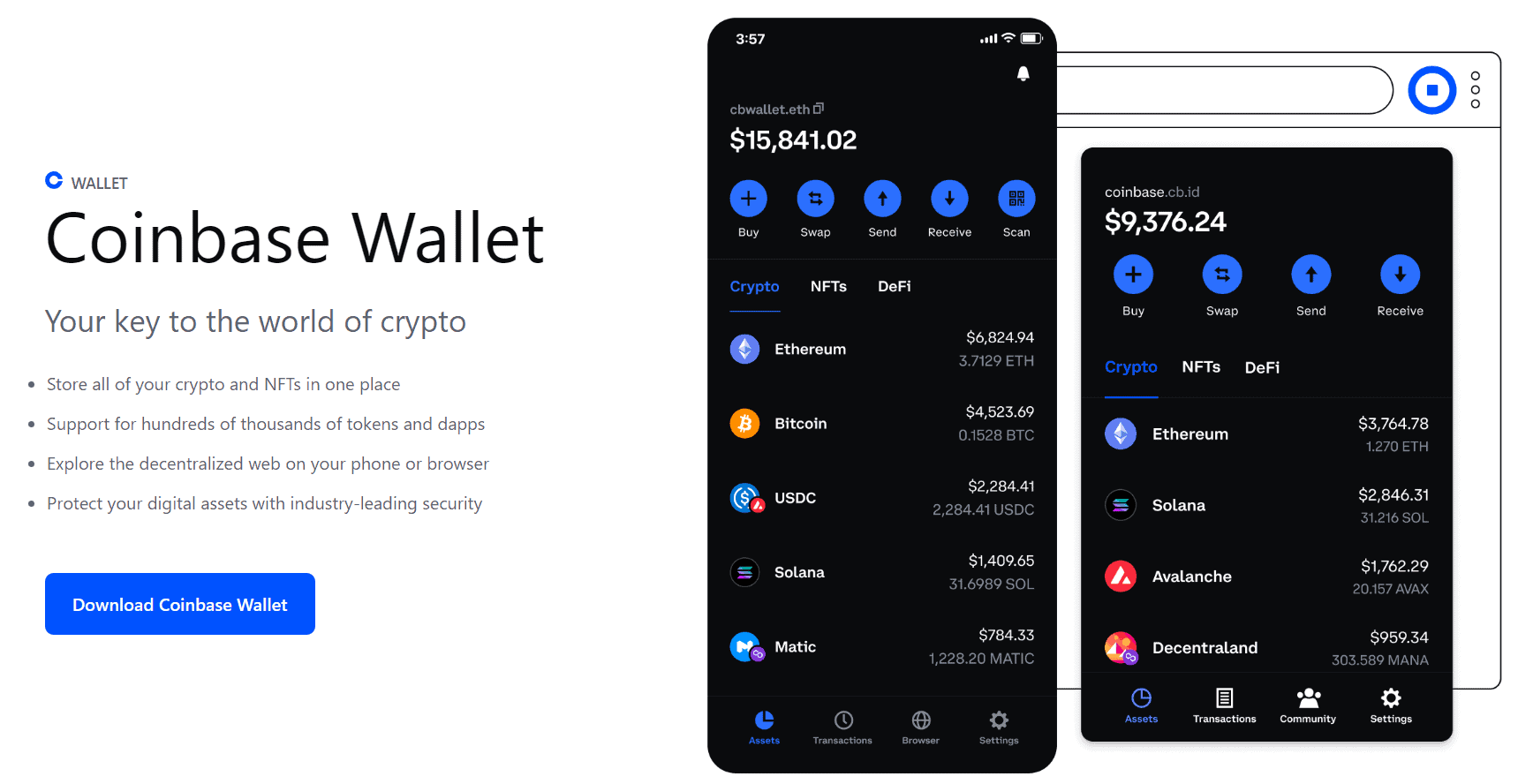 These days, dozens of crypto developers promote their own wallets as the best products on the market, but the truth is that many of these wallets have serious shortcomings.
For instance, many of them are confined to a single blockchain, meaning you can't store any digital currencies besides those built on the wallet's native network.
This is quite limiting for crypto enthusiasts looking to store a wide range of different cryptos. You should always check out a wallet's key features in advance to find out whether it has what you need to manage all of your coins and tokens. When it comes to multi-currency wallets, the most popular ones are really the best option.
The Coinbase Wallet is one of those widely used and secure crypto wallets. In this guide, we'll see what Coinbase Wallet offers and why so many users trust it with their crypto portfolios. We'll also show you how to conduct basic operations, such as setting up your Coinbase Wallet and initiating transactions.
Coinbase Wallet Key Characteristics
A non-custodial wallet.

Supports thousands of crypto coins and tokens.

Great for storing NFTs.

Optional integration with your Coinbase account.

Staking features through Coinbase.

DApp browsing features.

Tight security measures.

Easy to use.
Coinbase Wallet
Coinbase Wallet is a product of the Coinbase cryptocurrency exchange ecosystem. Coinbase is one of the world's top ten centralized crypto exchanges, and all of its products are of high quality. This is also true for Coinbase Wallet, launched as a mobile app for Android and iOS in 2017. Since then, the wallet has attracted millions of users with its simplicity and tight security, ensuring your crypto is safe. 
Coinbase Wallet targets crypto beginners and average crypto enthusiasts looking for a reliable wallet to store their portfolio and manage it in a practical manner. The wallet is more than just a great solution for storing crypto; you can also use it to store your entire NFT collection. Also, the Coinbase team has added a handy dApp browser to help you interact with applications on numerous blockchain networks.
Thanks to its connection with the Coinbase exchange, you'll be able to trade crypto from your wallet and buy all the assets you need with just a few clicks. Unlike many crypto wallets, Coinbase Wallet supports crypto staking and enables you to earn staking rewards on your idle crypto.
Additionally, the wallet doesn't take any chances when it comes to security. You'll have some of the best protection in the industry, as the Coinbase team is constantly updating the wallet's safety protocols.
Coinbase Wallet Features
Let's dive into the key features of the Coinbase Wallet.
Non-Custodial Storage
The best crypto wallets are non-custodial, meaning they store the private keys to your digital currencies on your device instead of company servers. For example, if you store crypto on Coinbase, you're giving custody over your crypto to the platform. In case Coinbase gets hacked, you could lose all of your coins.
However, Coinbase Wallet is non-custodial and operates separately from the Coinbase exchange platform. The wallet stores your private keys on your device, and they become your responsibility. When you create a Coinbase Wallet account, you receive a 12-word seed phrase. The seed phrase is your main protection against hackers because it encrypts your private keys and stores them on your device. The words are randomly generated, making it extremely difficult for hackers to breach the phrase. 
Also, Coinbase Wallet allows users to import whole wallets from other wallet providers with the help of seed phrases. You can easily import your MetaMask or Trust Wallet account by choosing the Import an Existing Wallet option and entering the other wallet's seed phrase. This will enable you to import your private keys from another wallet into your Coinbase Wallet account. 
Coinbase Integration
Coinbase Wallet allows users to fully integrate their Coinbase exchange account with their wallet. This feature enables you to trade on Coinbase directly from your wallet and even cash out crypto to fiat. You can also stake crypto and browse through the Coinbase NFT marketplace. When you integrate these two accounts, you can keep your crypto in the non-custodial Coinbase Wallet and still get all the benefits of using Coinbase.
Buy Crypto From Your Wallet

Over 50 major coins supported
Trade with as low as $10 equivalent
Crypto Loans up to 90% LTV
Regulated EU platform.
Available in 221 countries

250+ Cryptocurrencies
10+ million users
Uphold is 100% reserved
Earn up to 16% APY staking assets (not available in US)
Registered with FinCEN (US), FCA (UK), and FCIS (Lithuania)
Terms Apply. Cryptoassets are highly volatile. Your capital is at risk. Don't invest unless you're prepared to lose all the money you invest. This is a high-risk investment, and there's no safety net if things go south.

200+ cryptocurrencies
Get started from $10
10M+ customers
190+ countries supported
High rate limits: Trade crypto fast with their robust, low latency API.
With Coinbase Wallet, you can purchase crypto without leaving the app. Just click on the Buy option in the app and choose the crypto you wish to purchase. The easiest way to streamline your crypto purchasing operation is to connect Coinbase Wallet to a Coinbase account because you'll get access to all of the digital currencies supported by the exchange.
Coinbase Wallet supports multiple payment methods for purchasing crypto, including bank cards, Coinbase Pay, bank account transfers, and various payment gateways for converting fiat to crypto.
Store NFTs
Coinbase has its own NFT marketplace that you can easily access through Coinbase Wallet once you connect it to your Coinbase account. Also, you can store all of your NFTs in your Coinbase Account and access them from a separate NFT section. The wallet's main innovation is the option to buy NFTs directly for fiat cash. NFT marketplaces usually require users to buy NFTs with crypto, but Coinbase makes purchasing NFTs much easier by allowing users to do so with fiat currency.
Swap Coins
Coinbase Wallet is great for users looking to easily swap different cryptocurrencies for one another. Unlike some other wallets that only allow users to swap coins built on the same blockchains, Coinbase Wallet supports fast inter-blockchain swaps.
Stake Crypto
Coinbase Wallet supports numerous crypto staking features that enable you to earn annual percentage yields (APY) on your staked coins. To access this feature, you'll need to connect the wallet to Coinbase and deposit coins for staking. Keep in mind that this is a bit riskier than holding coins in your Coinbase Wallet because you'll need to stake the coins on Coinbase.
The cryptocurrencies you can stake include market-leading Proof-of-Stake (PoS) cryptos such as Cardano (ADA), Solana (SOL), Algorand (ALGO), Cosmos (ATOM), Ethereum (ETH), and Tezos (XTZ). You can also stake a few stablecoins through Coinbase DeFi pools. These stablecoins include Dai (DAI), Tether (USDT), and USD Coin (USDC). 
Browse dApps
One of the most versatile features of the Coinbase Wallet is its integrated dApp browser. The browser is your gateway into the world of Web3 decentralized applications across numerous blockchains. You can use the browser to interact with blockchain networks and search for different dApps, such as DeFi platforms, staking pools, crypto loan platforms, decentralized exchanges, blockchain games, and marketplaces. The dApps are divided into several categories to make it easier for you to find what you need. 
Supported Digital Currencies
Coinbase Wallet is a true Web3, multi-currency crypto wallet that can store all of your crypto assets and let you manage them as you wish. The wallet supports thousands of ERC-20 tokens, along with most of the market-leading cryptocurrencies.
The list includes Bitcoin (BTC), Polygon (MATIC), Avalanche (AVAX), Dai (DAI), USD Coin (USDC), Shiba Inu (SHIB), Ethereum (ETH), Chainlink (LINK), Fantom (FTM), Solana (SOL), Algorand (ALGO), Ripple (XRP), Decentraland (MANA), Dogecoin (DOGE), Polkadot (DOT), Litecoin (LTC), and a whole bunch of additional altcoins. 
Coinbase Wallet Security
Coinbase Wallet is a very secure solution for storing your portfolio. The wallet has never been hacked, and users get standardized security features at their disposal, such as wallet passwords and 12-word recovery seed phrases that safeguard their private keys.
You should use your Coinbase Wallet responsibly and never share your password or seed phrase with anyone. Just write the seed phrase down and keep it in a secure place. In case you lose access to the device on which you were using Coinbase Wallet, the seed phrase enables you to restore your wallet on a new device. 
Hardware Wallet Connectivity
The best way to improve the security of a software wallet is by connecting it to a hardware wallet. Coinbase Wallet comes with a Ledger hardware wallet connectivity option. Ledger wallets are considered the most secure cold storage solutions on the market. When you integrate your Coinbase Wallet with a Ledger device, you can manage the funds in your wallet while actually storing the private keys offline. This means cyber attackers have no chance to steal your assets. 
How to Use Coinbase Wallet?
Let's check how to set up your Coinbase Wallet and conduct transactions.
Setting Up Coinbase Wallet
Follow these few steps to set up your Coinbase Wallet account:
Go to the

Coinbase Wallet download section

to install the version for your operating system. You can download Coinbase Wallet for Android, iOS, and since recently, for Google Chrome as a browser extension. 

Download and install the wallet.

Now open the wallet app and choose the

Create a new wallet

option. 

Check the privacy policy and terms of services before proceeding.

Pick a username for your Coinbase Wallet account. This username allows other Coinbase Wallet users to quickly find your and send you crypto. It's much easier than copying long public addresses.

Be sure to set your preferred username privacy settings. 

You'll be required to create a custom password for your Coinbase Wallet app. You can also add face ID or PIN code login features to strengthen your security.

Now, you'll get a unique Coinbase Wallet recovery seed phrase. Write it down and stash it someplace safe. 

You might want to back up the recovery phrase through the

Backup to cloud

option that makes virtual storage for your seed phrase, protected by a custom password.

Enter your password or PIN code to confirm you've backed up the seed phrase.

Now you're ready to start using your Coinbase Wallet.
Coinbase Wallet Transactions
Follow our simple instructions to initiate transactions with your Coinbase Wallet:
If you want to send some crypto, you need to log into your wallet and click on the

Send

option.

This will take you to a list of your stored digital currencies. Choose the crypto you want to send from the list.

Specify the amount, click

Next

, and paste the receiving address or scan the receiver's QR code.

If you're looking to receive crypto, choose the

Receive

option in your Coinbase Wallet. 

Select the crypto you want to receive, and you'll see your unique public address and its QR code. Share this address with the person who needs to make a transfer to your account.
Coinbase Wallet FAQ
These are some usual Coinbase Wallet FAQs.
Do I need a Coinbase account to use Coinbase Wallet?
No, you don't need to have a Coinbase exchange account to use the Coinbase Wallet. However, you'll have access to more platform features if you do this. 
Can I stake crypto with Coinbase Wallet?
You can only stake crypto with your Coinbase Wallet if you connect the wallet to a Coinbase exchange account.
Is Coinbase Wallet free to use?
Coinbase Wallet is free to use. You don't need to pay to download and install the app. However, keep in mind that Coinbase Wallet transfer fees are a bit high. You'll incur a transaction fee between 1% and 4% for standard transactions, but if you're transferring crypto from Coinbase to Coinbase Wallet, you won't pay any fees.
Conclusion
In total, Coinbase Wallet is a great choice for beginners and average crypto users looking for an easy-to-use storage solution with great security and versatile features. The integration with Coinbase adds lots of additional features to the wallet, such as staking and NFT purchases. However, even without the integration, Coinbase Wallet has everything you need to store assets securely and manage them with ease.