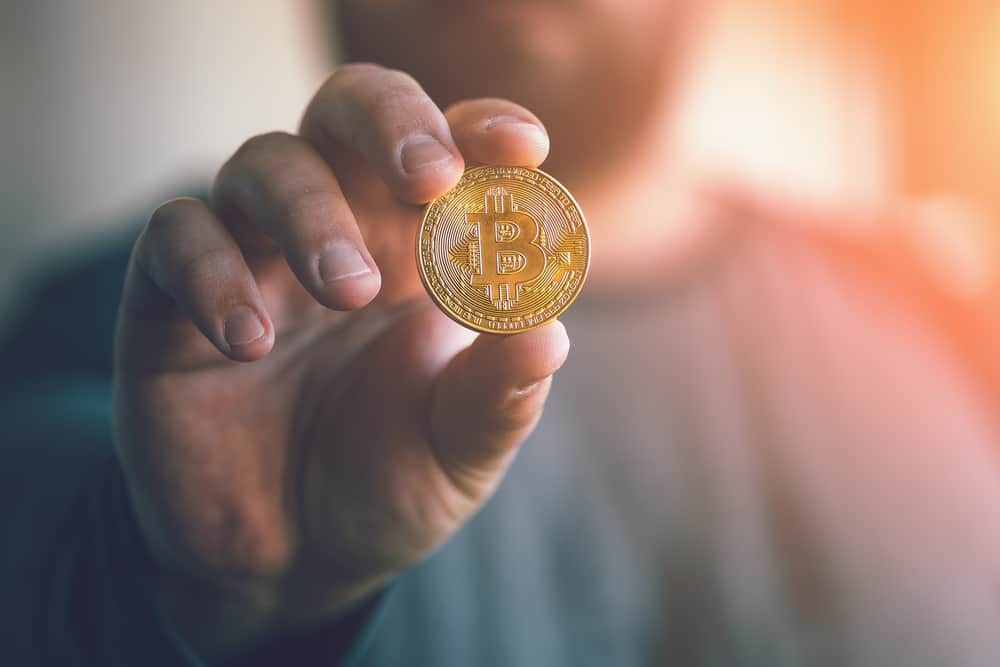 Celebrities are known (and often ridiculed) for jumping on the latest trends, from fad diets to TikTok dances. Many of Hollywood's leading figures are also known to be savvy investors, contributing their earnings to billions of dollars worth of venture capital funding every year. Some, including Oprah Winfrey, Jay-Z and Rihanna, appear in the Forbes Billionaires list — through private ventures and investments as much as their own fame.

Over 50 major coins supported
Trade with as low as $10 equivalent
Crypto Loans up to 90% LTV
Regulated EU platform.
Available in 221 countries

250+ Cryptocurrencies
10+ million users
Uphold is 100% reserved
Earn up to 16% APY staking assets (not available in US)
Registered with FinCEN (US), FCA (UK), and FCIS (Lithuania)
Terms Apply. Cryptoassets are highly volatile. Your capital is at risk. Don't invest unless you're prepared to lose all the money you invest. This is a high-risk investment, and there's no safety net if things go south.

200+ cryptocurrencies
Get started from $10
10M+ customers
190+ countries supported
High rate limits: Trade crypto fast with their robust, low latency API.
When it comes to cryptocurrency, though, celebrities have been altogether less successful. Kim Kardashian's $1.26m fine in October 2022 from the Securities and Exchange Commission (SEC) for failing to disclose the compensation she received for her public backing is the record for a celebrity to date and emphasizes the dangers of celebrity crypto endorsements.
From the collapse of FTX to wider instability in the global financial markets, 2022 was a difficult year for cryptocurrency investors. Yet it was a year when celebrities endorsed crypto projects most bullishly, particularly with NFT projects. FTX, Coinbase, Crypto.com and eToro invested a combined $54m, using the likes of LeBron James, Larry David and Matt Damon on 30-second ads during the Super Bowl — a night which later became known as the 'crypto bowl.'
In some cases, as with Kim Kardashian and Floyd Mayweather (who, along with DJ Khaled, was fined $767,500 for non-disclosure of payments for crypto endorsements), high-profile risks are associated with unrestrained financial advice. As a result, authorities in the U.S. will continue to pursue and punish celebrities who endorse cryptocurrency schemes to their millions of followers without warning of the risks involved.
To better understand the celebrity crypto landscape, Coin Kickoff has researched every known endorsement of a coin, currency or NFT project, dating back as far as Bitcoin's first price boom in 2013.
Key Findings
Comedian Drew Carey was the first celebrity to endorse Bitcoin in 2013, tweeting his frustration that he was unable to pay for his breakfast in crypto.
Celebrity endorsements for Bitcoin peaked during the currency's latest price surge in 2021 when multiple NFL players, including Aaron Rodgers and Odell Beckham Jr., converted their salaries to crypto.
At least 44 major celebrities endorsed cryptocurrencies in 2022 — the most of any to date.
A Decade of Celebrity Crypto Endorsements, Visualized
Former President Donald Trump surprised the world in December 2022 by becoming the latest high-profile figure to dip their toes into cryptocurrency, promoting a line of 'limited-edition' cards that he claimed would "make a great Christmas gift." NFTs (or non-fungible tokens) have been a popular choice for celebrities wanting to promote their image while investing in the wider cryptocurrency landscape while giving something back to their fans. But the practice has been met with a raft of criticism, from blockchain's environmental impact to the ability for tokens to hold any long-term value.
Paris Hilton became the first major star to jump on the NFT craze in 2021. An early Bitcoin and Ethereum investor back in 2016, Hilton claimed that "NFTs have literally taken over my entire mind and soul." A wave of others followed suit, including Michael Jordan, Justin Bieber, Madonna and Eminem. However, many celebrities reported losses of 90% or more on their tokens following the market's slump in early 2022.
Although a few celebrities backed Bitcoin during its first boom in 2013, Ashton Kutcher became the first to endorse an alternative currency, tweeting about Ethereum's ability to "decentralize the world" in 2014. Kutcher and his wife, Mila Kunis, are famed celebrity investors — backing startups like Uber and Airbnb before they became commercial giants.
Yet Kunis was skeptical when Kutcher first proposed investing in crypto. Speaking to Stephen Colbert, she said, "He's like, 'There's this thing, it's like mining for money. It's called, like, cryptocurrency, and … this is eight-plus years ago — he was like, 'It's called Bitcoin. Well, that who's gonna make sure it's safe?"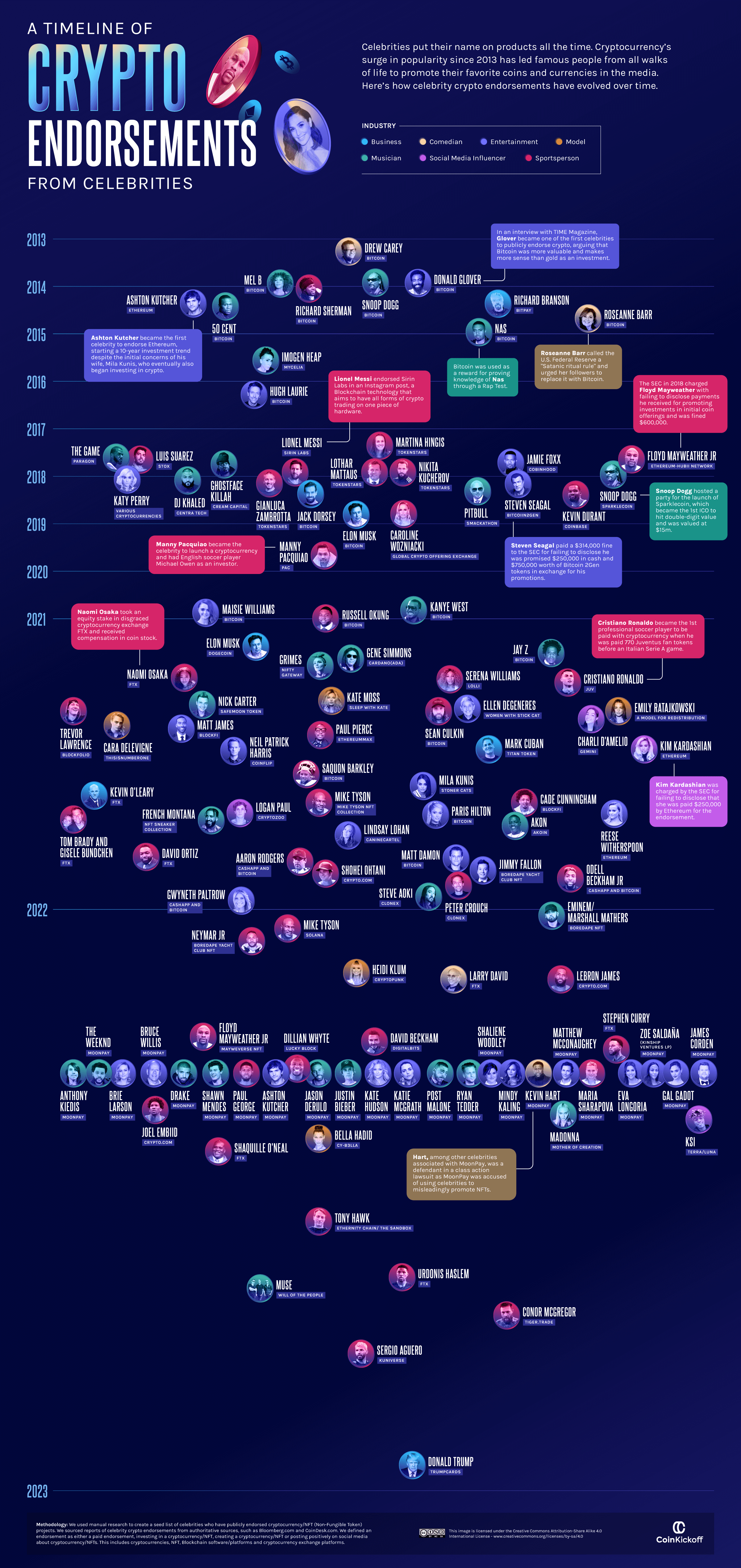 Click here to see the image in full size
Celebrities kept quiet on crypto until its second major bull run in 2017 when endorsements became on-trend. Soccer star Lionel Messi raised eyebrows when he became a global brand ambassador for Sirin Labs, the developer of the blockchain-based smartphone and all-in-one PC — posting about his enthusiasm for the technology to his 90 million Instagram followers. Meanwhile, Katy Perry also raised eyebrows for her…$—CrYpTo ClAwS—$.
The 'second crypto boom' of 2017 saw various celebrities attempt to endorse new and upcoming coins, with mixed success. However, Snoop Dogg stood out both as an early backer of Bitcoin and by cashing in on the ICO craze at the right moment, investing in SparkeCoin, which became the first ICO to surpass a price of $10.
By 2021, the rich and famous had moved into the latest crypto coin craze — fan tokens. Not to be outdone by his blockchain-backing soccer rival, Cristiano Ronaldo became the first player to be paid in cryptocurrency, converting his salary for an Italian Serie A match into 770 fan tokens of his club Juventus.
No timeline of celebrity crypto endorsements can be complete without mentioning the industry's most high-profile casualty to date — FTX. The currency exchange's rapid rise saw its valuation exceed $18 billion by July 2021. A wave of celebrity buy-ins followed, including Tennis star Naomi Osaka, Shark Tank host Kevin O'Leary and sports/fashion power couple Tom Brady and Gisele Bündchen.
However, many of these same celebrities were later named in a class-action lawsuit following FTX's collapse in November 2022. Investors were left out-of-pocket, accusing O'Leary and others of failing to properly disclose their investments. It wasn't just fund managers who lost out, however, as bankruptcy filings show that Brady and Bündchen held almost 2 million shares in FTX, equaling losses of $70 million between them.
Bitcoin's Boom-and-Bust Tale of Celebrity Backing
Meanwhile, the story of Bitcoin endorsements took a different path — one not as fraught with risk.
Cast your mind back to 2013. Barack Obama was sworn in for his second term as President, "Thrift Shop" by Macklemore and Ryan Lewis and "Blurred Lines" by Robin Thicke were dominating the music charts. Bitcoin's price surged from $12.15 to $1242 in ten months, in what became known as the 'year of the Bitcoin.'
It was here that Drew Carey — the comedian and game show host best known for Whose Line is it Anyway? and The Price is Right, tweeted the first public celebrity endorsement (to our knowledge) of cryptocurrency to his 650,000 followers. His tweet read: "Just tried to buy breakfast w bitcoins. Refused. #whenwilltheworldcatchuptomyhipness?"
Carey was one of a few celebrities who backed Bitcoin during its bullish run during 2013, including Donald Glover (a.k.a. Childish Gambino), Snoop Dogg and Mel B — the former Spice Girl who became the first artist to accept Bitcoin payments for her music. However, Bitcoin endorsements following the price slump of 2014 were kept to a minimum, with celebrities seeking out other trends away from crypto.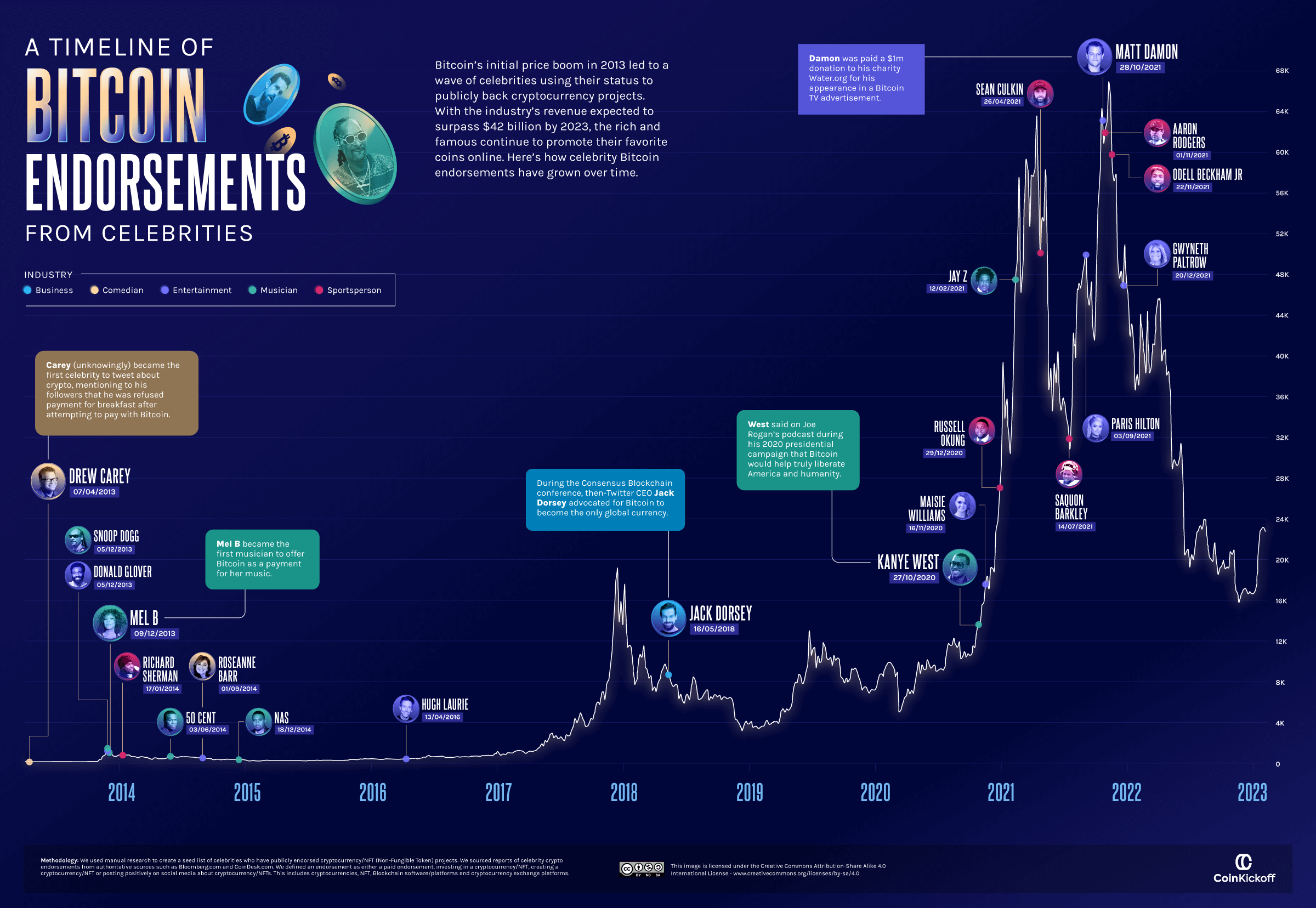 Click here to see the image in full size
This changed when Bitcoin's price surged past $17,000 in late 2017. At the Consensus blockchain conference in New York in May 2018, former Twitter CEO Jack Dorsey made a case for Bitcoin as the internet's de facto currency, arguing that "If we were able to use it a currency today, we could release our apps in every app store around the world instead of the five we're in."
Meanwhile, future Twitter CEO Elon Musk was fending off allegations that he was Bitcoin's enigmatic founder Satoshi Nakatomo. He claimed he was hacked following a surprise Bitcoin endorsement using a graphic of an anime girl in orange clothing. Musk is best known for his support of Dogecoin, in which he dubbed himself the "dogefather." However, the world's richest man has publicly backed Bitcoin, investing $1.5 billion into the currency through Tesla and causing the coin's price to surge.
The National Football League (NFL) and its superstar athletes are also no strangers to Bitcoin. At the end of the 2020 season, Carolina Panthers player Russel Okung became the first to accept payment for his salary in Bitcoin — agreeing to 50% of his wage being paid through crypto. He was followed by Sean Culkin of the Kansas City Chiefs, who described Bitcoin as the "future of finance" while agreeing to transfer 100% of his salary to Bitcoin.
During the 2021 season, Aaron Rodgers and Odell Beckham Jr — two of football's star athletes, partnered with CashApp. Both players announced that they would accept portions of their salaries in Bitcoin but were stung when their announcements caused the price of Bitcoin to drop by 39%.
Celebrity Crypto Endorsements — A Cautionary Tale
Our research uncovered 122 celebrities who publicly endorsed cryptocurrency or NFT projects, and we have packaged the full list into a helpful table. You can see below the date and link to the relevant article of your favorite celebrity's crypto backing.
Celebrity endorsements for cryptocurrency projects have taken various forms over the last decade, from incorporating Bitcoin to pay for music and merchandise to public announcements of major investments. It is impossible to say how much Bitcoin and other coins are in the wallets of the rich and famous, but we know that celebrities jumped on the trend during 2021 and 2022 like never before.
This support naturally comes with risk, and an SEC filing in 2017 warned specifically about the dangers of celebrity-backed ICOs and other endorsements, mandating that "any celebrity or other individual who promotes a virtual token or coin that is a security must disclose the nature, scope, and amount of compensation received in exchange for the promotion."
While public support on social media or an advertisement during the Super Bowl might seem harmless, crypto's volatile market is fraught with risk. Potential investors should fully understand the market and be prepared to risk capital when investing in cryptocurrency. The demise of FTX and its resulting high-profile litigation is a cautionary tale that endorsements might not always be what they seem.
Methodology
We used manual research using the terms "celebrity cryptocurrency endorsement list," "celebrity x crypto y" and "celebrities who have endorsed cryptocurrency" to create a seed list of celebrities who have publicly endorsed cryptocurrency or NFT (Non-Fungible Token) projects. We sourced reports of celebrity crypto endorsements from authoritative sources such as Bloomberg.com and CoinDesk.com.
An endorsement was defined as either a paid endorsement, investing in a cryptocurrency/NFT, creating a cryptocurrency/NFT or posting positively on social media about cryptocurrency/NFTs. This includes cryptocurrencies, NFT (Non-Fungible Token), Blockchain software/platforms and cryptocurrency exchange platforms.
The date used was the celebrities first endorsement of the crypto. If a celebrity had multiple endorsements, all endorsements were included, as well as all the dates of endorsements.
Other Popualr Guides