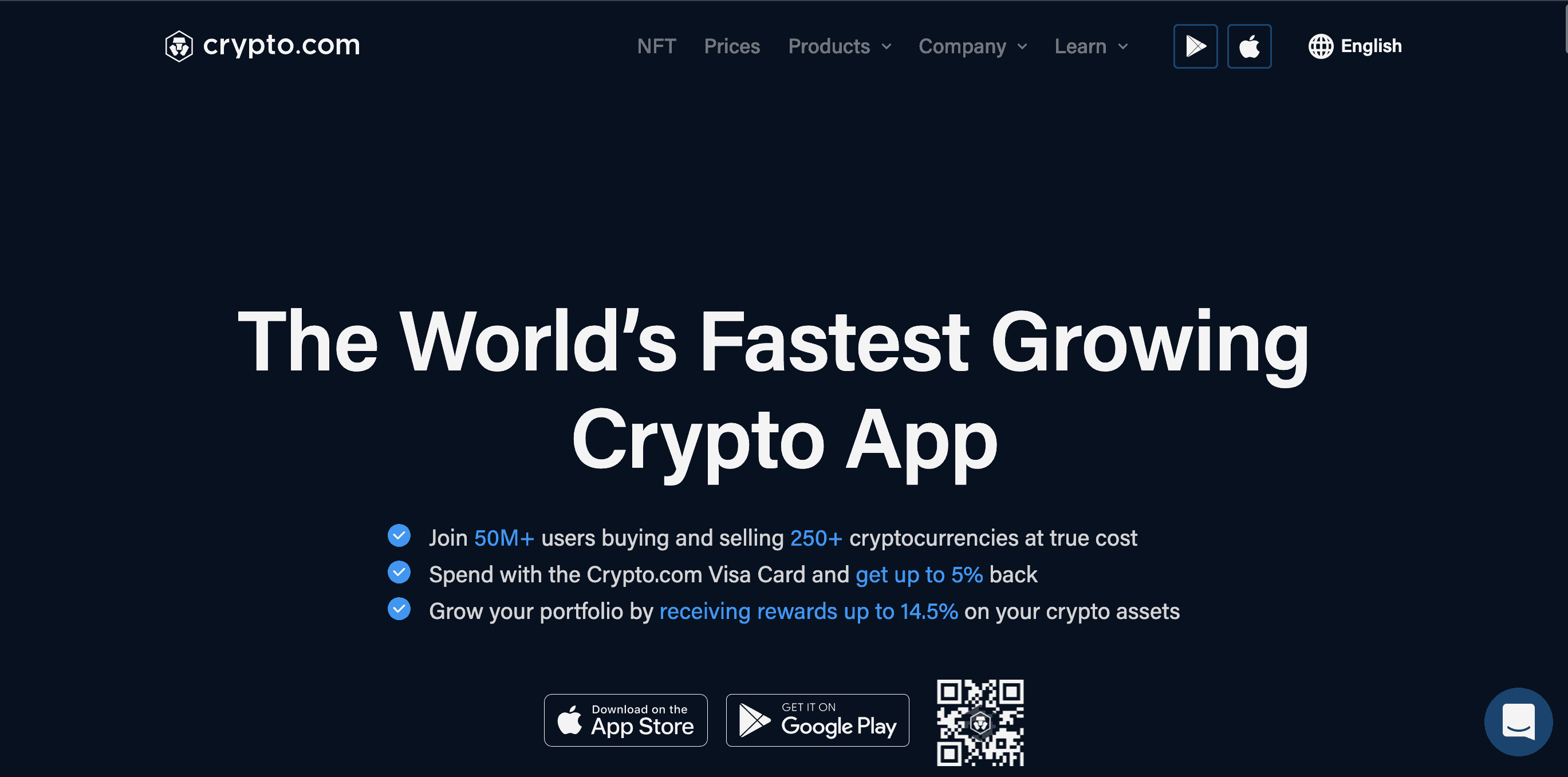 Crypto.com is a Singapore-based global cryptocurrency exchange that launched in 2019. The crypto exchange quickly rose to fame thanks to its super-bowl ads featuring LeBron James and Matt Damon. The company paid nearly 700 million dollars to rename Los Angeles' Staples Center "Crypto.com Arena" and was among the sponsors of the World Cup 2022 held in Qatar.
The expensive marketing strategies certainly paid off: Crypto.com quickly reached 10 million users in almost record time, and the numbers continued to increase, reaching around 70 million users, according to company claims. 
Crypto.com's success can be attributed to two main factors: good marketing and the incredibly high rewards it once offered to customers. 
However, when the crypto winter started, the company began laying off thousands of workers and withdrawing from other expensive marketing deals and sponsorships.
The promised rewards were also slashed, and rumors of bankruptcy started to float following the infamous collapse of FTX in November 2022.
In this Crypto.com review, we'll discuss all the features of the exchange and the rumors of bankruptcy and controversy surrounding the platform.
Pros & Cons of Crypto.com Exchange
Pros
Spot trading fees start at 0.075% for makers and takers.

The cryptocurrency exchange offers around 250 digital assets.

High trading volume.

The platform offers margin trading, derivatives trading, staking, and lending services.

The platform offers a Visa debit card. 
Cons
Crypto.com services aren't available to New York state-based customers.

The platform has a complicated user interface.

The Crypto.com exchange doesn't support fiat, but you can still use fiat currency via the Crypto.com app.

The exchange has received criticism after accidentally sending 400 million worth of Ether to

the Gate.io platform

. 

There are rumors of a possible bankruptcy surrounding the exchange in the crypto sphere.
About Crypto.com
Crypto.com was founded in 2016 in Hong Kong as "Monaco." It was renamed Crypto.com in 2018 and has since moved operations to Singapore. 
The exchange grew quickly thanks to an aggressive marketing strategy and became one of the top-rated exchanges, according to CoinMarketCap.
The exchange offers around 250 cryptocurrencies and 100 trading pairs. Other services include a mobile wallet, an NFT marketplace, a payment service, and opportunities for lending, staking, and borrowing crypto.
The platform also offers a Visa debit card to top up with crypto. The visa card offered many incentives when it launched, including high cashback rewards, which turned out to be unsustainable. The platform has since slashed the rewards, leading many users to complain and close their accounts.
The exchange platform offers spot trading, margin trading, derivatives, and DeFi products.
Crypto Assets Available on Crypto.com
Crypto.com supports around 250 digital assets and 100 trading pairs available for spot trading and futures trades. Popular crypto assets include
Crypto.com also has a native Cronos (CRO) token. 
Fiat Currencies Supported on Crypto.com
Crypto.com app offers fiat wallets for 9 currencies, including USD, AUD, CAD, EUR, and GBP. You can deposit and withdraw fiat currency to your bank account via your fiat wallet.
You can use the fiat wallet to purchase crypto, sell crypto to fiat, top up your Crypto.com Visa Card, and withdraw fiat to your bank account.
Crypto.com doesn't charge fiat withdrawal fees, but third-party apps and banks usually do.
Please remember that you can't withdraw fiat from your Crypto.com exchange account. You can only withdraw fiat via your Crypto.com fiat wallet. That means you have to move the crypto in your exchange account to the Crypto.com app and convert your crypto to fiat before the withdrawal.
Fiat withdrawal options vary but include SEPA and ACH transfers. The minimum fiat deposit and withdrawal limit is 500 USD.
You can also purchase crypto with Google Pay, Apple Pay, and credit or debit cards on Crypto.com.
Countries Supported on Crypto.com
Crypto.com is available in many countries, including the US, UK, Australia, and Canada.
However, Crypto.com may restrict certain services, including margin and derivatives trading, in certain areas, including the US. 
Crypto.com Trading Fees
Crypto.com exchange has a tiered maker/take fee schedule. Maker and taker fees start at %0.075 for tier 1 users at the spot market. Tier levels are adjusted based on users' 30-day spot trading volumes.
Derivatives fees start at %0.017 and %0.034 for makers and takers, respectively.
You can also reduce trading fees by staking CRO on the platform. 
When you buy crypto using the Crypto.com app (instead of the exchange), the app may charge a fee as a spread. The spreads vary depending on the market conditions of the asset you're buying.
Main Features of the Crypto.com Crypto Exchange
Crypto.com is an ecosystem of different features: there is the Crypto.com app, Crypto.com exchange, Crypto.com wallet, and so on. Overall, the company offers several features, including derivatives products, margin trading, OTC trading, and a Visa debit card. Let's look at some of the features more closely.
Margin Trading
Margin trading allows you to borrow funds from the platform to make higher investments. You can trade over 60 digital assets in the spot market with a margin. 
Margin traders can trade on select digital currencies with 3x, 5x, or 10x leverage. You can receive a discount on interest rates if you stake CRO as collateral.
Note that margin trading only works with limit and market orders.
Margin trading fees and interest rates are listed on the Crypto.com website.
Users from the US, UK, Australia, and most European countries are restricted from margin trading on the platform.
Derivatives Trading
Derivatives allow traders to speculate on the future price of cryptocurrencies. You can buy and sell perpetual and futures contracts with up to 100X leverage on the platform.
Please note that derivatives trading is limited to select countries, and users from the US, UK, Australia, and most European countries can't access this feature.
Crypto.com Visa Prepaid Card
Crypto.com's Visa prepaid card allows users to purchase goods and services with their crypto or withdraw fiat from ATMs. The card has been a popular feature since its inception due to the high rewards it offers. Unfortunately, it no longer offers the same benefits.
The company slashed its cashback rewards in June 2022, so lower-tier (Midnight Blue and Ruby Steel) users no longer receive rewards. 
Others can receive a varying rate between 0.5% and 2% (previous rates varied between 0.5% and 5%).
Staking rewards (%1-%8) for prepaid cards have also ceased.
Some benefits include five months of Spotify, Netflix, Amazon prime, or Expedia memberships. You can see a list of benefits and fees on the Crypto.com webpage.
The rewards are paid in CRO tokens, which also experienced a steep fall in 2022.
CRO Staking
Crypto.com offered incredibly high-interest rates for staking CRO on the platform. Users could receive more than 10% APY in staking rewards with a small initial investment.
Of course, high rewards rates like these aren't sustainable (Celcius offered similar rates to incentivize customers to join but left them high and dry once the platform went bankrupt). 
Predictably, Crypto.com slashed its staking rewards and reduced the benefits it offered. You can still get discounts on trading fees.
Crypto.com NFT Marketplace
Crypto.com has its own NFT marketplace on the Crypto.org blockchain where you can create and sell your own NFTs. Supported chains include Ethereum, Polygon, Cronos, and Crypto.org Chain.
Crypto.com Pay Rewards
You can receive cashback in CRO if you take part in Crypto.com Pay Rewards Program. You can earn CRO cashback by sending CRO to another user via the crypto.com app, using Pay Checkout, or purchasing gift cards.
How Easy Is It to Open a Crypto.com Account?
Opening a Crypto.com account is pretty easy. 
Download the official Crypto.com app from the App Store or Google Play store. You should register with a valid email address. You'll receive a confirmation email with a link to proceed.
Once you confirm your mobile phone number via the verification code, you must complete the ID verification process.
Provide your full name, a government-issued photo ID (passports are recommended), and a selfie for verification. ID verification process may change depending on your country.
Once you complete the process, your status will change to Verified in 3 business days. If your account isn't verified after three days, you can contact customer support via the chat option.
How Secure Is Crypto.com?
Crypto.com employs industry-standard security measures, including cold storage for customer funds, restricted withdrawals to new addresses, and multifactor authentication.
However, the exchange has had a few security hiccups and has been hacked before.
It's also important to note that the company has been suffering rumors of possible bankruptcy and other controversies. While these may not amount to much, it's nonetheless important to educate yourself on possible issues. 
The company received criticism after it came to light that 400 million dollars worth of cryptocurrency had been transferred to Gate.io right around the time most exchanges started publishing proof-of-reserves to calm investor doubts after the collapse of FTX.
The CEO, Kris Marszalek, announced the funds were accidentally sent to a white-listed address and were recovered without issues. Both platforms denied any wrongdoing and claimed their proof-of-reserve audits didn't include the transferred crypto.
This wouldn't be the first time the platform had made an accidental transfer. In December 2022, the company sent $10 million to a woman who requested a $100 refund. The company has filed a lawsuit to recover the lost funds.
Crypto winter and the collapse of FTX have made investors and customers doubt how much they can trust the exchange platforms and their CEOs. FTX's former CEO Sam Bankman-Fried famously denied the platform had been struggling just two days before the company's bankruptcy.
Since the fall of FTX, multiple sources have questioned whether Crypto.com will survive to see another day, with Binance CEO CZ fanning the flames.
Journalists and crypto sleuths also accused CEO and co-founder Kris Marszalek of having a suspicious past. Marszalek left his previous company amidst a bankruptcy that left many customers out cold.
Has Crypto.com Ever Been Hacked?
The exchange was hacked in January 2022 and lost around 30 million dollars worth of crypto. 
The CEO, Kris Marszalek, downplayed the attack as an incident at first and claimed no customer funds were stolen. The company later admitted the hackers stole some 440 BTC, 4,800 Ether, and different amounts of various cryptocurrencies from customer accounts by exploiting a vulnerability.
The affected customers were reimbursed by the platform.
The platform added multi-factor security and suspended withdrawals to new addresses as a security precaution.
The company also announced an "Account Protection Program" to protect user funds in case of hacks. The program is only eligible for certain countries.
To qualify for the program, users must have enabled multi-factor authentication and set up an anti-phishing code. Other requirements involve not using a jailbroken device and filing a police report. The upper limit for reimbursements is $250,000.
Is Crypto.com a Regulated Exchange?
Crypto.com is registered in the UK, İtaly, and South Korea.
How Does Crypto.com Compare to Other Crypto Exchanges?
Let's see how Crypto.com stacks up against Binance. You can also visit our Binance review for a more in-depth look at Binance.
Fees
Crypto.com slashed its fees in August 2022 and started charging only 0.075% for maker and taker fees. These rates are incredibly competitive by market standards and might be the lowest trading fees a popular centralized exchange offers.
Binance offers 0.10% for both makers and takers but also provides various zero-fee trading pairs, including BTC/USD, BTC/ETH, and more.
Features
Crypto.com offers around 250 crypto assets, margin and futures trading, and a pre-paid visa debit card. However, the staking rewards and cashback rewards for the Visa debit card are no longer very profitable. 
Binance offers around 350 cryptocurrencies and also offers similar trading features.
Security
Both platforms have been hacked in the past and experienced major security breaches.
Binance CEO CZ recently took a shot against Crypto.com on Twitter, warning customers to stay away after 400 million worth of crypto had been moved to another platform. 
It's possible that Binance's CEO had simply sought to score one against its competitors. The Crypto.com CEO argued the transfer was simply an accident, and all the funds were recovered.
It's also true that Crypto.com has a history of "accidental transfers," which doesn't install confidence in the platform.
Overall, it's a good idea for users to take matters into their own hands regarding the safety of their cryptocurrency. Don't leave high amounts of crypto assets in your exchange wallet.
Does Crypto.com Have an App?
Crypto.com is a mobile app, meaning you can only access the Crypto.com ecosystem via your phone. The app is available on both the App Store and Google Play stores. 
Crypto.com Review Final Thoughts
Crypto has been going through a rough patch since the last quarter of 2021. The markets have experienced significant falls, and many exchanges dropped from the scene, including FTX, which had seemed too big to fail. Users and investors are anxiously waiting to see which exchanges will fail next.
Crypto.com raised some red flags when it sent 400 million worth of crypto to another exchange, claiming it was an accident. While the funds were recovered, critics were quick to take a deeper look at Crypto.com.
Other causes of worry include slashed rewards, thousands of laid-off employees, and the CEO's past conduct, though no conclusive evidence shows the platform might fail.
As of December 2022, we're experiencing a schrödinger's crypto moment. Crypto exchanges are rushing to publish proof of reserves to show they hold the funds entrusted to them, but such proof isn't conclusive without a formal audit.
Overall, Crypto.com has much to offer, including many altcoins to trade at super competitive prices. However, it might be a good idea to explore some other options until the waters calm down and reveal which crypto exchanges manage to weather the storm.
If you want to learn more about other cryptocurrency exchange platforms, check out our post on the Best 22 Crypto Exchanges and 8 Alternatives.
Crypto.com User Reviews
Review Summary
5 out of 5 stars (based on 1 review)
Recent Crypto.com Reviews
Easy to use
I like Crypto.com because it is easy to use and offers low fees.
Submit a Crypto.com Review