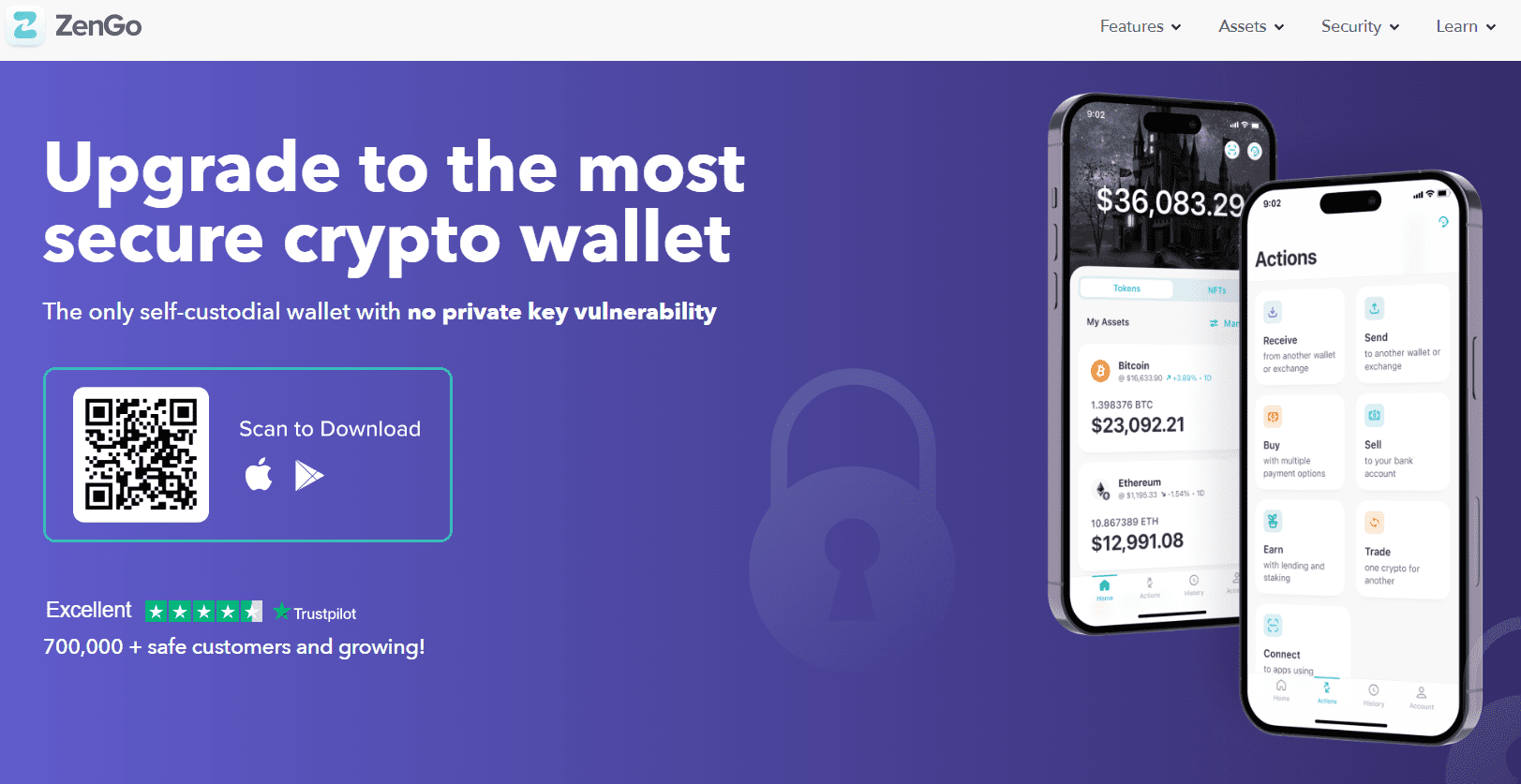 ZenGo is an innovative multi-currency mobile crypto wallet that offers exceptionally high security with a unique private key storage mechanism. The wallet supports a variety of cryptocurrencies and provides users with a simple and easy-to-use interface.
This ZenGo review will help you learn all the characteristics of the wallet and find out exactly what features it offers. 
Pros & Cons of ZenGo
Pros
Innovative private key storage mechanism that adds an additional layer of security to your crypto.

dApp connectivity with the

Wallet Connect

feature.

ZenGo supports numerous trending cryptocurrencies.

Users can buy crypto within their ZenGo wallet app.

Unlike many competitors, ZenGo supports crypto selling.

Very user-friendly.
Cons
ZenGo only supports 75 cryptocurrencies.

The bank card purchase fees are high.
About ZenGo
The ZenGo startup was founded in 2018 by a team of programmers and blockchain enthusiasts from Israel. The team launched the wallet's first version in 2019 to a limited number of beta users, but it wasn't until 2021 that ZenGo launched the fully-functioning wallet app with all of its core features.
Even then, ZenGo lacked some crucial functionalities, such as dApp connectivity. Still, the team quickly patched this up and introduced the Wallet Connect features that allow users to use thousands of dApps.
The goal of the ZenGo team is to create a practical multi-currency crypto wallet that offers a third approach to private key security besides the two existing solutions of self-custodial and third-party custodial options.
Self-custodial or non-custodial wallets let users keep the private keys to their crypto on their mobile devices. In contrast, custodial solutions, such as centralized exchange platforms, keep users' private keys and store their crypto like a crypto bank. 
ZenGo uses a novel approach called multi-party computation (MPC). This method uses a long-existing cryptographic approach and implements it in its blockchain technology. Simply put, a portion of your private keys is stored on your device, while the other part is kept on ZenGo's server. Both portions are encrypted, and no one can view their contents unless they are connected. 
Users need to authenticate each transaction on ZenGo with a face-id scan to prevent anyone else from accessing their crypto. Thanks to this mechanism, there's no single point of failure, and if a hacker breaches your phone or the ZenGo server, they can't steal your private keys because they would only find useless pieces of data. 
Additionally, users can recover their wallets at any time on another mobile device by scanning their faces with the ZenGo app.
Crypto Coins Available on ZenGo
ZenGo allows users to store 75 cryptocurrencies, with a constant tendency to add new cryptos to the selection. This is very little compared to some popular crypto wallets with cross-chain compatibility that allows them to store thousands of digital currencies. However, ZenGo supports a strong selection of trending coins and tokens, which is enough for most average crypto users.
Some of the currencies you can store in your ZenGo wallet are Bitcoin (BTC), Chainlink (LINK), Polygon (MATIC), Tezos (XTZ), Bnb (BNB), UniSwap (UNI), Dogecoin (DOGE), Aave (AAVE), Chiliz (CHZ), Decentraland (MANA), Nexo (NEXO), Compound (COMP), 0x (ZRX), Loom (LOOM), Bancor (BNC), Ethereum (ETH), and Tether (USDT). 
Fiat Currencies Supported on ZenGo
ZenGo supports three fiat currencies: EUR, USD, and GBP. Users can purchase cryptocurrency within the ZenGo app with these fiat currencies.
Countries Supported on ZenGo
ZenGo is available in over 180 countries, meaning that users in most parts of the world can use the wallet. 
ZenGo Fees
ZenGo is free to use, but you'll incur various fees for conducting different operations. 
For example, when transferring cryptocurrency to third-party addresses, you'll incur a standard blockchain transaction fee that depends on the blockchain you're using. Since most assets on ZenGo are based on Ethereum, you'll incur ETH gas fees, which can be pretty expensive during periods of high network traffic.
It's best to check the current Ethereum gas fees on CoinMarketCap and initiate transfers when gas fees are low.
As far as the ZenGo crypto trading feature, which you can access through the Swap option, you'll incur a flat exchange fee of 0.125% per trade. This is a very competitive fee rate, and it's very similar to fees on Binance and KuCoin, which have some of the lowest fees on the market. 
Also, users incur fees when buying cryptocurrency through ZenGo. When you're using a bank card to purchase crypto, you'll always need to pay a 5.99% fee, which is relatively high, and it's higher compared to some other wallets and exchanges where you pay a considerably lower 3.99% fee.
If you use a bank account transfer to purchase assets, your standard fee will be 1.99%.
Main Features of ZenGo
ZenGo's key feature is providing users with a safe crypto wallet to store all their crypto assets. ZenGo is exclusively available as a mobile wallet app. Both iOS and Android users can install ZenGo on their mobile phones. 
The wallet itself has an intuitive, white-colored interface where users can easily manage their crypto portfolio. The main screen is where you can view your crypto balances and the fiat currency value of each of your cryptocurrencies.
Also, the wallet supports NFT storage and has a handy NFT section you can access in the upper right section of the interface. The Tokens and NFT tabs allow you to switch between your crypto and NFT wallets.
In the lower section of the ZenGo interface, you'll see the Actions button, which gives you access to various functions. You can initiate transactions, see your public addresses to receive crypto, buy assets, swap crypto, stake selected cryptocurrencies, or connect to dApps from the Actions menu. 
The Trade tab is the exchange section of ZenGo, where you can swap numerous coins and tokens. You can initiate a crypto purchase through the Buy button with one of the multiple payment methods supported by ZenGo, including SEPA and SWIFT bank account transactions, MoonPay, Banxa, ApplePay, and Coinmama. Additionally, you can use any Visa or Mastercard bank card to buy crypto on ZenGo.
While most popular crypto wallets only allow users to buy crypto, ZenGo has a built-in cash-out feature that lets users sell crypto by converting it to fiat currency and sending the cash to their bank account.
Finally, ZenGo's Wallet Connect feature enables users to browse and connect to numerous decentralized applications such as DeFi protocols, yield-farming apps, crypto loaning services, digital marketplaces, crypto gaming platforms, and more. However, users only have access to dApps built on the Ethereum and Tezos blockchains for now. 
How Easy Is It to Open a ZenGo Account?
ZenGo has a straightforward process for creating new accounts:
Download the ZenGo app, and be sure to use the official link from the platform's

website

. 

Once installed, open ZenGo and enter your email. 

Confirm the email address by entering the ZenGo code sent to the provided address.

Set up your biometric authentication method. This can be a face ID or a touch ID. Remember, this will be your method for accessing the wallet and approving transactions.
Before using ZenGo, you should also back up your wallet:
Select the

My Account

tab and choose the

Back Up Now

option.

ZenGo will now create your face map with the help of your front mobile camera. Your face map is your tool for recovering the contents of your wallet if you lose access to your mobile device.

Once you're done backing up your wallet, you can start storing crypto in your ZenGo app.
How Secure Is ZenGo?
ZenGo's key selling point is its security. As mentioned earlier, ZenGo uses the MPC private key storage mechanism that splits your private key between your device and the ZenGo server. 
This makes it much more difficult for hackers to steal your crypto compared to non-custodial wallets or crypto custodian services. It's extremely unlikely that both your device and the ZenGo server will get hacked simultaneously.
Even in that case, the hackers wouldn't be able to piece together your private keys thanks to the advanced encryption method that only decrypts the private keys once both parts are connected. The hackers wouldn't be able to find out which two components fit together because only your biometric authentication method can unlock the keys and identify the two elements of your private keys.
This is why MPC is next-level crypto security.
However, ZenGo's security features don't stop here. The wallet also has a special recovery kit feature consisting of two elements. The first element is your face scan, and the second is a recovery file that the wallet automatically stores in your personal cloud storage account.
If you lose your device or delete the ZenGo app, you can quickly recover your wallet by scanning your face with ZenGo, unlocking the recovery file, and fetching your private keys. 
Finally, ZenGo has a Web3 firewall that helps users protect their wallets from risky dApps. The firewall has a green, yellow, and red safety level that classifies the dApps you're connecting to. While green apps are trustworthy, yellow ones need double verification, and red ones are risky and should be avoided. 
Has ZenGo Ever Been Hacked?
ZenGo prides itself on being a top-security crypto wallet with no hacks since its launch. 
How Does ZenGo Compare to Other Crypto Wallet Alternatives?
ZenGo is incredibly secure and feature-rich, but what about other popular crypto wallets with similar services? Let's look at how ZenGo fares against Trust Wallet and Coinbase Wallet. 
Compared to ZenGo's 75 cryptocurrencies, both competitor wallets support several thousand digital currencies because they are compatible with various blockchains and allow users to add custom tokens from those networks. For example, users can add any Ethereum-based ERC-20 or Binance chain-based BEP-20 token, which amounts to thousands of crypto projects.
Additionally, both wallets support a multitude of leading blockchains, meaning that users have access to much more dApps than just Ethereum and Tezos-based platforms, like ZenGo. 
As far as crypto swapping, ZenGo supports similar exchange services to Coinbase Wallet and Trust Wallet, but its trading fees are way lower than those on the Coinbase Wallet. As for Trust Wallet, the fees are very similar.
Regarding crypto purchasing options, the competitor wallets give users options to buy a higher number of cryptocurrencies than ZenGO.
ZenGo's primary advantage over these two competitors is the ability to sell crypto and the unique MPC security measure, which offers a higher degree of safety compared to non-custodial wallets.