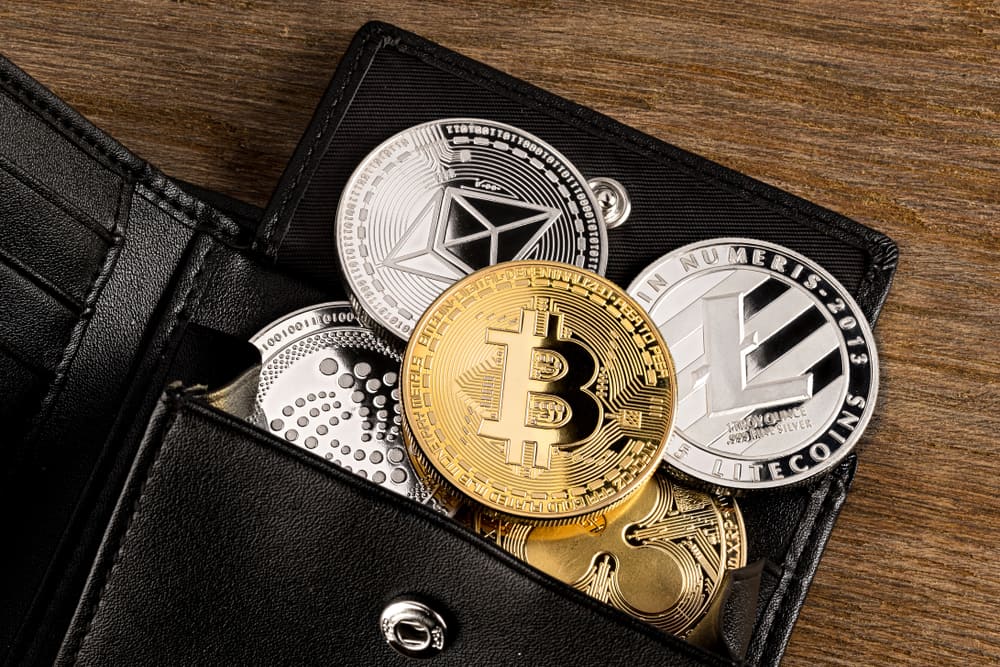 The safety of your crypto portfolio should be your top priority because there are so many potential security risks in the crypto market.
There are loads of hackers trying to get their hands on crypto that doesn't belong to them, either by hacking crypto exchanges, performing phishing scams, or even compromising the security of whole blockchain networks.
Since you can't store crypto in a physical wallet or in a traditional bank, blockchain developers created crypto wallets to keep your assets safe.
A crypto wallet keeps your digital currency portfolio out of reach of malicious individuals and security risks. There are various types of crypto wallets, from software-based solutions for desktop computers or mobile phones all the way to physical, hardware crypto wallets that keep your assets offline.
Some wallets store the private keys to your crypto on your device, while others take custody of your assets and keep them on company servers.
In this guide, we'll look at what a crypto wallet is, how they work, and the different types of wallets available on the market.
Crypto Public Addresses
Before diving into the details of crypto wallets, we need to go through the basics of the blockchain operational mechanism behind cryptocurrencies.
Every cryptocurrency only exists within its native blockchain. For example, all Ethereum (ETH) coins are always stored on the Ethereum blockchain without leaving the network. When users conduct ETH transactions,  the coins simply change their virtual locations on the blockchain.
These virtual locations are called public addresses and are used to store crypto. Since blockchains are public ledgers that anyone can monitor online with the help of a blockchain explorer, anyone can see the amount of crypto stored in any given public address.
However, since users don't need to associate any personal information with their public addresses, every user has a certain degree of anonymity (or pseudonymity) when storing crypto in their public addresses. 
This means that you can freely share your public address with third parties when you need to receive some crypto because no one can steal your assets just by knowing your public address.
The fact that every crypto is stored on its native blockchain means that you need to use multiple public addresses to store all of your cryptos. To store Bitcoin (BTC), Ethereum, and Litecoin (LTC), you need to use three separate public addresses on each of these networks.
Because of the specific differences in public address formats and tech specifications of different blockchains, there are different crypto wallets for most of the major blockchains. There are specific BTC wallets that only support Bitcoin or are only compatible with the Ethereum blockchain.
However, nowadays, many multi-currency crypto wallets support numerous blockchains and provide users with all the public addresses they need to store in their portfolios.
Crypto Private Keys
While public addresses are used to store crypto, private addresses, commonly known as private keys, are needed to sign transactions and manage the assets stored in a specific public address.
Your private keys are a sort of cryptographic password that lets you manage your crypto, send it to other public addresses, and interact with decentralized apps (dApps), exchanges, and other crypto platforms.
No one can access the crypto within a certain public address without the right private keys. No technology can breach a public address and initiate a transaction without access to the private keys. Because of this, private keys are the prime target of hackers. With these keys, an unauthorized third party can simply initiate a transaction from your public address and send all of your cryptos to their own public address.
That's why you should never share your private keys with anyone. Crypto wallets are specifically designed to protect private keys from unauthorized access. Most crypto wallets use passwords or PIN codes as an essential security measure for protecting private keys. However, the most important measure is the recovery seed phrase. Crypto wallets generate a 12 or 24-word recovery seed phrase that encrypts your private keys with randomly generated words.
The only way to unlock your private keys and manage the crypto stored in your wallets is if you have access to the recovery seed phrase. Many crypto scams, for example, ask users to provide their recovery seed phrases to access a website or a platform's features. You should stay clear of every platform that asks for your seed phrase because it's surely an attempt to breach your wallet. 
Write your seed phrase down and stash it somewhere safe. In case you lose access to the device you used to access your wallet, you can recover the contents of your wallet on another device by entering your seed phrase.
Custodial Wallets
When you store fiat currency in a bank, you're delegating custody over your money to a third party. The bank safeguards your money, and you can access it by following certain rules, withdrawal limits, and bank transfer protocols. The bank is the custodian of your money. 
In the crypto world, there are also custodians, such as centralized cryptocurrency exchange platforms or crypto staking companies. Centralized crypto exchanges like Binance require users to deposit crypto into their public addresses in order to trade. Staking companies like Nexo offer staking rewards but also require users to deposit their crypto into their company wallets. 
The custodians keep user funds in their public addresses, and the private keys to those assets are stored on company servers. When you're using a centralized exchange platform's wallet to store your funds, you agree to specific rules imposed by the exchange platform and give your trust to the platform to protect your crypto. 
If a custodian's server gets hacked, you risk losing all of your stored cryptos. This means that your assets are as safe as the custodian's security measures are. Numerous high-profile exchange platform hacks have left users without hundreds of millions of US dollars worth of assets since the launch of Bitcoin in 2009. 
When you're using a crypto custodial service, you aren't really in control of your funds, which is in stark contrast with the essential values of crypto, such as full asset ownership and decentralization. 
Non-Custodial Wallets
Custodial storage is mostly popular among crypto beginners who think storing assets in a centralized exchange wallet is safer. Experienced crypto enthusiasts tend to use non-custodial wallets to store their assets.
A non-custodial wallet doesn't store private keys on company servers. Instead, the wallet lets users take full control over their private keys by storing them on the users' devices. 
If you're using a non-custodial wallet on your desktop computer, your private keys will be stored on your hard drive. If you use a mobile non-custodial wallet, the keys will always stay on your mobile device.
Non-custodial wallets encrypt your private keys and let you manage them as you wish. The private keys are entirely your responsibility, and their safety depends on the security of the device you're using and your browsing habits.
When using a non-custodial crypto wallet, you should be very careful about the websites you visit, the links you click on, and the decentralized applications you connect your wallet to. Hackers are known to use phishing scams that attempt to steal wallet passwords or private keys by initiating carefully designed malware once you click on a specific link. 
The best thing you can do to preserve the safety of your private keys when using a non-custodial wallet is to only use trustworthy, popular dApps, and never click on unverified links. 
The wallet manufacturers can't access the contents of your wallet since your recovery seed phrase is randomly generated during your account creation process, so be very careful not to lose the seed phrase because you'll lose access to your funds too. 
Hot Wallets
Crypto wallets are divided into hot wallets and cold wallets, depending on their connection to the web. Hot wallets require a constant internet connection to operate, while cold wallets keep your private keys offline.
Hot wallets are installed on user devices, such as desktop computers, laptops, or mobile phones, and work as any other software program. Let's have a look at the different categories of hot wallets.
Browser Extension Wallets
There are various hot wallets that come in the form of browser extensions, such as MetaMask and Coinbase Wallet. These wallets work as simple browser extensions for Google Chrome and a few other web browsers. You just need to install the browser extension, and you're ready to use it by clicking on your browser extension menu and selecting your wallet app.
This type of crypto wallet is always accessed through your browser, while your private keys are encrypted and stored in your browser's data store. This type of non-custodial storage uses web browsers for storing private keys, which means you need to be careful when browsing the web not to click on potential malware that can compromise your browser. 
MetaMask is the most popular browser extension crypto wallet that allows users to store thousands of digital currencies built on various blockchains. Users can easily connect their Metamask wallet to most decentralized apps just by clicking the appropriate button and approving the connection within their MetaMask wallet. 
Desktop Wallets
Desktop wallets work as standard programs for PCs. You need to download the wallet's installation files and install them on your computer. These wallets use password protection each time you start the app. Desktop wallets always store your private keys on your computer in an encrypted format that can only be decrypted with your recovery seed phrase. 
When creating a desktop wallet account, make sure not to keep your recovery seed phrase in a text document on your computer. If you want to store your seed phrase in a text document, it's best to keep the document on a USB device that isn't connected to the internet. If you store your seed phrase on the computer you're using to access your desktop wallet, hackers might find the text document with the seed phrase and get access to your funds.
Exodus and Atomic Wallet are some of the most popular desktop wallets on the market. Both of these wallets are also mobile wallets with apps for iOS and Android, but if you're looking for an easily accessible multi-currency desktop wallet that supports hundreds of cryptos, you won't make a mistake if you choose any of these two wallets. Besides storing crypto, you can also use them to swap coins, buy crypto with fiat currency, and access decentralized apps. 
Mobile Wallets
Mobile wallets are the ideal solution for users who prefer to access and manage their crypto portfolio while on the move. Mobile wallets work as any other mobile app.
You need to download and install it through the Google Play Store or the App Store. Most popular mobile wallets have versions for both Android and iOS operating systems.
Mobile wallets store your private keys on your mobile device, so you should be careful not to compromise your phone's security. It's a good idea to install a reliable anti-virus app and to clean your device's storage from any unnecessary cookies and under data residue regularly. 
Hackers often try to access mobile phones and steal private keys through unauthorized downloads. That's why you should make sure your phone settings are set to manual download approval for all new apps. This way, you'll be able to control what your phone is downloading. You should also ensure that app updates are set to manual approval. It's also important not to store your seed phrase in any text app on your mobile device. 
Additionally, stay clear of unknown links in messenger apps. For example, the Telegram messaging app is known to be heavily infested with crypto hackers that use crypto Telegram groups to bait people into clicking on phishing links or downloading malware. 
One of the most popular mobile wallets on the market is Trust Wallet. This app is easy to use, comes with a clean mobile interface, and supports thousands of different cryptocurrencies and loads of blockchain networks.
Trust Wallet also allows users to exchange crypto within the app, buy various digital currencies with bank cards, store NFTs, and access crypto platforms through the built-in dApp browser.
Cold Wallets
Cold wallets are a step up in terms of security compared to hot wallets because they keep private keys offline. This means that cyber attackers can't steal your private keys since they can't reach them through an internet connection.
Cold storage is best for keeping large amounts of digital currency and is often used by large-scale investors to secure their funds. However, it's also a great choice for everyday crypto users who want to increase the safety of their assets.
Let's have a look at the two categories of cold wallets.
Hardware Wallets
Hardware wallets are small USB devices that come in different shapes. These devices are specifically built to store private keys; you can't use them for anything else. Hardware wallets don't have a constant internet connection like hot wallets. Instead, these wallets are only connected to the internet when you're managing your crypto portfolio. 
However, even then, hardware wallets make sure that the private keys you're storing aren't connected to the web. This means you can safely manage your crypto without worrying that someone can steal your private keys while your hardware wallet is connected to your computer or mobile device.
Hardware wallets use a combination of passwords, PIN codes, and hardware encryption to protect your assets. In case you lose your hardware wallet or someone steals it, you can easily recover the contents of your wallet on another device by entering your recovery seed phrase. 
The leading hardware wallet manufacturers on the market are Ledger and Trezor. Their wallets have never been hacked and are considered the most secure devices for storing your crypto offline. Ledger devices require users to install specific apps for each crypto, while Trezor allows users to store crypto without installing any additional apps. Both wallets support more than 1,000 digital currencies.
Paper Wallets
The other type of cold crypto wallet are paper wallets. These wallets are basically pieces of paper with private keys on them. You can create a paper wallet by visiting a paper wallet creation platform for a specific currency, such as Bitcoin.
Keep in mind that only a limited selection of top cryptocurrencies have paper wallet providers because this type of storage has mostly been replaced by hardware wallets. 
Paper wallet providers let users randomly generate a public address to which they can send crypto. Users need to print out a piece of paper with both the public address and the private keys provided by the paper wallet generator. Paper wallets store public addresses and private keys in both alphanumeric format and as QR codes. The leading Bitcoin paper wallet generator is Bitcoinpaperwallet.com. 
Although paper wallets are rarely used nowadays, you can still use them to ensure your crypto is safe and out of reach of cyber attackers. Just keep your paper wallet somewhere safe and make sure not to tear it or spill liquid over it. 
Conclusion
A crypto wallet is essential for every crypto enthusiast because it keeps your asset safe from scammers and cyber attackers. It's important to choose the right crypto wallet for your needs and to use it responsibly to prevent hackers from getting hold of your private keys.
If you decide to use a hot wallet, it's best to use a non-custodial wallet that lets you manage your private keys. When it comes to cold wallets, hardware wallets are a better option than paper wallets because you can't accidentally damage them, and they don't deteriorate over time. 
You can also combine a trustworthy hot wallet with a hardware wallet. This will allow you to easily manage your funds through a hot wallet interface while storing your private keys offline in a hardware wallet device.