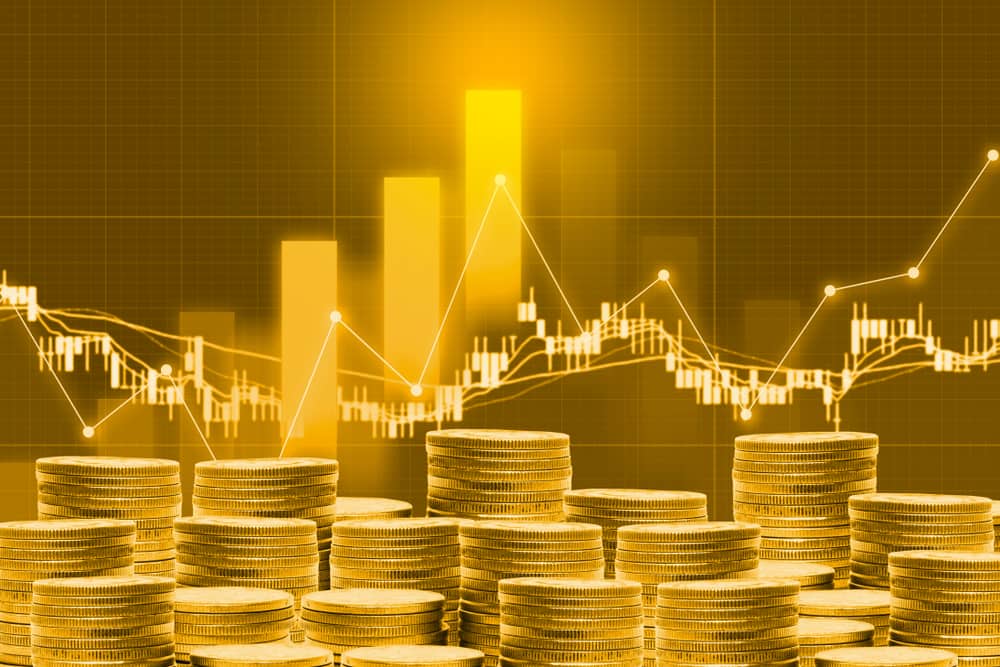 Established in 2019 by a Stanley-Morgan executive, Phemex is a cryptocurrency exchange focusing on trading derivatives in a safe and secure blockchain environment. 
Having in mind that margin trading is one of the riskiest trading instruments in the industry, we did thorough research on the platform's functionalities and security to see whether it's secure enough and stands up to its fee-free trading claims. 
Our Phemex Review is next on. 
Pros & Cons of Phemex
Pros
High transaction-processing time;

Basic and sophisticated order types;

Instant crypto-to-fiat currencies converter;

Margin trading with up to 100x of leverage;

OTC (Over-the-Counter) desk for institutional and large-volume traders;

Trading on perpetual contracts;

Holds 100% of user's assets in cold storage wallet;

Demo account to test the platform's features;

24/7 customer service;

Fee-free spot trading.
Cons
You have to opt for a premium membership to use some added benefits and trading functionalities;

Some jurisdictions are restricted from accessing the trading features on this platform, including the US. 
About Phemex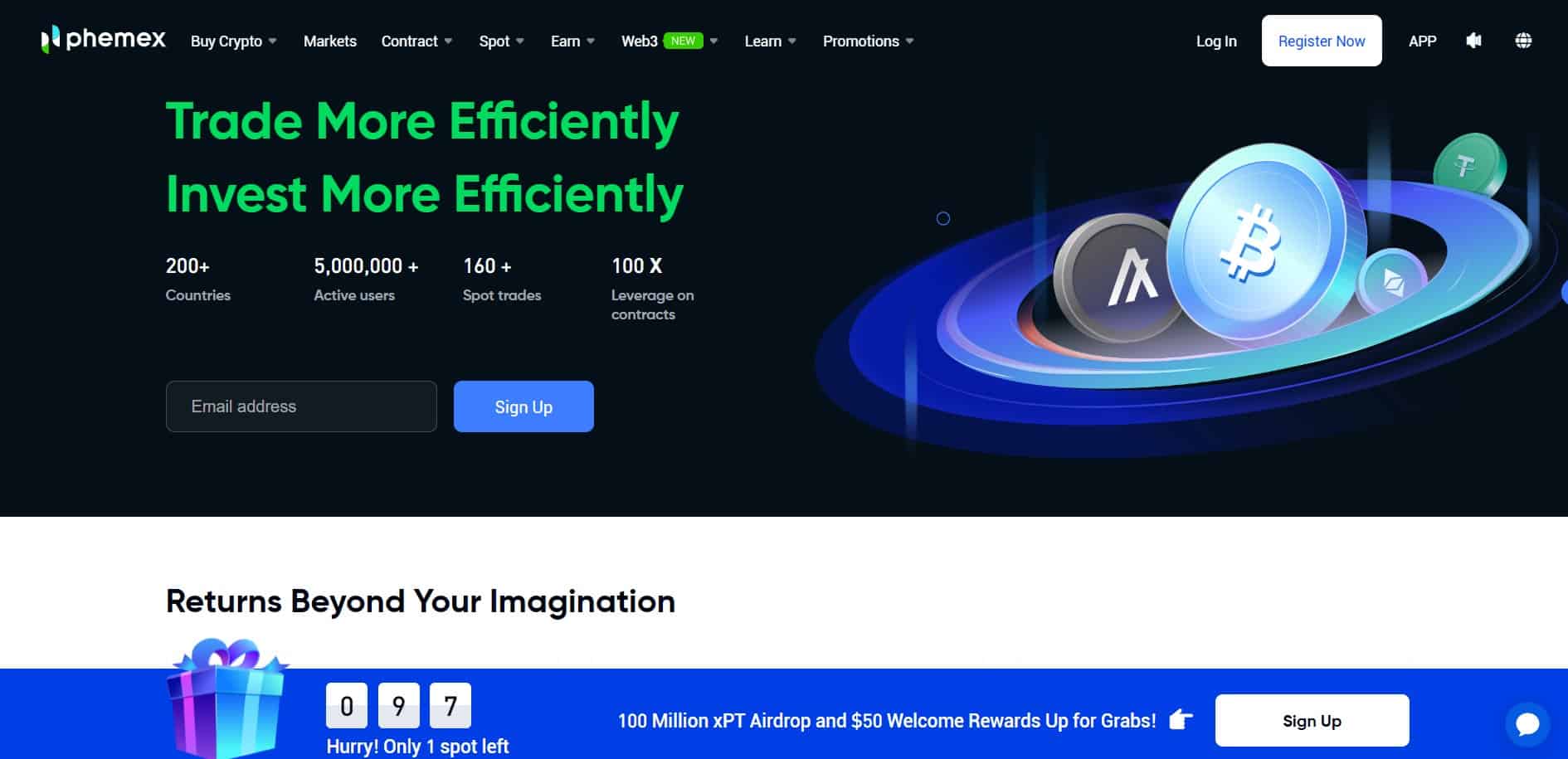 Phemex is one of the fastest-growing and most advanced cryptocurrency trading platforms supporting investors worldwide. Jack Tao envisioned this platform to be a crypto hub that would attract a wider mass of investors interested in margin trading by providing them fee-free, safe, and versatile blockchain environment. 
The exchange is often described by its creators as a semi-decentralized platform that uses decentralized processes to improve the administrative control of its services. 
In order to comply with its ultimate goal of facilitating streamlined and risk-efficient trading for all, this user-oriented platform offers numerous trading capabilities and trading pairs.
Put simply, this platform merges the best of both worlds – centralized finance (CeFi) and decentralized finance (DeFi). This approach allows the developers of this crypto project to integrate the decentralized Web 3.0 functionalities in their operations and services. 
Crypto Coins Available on Phemex
There are more than 200 cryptocurrencies and stablecoins supported on Phemex that constitute more than 200 spot trading pairs and over 150 pairs for trading on contract. 
You can pick among the most liquid cryptocurrencies on the market, such as Bitcoin (BTC), Ethereum (ETH), and Litecoin (LTC), or some of the low-cap cryptocurrencies that provide you exposure to the market with a small initial capital. 
Fiat Currencies Supported on Phemex
The exchange enables fiat deposits and payments through its partnering services (Banxa, Koinal, MoonPay, Coinify, and Mercuryo). By utilizing these third-party payment processors, you can use your credit card/debit card, Apple Pay, Google Pay, wire transfer, or some of the many supported methods of payment to buy your coins or make a deposit in USD, EUR, CAD, JPY, AUD, and a vast number of other fiat currencies. 
Countries Supported on Phemex
As a result of the various regulations that govern cryptocurrency trading in different jurisdictions, Phemex's OTC service is not accessible to investors residing in countries like Antigua and Barbuda, Australia, Italy, the USA, Brunei, Denmark, Germany, Japan, Puerto Rico, Morocco, and Portugal, among others. 
For a more comprehensive view of the countries that can use the financial services of this SIngapore-based exchange, please check the list on their site. 
Phemex Fees
If you're interested in spot trading, Phemex is one of the best options, as it doesn't charge anything for utilizing this functionality. But, the platform is not a completely fee-free service.
Namely, there's a market maker/taker fee that amounts to 0.075% per trade for the liquidity takers, while the market makers can enjoy a -0.025% discount on their trades. 
Additionally, you can withdraw your coins from Phemex for free, but remember that the coin's respective platform will charge you a mining fee for this financial operation. This mining fee is variable and always depends on the condition of the coin's respective blockchain. 
Main Features of Phemex
Phemex is a platform that can be used by both beginners and professional traders. Speaking of rookies in crypto trading, the most popular trading feature on the platform by far is fee-free spot trading. Moreover, the transactions are easy and fast, and you can get your hands on your preferred coin in a matter of minutes. 
When it comes to professional investors, the trading possibilities on this platform are virtually endless. It provides margin trading with up to 100x leverage, derivatives trading, and an OTC desk if you're an institutional investor or deal cryptos in large volumes. To this end, the platform provides deep liquidity to ensure that you complete your trades smoothly and successfully. 
If you want to generate some passive income, Phemex offers you a staking option. With this trading instrument, you can lock your coins to the platform for a lucrative crypto incentive. 
If you (hopefully) end up with a greater profit than you expected, you can multiply the sum by using the Phemex Crypto Savings product. For this, you'll need to open a Flexible or Fixed Saving Account, where you will hold your assets to be eligible for a crypto return on your savings. 
Opening a Flexible Saving Account will help you generate passive income on your savings without any long-term investments, allowing you to use your funds whenever you decide. 
On the other hand, if you choose the Fixed Savings Account, you're in for an even higher return on your crypto holdings than by using the Flexible Savings Account. The only caveat is that you must wait for a certain period to pass before you can handle the assets saved to this account. 
How Easy Is It to Open a Phemex Account?
Opening a Phemex trading account is a relatively straightforward process. Simply provide a valid email, validate it through the security code you'll get through the same electronic address, and you're good to go. 
If you're a casual crypto investor, you won't have to go through the KYC verification process. However, if you opt for a premium membership for some added benefits like a 0.1% trading fee when using the trading bots, additional trading functionalities, the ability to move your assets every hour, free real-time trading, or unlimited withdrawals, you'll have to complete a KYC check. 
Speaking of trading accounts, it's good to know that there are two basic types of Phemex accounts. There's a BTC trading account that you can use if you prefer to invest in this cryptocurrency, but there's also a USD trading account to serve you if you settle your trading contracts in USD. 
How Secure Is Phemex?
The Phemex developers have put their best efforts into securing the assets and data of their users by implementing a vast network of security protocols to the platform's architecture. Thus, Phemex utilizes a blend of risk-assessment protocols, 2FA authorization protocol, KYC procedures to verify their users (when applicable), and real-time monitoring systems and verification for all asset movements on this market. 
More importantly, Phemex holds 100% of user assets in a cold wallet, additionally secured by multiple signatures to ensure their safety at all times. 
Has Phemex Ever Been Hacked?
No. Phemex has never had a security incident during the course of its operation. It's generally considered one of the most trustworthy platforms in the industry, confirmed by the evergrowing number of daily users who confide their trust in this cryptocurrency investment hub.  
Is Phemex a Regulated Exchange?
Currently, Phemex has a status of an unregulated exchange which is considered a norm among the platforms providing margin trading and volatile crypto products. However, the exchange's executives are in the process of acquiring a registration license with the Monetary Authority of Singapore (MAS) and SEBA for offering custody services for their clients. 
How Does Phemex Compare to Other Crypto Exchange Alternatives?
PrimeXTB stands out from the majority of derivatives trading platforms in the industry as the most similar to Phemex. Both of these platforms are user-centric, meaning they provide highly user-friendly interfaces and trading mechanisms for crypto investors of all levels of experience. 
Moreover, both PrimeXTB and Phemex tend to focus their development on offering volatile crypto trading products, such as margin trading and CFDs, which appeals to professional traders. In the bargain, these two exchanges offer low or no trading fees for their services.
The one difference that comes first to mind when comparing Phemex and PrimeXTB would be the fact that you cannot do spot trading on PrimeXTB, while Phemex offers this service free of charge. 
Does Phemex Have an App?
If you prefer trading on the go, you can use the Phemex trading app on any Android or iOS-supported device. The good thing about this highly customizable app is that you won't lack any of the features provided through its web-based platform. 
Conclusion
It's more than evident that the Phemex developers have managed to implement their rich financial experience to develop a secure platform that enjoys the trust of several million crypto investors. 
By building a user-friendly and low-fee hub that caters to both professional traders and beginners, the Phemex creators have managed to fulfill their ultimate aim, i.e., to establish a safe blockchain environment where everyone can enjoy trading cryptos and make the best out of their trading strategy for a lucrative financial result.