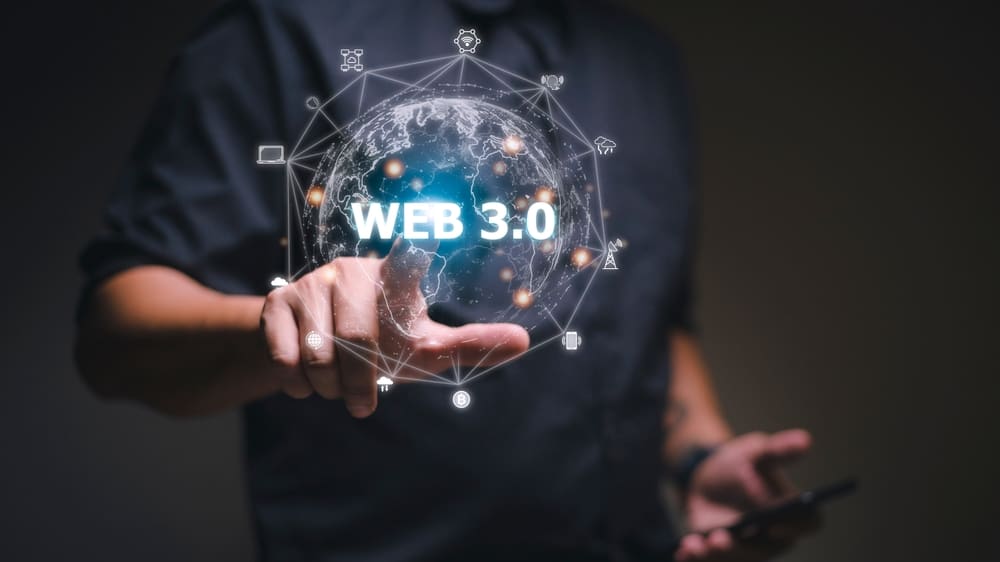 Web 3.0 is the next generation of the Internet that will allow users to browse and produce content while having ultimate control of their data and assets with the help of blockchain technology. 
Envisioned as a decentralized and permissionless Internet network with interoperability and data ownership as its most distinguishing features, Web 3.0 could give rise to some new industries, such as the metaverse, play-to-earn blockchain games, decentralized applications (dApps), artificial intelligence (AI), and more. 
The idea behind Web 3.0 is to give people, rather than corporate investors, the upper hand in the investment field. To this end, those investors who take the time to learn more about the ways and benefits of investing in Web 3.0 technologies and products may reap substantial benefits later down the line.
What Is Web 3.0?
Let's look back at the Web's formative years to understand the investment possibilities that Web 3.0 opens up to prospective blockchain investors and learn how to profit from this swiftly developing network.
The term Web 3.0 describes a range of innovative blockchain technologies expected to significantly alter how people interact, exchange information, or work together via the next-generation World Wide Web (WWW).
Web 3.0 represents an enhanced and more comprehensive upgrade to the previous Internet iterations. As the first and second generations of the WWW were mostly made up of images and text, the third generation, or Web 3.0, is a multimedia service featuring decentralization, greater user and data privacy, improved analytics, artificial intelligence tools (AI), metaverse, and decentralized apps.
In essence, Web 3.0 is just like the Internet network we're using right now, only offering broader, more innovative, and safer possibilities for sharing information and services based on ground-breaking blockchain technology. 
The Main Features That Distinguish Web 3.0 From Its Earlier Versions
Blockchain technology forms the backbone of the next-generation Internet network that will help reorganize businesses, online payment methods, processing costs, and the economy in general, thus paving the way for a more democratic and transparent Web of Value.  
Blockchain technology is often mentioned by people who support decentralization as a key part of the new Internet. This public ledger, made up of blocks of transaction data, is used to keep better track of who owns online data. Anyone may view it at any time and notice if someone is trying to misuse or change the data, which adds to the security of the blockchain. 
Using the blockchain design, Web 3.0 will make it easier for people to share data on a computer network, making the network more secure and open.  
This is different from companies like Google, which keep user data to themselves in a centralized manner and have full control over how information gets disseminated over the Internet. 
Ultimately, blockchain technology makes it possible for almost anybody to build decentralized data-sharing platforms that can be checked. Almost anyone who wants to can use the blockchain-based Web to win over clients by making decentralized applications that make communicating with them easier and faster. 
Web 3.0 Investment Options 
If you're looking to put your money in Web 3.0, here are the hotspots.
Cryptocurrencies
Cryptocurrencies are probably one of the simplest methods to put your money through Web 3.0. To help you select the right crypto exchange and investment vehicle, we have prepared a comprehensive review of some of the best markets in the industry. 
Cryptocurrency trading platforms offer you countless investment options, such as staking your coins for a passive income, trading them form another popular cryptocurrency, lending or borrowing them to increase your investment capital, trading cryptos with margin, and more. 
Another popular way to put your money work for you through the Web 3.0 network is mining cryptocurrencies. Crypto mining implies using specialized software installed on powerful computers to solve complex math puzzles. 
In turn, this deciphering of the encrypted data (provided the coin is developed on the Proof-of-Work (PoW) consensus protocol) will earn you some free cryptos as a reward for helping secure the blockchain network.
If, on the other hand, the coin is supported by a Proof-of-Stake (PoS) protocol, staking is your best bet to get crypto incentives for securing the platform's liquidity. 
Last but not least, purchasing non-fungible tokens (NFTs) and metaverse utility tokens with cryptocurrency is quite a common use case in the digital currency realm. This means that entering the Web 3.0 investment market through crypto is an already proven investment vehicle, as cryptocurrencies are one of the most lucrative options available to Web 3.0 investors. 
Metaverse Assets
The term metaverse describes any virtual or augmented reality environment supported by a blockchain and other Web 3.0 technologies. The current state of the metaverse is equivalent to the idea of a virtual world. It showcases a future with more online communities, marketplaces, virtual homes, and metaverse assets. 
The metaverse aims to facilitate more complex digital activities, such as online socializing, crypto transactions, more DeFi products, etc. 
There are a lot of things that make the virtual real estate market appealing. Compared to the real world, which is full of traffic and takes a long time to build real estate, virtual real estate brings together different parts of the business world through a single click, with a performance that the real world can't match. 
For starters, you have the ability to earn a substantial income by virtually renting out your home to huge corporations or brands in need of a commercial hub within the metaverse. For example, investors might purchase real estate in 3D. In a perfect world, the price of the land would climb up as more investors enter the virtual market (i.e., the metaverse) with the aim of buying it, making it an attractive investment for them.
While bringing the real world into the digital realm and stimulating it through pixelated graphics and virtual properties is an intriguing endeavor, it's also a potentially risky investment vehicle. Namely, there's a lot of uncertainty about the future of the metaverse, making it highly fertile soil for financial speculations. 
NFTs (Non-Fungible Tokens)
Non-fungible tokens, or NFTs, are digitized art representations comprising unique identification codes stored on a blockchain. The above mechanism makes it possible, at least in theory, for each piece of NFT art to be valued as if it were an original. 
In Web 3.0, NFTs have all kinds of use cases. For one, you can use them in blockchain-based play-to-earn games as tokens that enable you to acquire in-game items. 
When it comes to digital artists, NFT tokens help them create unique pieces of digital art and sell them virtually without an intermediary, such as art gallery. 
Also, individuals can demonstrate the ownership of a digital service or product by tokenizing it in the form of NFT, or authenticate their identity with these innovative art tokens. The NFT markets offer vast investment (and creative) opportunities, indeed. 
Most often than not, you can buy NFTs or metaverse products with some of the prominent market players in the crypto industry, such as Ether (ETH) – the native cryptocurrency of the Ethereum blockchain. 
How to Invest in Web 3.0?
The above ecosystem shows that both cryptocurrency and traditional businesses are part of Web 3.0. This means that people who trade on the Web 3.0 market have access to two main types of assets: stocks and digital assets. 
Yet, diversifying your investment portfolio with both asset classes can be highly beneficial from a financial viewpoint. 
Conclusion
Web 3.0 will continue to be shaped by the way people share ideas, assets, and information in a decentralized way. This tendency seems to be growing quickly. It's also worth noting that some of the most prominent players in the industry, such as Meta and Apple, are making major investments. 
It's equally important, though, to recognize that Web 3.0 is a frontier where new ventures are constantly springing up into existence, only to disintegrate soon after that in most cases. Even well-established cryptocurrencies like BTC and ETH have experienced significant price fluctuations. 
Early adopters of Web 3.0 who are willing to take risks may reap significant rewards. Even so, there are ways to deal with the uncertainty of the metaverse's future, such as investing in ETC funds. 
Our advice? Make your decisions wisely and do your research before venturing into any kind of investment.