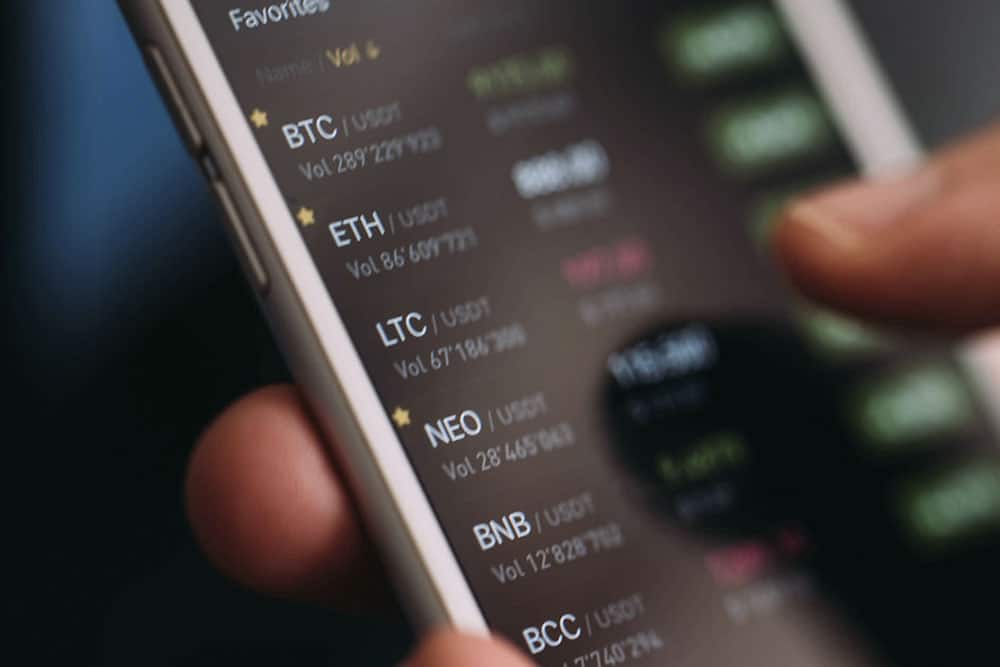 The last ten years have been transformational for cryptocurrency, shifting from an experimental concept in which the overwhelming majority of early projects failed to a mainstream alternative to traditional investment where one-third of U.S. small businesses accept its currencies as payment for goods and services.
This doesn't always mean that the feeling towards crypto is always positive. Many high-profile individuals are crypto-skeptics, from billionaire investors like Warren Buffett to lawmakers like New York's Attorney General Letitia James. While some city mayors, particularly in New York and Miami, seek to attract a wave of crypto-based investment into their city economies, the debate still rages on whether digital currencies are a good thing for our society.
One cause of stress for many people is the industry's lack of oversight. While the boom-and-bust economy of crypto appeals to knowledgeable investors, it can be anxiety-inducing for those with less experience. The volatility of the market has led to calls for market regulation, which were answered by the U.S. Treasury in 2022 in an attempt to stabilize crypto investment for mainstream consumers.
With more than 12,000 coins on the market, it can be overwhelming for new investors to decide where to spend their hard-earned cash. But which cryptocurrencies do people around the world love and hate the most? Coin Kickoff has analyzed the cryptocurrency landscape to find out.
What We Did
We analyzed more than 835,000 Twitter posts around the 100 largest cryptocurrencies by market cap by using HuggingFace — a sentiment-tracking AI tool that enables us to detect positivity and negativity in online messages. We looked at geotagged tweets containing the currency's full name or its cashtag (#BTC for example), identifying the coins with the most positive and negative sentiment in every country and U.S. state.
Key Findings
68.7% of tweets about Stellar (#XLM) contain positive sentiment — the highest in the U.S. for any coin on the market.
Bitcoin (#BTC) is the most hated currency, with negative sentiment strongest in 16 countries.
People voice their frustration in 32.3% of posts about Axie Infinity (#AXS), making it the most hated coin in the U.S. overall.
Ethereum and Solana Are the World's Most Loved Crypto Coins
While Bitcoin remains the dominant and most invested-in cryptocurrency with a market cap of $315 billion, Ethereum's platform makes it a viable investment alternative, with more than 3,000 apps relying on its blockchain to trade.
In contrast to Bitcoin, many of Ethereum's projects are based around decentralized finance (DeFi) — which aims to broaden the usage of cryptocurrencies for more complex transactions such as loans. Currently, Ethereum is the largest player in this space — with an estimated $16.5 billion worth of transactions currently active.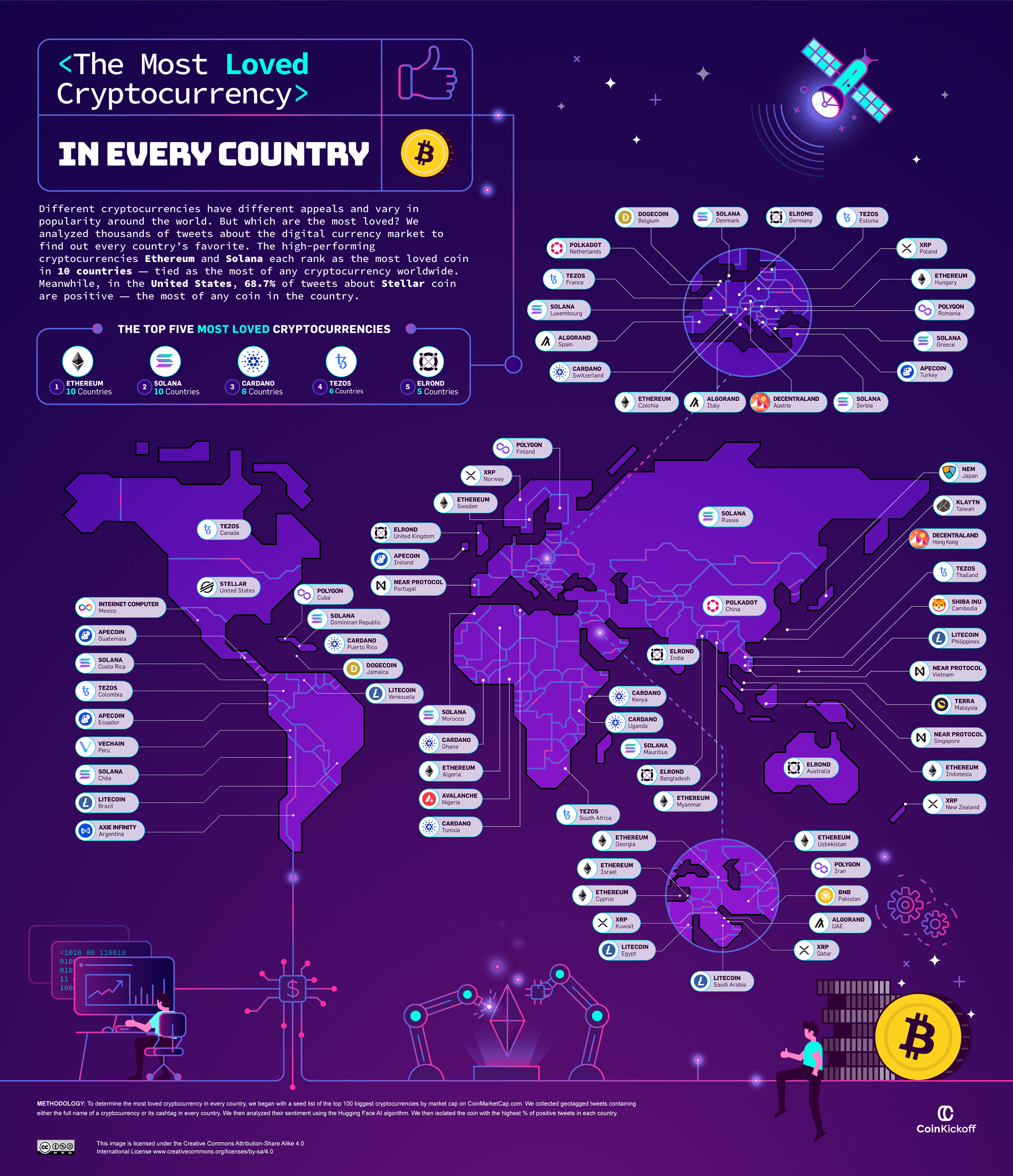 Click here to see the image in full size
DeFi is seen by many to be the future of crypto, as it offers a more versatile alternative to traditional financial services. Our analysis shows that all five of the most loved coins on the market by Twitter users operate in this space, with Ethereum and Solana being the most favored. These coins had the most positive sentiment in ten countries each.
Bitcoin's 2022 Slump Creates Negative Twitter Hype
Despite the untapped potential of blockchain technology and cryptocurrency, the market crash of 2022 served as a wake-up call to investors betting on the sector's stability and long-term growth, with Bitcoin and Ethereum losing significant chunks of their 2021 value.
However, a study by Grayscale Investments found that 55% of Bitcoin investors said they started trading in the currency within the last 12 months. It is still widely regarded as the safest bet on the market, as the 'original' cryptocurrency with its broad recognition. It has withstood the test of time in a way no other coin on the market has, making it a popular investment.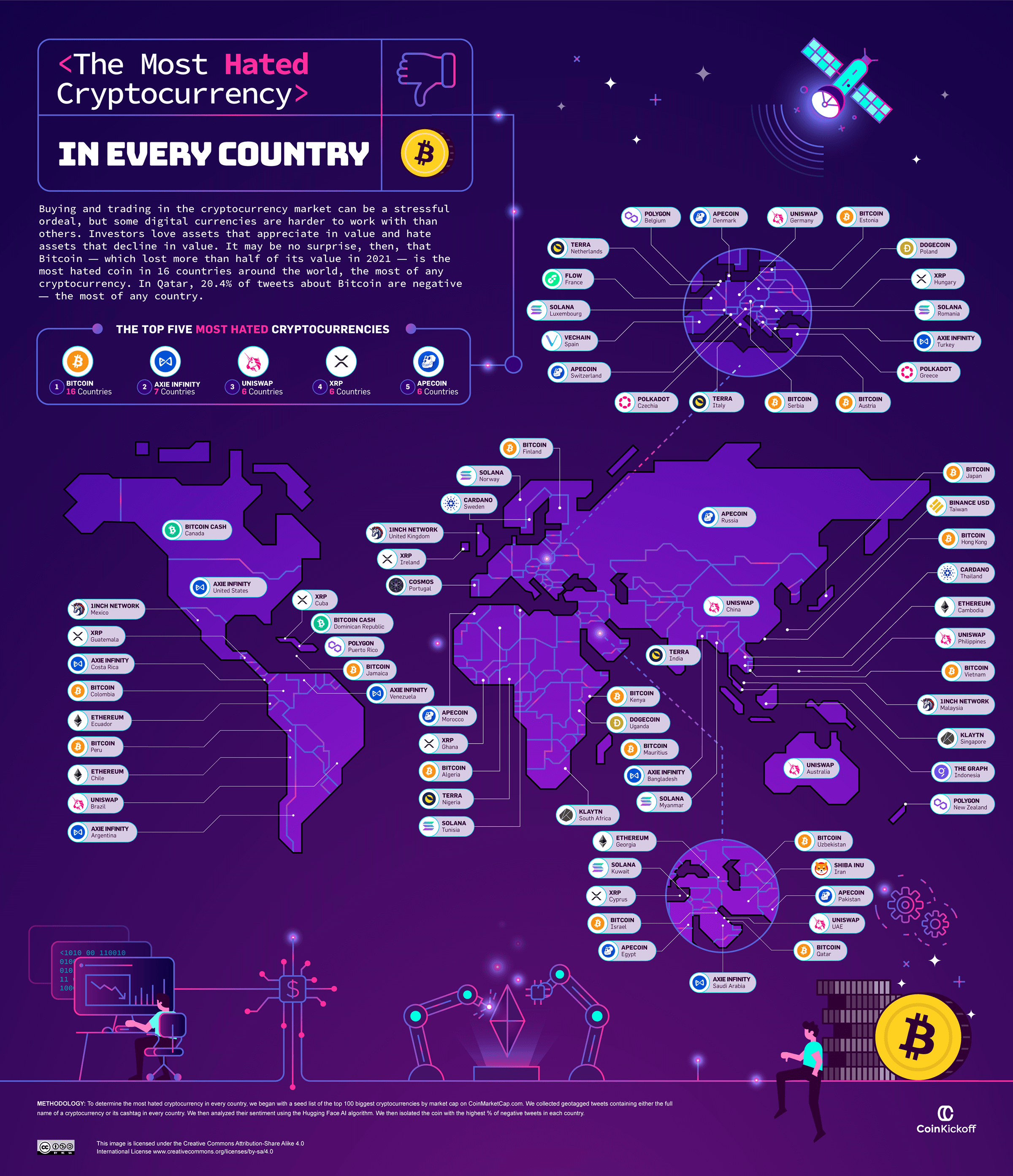 Click here to see the image in full size
This hasn't stopped social media users from venting their frustrations around Bitcoin shedding 70% of its value in 2022. Sentiment toward Bitcoin is the most negative in 16 countries, making it the most hated cryptocurrency on the market. Meanwhile, the Vietnamese coin Axie Infinity is the most hated in seven countries. Its coin is largely tied to the popular metaverse game of the same name and has struggled in 2022 as a result of a dwindling player base.
Ethereum Optimism Strongest on America's East Coast
While Ethereum's value has been prone to the same volatility and price slumps as the rest of the industry in 2022, there is renewed optimism about crypto's second-largest currency. In October 2022, it completed "The Merge," replacing the digital machinery at the heart of its blockchain to consume 99.9% less energy. While there is far from consensus, many in the cryptocurrency industry believe Ethereum and its versatility with DeFi projects has the potential to one day surpass Bitcoin as the most prominent and valuable coin.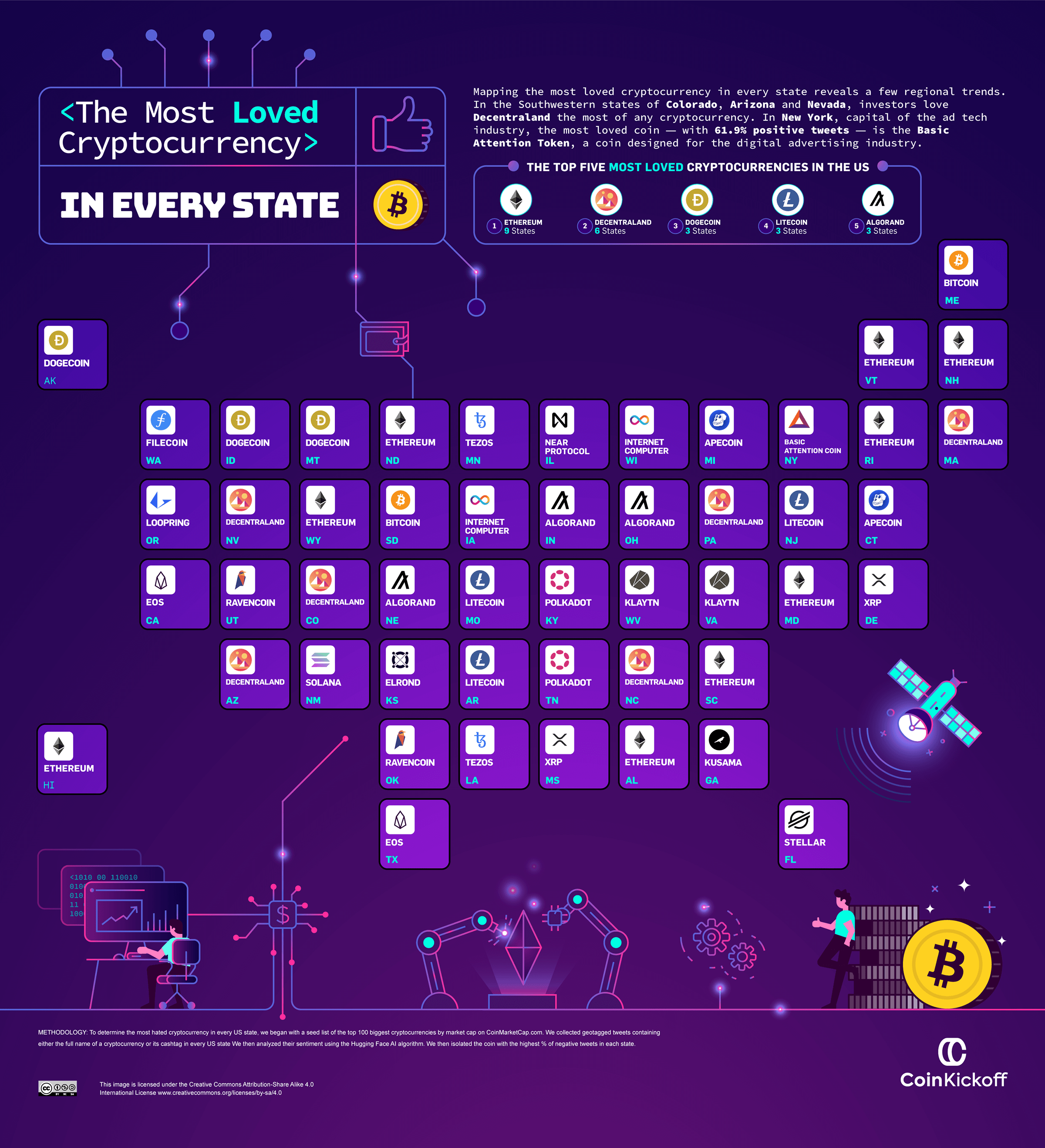 Click here to see the image in full size
This optimism is shared by some, at least. Our research shows that Ethereum is the most liked currency in America, with positive sentiment about it strongest in nine states, including six in the eastern part of the country. People in the U.S. are also enthusiastic about Decentraland, an Ethereum-based currency that ties in with a 3D metaverse, where users can buy and sell virtual land as NFTs.
Axie Infinity is America's Most Hated Crypto Coin
Despite the optimism and excitement for crypto's future, there is no getting away from the fact it has been a rough year for investors. A Pew Research Center survey found that 46% of people holding crypto found that their portfolios did worse than expected. While 78% of people in the poll said they choose virtual currencies as an alternative way to invest, it can be a stressful ordeal.
In the U.S., at least, the sector is feeling the effects of the global recession brought on as a result of Russia's war with Ukraine and the subsequent energy crisis, but attempts to regulate crypto by the Treasury have seen share prices slump further. The collapse of FTX in November 2022 will dent investor confidence even further.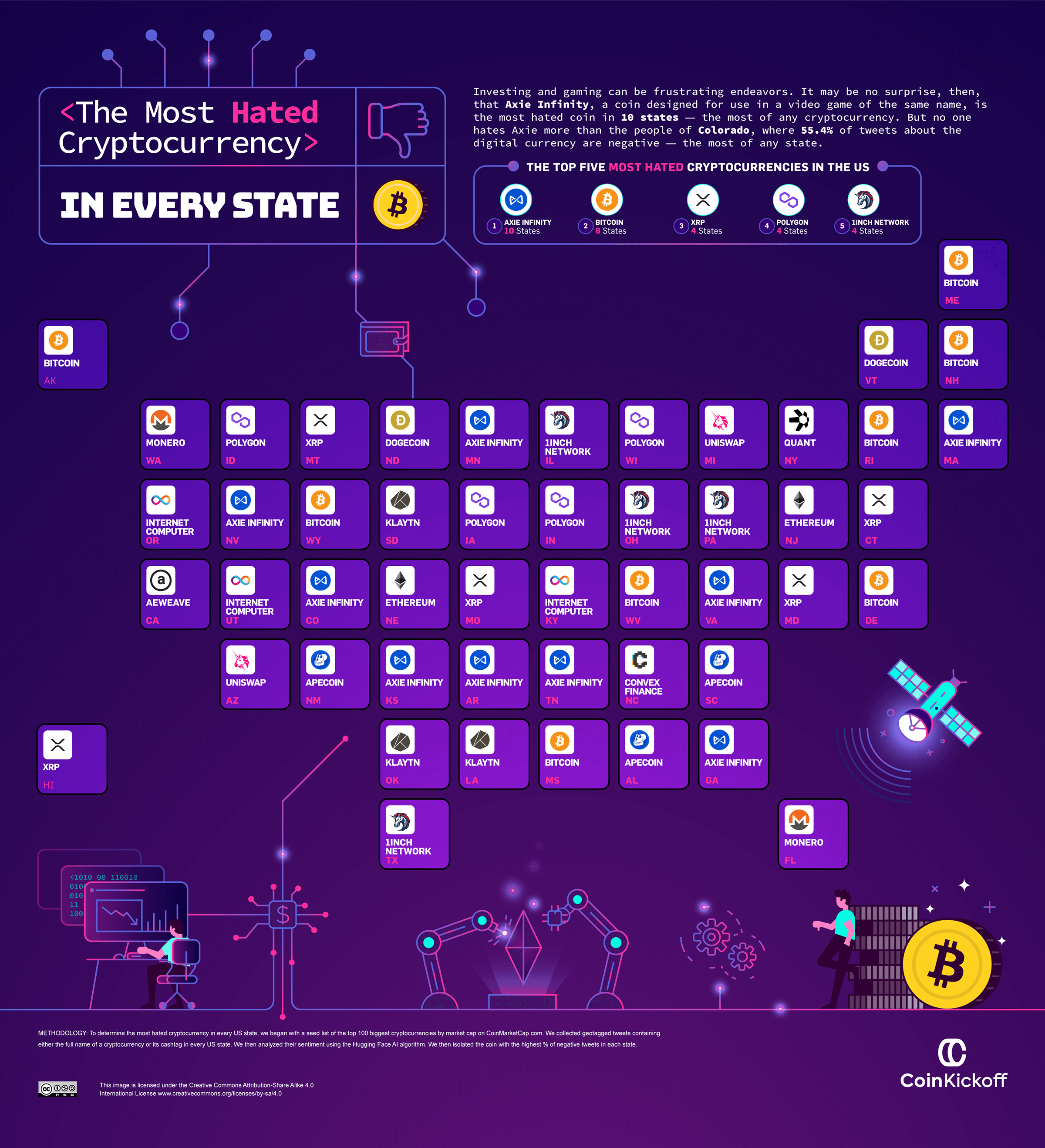 Click here to see the image in full size
Of the 100 largest coins on the market, Americans are most frustrated with Axie Infinity. The Vietnamese coin bore the brunt of a sell-off in metaverse-based tokens in 2022. The currency lost 90% of its value in the last year following a $600m hacking scandal and a dwindling player base as a result of increased competition for 3D virtual worlds. Negative sentiment for the coin and its cashtag were strongest in ten states, more than Bitcoin, for which eight states were most critical.
Crypto's Underachievers and Explosive Failed Currencies Stress Investors Most
What makes a crypto coin loved or hated? Widely popular coins with a substantial investor base that underperform in the market, such as Bitcoin or Dogecoin, are likely to result in stressed online messages. Our research shows that both are among the ten coins with the highest negative sentiment.
However, nothing will infuriate investors more than failing coins. Ripple (#XRP) stressed investors out the most of any coin, with negativity in 15% of tweets about it. The coin started life in 2013 as "the next big thing in Crypto" — a digital currency that can facilitate traditional financial transactions. Unfortunately, Ripple's technology was volatile, and they soon learned that 'you can't put the whole world onto blockchain.' They were later sued in 2020 by the Securities and Exchange Commission, and the coin has since been delisted by Coinbase.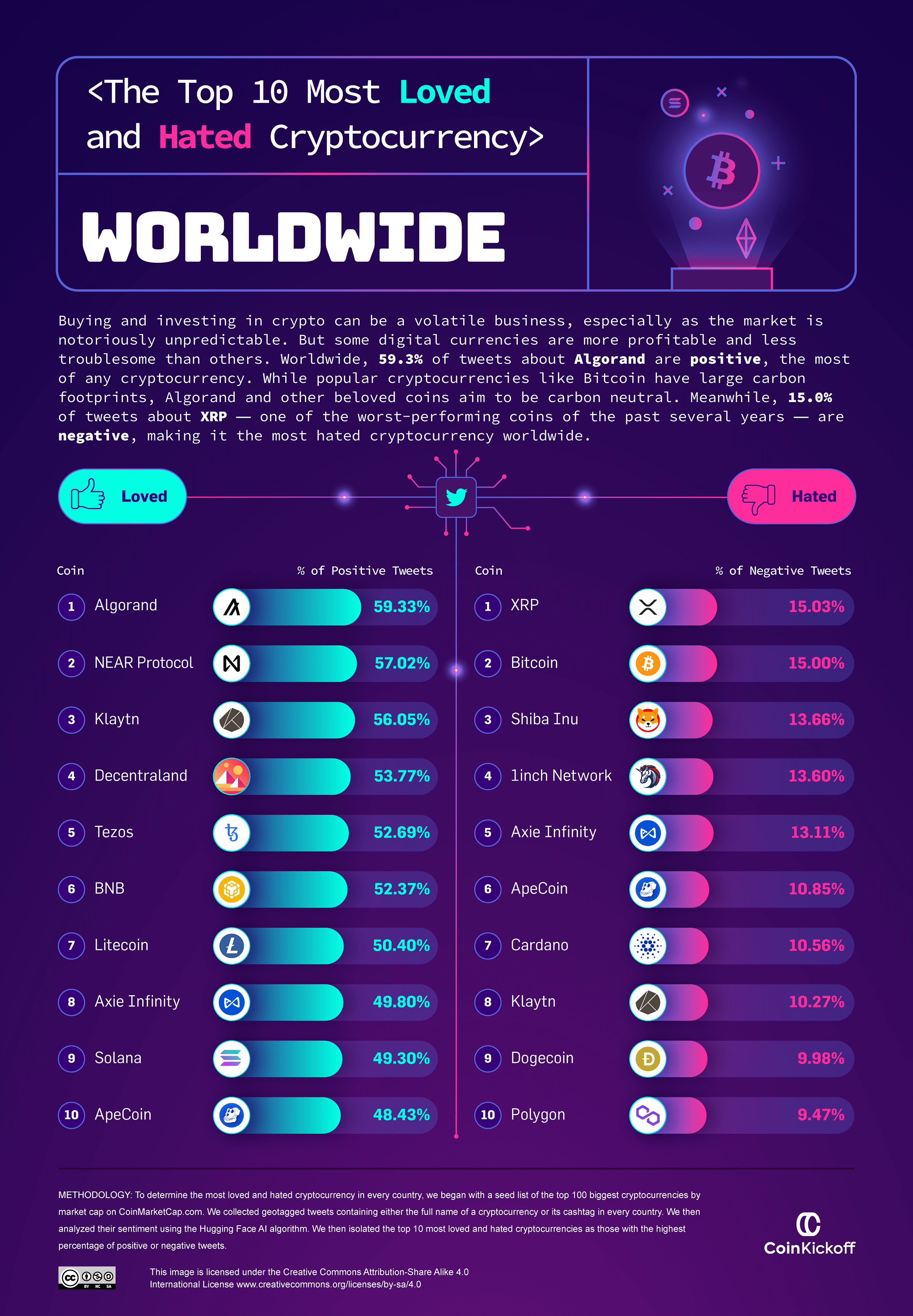 Click here to see the image in full size
However, secure and environmentally friendly coins tend to generate more optimism, according to our research. With 59% of positive sentiment, Algorand is the coin Twitter users are most enthusiastic about. Its unique approach to security through blockchain consensus and proof-of-stake, along with its carbon neutrality, make it a popular choice for investors seeking a more scalable currency.
Stellar Excitement Among U.S. Crypto Investors
Meanwhile in America, the enthusiasm for sustainable blockchain solutions is similarly felt, with 68.7% of tweets containing positive sentiment towards Stella, a decentralized, non-profit coin with plenty of potential. In 2021, it announced a partnership with Ukraine's government to develop its digital infrastructure. The coin's value increased further when Franklin Templeton became the first investment firm to launch a 'tokenized' mutual fund in the U.S. using Stellar's blockchain.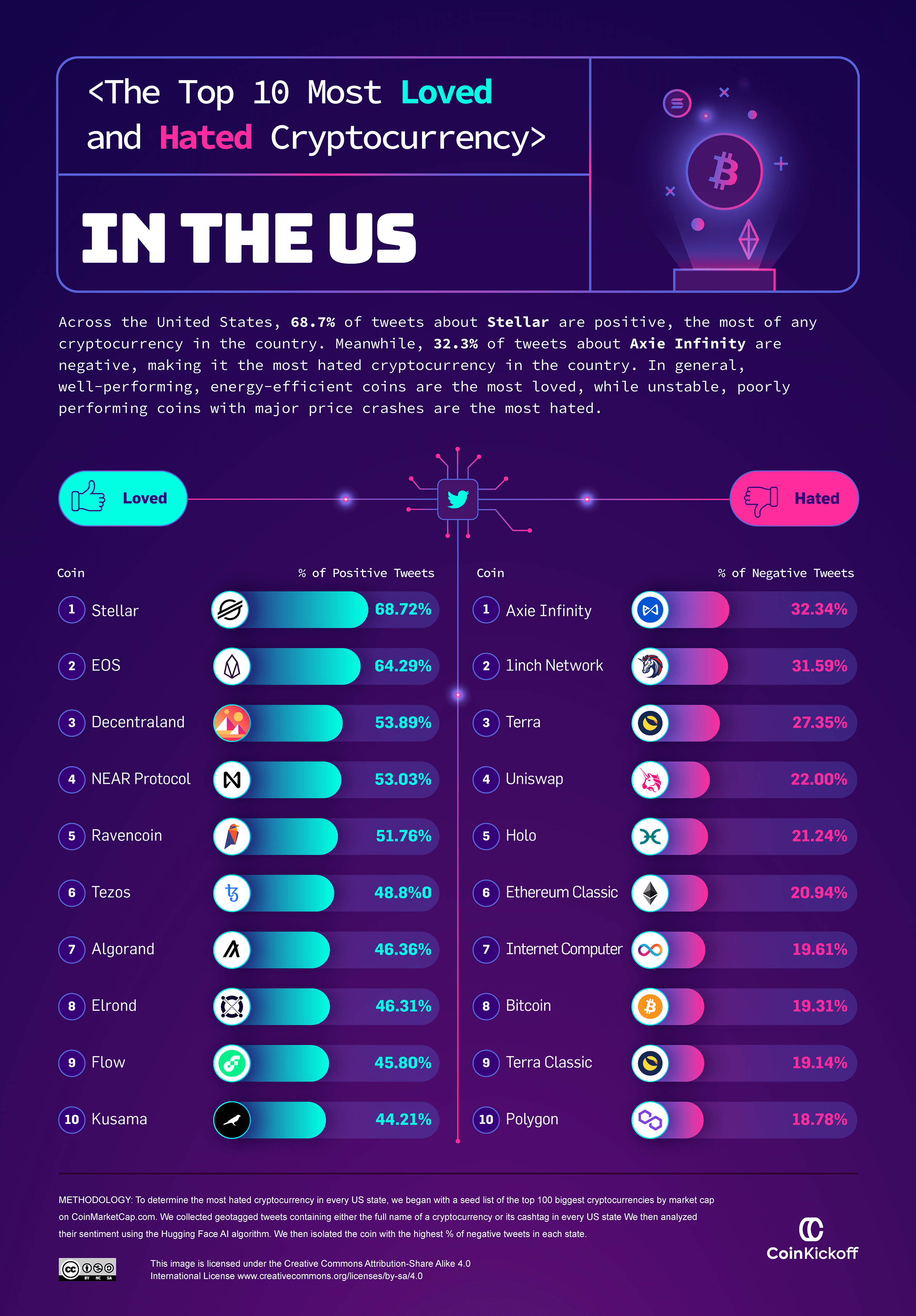 Click here to see the image in full size
American investors share the global frustration around Axie Infinity's woes, with negative sentiment in 32.3% of tweets about it. DeFi aggregator coin 1Inch is second on the list. Despite raising $175m in a Series B funding round in 2021, like much of the crypto market, it has struggled to recover from 2022's price slump, unable to move past $0.5 for the second half of 2022.
Love It Or Hate It: Cryptocurrency is Here To Stay
2022 proved to be another challenging year for crypto investors, yet there is still much excitement around its potential to challenge traditional finance and revolutionize trading and wealth management. Our full dataset on the most loved and hated currencies on the market can be found below, allowing you to explore the list to see how online communities feel about your favorite coins.
Despite divided and crazy times for the sector as a result of market volatility and the FTX scandal, research shows that awareness of cryptocurrency is higher than ever. Data from blockchain organization Stellar Development Foundation shows that 81% of people in the U.S., UK, Mexico and Singapore are crypto-aware, with over half (52%) viewing crypto as a viable alternative to conventional international transactions.
Whether you're a savvy coin investor or crypto-skeptic, the topic certainly polarizes opinion. With thousands of coins competing for the same slice of the pie, it can be tough to know which currencies are best to have in your wallet. The future of crypto is notoriously difficult to predict, with many moving parts, from increased regulation to the reliability of blockchain technology. When it comes to investment, always start small and only invest what you are prepared to lose.
Methodology
To determine the most loved and hated cryptocurrency in every country and state, Coin Kickoff started by searching for geotagged tweets containing either the full name of a cryptocurrency or its cashtag in every country and U.S. State. We used a seed list of the top 100 biggest cryptocurrencies by market cap on CoinMarketCap.com.
After retrieving the tweets, we analyzed their sentiment by applying a Hugging Face AI algorithm to each tweet's text. This algorithm returns the possibility of a text being positive, negative, or neutral. We calculated the proportion of positive and negative tweets for all tweets about each crypto coin. We then identified the most hated crypto in every country or U.S. state as the one with the highest % of negative tweets and vice versa for the most loved crypto.
We filtered the tweets to allow up to a maximum of one tweet per account per day and no more than 10 tweets from the same account. We only considered tweets in English. We only reported results for countries that had more than three cryptos that passed the filtering criteria. To make sure that the main topic of the tweet is cryptocurrencies, we only considered tweets containing the full name of the cryptocurrency if it clearly represents crypto (e.g., Bitcoin, Litecoin). Otherwise, we only considered the tweets that contained a cashtag referencing the crypto (Internet Computer -> $ICP).
Data was collected in September 2022.