Investing your hard-earned income in a fluctuating market can be a stressful experience at the best of times. Still, the unpredictability and volatility of cryptocurrency are, for many people, on another level.
In contrast to the stock market, which is subject to strict financial regulation, crypto is more decentralized, meaning that anyone can create a currency provided people are willing to invest in it. While Bitcoin has been around since 2009, interest and investment in cryptocurrency have steadily become more mainstream since the mid-2010s, with more competition in the coin market and more merchants accepting crypto as payment.
Global interest and increased competition for currencies have led to increased volatility in the market. Bitcoin, for example, lost more than half of its value between November 2021 and May 2022, and the value of Ethereum – the second largest currency, dropped below $900 in June 2022 after record highs late in 2021.
With real-world events and benevolent billionaires causing currency values to fluctuate, it's no wonder that investors around the world find their cryptocurrency stock stressful to hold. The market is rapidly changing, and it is unwise to invest in currencies without understanding how they work. That's why Coin Kickoff wanted to find out where in the world people are most stressed about the state of crypto.
What We Did
To find out where in the world cryptocurrency investment stresses people out the most, we analyzed geotagged tweets for the hashtags of the 50 most popular cryptocurrencies by market cap.
We then analyzed posts using TensiStrength, a sentiment-tracking algorithm that places a value on stress levels within tweets so that we can see the proportion of stressed tweets for the world's major cities, countries, and cryptocurrency assets.
Key Findings
The United Arab Emirates is the most stressful country to invest, as 30% of tweets about crypto contain stressed sentiment. Investors in Poland (28.3%) and Ireland (28.2%) are also stressed.
Investors in New Mexico (33.1%), Vermont (30.4%), and Wyoming (29.9%) are among the most stressed in the U.S. about their crypto cash.
Investors in Amsterdam (30.7%) are the most stressed about their crypto's performance. High levels of digital currency owner stress can also be found in Warsaw (29.8%) and Cairo (29.4%).
Owners of FTX Token were most worried about their purchase of any cryptocurrency. 37.99% of tweets about it contained stressed sentiment.
Crypto Stresses Out People of United Arab Emirates Most, Despite Dubai's Global Tech Aspirations
Global interest in crypto-assets has soared in the last year, fuelled by the surge in Bitcoin prices. A Chainanalysis study found that worldwide adoption of crypto jumped by 880% in 2021, with Vietnam and India leading the take-up. While nine countries — including China and Bangladesh, have banned virtual currencies, it's clear that the market is becoming increasingly global in stature.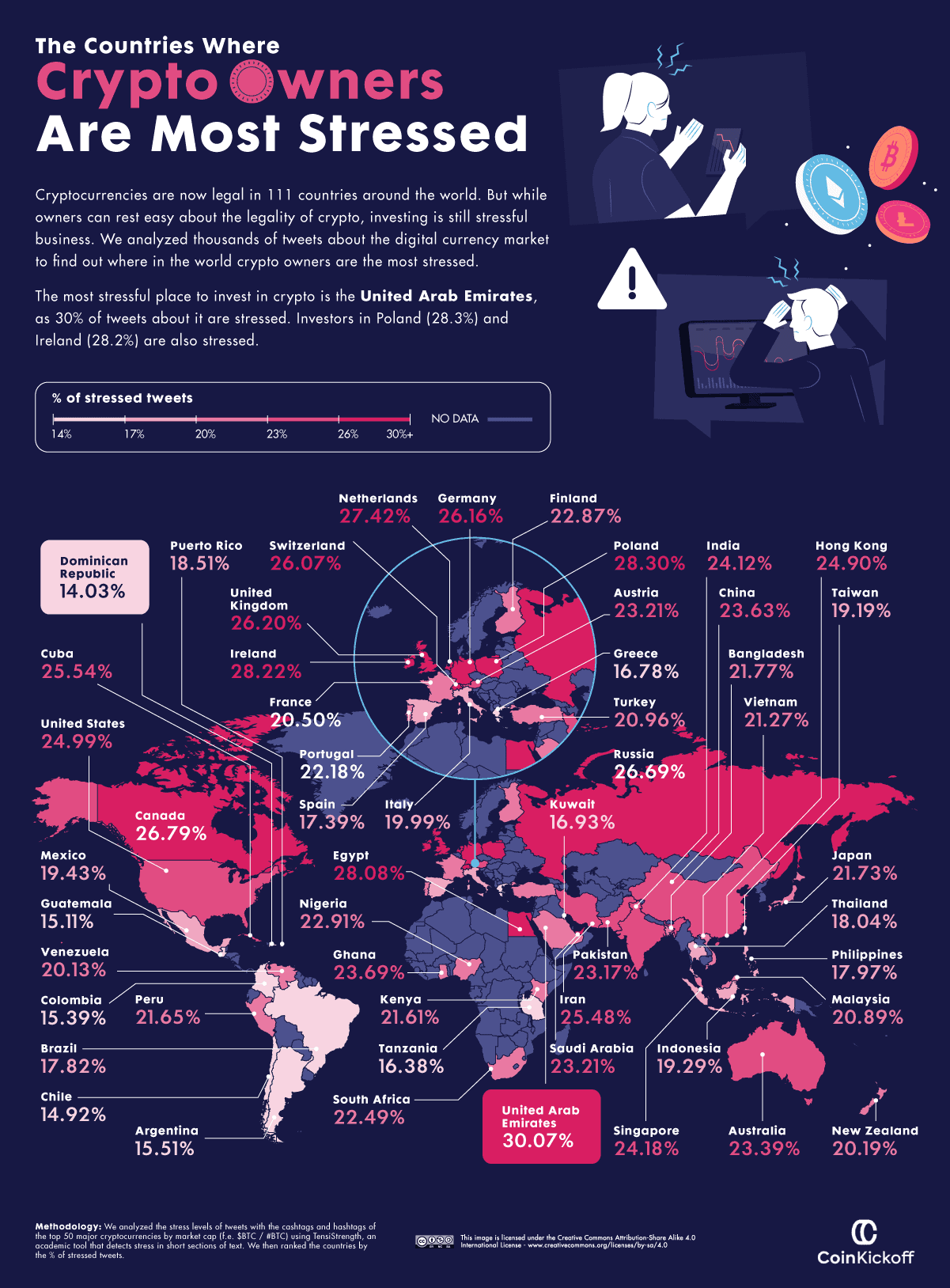 Click here to see the image in full size
Our analysis found that of the 131 countries where cryptocurrency can be bought and sold, residents of the United Arab Emirates are the most anxious about their investment. 30% of tweets about crypto contain stressed sentiment, more than investors in Poland (28.3%) and Ireland (28.2%).
Dubai currently hosts Asia's largest event for virtual currency investors, with ambitions of being a global tech hub and the first to run their economy using blockchain, using Emirati-owned coin EmCash as the mechanism. Despite this, there are concerns that the UAE's proactive approach contrasts with the cautious regulatory strategies of the West, with uncertainty over the impact this will have on global markets.
Top 15 Countries Most Stressed About FTX's Bankruptcy
FTX was one of the leading cryptocurrency exchanges and had a valuation of $32 billion. People around the globe were in shock when the company collapsed in just a few days in November 2022. These are the countries that are stressing out the most about the situation as it unravels.
| COUNTRY | % OF STRESSED TWEETS |
| --- | --- |
| United States | 51.30% |
| China | 31.02% |
| United Arab Emirates | 30.52% |
| Netherlands | 29.61% |
| Egypt | 28.99% |
| Ireland | 28.79% |
| United Kingdom | 28.76% |
| Czechia | 28.62% |
| New Zealand | 28.43% |
| Switzerland | 27.80% |
| Singapore | 27.78% |
| Canada | 27.42% |
| Germany | 27.39% |
| Portugal | 27.09% |
| Bangladesh | 26.68% |
| | |
Volatility of Crypto Market Concerns New Mexico Residents More Than Other U.S. States
Meanwhile in the United States, federal authorities are grappling with an unstable market and the industry's environmental impact. A White House policy report found that crypto mining could hinder America's ability to combat climate change, with operations using more energy than home computers or residential lighting.
In response to this and to 2021's price surge, which saw the market cap reach $3 trillion, President Joe Biden passed an executive order in March 2022 to regulate the crypto industry and protect investors, consumers, and businesses.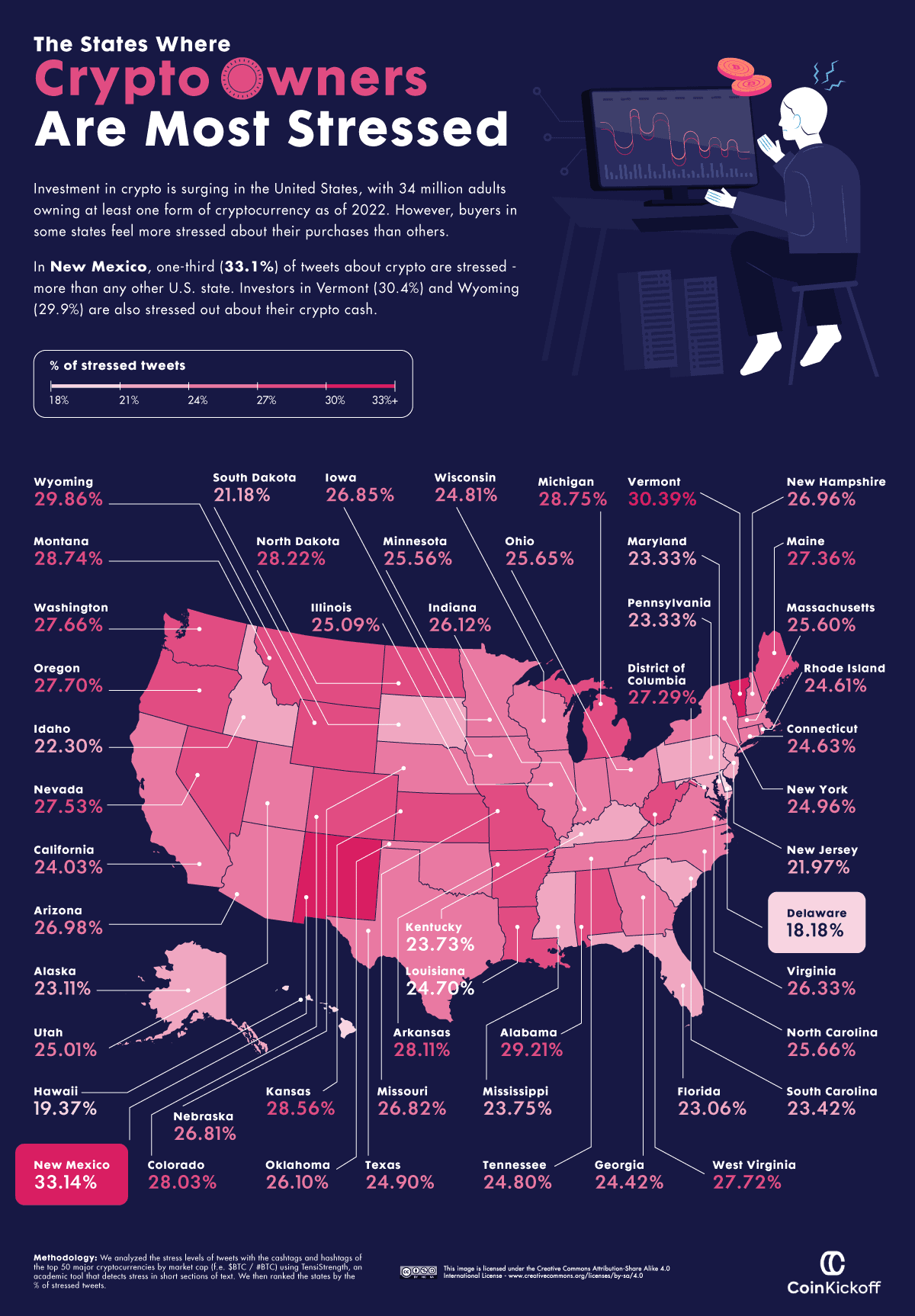 Click here to see the image in full size
The boom-and-bust nature of crypto trading makes it a stressful experience for Americans, and of the 50 states, investors in New Mexico are the most anxious about their portfolio. Around a third (33.1%) of tweets show high levels of stress, more than Vermont (30.4%) and Wyoming (29.9%). The Cactus State has the 4th-lowest median income, with investors more susceptible to losing out from sudden price shocks in the crypto market.
Top 10 States Most Stressed About FTX's Bankruptcy
When crypto exchange FTX filed for bankruptcy in November 2022, thousands of Americans turned to Twitter to vent their frustrations and worries about the situation. These are the U.S. states where people are the most stressed about FTX right now.
| STATE | % OF STRESSED TWEETS |
| --- | --- |
| New Mexico | 59.31% |
| Maryland | 56.81% |
| Missouri | 56.63% |
| Indiana | 56.43% |
| New York | 56.05% |
| Oklahoma | 55.18% |
| Colorado | 54.30% |
| Virginia | 53.69% |
| Massachusetts | 53.38% |
| Iowa | 53.27% |
FTX Token (#FTT) Stresses Out Owners After FTX Files For Bankruptcy
As a result of crypto's exploding popularity, thousands of new coins have entered the market aiming to attract investors and surges in value as buyers seek to cash in on the 'next Bitcoin.' However, not every crypto can withstand the volatility of the market. With more than 19,000 different coins in existence, it's extremely likely that thousands will fail after their initial offering, with experts comparing it to the 'dot-com bubble' of the 1990s.
Of the 50 largest cryptocurrencies by market cap, our analysis shows that investors of FTX Tokens (#FTT) are the most anxious about their purchase, with 37.99% of tweets about it containing stressed sentiment — more than those about Tether (35.92%) and Bitcoin (34.80%).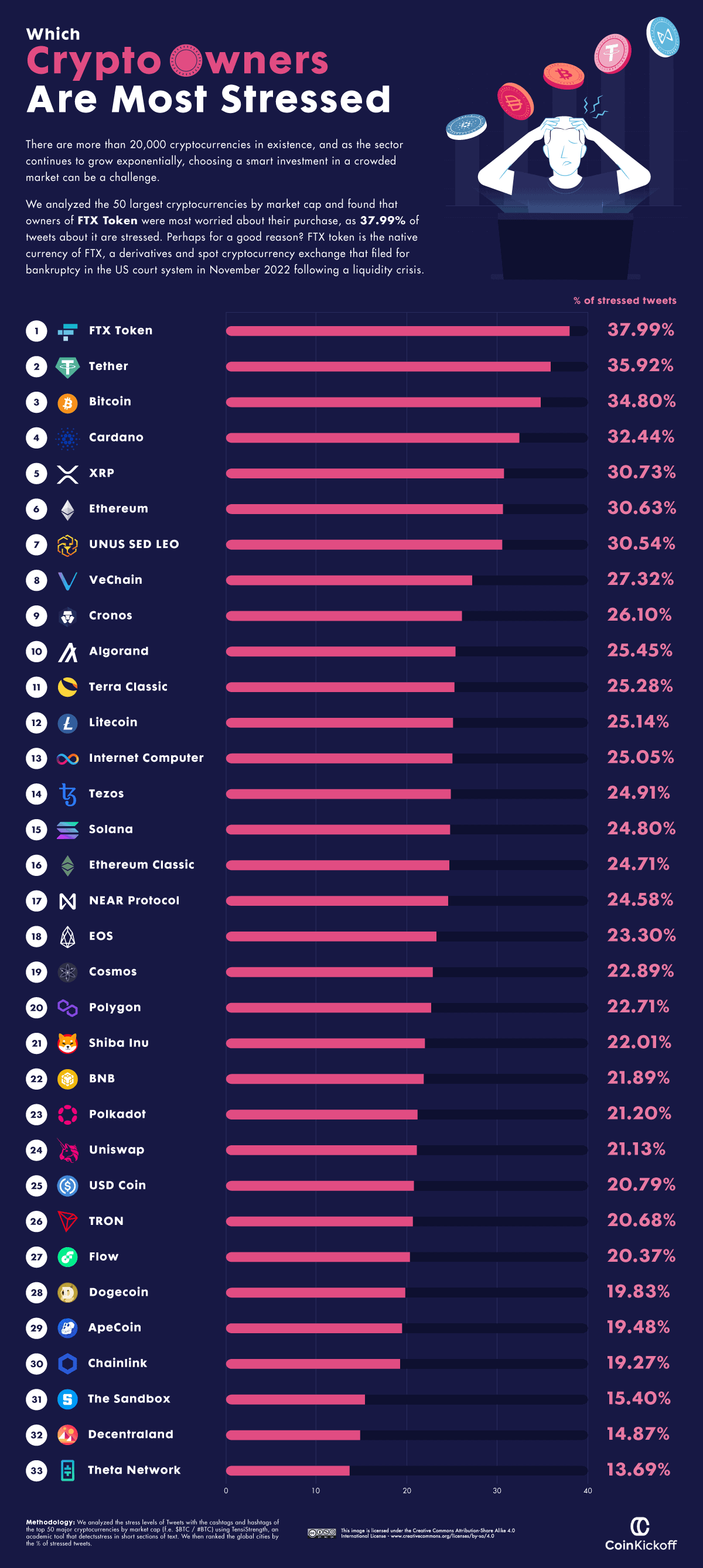 Click here to see the image in full size
FTX token is the native currency of FTX, a derivatives and spot cryptocurrency exchange that filed for bankruptcy in the U.S. court system in November 2022 following a liquidity crisis.
Amsterdam is the World's Most-Stressed City About Cryptocurrency
Traditionally, the stock market economy has concentrated its wealth in the major financial cities of New York, London, Frankfurt, Shanghai, and Tokyo. Sixteen major exchanges have a market capitalization larger than $1 trillion and comprise around 87% of the world's equities value.
By contrast, the crypto market is far more diverse. Analysis shows that transactions are far more spread out across the world, with emerging markets like Vietnam and Nigeria leading the way for crypto investments. Major cities are catching up with trends and introducing new infrastructure to make them more crypto-friendly with Bitcoin ATMs and retailers who accept alternative payments.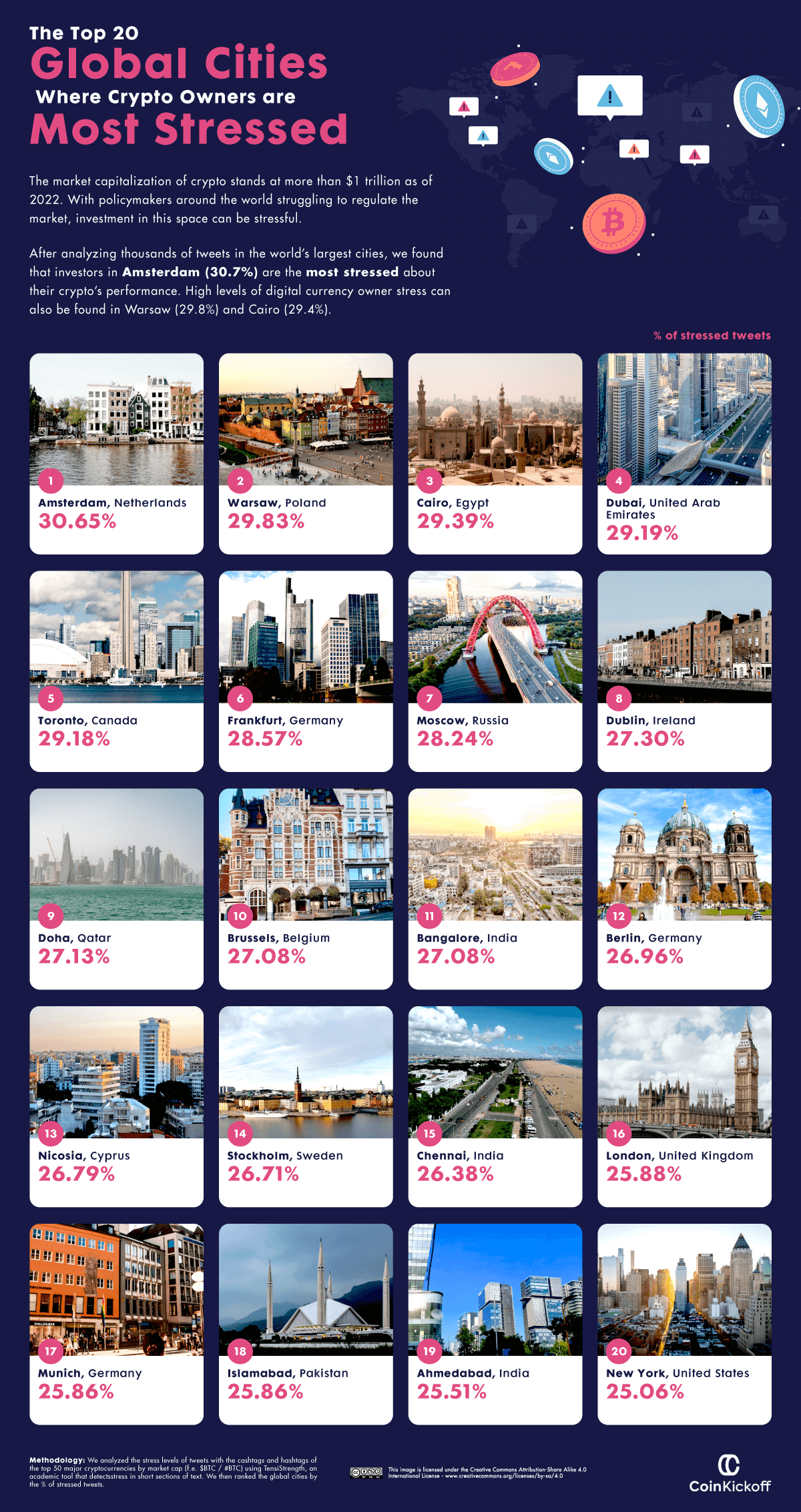 Click here to see the image in full size
However, investing in crypto can still be stressful business in the world's major cities. Despite its reputation as one of the world's most crypto-friendly towns, investors in Amsterdam are the most anxious, with 30.7% of tweets about virtual currencies containing stressed sentiment.
The canal city is home to Europe's largest blockchain expo, the Bitcoin Embassy, and the European headquarters of BitPay, the industry's largest payments processor. Meanwhile, residents of Warsaw (29.8%) and Cairo (29.4%), where the Egyptian government banned crypto, are also feeling the heat.
Top 10 Global Cities Most Stressed About FTX's Bankruptcy
Five U.S. cities top the list of cities worldwide that are turning to Twitter to vent their concerns and fears surrounding FTX's bankruptcy.
| GLOBAL CITY | % OF STRESSED TWEETS |
| --- | --- |
| New York (United States) | 56.27% |
| Boston (United States) | 53.44% |
| Chicago (United States) | 53.24% |
| Los Angeles (United States) | 52.30% |
| San Francisco (United States) | 50.80% |
| Shanghai (China) | 33.76% |
| Dhaka (Bangladesh) | 32.15% |
| Tunis (Tunisia) | 30.69% |
| Amsterdam (Netherlands) | 30.38% |
| Toronto (Canada) | 30.04% |
Albuquerque Residents Feeling the Heat Over Their Crypto Stock
A Pew Research Center survey suggests that 16% of Americans have invested in, traded, or used cryptocurrency, with take-up rising to above 30% among the under-30s. It is estimated that 33.7 million people across the U.S. will own some form of crypto by the end of 2022 – almost 13% of the population.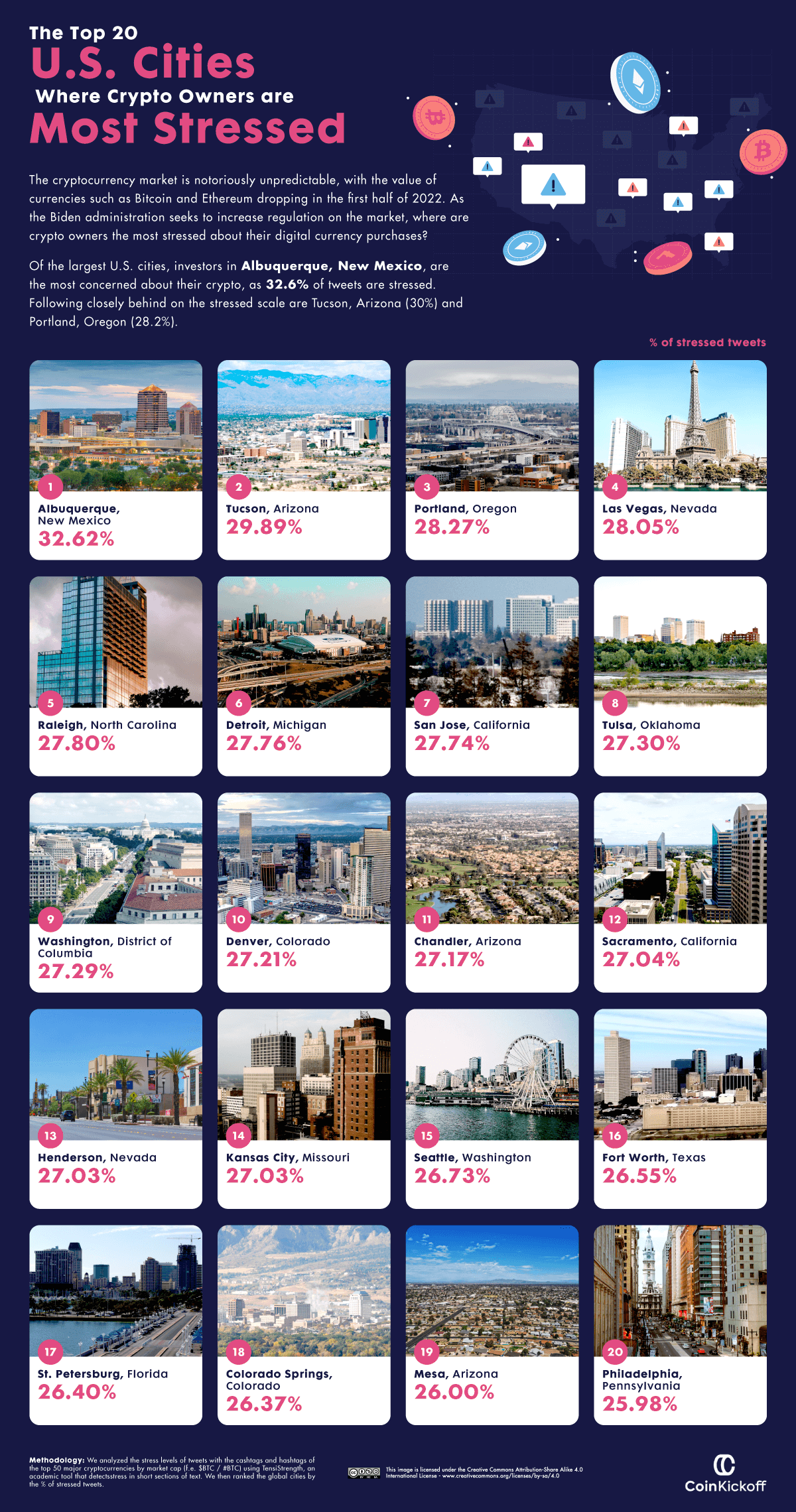 Click here to see the image in full size
With the popularity of Bitcoin and other currencies on the rise, residents of America's towns and cities will be keeping a closer eye on how the market performs. Our study found that residents of Albuquerque, New Mexico, are the most stressed-out, with 32.6% of anxious tweets about crypto in the city – higher than those in Tucson, Arizona (30%) and Portland, Oregon (28.2%)
America's 32nd-most populous city is home to Devvio, a blockchain startup that claims to use 3.5 billion times less energy than Bitcoin on a single transaction, at a time where increased regulation and pressure on the environment mandates sustainable solutions to crypto's energy consumption problem.
Top 10 U.S. Cities Most Stressed About FTX's Bankruptcy
The day that the second-largest cryptocurrency exchange in the world, FTX, closed withdrawals due to "severe liquidity problems", thousands of Americans flocked to Twitter to discuss the event. These are the U.S. cities where stress levels remain high a week into the announcement.
| U.S. CITY | % OF STRESSED TWEETS |
| --- | --- |
| Washington, DC | 58.32% |
| Indianapolis, IN | 57.71% |
| Kansas City, MO | 57.41% |
| Baltimore, MD | 56.45% |
| New York, NY | 56.27% |
| St. Louis, MO | 55.93% |
| Denver, CO | 55.74% |
| Raleigh, NC | 55.31% |
| Fremont, CA | 55.00% |
| San Jose, CA | 54.92% |
How To Keep Your Cool in the Boom-and-Bust Crypto Market
There is no doubt about it – the volatility of the cryptocurrency market and the lack of resilience in prices make investing a stressful business. Global policymakers continue to introduce cryptocurrency legislation to protect customers and mitigate the impact of fluctuations on global markets.
As investors wait for the next 'crypto-bubble' to cash in on, it's natural that the uncertainty over coin values will make owners anxious. You can view our full dataset below to see how much crypto stressed out people in your city or country, as well as the stress levels of the 50 most valuable currencies on the market.
The world is catching up to the popularity of a free-spirited form of anarcho-capitalism with deep ideological roots – which clash with attempts to regulate it. The popularity of crypto around the world suggests that it has become a global phenomenon, with global cities harnessing the power of blockchain to shape the future of their economies.
As with any investment, it is important to research the market thoroughly and understand exactly what you're investing in before making a commitment. Coin Kickoff's guides on popular and emerging coins on the market are a great place to start. While many investors trade cryptocurrency in real-time using platforms like Coinbase or Binance, it is also worth considering investing in crypto through a specialist fintech broker such as SoFi or eToro. Whether you're a first-time coin purchaser or a veteran crypto trader, monitor the markets closely and invest responsibly.
Methodology
To find out where people are most stressed about the state of crypto, we retrieved 722,972 geotagged tweets from major cities all over the world, searching specifically for the cashtags and hashtags of the 50 largest cryptocurrencies by market cap (f.e. $BTC / #BTC).
Only tweets written in English were allowed, and a maximum of five tweets from the same account were allowed. All tweets had to include either a cryptocurrency cashtag or hashtag.
To analyze the level of stress in the tweets, we used sentiment analysis tool TensiStrength, which places a numerical value on the stress levels of social media posts. We were then able to calculate the proportion of stressed tweets for each area and cryptocurrency.