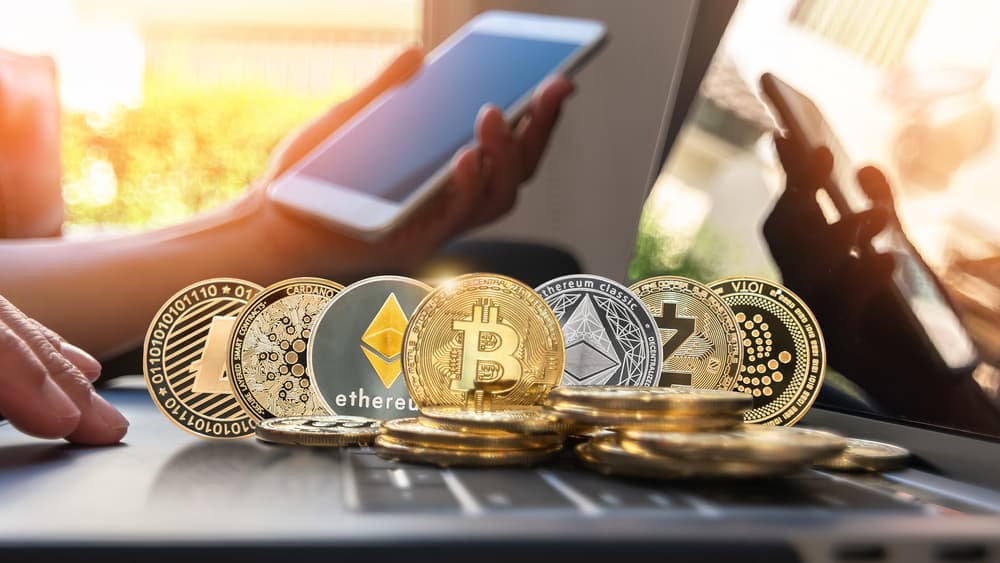 Cryptocurrencies are steadily entering the mainstream, with the number of crypto users exponentially growing over the years. For crypto newcomers, the world of digital currencies can seem quite complicated because there are a lot of new terms and concepts they need to learn. 
Many beginners aren't really sure how to start investing in crypto and buy their first coins. They don't understand what crypto wallets are, how crypto exchanges work, and whether they can store Bitcoin (BTC) and other altcoins in a bank account.
That's why we prepared a detailed guide on how to buy cryptocurrency. We'll show you what you need to start trading crypto and how to buy digital currency on a crypto exchange platform and via popular alternative methods.
Cryptocurrency Trading
Crypto trading isn't like trading on the stock market, where you simply invest in stocks through a trading terminal and have your balance stored in virtual stock books. Cryptocurrencies are blockchain assets stored in virtual locations on their native blockchains. 
These locations are called public addresses and have nothing to do with banks. When you buy some crypto, you get to store it in your own public address associated with your crypto wallet. 
During the trading process, you're basically buying crypto from another party and transferring assets from their blockchain address to yours. Thanks to crypto exchange platforms and crypto payment gateways, users can nowadays buy crypto directly with fiat currency. 
However, back in the early days of Bitcoin in 2009, crypto enthusiasts had to manually find interested traders on social media groups or crypto forums and trade with them directly. This was extremely risky because there was no guarantee you wouldn't get scammed.
Luckily, crypto trading has become much more practical with the emergence of crypto exchanges and payment services that allow users to spend their fiat currency on crypto. 
Today, due to the fact that millions of users are joining the crypto market annually, there are various ways to invest in cryptocurrency in a matter of minutes with minimal risk. 
What Do You Need to Buy Cryptocurrency?
Before you start buying cryptocurrency, you need to set up these three key elements.
Cryptocurrency Wallet
Cryptocurrencies are stored in crypto wallets because crypto doesn't have a physical form and is always stored on blockchain public addresses. You can view the public address balance of any blockchain user with a blockchain explorer, but no one can access a public address without the appropriate private keys. 
Private keys are like passwords that allow users to manage the crypto in a certain public address. Crypto wallets have been designed to safeguard these keys from unauthorized access through encryption. The wallets encrypt the private keys with the help of randomly generated 12 or 24-word recovery (seed) phrases. 
You should always keep your seed phrase to yourself and never share it with anyone because if someone gets access to your seed phrase, they can steal the crypto from your wallet. Most crypto wallets also use passwords or PIN codes, and some even employ two-factor authentication (2FA) for transaction confirmation.
It's best to set up a crypto wallet before you buy crypto. Even though you can store the coins you purchased on the public address generated by the crypto exchange, if someone hacks the platform, they might steal your assets too. That's why it's best to store your crypto in your personal wallet.  
Crypto wallets come in the form of software wallets and hardware wallets. Software wallets are wallet apps that can be installed as browser extensions, desktop programs, or mobile apps, depending on the wallet in question. You should always choose a non-custodial software wallet that encrypts and stores the private keys on your device. 
As for hardware wallets, they are specialized USB devices that store your private keys offline at all times. This means that no one can hack them remotely and steal your crypto because they aren't connected to the internet.
Some of the most popular software wallets are MetaMask, Trust Wallet, and Coinbase Wallet, while the leading hardware wallets are Trezor and Ledger devices. You should always transfer your crypto from an exchange platform account to a private wallet once you're done trading.
Bank Account
To buy crypto on a trading platform, you need to have a fiat currency bank account. It's important to choose a fiat-friendly crypto exchange that allows users to purchase crypto directly with fiat currency. The leading centralized crypto exchanges support various methods for purchasing crypto with fiat.
Most of the leading platforms support USD, EUR, AUD, GBP, and others. You can either connect your bank account to your exchange platform and use it as a payment method for buying crypto or deposit cash to your exchange account and spend it later. A lot of crypto exchanges also support debit cards and credit cards as payment methods. 
You also need a bank account to get a payment card. Keep in mind, however, that buying crypto with bank cards usually comes with high fees of several percent per purchase. Using a bank account transfer is slower – it can take several hours – but the fees are far lower compared to bank cards. 
Before connecting your bank account to an exchange platform, be sure to check if your bank is crypto-friendly and allows you to cash out crypto to your account. Some banks refuse to accept incoming transactions that originate from cryptocurrency trading. 
Cryptocurrency Exchange Platform Account
The most popular way to buy cryptocurrency is using a crypto exchange platform as they offer a range of options and can be quite reliable – especially the leading ones on the market.
Cryptocurrency exchanges act as middlemen in the crypto trading process. These platforms connect buyers and sellers and make sure each trading deal goes through. No one can trick you and run away with your money because the platform facilitates trades between users.
Also, crypto exchanges have thorough security measures to make sure that users are safe from potential scams and hacks.
Apart from basic crypto trading features, many exchange platforms offer numerous additional features, such as crypto staking, futures contracts, margin trading, crypto derivatives, crypto loans, and NFTs.  
Reputable Cryptocurrency Exchange Platforms
Experienced users usually have multiple exchange platform accounts, however, for beginners, it's quite enough to open one crypto exchange account.
You should choose carefully because there are more than 500 trading platforms on the market, and they all claim to be the best. The truth is that you should stick with some of the most popular exchanges because they have millions of satisfied users thanks to the high quality and reliability of their services. 
We've prepared a list of the top three crypto exchanges for beginners where you can easily buy crypto with fiat currency. 
Binance
Binance is the number one crypto exchange platform on the market. It was launched in 2017 with the goal of providing users across the globe with all the crypto services they need in one place. You can find more than 600 coins and tokens on the platform, which is more than enough for both beginners and experienced users.
The account creation process is really fast and only requires you to provide an email address. Binance allows users to deposit numerous fiat currencies through bank account transfers into their platform accounts and spend the cash on crypto afterward.
If you want to buy crypto with a bank card, that's also an option, as well as using third-party payment services with Binance as the intermediary. Regarding trading, Binance has a simple-to-use spot trading interface, while advanced users have margin trading, futures, and crypto derivatives at their disposal. 
The Binance platform is also great if you want to earn staking rewards on your idle crypto because the platform has staking pools for dozens of popular coins and tokens. If you decide to invest in NFTs at one point, Binance has its own NFT marketplace with loads of trending collections. Binance is also known for some of the lowest fees among crypto exchanges. 
Coinbase
Coinbase is considered a veteran crypto exchange platform because it was launched back in 2012, just three years after the launch of Bitcoin. Since its launch, Coinbase has offered users top-quality services and an extremely simple way to purchase or sell crypto. All the trading on Coinbase is done through its instant trading feature. 
Users just need to select which crypto they wish to buy and how much fiat currency they wish to spend, and that's it. Coinbase supports nearly 170 trending coins and tokens. You can fund your Coinbase account in USD, GBP, and EUR. 
The best way to purchase crypto on Coinbase is by connecting your bank account to the platform and funding it with cash. You're free to spend your cash balance on crypto later. Users can also purchase crypto with bank cards, but these purchases incur really high fees of up to 5 percent. 
Coinbase doesn't have any advanced features. It's more geared toward crypto beginners and average users than it is toward experienced traders. However, if you wish to start using more advanced trading features at one point, you can shift to the Coinbase Pro platform, which offers margin trading and futures contracts.
When it comes to trading fees, Coinbase has relatively high trading fees compared to competitors, which is the only drawback of this platform.
KuCoin
KuCoin is another great crypto exchange for making your first cryptocurrency investment. The exchange has been operational since 2017, and nowadays, it's ranked among the largest crypto trading platforms on the market.
KuCoin supports more than 300 cryptocurrencies. You can pay with more than 20 fiat currencies on KuCoin, and there are several ways to buy cryptocurrency. For beginners, the easiest way is to use Fast Trade, where you can specify which crypto you want to buy, the fiat currency you'll pay with, and how much cash you want to spend. 
When using this option, you can pay with a credit card, debit card, a third-party payment provider, or a peer-to-peer payment service like Skrill, Uphold, or Transfer Wise. If you want to buy crypto on the KuCoin spot trading interface, you can transfer funds from your bank account and spend the money later. 
KuCoin has a lot of additional features besides instant trading and spot trading. Experienced traders with high-risk appetites can use some of the various margin and derivatives trading features. KuCoin also has a crypto trading bot for automated trading strategies. Similarly to Binance, KuCoin also has numerous staking options and crypto lending features.
Buying Crypto on an Exchange Platform
Let's take a look at how you can buy cryptocurrency on an exchange platform with a bank account transfer. Using a bank account transfer incurs the lowest fees, enabling you to fund your exchange platform account now but spend the cash later.
The process is similar on most exchanges, so we'll walk you through the process using Binance as an example:
Go to

Binance.com

and create an account by selecting the

Register

option and filling in the required fields (email address or phone number and password).  

Once you've created a Binance account, you can proceed to fund your account. Keep in mind that Binance doesn't require identity verification, but many other platforms, such as Coinbase, require users to verify their identity once they create a platform account.

Now, you need to add your bank account to Binance as a payment method. Go to your

Account Information

section and add your bank account by providing the account holder's name, the bank name, and the account number. 

Navigate to the

Wallet

section of your Binance account and choose the

Fiat and Spot

option. 

Click on

Deposit

and choose your preferred fiat currency. In this example, we'll choose USD. 

Select the

Bank Transfer (SWIFT)

option. Users who wish to deposit EUR will need to select

SEPA

in this step.

Select the amount of USD you wish to deposit and create the deposit request, which you'll need to approve through your e-banking app. 

The bank account transfer can take anywhere from a few minutes to about an hour. 

Once your cash is visible in your Binance fiat balance, you're ready to spend it. 

Binance converts USD to the Binance USD (BUSD) stablecoin on a 1:1 rate, but most other platforms just leave you with a USD balance that you can spend on crypto.

You can now go to the

Convert

section of Binance and buy any crypto by exchanging your BUSD coins for other digital coins. 

If you want to broker a better deal and use advanced trading orders, you can use the Binance

Spot

trading interface and place purchase orders. 

Alternatively, you can buy crypto with a bank card directly by choosing the

Credit/Debit Card

option and providing your card details. 
Alternative Methods for Buying Cryptocurrency
Buying crypto with a bank account transfer or with a bank card on a crypto exchange platform is the most popular way to purchase crypto, but there are also various alternative methods for investing in the crypto market.
Peer-to-Peer Trading
Peer-to-Peer (P2P) trading is the original crypto trading method from the early days of the market. You need to find someone willing to sell you crypto, negotiate a trading price and facilitate the deal. However, this can be quite risky because you don't know if the seller is really going to send you the crypto. Because of this, many crypto exchanges also offer P2P trading services. 
This means that the exchanges connect buyers and sellers who wish to negotiate prices and trading terms. The exchange platform ensures that both parties stick to their end of the deal. Binance and KuCoin provide P2P services.
Over-the-Counter Trading
Over-the-Counter (OTC) crypto trading is used to facilitate large-scale trading deals. This trading method is usually used by companies and investors looking to buy or sell high volumes of crypto.
This type of trading involves an OTC broker who negotiates the trading terms with you, and once you reach an agreement, they fetch the crypto from a third– party and sell it to you at the agreed-upon rate. OTC trades usually incur lower fees compared to classic spot trading on exchange platforms. 
Due to the fact that many businesses are interested in OTC services to move large amounts of funds, exchange platforms like Binance and Kraken have their own OTC brokerage services. 
In-Wallet Crypto Buying
You can totally avoid crypto exchanges and use a multi-currency crypto wallet with built-in purchasing features to buy cryptocurrency.
Many popular crypto wallets like Trust Wallet, Atomic Wallet, and Exodus Wallet allow users to buy a multitude of digital currencies with fiat currency. Depending on the wallet, you can buy dozens of different coins and tokens without using a crypto exchange. 
However, most wallets only support bank cards as a payment method. This means that you'll incur higher fees compared to depositing fiat currency with a bank account transfer on crypto exchange platforms. 
The key benefit of buying crypto within your wallet is that you don't have to transfer crypto from an exchange platform account to your wallet and won't incur additional blockchain transaction fees.
Bitcoin ATMs
If you want to buy crypto directly with cash, without the use of payment cards or bank account transactions, you can use a Bitcoin ATM to purchase some BTC with fiat currency. There are nearly 40,000 Bitcoin ATMs around the world, and you can view their exact locations with the help of Coin ATM Radar.
When you use a crypto ATM, you just need to deposit cash, and you can buy crypto within a few minutes. Many ATMs support several additional cryptocurrencies besides Bitcoin, such as Ethereum (ETH), Bitcoin Cash (BCH), Litecoin (LTC), and others.
Crypto ATMs have daily purchase and withdrawal limits that are usually around a few thousand USD. Once you purchase crypto at an ATM, you'll receive a receipt, and the machine will send the crypto to your private crypto wallet through the blockchain.
The main issue regarding crypto ATMs is that they often charge extremely high service fees of up to 15%. This makes Bitcoin ATMs unsuitable for large-scale investments because you'll get far less crypto for your money compared to buying crypto on an exchange platform. 
Payment Service Providers
There are various payment service providers that either support cryptocurrencies or allow users to buy cryptocurrencies. PayPal, one of the largest payment services in the world, allows users to buy, sell, and transfer BTC, ETH, BCH, and LTC. 
The Payoneer platform doesn't support cryptocurrencies directly, but you can use your Payoneer payment cards to purchase crypto on exchange platforms or through your crypto wallets without opening a classic bank account. Services like GooglePay and ApplePay are also viable options for purchasing crypto on trading platforms. You don't need to use a bank account to buy crypto. 
Amazon Gift Cards
In case you want to avoid disclosing any personal information, you can use prepaid Amazon gift cards to buy crypto on numerous exchange platforms. Amazon gift cards are available at thousands of gas stations and supermarkets.
However, it's difficult to buy high volumes of crypto this way because it would require a huge amount of gift cards. This method is useful for small-time investors looking to avoid Know Your– Customer (KYC) procedures on major exchange platforms.
Conclusion
We hope that this guide will help you set up everything you need in order to start buying crypto. Although there are numerous ways to buy cryptocurrency, using a crypto exchange combined with bank account transfers is the most popular method for investing in crypto.
In case you want to try an alternative method for buying crypto, we've included the most popular methods besides using bank transfers.