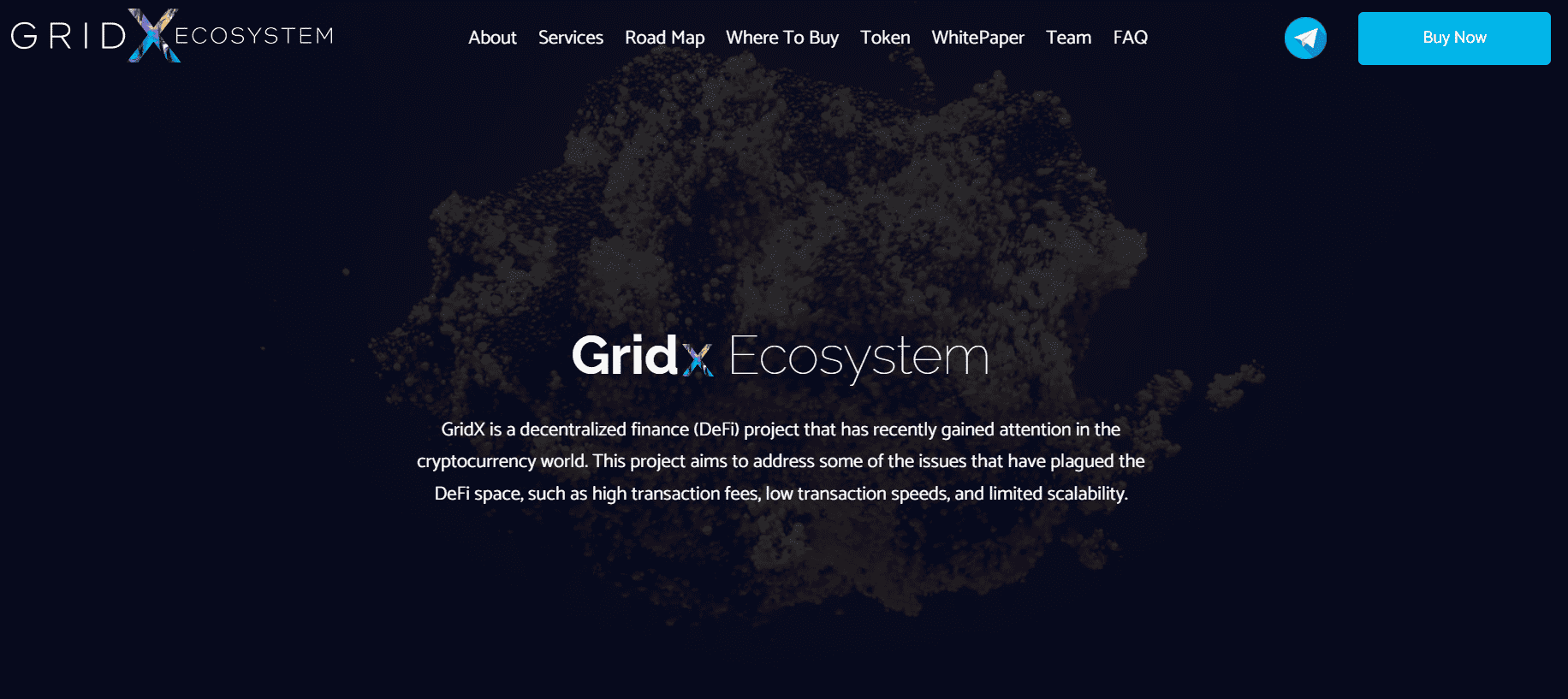 The GridX Ecosystem (GDX) token is among the latest decentralized finance (DeFi) cryptos on the market, geared toward providing users with easily accessible financial features, high speed, and low transaction costs.
Let's see what GDX brings to the DeFi segment of the crypto market and how it works.
How GridX Ecosystem (GDX) Works
GDX currently uses the Binance Smart Chain (BSC) to operate. However, the developer team says that the GDX network architecture combines features from the Tron (TRX), Ethereum (ETH), and Bitcoin (BTC) blockchains. 
Thanks to the fact that the BSC blockchain is highly flexible in terms of crypto project customization, GridX Ecosystem has integrated safety elements from Bitcoin's Proof-of-Work (PoW) algorithm with Tron's Proof-of-Stake (PoS) mechanism.
The GDX blockchain mechanism is called Proof-of-Space-Time (PoST), which is essentially an upgraded PoS system with less energy consumption and lower fees compared to similar projects. For example, GDX fees are only a few cents per transaction.
Users can also stake their GDX to earn rewards by validating transactions. 
Furthermore, the team merged Ethereum's decentralized app (dApp) programming framework with Tron's layered blockchain architecture to distribute the GridX Ecosystem network into three layers. 
The first layer is the application layer, which is where all the smart contract programming is done. Developers can create dApps on the application layer with a particular focus on DeFi protocols. Also, this layer is where GDX-compatible crypto wallets are built.
The second one is the core layer, where all the operating nodes are located. The nodes are responsible for processing GDX traffic. All interactions between users and dApps built on GridX Ecosystem go through the core layer. Also, there's a distinction between light nodes and master nodes. 
Light nodes are used by all users to access GDX dApps and facilitate everyday interactions and DeFi operations. Master nodes are the key players of the GridX Ecosystem network and are used as validators. These nodes ensure the safety of the network and act as servers for GDX dApps.
Finally, the network layer is used to connect the whole GridX Ecosystem network to the internet and enable interactions with other blockchains, as well as interactions between GDX dApps. Developers will use the network layer to facilitate integrations between dApps.
While this blockchain structure is used on the BSC network as a subchain for now, the goal of GridX Ecosystem is to launch an independent GDX Mainnet blockchain at one point.
What Is GridX Ecosystem (GDX) Used For?
The GDX token aims to become a versatile DeFi-focused cryptocurrency. To achieve this, the developers still have a long way to go regarding onboarding GDX-based projects and launching decentralized platforms.
However, when fully developed, blockchain programmers will be able to launch different types of DeFi dApps on the GridX Ecosystem network. This includes decentralized exchanges, staking protocols, yield-farming platforms, crypto loaning services, and more.
All of the dApps will use GDX tokens as a transaction currency, and users will be incentivized through staking and yield-farming rewards to provide GDX liquidity and accumulate more tokens. Thanks to the fact that the GridX Ecosystem smart contracts use GDX, the potential influx of new developer teams will also pump the token's market capitalization and price if GDX manages to become popular on the DeFi market.
The high speed and scalability of the Binance Smart Chain, paired with the layered structure of the GridX Ecosystem network, make GDX suitable for use as digital cash. That's why developers can launch crypto payment dApps or even crypto-to-fiat payment gateways for purchasing products from retailers and e-commerce platforms. 
Furthermore, the low transaction fees mean that users paying for products or services with GDX won't incur the unnecessarily high fees associated with Ethereum and Bitcoin while also leveraging a much higher BSC transaction speed. 
Also, the GridX team announced plans to launch an Android GridX app with various DeFi features, such as GDX staking, along with crypto trading options. It seems that the app will include crypto wallet features and possible fiat-currency crypto purchases, but there aren't many details available about the app for now. It remains to be seen whether the GridX app will provide GDX holders with any additional benefits.
Where to Buy GridX Ecosystem (GDX)?
GDX has just started its journey on the crypto market, and it's only supported by the PancakeSwap (CAKE) decentralized exchange platform. That means you can't purchase GDX with fiat currency because PankaceSwap requires users to connect to the platform with a software crypto wallet such as Trust Wallet or Coinbase Wallet.
Once connected, you can buy GDX with Wrapped BNB (WBNB). To acquire some WBNB, you need to buy standard BNB (BNB) and then convert it to WBNB on PancakeSwap. Then, you can finally exchange WBNB for GDX.
How Long Has GridX Ecosystem (GDX) Been Around? 
GridX Ecosystem has only been around for a couple of months. The project's Twitter profile was launched in March 2023, while the token had its market debut on May 22, 2023.
What's Controversial About GridX Ecosystem (GDX)?
The GridX Ecosystem project offers some great DeFi utility, and the network architecture is quite innovative, from the consensus mechanism down to the layered structure, but there isn't any substantial evidence about how GridX will be implemented in terms of dApps.
There still aren't any dApps that utilize GDX, and we'll have to wait until the GridX team launches their official GridX mobile app to see how they'll work. 
Furthermore, it isn't clear how GDX will differentiate itself from competitor DeFi-focused networks and protocols because, besides standard DeFi features and fast payments, GDX doesn't really bring anything new to the table.
How Many GridX Ecosystem Coins Are There?
According to the GridX Ecosystem whitepaper, GDX has a total supply of 11 million tokens. The circulating supply is 999,999 GDX, which is approximately 9% of the maximum token supply.
The GridX official website shows that the token allocation is as follows: 60% for the token sale, 20% for DeFi rewards such as staking and yield-farming, 10% for the GDX developer team as incentives, 3% for marketing activities, 1% for CSR campaigns, 4% as a backup emergency fund, 1% for social media activities, and 1% for the tech team.
Can GDX Be Mined?
No, you can't mine GDX. GDX's Proof-of-Space-Time consensus mechanism is essentially a PoS algorithm that allows users to earn GDX by staking their own GDX tokens through validator nodes and earning rewards.
Market Cap and Price History of GridX Ecosystem (GDX)
GDX has a price between 1.45 and 1.51 USD, while the token's market capitalization is around 1.5 million USD. 
Biggest Competitors of GridX Ecosystem (GDX)
The biggest difficulties faced by GridX Ecosystem come from its enormous competition. It's not realistic to compare the project with the largest names in DeFi, such as Ethereum or Solana (SOL), which are Layer-1 blockchains focused on DeFi.
It's better to compare GDX with projects like DeFiChain (DFI) or Alpaca Finance (ALPACA). These projects are way down below the top 200 list on CoinMarketCap, and GridX Ecosystem has a better chance of competing with them. 
These DeFi platforms support features such as liquidity providing, staking, and yield-farming, similar to what GridX plans to do. However, these features still aren't available on GridX, and it's up to the developers to launch them as soon as possible so that they can compete with DeFi projects such as DFI and ALPACA.
What Does the GridX Ecosystem (GDX) Project Road Map Look Like?
The development roadmap shows that the team plans to launch the GridX network and ecosystem during the third and fourth quarters of the year. The roadmap doesn't state any details about these two steps, so it isn't clear whether this means that we'll see the GridX mobile app and other key project features. 
Pros and Cons of GridX Ecosystem (GDX)
Pros
GDX has high speed and low transaction fees because it uses the BSC network

Developers can build DeFi dApps with GDX as their crypto token

GDX is fit for crypto payments and retail use because of its speed and low transaction costs

Users can grow their portfolio by staking GDX and earning rewards
Cons
Users can't stake GDX and use DeFi features yet because the team didn't launch the GridX app

None of the promised GDX DeFi features have been launched so far