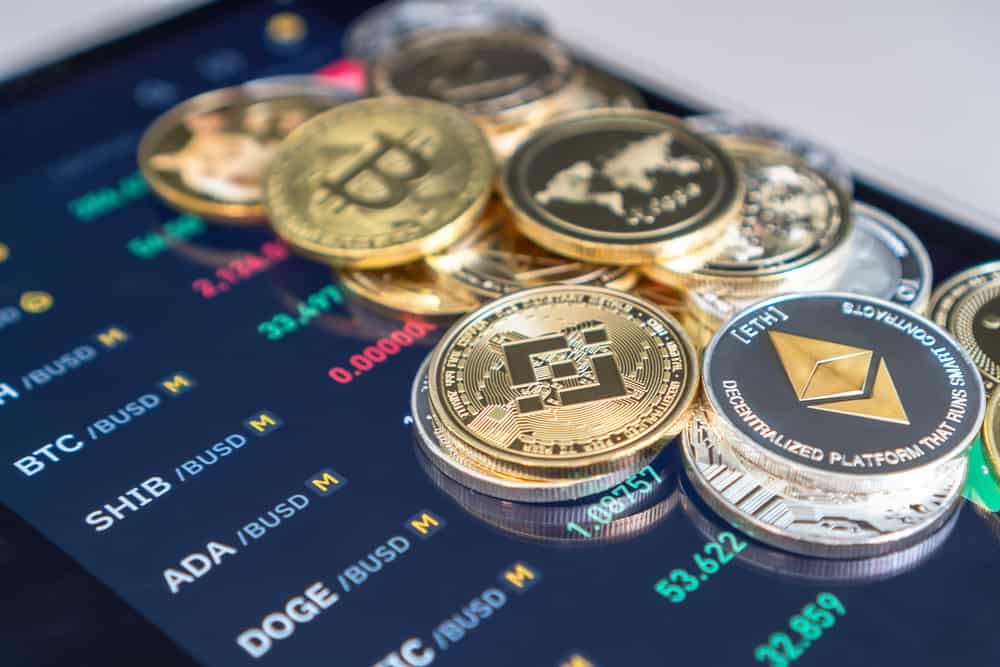 Coinbase and MEXC Global are two crypto trading giants that support numerous trading options for crypto enthusiasts of various experience levels. While Coinbase focuses more on traditional crypto trading, MEXC Global specializes in innovative derivatives products.
This Coinbase vs MEXC Global comparison contains everything you need to know about these two premium crypto exchanges.
About the Exchanges
Coinbase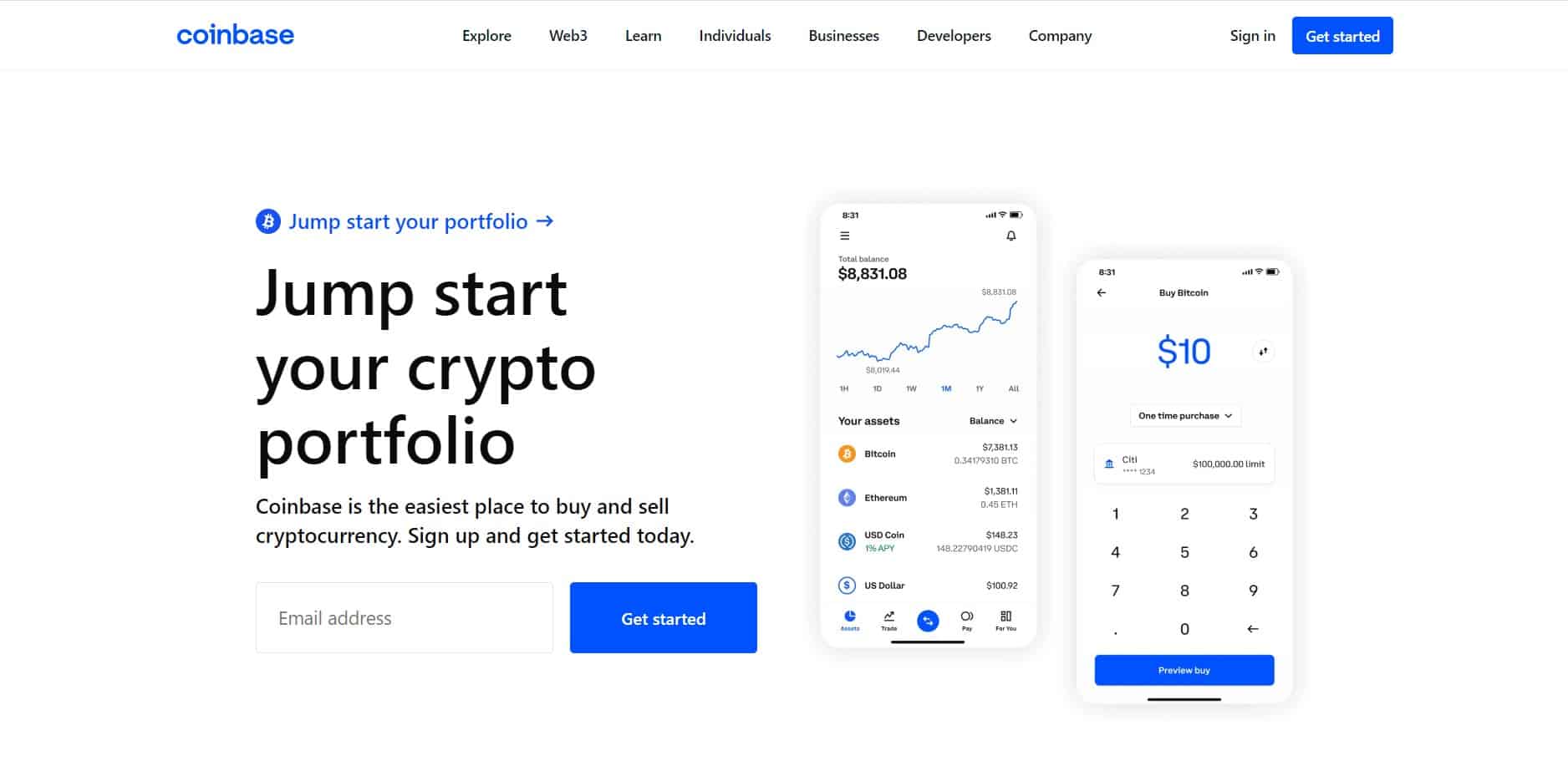 The first crypto exchanges were launched in 2010, but these early trading platforms were relatively poor in terms of features. You could only buy and sell Bitcoin.
In 2012, a former Airbnb software engineer teamed up with a couple of blockchain enthusiasts to launch Coinbase, a crypto trading platform that provides users with everything they need. Coinbase was a real game-changer because it offered users everything – from trading and secure crypto storage to crypto loans and DeFi services.
Over time, Coinbase added tons of popular crypto services to the platform and became an all-in-one exchange with a huge number of trending coins, an NFT marketplace, a proprietary debit card, staking options, and a separate section for professional traders.
Furthermore, Coinbase became famous as a regulated trading platform with licenses to provide services in some of the largest global crypto markets like the US and the European Union.
MEXC Global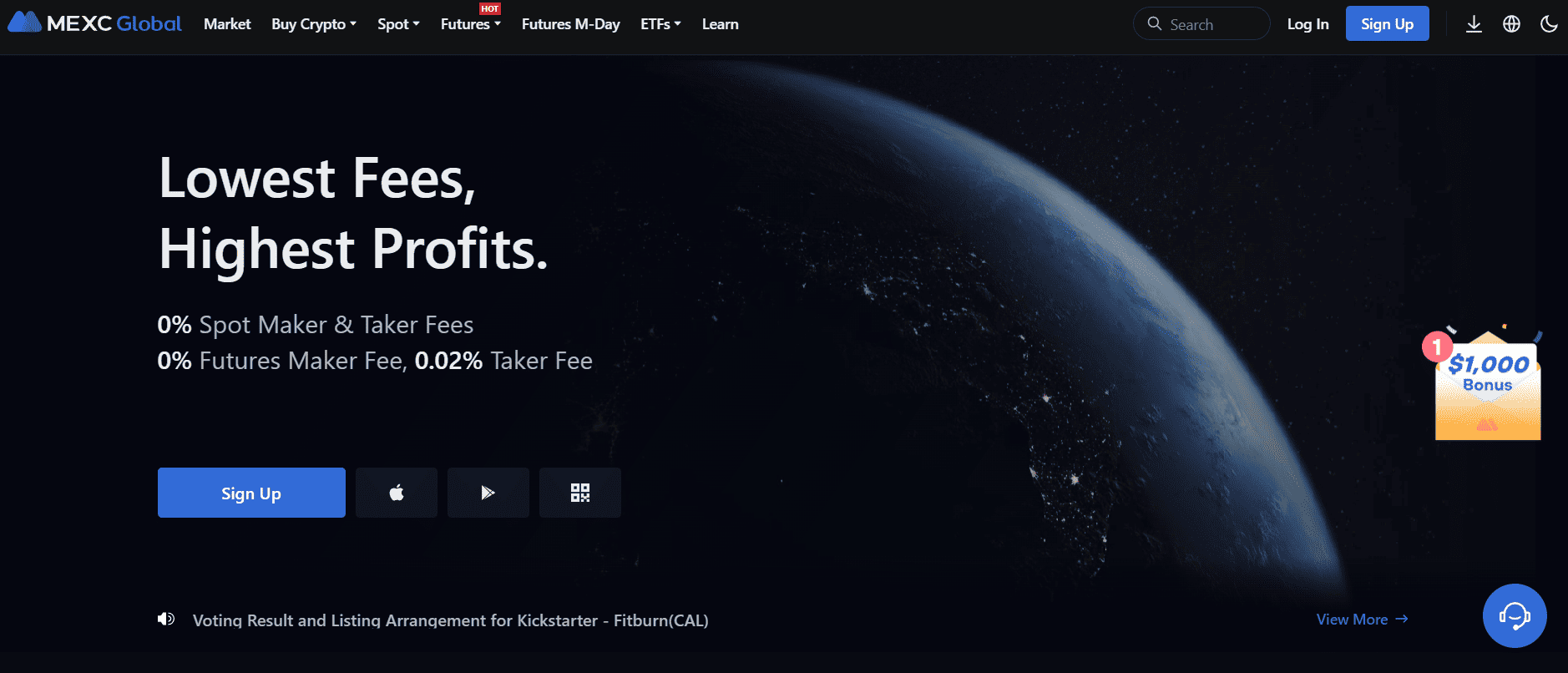 MEXC Global introduced a full suite of crypto trading services in 2018 when the exchange started operating on an international level.
Users can easily invest in crypto on MEXC Global through various payment methods and engage in spot trading, but the real selling point of the platform is its crypto derivatives features. The main idea behind the platform is to provide traders worldwide with quick access to a wide range of crypto derivatives products. 
Traders have multiple types of futures contracts at their disposal, including perpetual futures, with stablecoins or the platform's native MX Token (MX) as collateral. Also, the ETF investment options on MEXC Global allow traders to go long or short on numerous underlying assets without owning them. 
Pros and Cons
Coinbase Pros
Coinbase is very easy to use and presents an excellent onboarding platform for crypto newcomers.

Offers leading digital currencies and more than 160 popular altcoins.

The Coinbase Advanced Trade section contains a professional trading interface for experienced users.

Users can combine their Coinbase account with the

Coinbase Wallet

app for added security.

Offers numerous types of NFTs.

Regulated in most parts of the US.
Coinbase Cons
Instant trading is rather expensive on Coinbase.

The platform had a

hacking incident

in 2021.

Coinbase users don't have access to any derivatives products because of strict regulations regarding such services.
MEXC Global Pros
Over 350 digital currencies and more than 700 trading pairs are available for spot trading.

MEXC Global is a leading international crypto derivatives platform with various futures and ETF trading options.

Very low trading fees.

MEXC is available in most countries around the world.

The MEXC debit card lets users easily spend their crypto.
MEXC Global Cons
MEXC is rather complicated to use for beginners.

There's no quick-swap option to exchange cryptos easily.

MEXC isn't a regulated trading platform.
Coinbase vs MEXC Global: The Crypto Exchange Comparison 
Opening an Account
Let's check out how to create a Coinbase platform account:
To initiate the registration process, click the

Get Started

button on

Coinbase's website

. 

The basic account creation process is straightforward because you only have to provide a password for your account and a contact email address. Also, tick the checkboxes for privacy and use terms before proceeding.

Check your email and use the Coinbase code during your first platform login.

Before investing and trading on Coinbase, you must comply with the Anti-Money Laundering (AML) protocol and verify your identity. 

Start by verifying your phone number in the

Accounts

section. The process is similar to email verification. You'll just need to enter the code sent to you by Coinbase.

Now tap the

Document Verification

option in the Coinbase

Accounts

section. 

This is where Coinbase will ask you to choose a government-issued document to prove your identity by submitting a clear photo of the document. You must also select your country from the dropdown menu.

Coinbase will instruct you exactly how to take a photo of your document, depending on whether you've selected your identification card or passport.

Submit the photograph to the Coinbase verification system and wait for a confirmation message.

The Coinbase verification protocol should confirm your identity shortly. 
Now let's move on to the MEXC Global registration procedure:
Use this affiliate

link

to start the registration process and receive a MEXC Global welcoming gift.

MEXC Global offers two account registration options. You can proceed with your email address or phone number. Once you've chosen an option, just create a password and confirm you've read the user agreement. 

You'll receive an activation code to your email address or mobile phone, depending on your chosen registration option.

You've now successfully registered a MEXC Global account, but you must go through the Know Your Customer (KYC) verification process. Although MEXC Global isn't regulated, it uses KYC to prevent potentially illegal activities on the platform.

When logged into MEXC Global, navigate to your profile settings and click the

Verify your identity

option. Afterward, select

Authentication

. 

The MEXC Global KYC protocol requires users to enter their full name, nationality, date of birth, and ID or passport number, depending on which document they'll use to verify their identity.

Photograph your document and upload the image.

Tap

Submit for review

and wait for the confirmation message.
Main Features
For beginners who are just getting started with crypto, Coinbase is a great choice because it combines simplicity with all essential crypto trading features. 
The bulk of trading on Coinbase is done through a simple, instant buy/sell feature that lets users browse available digital currencies and quickly specify how much money they wish to spend on specific cryptos.
The platform allows users to buy crypto with fiat currency through a bank account transfer or with a payment card. You can even deposit cash into your account's fiat currency wallet and spend it on crypto tokens. 
Once you master basic trading features, you can start using the Advanced Trade interface to engage in spot trading with various order types such as stop, limit, and stop-loss orders. The interface also has a much more detailed price chart compared to the instant buy service, and you can use technical analysis indicators to plan your trades. 
Coinbase supports several leading digital currencies for staking. This means you can deposit some crypto and earn rewards by storing them in your Coinbase account. You can also buy NFTs from various popular collections on Coinbase, thanks to the exchange's NFT marketplace. 
MEXC Global wasn't designed for beginners. In fact, the platform is particularly focused on advanced traders looking to engage in spot and derivatives trading, but you can also buy crypto through the instant trading section with cash.
Instant buying is available through the instant purchase section with your fiat currency deposit or with a bank card. You can also transfer cash with a bank account transfer or use the peer-to-peer (P2P) trading desk, which connects traders directly. 
The spot trading service comes with a complex interface built for experienced traders. The order book for the selected trading pair is on the left side of the screen, while the middle section is reserved for a highly-detailed price chart with dozens of technical analysis tools and indicators.
You can browse trading pairs in the right section of the interface, while the lower-middle part of the screen is where you can initiate trading orders and monitor your active trades.
MEXC Global's crypto derivatives services support numerous high-risk investment options. The futures section supports perpetual futures contracts with Tether (USDT) and MX token collateral.
MEXC Global is also one of the leading exchanges for ETFs. There are 20 leveraged ETFs available for long and short positions with 3x and 5x leverage. As for non-leveraged ETFs, users have more than 100 options.
Supported Cryptocurrencies
Coinbase supports over 160 crypto tokens, which is quite high considering that it's regulated and has licenses for all available assets. For comparison, some less popular regulated platforms only support a couple of dozen cryptos. 
Beginners looking to buy any of the top cryptocurrencies can do so on Coinbase because it supports all the market leaders, including Bitcoin (BTC), Polygon (MATIC), Avalanche (AVAX), Ripple (XRP), Dogecoin (DOGE), Ethereum (ETH), Cosmos (ATOM), Uniswap (UNI), Cardano (ADA), Internet Computer (ICP), and other top 100 coins.
The Coinbase staking section is quite limited, but it does support some essential coins, including USD Coin (USDC), ADA, Solana (SOL), ETH, and a few additional assets. 
Thanks to its non-regulated status, MEXC Global can list any crypto the company decides to add. This is why users can trade more than 350 coins on the platform, but beware that many of the less familiar projects have low liquidity, and some of the cryptos may be shady coins that are just trending on the market short-term without any real value. 
Users can go long or short with 3x or 5x leverage on ETFs involving BTC, ETH, Eos (EOS), Tezos (XTZ), ATOM, Bitcoin Cash (BCH), Litecoin (LTC), and BNB (BNB). 
There are over 100 ETF long and short options without leverage involving BTC, EOS, ETH, XRP, DOGE, Algorand (ALGO), Dash (DASH), Stellar Lumens (XLM), Neo (NEO), Basic Attention Token (BAT), Polkadot (DOT), Compound (COMP), Sushiswap (SUSHI), Kusama (KSM), Near Protocol (NEAR), Filecoin (FIL), and many more.
As for futures contracts, there are 40+ supported assets on MEXC Global, including BTC, Binance USD (BUSD), DigiByte (DGB), KSM, Band Protocol (BAND), Quant (QNT), ALGO, Zilliqa (ZIL), The Sandbox (SAND), and others. 
Payment Methods
Users can buy crypto on Coinbase directly or deposit some cash to have it on hand and spend it on digital currencies later. The most practical and fastest way to make a purchase is with your credit card or debit card, but it's also the most expensive way because of the 3.99% payment card processing fee. 
You're better off using a bank account transaction because bank deposits are free for ACH transactions. SEPA and SWIFT bank account transfers are charged 1.49%, which is still much cheaper than using a bank card. 
MEXC Global supports these two payment methods with the addition of more than ten options. Bank account deposits and withdrawals are free, while bank card payments don't have specified fees. However, there's probably a percentage fee for payment cards similar to other trading platforms.
When purchasing crypto, users can also choose the third-party payment option and choose between multiple fiat-to-crypto payment companies, including Simplex, Moonpay, Banxa, and Mercuryo. These services allow users to spend dozens of different fiat currencies on crypto. 
If you choose the P2P payment method, your payment method will depend on the other trader and can include region-specific payment services such as Momo, Zalopay, ShopeePay, KakaoPay, Payeer, and other options.  
Trading Fees and Limits
Coinbase has high fees for instant trading, but its Advanced Trade section has a much more reasonable fee policy.
The standard instant trading cost on Coinbase is 1%, and if you combine this with the 3.99% bank card payment fee, you'll get a nearly 5% instant purchase fee. If you want to use the instant buy service, make sure to use it with your Coinbase fiat currency balance to avoid the extra fees.  
As for the Advanced Trade interface, it uses a tiered fee structure for market makers and market takers. Taker fees start at 0.6%, while makers pay a 0.4% fee on all trades if their monthly volume is below 10,000 USD. If you plan to trade high volumes of crypto, you'll get additional fee discounts. Users with more than one million USD in monthly trades pay a 0.18% taker and 0.08% maker fee. 
The lowest fee for market takers is 0.05% for investors with more than 400 million USD in monthly trades, while takers don't pay any fees for monthly volumes above 250 million USD.
Coinbase has a relatively low daily withdrawal limit of 100,000 USD, which might be a considerable drawback for users looking to transfer high daily volumes. 
MEXC Global has a rather unique trading fee policy because there are no fees for spot trading whatsoever. Users can freely engage in spot trading without incurring any additional expenses besides the crypto or fiat currency deposit fees. 
When using instant purchase, P2P trading, or third-party trading services, you'll only pay the processing fees for the different payment channels, and these fees don't depend on MEXC Global. 
The lack of fees for classic crypto trading is part of the platform's marketing policy to show that it primarily focuses on derivatives trading. There are two separate fee structures for ETFs and futures trading.
All ETF trades, no matter if they are classic ETFs or leveraged trades, incur a 0.2% fee. As for futures trading, market makers don't pay any fees, while takers incur a modest 0.02% fee. 
MEXC Global has quite a high daily limit for withdrawals. Traders can withdraw up to 200 BTC worth of assets from the platform on a daily basis, which is more than 4 million USD if we take into account the current BTC trading price. 
How Safe Are Coinbase and MEXC Global?
Coinbase had an impeccable safety record for a long time, but in 2021, the platform was breached by malicious individuals who stole crypto from approximately 6,000 trading accounts. 
Hackers spotted a weakness in the Coinbase two-factor authentication (2FA) system that enabled them to impersonate users and hijack the protocol's confirmation code messages sent to users' email addresses or phone numbers. The crypto exchange refunded affected users and changed the 2FA protocol's computer code to prevent future breaches. 
The incident lowered Coinbase's safety rating, but the Coinbase Wallet app gives users the means to ensure their platform assets independent of the Coinbase exchange. That's because Coinbase Wallet is a non-custodial app, and users always keep their private keys on their devices when using this wallet.
The wallet has an optional Coinbase exchange account integration option that lets users connect their wallet with their Coinbase exchange account. Users can trade on Coinbase while keeping their crypto in their Coinbase Wallet. 
As for regulatory compliance, Coinbase is a pioneer in providing licensed crypto trading services, and it's authorized to operate in the US, EU, Australia, and other countries. 
MEXC Global is known as a highly secure platform that hasn't been hacked. Two-factor authentication is mandatory on MEXC Global, and users need to set up their 2FA safety measures once they register an account. 2FA is available either with email or SMS code confirmation for each transaction. 
Also, MEXC Global requires users to comply with its KYC protocol to prevent money laundering and other illegal activities. The MEXC Global platform is registered in Seychelles and has an operating license from local regulators. However, this license carries little weight on an international level, and users don't really have any legal protection in case the platform goes bankrupt or gets breached. 
Essentially, MEXC Global isn't regulated and lacks licenses from reputable international institutions. 
Customer Support
Coinbase really shines in this segment thanks to its multiple customer support options and extremely helpful support team. You can send an email to the support team or file a support ticket in the designated customer support section of the platform. Still, the most practical way to solve your issue is by dialing the Coinbase support phone number, which is always active.
If you prefer written live chat correspondence, you can link to one of your social media profiles in your support ticket, and a Coinbase team member will get back to you. The supported platforms include Facebook and Twitter.
MEXC Global lacks a support phone line, but its customer support is also of high-quality thanks to the numerous channels you can use to contact support. There are links to MEXC Global's official Telegram chat groups in 16 different languages that jointly cover most of the global crypto market.
Also, users can talk to the support team through the live chat option on the MEXC Global website or submit a support request. Additionally, users can contact the platform's team through one of its profiles on social media platforms, such as Instagram, Linkedin, Facebook, and Twitter. The links to the exchange's official profiles are listed on the company's website. 
Mobile Trading
Coinbase is among the industry leaders in the mobile trading segment for beginner crypto enthusiasts. The app makes investing in crypto quick and easy because users can top up their Coinbase account with cash and buy assets through the Trade feature, which is the instant buy/sell service. Traders can browse the available cryptos and inspect each asset's price chart before placing a trading order.
The Coinbase Earn service is also accessible within the app, which means users can stake different crypto tokens and start earning staking rewards with just a few clicks. 
For experienced traders, Coinbase has recently introduced the Advanced Trade feature to its Coinbase app. The company first announced that it would be launching a separate Advanced Trade app but has since decided to introduce Advanced Trade into the newest version of the Coinbase mobile app. This means users can now access the advanced spot trading interface and technical analysis tools from their Coinbase app. 
The Coinbase Wallet app is also an integral part of the Coinbase mobile experience, and users can connect it to their Coinbase trading accounts to engage in direct trading from their wallet app. 
MEXC Global also has a mobile app for Android and iOS, but it's also worth noting that users can download and install the app's desktop version on their computers. 
The mobile app is divided into different segments for various MEXC Global platform services. There's one section for purchasing cryptos, where you can browse the different payment methods and available assets. Another section is reserved for portfolio management and crypto storage.
The trading section of the app is divided into three tabs for spot trading, ETFs, and futures trading. Trading derivatives on the MEXC Global app is really easy because users can browse available trading options and select whether they want to open a long or short trading position. They can also set up take-profit and stop-loss orders to make sure they exit the trading position at the right moment. 
MEXC Global is at an advantage compared to many popular exchanges because it includes derivatives trading features in its mobile app, while many competitors only support derivatives on the browser version of their platforms. 
How Do Coinbase and MEXC Global Compare to Other Crypto Exchanges
Let's check out how these two platforms compare against some reputable competitor exchanges. We'll compare Coinbase with Kraken and MEXC Global with ByBit. 
Similarly to Coinbase, Kraken is a top-rate crypto exchange from the US, with licenses to provide services in most parts of the US, the EU, and other major crypto markets. The instant trading fee on Kraken is 50% higher compared to Coinbase and sits at 1.49% per trade.
Luckily, the Kraken Pro trading features for spot trading are much lower and start at 0.16% for makers and 0.26% for takers, with a 30-day trading volume of up to 50,000 USD. This fee rate is lower compared to Coinbase's Advanced Trade fees for the same trading volume. 
Both platforms have an NFT section and staking options, but Kraken had to close its staking service for US customers because of institutional pressure. Regarding its roster of available coins, Kraken has 200+ assets.
ByBit is the number two global derivatives trading platform, while MEXC Global is ranked 13th among derivatives exchanges. The exchange supports over 300 cryptocurrencies, which is similar to MEXC Global.
Traders can engage in dozens of leveraged futures contracts, along with ETFs, leveraged tokens, and perpetual futures with stablecoins or altcoins as collateral. The range of derivatives products is slightly more extensive than MEXC Global.
When it comes to fees, ByBit charges a 0.1% fee for all spot trades, while derivatives trading incurs a 0.01% maker and 0.06% taker fee. 
Conclusion
Coinbase is often referred to as the go-to crypto exchange for the average crypto trader who doesn't want to deal with complex trading tools and analytics. In this segment, Coinbase does a great job because it's easy to use and it's packed with all the necessary crypto features.
On the other hand, MEXC Global caters to advanced traders who prefer crypto derivatives, such as futures contracts and ETFs, instead of standard instant and spot trading. Among derivatives platforms, MEXC Global is one of the markets leading exchanges.