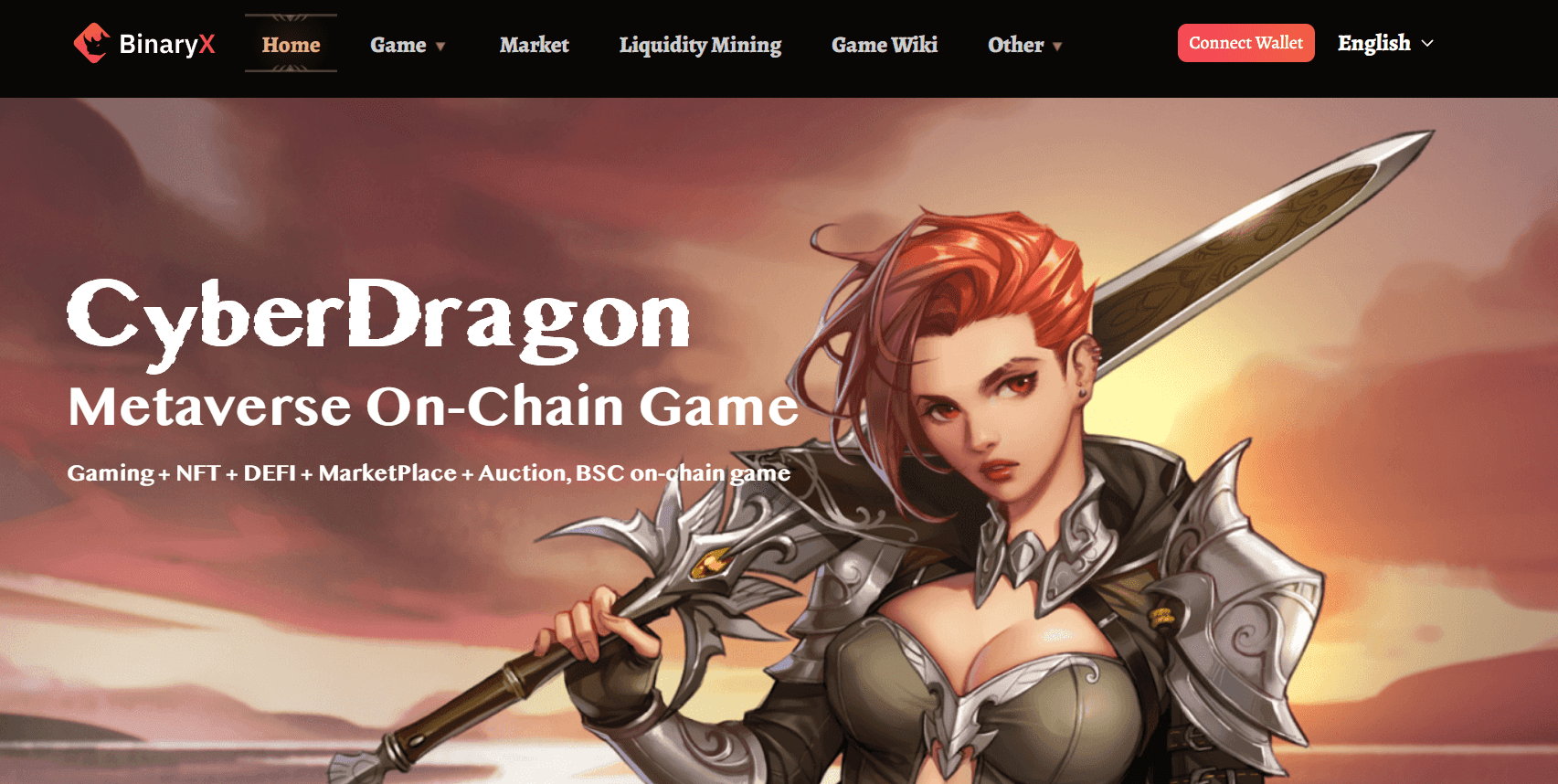 BinaryX (BNX) is a blockchain gaming ecosystem built for launching crypto-powered games. The project is riding the growing trend of GameFi and Web3 games that use cryptocurrency to facilitate transactions and allow players to buy unique items and in-game equipment. 
Let's have a closer look at Binary X.

200+ Cryptocurrencies Listed
Get Crypto After Your First Buy
Protected By Insurance
Secure Storage With Vault Protection
The Most Trusted Cryptocurrency Platform

350+ Cryptocurrencies Listed
<0.10% Transaction Fees
120 million Registered Users
Secure Asset Fund for Users
Earn On Deposits

1,400+ Cryptocurrencies Listed
12+ million users
New account bonuses of up to $5,500
Deposit using 20+ fiat currencies
HODL and Earn
How BinaryX (BNX) Works
BinaryX is a crypto gaming platform and GameFi development ecosystem on Binance's BNB chain. The team chose the BNB chain because it has low transaction fees and allows developers to quickly launch custom crypto projects in the form of BEP-20 tokens or NFTs.
In fact, NFTs are one of the core elements of blockchain gaming, and BinaryX leverages their popularity by including NFTs in the gaming mechanics of its projects.
As such, BinaryX is a framework for launching blockchain games. At the same time, the BNX token can facilitate in-game transactions, allow users to purchase NFTs, and get crypto rewards for completing game levels and missions.
BinaryX has its own NFT marketplace where users can buy and sell NFTs that are part of BinaryX games. Players can choose between different NFT classes and rank NFTs based on rarity. Note that all BinaryX NFTs are medieval fantasy themed, just like the games.
So far, BinaryX has launched three trending blockchain games on the BNB chain: CyberDragon, CyberArena, and CyberChess.
CyberArena is an arena-style battle game. CyberDragon requires users to buy a hero NFT and battle through dungeons against different monsters and main bosses to win the grand prize and upgrade their hero. As for CyberChess, it's a chess-like player versus player or player versus environment game with strategic battle elements.
Additionally, the team plans to launch CyberLand in the near future, which is their most ambitious project. CyberLand will include a massive metaverse environment where players roam a medieval fantasy world with heroes, magic, monsters, and many in-game quests.
All BinaryX games include play-to-earn (P2E) mechanics that reward users with crypto for successfully battling their way through missions and quests. 
Additionally, BinaryX launched the BinaryX DAO (decentralized autonomous organization), which lets players control the ecosystem through a democratic governance model where they get to vote on the platform development, game launches, and ecosystem changes.
What Is BinaryX (BNX) Used For?
BinaryX develops blockchain games, provides users with GameFi experiences, and acts as a crypto gaming launchpad for promising third-party games.
The primary focus of BinaryX is on launching games that show players how Web3 gaming can compete with the traditional gaming scene. Web3 gaming is still a tiny portion of the global gaming industry but blockchain gaming projects are trying to increase their user base by creating GameFi experiences that add an economic incentive to playing games.
All BinaryX games have internal economic systems that depend on the BNX token. With BNX, players can buy new hero NFTs and other in-game equipment. Also, the BNX NFT market can support any future BinaryX game's NFTs. This gives considerable flexibility to BinaryX developers because they don't need to create separate marketplaces for each game. Instead, players can trade NFTs from all BinaryX games on the platform's official marketplace. 
Apart from BNB chain-based NFTs, the BinaryX marketplace also supports Ethereum-based ERC-721 NFTs. Furthermore, third-party games that use the BinaryX framework to launch their games and include BNX token mechanics will also be able to list their NFTs on the platform's marketplace.
With that said, one of the critical goals of BinaryX is to expand the general blockchain gaming ecosystem by onboarding crypto games developed by third-party teams. BinaryX can help smaller game developers jump-start their projects through the BinaryX network, which is already a reputable gaming platform with a market capitalization of 200 million USD. 
As for the players, they can earn serious financial rewards by playing BinaryX games. The P2E mechanics are designed to reward players with crypto and NFT hero upgrades. Upgraded NFTs are more valuable on the market, meaning players can develop their heroes and then sell them on the BInaryX marketplace for a profit.
Where to Buy BinaryX (BNX)?
BinaryX is available on over 30 cryptocurrency exchange platforms, including Binance, KuCoin, Phemex, and various other platforms.

200+ Cryptocurrencies Listed
Get Crypto After Your First Buy
Protected By Insurance
Secure Storage With Vault Protection
The Most Trusted Cryptocurrency Platform

350+ Cryptocurrencies Listed
<0.10% Transaction Fees
120 million Registered Users
Secure Asset Fund for Users
Earn On Deposits

1,400+ Cryptocurrencies Listed
12+ million users
New account bonuses of up to $5,500
Deposit using 20+ fiat currencies
HODL and Earn
You'll need to register an account on these platforms to buy BNX. Once registered, you can either deposit fiat currency or some other crypto to exchange it for Tether (USDT) and then buy BNX with USDT. However, if you use Binance, you can buy BNX with a few additional cryptocurrencies, such as Binance USD (BUSD), Binance Coin (BNB), and Bitcoin (BTC).
Additionally, BNX is available on various decentralized exchanges like PancakeSwap and BabySwap. PancakeSwap allows users to buy BNX with USD, BUSD, Wrapped BNB (WBNB), and USD Coin (USDC), while BabySwap only supports a USDT/BNX trading pair.
Keep in mind that you don't need to create a user account on decentralized platforms, which means you can buy BNX directly with crypto by connecting your wallet to one of these platforms.
How Long Has BinaryX (BNX) Been Around?
BinaryX was launched in 2021, and the project went through a tremendous evolutionary path from issuing its first game to becoming one of the largest ecosystems in the blockchain gaming sector. 
What's Controversial About BinaryX (BNX)?
There's nothing controversial about the project except that the developer team is anonymous, which some crypto enthusiasts consider a red flag. However, the BinaryX team has delivered on all of their promises so far and has proved to be reliable. 
How Many BinaryX Coins Are There?
BNX has a maximum supply of 21 million coins. However, the circulating supply is 2.8 million coins. BNX is the main currency of the BInaryX ecosystem, but users get in-game rewards in the form of GOLD and CHRYSTAL tokens, which are in-game cryptocurrencies.
You can't exchange these tokens on the market except for BNX tokens through the BinaryX platform. All of the coins are pre-mined by the developers, and they are gradually released on the market through in-game rewards.
Can BNX Be Mined?
There's no way to mine BNX because the whole coin supply has been pre-mined by the BnaryX team. However, only a portion of the tokens is circulating on the market because players need to play BinaryX games to unlock tokens through the in-game reward system. That's how new BNX tokens get placed on the market. 
Also, BNX tokens are essential for the work of the BinaryX DAO because BNX tokens grant voting rights to holders.
Market Cap and Price History of BinaryX (BNX)
BinaryX has a market capitalization that fluctuates around the 200 million USD mark. The coin is ranked just under the top 100 crypto projects on CoinMarketCap. At the time of the token's launch, BNX was worth around 6 USD per token, but the value of BNX dramatically increased during the 2021 bull market when it reached the 200 USD per token price.
The price of BNX first fell sharply during the 2022 bear market to around 20 USD but then recovered and managed to maintain its price in the 100 to 170 USD range. However, by the end of 2022, BNX fell dramatically, along with the broader crypto market, to between 60 and 70 USD per token in December 2022.
Biggest Competitors of BinaryX (BNX)
The blockchain gaming market is growing really fast, and numerous developer teams are launching Web3 games with GameFi and NFT mechanics. However, BinaryX is already in a pretty high market position as the 121st crypto.
This means that the only gaming projects that are better positioned than BinaryX are Enjin Coin (ENJ), The Sandbox (SAND), Gala Games (GALA), Axie Infinity (AXS), and Decentraland (MANA). Competing with these projects is hard because they all have a much higher market cap than BinaryX. 
What Does the BinaryX (BNX) Project Road Map Look Like?
The main focus of the BInaryX team in the coming period is to launch their CyberLand metaverse game. This game will be a massive metaverse environment that lets numerous players simultaneously explore the BinaryX fantasy environment and complete quests.
It will be interesting to see how the game will look and work in practice since the preview looks like CyberLand aims to compete with large-scale metaverse projects like Decentraland and The Sandbox. 
Apart from their new game, BinaryX is working on developing partnerships with third-party blockchain game developers.
Pros and Cons of BinaryX (BNX)
Pros
Rapidly growing gaming ecosystem with three active games.

Plans to launch an ambitious metaverse game.

P2E game mechanics that reward users with crypto.

Native NFT marketplace where players can trade assets across the whole BinaryX gaming ecosystem.
Cons
Anonymous developer team.

Despite claims of being open to launching games produced by third-party developer teams, there aren't any such games in the BinaryX ecosystem yet.

The CyberDragon game requires users to purchase an NFT before playing it.