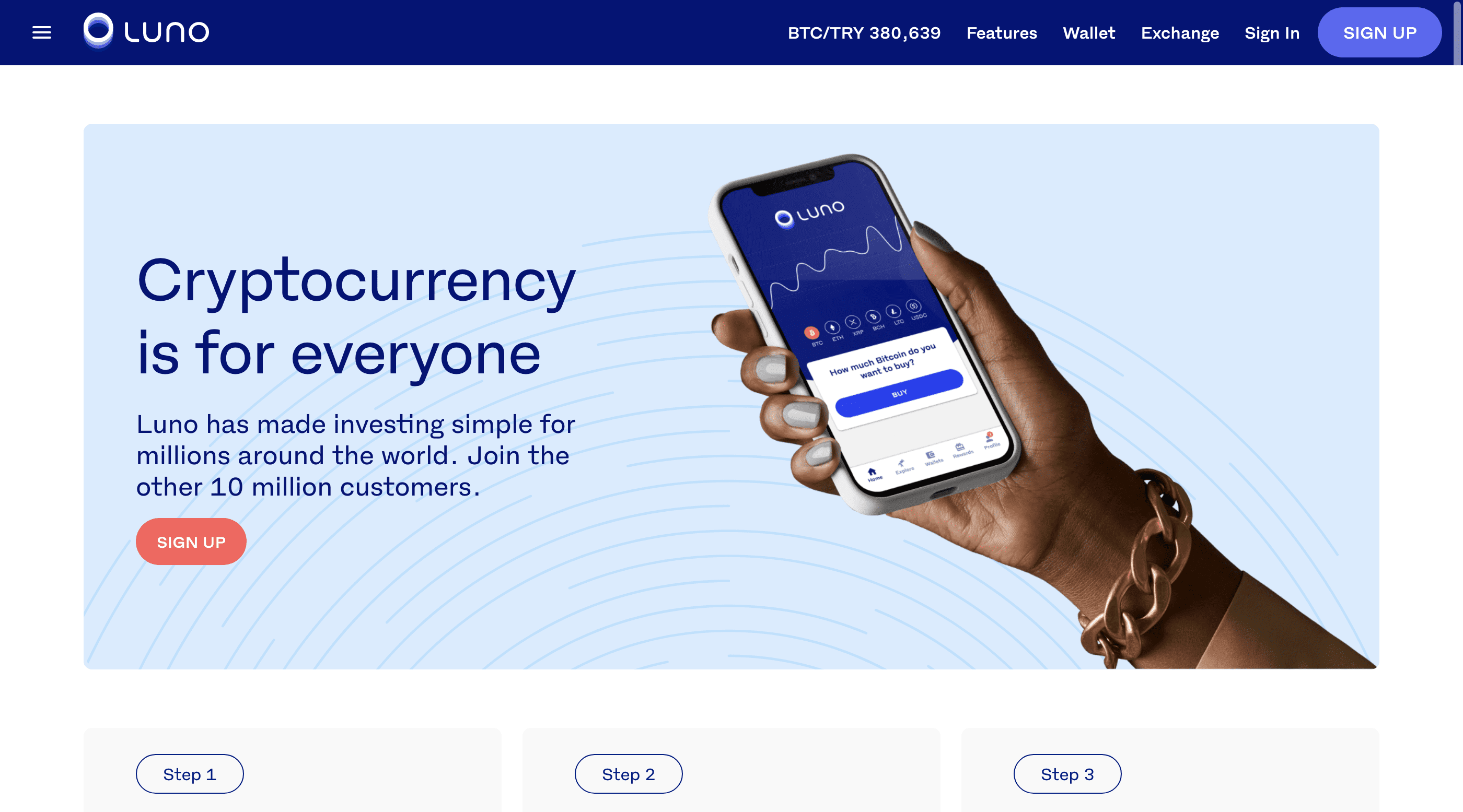 Luno is a mobile crypto trading platform and wallet that supports seven cryptocurrencies. It's known as a boutique exchange with limited features, though its stability has been questioned since the bankruptcy of its sister company Genesis.
In this Luno review, we'll look into all aspects of trading on the platform, including the fees, features, and possible issues, so you can decide if it's the best choice for you.
Pros & Cons of Luno
Pros
Provides an easy way to convert between crypto and fiat currencies

Has a beginner-friendly trading platform

Business accounts allow businesses to accept and pay in crypto

Several payment options are available, including bank transfers, debit, and credit cards.

Available in many South Asian and African countries

25 Trading pairs available for UK-based customers
Cons
Expensive crypto prices due to high spreads

Supports only seven cryptocurrencies

Low liquidity

No advanced trading tools

High fees for withdrawals
About Luno 
Luno is a small-scale trading platform and wallet provider based in the UK. The platform is available in over 40 countries, though most features and trading pairs are location specific.
Luno's crypto offerings are very limited compared to crypto exchanges like Coinbase or Binance. It's become popular due to its beginner-friendly interface and availability in developing countries.
It's worth noting that Luno is owned by the crypto conglomerate Digital Currency Group (DCG). DCG is the parent company of Genesis, a cryptocurrency lending firm that declared bankruptcy in January 2023. 
Genesis's bankruptcy may also affect Luno, but it's too early to tell the impact. However, Luno already announced the firing of 35% of the company staff, ​​citing market turbulence. 
Luno hasn't stopped withdrawals, and operations continue. However, most traders consider Genesis's bankruptcy as a possible red flag.
Crypto Coins Available on Luno Crypto Exchange
Luno supports 7 cryptocurrencies, including Bitcoin (BTC), Ethereum (ETH), Solana (SOL), Bitcoin Cash (BCH), Litecoin (LTC), Ripple (XRP), USDC, Chainlink (LINK), Uniswap (UNI), and Cardano (ADA).
There are 25 trading pairs for UK-based customers, but US-based users are limited to Ethereum and Bitcoin.
Bear in mind that available coins vary depending on your country. Check Luno's website for more information on available currencies in your country.
Fiat Currencies Supported on Luno 
Luno supports around 11 fiat currencies, including USD, GBP, EUR, AUD, IDR, ZAR, ZMW, MYR, NGN, SGD, and UGX.
Deposit and withdrawal methods vary depending on your country. Customers from the US, UK, Australia, Indonesia, Malaysia, and Uganda can deposit through bank transfers, SEPA, or other payment providers like PayID. 
Nigeria-based users can deposit via voucher deposits, and South Africa-based users can deposit via EFT and cash deposits.
Australia and Europe-based customers can also purchase cryptocurrencies with debit cards and credit cards.
Fiat currency deposits are free for the most part; however, Luno charges a small fee for deposits under a minimum limit that varies from country to country. Your bank and/or payment provider may charge additional fees. 
Countries Supported on Luno 
The Luno trading platform is available in 40 countries, including France, the UK, the US, Australia, Indonesia, Malaysia, Nigeria, Singapore, South Africa, Uganda, and countries in the Single Euro Payments Area (SEPA).
In the countries supported, access to certain features can vary according to a user's location. You can find the complete list of countries supported by the platform here.
In the US, Luno isn't available in Hawaii, Nevada, New York, and Texas.
Restricted countries include Algeria, Anguilla, Egypt, Panama, Qatar, Russia, Seychelles, Morocco, Cuba, Bangladesh, American Samoa, Cuba, Dominica, Nepal, Iran, Iraq, Fiji, Guam, Palau, Syria, and the Virgin Islands. You can check the complete list of restricted locations on Luno's website.
Remember that you can't sign up on Luno if you are based in one of the above-mentioned locations. If you signed up on the exchange while you were in a supported country, you wouldn't be able to use your account while you are in an unsupported location.
US-based customers can only use Luno in the US and Canada.
Luno Trading Fees
Trading platforms like Luno generally have higher fees than cryptocurrency exchanges. Luno has a complicated fee schedule since the rates vary depending on the country you signed up from. 
The fees include Instant buy fees, transaction fees (usually only for takers, but there are exceptions), fees for sending/receiving crypto to your wallet address, and deposit and withdrawal fees.
Let's check out Luno fees in more detail.
Instant Buy/Sell Fees
Instant buy helps you purchase and sell crypto easily through your Luno payment wallet. Instant buy is beginner-friendly, but fees are generally higher than market rates.
Note that US customers can't access trading markets and must use the Instant buy feature to buy and sell crypto on Luno, which costs around 0.75% of your whole transaction.
Instant buy fees are 2% for AUD (3.5% with credit card payments), 1.5% for EUR, 1.10% for IDR, 2% for MYR, 2% for NGR, 3.50% for SGD, 3.90% for ZAR, 2% for UGX, and 1.50% for GBP.
Luno Trading Fees
Luno maker and taker fees vary by the market, but for the most part, the exchange doesn't charge fees on maker orders. Malaysia is the only exception, as maker fees start at 0.25%.
Taker fees start at 0.10% in Australia, Europe, Nigeria, South Africa, Uganda, and the UK.
In Malaysia and Indonesia, takers pay 0.50% and 0.21%, respectively.
Singapore and US-based traders can't trade on the exchange or take advantage of maker/taker fees.
Sending and Receiving Fees
Receiving cryptocurrency on the Luno exchange is free, but sending cryptocurrency costs fees. You have to pay a dynamic fee based on blockchain network traffic when you are sending crypto.
Deposit and Withdrawal fees
Fiat deposit and withdrawal fees vary depending on your location, selected currency, and payment methods. Luno offers free bank transfers for almost all supported currencies, but minimum limits apply. 
Banks may charge you extra for wire transfers, and you may have to pay extra depending on the payment provider you use. 
Main Features of the Luno Platform
Luno provides a few services traders can take advantage of, including a crypto wallet and exchange marketplace. Let's see some of the most notable features of Luno in more detail.
Luno Wallet
Luno offers crypto wallets for BTC, LTC, ETH, XRP, LINK, UNI, and BCH. Users can buy, store, and send crypto through their wallets. 
Luno wallet is a custodial mobile wallet. Funds stored in your crypto wallet are managed by the company, and you don't control the wallets' private keys.
Luno Exchange
Luno offers a marketplace for trading 25 coin pairings. The exchange doesn't charge maker fees (except in Malaysia), and taker fees usually start at 0.10%, which is considered below the market standard.
The main problem with the Luno exchange is the low liquidity of the platform. If you want to make big purchases or large trades, Luno may not be the best option.
The exchange supports ​​API access for automated trading, advanced charting tools, and several price indicators and allows you to set up price alerts.
Instant Buy (Brokerage Service)
Instant buy allows you to purchase and sell crypto through a beginner-friendly interface. The service is more expensive than market orders, and users often pay 1% to 4% in fees. You will be shown the exact fee before you confirm any transaction.
Place Recurring Orders With Autopilot
If you want to set up period purchases, you can enable recurring orders. This feature can be set to buy any specific coin daily, weekly, or monthly. For example, you can place a recurring order to buy $50 worth of Bitcoin (BTC) monthly.
Educational Content
The platform hosts a lot of informational articles on the crypto industry and trading. The company has also partnered with crypto analytics firm Chainalysis to educate users on crypto scams. You can find in-app messages, articles, and videos on how to spot and avoid crypto scams online.
Luno Business
Luno Business allows merchants to accept and store cryptocurrency payments. The service is geared towards miners, crypto services, and trading firms.
How Easy Is It to Open a Luno Account?
Signing up for a Luno account is very simple, but verifying your account may take a couple of days. Most users verify their accounts as soon as they sign up since you have to be verified to use many features on the platform.
Here's how you can open a Luno account:
Go to Luno's website and select the Sign Up button. Enter your email address or sign up with your Apple, Google, or Facebook account.
Alternatively, you can download the Luno app on your device's dedicated app store and sign up via the app. Make sure you download the official app and avoid scam copycat apps that look like Luno.
Once you sign up, you'll receive a link in your email address to verify your account. Then, you'll need to complete identity verification to start trading crypto. 
Identity verification is simple. Sign into your Luno account and select Profile from the menu. Navigate to Settings, tap Verification, and then follow the onscreen instructions.
You may have to provide one of the following:
Passport

Driver's license

National ID card.
How Secure Is Luno?
Luno uses industry-standard security measures like two-factor authentication (2FA) and cold storage for crypto funds in their hold. Wallet keys are generated offline and offsite, and Bitgo Custody and Fireblocks manage the keys. A portion of the funds is kept in multi-sig hot wallets to enable fast transactions. 
The company complies with AML and KYC regulations, and there is a bug bounty program for reporting bugs and vulnerabilities.
But security isn't just about a platform's resistance against hackers; it's also about financial stability, especially when it comes to custodial exchanges like Luno. If the exchange goes bankrupt, the platform can freeze customers' assets.
Unfortunately, Luno's sister company Genesis filed for Bankruptcy protection in January 2023, triggering anxieties that Luno's finances may not be in good order. 
The company officials deny Genesis's bankruptcy can impact Luno, but the company swiftly fired 35% of its workforce after the bankruptcy hit the news, signaling there may be tough days ahead. If Luno declares bankruptcy, users may not be able to withdraw their funds from Luno.
Has Luno Ever Been Hacked?
Luno hasn't reported a hack since its founding. However, many users have reported hijacked user funds, hacked accounts, crypto phishing, and drained accounts. Many of these issues probably stem from hacked passwords on the user end.
Hackers can access your Luno account through your account email and password. SIM swaps can be used to bypass 2FA security protections. Luno (and almost all exchanges) don't accept responsibility for these types of hacks, as it is the user's responsibility to keep their account information safe.
Is Luno a Regulated Exchange?
Luno is registered as a crypto business in several parts of the world, including the US and the UK. You can check out Luno's page on licenses and registrations for a more detailed look.
However, even though Luno is a registered service, it doesn't mean the company is audited by independent auditors or regulators. 
How Does Luno Compare to Other Crypto Exchanges?
Luno can be compared to other trading platforms like Coinbase or Binance. 
Fees
Luno fees start at 0.10% (takers), which is quite cheap compared to Coinbase Pro rates of 0.40% for makers and 0.60% for takers. Binance also charges 0.10% for makers and takers. Nevertheless, Luno offers an advantage for makers with its zero-fee schedule.
Luno's instant fee rates are very similar to Coinbase's, as both exchanges charge handsomely for instant buy purchases. 
Features
While all three platforms allow you to trade cryptocurrencies, the difference in their reach is obvious. While Luno offers around seven cryptocurrencies, Coinbase offers 200, and Binance supports over 350 digital assets. 
Binance and Coinbase also offer many additional features like staking opportunities, crypto debit cards, and other Earn products. Another obvious difference is liquidity. Binance and Coinbase have the largest trading volumes in the world, whereas Luno isn't in the top 10 or 20 by trading volume.
Overall, if your only goal is to purchase BTC or ETH, Luno may be enough. However, if you want to explore altcoins or trade high amounts, you may find Luno lacking.
Security
None of these platforms and their reserves have been audited by an independent auditor. The public has no way of knowing how they deal with customers' funds without such an audit.
Avoid storing large sums of crypto in custodial crypto exchanges or trading platforms. You may lose your savings if they declare bankruptcy, freeze withdrawals, or become inaccessible due to regulations. 
Does Luno Have an App?
The Luno mobile app is available for both iPhone and Android users. It's available to download for free from the Google Play Store and the Apple Store and holds average reviews from both stores.
The app performs the same functions that the desktop version does. The interface is a replica of the desktop version. So, if you've already figured out how to navigate the interface, switching to the mobile version shouldn't be too challenging.
Luno Review: Final Thoughts
Luno is a popular trading platform that operates in several developing countries, SEPA payment areas, and the US. It allows users to trade seven cryptocurrencies, including major coins like Bitcoin and Ethereum, and offers around 25 trading pairs.
Luno doesn't offer much to US-based users, as they aren't able to trade on the exchange and can only buy and sell BTC and ETH through the instant buy feature. Europe and UK-based users can trade more assets at relatively low prices.
The platform doesn't charge fees for maker orders, and taker orders start at 0.10%, making Luno very competitive in terms of fees.
The platform is pretty easy to navigate, but while its Instant Buy feature is beginner-friendly, it's quite expensive. 
The exchange funds are stored and managed by Bitgo, one of the biggest names in the crypto custody solutions industry, and there have been no reports of hacking.
Overall, Luno is for crypto traders who are content to buy and trade a few major coins like BTC and ETH, as the platform doesn't offer many coins or sophisticated services. 
However, please note that Luno's financial stability has been questioned by users and journalists after its sister company, Genesis filed for bankruptcy. 
If the effects of the bankruptcy spread among subsidiaries of Digital Currency Group (DCG), Luno may also end up declaring bankruptcy and freezing customer funds.
To learn more about other cryptocurrency exchange platforms, check out our post on the Best 22 Crypto Exchanges and 8 Alternatives.