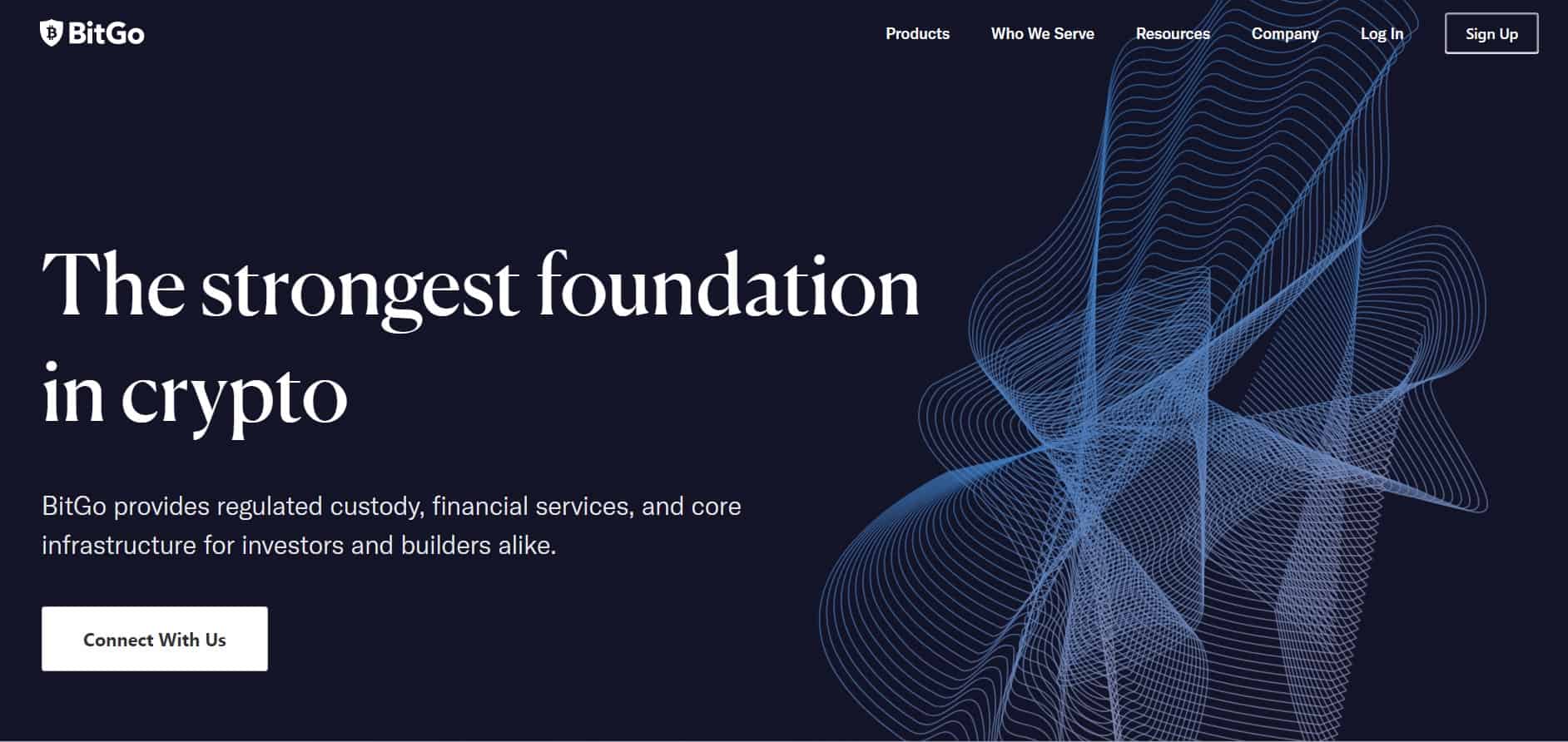 Established in 2013, BitGo is the first digital asset company to cater to institutional clients and is credited with developing the first multi-signature wallet. The BitGo wallet, which shares its name with the company, is widely acknowledged as one of the most dependable wallet service providers in the cryptocurrency sector.

Buy & sell 70+ Cryptoassets
Practice risk-free with a $100K demo account
30+ Million users
Also trade stocks, shares and other assets
Staking service enables you to grow your crypto holdings, simply by owning crypto

350+ Cryptocurrencies Listed
<0.10% Transaction Fees
120 million Registered Users
Secure Asset Fund for Users
Earn On Deposits

200+ Cryptocurrencies Listed
Get Crypto After Your First Buy
Protected By Insurance
Secure Storage With Vault Protection
The Most Trusted Cryptocurrency Platform
In this BitGo Wallet review, we will provide a comprehensive walkthrough of this product, covering both its features and overall functionality.
What Is BitGo?
Mike Belshe and Ben Davenport launched the BitGo platform in 2013, the early days of the cryptocurrency world. Its administrative hub is in Palo Alto, California, USA. 
The primary motivation behind this crypto wallet was to assist commercial enterprises that frequently conduct transactions utilizing cryptocurrencies. Goldman Sachs, DRW Ventures, Digital Currency Group, and Redpoint Ventures are among the company's most prominent investors. Redpoint Ventures also backs BitGo.
BitGo stands behind the development of the multi-signature wallet that went on to build TSS (i.e., multi-signature or Threshold Signature (TSS) technology) to improve the multi-party computational security protocols (MPC) of other fintech businesses.  
As a result, the BitGo platform itself currently supports over 600 coins from a wide range of blockchains using their advanced multi-signature and TSS protocols. BitGo also delivers some of the most reliable and secure financial services for the crypto economy.
Furthermore, investors and developers can take advantage of BitGo's core infrastructure, which includes regulated custody and borrowing and lending services.
With the creation of the BitGo Trust Company in 2018, BitGo also launched a regulated, qualified cold storage option to complement its initial hot wallet offering as a qualified custodian.
What Does Qualified Custody Mean?
When it comes to digital assets, qualified custody is an extremely important feature. A great number of investors are familiar with the saying, "Not your keys, not your crypto," which refers to a concept that gives a crypto investor two options:
You are the only one who should have access to the private keys, but you are solely responsible for the security of your holdings (

self-custody

).

Keep your private keys with a custodian and trust that they'll do the right thing for you.
Because of this, it is important to use the services of a competent custodian instead of a "simple" custodian. You must be able to trust your business associate, and a qualified custodian must watch out for your best interests as part of their fiduciary responsibilities. 
In layman's words, qualified custodians store clients' funds separately and comply with stringent regulatory criteria. These standards are intended to prevent the loss, theft, or misuse of client funds. 
The BitGo Trust Firm provides this type of qualified custody, which indicates that the company is subject to regulation and auditing, along with up to $250 million in insurance coverage. 
Main Features: BitGo Kits
The BitGo platform gives users access to various types of crypto wallets, decentralized exchanges (DeFi), staking, non-fungible token wallets (NFT), and more, and it is the only place where you can store wrapped Bitcoin (WBTC).
In addition to these functionalities, the BitGo platform also features Application Programming Interfaces (APIs), i.e., protocols for connecting and communicating across apps or devices bundled together as kits. 
Here are some instances of where the BitGo kits would be useful:
BitGo supports a wide variety of cryptocurrencies, so you can use any of them to conduct business with the platform.

You can keep your digital assets, like NFTs, in wallets that require multiple signatures for access to ensure their safety.

During the sending of transactions, you can develop and oversee policies that add extra layers of protection.

Exchange cryptocurrency assets through pair trading.

You can increase your chances of winning rewards by staking your coins and tokens.

You can try out all BitGo kits in the demo mode. In the live mode, you will only have access to the kits that you have purchased. 

Buy & sell 70+ Cryptoassets
Practice risk-free with a $100K demo account
30+ Million users
Also trade stocks, shares and other assets
Staking service enables you to grow your crypto holdings, simply by owning crypto

350+ Cryptocurrencies Listed
<0.10% Transaction Fees
120 million Registered Users
Secure Asset Fund for Users
Earn On Deposits

200+ Cryptocurrencies Listed
Get Crypto After Your First Buy
Protected By Insurance
Secure Storage With Vault Protection
The Most Trusted Cryptocurrency Platform
BitGo provides three basic kits: the Custody Kit, the Liquidity Kit, and the Wallet Kit. Please note that you can't use the other kits once you get the Wallet Kit.
BitGo Wallet Kit
With BitGo's Wallet Kit, you can set up your self-managed hot wallets to transfer, accept, and stake virtual currencies. You will have access to more than 600 different tokens and more than 20 of the most prominent blockchains.
BitGo Custody Kit
BitGo's Custody Kit allows users to generate cold, self-managed digital wallets and safely keep their virtual currencies in authorized, cold-storage custody at BitGo Trust Company. 
Custodial wallets, much like the other crypto wallets available on the BitGo platform, use Multisignature or Threshold Signature (TSS) technology, which ensures that no one can take control of your digital assets without your permission.
BitGo Liquidity Kit
If you use the Liquidity Kit, you won't have to keep your funds on several different exchanges at the same time. This makes it much easier for you to handle your money well. You just need to store your assets with BitGo, and the platform will send your orders to the liquidity providers currently offering the best rate.
The platform can do this by bringing together all the available liquidity and showing the best price for each deal. This lets you take advantage of competitive rates in a single place.
Offline Vault Console
To administer cold wallets on your own, you must install the BitGo Offline Vault Console (OVC) on a secure computer network that's not connected to the Internet. The OVC is used to do the following:
Audit the keys;

Amend your login credentials;

Generate user keys as well as backup keys;

Confirm the transactions by signing them.
Please be aware that you do not need the OVC to generate your keys. Hence you must utilize the OVC to carry them out on a self-managed cold wallet.
Security
BitGo is widely regarded as the most secure cryptocurrency wallet currently available, emphasizing security as one of its most prominent selling factors. Users prioritize security as the most critical element of a product, and BitGo meets this demand in a couple of ways. 
BitGo's Multi-Signature Wallet Solution
The Multi-Signature (MultiSig) method ranks among the most dependable and trustworthy options. Using multiple signatures not only paves the way for numerous people to access a single account but also adds an extra layer of protection to financial dealings.
With the MultiSig protocol, each wallet is equipped with multiple keys. Using a minimum of two of these keys is customarily necessary to sign any payment. 
In addition, the MultiSig protocol makes everyone involved in the transaction more responsible. More specifically, the multiple signatures generated by MultiSig wallets on the blockchain reveal which keys have been utilized to authorize the transaction. 
Such openness could prove helpful in a dispute about who signed a particular transaction. If a custodian attempted to use their primary and secondary keys to transfer money without the client's knowledge, it'd be easy to track down the thievery.
Furthermore, the backup keys that multi-signature wallets often provide are a bonus in case one key gets lost or stolen.
To create a multi-signature wallet, however, engineers need to invest more time and effort. For this reason, many service providers don't bother to provide them. Luckily, there's BitGo. 
BitGo's Threshold Signature Scheme (TSS)
Among the many types of protocols for conducting computation with multiple participants, i.e. Multi-Party Computation (MPC) protocols, TSS is the one that stands out. The TSS protocol provides even more extensive currency coverage than the Multi-Signature design, which is widely regarded as the gold standard for protecting blockchain-based digital assets.
BitGo is implementing this Threshold Signature Scheme (TSS) to provide additional layers of security for wallets on select blockchains, allowing for speedier support for new coins and lower transaction fees. Thus, BitGo has the ability to offer the highest level of MPC security, regardless of whether the tokens are being kept in a cold or hot wallet.
Types of BitGo Wallets
The BitGo Wallets are a reliable digital currency storage solution that boasts cutting-edge features, including multi-signature protection, touch-screen customization, and a sleek interface.
Compared to other digital storage solutions, these wallets offer superior services because they can store multiple signatures, accommodate multiple users at once, and because they're safe.
BitGo wallets can be divided into types based on the person who has the keys and the location(s) where keys are created and kept.
There's a hot self-managed) wallet, custodial, TSS hot wallet, and a cold (self-managed) wallet. You can get backup keys for these, and they both run on Multi-sig or TSS technology (based on the respective cryptocurrency blockchain).
But first, let's go back to the first versions of the BitGo wallet. Introducing you to the BitGo Legacy Wallets.
BitGo Legacy Wallets
BitGo previously used the Custodial Paired wallet and the V1 wallet, which lacked the security features seen in the later, more secure, and functional versions.
BitGo V1 Wallet
V1 is the first version of BitGo's self-managed wallet service. This wallet only supported Bitcoin transactions.
Custodial Paired Wallet
The original custodial wallet offered by BitGo was known as the Custodial Paired wallet. This wallet functioned in a manner analogous to that of a hot wallet. However, each individual wallet was connected to a main (parent) wallet that was maintained by BitGo and was responsible for authorizing all outgoing transactions.
If you are using an older form of wallet, such as a legacy wallet, BitGo strongly suggests that you update to a more contemporary version as soon as possible. Doing so will improve both your security and your wallet's performance.
The available options are listed below.
Self-Managed Multi-Signature Hot Wallets 
Users of hot wallets can sign transactions on the BitGo website or through code, using either the user keys are only accessible to authorized users (encrypted by their BitGo or wallet password) or their own server for key storage and transaction signing (external signing option).
When a transaction gets the required number of signatures, BitGo confirms it with the BitGo key. Once the transaction is complete, BitGo uploads it and makes it public.
As the most versatile option, self-managed multi-signature hot wallets are a popular choice among BitGo users. When compared to cold wallets, however, hot wallets present a greater security risk.
Self-Managed Multi-Signature Cold Wallets 
Cold-wallet users sign the transactions with their keys, which are secured by their BitGo or wallet encryption key at the moment the transaction is initiated. This can be done through the BitGo web UI or via programming. Wallet users must complete the transaction with other signatures in the BitGo Offline Vault Console (OVC).
When a transaction reaches the necessary number of signatures, BitGo confirms it with the BitGo key. Once the transaction is complete, BitGo uploads it and makes it public. 
Among the various wallet types provided by BitGo, self-managed multi-signature cold wallets offer the highest degree of discretion and security.
Custodian-Managed Cold Wallets
A custodial wallet user can send funds from their account to a multi-signature or TSS wallet using their computer or the BitGo web UI, but they cannot sign the transaction. A BitGo Trust operator will sign the transaction using the user's key only after the user has been video verified. 
Then, the BitGo Offline Vault Console (OVC) allows a separate BitGo Trust administrator to retrieve the transaction and digitally sign it. Once the transaction is complete, BitGo updates it and makes it public.
In comparison to the other wallet types offered by BitGo, custodial wallets offer the highest level of security. These wallets are the safest, but they are also the least flexible when it comes to sending money regularly. The time limit for withdrawing money from a custodial account is 24 hours. 
TSS Hot Wallet
Multiparty computation (MPC), which is used by TSS wallets, removes the need for a completely private key, which is the case with multi-signature keys. By distributing sections of a private key across nodes belonging to more than one party, TSS ensures that neither party generates or reveals the private key. Each party – the user, the backups, and BitGo – owns an encrypted part of the private key they exchange between themselves.
Users that sign transactions using TSS wallets do so by pairing their portion of the key with BitGo's. Since transactions can be bundled in a self-managed TSS hot wallet, the associated fees are significantly cheaper than those associated with multi-signature wallets. 
However, the signing process for TSS transactions needs greater coordination between the co-signers, which can make them less flexible. 
At BitGo, the level of security offered by TSS hot wallets is comparable to that of multi-signature wallets. On the other hand, cold wallets offer a higher level of security than hot wallets do in general.
How To Register on BitGo?
Getting started with BitGo is a relatively uncomplicated process. Let me walk you through it.
First, head over to the BitGo site's homepage and select the

Sign-Up

link.

Next, choose the type of account you hold (individual or business). Please note that the fees are assessed on a transaction-by-transaction basis for the individual account. 

Fill out the registration form with your personal details.

Follow the link sent to the email address you provided when you enrolled.

Once you verify your email, you can log in.

Install the two-factor authenticator (2FA) by using Google Authenticator or Yubikey, then follow the on-screen instructions to complete the setup.

When you are finished registering for an account, you will be issued a recovery key for the wallet. For optimal protection against intrusion, you should store the key on your device in addition to having a hard copy of it printed out.
Conclusion
At the present time, BitGo is one of the crypto-market leaders in terms of the safety, custody, and availability of digital assets. It serves more than 1,500 corporate clients in more than 50 countries and is the main operational pillar of those businesses. 
This list features a significant number of companies that are subject to regulatory oversight, in addition to some of the major crypto exchanges and trading platforms on the globe, such as BitBuy, eToro, and Paxful, to name a few.
Additionally, BitGo is accountable for processing approximately 20% of the total value of all Bitcoin transactions carried out across the globe (as per BitGo's website). This by itself ought to speak volumes about the product in question and its success.
BitGo User Reviews
Review Summary
0 out of 5 stars (based on 0 reviews)
Recent BitGo Reviews
There are no reviews yet. Be the first one to write one.
Submit a BitGo Review