FTX was one of the leading crypto platforms. However, they have now declared bankruptcy and gone out of business.
If you are currently a customer you may want to sign-up with Binance directly here. (US residents need to sign-up with Binance.us here).
Here are 7 alternatives exchanges you can sign-up with today.

Buy & sell 70+ Cryptoassets
Practice risk-free with a $100K demo account
30+ Million users
Also trade stocks, shares and other assets
Staking service enables you to grow your crypto holdings, simply by owning crypto

350+ Cryptocurrencies Listed
<0.10% Transaction Fees
120 million Registered Users
Secure Asset Fund for Users
Earn On Deposits

200+ Cryptocurrencies Listed
Get Crypto After Your First Buy
Protected By Insurance
Secure Storage With Vault Protection
The Most Trusted Cryptocurrency Platform
1. Binance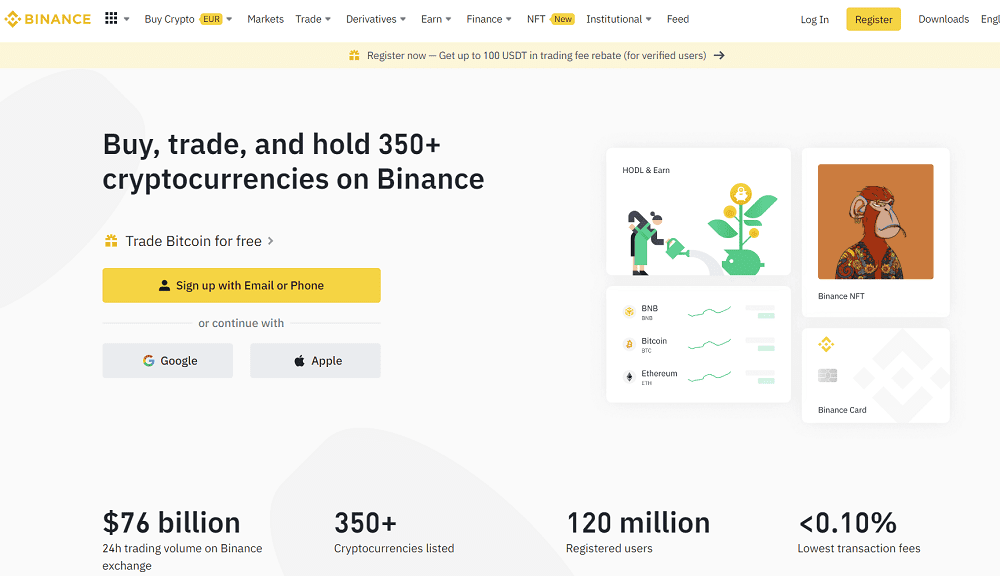 Binance is by far the world's largest crypto exchange and the obvious choice if you're looking for an FTX alternative.
Here are just a few of the things Binance offers:
Bought FTX
350+ Cryptocurrencies listed
<0.10% Transaction Fees
120 million Registered Users
Largest crypto exchange in the world
Secure Asset Fund for Users
Earn On Deposits
Options to trade Bitcoin for Free
Personalised Access Control
Advanced Data Encryption
24/7 Chat Support
Has their own BNB token
Binance is the undisputed leader among cryptocurrency platforms. It's the largest crypto exchange, with the highest trading volume according to CoinMarketCap, and some of the most reliable services on the market.
With Binance, you'll have all the trading features you'll ever need for conducting even the most complex trading operations. That's because the platform supports everything – from spot trading, margin trading, and futures contracts all the way to various crypto derivatives. There's also a handy instant buy feature for making quick crypto purchases with fiat currency.
Binance supports more than 600 digital currencies, i.e., one of the largest selections of crypto on the market. Binance charges some pretty low fees (0.1%) and supports a wide selection of crypto staking features with high yields. Additionally, Binance also has a crypto loaning and lending feature. NFT lovers have access to the Binance NFT marketplace, which has a strong selection of NFT collections.
Click here to sign-up with Binance (US residents use this link instead)
2. Coinbase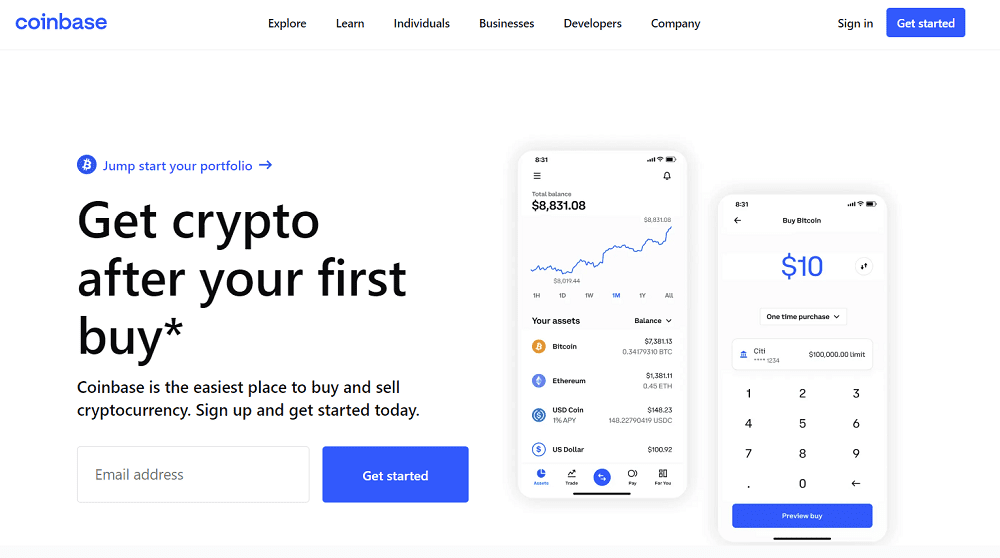 Coinbase is arguably the most trusted name in crypto at least in the United States.
Here are just a few things Coinbase offers.
200+ Cryptocurrencies Listed
100+ Countries Supported
108+ million Verified Users
Get Crypto After Your First Buy
Crypto Protected By Insurance
All USD cash balances are covered by FDIC insurance, up to a maximum of $250,000
Secure Storage With Vault Protection
The Most Trusted Cryptocurrency Platform
Offer Recurring Buys
Mobile apps for both Android and iOS
Coinbase Pro
The basic Coinbase platform is one of the most beginner-friendly crypto exchanges on the market, but it only supports the most basic, instant buy/sell features. If you're looking for an alternative to FTX, Coinbase Pro is a more advanced choice.
The platform is fully focused on advanced crypto trading features. You get access to a smooth, dark platform interface, with one of the most detailed price charts with numerous technical analysis features and tools, which helps traders make a more well-informed decision.
If you're familiar with Coinbase, you know that one of the main drawbacks of the platform is the high trading fees. With Coinbase Pro, the fees are much lower and come to an average of 0.25% per trade.
As far as crypto purchases go, Coinbase Pro only allows users to purchase Bitcoin (BTC), Litecoin (LTC), and Ethereum (ETH) directly because these are the key currencies for the platform's trading pairs. However, you can easily convert these cryptos to any other coins once purchased. Also, you can quickly send crypto from your Coinbase account to Coinbase Pro free of charge.
Click here to sign-up with Coinbase
3. Gate.io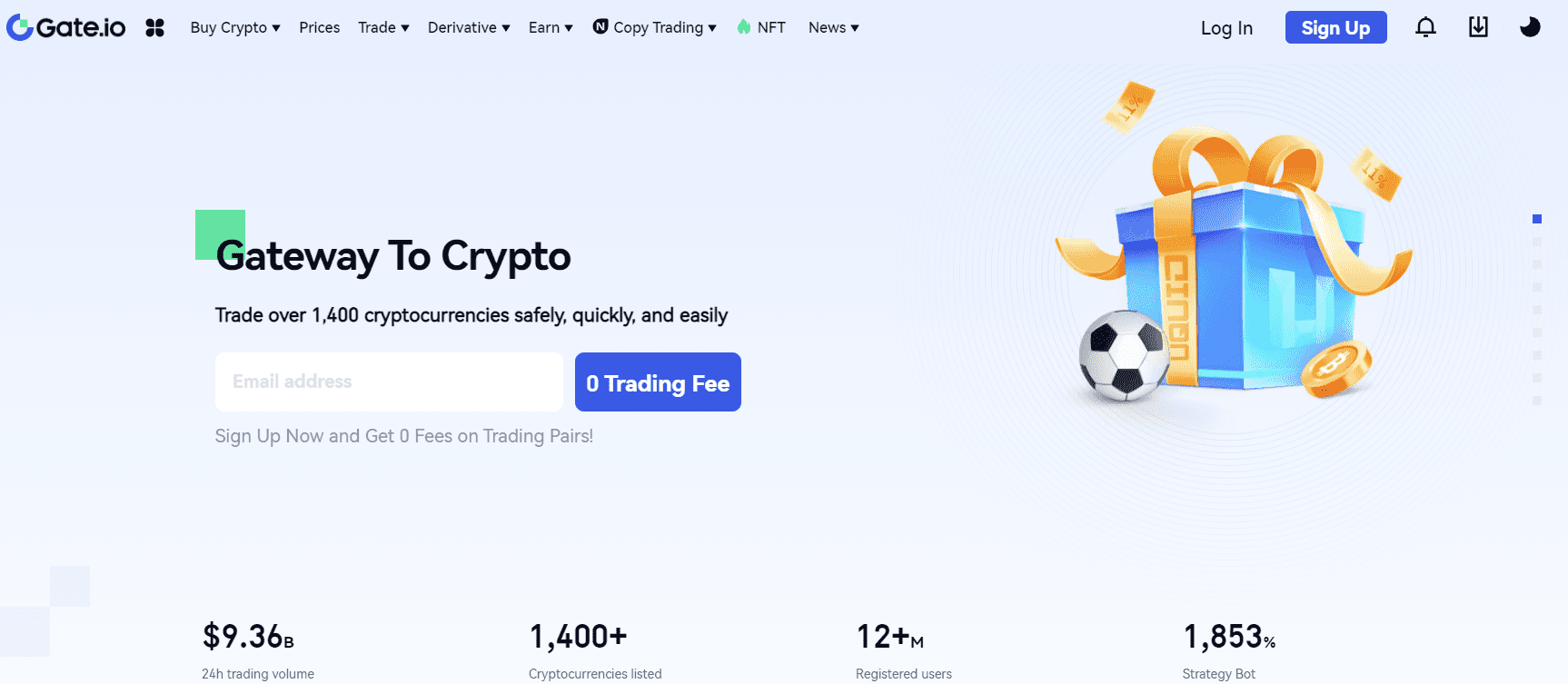 Gate.io offers more cryptocurrencies than any other exchange on our list so give you many more trading options.
Here are just a few things Gate.io offers.
1,400+ Cryptocurrencies listed
12+ million users
$100 signup bonus and up to $5,500 bonus after successful trades
Get $30 for the first deposit
Can use 20+ different fiat currencies to pay
Strategy Bot you can copy
HODL & Earn
Ability to create your own NFT
Comprehensive protection with security and law funds
Stable and reliable since 2013
Offers their own Gate Token (GT)
Gate.io has one of the largest selections of cryptocurrencies on the market, with more than 1,400 coins and tokens, along with an excess of 2,500 trading pairs.
You can buy crypto with a bank card, bank account transfer, or through the peer-to-peer trading service. The Convert feature is where you'll be exchanging tokens for one another.
The platform has all the essential trading features, including spot trading, margin trading with up to 10x leverage, and leveraged tokens. The trading interface has everything an experienced user needs to implement their trading strategies, such as a detailed price chart, technical analysis tools, order books, and an order menu.
When it comes to crypto derivatives, Gate.io has perpetual contracts, options trading, and special contracts with weekly or quarterly expiration dates. Gate.io has various additional services, such as crypto loans, staking, crypto lending, liquidity pools, cloud mining, and auto investment features.
The Gate.io fees start at 0.15% for both market makers and market takers.
Click here to sign-up with Gate.io
4. Bitfinex

Bitfinex is another large crypto exchange and a good FTX alternative.
Here are just a few things Bitfinex offers:
180+ coins and tokens listed
Offers order books with top tier liquidity
Bitfinex allows up to 10x leverage trading
Range of derivative products
Range of order types
Has their own UNUS SED LEO token
Scaled Orders tool
Paper Trading feature allows traders to test trading strategies in a simulated market environment
Advanced chart features
Corporate accounts available
Click here to sign-up for Bitfinex
5. Kucoin

Kucoin Kucoin is another long established crypto exchange. They are headquartered in the Seychelles with users from over 200 countries.
Here are just a few things Kucoin offers:
Mystery boxes worth up to $500 exclusively for new users!
700+ Coins and tokens listed
20+ Million Global Investors
Claims to be the Largest Social Trading Platform
200+ Countries Covered with support in 20+ languages
KuCoin has no restrictions on the exchange between fiat and crypto, and supports over 50 fiat currencies
Can start with as little as $1
Offers trading both via their App and website
Home of the KuCoin Token (KCS) ecosystem
1+ Trillion Accumulated Trading Volume (USD)
The KuCoin crypto exchange platform is one of the major players in the crypto market. The platform has most of its trading volume in Asia, but it's available to users around the globe too.
KuCoin supports numerous fiat currencies and payment methods, but you can't deposit fiat currency, only make an instant digital currency purchase. There's also peer-to-peer trading and using third-party payment gateways.
The spot trading and margin trading features cover hundreds of trading pairs and allow traders to use various order types. With the Convert feature, you can quickly swap coins and tokens, but you're bound to get a better deal if you trade manually. The interface itself has all the essentials, such as a detailed price chart for your target assets, an order book, your order history, and your current trading orders.
The KuCoin trading fees are quite low, between 0.01% and 0.1%, depending on your trading volume. You can drop them even further if you maintain a certain balance of the platform's native KCS token in your account.
Click here to sign-up with Kucoin
6. Huobi Global

Huobi Global was once China's top cryptocurrency exchange, but since China made all crypto transactions illegal in 2021 they've been looking for new customers elsewhere.
This means they offer some of the most generous welcome bonuses in the industry, along with other weekly and monthly prizes.
Here are just a few things Huobi Global offers:
Up to 5672 USDT Welcome Bonus
500+ Quality cryptocurrencies
Daily Candy Drop 100,000 USDT Airdrop
Weekly Prime Earn Up to 800% APY
Monthly PrimeBox Share 50 BTC
All-round protection of user asset with offline storage, multi-factor encryption, and 24/7 security monitoring
20,000 BTC Security Reserve Fund
0 security incidents for 9 years
10+ million Users' first choice
200+ Regional service centers
Offer their own Huobi Token (HT)
Huobi Global is a great choice for experienced traders looking for a broad range of trading features. You'll find more than 400 digital currencies on the platform that you can either purchase with your bank card through the Quick Buy/Sell option, through the peer-to-peer trading feature, or with fiat deposits.
If you want to automate your trading operation, Huobi has a great trading bot, along with a copy trading feature that lets you mimic the trading tactics of experienced traders. The platform has a handy quick swap option for exchanging tokens at minimum fees.
Huobi also has various crypto derivatives trading options, such as USDT-collateralized and crypto-collateralized derivatives contracts. The Huobi Earn section of the platform provides various crypto staking features.
When it comes to fees, Huobi charges a reasonable 0.2% base fee.
Click here to sign-up with Huobi Global
7. Crypto.Com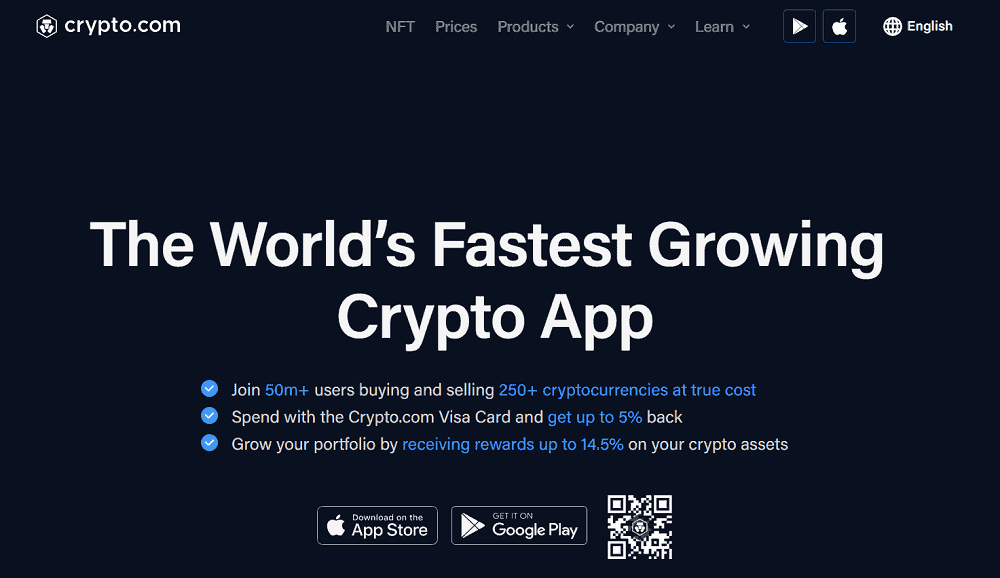 Claims to be the world's fastest growing crypto app with 50m+ users
List 250+ cryptocurrencies
Spend with the Crypto.com Visa Card and get up to 5% back
Earn up to 14.5% on your crypto assets on 40+ cryptocurrencies and stablecoins.
Buy crypto with 20+ fiat currencies using bank transfers or your credit/debit card
Has their own DeFi platform with no lock-up period
Operates in over 90 countries
100% of user cryptocurrencies are held offline in cold storage.
Users' fiat currencies are held in regulated custodian bank accounts
Has their Cronos coin (CRO)
The Crypto.com exchange platform is an international crypto exchange that gives you access to more than 250 digital currencies and supports more than 20 fiat currencies.
Purchasing assets on Crypto.com is quite simple, thanks to the various payment methods available on the platform. Depending on your region, you can buy crypto with payment cards, bank account transfers, and other payment methods.
The platform has hundreds of trading pairs, and users can engage in both spot and margin trading (with up to 10x leverage). Crypto.com also has various crypto derivatives trading options, which come with up to 50x leverage.
The trading fees are low, at about 0.07% for average users. Based on your trading volume and the amount of native CRO tokens you have in your account, you can lower the fees even further.
You can also stake more than 20 popular cryptocurrencies and earn solid staking rewards. On top of that, the platform has its own Visa debit card that allows you to spend crypto at retail spots around the world.
Click here to sign-up with Crypto.Com
The FTX Story
The FTX cryptocurrency exchange platform was one of the largest crypto trading gateways on the market until recently. The platform was ranked third on a global scale, right behind Binance and Coinbase.
However, in an unexpected turn of events, the platform suffered irreparable liquidity issues and was forced to close shop. Binance, the leading crypto exchange on the market, decided to buy out FTX, effectively shutting down the platform. This means that FTX users need to shift to an alternative crypto exchange to continue trading.
We've prepared a detailed list of great alternatives to FTX. These platforms have all the features you need to continue trading crypto.
4 Other Alternatives to Consider
Looking for even more options? Then have a look at the following 4 exchanges:
1. OKX
The OKX crypto exchange platform offers numerous features that should be enough for most experienced crypto enthusiasts. The platform supports more than 300 coins and tokens.
With the Buy with card option, you can purchase crypto with a Visa or Mastercard debit or credit card in a matter of minutes. Peer-to-peer trading and third-party payment features are also viable options for investing in crypto on OKX.
OKX has a fast Convert feature for swapping coins. When it comes to trading assets, you can use the spot trading and margin trading options to access all of the trading pairs available on the platform. If you're looking for riskier features, you can use the OKX futures option.
The platform also has multiple useful crypto services, including staking, flash loans, dual investment, and crypto savings accounts.
OKX fees are on the lower end of the market, with starting market maker fees of 0.1% and market taker fees of 0.15%.
2. Kraken
Kraken is a regulated, US-based crypto exchange known for its high-security standards. Kraken supports more than 200 coins and tokens for trading. The instant trading option lets you quickly buy crypto with a debit card, but the fees are considerably higher compared to buying crypto with fiat deposits.
Kraken has multiple platform sections for different user types. The Kraken OTC service is great for users looking to conduct large-scale trading deals, while the Kraken Pro section caters to advanced crypto traders.
The trading interface comes with a bunch of technical analysis tools and a detailed price chart. You can use various trading order types to conduct trades on the platform, such as spot trading and a limited margin trading 5x leverage option.
If you're looking for futures contracts, you should use the Kraken Futures section. There aren't any derivatives features on Kraken because crypto derivatives are forbidden on crypto exchanges regulated in the US.
Trading fees start at 0.16% for market makers and 0.2% for market takers, and they can drop down to 0% for large-scale investors.
3. ByBit
The ByBit crypto exchange is one of the most popular platforms for crypto derivatives trading. It supports more than 100 leading digital currencies and lets you buy or sell crypto in exchange for fiat through the One-Click Buy feature.
Buying crypto is also possible through a peer-to-peer option or with a fiat deposit. ByBit supports more than 20 fiat currencies, including USD, EUR, AUD, and others, which means you can easily use your cards or make bank transfers.
Another great feature of this platform is the Bybit trading bot, which lets you automate your trading operation. As for trading derivatives, ByBit offers Tether (USDT) perpetual contracts, USD Coin (USDC) perpetual contracts, and inverse contracts.
ByBit fees stand at 0.1% for spot trading and 0.06% for derivatives contracts. The platform also has an NFT market of its own.
Also see: