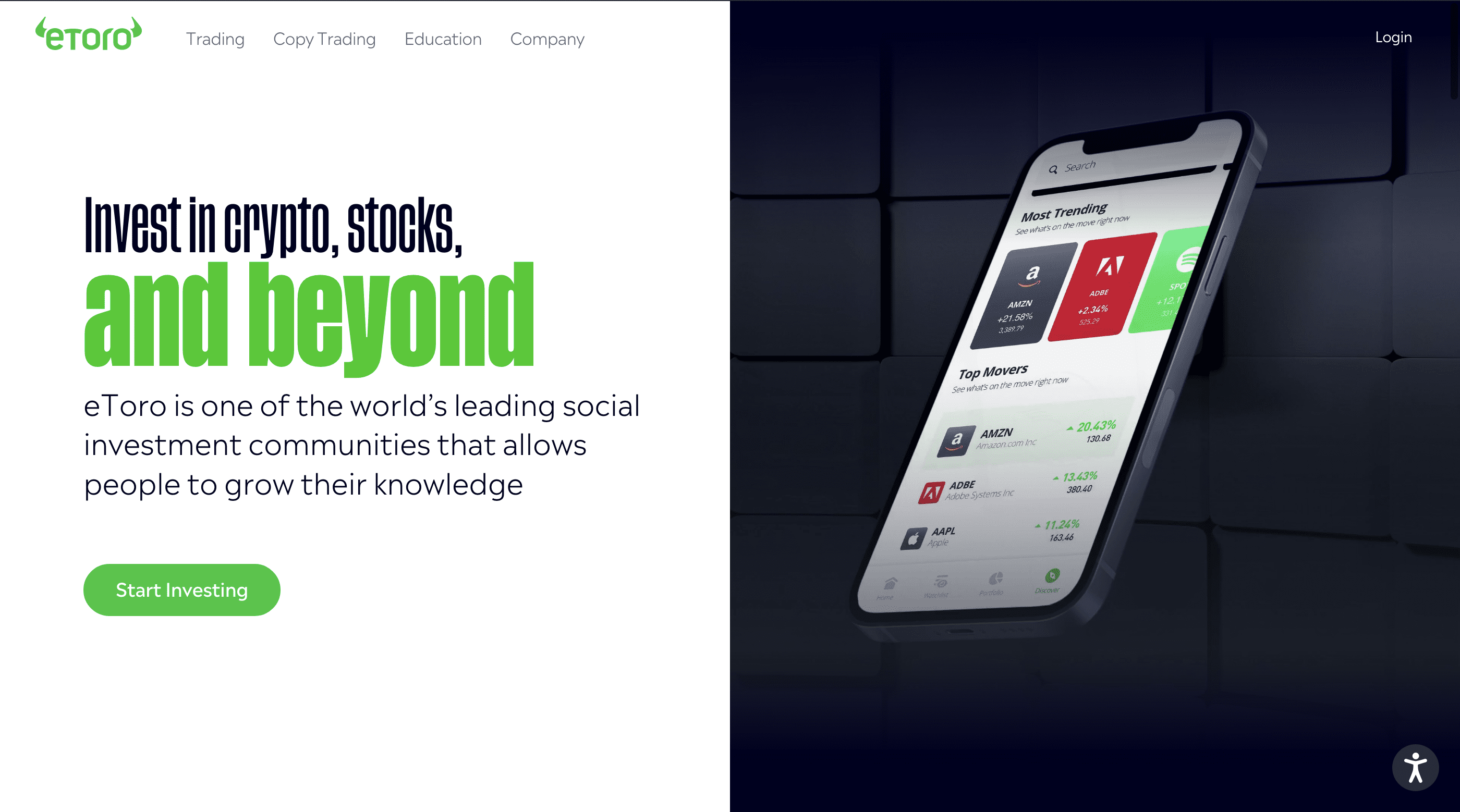 eToro is an online exchange for trading a variety of assets, including cryptocurrencies, stocks, ETFs, and options. The platform is famous for its social-trading feature that allows you to copy other (i.e., more successful) traders' trades.
In this eToro review, we'll look into all aspects of trading on the platform, including the fees, features, and possible issues, so you can decide if it's the best choice for you.
Pros & Cons of eToro
Pros
Social trading allows you to copy the strategies of more experienced traders.

Test accounts allow you to test your strategies without investing

You can trade multiple assets, including crypto, stocks, ETFs, options

Free deposits

Multiple payment options

Mobile app for both Android and IOS

Offers around 75 cryptocurrencies
Cons
High crypto trading fees at 1%

Not available in every US state

A limited selection of crypto coins

Limited options for withdrawing crypto to a different wallet 

US traders have limited access to some features
About eToro 
eToro was founded in 2007 as a forex-focused trading platform, but the company started offering various trading products shortly after its launch, allowing users to trade various assets, including stocks, ETFs, and options. In 2010, the company unveiled what became its flagship feature: social trading, which allows traders to copy other more successful or experienced traders. 
eToro is a global platform available in over 140 countries, though the platform isn't available in all US states. US-based users are restricted from using certain features, including short-trading and margin trading, per US regulations.
eToro Group Ltd. planned to go public in 2023 but failed to secure approval from the SEC for the move. 
Crypto Coins Available on eToro Crypto Exchange
While eToro offers around 75 cryptocurrencies globally, not all digital assets are available in all regions. US-based users may access 25 to 40 cryptocurrencies depending on their home states.
Generally speaking, you can buy and sell the most popular cryptocurrencies on the platform, including Bitcoin (BTC), Ethereum (ETH), Litecoin (LTC), Uniswap (UNI), Dogecoin (DOGE), Shiba Inu  (SHIB), Ethereum Classic (ETC), Stellar (XLM), Chainlink (LINK), Bitcoin Cash (BCH) and Algorand (ALGO).
Fiat Currencies Supported on eToro 
As a global platform, eToro supports an impressive number of fiat currencies, including USD, AUD, GBP, CAD, and EUR.
You can deposit fiat currency to your account via bank account transfers (ACH transfers in the US). Other funding methods include wire transfers and debit cards, and PayPal. You can link your bank account to your eToro account via Trustly.
Bank transfers, debit cards, Payoneer, and PayPal deposits are free of charge, and the minimum deposit amount is 10 USD. Wire transfer deposits are also free, but the minimum deposit amount starts at 500 USD.
You can also deposit other fiat currencies and convert your funds to USD without paying any fees.
Countries Supported on eToro 
eToro Crypto is available in over 140 countries and almost all US states except for Hawaii,  Nevada, New York, and Minnesota. US-based users who reside in other countries can't use the platform.
eToro has a large list of blocked countries, including Japan and Turkey. You can check the full list of restricted countries for more information.
eToro Trading Fees
eToro is an expensive crypto trading platform. Not only does the platform charge a 1% trading fee (very expensive compared to top crypto exchanges like Coinbase, Binance, or Kraken), but there is also a spread baked into the market prices.
Spread is the difference between the bid and ask prices, and spreads can be as high as 1% to 3%, depending on the platform. Most cryptocurrency exchanges don't charge spread fees. They are often not advertised since the fee is baked into the prices, but they can make a huge difference if you are trading large amounts of crypto.
On the other hand, you can trade stocks and ETFs for free on the platform.
Transfer and Withdrawal Fees
Withdrawing fiat currency from the platform is easy, and all withdrawals cost a fixed 5 USD fee. 
However, withdrawing crypto is another issue. One of eToro's worst aspects is that users can't withdraw most cryptocurrencies from the platform. 
You can only withdraw Ethereum, Bitcoin, Litecoin, Bitcoin Cash, Tron, XRP, and Stellar from eToro to another wallet, and even that takes quite a lot of effort and time. If you want to transfer your crypto to another wallet, you must send these assets to the eToro Money wallet. The transfer costs a 2% fee and may take up to 5 days to process. You might also be charged additional blockchain fees depending on the blockchain traffic of the cryptocurrency in question.
Another important issue is the minimum withdrawal limits that apply to cryptocurrencies. Each crypto asset has a different minimum withdrawal limit, and limits can be quite high compared to other crypto exchanges. For example, the minimum Bitcoin withdrawal amount is .0072 BTC.
Other fees
Other eToro fees include a monthly 10 USD inactivity fee that's applied after a year of inactivity and a 75 USD account transfer fee (when you want to transfer your assets to another brokerage).
You can check out eToro's website for more details on fees.
Main Features of the eToro Platform
Let's look at some of the most notable features of eToro in more detail.
Trade Multiple Assets 
eToro is an attractive option if you are looking to add some crypto to your existing trading portfolio. While primarily known for forex trading, you can trade multiple assets, including stocks, options, and ETFs, through the platform and buy and sell popular crypto assets like Bitcoin and Ethereum.
Copy Trading
Copy trading, or "social trading," is eToro's flagship feature that launched the platform into fame. The feature allows you to follow other traders and copy their portfolios and trades.
You can check out public trading accounts to see their investments and overall trading performance. You can also share your thoughts on trading strategies for others to see. You can set your account to private if you don't want others to copy your trades.
Social trading is particularly useful for novice traders or for those who aren't familiar with crypto trading.
Automated Portfolios
eToro Smart Portfolios feature allows you to easily diversify your crypto portfolio. There are several package options that allow you to curate a crypto portfolio according to your needs. You can select a package like Big-Crypto to invest in popular digital assets, or you can hedge your bets with other options. In any case, it makes diversifying your assets easier, especially if you are a novice.
Auto Buy
Auto buy is actually a misnomer. Instead of setting up automatic purchases, this feature allows you to make automatic deposits on a fixed schedule. So while your funds are regularly added to your eToro account, you must log in to make purchases. Alternatively, you can set up an automated portfolio.
Test Trading
eToro allows you to try out trading strategies without investing any real money in the platform. Test trading allows you to trade up to $100,000. Of course, no real funds are exchanged, and you don't win any profits from your trades.
You can track your profits and losses through test trading before making any real trades on the platform.
eToro Money Crypto Wallet 
If you want to be able to move your crypto funds out of your eToro account, you must use eToro Money Crypto Wallet. 
eToro crypto is a custodial platform, so users don't have complete control over their funds. Basically, this means you limited options if you want to move your funds to an exchange wallet or a private wallet.
US-based users can only withdraw 5 digital assets to outside wallets, including BTC, ETH, LTC, BCH, and XLM. Global users can withdraw ADA, TRX, and XRP in addition to that list. 
Unfortunately, withdrawing to the eToro Money Crypto Wallet is both expensive and time-consuming. You have to pay a 2% fee, and the process may take up to 5 business days.
It's also important to note that minimum limits apply, so you won't be able to withdraw coins from eToro unless your balance is over the limit. The minimum withdrawal limits vary by currency.
How Easy Is It to Open an eToro Account?
Opening an eToro account is pretty easy. 
Go to the eToro website and navigate to

the signup page

.

Input a username, your email address, and a strong password. You can also sign up using a Facebook or Google account.

Read through eToro's Terms and Conditions, Cookie Policy, and Privacy Policy, and tick the boxes to accept them if you're satisfied with what you've read.

Click the

Create Account

button.

Verify your email address via the link sent to that email.
You can also download the eToro mobile app and follow the onscreen prompts to open your account.
After completing the basic signup process, eToro users immediately have access to the trading platform and a demo account. 
eToro complies with AML and KYC regulations, so you must complete ID verification before you can fund your account. You may be asked to upload a picture of your passport or ID and a bank statement or copy of a utility bill to complete ID verification.
How Secure Is eToro?
eToro uses industry-standard security measures like keeping the majority of its digital assets in cold storage and enabling two-factor authentication (2FA). Third-party authenticator apps like Google Authenticator aren't supported, but you can set up an SMS 2FA.
eToro also has a Vulnerability Disclosure Program. The program essentially allows users to report vulnerabilities on the platform so that eToro can make the necessary changes to make the platform more secure.
Has eToro Ever Been Hacked?
eToro hasn't reported a hack since its launch though users have reported some security breaches that may have affected a large number of users.
A hacker group claimed to have hacked 62000 accounts on eToro and put the database up for sale on the deep web. The hackers claimed the database included information regarding users, including their names, email addresses, passwords, and addresses.
A similar claim emerged again in 2022 on a popular hacking forum. The alleged hackers claimed to have accessed investors' names, email addresses, addresses, IP addresses, and more. The claim came with sample photos of the data.
eToro has denied a security breach has happened.
Is eToro a Regulated Exchange?
eToro is licensed in several countries and follows local regulations in the countries it operates in.
eToro (Europe) Ltd is regulated by the Cyprus Securities and Exchange Commission (CySEC).

eToro (UK) Ltd is regulated by the Financial Conduct Authority (FCA).

eToro AUS Capital Limited is regulated by the Australian Securities & Investments Commission (ASIC).

eToro (Seychelles) is regulated by the Seychelles Financial Services Authority.
How Does eToro Compare to Other Crypto Exchanges?
eToro can be compared to other brokerages that work with crypto, like Robinhood. Both Robinhood and eToro allow you to trade a variety of assets, including stocks and crypto.
One important difference is trading fees. While Robinhood doesn't charge fees for crypto trading, eToro charges a 1% fee. 
On the other hand, eToro supports around 40 digital assets, while Robinhood supports around 15 crypto coins.
Robinhood has a limited crypto selection, but trading is free of charge. eToro offers more cryptocurrencies but is more expensive overall. 
While both platforms offer stocks, ETFs, and crypto, Robinhood doesn't offer social trading. However, Robinhood has recently started allowing the withdrawal of crypto to private wallets, a feature that eToro mostly lacks.
Robinhood has had a few known security breaches in the past, while eToro denies any security breaches, though some have accused the platform of covering up its mistakes.
You can also check out crypto-only exchanges like Coinbase and Binance for more crypto-related features.
Does eToro Have an App?
Like many other trading platforms, eToro has an app that's available on Android and IOS devices. The app comes with two-factor authentication, the option to log in using biometrics, and, most importantly, the same functionality as the web platform, making it a good choice for those who prefer mobile.
Additionally, the app has a push notifications feature that alerts users to significant market fluctuations and account balance movements
eToro Review: Final Thoughts
eToro is a one-stop-shop for those looking to invest in multiple assets, offering stocks, ETFs, options, and crypto. The platform has many useful qualities, including a social trading feature that allows you to mimic the trades of successful traders.
One of the best things about eToro is the no-fee stocks and ETFs trading. However, when it comes to crypto, the platform fees are way above the industry standard. All crypto trades incur a 1% fee, which can quickly add up to a huge sum.
Also, since eToro works with outside market makers to execute trades, crypto prices are generally higher compared to other crypto exchanges.
The platform is very beginner-friendly and intuitive. There are a decent amount of resources on crypto and crypto trading, not to mention other topics relevant to traders. 
However, beginners may not realize that they can't move most crypto they buy from eToro to an outside wallet. That means you must sell those assets through eToro to cash out and pay hefty fees for your trouble. 
While users can transfer a few cryptocurrencies like Bitcoin and Ethereum to outside wallets via the eToro Money Wallet, it's not a very good solution considering there is a 2% fee and a lot of waiting time for the order to complete.
Overall, eToro can be attractive to crypto beginners who want to buy Bitcoin and other high market cap coins without going through the trouble of figuring out how to use a crypto exchange. However, more experienced users will be disappointed by the limited crypto options, high fees, and all the hoops they have to jump before they can get their crypto out of the platform.
To learn more about other cryptocurrency exchange platforms, check out our post on the Best 22 Crypto Exchanges and 8 Alternatives.