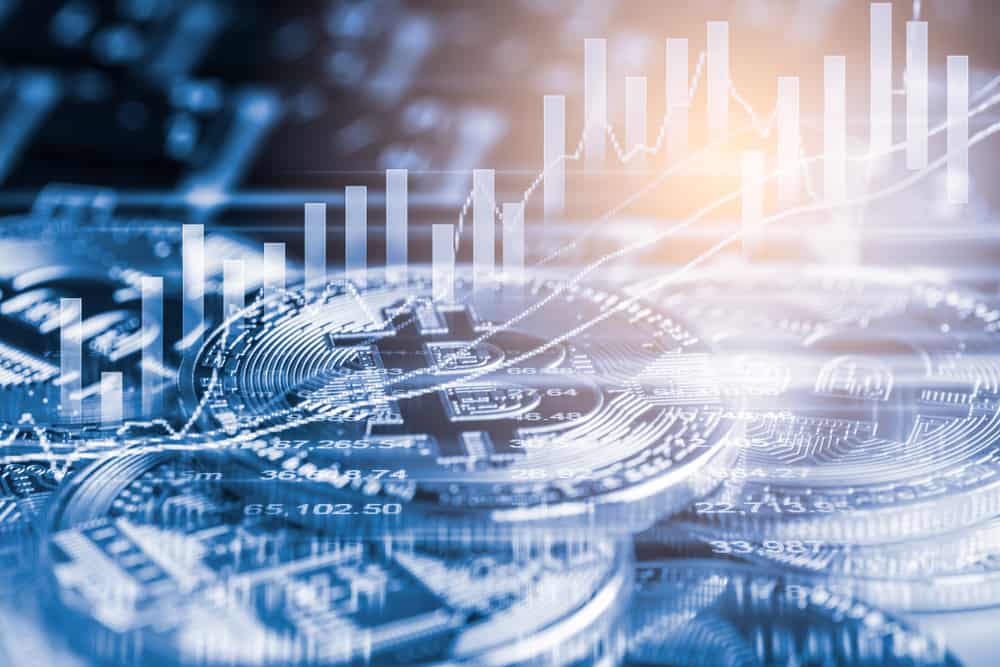 In this Coinbase vs ByBit review, we'll compare two of the most prominent cryptocurrency trading platforms in the industry. At first glance, both of these exchanges provide a safe trading environment for crypto traders of all levels of experience. 
But what exactly do they offer in terms of trading options, and can you trust them with your funds? Here are the answers to these and more questions that will help you make an informed decision before setting your heart on trading crypto through Coinbase or ByBit. 
About the Exchanges
Coinbase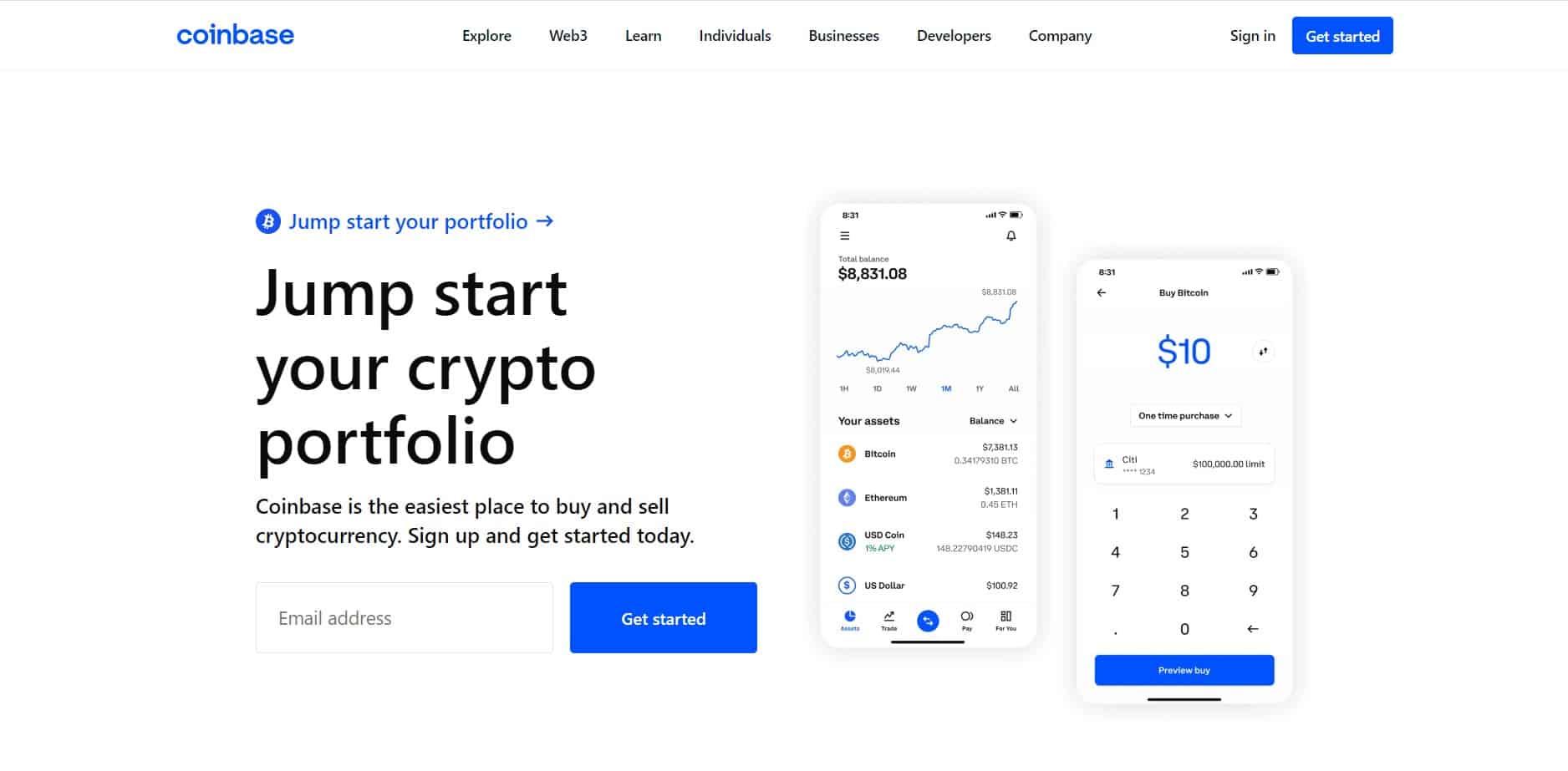 Often labeled as the most beginner-friendly exchange in the world, Coinbase is also one of the biggest trading platforms in the industry regarding trading volume and registered users, right after the crypto giant Binance. 
The story of Coinbase begins in 2012, when the two young and ambitious Goldman Sachs and Airbnb professionals, Brian Armstrong and Fred Ehrsam, decided to open up the crypto world to a wider audience. To this end, they envisioned a streamlined platform where just about anyone could buy their favorite crypto or swap it hassle-free for another coin or fiat currency. 
The result of their efforts is not only one of the most prominent crypto exchanges in the world but also the first crypto trading platform that got listed on Nasdaq. This success skyrocketed the exchange's worth to over 100 million USD. 
Bybit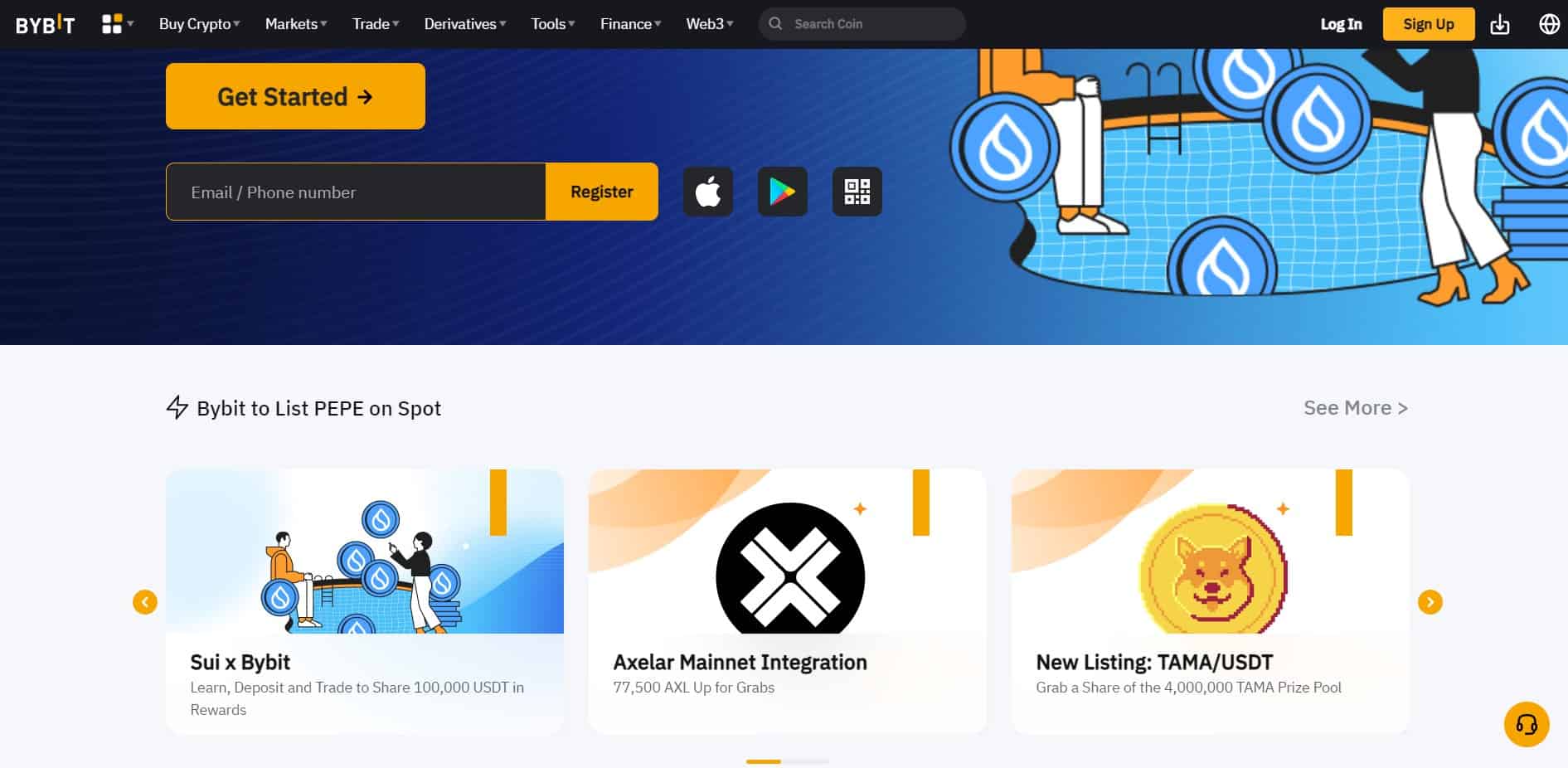 If you'd like to have more sophisticated trading options than simple crypto swapping, you might consider ByBit. 
This Virgin-island registered exchange is headquartered in Singapore, Hong Kong, and Taiwan. These jurisdictions are known for their loser financial regulations, which give ByBit the freedom to operate on the Asian market without being supervised by some financial regulatory body. 
While Bybit is a derivatives trading platform open to traders worldwide, it doesn't offer its financial services to US residents, as this country has strict financial regulations that don't permit unregulated platforms to operate in their jurisdiction. 
Pros and Cons
Coinbase Pros
Provides distinct marketplaces for beginners and experienced traders;

Enables fiat-to-crypto transactions;

Instant crypto purchases;

Built-in wallet;

Wide selection of cryptocurrencies;

98% of the users' assets are stored in cold wallets;

FDIC insurance for up to 250,000 USD user balance;

Coinbase Pro users can enjoy lower trading fees. 
Coinbase Cons
Costly fees especially when you're using the Instant Buy functionality;

Complex trading fee model. 
Bybit Pros
User-friendly exchange;

Instant crypto purchases;

Keeps the bulk of users' assets in a multi-signature cold wallet;

Has never had a security breach;

Provides demo account to test platform's functionalities;

You can trade perpetual contracts with up to 100x leverage;

24/7 customer support and a live chat;

Offers spot trading, advanced market orders, and NFT marketplace.
Bybit Cons
Doesn't offer its financial services to US citizens;

Beginners could have a hard time learning how to use most of the platform's functionalities
Coinbase vs Bybit: The Crypto Exchange Comparison 
Opening an Account
Before you can start trading on Coinbase, you must go through an automated user verification procedure. Simply provide your details, email, and phone number to start.
If your verification doesn't go through the Express Verification system of Coinbase, you might be required to provide several other documents to prove your identity and data, such as your ID and utility bill, so be prepared. Going fully through the KYC procedure will enable you to use all trading features on this platform, plus enjoy some added benefits. 
As with most derivatives trading platforms, all you need to open a Bybit trading account is a valid and verified email and a strong password to protect it. Moreover, Bybit mandates KYC user authentication for all of its services and products. 
Main Features
Coinbase is the ultimate base for crypto beginners. It offers streamlined cryptocurrency trading where you can get your hands on some coins in just a couple of clicks. The developers of this exchange have truly mastered the simplicity of trading and made it possible to enter the market in the easiest possible way. 
Even though it's primarily a user-friendly and beginner-oriented platform, Coinbase also caters to more experienced investors. Coinbase Pro is a platform developed especially for those traders who like to employ some more sophisticated trading instruments in their strategies, like margin trading. 
For this, Coinbase Pro offers elaborate market charts to easily track market fluctuations, APIs allowing you to integrate decentralized apps with this platform, and more.
ByBit, on the other hand, is an advanced crypto trading platform that is underpinned by one of the fastest data-processing engines in the industry. The order-matching engine integrated with the platform's architecture can process up to 100,000 per second, implying that the chances of experiencing a stuck transaction on this platform are slim. 
Furthermore, Bybit is suitable for traders of all experience levels. If you are making your first steps in the crypto market, you can use its Testnet to open a demo account and test the platform's functionalities before deciding to invest real money. 
Spot trading is not only easy but also safe with ByBit, as the platform utilizes a dual-price mechanism. This protocol ensures that you'll get the actual spot price on your deal, thus protecting you from volatile market price fluctuations. The dual-price protocol also lowers the risk of financial losses resulting from the high slippage (difference) between the traded and the spot price.  
There's also a wide variety of advanced trading features for professional investors, such as perpetual swap futures, derivatives trading, as well as trading on margin with up to 100x leverage. If, on the other hand, you belong to the group of more artistically-inclined investors, you can enjoy the NFT marketplace on Bybit. 
Supported Cryptocurrencies
If you like to be spoiled for choice, Coinbase is the crypto hub where you can enjoy some of the richest cryptocurrency offers. Having listed more than 300 digital assets, the trading possibilities on this exchange are almost endless. 
Here you can find the most tradeable coins on the market, such as Bitcoin (BTC) and Ethereum (ETH), but also some low-cap assets which could help you gain exposure to the market with a relatively small investment. 
Bybit offers a list of over 100 supported coins making more than 300 trading pairs. While the cryptocurrency offer on this platform is not as rich as the one on Coinbase, ByBit's hand-picked cryptos are counted toward the most liquid ones on the market. This is important if you opt for volatile financial instruments like leveraged trading. 
Payment Methods
You'll probably be able to use your preferred payment method when trading through Coinbase, as this exchange offers almost all of the popular options for funding of your account. You can choose between direct deposits, electronic bank transfers, PayPal, Apple Pay, Google Pay, and credit/debit cards, to name a few. 
While Bybit enables you to fund your account with fiat currencies, the platform doesn't facilitate these transactions. Namely, as this is an unregulated exchange, all cash deposits or fiat currency transactions made via EFT or debit cards go through Bybit's third-party fiat processing partners, such as Mercury, MoonPay, Simplex, Banxa, E-check, XanPool, Capitual, and Legend Trading. 
Therefore, if you want to make a cryptocurrency deposit on your Bybit account, you'll first need to convert your fiat money into crypto and then transfer your coins to Bybit. 
Trading Fees and Limits
Coinbase trading fees are easily the most obscure ones in the industry. Contrary to the user-friendly image of the exchange, the employed fee model is rather complex to understand, especially if you're a newbie. Additionally, the fees might reach from $0.99 to $2.99 per trade, which is not exactly the lowest trading cost you'll get on a platform. 
Even more, if you add the 10 USD deposit fee and the 25 USD withdrawal fee to the total cost, plus use your debit card (which incurs around 3.99% of the total trade), you'll be in for quite a surprise fee-wise, and we're not talking about a pleasant one. 
Bybit levies a market maker/market taker fee for trading cryptos through this platform. If you're a liquidity taker, the exchange imposes a fee of 0.075% for every trade you settle. If, on the other hand, you contribute to the liquidity of the platform, you'll get a -0.025% fee discount on your trade. 
The same maker/taker fee model also applies to P2P trading, except for the fiat-to-crypto transactions that do not incur any costs. Speaking of P2P trading, you should always take into account the price spread of the coins included in the trading pair. 
Please note that Bybit's instant withdrawal fees are somewhat spicier than on other platforms. This is because the exchange tries to speed up the transaction processing times. For blockchain transactions, miners prioritize and verify those with higher fees first. 
On the other hand, there are no regular withdrawal fees but 'miner fees,' which we liked best about this platform. Instead of leaving the respective coin's platform to charge the user a blockchain mining fee, Bybit takes over the mining expenses, levies you a smaller amount than the fee you'd get on the coin's platform, and reimburses the difference to your benefit. 
How Safe Are Coinbase and Bybit?
To begin with, Coinbase holds 98% of users' funds in cold storage as the industry's best practice for asset security. The exchange is FDIC insured, which covers up to 250,000 USD of the deposits per customer provided the funds are held in some US bank. 
Additionally, there are bank-grade security measures integrated with the platform's architecture, alongside the standard 2FA protocol, encrypted communications, and whitelisting of addresses, to name a few. 
Though it's not a regulated platform, Bybit takes the security of clients' assets and data very seriously. To this end, the developers have implemented a great deal of industry-best security measures, such as 2FA protocol as an additional layer of security to prevent unauthorized access to your account and a KYC verification.
Customer Support
For a long time, Coinbase's support lacked efficient channels of communication, but now the exchange provides 24/7 live chat support, making it easier for traders to seek professional help when they need it. 
What's even more impressive is the Coinbase knowledge base that features a rich library of articles covering almost everything you need to know about cryptocurrencies and blockchain. 
There's also a section with answers to the most common questions raised by Coinbase users regarding the technical functionalities of the platform, the trading tools, the fees, and its security. 
Back to Bybit. Customer service is one of the best features of this exchange. The developers are fully aware that users need support through the trading process since they're dealing with volatile financial instruments. 
Therefore, the exchange provides 24/7 professional support via live chat to all traders who have doubts about placing an order or using some platform feature, or encountering some technical difficulty. 
Alternatively, you can fill out an email ticket and explain your issue or contact the support team through some of their social media outlets. 
Mobile Trading
Both Coinbase and Bybit offer mobile trading apps to their users. The respective platforms' functionalities are available through these apps. This software developed to serve traders on the go is free to download and compatible with all Android and iOS operating systems. 
How Do Coinbase and Bybit Compare to Other Crypto Exchanges
Since Binance is the biggest exchange in the world, it's only natural that it's held up as the standard against which all others are evaluated. This global cryptocurrency exchange shares the top ranks in the industry with Coinbase for having high liquidity, a large trading volume, and a vast selection of trading options. However, Coinbase seems to levy much higher trading fees to its users than Binance. 
When comparing Bybit to Binance, they're both unregulated exchanges that enjoy the trust of an ever-growing number of users. The reason behind Bybit's success is certainly the bank-grade security and excellent customer service, which could be improved in the case of Binance whose weaker points are its customer service and the fact it suffered security breaches in the past. 
Conclusion
At first glance, the only notable difference is that Coinbase is more inclined to beginners in crypto trading, while Bybit focuses more on complex instruments like derivatives and margin trading. 
But both Coinbase and Bybit are designed to provide fast, streamlined, and efficient crypto trading services. Because these are some of the most popular marketplaces in the industry, their developers have done a good job establishing highly user-friendly and generally safe platforms that cater to the need of both novice and experienced traders.
Ultimately, these two exchanges are both trustworthy and have plenty to offer. But which one is the best for your trading strategy? It's up to you to decide.