Coinbase and bitFlyer are at the top of the highly-competitive crypto exchange scene, which has more than 500 trading platforms worldwide. 
Securing a leading market position is quite a feat for crypto exchanges, so let's take a look at what these two platforms have to offer that makes them so popular among crypto enthusiasts in our Coinbase vs bitFlyer review.
About the Exchanges
Coinbase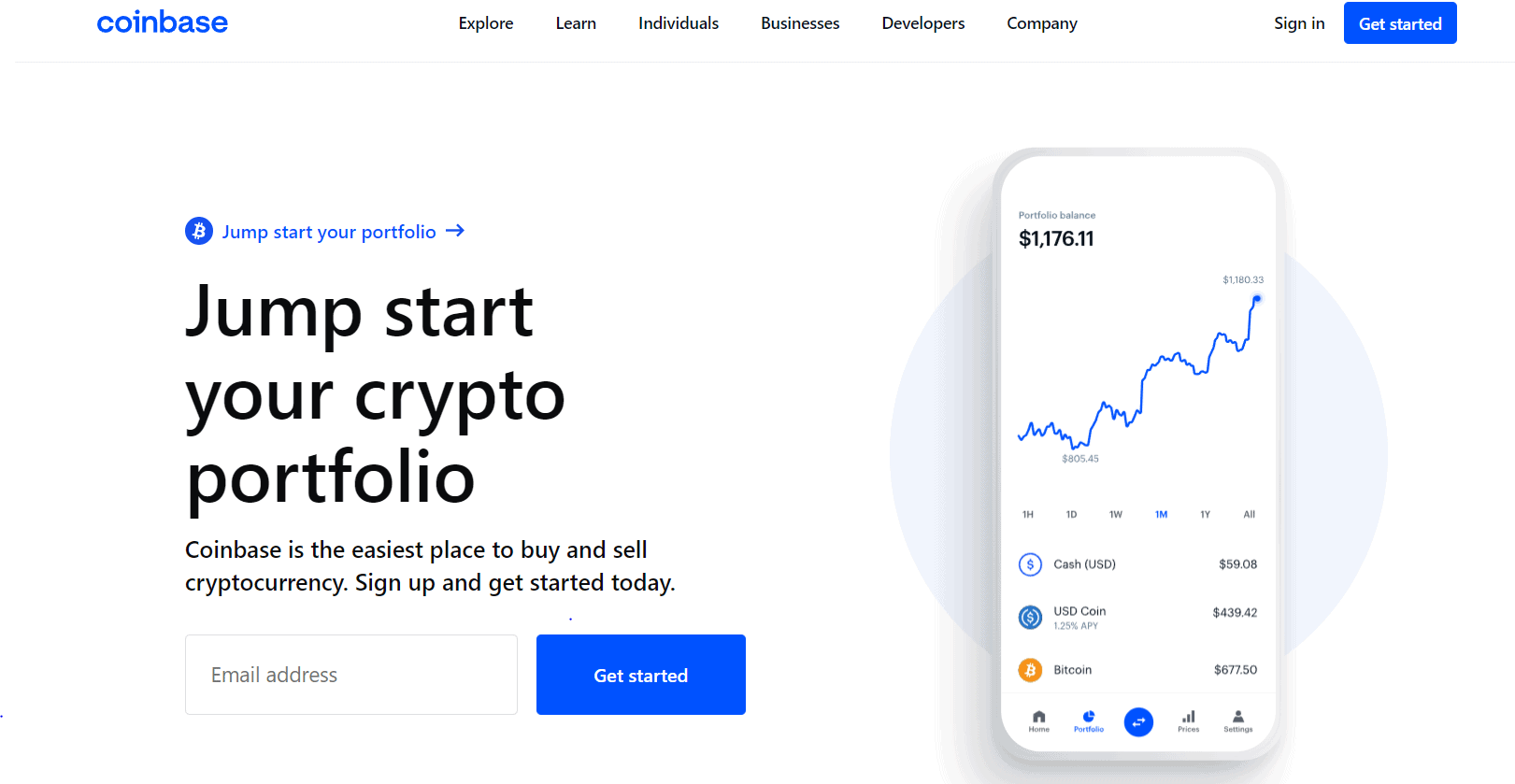 During the early 2010s, only a handful of visionary companies saw crypto as an upcoming market with high potential, and Coinbase was one of them.
In 2012, Brian Armstrong, a former Airbnb employee, joined forces with Fred Ehrsam, an ex-Goldman Sachs finance expert, to create Coinbase, the second largest crypto trading platform in the world, with millions of active users.
Their mission was to simplify the process of buying crypto, making it easy for people who don't have much knowledge about digital currencies to start their crypto portfolio. That's why Coinbase is famous for being straightforward and fiat-friendly. Users can deposit cash and purchase crypto coins with just a few clicks. 
While Coinbase initially only had basic investment features, the platform evolved into an all-around crypto giant that provides different types of trading services for users of various experience levels.
Also, Coinbase included additional, popular services, such as an NFT marketplace, and launched its proprietary Coinbase Wallet, which became one of the hottest wallet apps on the market.
bitFlyer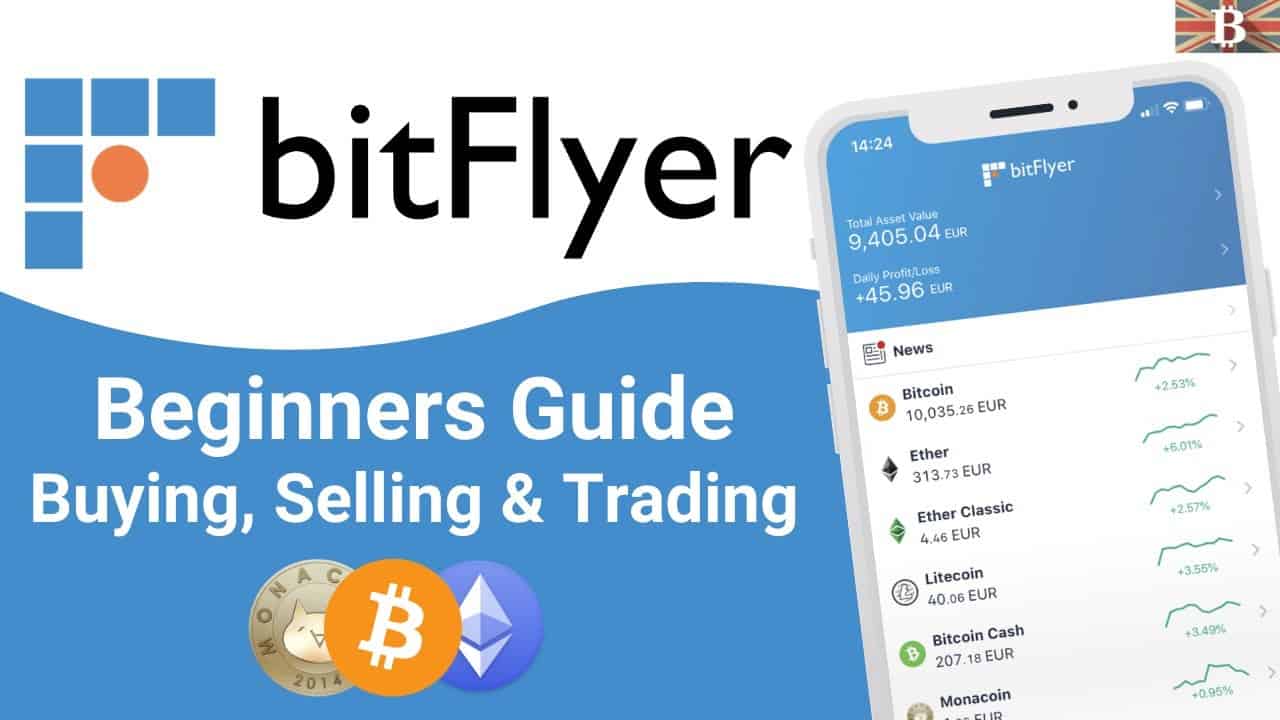 While Coinbase was conquering the US and European crypto markets, a group of blockchain and financial experts launched bitFlyer in Japan in 2014.
Japan is known to have some of the harshest regulations regarding crypto trading, and many local platforms closed shop over the years because of failure to comply with local laws.
However, bitFlyer is among the few trading platforms that improved its business and secured all the licences necessary to stay active and expand from the Japanese market to the US and the European Union.
The platform provides a simple suite of essential trading services for immediate crypto purchases and standard spot trading on a detailed trading terminal. Users won't find hundreds of cryptos on bitFlyer. Instead, they have access to a small selection of the top digital currencies, along with deep liquidity and fast trading order execution at their disposal. 
Pros and Cons
Coinbase Pros
Over 150 coins and tokens, including a great mix of top coins, DeFi tokens, virtual cash cryptos, and gaming coins

Fast and straightforward trading experience

Fiat-friendly platform

Coinbase users can trade NFTs on the platform's NFT market

The Coinbase Wallet is among the most popular software wallets, and users can connect it to their Coinbase accounts

Licensed by top global regulators
Coinbase Cons
Instant trading fees are high

No margin trading

No crypto derivatives trading

It was hacked in 2021
bitFlyer Pros
Deep liquidity for available coins

Beginner-friendly trading experience

Users can pay with cash

bitFlyer is regulated in Japan, the US, and the EU

Low advanced trading fees
bitFlyer Cons
Only nine cryptos are available for investing

Users outside of Japan, the US, and the EU can't access the platform

High instant trading costs
Coinbase vs bitFlyer: The Crypto Exchange Comparison 
Opening an Account
Know Your Customer (KYC) verification is mandatory on Coinbase when creating an account:
To get started, register your Coinbase account through this

affiliate link

to get a starting bonus. 

Choose a password to protect your Coinbase account and enter an email address you'll be using to access the platform.

Be sure to verify that you agree with the platform's use terms and create your Coinbase account.

Before accessing the exchange, enter the verification code from your email.

Technically, you've created an account, but now you need to comply with the KYC process.

Begin by taping the

Accounts

tab and going through the phone number verification process, which is very similar to email verification and includes a code you'll receive in a text message.

Now you can finally move on to

Document Verification

in the Accounts section and choose how you want to prove your identity. 

If you choose your passport, you only need to photograph the first page with your details and photo. In case you want to use your ID card, you'll have to submit images of both sides of the card.

When you're done, the automated Coinbase KYC protocol should send you an approval message within a few minutes, and you can finally commence trading.
bitFlyer also follows strict KYC rules, and the registration process follows a similar pattern:
You'll notice a

Sign Up

button on the exchange's

landing page

. 

The next step asks you to provide an email address and verify it with the confirmation code.

Set up your password and tick the checkboxes for the bitFlyer privacy and user policies.

bitFlyer will ask for your details, including your first and last name, address, country of residence, phone number, and additional essential information.

Verify your phone number and initiate the identity verification protocol.

The platform only allows users to prove their identity with an official government ID card or passport.

bitFlyer will instruct you to photograph your document and send it to the platform for verification.

The process takes longer compared to some other platforms, and you might need to wait a whole day for approval.
Main Features
Coinbase is extremely feature-rich and offers services for crypto newcomers as well as traders looking for a more advanced trading experience. The basic Coinbase platform uses a simplistic instant buy/sell feature to let users purchase or sell crypto for fiat currency. 
Users can deposit cash in the Coinbase fiat currency wallet and trade it for crypto tokens in the instant trading section or spend funds via the Coinbase Advanced Trade, where they have numerous spot trading pairs at their disposal. This section comes with a detailed trading interface, and traders can use various order types to optimize their trading experience. Some of the order types include market, limit, and stop-loss orders.
Besides crypto trading, Coinbase offers a suite of additional services, including crypto staking and an NFT section. The Coinbase Wallet app is one of the most popular products of the company, and users can connect it to their exchange accounts to directly trade on Coinbase without storing their crypto in the exchange's custodial wallets. 
bitFlyer strictly focuses on essential crypto trading services, and you won't find anything besides crypto trading on the platform. This means that you can engage in instant or spot trading, and that's it.
The instant trading option lets users choose cryptos, select an amount of fiat currency they wish to spend, and initiate buy orders. Likewise, users can sell any of the crypto tokens available on bitFlyer and initiate a cash-out transaction to their bank accounts. 
bitFlyer's advanced interface comes with the essentials for spot trading, such as an order book, numerous tools for conducting in-depth price chart analysis, and several order types for executing trades.
Supported Cryptocurrencies
Despite being a heavily regulated exchange that needs licenses for every listed crypto, Coinbase has an astonishingly high number of available coins. In fact, there are more than 150 cryptos you can trade on the platform, and the best thing is that all of these projects are verified as reliable cryptos. 
The list includes Bitcoin (BTC), Arbitrum (ARB), Dogecoin (DOGE), Avalanche (AVAX), Polygon (MATIC), Tether (USDT), Cosmos (ATOM), UniSwap (UNI), Ethereum (ETH), Toncoin (TON), and over 140 altcoins.
Users can also utilize Coinbase's staking service to earn an annual percentage yield (APY) on ETH, XTZ, ATOM, Solana (SOL), and Cardano (ADA). Cardano staking grants the lowest 2% yield, while ATOM staking has the highest reward of 6%.
bitFlyer only offers nine digital currencies to users, with a special focus on BTC, ETH, and Ripple (XRP), while the additional coins include Tezos (XTZ), Bitcoin Cash (BCH), Stellar Lumens (XLM), Litecoin (LTC), Ethereum Classic (ETC), and Polkadot (DOT). 
Payment Methods
Coinbase lets users quickly buy over 150 cryptos with a bank card, Google Pay, or Apple Pay. These payment options are used for direct purchases in the Coinbase platform's instant buy/sell section, using one of the three supported fiat currencies (EUR, GBP, and USD). Traders can also use these payment methods to deposit cash into their Coinbase fiat wallets and spend it later on.
Also, users can opt to use traditional bank accounts transfers such as ACH for US customers, SEPA for EU customers, and SWIFT transfers for the rest of the world. These deposit methods are free of charge, making them a better option than card deposits, which incur a 3.99% fee, but bank deposits often take a whole day or longer to get processed. 
bitFlyer also supports debit and credit cards as well as bank account transfers. However, the fiat currency selection is a bit different because the exchange supports USD, EUR, and JPY. Additionally, users can deposit cash through PayPal.
Trading Fees and Limits
Using the Coinbase instant trading feature is quite easy and straightforward, but users incur a 1% buy/sell fee, which is at the higher end of the industry's standard. However, users get a simple and fast trading experience that doesn't involve the use of advanced trading tools, which is great for beginners.
Experienced traders get to reap the benefits of much lower fees on the Coinbase Advanced Trade terminal, where fees start at 0.6% for takers and 0.4% for market makers with low-trading volumes below 10,000 USD.
The fees progressively decrease in line with a user's rising trading volume, down to a meager 0.05% for big-time takers with more than 500 million USD of monthly trades, while takers in this highest fee tier don't incur any trading fees.
The various payment methods on Coinbase incur different fees, except for ACH transactions that are free of charge. A SEPA or SWIFT bank account transfer costs 1.49%, and spending money on crypto from your Coinbase fiat wallet also incurs the same fee.
Wire transfer deposits cost 10 USD, while cash withdrawals with a wire transfer incur a 25 USD fee.
Coinbase imposes a 100,000 USD daily withdrawal limit on its users.
bitFlyer is often advertised as an exchange that doesn't charge instant trading fees, but that isn't really the case because users incur market spread fees. The spreads can dramatically vary from 0.1% to as much as 6% per trade, depending on current market circumstances and available liquidity.
This means that you don't really know what to expect in terms of instant trading costs on bitFlyer, and sometimes you can end up paying a way higher price for a specific crypto than on another competitor exchange with clearly visible fees.
The situation is considerably better with bitFlyer's advanced trading service, which uses a multi-tiered fee model, with the highest fees being 0.1% for users who trade less than 50,000 USD per month, down to the extremely low 0.03% for users with over 500 million USD of monthly trades. bitFlyer's advanced trading fees are very competitive and rank the service among the most affordable spot trading options on the market.
Both bank account deposits and withdrawals are totally free on bitFlyer.
How Safe Are Coinbase and bitFlyer?
Coinbase was considered one of the safest crypto exchanges up until March 2021, when around 6,000 users had their assets stolen from their accounts between March and May. 
According to the company, hackers breached the Coinbase two-factor authentication (2FA) protocol and hijacked user accounts by tricking the SMS verification system into authorizing transactions out of Coinbase by impersonating legitimate users.
Coinbase reimbursed all of the users from its funds and upgraded the 2FA protocol to make sure no such hacks happen in the future. However, it's very unfortunate that a reputable trading exchange like Coinbase has suffered such a serious safety breach.
Coinbase users also have the option to store their assets in the non-custodial Coinbase Wallet app, which lets them keep the private keys to their assets on their own devices. This way, they won't be using the Coinbase platform to store crypto, but they'll still get access to its trading features.
In terms of regulatory compliance, Coinbase is quite reliable since it has all the necessary licenses in countries where it's available, including the US, UK, and EU.
bitFlyer is heavily regulated and has some of the most difficult-to-get business licenses, including those from Japanese authorities, as well as approval from most US states. Also, bitFlyer is licensed in all EU member states.
The platform's history is flawless when it comes to security, and there's no record of any case of stolen crypto from bitFlyer accounts. bitFlyer combines SSL encryption, passwords, 2FA, and crypto storage in hardware wallets to protect funds from cyber attackers.
Customer Support
The Coinbase customer support team does its job pretty well and is known to be very responsive to user inquiries. You can contact support at any time of the day through the Coinbase support phone number or send them an email with details about your issue. 
Furthermore, the support page lets users explain their problems and leave a link to their profile on a social media network of their choice so that Coinbase support members can contact them on that platform.
Compared to Coinbase, bitFlyer has quite poor customer support because you can only contact the team by filing a support ticket. You can't even send an email. 
Alternatively, you can browse the help section of the platform in case you have some simple issues with your account. If your problem is a bit more complex, you'll have to wait for an email reply, which can take a couple of days. 
Mobile Trading
Coinbase lets users conduct all of their crypto operations on its handy mobile app, which is considered one of the most user-friendly on the market. The mobile version of the platform is available on App Store and Google Play Store. Just like the desktop version, users can trade crypto, NFTs, stake asset, and manage their portfolio with the Coinbase app.
Users who install the Coinbase Wallet app can integrate it with their Coinbase account and use the wallet app as their Coinbase exchange account. 
While the app is great for average crypto enthusiasts, experienced traders can't benefit much from it because it doesn't give users access to the Advanced Trade feature. Coinbase claims that it will be launching a Coinbase Advanced Trade app specifically for experienced users who want to engage in spot trading.
Similarly to Coinbase, the bitFlyer exchange has its own mobile app, but unlike its competitor, the bitFlyer app supports both instant and spot trading. However, since bitFlyer doesn't have any additional features besides these two types of trading options, the app also has very limited features. 
How Do Coinbase and bitFlyer Compare to Other Crypto Exchanges
Some of the key crypto exchange competitors of Coinbase and bitFlyer are Binance and Kraken. These two platforms offer an extensive list of features, such as NFTs, staking, loans, futures contracts, and margin trading.
Compared to Coinbase, both platforms offer more trading options. They're also way more feature-rich than bitFlyer.
What's more, Kraken has 200+, while Binance supports 350+ coins and tokens. In the fee segment, Binance has a 0.5% instant trading fee and a starting 0.1% spot trading fee for makers and takers, while Kraken has an expensive 1.49% instant trading fee and a 0.16% spot trading fee. 
Their spot trading fees are similar to that on bitFlyer.
Conclusion
All in all, Coinbase is more than just a platform that provides users with instant and spot trading. It's more of a crypto ecosystem with added services that include NFTs, staking, one of the most popular crypto wallets, and more. Users value Coinbase because of its simplicity, reliability, and a broad range of services.
bitFlyer, on the other hand, is more of an old-school exchange lacking robustness and features. Its focus is solely on spot and instant trading a small selection of top coins.
To this end, Coinbase is generally a better choice for the average crypto investor looking for an all-in-one platform, but users looking for very low spot trading fees might be better off with bitFlyer.