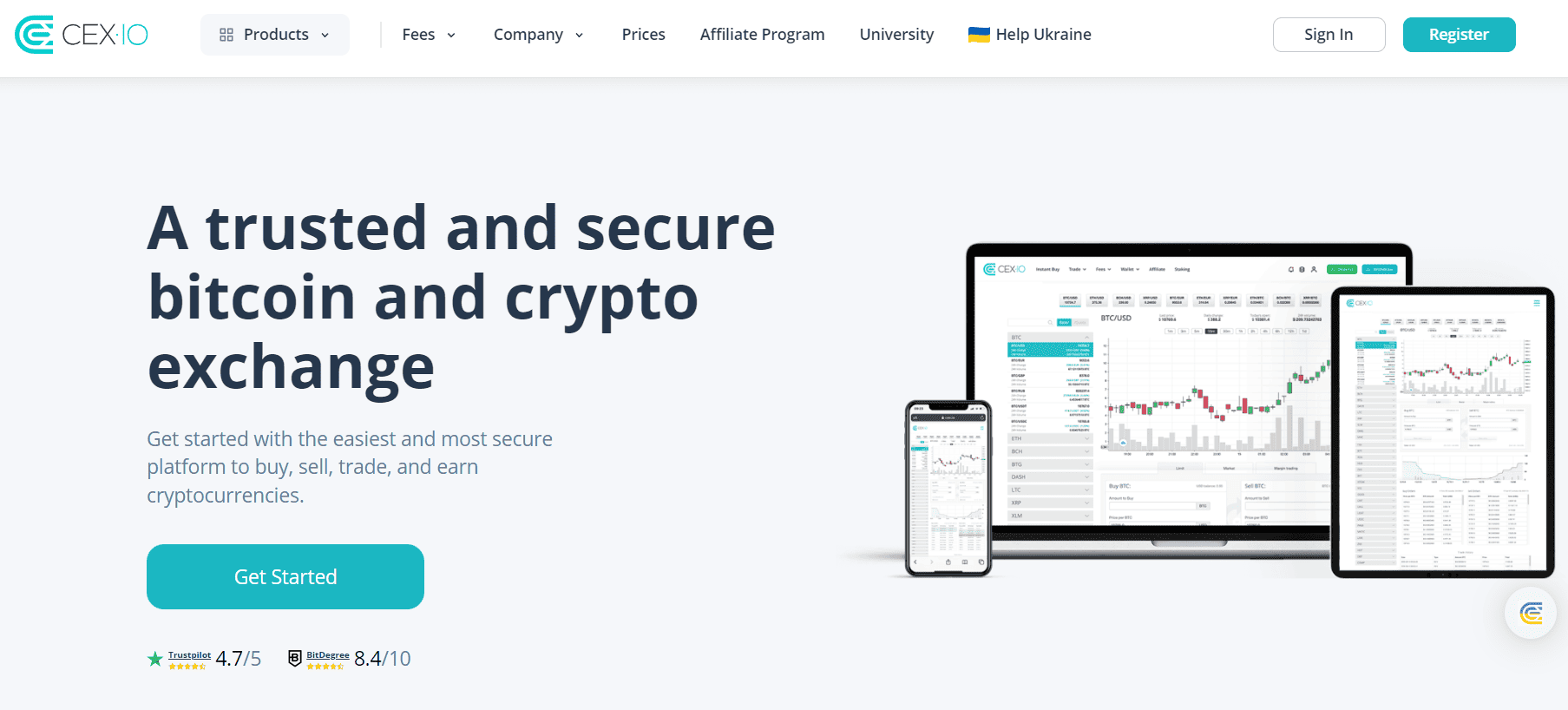 Over 50 major coins supported
Trade with as low as $10 equivalent
Crypto Loans up to 90% LTV
Regulated EU platform.
Available in 221 countries

250+ Cryptocurrencies
10+ million users
Uphold is 100% reserved
Earn up to 16% APY staking assets (not available in US)
Registered with FinCEN (US), FCA (UK), and FCIS (Lithuania)
Terms Apply. Cryptoassets are highly volatile. Your capital is at risk. Don't invest unless you're prepared to lose all the money you invest. This is a high-risk investment, and there's no safety net if things go south.

200+ cryptocurrencies
Get started from $10
10M+ customers
190+ countries supported
High rate limits: Trade crypto fast with their robust, low latency API.
CEX.io is a well-established cryptocurrency trading platform that supports a vast choice of trending tokens and a variety of trading services and benefits for business clients. 
Our CEX.io review will cover all of the critical points of the exchange and help you learn whether it can offer the services you need in your day-to-day crypto operations.
Pros & Cons of CEX.io
Pros
CEX.io is available in most global markets, including key crypto markets such as the EU and the US

Regulated platform with all necessary trading licenses

Feature-rich exchange with trading services for all types of users

Users have crypto savings and staking options to grow their portfolio of idle assets

Numerous payment options

Over 200 popular crypto tokens 

Very competitive fee schedule
Cons
Beginners might find it a bit complicated to navigate the platform because of the numerous features and platform sections

Doesn't support any crypto derivatives

Has relatively low liquidity compared to market-leading exchanges

Unlike some popular competitor platforms, CEX.io doesn't have its own NFT section
About CEX.io
CEX.io has a unique development history because the platform was initially created as a cloud mining service for Bitcoin (BTC) enthusiasts who wanted to mine crypto without actually owning and operating their own mining hardware.
The platform also allowed users to buy and sell BTC mining power in the company's proprietary GHash mining pool. At one point, this pool held over 50% of the total Bitcoin hashing power, but it ceased operating in 2016, with other mining pools gaining more popularity. 
At that point, CEX.io shifted from providing BTC cloud mining services to operating as a multifunctional crypto exchange that covers all the services necessary for investing and trading crypto assets. 
Since its shift to crypto trading, CEX.io has attracted around five million users and operates with a modest trading volume that ranks the platform in the 200th position out of 600+ global exchanges.
The platform is divided into three main sections: one for beginners, one for experienced traders, and another one for business clients. 
In the For Everyone section, crypto enthusiasts can use the Instant Buy feature to purchase specific crypto and specify how much cash they wish to spend. Once done, users can facilitate payment with a bank card or use the fiat balance in their CEX.io accounts to initiate a purchase at the current market prices. 
In the For Traders section, you'll find the spot and margin trading terminals, which are surprisingly simplistic and easy to use. Instead of packing a static screen with price charts, order books, trading menus, and order history, CEX.io places all of these elements in a scrollable window. You can view the charts and select trading pairs in the upper section of the window, while scrolling down will take you to your order menu and the order book.
Finally, the business section is where CEX.io offers services to companies looking to integrate crypto payments and other similar features on their websites and apps.
Crypto Coins Available on CEX.io
The number of available cryptocurrencies on CEX.io is exceptionally high, given that the platform is regulated and has licenses from major financial institutions in the US and the European Union. 
You can trade over 200 major coins and tokens, such as BTC, Cardano (ADA), Loopring (LRC), Aave (AAVE), 1Inch (1INCH), USD Coin (USDC), dYdx (DYDX), Ethereum (ETH), Avalanche (AVAX), The Graph (GRT), Litecoin (LTC), Gala Games (GALA), Gnosis (GNO), Internet Computer (ICP), Ziliqa (ZIL), Kava (KAVA), Chainlink (LINK), Neo (NEO), and numerous additional crypto projects.
Besides trading, users can also take advantage of the crypto savings and staking features. Traders can open savings accounts for the following coins: BTC, USDC, Dai (DAI), ETH, True USD (TUSD), and Tether (USDT). The annual savings yields begin at 0.5% for BTC and go up to 3% on all stablecoins. 

Over 50 major coins supported
Trade with as low as $10 equivalent
Crypto Loans up to 90% LTV
Regulated EU platform.
Available in 221 countries

250+ Cryptocurrencies
10+ million users
Uphold is 100% reserved
Earn up to 16% APY staking assets (not available in US)
Registered with FinCEN (US), FCA (UK), and FCIS (Lithuania)
Terms Apply. Cryptoassets are highly volatile. Your capital is at risk. Don't invest unless you're prepared to lose all the money you invest. This is a high-risk investment, and there's no safety net if things go south.

200+ cryptocurrencies
Get started from $10
10M+ customers
190+ countries supported
High rate limits: Trade crypto fast with their robust, low latency API.
The CEX.io staking section supports 14 coins, including AVAX, Songbird (SGB), Polygon (MATIC), Solana (SOL), Kusama (KSM), KAVA, Ontology (ONT), Flare (FLR), Polkadot (DOT), ZIL, Cosmos (ATOM), ADA, Tron (TRX), and Tezos (XTZ). ADA staking has the lowest 2.5% APY, while ONT staking yields the highest returns of 13%. 
Fiat Currencies Supported on CEX.io
CEX.io supports three major fiat currencies: GBP, USD, and EUR. Platform users can facilitate instant payments with these currencies or deposit cash into their accounts for gradual spending.
CEX.io is very fiat-friendly and supports a lot of popular payment methods. You can pay for crypto or deposit cash with payment cards, PayPal, Google Pay, Apple Pay, SWIFT, ACH, SEPA, Skrill, Faster Payments, Netteler, Epay, and Trustly. 
Countries Supported on CEX.io
CEX.io is open to users from most parts of the world and supports over 180 countries. However, there are some countries where CEX.io isn't available either because of local regulations or political conditions.
Traders can't access CEX.io from Sudan, Russia, the state of New York, North Korea, Japan, Singapore, Mali, Libya, Venezuela, Myanmar, Syria, Somalia, Nicaragua, Cuba, and a few more states. 
CEX.io Fees
CEX.io uses a very competitive maker-and-taker fee schedule to classify traders into fee tiers. Traders with a monthly volume under 10,000 USD fall into the first tier with a 0.25% taker and 0.15% maker fee. 
Traders with increased volumes pay fewer fees. For example, users with a 30-day trading volume of over 100,000 USD pay a decreased 0.19% taker and 0.09% maker fee. Traders with huge monthly investments of over 20 million USD don't pay any maker fees, while their taker fee is reduced to 0.08%.
These fees position CEX.io among the global exchange platforms with the most favorable trading fees, which is one of the platform's key strengths.
CEX.io users pay different fees for the various payment methods available on the platform, and all of these methods have their own daily deposit and withdrawal limits.
If you want to buy crypto or deposit money with a payment card, Google Pay, or Apple Pay, you'll incur a relatively high fee that ranges between 2.99% and 3.99%, depending on which fiat currency you're using.
Bank card deposits don't have daily limits, while withdrawals have a 50,000 USD limit for Visa and a 2,500 USD limit for Mastercard users. Apple Pay and Google Pay have a 1,000 USD daily deposit limit, while withdrawals aren't available through these services.
SWIFT and SEPA bank account transfers don't have any deposit or withdrawal limits but incur a 2.99 USD deposit and withdrawal fee.
Traders who use Faster Payments can deposit or withdraw up to 250,000 GBP daily, with a 2.99 GBP fee. Skrill, Neteller, and Epay have a 10,000 USD deposit and withdrawal limit. Skrill and Neteller add a 3.99% fee per order, while Epay charges a lower 0.99% fee.
As for PayPal, traders can only deposit up to 1,000 USD and withdraw up to 10,000 USD, with a fee between 2.99% to 3.99% depending on the currency. Trustly has the same deposit policy as PayPal but allows unlimited and free withdrawals, with a deposit fee of 2.49%. 
Main Features of CEX.io
The CEX.io trading platform provides various crypto services to beginners, experienced traders, and business clients. 
The instant buy/sell service is for crypto beginners unfamiliar with advanced trading options. This feature lets users spend fiat currency on crypto and have it delivered to their CEX.io account wallet right away.
The more experienced users who know how to utilize spot trading and margin trading to profit from crypto price movements with the use of different order types and technical analysis have a detailed trading interface at their fingertips. 
With over 200 crypto assets, the platform has a great selection of digital currencies for traders of all levels. Besides trading, CEX.io has a crypto savings and staking section where users can earn interest on their crypto savings at considerably higher rates than traditional banks or stake various cryptos and earn staking rewards. 
Users can also borrow funds from CEX in the crypto loan section, where they can deposit crypto tokens as collateral and receive USD, EUR, or USDT loans. The loan terms are between seven days and one year, and the interest rates are quite competitive. 
Traders who want to be able to spend crypto like cash at retail spots or at web-based merchants can do so with the CEX.io debit card. You can allocate a portion of your crypto to your debit card and spend it at stores. The card instantly converts the available crypto into cash, and you can also withdraw money from an ATM. 
Businesses that want to start accepting cryptocurrency as payment for their products or services can hire CEX.io to create a custom API for their website. Furthermore, the CEX.io Prime service offers deep liquidity and various crypto-to-fiat services for enterprises. 
How Easy Is It to Open a CEX.io Account?
CEX.io has a straightforward but somewhat lengthy signup process because of the ID verification protocol that requires you to provide an official personal document and other details.
Hit our referral

link

to sign up on CEX.io and earn a small bonus to help you get started.

Provide your email address and country of residence, and create a complex password with upper and lowercase characters to ensure your account is well-protected.

You'll have to confirm you're over 18 years old and have read the platform's privacy and operating terms. 

Now tap

Create your account,

and you'll get an email with a code you'll need to log into CEX.io.

Technically, you now have a CEX.io account, but you won't be able to deposit funds or start trading if you don't proceed to verify your identity.

To pass the ID verification step, you'll need to confirm your country of residence again and provide your phone number for a quick phone verification through an SMS message code.

Now, choose a document for verification, such as your passport or ID card. You must also provide your social security number if you're a US trader.

CEX.io will ask you to photograph your document. The requirements are different for ID cards and passwords, so just follow the on-screen instructions.

CEX.io will ask you to submit an additional selfie photo of yourself while holding your chosen ID document next to you. Make sure to take a photo on a clear, bright background.

Once you've submitted the images, you'll also have to manually provide the details from your documents, such as your document's issuing, expiration date, and serial numbers.

Finally, you're done with the CEX.io Know Your Customer (KYC) protocol. Submit the information and wait for the confirmation email from the platform, which will arrive shortly. 
How Secure Is CEX.io?
CEX.io stores more than 90% of all of the assets traded on the exchange in cold wallets, which means hackers can't steal your crypto. The tiny portion of assets kept in hot wallets provides the platform with enough liquidity to facilitate trades.
In case hackers manage to breach the hot wallet, CEX.io is obliged to refund affected customers because it's a regulated exchange under close security from reputable financial institutions.
Furthermore, the platform's website uses SSL data encryption and other methods to prevent DDOS attacks that could jam the platform and prevent users from accessing its features. The exchange also has a two-factor authentication (2FA) mechanism that requires traders to approve each transfer of assets with a security code sent to their verified phone number or email address.
Has CEX.io Ever Been Hacked?
Unlike many popular crypto exchanges that have succumbed to unfortunate security breaches, CEX.io has a clean security record, and there's no proof that the platform has suffered any breaches since its launch in 2013.
Is CEX.io a Regulated Exchange?
CEX.io complies with all regulatory standards in the US, the EU, and numerous additional regions. The fact that the platform has an operating license in 49 US states proves that it follows some of the strictest financial rules for preventing money laundering and other illegal activities. 
How Does CEX.io Compare to Other Crypto Exchange Alternatives?
CEX.io offers users a full suite of basic and advanced crypto trading services, along with staking, loans, and a debit card. These services are similar to the features available on Coinbase and Binance.
Binance has over 350 coins available in its roster of digital currencies, while CEX.io has around 200 projects. However, Binance isn't a regulated platform, and users lack legal protection, which they have at CEX.io. As for Coinbase, the exchange is heavily regulated and supports some 160+ tokens. 
Binance is very popular thanks to its low trading fees of 0.1% for makers and takers with a trading volume below one million USD per month, while the instant trading fee is only 0.5%. Coinbase charges a high 1% instant trading fee, but the spot trading fees on its Advanced Trade platform section are more reasonable, i.e., 0.6% for takers and 0.4% for makers with a monthly volume below 10,000 USD.
CEX.io's fees are somewhere in the middle, with a starting trading fee of 0.25% for takers and 0.15% for makers who trade less than 10,000 USD per month. 
Regarding crypto staking and savings accounts, CEX.io offers more options than Coinbase but far fewer choices compared to Binance. While both competitors support NFT trading, CEX.io has nothing to offer in this segment.
Does CEX.io Have an App?
CEX.io has an elegantly-designed app for smartphone users, with a relatively high 4.6 score on App Store. The interface is considerably different compared to the browser version because the app has a dark design, while the platform's features are all accessible through the discreet menu in the lower section of the app.
Through the Buy option, users can purchase crypto instantly with various payment methods, while the Trade section is where they can access spot and margin trading features. Traders can view and manage their portfolios in the Balance section, which is where they can deposit or withdraw crypto. In the Markets section, traders can view detailed price charts and analyze different trading pairs or individual crypto assets. 
Also, users can easily set up price alerts for specific cryptocurrencies, along with order notifications to alert them when their spot or margin trading orders are executed. Furthermore, the CEX.io crypto savings and staking services are also available on the app, which means that all of the platform's key services are accessible on the mobile version of the exchange.