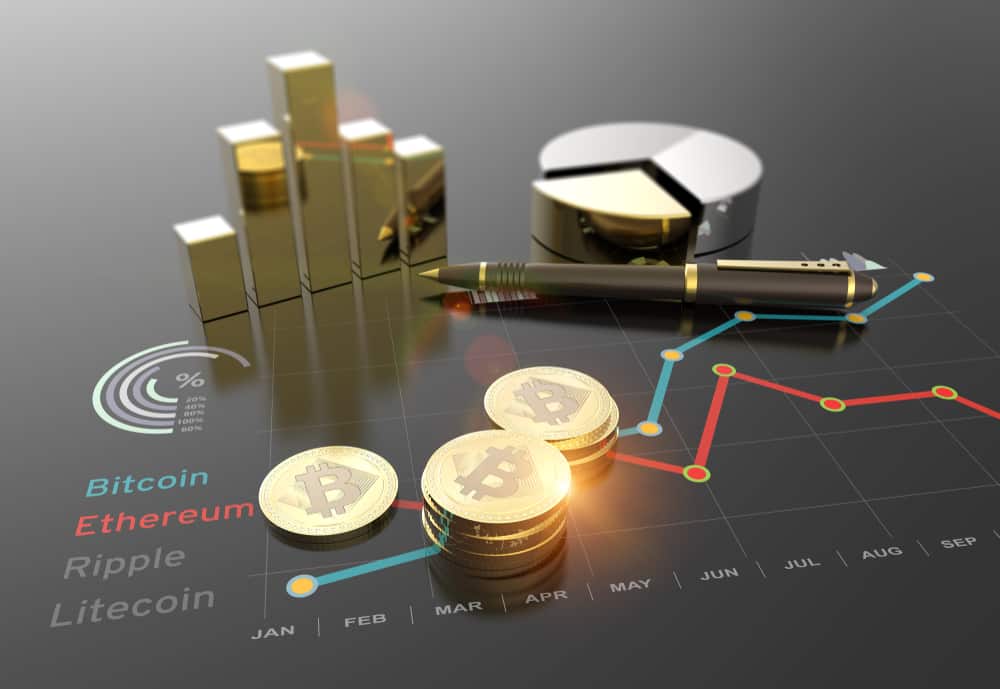 This Binance vs Luno comparison explores the two prominent cryptocurrency exchanges that allow users to buy, sell, and hold cryptocurrencies. Nevertheless, there are a few key distinctions between the two.
Which one of these exchanges would be more suitable for your trading needs? Here's what we discovered.
About the Exchanges
Binance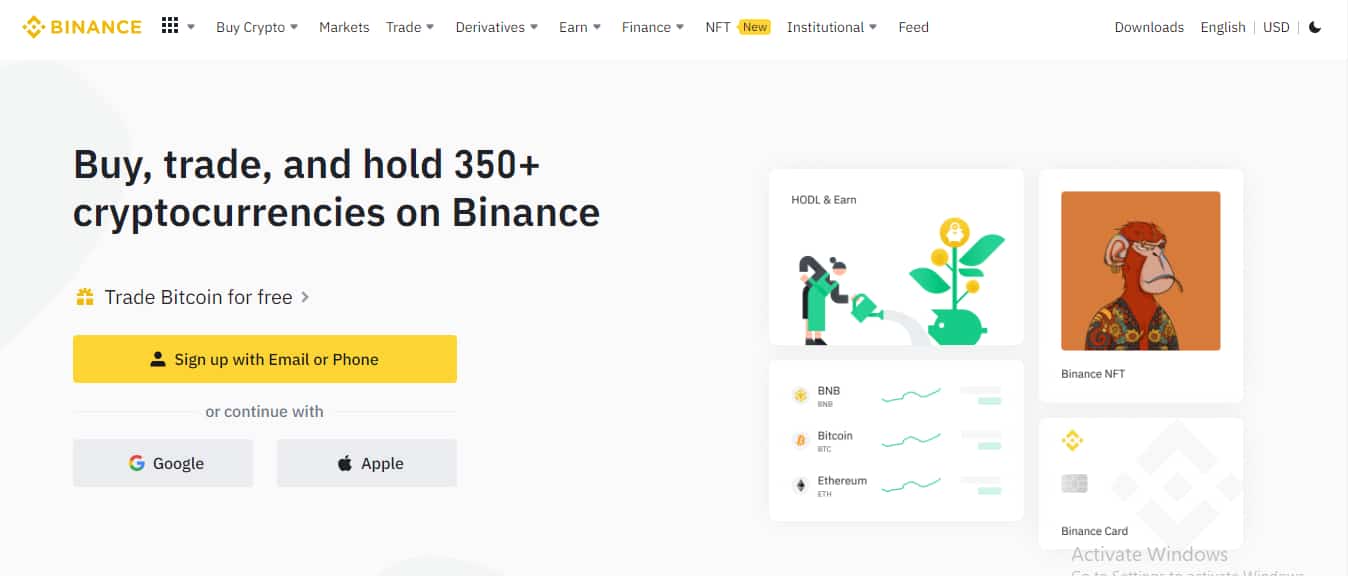 Binance, headquartered in Hong Kong, is unquestionably the largest cryptocurrency exchange in the world. The platform first appeared in the industry in July 2017 and swiftly managed today to establish itself as the go-to cryptocurrency exchange because of its superior service and cutting-edge trading features.
In terms of trading volume, this widely accessible platform consistently ranks at the top and has never let its traders down when it comes to handling or executing large trades. In addition to its outstanding ratings, the exchange has a strong reputation among cryptocurrency users as an industry leader in offering the widest selection of digital assets, payment methods, and trading options.
Luno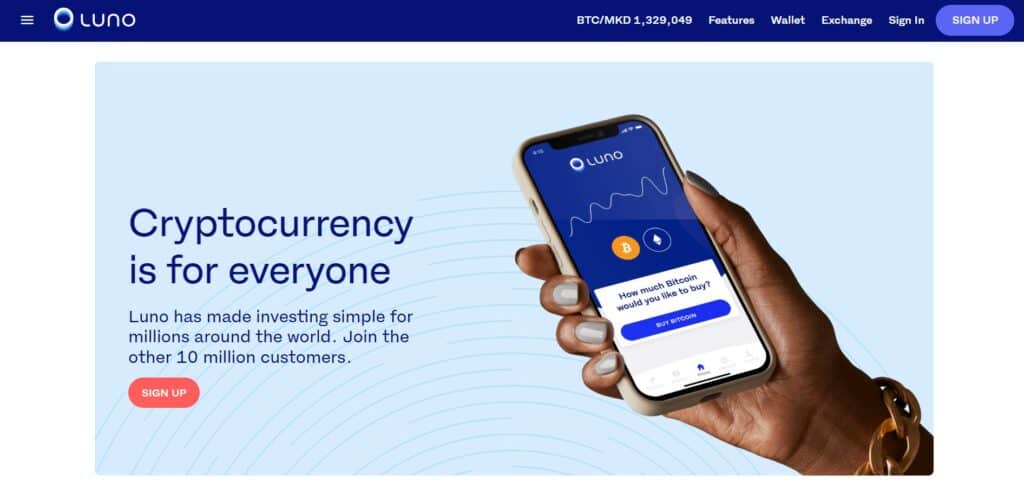 Currently, Luno is the cryptocurrency exchange that has the greatest prominence throughout South Africa. This Nigerian trading platform was launched in 2013.
Luno is a digital marketplace that brings together individuals interested in buying or selling cryptocurrencies. This service is unique among its competitors because it does not purchase or sell digital currencies or influence the market price of these assets. In essence, it's all between the traders.
Luno simplifies the process of utilizing crypto in everyday life. At any time, Luno enables you to change your virtual currency holdings for your local fiat currency and spend them. 
While Luno is not the best choice for portfolio diversification, it does provide excellent service overall. Additionally, Luno has some of the most affordable pricing plans, which shows its dedication to providing accessible and useful services.
Pros and Cons
Binance Pros
The largest exchange in the industry;

Boasts the highest trading volume and deep liquidity;

Provides margin trading, futures, and options;

Has some of the lowest trading fees in the industry.
Binance Cons
Faces regulatory issues in several jurisdictions;

Has a history of security breaches.
Luno Pros
A regulated platform;

Streamlined exchange of crypto for fiat currencies;

Free fiat and crypto payments via e-mail;

Fast and simple crypto-to-fiat currency conversion.
Luno Cons
Only a couple of cryptocurrencies are available to trade;

No leverage or advanced trading tools are available;

Low liquidity;

Inaccessible to US traders.
Binance vs Luno: The Crypto Exchange Comparison 
Opening an Account
Binance
Creating a Binance account is simple, and all you need is a functional phone number or email address to get started using the mobile app or browser version, respectively. Verifying one's identity is completely voluntary. However, if you complete the identity check, you can increase the amount of money you can withdraw or deposit every day.
The check includes taking a selfie, presenting an ID issued by the government, and confirming your account. The entire process should not take more than several minutes to complete. The next step is to put some money into your trading account and implement your crypto strategy.
Luno
Luno is a licensed cryptocurrency exchange, thus, it requires users to verify their identity. If you only want to buy or sell a modest amount of cryptocurrency, Luno's verification process is less stringent than the benchmark in the industry, requiring only account confirmation via a mobile device and submitting some personally identifiable information rather than an actual identification document. 
After you have provided Luno with the essential information, your identification, and a selfie, the verification process for your identity usually only takes a few minutes.
With this first level of authentication, anyone can use their Luno wallet to send and receive money and do financial transactions with Bitcoin and Ethereum.
Those who want access to higher daily and monthly limits must provide a selfie and a photo of their government-issued photo ID at the second verification level. With this additional layer of authentication, the daily and monthly limits will rise by a modest amount.
Individuals who go through the third verification step are rewarded with the typical industry upper limits for daily and monthly deposits and withdrawals. You'll need third-party proof of residence photos for this tier.
Main Features
Binance lets its users choose between two types of platforms: Basic (Binance Light) and Advanced (Binance Professional). Having in mind the volatile nature of the crypto market, Binance encourages its new users to stick with a primary trading structure. Users who fall within this category do not engage in any of the alternative trading activities. Instead, they focus almost entirely on swapping cryptocurrencies as their principal endeavor.
Binance Light makes it simple to start trading right away. The trading interface is straightforward, presenting all relevant data on a single screen. Charts are shown in the center panel, with pricing listed on the left. On the right, you'll see a display of data on past market activity and recommendations for potential purchases and sales.
Statistics and other technical analyses are available in the expanded view of Binance's advanced trading platform, Binance Professional. The advanced interface displays records of past transactions, current market conditions, and forthcoming activities. 
In comparison, a marketplace like Luno is merely a platform that links crypto sellers and buyers comparable to other marketplaces that trade in stocks, commodities, and currencies. 
According to Luno's tagline, "Cryptocurrency is for everyone," the platform aims to make cryptocurrency accessible even to novice traders. However, due to the limited number of cryptocurrencies (only BTC and ETH) and functionalities, this crypto exchange is among the more basic ones.
Pricing is based entirely on market forces of supply and demand. Simply said, Luno is a platform that brings together crypto purchasers and vendors.
The process of buying cryptocurrency is as easy as adding a debit card, setting the desired purchase amount, and confirming the purchase.
In addition, traders located anywhere in the world with a Luno account can use savings wallets to save a variety of cryptocurrencies. These cryptocurrency holdings are eligible to receive interest from the crypto lending program. However, investors from the United States cannot use this function.
Supported Cryptocurrencies
Binance is a cryptocurrency exchange that supports a wide variety of digital assets, including its own BNB coins, and is aimed to assist customers in all facets of cryptocurrency trading. One of the exchange's strongest points is the dizzying array of supported cryptocurrencies and tokens, making trading a breeze with any currency combination. 
While BTC and ETH are among the most well-known cryptocurrencies, Binance also supports multiple lesser-known cryptocurrencies, providing novice traders with smaller budgets and a great opportunity to enter the market.
People interested in purchasing different types of cryptocurrencies are generally not going to be happy with the options that Luno provides. Namely, Luno enables access only to two prominent cryptocurrencies: Bitcoin (BTC) and Ethereum (ETH).
This is certainly a significant drawback, particularly because many exchanges now offer extensive product lines comprising dozens and perhaps hundreds of different digital currencies.
Payment Methods
To buy Bitcoin or other cryptocurrencies on Binance, you can use any of several different payment options, including debit and credit cards issued by Visa and Mastercard, electronic payments within the Single Euro Payments Area (SEPA), P2P bank account transactions, as well as third-party payment services like Simplex.
Luno only accepts bank wire transfers or credit cards for deposits and withdrawals of the supported fiat currencies. Also, Luno allows you to buy Bitcoin and Ethereum instantly using a credit card.
Trading Fees and Limits
Binance and Luno share the market maker/taker pricing model. In addition, they offer a tiered fee plan, which means that your 30-day trading volume determines your payable fee. Let's look at the difference in the fees required to use each exchange.
Binance Fees
There are 10 levels of verification available on Binance, ranging from VIP 0 to VIP 9. Users whose 30-day trading volume is less than 50 BTC or whose BNB balance is less than 50 BNB are in the first tier. These traders pay a market maker/taker fee of 0.075%.
Users that have a 30-day trading volume of more than 150,000 BTC and a BNB balance (i.e., holdings of Binace's native token) of more than 11,000 BNB are in the highest tier. Their cost for trading through Binance ranges from 0.02% to 0.04%. Take notice that Binance's costs vary depending on whether you trade futures. 
Furthermore, when users deposit cryptocurrency, Binance does not charge any fee. Nonetheless, there could be a modest fee associated with transferring fiat currency into your account. There is also a small fee associated with the withdrawals, which varies according to the underlying asset.
Luno Fees
Compared to other exchanges, Luno's transaction fees are more complex because they depend on the amount of 30-day transactions and the fiat currency pairing. 
The Luno fees for market makers are always set at zero, regardless of the trading pair, whereas fees for market takers can be anywhere from 0.2% to 1%, depending on the fiat currency pair and the total amount of trades executed in a specified 30-day period.
Additionally, Luno offers a comprehensive fee schedule for deposits and withdrawals, determined by the countries it supports.
How Safe Are Binance and Luno?
Binance takes many precautions to prevent hackers and criminals from gaining unauthorized access to its platform or users' accounts. The Know Your Customer (KYC) method and two-factor authentication (2FA), which can be enabled through SMS or Google Authenticator, are both examples of safeguarding procedures that have been integrated into the platform's architecture.
However, Binance has been called out for its unregistered financial services in several different jurisdictions. Furthermore, on May 7th, 2019, a breach of security affecting this popular network caused damage of more than $40 million in bitcoins.
Any cryptocurrency exchange ought to place a premium on safety, and this is one area in which Luno shines. Namely, Luno holds the vast majority of cryptocurrency in cold storage. Additionally, the platform stores the private keys in safe-deposit boxes. By holding cryptocurrencies offline and making it difficult to access them, Luno prevents unauthorized individuals from stealing its customers' funds.
Customer Support
Binance users have access to a wealth of informational resources that may answer any investment-related question and facilitate the efficient use of trading platforms. These articles also provide insights from first-hand experience in achieving success in cryptocurrency trading. 
However, when it comes to addressing direct customer requests, Binance could certainly use a bit of improvement.
Back to Luno. Designed with beginner crypto investors in mind, Luno features a wealth of educational and customer care resources. But, Luno's customer service is unfortunately not one of the company's strong points. One of the biggest issues is that it is not possible to submit questions by email, which reduces the overall investment that has been put into the service.
Mobile Trading
If you're looking for a central location to do cryptocurrency trading on the go, go no further than the Binance app. This app offers a broad range of marketable crypto and fiat currencies, simple trading tools, crypto loan instruments, as well as other financial services.
The Luno software combines the functions of a trading platform, a wallet, and PayPal all into one convenient package. All Luno features are available on the platform's exchange trading markets. 
You can also instantly send payments in crypto or fiat currency by email simply by accessing your network of contacts. Last but not least, you can download the application on both Android and iOS devices.
How Do Binance and Luno Compare to Other Crypto Exchanges
If you find Binance too advanced and Luno seems lacking in some aspects, look for a more user-friendly platform such as Coinbase.
The cryptocurrency exchange platform Coinbase now supports over 200 different digital assets, including prominent brands and lesser-known cryptocurrencies. Coinbase, much like Luno, is user-friendly for novices and provides a wealth of educational resources. 
Coinbase even has instructional modules that, once completed, will reward you with free cryptocurrency. Coinbase is also less complex than Binance, so you'll get streamlined trading instruments and an ample offer of coins through this platform. 
If, on the other hand, you are looking for more advantages, Crypto.com offers quite a few perks that cryptocurrency aficionados appreciate. You can easily expand your cryptocurrency portfolio by taking advantage of the earn program's incentives on dozens of different tokens. In addition to these services, the exchange provides a prepaid crypto rewards card, a payment service, and a platform for buying and selling non-fungible tokens (NFTs). 
Again, Crypto.com is a site that provides a substantial supply of digital currencies, yet the trading tools are easy enough to use that even a novice can get around without any difficulty.
Conclusion
Luno is a digital currency exchange as well as a payment service currently available in 40 jurisdictions across Europe in addition to several developing and middle-income regions.
Luno is doing a great job by making it simple for people all over the world to buy, sell, and use cryptocurrency as part of the everyday economy, and the company is on a quest to spread knowledge about cryptocurrencies and crypto trading.
If, on the other hand, you enjoy having an abundance of options available to you, you might prefer an exchange such as Binance because it provides access to real-time trading across diverse asset classes, in addition to a broad range of derivative contracts.