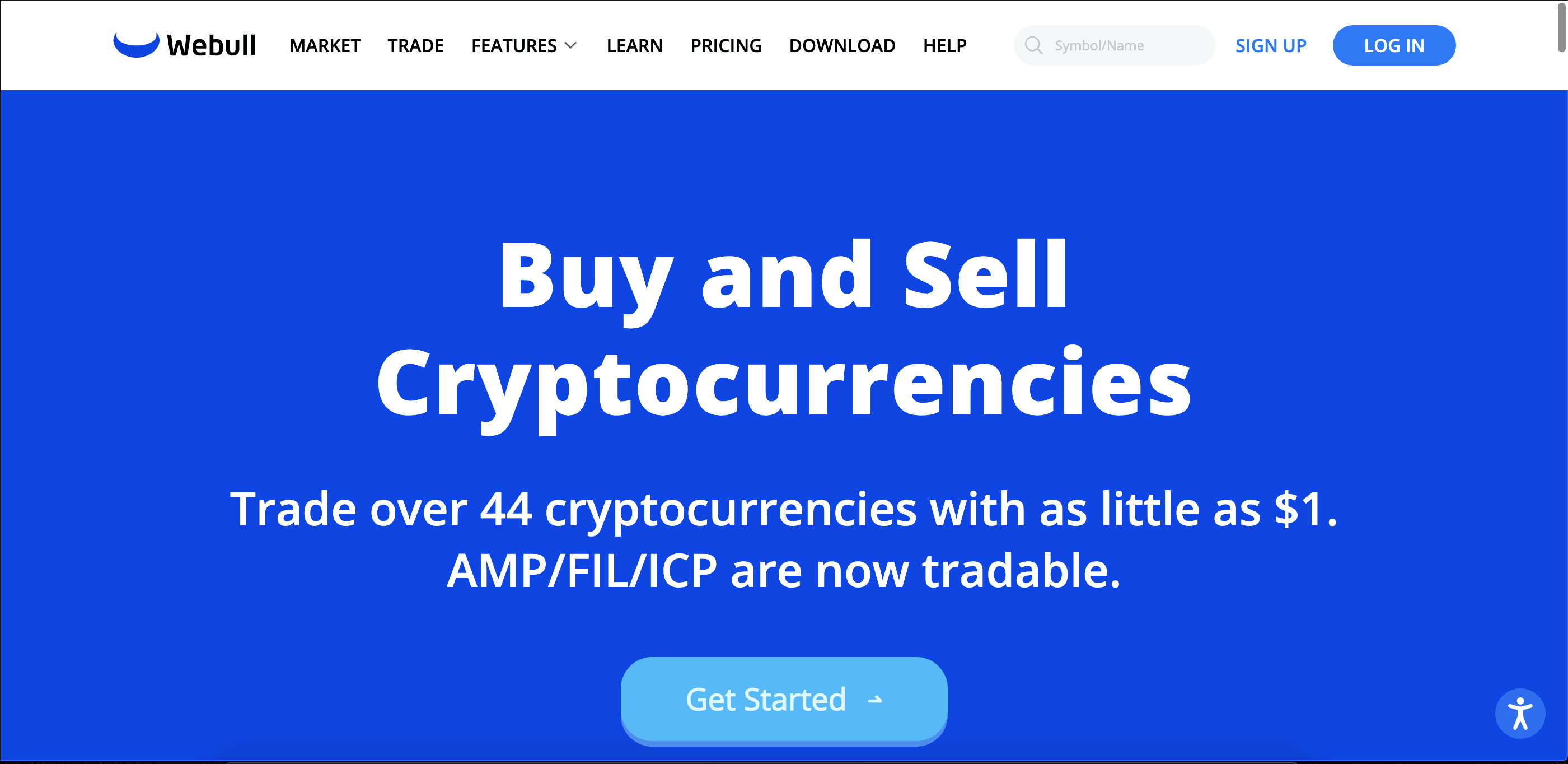 Webull is an online broker and financial services app that offers customers various trading and investment tools, including crypto, ETF, stock and options trades. 
In this Webull review, we'll look into the pros and cons of the platform, discussing the fees, features, and possible issues, so you can decide if it's the best choice for you.
Pros & Cons of Webull
Pros
No fee crypto trading

You can trade several commodities, including stocks, options, and ETFs, on the platform

Advanced trading tools like in-depth charting, advanced order types, and technical indicators are available

The Webull crypto trading platform is designed for experienced traders and offers advanced features such as margin trading and short selling (not for crypto).
Cons
Webull isn't very beginner-friendly 

Crypto prices are expensive due to high spreads

Supports around 40 digital assets, but availability depends on location

Only available to US-based customers
About Webull 
Webull is owned by its parent company, Wecast Network Limited, a Cayman Islands-based holding company.
Wecast Network Limited is owned by Beijing-based internet technology firm TAL Education Group.
While Webull may be majority-owned by a Chinese company, it's important to note that the firm operates under US laws and regulations.
Webull's CEO, Anthony Zhang, has stated that the company plans to list itself on a major U.S. stock exchange within the next few years.
Webull Financial LLC, the US subsidiary of Webull corporation, was founded in 2017. Webull launched its mobile app in May 2018, offering mobile trading services for a variety of assets. The platform started offering crypto trading in 2020.
Webull is an SEC-registered broker and dealer and a member of SIPC, NYSA, and FINRA. Like many other fintech companies that offer crypto, Webull doesn't manage its own crypto services and depends on Apex Crypto LLC to execute trades and store assets.
Crypto Coins Available on Webull Crypto Exchange
Webull supports around 40 digital assets, including Bitcoin (BTC), Bitcoin Cash (BCH), Ethereum (ETH), Litecoin (LTC), Aave (AAVE), ApeCoin (APEUSD), Maker (MKRUSD), Dogecoin (DOGE), Zcash (ZEC), Shiba Inu (SHIB), Stella Lumens (XLM), Basic Attention Token (BAT), Ethereum Classic (ETC), Avalanche (AVAX), Polygon (MATIC), Cardano (ADA), Dash (DASH), Sushi (SUSHI), Chainlink (LINK), Algorand (ALGO), Curve DAO Token (CRVUSD)​, Uniswap Protocol Token (UNI), Solana (SOLUSD), Tezos (XTZ), USD Coin(USDC).
Customers based in New York can trade  Bitcoin (BTC), Litecoin (LTC), Aave (AAVE), Ethereum (ETH), Bitcoin Cash (BCH), Basic Attention Token (BAT), Chainlink (LINK), and Bancor (BNT).
Fiat Currencies Supported on Webull 
Webull is available to US-based customers and supports USD deposits. Webull offers several deposit and withdrawal methods, including linking your bank account to your Webull account, ACH transfers, bank transfers, and wire transfers.
One of the best things about Webull is that there are no account minimums. This means you can start trading with as little or as much money as you want.
There are zero fees for ACH deposits and withdrawals, but the maximum you can transfer in a day is $50,000 from your bank to your Webull account. While ACH transfers are free, wire transfers cost fees.
Users doing wire transfers will have a bigger dollar limit but must pay fees. If you have a non-US bank account, you must use an international wire transfer to deposit or withdraw your funds from your Webull brokerage account.
Countries Supported on Webull 
Webull Financial LLC, the US subsidiary of Webull corporation, is only available in the US. The corporation has subsidiaries in Australia, Japan, Hong Kong, and Singapore, so customers may sign up on those platforms.
Webull doesn't plan to launch a European platform yet, but it may be available in the future.
Webull Trading Fees
Webull offers fee-free trading for crypto, options, and stocks, but that doesn't exactly mean your trades come cheap. In fact, for crypto, it's the opposite. 
Webull and platforms like Webull don't operate their own order books and use crypto services from other providers. Webull uses APEX crypto like Revolut. 
Webull calculates spreads on a "basis points" system. Basically, you pay a baked-in spread of around 1% of your transaction for all crypto trades.
Overall, that means crypto prices are higher on Webull compared to crypto exchange platforms like Coinbase and Kraken.
Deposit and Withdrawal fees
Webull doesn't charge for ACH deposits and withdrawals, but you pay fees for wire transfers.
| | | |
| --- | --- | --- |
| Domestic Wire | Deposit | $8 /per transaction |
| Domestic Wire | Withdraw | $25 /per transaction |
| International Wire | Deposit | $12.5 /per transaction |
| International Wire | Withdraw | $45 /per transaction |
Main Features of the Webull Platform
Let's see some of the most notable crypto features of Webull in more detail.
Multiple Assets
Webull offers multiple assets, including cryptocurrency, options, ETFs, and stock trading. You can buy fractional shares on the platform.
You can trade 40 digital assets on Webull, including BTC, LTC, ETH, SUSHI, USDC, and LINK. Some digital assets may be unavailable depending on which state you live in.
Please note that users can't deposit or withdraw crypto from the platform. You can only buy and sell within the Webull platform.
​​Webull recently implemented a wallet feature that allows you to transfer BTC, LTC, and BCH in and out of the platform. While that's an improvement, the transfer feature is still very limited.
Multiple Order Types
Webull supports day orders, IOC orders, GTC (good til cancel) market orders, limit orders and, stop limit orders for crypto trading.
Webull Account Types
Webull offers individual, and IRA account types.
All customers must create an individual account first. You can open a cash and a margin account. Crypto trading is only supported on these accounts.
You can also open Traditional, Roth, and Rollover IRA accounts, though you can't trade crypto with these accounts.
Please note that you can't margin trade cryptocurrencies on Webull, regardless of your account type.
Webull Rewards
Webull offers users rewards in the form of cashback and commissions. For example, when you sign up for an account with Webull, you'll receive a $5 bonus. When you refer a friend to Webull, you'll both receive a $5 bonus.
When you make your first trade, you'll earn a commission-free trade. Other promotions change from time to time, so it's always worth checking the website to see what's currently on offer.
Investors can use Webull points for entries to paper trading competitions. This is where users build portfolios that aren't real to win real cash.
Customer Service
Webull customer service is available 24/7 through their website. They also have a FAQ section that answers common questions about their platform and services. Overall, they provide good customer support and are responsive to questions and concerns.
Webull offers extended hours trading from 4 am to 8 pm EST.
How Easy Is It to Open a Webull Account?
Opening an account is quick and easy. You can do it all online, and it only takes a few minutes. All you need is your Social Security number (or ITIN) and some basic personal information. Once your account is open, you can start trading immediately.
To open a Webull account, go to Webull's official website and Sign Up with your email address or your phone number.
You can also download the Webull app and sign up via the app. Make sure you download the official app, as there might be some fake apps that target potential customers.
You must verify your identity to use Webull. 
To do it, you upload various documents to complete identity verification, including a valid government-issued photo ID, such as a passport, national ID card, residence card, or residence permit. 
You also must have a valid SSN or ITIN to open a Webull account.
How Secure Is Webull?
Despite some concerns, Webull appears to be a safe and reliable way to trade stocks and other securities. The company has implemented multiple security measures to protect users' information and has a good track record regarding customer service.
You might have heard that Webull accounts are insured up to $250,000, but that is only available to certain traders. Webull is a member of SIPC and offers up to $500,000 ($250,000 of cash) insurance for securities customers. There is also additional insurance supplied by Webull partners. However, that doesn't apply to crypto.
Webull crypto services are provided by Apex Crypto, a fintech company that specializes in crypto trading and custody. Apex Crypto is generally deemed secure, but it isn't a registered broker-dealer or FINRA member. That means your crypto funds aren't FDIC or SIPC insured.
On the other hand, Apex crypto is generally deemed a secure custodian.
Webull offers two-factor authentication to secure your account.
Has Webull Ever Been Hacked?
Webull has never been hacked, and its platform is designed with security in mind. The platform offers two-factor authentication and uses SSL encryption to protect your personal information. 
Is Webull a Regulated Exchange?
Webull's traditional financial arm is regulated by the Securities and Exchange Commission (SEC), Securities Investor Protection Corporation (SIPC), The New York Stock Exchange (NYSE), and the Financial Industry Regulatory Authority (FINRA).
This ensures that your investment is protected and that you are trading on a fair, secure platform.
The fact that Webull is a member of SIPC means they can protect customers for around $500,000, including $250,000 for cash claims.
Please note that these are only true for non-crypto holdings. Webull crypto services are provided by a different company with appropriate licenses.
How Does Webull Compare to Other Crypto Exchanges?
Webull can be compared to other commission-free online brokerages that offer investors access to stocks, options, ETFs, and cryptocurrency trading.
Fees
Robinhood, Webull, and eToro all offer trading. However, all platforms charge a baked-in spread fee of around 1%.
Features
You can trade crypto on all three platforms, as well as other assets like stocks or ETFs. eToro allows you to trade precious metals as well. 
When it comes to crypto, Webull offers around 40 digital assets, eToro supports 40, and Robinhood only supports 15 cryptocurrencies.
Please note that you can't move your crypto holdings from your Webull account (except for Bitcoin, Bitcoin Cash, and Litecoin). Robinhood recently started to allow users to transfer crypto out of the platform. eToro also allows you to move select crypto holdings to an outside wallet, but it comes with an additional transfer fee.
Security
Robinhood had multiple security breaches in the last few years. eToro denies security breaches have happened, but there are some who argue that eToro's security has been compromised.
Webull doesn't seem to have had security breaches yet.
Does Webull Have an App?
Webull started out as a mobile-first platform, so naturally, it has a trading app available for iOS and Android devices. The app has many features, such as real-time quotes, charts, news and more. The mobile app has a clean and intuitive design and is very easy to use. You can download the app for free from the Google Play Store and the Apple Store.
It's well-designed and a great tool for investors who want to stay on top of the markets. Webull also offers a desktop trading platform.
Webull review: Final Thoughts
Webull is a commission-free online broker that offers investors access to stock, options, ETFs, and cryptocurrency trading. Webull can be a good option for active traders looking for a low-cost broker. However, there are some trade-offs to consider before opening an account.
Webull offers commission-free trades but doesn't offer the same level of customer support as some other brokers. Also, all crypto trades cost a 1% baked-in spread fee, which is higher than the average crypto trading fee. You can trade crypto at cheaper prices on other crypto exchanges like Coinbase or Binance.
Webull only offers around 40 cryptocurrencies. While that's on par with other financial platforms like eToro, Revolut, and Robinhood, most crypto exchanges offer between 80 to 200 digital assets.
One of the worst parts of Webull for crypto traders is the inability to move your crypto off the platform. Unfortunately, that means you have to accomplish all your trades within the platform. That means you have to pay higher fees than the average crypto trader and also have limited access to global crypto markets.
Webull is generally considered a good platform for active traders who are interested in building their portfolios with stocks, ETF, and options trades. The trading experience is very smooth, and Webull provides many professional trading tools like advanced charting, technical indicators, real-time market prices, and so on. However, if you are only interested inc crypto, you will find the platform's offerings meager. 
Overall, Webull can be a good option if you are looking for an online broker to trade traditional financial instruments while buying cryptocurrency on the side. Since you can't move crypto off the platform, Webull doesn't offer much in the way of crypto trading.
If you want to learn more about other cryptocurrency exchange platforms, check out our post on the Best 22 Crypto Exchanges and 8 Alternatives.