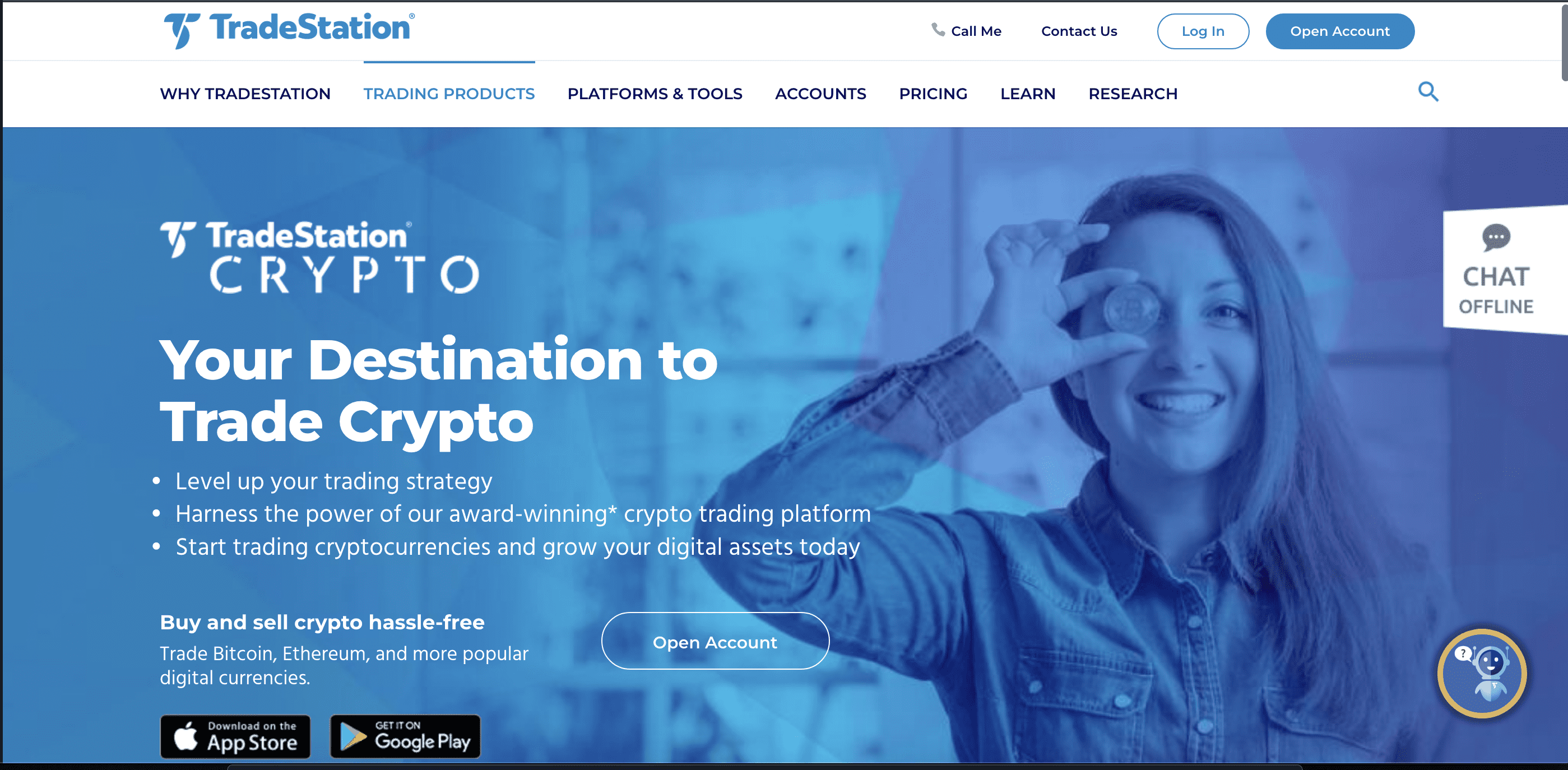 TradeStation has an all-encompassing trading platform that allows users to trade a variety of assets including options, multi-leg options, ETFs, stocks and penny stocks, futures, 11 cryptocurrencies, as well as bonds and mutual funds (with broker assistance).
In this TradeStation review, we'll look into the pros and cons of the platform, discussing the fees, features, and possible issues, so you can decide if it's the best choice for you.
Pros & Cons of TradeStation
Pros
You can trade multiple assets, including cryptocurrency, stocks, options, and ETFs, on the platform

Professional trading tools, including several advanced order types, in-depth charting, and technical indicators 

Fast and reliable order execution

High degree of customization

Paper-trading and backtesting 

A regulated broker dealer, ensuring your funds are safe and secure. (crypto offerings aren't regulated).
Cons
The platform isn't very beginner-friendly 

Supports around 11 digital assets.
About TradeStation 
TradeStation is one of the oldest and most well-known trading platforms in the industry. It was created in 1982 by Bill and Ralph Cruz as Omega Research, Inc to cater to active traders looking to invest in futures and options contracts, but it has since become a full-fledged desktop trading platform. The company is a subsidiary of the Japan-based Monex Group.
Initially, TradeStation targeted active traders with high trading experience, though the platform has become more accessible to the general public in recent years. The platform no longer requires account minimums, and its fees are very competitive. TradeStation launched crypto trading and a community-based trading education program YouCanTrade to increase its availability to younger and non-professional traders.
TradeStation Securities is an SEC-registered broker and dealer and a member of the Chicago Mercantile Exchange (CME), New York Stock Exchange (NYSE), as well as Securities Investor Protection Corporation (SIPC), and Financial Industry Regulatory Authority (FINRA). 
Trdestation's crypto offerings are managed by TradeStation Crypto in partnership with BitGo, not by TradeStation Securities. This is an important distinction, as TradeStation Crypto isn't regulated by the above organization and doesn't offer the same FDIC and SIPC protections.
Crypto Coins Available on TradeStation Crypto Exchange
TradeStation supports 11 digital assets, including Bitcoin (BTC), US Dollar Coin (USDC), Ethereum (ETH), Bitcoin Cash (BCH), Litecoin (LTC), AAVE (AAVE), Polygon (MATIC), Compound (COMP), Chainlink (LINK), and Maker (MKR).
Fiat Currencies Supported on TradeStation 
TradeStation US accepts USD deposits, while global platform users can deposit their local currency if TradeStation is available in their country.
All major fiat currencies are accepted, including United States Dollar (USD), Australian Dollar (AUD), British Pound (GBP), Canadian Dollar (CAD), Chinese Offshore Yuan (CNH), Czech Koruna (CZK), Danish Krone (DKK), Euro (EUR), Hong Kong Dollar (HKD). For a full list, visit the TradeStation website.
There are several ways to deposit funds to your TradeStation account. Please keep in mind that the TradeStation crypto platform doesn't accept fiat deposits. Instead, you must make a deposit to your TradeStation Securities account, which you can use to purchase cryptocurrencies.
The deposit process is very simple: Visit your TradeStation Accounts page and select Equities & Options to receive instructions on depositing. 
When you place a crypto purchase order through the TradeStation crypto platform, your USD balance is automatically used to purchase the digital assets you wish to buy. When you sell your crypto, your proceeds are deposited to your TradeStation Securities equities account.
Fiat deposit methods include online transfers (linking a US bank account to your TradeStation account) or ACH transfers, wire transfers, check deposits, and transfer services from other brokers and financial institutions.
Countries Supported on TradeStation 
TradeStation supports trading in 33 countries, including the United States, the United Kingdom, Germany, France, Italy, Spain, Sweden, Switzerland, and Australia. The full list may change depending on the local regulations of the respective countries.
If you are not based in one of the countries mentioned above, you can also sign up to the TradeStation Global platform. TradeStation Global isn't available to EU-based users.
TradeStation Trading Fees
TradeStation trading fees vary depending on the asset you are trading. For crypto, the platform has a tiered maker/taker fee schedule that starts at 0.35% for makers and 0.60% for takers, plus a $2 flat fee for each transaction.
One of the advantages of using TradeStation for trading crypto is a free and instant conversion between USD and USDC.
However, keep in mind that USD to USDC transactions are not included in monthly trading volume calculations that are used to determine your tier status.
Crypto Deposit and Withdrawal fees
TradeStation doesn't charge for deposits but charges varying rates for crypto withdrawals. Bitcoin withdrawals cost ​​.000075 BTC, Ether withdrawals cost .01 ETH, and USDC withdrawals cost 20 USDC.
You can check the TradeStation website for more information on withdrawal rates. 
Fiat wire withdrawals cost a 25 USD fee. If you are an international customer, wire fees cost 35 USD.
Please keep in mind that TradeStation charges a 50 USD yearly i̇naci̇tvi̇ty fee unless you have 
a $2,000 equity balance or have placed 5 trading orders within the year.
Minimum Crypto Withdrawals
TradeStation doesn't have minimum deposit requirements but enforces minimum withdrawal limits for crypto. Minimums are generally higher than most crypto exchanges:
| | | |
| --- | --- | --- |
| Cryptocurrency | | Minimum Withdrawal Amount |
| ETH | | 0.018 |
| BCH | | 0.15 |
| BTC | | 0.0012 |
| LTC | | 0.46 |
| USDC | | 50.0 |
| AAVE | | 0.75 |
| COMP | | 1.0 |
| LINK | | 7.0 |
| MATIC | | 100.0 |
| MKR | | 0.05 |
Keep in mind that you must call 800.793.0161 or 954.652.7950 (weekdays between 9 a.m. ET and 5 p.m. ET) before you make your first crypto withdrawal, for account security purposes.
Main Features of the TradeStation Platform
Let's see some of the most notable crypto features of TradeStation in more detail.
Multiple Assets
TradeStation offers multiple assets, including long and short stocks, penny stocks, futures and futures options (via TradeStation FuturesPlus), simple and multi-leg options, and crypto.
In order to trade crypto, sign into your TradeStation account and launch the TradeStation Crypto platform. Cryptocurrency markets include 11 digital assets, including Bitcoin and Ethereum, and 8 spot markets, including BTC/USD, USDC/USD, ETH/USD, and ETH/BTC.
The platform offers broker assistance to trade mutual funds and bonds.
Desktop, Online, and Mobile Access
TradeStation has an award-winning flagship desktop platform you can install on your computer. The desktop platform lets you design and test custom trading strategies. 
You can automate your trading strategies and manage advanced order types through the platform. It is fully customizable, offering a lot of unique shortcuts, market monitoring tools, charting, and, last but not least, lightning-fast order execution.
You can also access TradeStation online without installing anything. The web platform offers many of the features desktop offers and works in conjunction with the mobile app.
Multiple Order Types
TradeStation supports several complex order types, including bracket orders, trailing stops, and conditional orders like one-cancels-other and order-sends-order. 
Paper trading and Backtesting 
TradeStation is also known for its excellent paper trading and backtesting features that allow users to create custom trading strategies and test them without putting in real money. There is an easy-to-learn "EasyProgramming" program language that allows you to create custom indicators and strategies without actually having to code.
TradeStation Learn
If you are a newbie trader, you should definitely take advantage of TradeStation Learn. The module consists of several topics, including trading basics, using TradeStation, market insights, and retirement planning. There is a support community and FAQ section as well.  
Customer Service
TradeStation customer service is available 24/7 through their website. They also have a FAQ section that answers common questions about their platform and services. Overall, they provide good customer support and are responsive to questions and concerns.
TradeStation offers extended hours of trading from 4 am to 8 pm EST.
How Easy Is It to Open a TradeStation Account?
Opening an account is quick and easy. If you are a US resident with a valid social security number (or ITIN), you can use the online application process to open a TradeStation account. You can open multiple account types, including individual and joint accounts, to trade futures, equities, and options. Once you have an account, you can easily log in to TradeStation.
If you are an international resident, you must apply by mailing the necessary documents to TradeStation, including a valid passport photo and proof of address documents like a bank statement, lease agreement, or utility bill. For more information, check out the TradeStation website.
TradeStation has KYC/AML checks, and you must submit your SSN or ITIN, along with details about your financial situation (including annual income and previous trading experience).
To open a TradeStation account, go to TradeStation's official website and Sign Up with your email address. Once you open an account, you can use TradeStation's official desktop program, web-based platform, or mobile app to make trades.
How Secure Is TradeStation?
TradeStation is a veteran in the financial services industry and has several security measures on different levels.
For account protection, TradeStation employs several industry-standard measures like two-factor authentication through Google Authenticator, SMS, and Auth0 app. You can also use biometric finger or facial recognition features for logging into the mobile app.
TradeStation Securities, where you must deposit your funds, is a regulated broker-dealer in the US and holds customer funds in major US banks. The company also has SIPC insurance for customer funds. Please note that the protection only applies to your funds deposited to TradeStation Securities account, but not to your crypto holdings.
TradeStation Crypto isn't insured against bankruptcy and doesn't offer federal protection. It works with BitGo, a custodial service company, to secure your crypto holdings.
BitGo crypto security includes multi-sig, spending limits, address whitelisting, and multiple wallets. BitGo is regarded as a reputable custodian, and hasn't experienced a security breach yet.
Has TradeStation Ever Been Hacked?
TradeStation has never been hacked, as far as we can tell. There have been no reported cases of hacking or data breaches. TradeStation employs various measures to protect its platform and users' information, including firewalls, encryption, and physical security measures.
Is TradeStation a Regulated Exchange?
TradeStation Securities is regulated by the Securities and Exchange Commission (SEC), and the company is a member of the Securities Investor Protection Corporation (SIPC), The New York Stock Exchange (NYSE), and the Financial Industry Regulatory Authority (FINRA).
It is also a member of the International Securities Exchange, Boston Options Exchange, Chicago Stock Exchange, Chicago Board Options Exchange, and Nasdaq.
All that means TradeStation is a legit broker under regulation. However, it is only true for non-crypto holdings, as TradeStation crypto services aren't regulated in the same way. 
TradeStation Crypto holds appropriate licenses as a money transmitter business, but you aren't insured against theft and bankruptcy.
In 2022, SEC fined TradeStation $425,000 for failing to involve the board of directors adequately in the development and administration of its identity theft program. TradeStation paid the fine to settle the claims without admitting or denying fault.
How Does TradeStation Compare to Other Crypto Exchanges?
TradeStation can be compared to other online brokerages that offer investors access to crypto trading along with stocks, options, and ETF trading, like Robinhood, eToro, or Webull.
Fees
TradeStation does better than its competitors when it comes to crypto trading fees. On the surface, Robinhood, Webull, and eToro all offer commission-free trading, while TradeStation charges a maker/taker fee schedule starting at %0.30-%0.60). 
However, when trading at a no-commission platform, you pay a baked-in spread of around 1%. This is more expensive than what you pay according to TradeStation's fee schedule. 
Features
eToro, Webull, and Robinhood support more digital assets than TradeStation. eToro offers around 40 digital assets, Webull also supports 40, and Robinhood supports 15 cryptocurrencies. You can only trade 11 digital assets on TradeStation.
Trading apps usually don't allow you to move your crypto holdings to external wallets, like exchange wallets or cold storage wallets. 
For example, you can only transfer Bitcoin, Bitcoin Cash, and Litecoin from your Webull account to an external wallet. You can transfer select crypto holdings to an outside wallet on eToro, but it's a two-step process that costs quite a lot. Robinhood recently started to allow users to transfer crypto out of the platform. 
TradeStation allows you to move your assets to external wallets without issue, though you might want to check the minimum withdrawal limits before you deposit crypto to the platform.
However, when it comes to non-crypto offerings, TradeStation is miles ahead of the competition. While you can trade stocks or ETFs on all platforms, TradeStation enables you to trade multiple asset classes in various ways, offering professional technical tools.
Security
Webull and Robinhood experienced security breaches and leaked user information. There are also claims that eToro has covered up security breaches.
TradeStation doesn't seem to have had security breaches yet.
Does TradeStation Have an App?
TradeStation has a mobile app for iOS and Android which you can download from Google Play Store and the App Store. You can trade crypto, futures, options, and stocks on the app.
The mobile app lets you view the news (via Benzinga integration), access in-depth charts with real-time streaming data, set various technical indicators, and place new orders. Anything you want to do on the web-based platform, you can also do it in the mobile app.
TradeStation Review: Final Thoughts
TradeStation provides commission-free online trading for stocks, options, and ETFs. The platform is a highly-developed and sophisticated online broker that mainly targets active traders seeking professional trading tools.
However, the biggest advantage of the platform (its comprehensive offerings) can also be a downside for an inexperienced trader. While the desktop interface is quite intuitive and allows you to click and drag several indicator view windows for your experience, it might be too overwhelming for a beginner trader.
On the other hand, TradeStation Crypto is relatively easier to navigate compared to the securities platform. However, don't expect to find a simple interface. TradeStation works more like a professional crypto exchange, and you have to get familiar with the charts and the interface before making trades.
Overall, TradeStation can be a good choice if you already trade stocks/options/ETFs and looking for a new and fast platform to add crypto to your portfolio or if you are interested in developing a portfolio from scratch.
However, crypto isn't really the focus of TradeStation's offerings, so it isn't the ideal platform for those who want access to altcoin markets. If you want to learn more about other cryptocurrency exchange platforms, check out our post on the Best 22 Crypto Exchanges and 8 Alternatives.