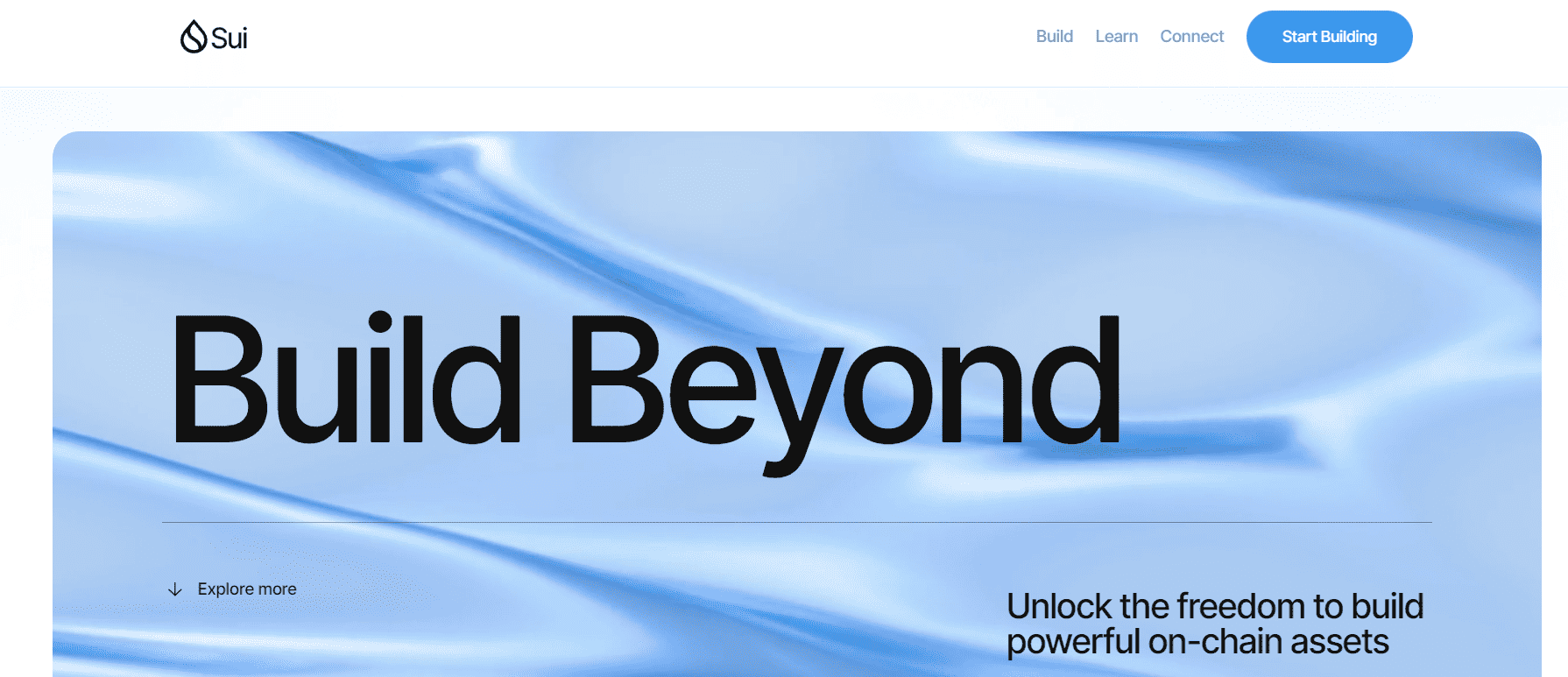 Sui (SUI) is the utility token of the recently launched Sui Layer-1 blockchain, which aims to challenge the dominance of well-established blockchains focused on building decentralized applications (dApps). Sui brings fresh utility to the crypto market with the help of its highly-scalable and efficient blockchain.
Let's explore the SUI token to learn how it operates and what users can do with it. 
How Sui (SUI) Works
Sui is an extremely fast and scalable Layer-1 blockchain that enables developers to create all types of dApps, regardless of their structure and goals, thanks to the network's flexibility. Developers can use the Sui programming tools to build custom dApps with internal systems and operating mechanisms tailored to their specific needs. 
Instead of following a pre-defined blockchain structure for launching dApps, developers using Sui aren't restricted by boundaries. They can build whatever they want, from DeFi protocols, digital marketplaces, and blockchain games all the way to real-world implementations of blockchain solutions in everyday company business models, such as supply chains and internal communication systems.
Sui is based on the Sui Move smart contract programming language, a blockchain version of the Move programming language. This language focuses on practical solutions that enable developers to quickly build smart contract structures and customize the architecture of their dApps. Sui smart contracts are called Move packages. 
There are three critical components of the Sui network. Objects are Sui smart contracts, divided into immutable packages and mutable data values, which are basically the changeable details of a smart contract's daily operations. 
Transactions are the medium for all changes on the Sui blockchain, and they use SUI tokens. Every activity on the network is a SUI transaction, and the network can process up to 297,000 transactions per second, which ranks Sui among the fastest blockchains in the world.
The third component is the validators, responsible for processing transactions and ensuring all transfers follow the Sui network's security standards.
Sui uses a delegated Proof-of-stake (dPoS) structure that requires validators to stake SUI coins to process network traffic. The validators are eligible for SUI token staking rewards, encouraging them to only process valid transactions. On average, validators take around 450 milliseconds to confirm a SUI transaction.
What Is Sui (SUI) Used For?
Sui is a treasure chest for dApp developers because they don't have any limitations regarding the types of platforms they can create. Furthermore, the absolute freedom to customize dApps makes Sui an incredibly versatile token.
Since all transactions on the Sui blockchain are powered by SUI, the inflow of developers into the ecosystem may gradually push the token's value upward. 
Thanks to the high scalability and extremely short transaction processing time of SUI tokens, developers can build dApps intended for mass use. Unlike other popular Layer-1 blockchains that can handle several hundred or several thousands of transactions per second, SUI can process nearly 300,000 TPS.
This is why SUI tokens might become extremely popular among developers because they don't need to worry whether their dApps will be able to process huge amounts of traffic if they attract a vast user base at one point. 
Besides the high speed and throughput, SUI token transactions are very cheap and cost less than a few cents. Furthermore, the network is designed to maintain stable fees regardless of the network traffic, which makes SUI tokens an ideal solution for DeFi protocols and retail payment platforms. 
SUI relies on state-of-the-art blockchain security that makes sure only the owners of the specific assets can use them, regardless of whether it's SUI tokens deposited in a DeFi protocol or a staking pool or tokens used for payments. 
SUI also enables users to create digital assets and tokenize real-world assets by creating NFTs. Furthermore, developers can launch Sui-based digital marketplaces where users can trade NFT assets with SUI tokens as the payment currency.
Some of the already existing projects that use SUI tokens include the Polymedia ecosystem, which has an SUI-based chat app, a blockchain game, an identity validation system, and its own crypto betting app. On the other hand, Keepsake is an example of an NFT marketplace that exclusively uses SUI tokens and allows creators to mint Sui NFTs.
Where to Buy Sui (SUI)?
Sui had an incredible marketing campaign that lasted for months before the token's launch. That's why numerous reputable exchanges were quick to list the coin right after the launch, and there were even some platforms that were trading with the value of SUI in the form of an IOU (I owe you) contract before the launch.
You can choose between various centralized (CEX) and decentralized trading platforms (DEX) to buy the token. The leading CEXs that support SUI include the likes of Binance, KuCoin, and Kraken, while DEXs include Cetus, FlameSwap, and the SUI-native BlueMove exchange platform.
How Long Has Sui (SUI) Been Around?
Sui launched its SUI crypto token in May 2023, while the blockchain's development started in August 2021 with a software development company called Mysten Labs. The team that founded Mysten Labs is comprised of various blockchain experts, including members of Meta's former blockchain development section called Novi Research. 
Originally, the early stages of the Sui blockchain were made for Meta's blockchain, which was canceled. Members of the team then created Mysten Labs and started developing Sui, based on the Move programming language they earlier created. 
What's Controversial About Sui (SUI)?
SUI had an incredibly smooth market launch and was endorsed by numerous popular crypto exchanges. The project started attracting trader attention immediately and judging by its current technical performance and high scalability, we are yet to see its full potential. 
However, a considerable portion of the hype around Sui is a result of large-scale marketing activities, and there aren't many dApps built on Sui so far.
The test of time will show whether developers will truly start to migrate from other popular Layer-1 networks because, without a growing base of developers, Sui won't be able to compete on the market and unlock the potential of its great technical characteristics.
How Many Sui Coins Are There?
There is only a tiny portion of 5% of the total SUI token supply in circulation. That's around 500 million SUI out of the 10 billion maximum number of coins. 
Can SUI Be Mined?
Since the Sui blockchain is built on delegated Proof-of-Stake consensus mechanics, users can only stake their SUI coins through a validator node to unlock new SUI as staking rewards. Also, users earn a portion of the network's transaction fees as part of the staking rewards. 
Market Cap and Price History of Sui (SUI)
SUI has maintained a relatively stable value since its launch in early May 2023. The SUI launch price was 1.34 USD per coin, and during its first trading day, SUI reached an all-time high of 1.485 USD. During the following days, SUI's price fell to around 1 USD, and it has since been between 1 USD and 1.2 USD per coin.
The SUI market capitalization is exceptionally high, given the fact that the coin was just recently launched. SUI has a market capitalization of over 600 million USD, which ranks it in the lower half of the top 100 global cryptocurrencies. 
Biggest Competitors of Sui (SUI)
SUI has already become a major player in the crypto market thanks to its powerful technical characteristics and strong marketing campaign. The coin is up against the most popular dApp development networks, such as Ethereum (ETH), Avalanche (AVAX), Solana (SOL), and other similar projects.
However, the main competitors of SUI are brand new Layer-1 blockchains that focus on dApps and smart contract programming, like Aptos (APT) and Toncoin (TON), which are also among the top 100 global cryptos.
Sui's advantage over these blockchains is its throughput of nearly 300,000 TPS, which is way more than its competitors.
All of these blockchains are engaged in strong marketing activities to attract new developers.
What Does the Sui (SUI) Project Road Map Look Like?
After nearly two years of development, the Sui team delivered the fully functional Sui blockchain and crypto coin in May 2023. Users and developers have all of the promised features at their disposal, including the Sui Move programming language and the Sui blockchain staking mechanism, with over 300 active validator nodes.
The project's Twitter profile implies that the future focus of Sui is on attracting developers and incentivizing them to build dApps on Sui. 
Pros and Cons of Sui (SUI)
Pros
SUI uses the highly-scalable Sui blockchain, which processes nearly 300,000 TPS with a transaction processing time of less than a second

Developers can use SUI to create smart contracts and decentralized apps

The coin has a market capitalization of over 600 million USD despite being launched just recently
Cons
There aren't many dApps that use SUI so far

SUI is up against major Layer-1 cryptocurrencies