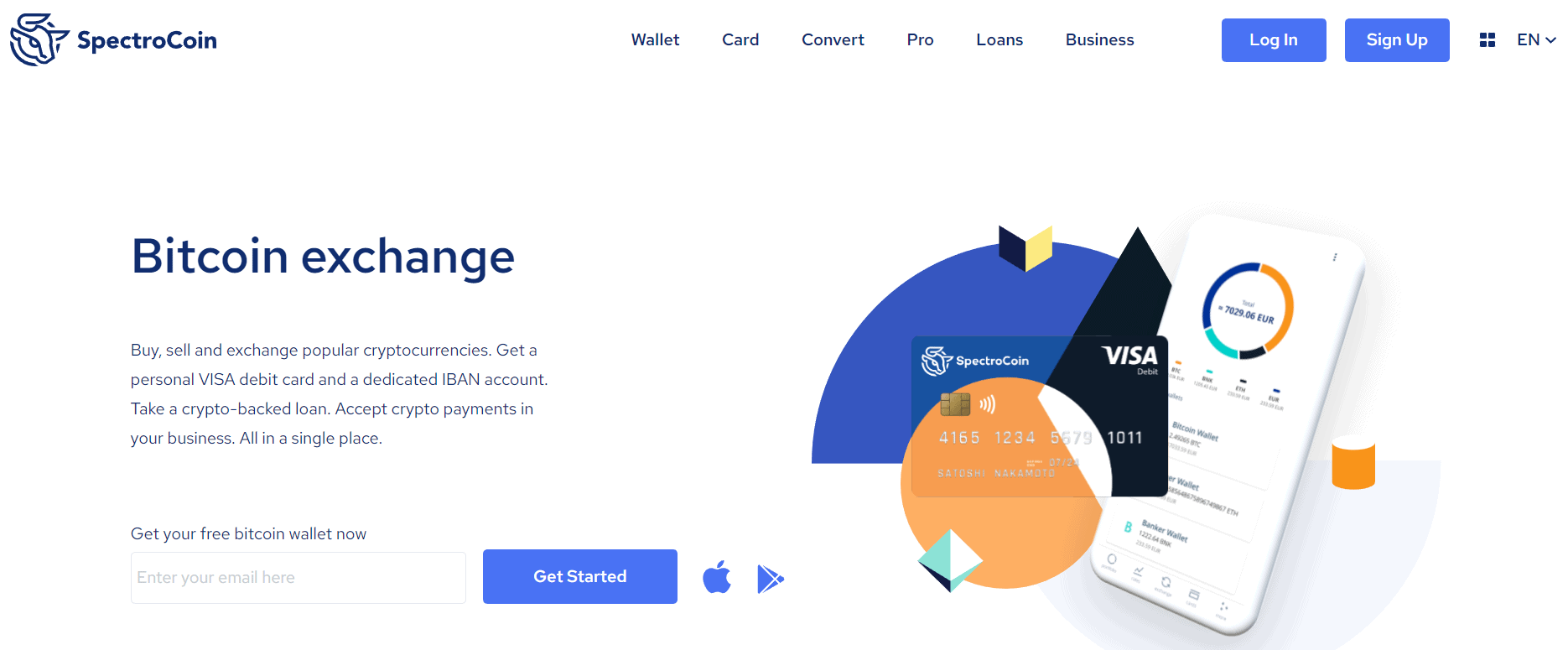 SpectroCoin offers a full suite of crypto services, from storing assets to trading and taking out crypto loans. Traders can use SpectroCoin on the web or download the platform's app, and they can even order the SpectroCoin Visa card to spend crypto at millions of retail spots. 
This detailed SpectroCoin review will help you understand what exactly does the platform offer and whether it's suitable for your needs.

200+ Cryptocurrencies Listed
Get Crypto After Your First Buy
Protected By Insurance
Secure Storage With Vault Protection
The Most Trusted Cryptocurrency Platform

350+ Cryptocurrencies Listed
<0.10% Transaction Fees
120 million Registered Users
Secure Asset Fund for Users
Earn On Deposits

1,400+ Cryptocurrencies Listed
12+ million users
New account bonuses of up to $5,500
Deposit using 20+ fiat currencies
HODL and Earn
Pros & Cons of SpectroCoin
Pros
Support 50+ of the most popular crypto coins and tokens.

Available worldwide.

The platform integrates crypto wallet and trading features.

Users have access to SpectroCoin's Visa card feature.

Instant and pro trading options.

Low fees on the Pro trading section of SpectroCoin.
Cons
High fees for some deposit and withdrawal methods. 

The instant Buy feature is quite expensive when paired with the deposit fees.

The crypto selection is far smaller compared to some of the leading global trading platforms.

SpectroCoin's digital wallet is a custodial wallet, which means that users aren't in control of their assets and don't get to keep their private keys.
About SpectroCoin
SpectroCoin'story goes back to 2013, when a team of blockchain experts from Lithuania decided to launch a crypto platform that provides crypto storage, trading, and lending features, along with an easy bridge between fiat currency and cryptocurrency.
Because of this, SpectroCoin isn't just a crypto exchange, although users can engage in instant trading and pro trading activities. The platform is designed to house a whole suite of essential crypto services, allowing users to conduct all of their operations on SpectroCoin, without using other platforms.
One of the main challenges of the crypto industry is bridging the gap between traditional finance and crypto. Since its launch, SpectroCoin has been dedicated to providing users with easy, practical methods for converting fiat to crypto and the other way around.
That's why the platform supports numerous payment options, along with the possibility of linking SpectroCoin wallets with traditional bank accounts, for a seamless cross-currency conversion experience. Also, SpectroCoin can be your digital bank service, and you can get an IBAN account, just like with any other bank. 
SpectroCoin can easily convert your fiat cash to crypto and allow users to start trading, but it's also capable of helping users cash out digital currency and have their funds deposited in a bank account in no time. Many fiat-friendly crypto trading platforms have complex cash-out procedures, but with SpectroCoin, verified users can quickly transfer between their SpectroCoin platform wallets and bank accounts. 
Also, an essential component of SpectroCoin's fiat-friendly features is the platform's Visa card, which works just like any standard fiat debit card. You just need to top it up from your SpectroCoin wallet or platform account and start spending money everywhere Visa is accepted. You can also instantly convert crypto to fiat and withdraw cash at an ATM, which makes the card incredibly practical for everyday expenses.
Crypto Coins Available on SpectroCoin
Instead of offering hundreds of digital currencies like some of the leading global trading platforms, SpectroCoin focuses on a smaller selection of top-ranking cryptos.
Additionally, SpectroCoin adheres to EU financial regulations and only supports reputable cryptos for which it has trading licenses. That's why you can only find some 50+ coins and tokens.
The selection includes Bitcoin (BTC), Banker (BNK), Xem (NEM), Ethereum (ETH), Cardano (ADA), Litecoin (LTC), Tether (USDT), USD Coin (USDC), Chainlink (LINK), Ripple (XRP), UniSwap (UNI), Shiba Inu (SHIB), Polygon (MATIC), Chiliz (CHZ), Polkadot (DOT), and dozens of other altcoins.
Fiat Currencies Supported on SpectroCoin
The SpectroCoin platform supports EUR, GBP, and USD. However, users from across the globe can deposit fiat currency with bank account transfers, payment cards, and various other methods and select to which currency they wish to convert their local fiat money. 
The conversion rates depend on market circumstances, which means users might end up paying high conversion fees when exchanging their local currency.
Countries Supported on SpectroCoin

200+ Cryptocurrencies Listed
Get Crypto After Your First Buy
Protected By Insurance
Secure Storage With Vault Protection
The Most Trusted Cryptocurrency Platform

350+ Cryptocurrencies Listed
<0.10% Transaction Fees
120 million Registered Users
Secure Asset Fund for Users
Earn On Deposits

1,400+ Cryptocurrencies Listed
12+ million users
New account bonuses of up to $5,500
Deposit using 20+ fiat currencies
HODL and Earn
SpectroCoin is an international platform that provides services in numerous global regions, from the US and the European Union to most parts of Asia, Africa, Australia, and South America. SpectroCoin isn't available in Russia and China.
SpectroCoin Fees
Users incur different fees on SpectroCoin, depending on which deposit and withdrawal methods they use, as well as whether they use instant trading or pro trading features. 
The SpectroCoin pro trading section uses a market maker/taker fee model, which charges all makers a 0.05% fee while takers incur a 0.1% fee. Your monthly trading volume doesn't affect the trading fees because they are the same for all users. 
As for instant trading, SpectroCoin doesn't have fees for this service because the fees are part of the market spread for fetching your crypto. This amount can vary depending on the crypto and available liquidity. There is no fixed fee. 
If you pay with a Visa, Mastercard, or Maestro bank card, you'll incur a 2.99% fee if you're in the European Economic Area, while users outside this area pay a 3.99% fee. However, you won't incur any fees if you use a bank account transaction. 
The platform also supports additional payment methods like Neteller and Skrill, but the deposit fees for these services are 5.5%. If you use Payeer, you'll incur a 2% deposit or withdrawal fee, while Perfect Money deposits cost 2%, and withdrawals cost a 1% fee.
Withdrawing EUR with a SEPA bank transfer is free of charge, just like a deposit, but a USD bank account withdrawal incurs a massive 15% fee, which memes its much better to withdraw assets in the form of USD stablecoins or EUR. 
The daily deposit limit for bank cards is 5,000 USD, while bank transfers don't have deposit limits, except the single deposit limit of 100,000 USD.
Regarding bank account withdrawals, they are limited to 100,000 USD per day, while Skrill, Payeer, and Perfect Money have a 3000, 2000, and 1500 USD limit. 
The SpectroCoin Visa card charges a 1% fee for topping up the card with crypto, while withdrawing cash at an ATM incurs a 2.5% withdrawal fee.
Main Features of SpectroCoin
We can divide SpectroCoin's main features into crypto trading, storage services, crypto loans, and fiat-to-crypto conversion. 
Instant Purchase or Advanced Trading
Users can quickly purchase assets through the instant trading option on SpectroCoin, either by paying directly for the crypto or by paying with the money they deposited earlier into their account.
Additionally, traders can use the advanced trading interface called SpectroCoin Pro, which has a classic interface for experienced users with a dark design, candlestick price charts, and various tools for analyzing price trends. Users also have access to an order book of the selected trading pair, as well as different types of market orders.
SpectroCoin Wallets
When it comes to the SpectroCoin digital wallet service, users can store all the cryptos in their SpectroCoin wallets. The wallet is custodial, and all of the funds are stored by SpectroCoin. You don't have access to your private keys, so the wallet basically works just like storing assets on any centralized exchange platform.
However, your SpectroCoin wallet also allows you to conduct transactions, deposit or withdraw crypto, and convert between fiat currency and cryptos. You can also opt to get an IBAN from SpectroCoin and use your digital wallet as a banking app to store both cash and crypto. 
Crypto Loans
Additionally, SpectroCoin has a loaning service that provides users with crypto-collateralized loans. You can take out a fiat loan in EUR or loan various popular cryptos, such as USDT, BTC, and ETH.
You just need to deposit a certain amount of collateral to get a loan and pay it back with interest over the course of one year. Once you repay it, you get your collateral back. There are no paperwork or bureaucratic procedures involved, which makes the feature much more practical compared to bank loans.
SpectroCoin also has an additional feature for merchants and companies that allows clients to file invoices and accept crypto payments through SpectroCoin.
How Easy Is It to Open a SpectroCoin Account?
The process is easy, but it requires you to provide details on your identity because SpectroCoin implements Know Your Customer (KYC) procedures and Anti-Money Laundering (AML) measures that require ID verification:
Start out by navigating to the

Sign Up

section of SpectroCoin and enter your email address, and select your country. 

Check the use terms and agree to them before creating your account.

You now have a SpectroCoin account, but you need to activate it and verify your ID before using it.

Check your email inbox for a verification message from SpectroCoin to confirm your email.

Now log into SpectroCoin and tap the

Start Verification Process

button.

This is where you'll have to select the device you'll be using to access SpectroCoin, and fill out the user questionnaire with all the required details.

The platform will now show you instructions on how to take a selfie, as well as a photo of your personal identification document.

Once you're done, submit your ID verification request, and if everything is in order, SpectroCoin will send you a confirmation message shortly.
How Secure Is SpectroCoin?
SpectroCoin uses several measures to ensure the safety of user funds and prevent cyber attacks. The platform uses third-party encryption to prevent unauthorized access. The user account passwords act as your gateway to decrypt the platform and view the contents of your account.
Also, the two-factor authentication (2FA) protocol lets users add more security to their accounts. If activated, 2FA requires a second confirmation of every transaction or trade on SpectroCoin.
Furthermore, since SpectroCoin is a crypto custodian, the platform stores the majority of assets offline in company-controlled cold wallets, which means that even if hackers managed to somehow penetrate the platform, they wouldn't be able to steal funds.
Has SpectroCoin Ever Been Hacked?
During its 10-year operating history, SpectroCoin has never been hacked.
Is SpectroCoin a Regulated Exchange?
SpectroCoin is a reputable, regulated crypto platform licensed by EU regulatory bodies to provide crypto and fiat-currency trading services. SpectroCoin has licenses from Lithuanian and Estonian authorities and adheres to all EU financial laws.
Users have legal protection if the company suffers a hack since the authorities would automatically initiate a legal procedure to force SpectroCoin to reimburse clients.
How Does SpectroCoin Compare to Other Crypto Exchange Alternatives?
Coinbase can be considered a great alternative to SpectroCoin because of its similar selection of features and the fact that it's also a regulated platform. However, unlike SpectroCoin, which has a relatively modest user base and trading volume, Coinbase is the second-largest player in the crypto exchange market.
This means that the platform has very deep liquidity. Also, Coinbase users have 150+ assets at their disposal, which is three times more than the 50+ coins and tokens on SpectroCoin.
When it comes to fees, Coinbase has high instant trading fees of 1%, but when compared to SpectroCoin and the variable spreads, the two platforms have similar instant trading costs. As for pro trading, Coinbase has considerably higher fees, with the first fee tier of 0.4% for makers and 0.6% for takers.
However, Coinbase has an NFT marketplace and crypto staking options, which SpectroCoin doesn't have. Furthermore, the Coinbase Wallet is one of the most popular software wallets on the market and supports thousands of cryptos while letting users store their private keys on their devices in a non-custodial manner. In the crypto wallet segment, Coinbase Wallet is much superior compared to the SpecotroCoin wallet service.
Does SpectroCoin Have an App?
Not only does SpectroCoin have a mobile app, but it's also the main channel for using the platform. You can use SpectroCoin on a desktop device, but the mobile app is more practical to use and has a simple design. 
Users can manage their assets and convert crypto to fiat easily with the app. They can also accept fiat transfers from banks and other payment channels. Both the quick trade and the pro trading features are available on the mobile app, and you can even take out loans while using the app. 
In conclusion, the SpectroCoin app is the go-to method for using the platform. 
SpectroCoin User Reviews
Review Summary
0 out of 5 stars (based on 0 reviews)
Recent SpectroCoin Reviews
There are no reviews yet. Be the first one to write one.
Submit a SpectroCoin Review