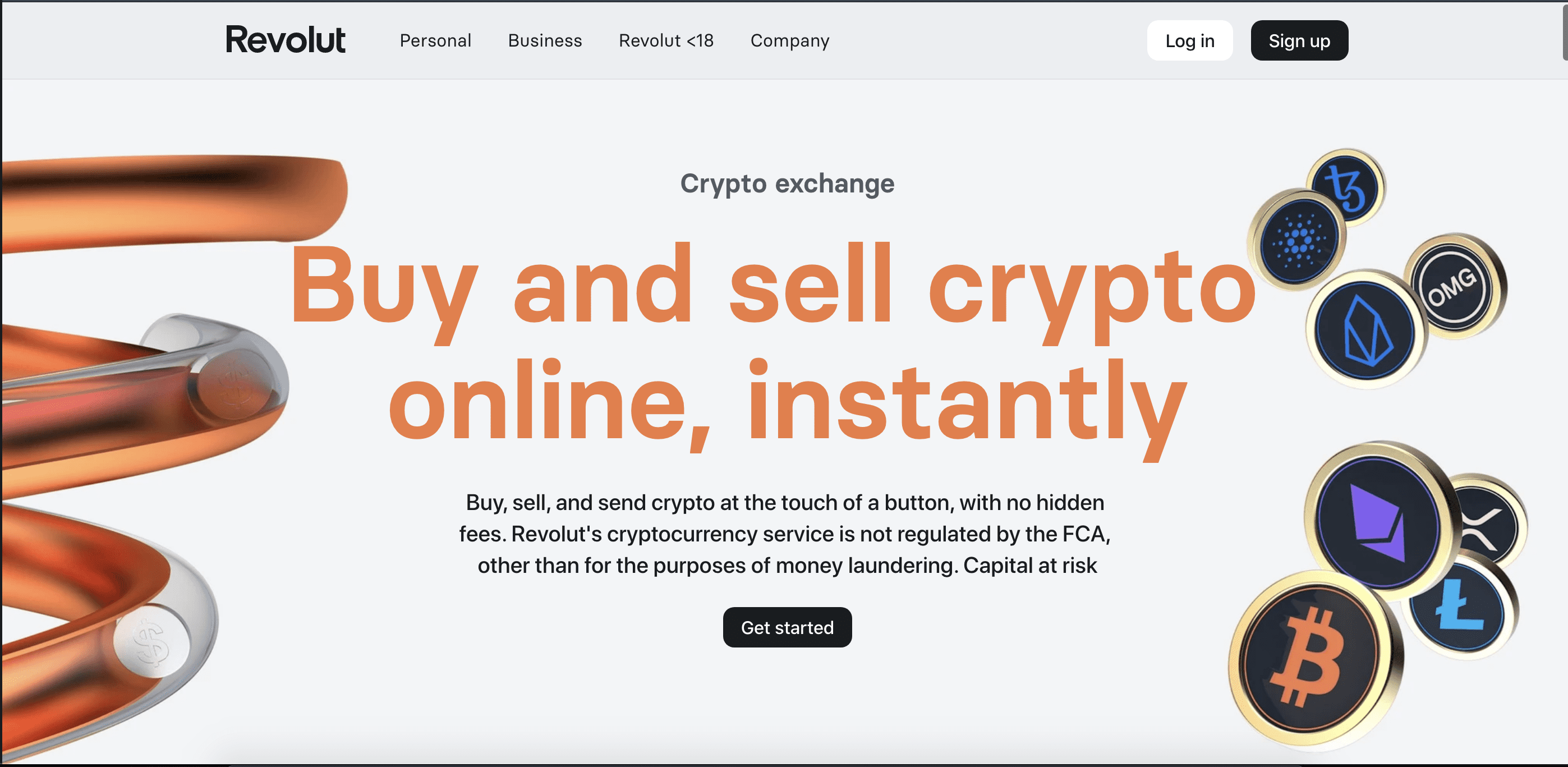 Revolut is a fintech company that offers customers digital banking solutions, including crypto services. The platform's crypto services are quite limited compared to fully-fledged exchanges like Coinbase or Kraken but can be compared to alternative platforms like Robinhood or eToro.
In this Revolut review, we'll look into all aspects of trading on the platform, including the fees, features, and possible issues, so you can decide if it's the best choice for you.
Pros & Cons of Revolut
Pros
A beginner-friendly platform with an intuitive user interface

Several payment options are available, including bank transfers, debit, and credit cards

Available in several countries

Offers several debit cards to spend your crypto balance
Cons
Expensive crypto prices due to high spreads

Around 80 digital assets, but availability depends on location

High trading fees

No advanced trading tools

Scammers frequently target Revolut users
About Revolut 
Revolut was founded in 2015 as a "digital bank" to offer financial services like currency exchange, commodity trading, debit and virtual cards, and interest-bearing accounts. The company is based in the UK but holds a banking license from Lithuania.
Revolut started offering crypto services in 2017. Users can buy and sell crypto on the platform and, depending on location, may deposit and withdraw crypto from the platform to external wallets. In 2022, the company launched a feature to enable users to link their crypto balance to debit cards, allowing customers to make purchases with their crypto balances.
In 2023, the company announced crypto-staking services for several tokens for customers based in the UK and the European Economic Area (EEA).
While Revolut is often called a "fintech banking alternative," it doesn't hold a banking license in the UK, as the company is quite a long way from obtaining the necessary permits, which it applied for back in 2021.
Most recently, UK authorities came down on the company regarding its latest audits which, according to Financial Times, had significant flaws.
The company's crypto services are provided by Apex Crypto LLC, a large fintech company that works with Webull and other similar platforms.
Revolut customers are frequently targeted by scammers and fraudsters. The company has made it to headlines several times in recent years for refusing to pay fraud victims compensation. 
Crypto Coins Available on Revolut Crypto Exchange
Revolut supports around 80 digital assets, including Bitcoin (BTC), Ethereum (ETH), Uniswap (UNI), Cardano (ADA), Solana (SOL), Bitcoin Cash (BCH), Litecoin (LTC), and Ripple (XRP).
Keep in mind that supported coins may vary depending on your country. You can check the Revolut app to see the available currencies in your country.
Fiat Currencies Supported on Revolut 
Revolut supports several fiat currencies, including USD, AUD, GBP, and EUR. It offers several deposit and withdrawal methods, including bank transfers, card deposits, Google Pay, Apple Pay, and direct deposits.
Revolut doesn't charge deposit fees for bank transfers and card top-ups, but your bank or payment provider may charge a separate fee. 
You can also deposit and withdraw over 140 fiat currencies via your Revolut card.
Revolut doesn't support the following fiat currencies: SYP, IRR, SHP, GGP, JEP, PND, TVD, AMD, PRB, IMP, SDG, SOS, KPW, ZWD, BTN, EHP, CUC, CKD, KID, FOK, ERN. 
Countries Supported on Revolut 
Revolut is available in over 30 countries. Legal residents of the United States, Switzerland, Australia, Japan, Singapore, the United Kingdom, and the European Economic Area (EEA) can use the platform. 
You can use Revolut while traveling in over 150 countries and use the Revolut card to make ATM withdrawals and purchases. You may be able to make purchases with your crypto balance via your Revolut card, depending on your resident country.
Restricted locations where you can't use Revolut services include Crimea, Zaporizhzhia, Luhansk, Kherson, and Donetsk regions, and North Korea, Cuba, Syria, and Iran.
Revolut Trading Fees
Buying, selling, and trading crypto tend to be more expensive on platforms like Revolut compared to cryptocurrency exchanges. You often pay above the market price due to fees and high spreads.
Revolut offers four account types, including standard, Plus, Premium, and Metal accounts. Subscription to a standard account is free of charge. You can check out different account plans on the Revolut website.
Standard and Plus plan users can trade £1,000 per month without paying an exchange fair usage fee. Once your trading volume exceeds £1,000, you must pay a  0.5% fee for each trade.
Premium or Metal plan users are exempt from fair usage fees.
Let's check out Revolut fees in more detail.
Revolut Plans
The different Revolut plans are as follows:
The Standard account is free and allows access to basic Revolut features.

The Plus plan costs $2.99 per month. It includes all of the features of the Standard plan plus personalized cards and 24/7 primary customer support.

The Premium plan costs $6.99 per month. It includes all of the features of the Plus plan plus %20 discounted international transfers and higher limits.

The Metal plan costs $12.99 per month. It includes all of the features of the Premium plan plus %40 discounted international transfers and higher limits.

The business plan costs $49.99 monthly and is designed for businesses that need to send or receive international payments regularly. It includes all of the features of the premium plan, plus some additional features such as multiple user accounts and custom branding.
Revolut Crypro Trading Fees
Revolut charges a baked-in spread fee and a trading fee for all crypto transactions. The Spread fee is variable and changes based on market conditions. Spreads can be as high as 1%-4%.
Crypto trade fees (unlike spreads) vary according to your Revolut plan. Standard and Plus customers pay either a flat fee of £0.99 or a 1.99% fee for each transaction, whichever is higher.
Fees may vary depending on your country. You also have to pay a dynamic blockchain fee when sending crypto. The fee varies based on blockchain network traffic.
Deposit and Withdrawal fees
Revolut doesn't charge for deposits and withdrawals, but your bank may charge you fees for wire transfers.
You can make five free ATM withdrawals (max £200 in total) each month. After that, you must pay a 2% fee for each withdrawal (minimum 1 EUR).
Main Features of the Revolut Platform
Let's see some of the most notable crypto features of Revolut in more detail.
Multiple Assets
If you're looking for a platform that offers a wide range of trading options, you might enjoy Revolut. The platform provides forex, CFD, cryptocurrency, precious metals, and stock trading. Revolut offers fractional share investing, allowing you to invest in shares without buying an entire share.
You can trade over 80 digital assets on Revolut, including BTC, LTC, ETH, XRP, LINK, UNI, and BCH. Users can buy, store, and send crypto through their wallets. 
Revolut Staking
Revolut started offering staking opportunities for some proof-of-stake tokens, including Ethereum (ETH), Polkadot (DOT), Tezos (XTz), and Cardano (ADA).
Staking is only available to customers in the UK and the European Economic Area.
Scheduled Payments 
You can instruct Revolut to make regular payments for you. You can pay your bills via the app by sharing and authorizing your account to make regular payments.
You can also set up regular money transfers between yourself and others by setting up standing order. You can provide your Revolut card details to merchants for recurring payments to Netflix, Spotify, Youtube, and other subscription-based services.
Revolut Card 
You can connect your Revolut card to your crypto balance to purchase goods and services with your crypto. You can also withdraw cash from ATMs around the world with your card.
Crypto Learn & Earn
The platform hosts many informational articles on the crypto industry and trading. You can earn free crypto rewards through their Learn & Earn education tool by completing crypto lessons. You can sell or transfer your earnings once you receive them in your wallet.
Revolut Business
Revolut Business allows merchants to accept and store cryptocurrency payments. The service is geared towards miners, crypto services, and trading firms.
How Easy Is It to Open a Revolut Account?
Opening a Revolut account is easy and can be done in a few minutes. All you need is your basic personal information and a valid email address. You can choose to open a free or paid account.
Here's how you can open a Revolut account:
Go to Revolut's website and select the

Sign Up

button. Enter your email address or sign up with your phone number.

Alternatively, you can download the Revolut app and sign up via the app. Make sure you download the official app.

You must complete identity verification to use Revolut. Go to your

Profile

section and select

Personal Details

to verify your ID. 

You have to upload a valid government-issued photo ID,  such as a passport, national ID card, residence card, or residence permit. You must submit a selfie or a 10-second video selfie. You may be asked to provide a picture of your visa.
How Secure Is Revolut?
Revolut claims to use industry-standard security measures like multi-sig wallets and cold storage for crypto funds. Since Revolut crypto services are managed by Apex Crypto, they are the custodians of crypto bought through Revolut. Apex Crypto is generally considered a highly secure custodian.
However, crypto security is only one side of the issue. In September 2022, hackers accessed a Revolut database through a targeted phishing attack and obtained the personal information of over 50,000 customers, including their names, addresses, and email addresses.
The breach may have been related to the increased number of scams targeting Revolut customers. Revolut customers, whose data may have been exposed by the security breach, are often targeted by fraudsters through several methods, including Authorised Push Payment (APP) frauds, social engineering scams, and other methods that include tricking customers into revealing their pins.
Several customers reported that they hadn't been reimbursed after being scammed. Since Revolut isn't actually a bank, it doesn't offer the usual protections banks offer, like monitoring and freezing suspicious transfers.
While certain UK banks subscribe to a code that requires them to reimburse customers in fraud cases, Revolut doesn't offer blanket compensations.
The company complies with AML and KYC regulations.
Has Revolut Ever Been Hacked?
Revolut had a security breach in 2021, with hackers obtaining personal information on tens of thousands of customers. Users have reported receiving suspicious text messages and drained accounts. 
Revolut doesn't reimburse users for scams related to phishing attacks and social engineering, as it is the user's responsibility to keep their account information safe.
Is Revolut a Regulated Exchange?
Revolut isn't exactly a crypto exchange. It's a financial app that received a full banking license from the European Central Bank (ECB). 
The company applied for a banking license in the UK in 2021 but failed to secure approval from the FCA. Most recently, UK regulators chided the company for flaws in its account audits, suggesting the recent audits reveal there is a high risk of "material misstatement."
In 2016, the FCA investigated the company regarding claims of improper monitoring for money laundering. It was reported that several members of the founding staff left the company after CEO ignored their concerns. 
How Does Revolut Compare to Other Crypto Exchanges?
Revolut can be compared to other trading platforms like eToro or Robinhood. 
Fees
Robinhood, Revolut, and eToro all charge a baked-in spread fee. However, Revolut charges a 1.99% fee for all crypto transactions, plus an additional 0.5% fair usage fee after your trading volume exceeds 1,000 EUR. eToro only charges a 1% fee, while Robinhood doesn't charge trading fees at all. 
Features
While all three platforms allow you to trade cryptocurrencies and other assets like stocks or precious metals, their crypto offerings are limited. Revolut offers around 80 digital assets, while eToro supports 40. Robinhood supports only 15 cryptocurrencies.
Security
Revolut and Robinhood had multiple security breaches in the past. eToro denies any security breaches, but critics suggest the company might be covering up incidents.
It's a good idea to avoid storing large sums of crypto in custodial crypto platforms. Educating yourself on common scams (both crypto and non-crypto related) is also very important. 
Does Revolut Have an App?
The Revolut mobile app is available for both iPhone and Android users. It's available to download for free from the Google Play Store and the Apple Store and holds average reviews from both stores.
The Revolut app allows you to manage your account, make payments, and transfer money. The Revolut app also has a built-in chat feature to contact customer support.
Revolut Review: Final Thoughts
Revolut is a popular mobile banking and e-money platform that operates in several countries, including the US, the UK, and the European Economic Area. It allows users to send and receive money, trade commodities, and around 80 cryptocurrencies, including major coins like Bitcoin and Ethereum.
Revolut's services vary according to region. Features like depositing and withdrawing cryptocurrency from the platform and purchasing goods and services with your crypto balance aren't available everywhere.
The platform is pretty easy to navigate, but its beginner-friendly user interface comes at a huge cost. Trading crypto on the platform is very expensive, with baked-in spreads, high trading fees, and fair usage fees.
The crypto services on the platform are managed by Apex crypto, one of the biggest names in the crypto custody solutions, so crypto security isn't a concern. However, Revolut has had data breaches that led scammers to target customers through various methods. Revolut customers report an increasing amount of fraudulent activities targeting their funds.
Revolut doesn't have a banking license in the UK and doesn't reimburse users who lost their funds to scams.
To learn more about other cryptocurrency exchange platforms, check out our post on the Best 22 Crypto Exchanges and 8 Alternatives.