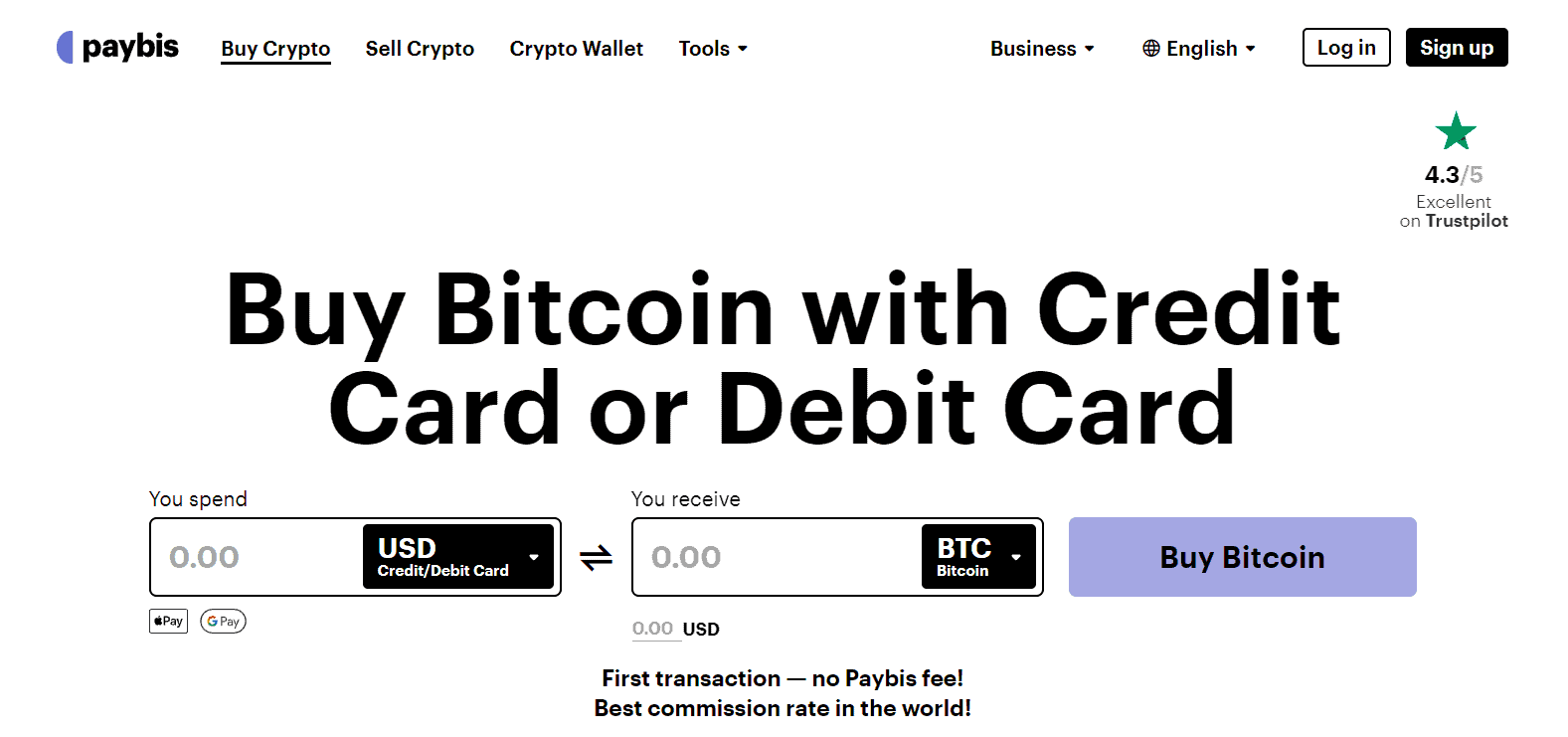 The Paybis crypto trading platform is a regulated UK exchange specializing in fiat to crypto conversions. The platform offers a streamlined crypto investment experience for users looking to buy crypto tokens with cash without needing any additional trading tools.
Let's check out which cryptos, fiat currencies, and payment methods Paybis supports and what services it offers to crypto investors. 
Pros & Cons of Paybis
Pros
An incredibly broad choice of fiat currency payment methods

Supports dozens of global fiat currencies

Makes buying crypto an easy and straightforward process, ideal for beginners

Has trading licenses in the US and the EU
Cons
It only supports 38 coins and tokens

Paybis fees are pretty high

No crypto-swapping feature
About Paybis
Paybis is a long-lasting crypto exchange established in 2014 in the UK as an easy-to-use investment platform for individuals looking to buy digital currencies directly with cash. Instead of focusing on users in the US and the European Union like many UK-based platforms, Paybis is dedicated to providing services to crypto enthusiasts in more than 180 countries. 
Paybis is incredible regarding its openness to users in different global regions because the platform is available in nine languages, including English, Russian, Italian, Korean, Arabic, Spanish, French, Portuguese, and German. 
With that said, the main focus of Paybis is fiat-to-crypto payments. The trading is done through a simple, instant buying feature where users get to buy trending coins with numerous fiat currencies, and the best thing is that Paybis offers a multitude of payment channels for purchasing crypto. 
If you're looking for advanced trading options, such as a classic trading interface, spot trading, futures, and other pro services, then Paybis definitely isn't the right platform for you.
However, if you're looking for a fast and straightforward way to invest in crypto, Paybis has you covered because once you create a platform account, the buying process is quite practical. The purchases usually take only a couple of minutes, depending on which payment method you choose. 
Paybis users can also sell selected cryptos for fiat currency and cash out directly to their bank accounts or payment cards. The option to cash out to your payment card is handy because it allows users to sell crypto and receive cash to non-traditional, virtual bank and payment service accounts. 
The exchange has a highly-secure integrated crypto wallet feature that lets traders store crypto in their accounts, while Paybis acts as a crypto custodian. All your funds are stored in hardware wallets, kept in the company's underground facilities, and protected by three security layers. 
Crypto Coins Available on Paybis
In total, Paybis has a selection of 38 cryptocurrencies available for investing. This is quite a small selection if we compare it with industry leaders like Binance and KuCoin, which have hundreds of coins. The difference is that these competitors don't have regulatory licenses, which means that they can list any crypto they want on their platforms.
Paybis is a UK-based legal entity, and the company has secured regulatory approval from both EU and US institutions. Because of this, Paybis has strict criteria for listing digital currencies, and users can only invest in projects that meet regulatory standards. 
This includes most of the largest coins and tokens, such as Bitcoin (BTC), Cardano (ADA), Bitcoin Cash (BCH), PancakeSwap (CAKE), Aave (AAVE), Chiliz (CHZ), Ethereum (ETH), Holo (HOT), Compound (COMP), Ripple (XRP), Solana (SOL), Axie Infinity (AXS), Dai (DAI), Litecoin (LTC), Dogecoin (DOGE), Tether (USDT) and 20+ additional investment options.
It's worth noting that while users can invest in 38 cryptos, they can only sell BTC and USDT for fiat currency. This wouldn't be an issue if users could convert other cryptos to BTC or USDT, but Paybis doesn't have a crypto-swapping feature. 
If users want to cash out other altcoins, they need to transfer their assets to another exchange that supports more crypto-selling options, which is Paybis's main drawback. 
Fiat Currencies Supported on Paybis
Paybis supports over 40 traditional currencies across its various payment channels. Users can buy crypto with USD, EUR, HKD, SEK, AUD, AED, CAD, GBP, CHF, HUF, and over 30 more local currencies. 
The available fiat currencies depend on which payment method you choose. All of the currencies are supported for credit and debit card purchases, but other methods support far fewer currencies. Regarding traditional bank account transfers, users can pay with USD and EUR, as well as the Taiwanese, Vietnamese, and Nigerian local currencies THB, VND, and NGN. 
Skrill and Neteller are only available for USD and EUR payments. AstroPay is available in 31 currencies, while users from the EU can additionally deposit EUR through the Giropay payment service. 
There are also several additional local payment services for specific currencies. For example, SPEI is available for MXN deposits, PSE works for COP deposits, PIX is for BRL, and WebPay is for CLP. 
Countries Supported by Paybis
Paybis provides services in over 180 countries, which means the exchange is available in most global regions. This includes most parts of Europe, South America, Asia, various parts of Africa, all of Australia, and 48 US states.
Paybis Fees
Paybis offers a streamlined crypto investing experience, but the fees are pretty high. When users purchase crypto on Paybis, they must pay the platform's trading fee and an additional payment channel fee. This means that users always pay two fees since there's no possibility to deposit fiat cash into a Paybis account and spend it afterward.
The platform's trading fee is 2.49% for all purchases and sales, which is exceptionally high compared to popular competitors that charge less than 1% for the same services. Even the most pricey exchanges among leading platforms, such as Coinbase and Kraken, charge a maximum 1% to 1.49% instant trading fee. 
When it comes to payment cards, there are fixed fees for low-value purchases. If you buy between 5 and 20 USD, you'll pay 2 USD, while the 20.01 USD to 50 USD tier incurs a 3 USD fee. The trading fees for card payments over 50 USD are 4.5% for GBP, JPY, EUR, and USD, while other fiat currencies incur different fees, up to a maximum of 6.5%. The bank card purchase limit is 20,000 USD per transfer.
Skrill and Neteller payments have a standard 4% fee for transfers up to 99 USD, while payments between 100 and 199 USD cost 3.79%. Purchases over 299 USD incur the lowest, 3.65% fee. Skrill and Neteller have a 200,000 USD transaction limit, which is also the daily limit for these services.
EUR and USD bank account payments incur fees that depend on your bank's policy, but Paybis doesn't charge any additional fees for bank account transfers, which makes this payment channel the cheapest. However, paying with your bank account can last several hours sometimes, and the service isn't available during weekends. 
Paybis doesn't provide information about the fees on the rest of the supported payment channels and urges users to check the fees manually on the payment service provider's websites. 
It's also worth noting that a user's first crypto purchase with a bank card doesn't incur the 2.49% Paybis trading fee. 
Main Features of Paybis
The platform's main service is its simple crypto buying feature that lets you directly buy crypto with over 40 fiat currencies.
Just click on Buy Crypto, and you'll see a simple menu with two fields. In the first field, you need to choose a payment method and currency, while the second field is where you need to select the crypto you want to buy. 
Finally, you just need to enter how much money you wish to spend, and Paybis will show you exactly how much crypto you'll get in return. You'll also see the fee costs before you execute the order. 
The Sell Crypto feature works the same way, except that users can only sell BTC and USDT for fiat cash. 
However, the feature is incredibly useful because users can sell assets and receive fiat currency straight to their bank cards or online payment provider accounts, which means that there's less bureaucracy involved compared to receiving payments into your bank account.
Banks often require additional documentation for payments that originate from crypto, while services like Skrill, Neteller, and other virtual bank services don't.
Unfortunately, there's no swapping feature, so users can't exchange one crypto for another. When users purchase crypto on Paybis, the platform stores their assets in the highly-secure Paybis custodial wallet from which they can transfer them to third-party wallets and other platforms.
The Paybis wallet is also available to enterprise clients. Companies can hire Paybis to provide crypto payment solutions for their businesses.
How Easy Is It to Open a Paybis Account?
If you decide to create an account on Paybis, click on

Sign up

on the exchange's

web page

and enter your email address.

Enter the verification code sent to you and choose a password to protect your account from unauthorized access.

You'll also need to tick the checkboxes next to the platform's use terms and the Paybis privacy policy document.

Now you're done with the initial account creation process. Next is the ID verification phase, which is a mandatory part of the Know Your Customer (KYC) protocol that Paybis uses to prevent illegal activities and confirm user identities.

First, provide your mobile phone number and copy the SMS code from Paybis into the appropriate field on the platform.

Now, choose which document you want to use to prove your identity. The choice of available documents depends on your country, but the usual ones are passports, official ID cards, and driver's licenses. You'll see the full list of documents once you select your country from the dropdown menu.

Once selected, photograph your document with your mobile phone camera and forward it to Paybis.

Paybis will then prompt you to complete the

Presence Check

, which requires you to give Paybis access to your front camera and slowly move your head in a circular motion according to the on-screen directions.

When you finish the photo and video identification part, enter your full address, and you're ready to ask Paybis to verify your identity.

The platform claims that this shouldn't take over five minutes.
How Secure Is Paybis?
Paybis uses pretty standard safety measures, such as passwords and a KYC protocol, to prevent money laundering. However, the main strength of Paybis in this segment is its wallet feature.
When buying crypto on Paybis, users can choose to have their crypto delivered to their third-party crypto wallets by inputting their public address. This way, the crypto doesn't stay on Paybis, and in case the platform gets hacked, the attackers can't steal your crypto. 
Alternatively, Paybis provides users with a custodial wallet service that's a bit different compared to other exchanges. Paybis wallets are connected to the company's cold storage devices, which are kept in underground facilities with multiple layers of protection. 
Since there's no live trading service on Paybis, there's no need to keep the assets in risky, online crypto wallets. Instead, all of the funds are stored offline in the Paybis cold wallets, preventing potential thefts.
Has Paybis Ever Been Hacked?
Paybis isn't an attractive target for hackers because there aren't any funds stored online, which means attackers wouldn't have anything to steal by breaching Paybis. The platform has a clean security history without hacks, and thanks to its crypto storage policy, there's a very low probability of future Paybis hacks. 
Is Paybis a Regulated Exchange?
Paybis has regulatory approval in the US, Canada, UK, and EU, which are the global crypto markets with the strictest requirements for registering crypto trading services. The most prestigious license obtained by Paybis is the Money Service Business License from the US FinCEN Department of the Treasury, which grants Paybis operating rights in 48 US states.
Reputable regulatory bodies only allow crypto exchanges to trade the most popular cryptocurrencies, which are proven not to be scam projects. This is why Paybis only supports a few dozen cryptos. However, many leading regulated platforms have a far broader selection of coins. 
We can explain this by the fact that regulated platforms need to obtain a trading license from regulators for each crypto token, and this is far easier for large platforms than it is for smaller exchanges with more limited resources. 
How Does Paybis Compare to Other Crypto Exchange Alternatives?
Paybis can't really compete with the leading global crypto exchanges because its scope of services is very limited and only includes crypto purchases through instant trading and two options for selling crypto (BTC and USDT). 
Because of this, we can only compare the Paybis instant trading function with the instant buy/sell services of some reputable exchanges like Coinbase and Binance.
Coinbase supports over 150 tokens, while Binance has over 350 cryptos available for investing. Paybis has a meager 38 coins available on the platform. Moreover, in the fee segment, both exchanges outshine Paybis dramatically since Coinbase has a 1% instant trading fee, while Binance has an even lower 0.5% fee. When compared to the 2.49% platform fee, plus the additional payment service fee, Paybis is much more expensive than these competitor platforms. 
Since Coinbase and Binance give users various options to fund their accounts and spend money afterward, there aren't any extra payment service fees when purchasing crypto on these exchanges. 
Does Paybis Have an App?
Paybis has a mobile app called Paybis crypto wallet: Buy BTC. It seems that Paybis doesn't advertise its app as a crypto exchange app. Instead, the company's app is marketed as a wallet app, which allows users to purchase cryptocurrencies with fiat money and store them in the app. 
The Paybis app has a very low user rating on Google Play Store, with only 2.8 out of 5 stars. There are some negative user reviews that claim they had problems with their fiat payments going through.