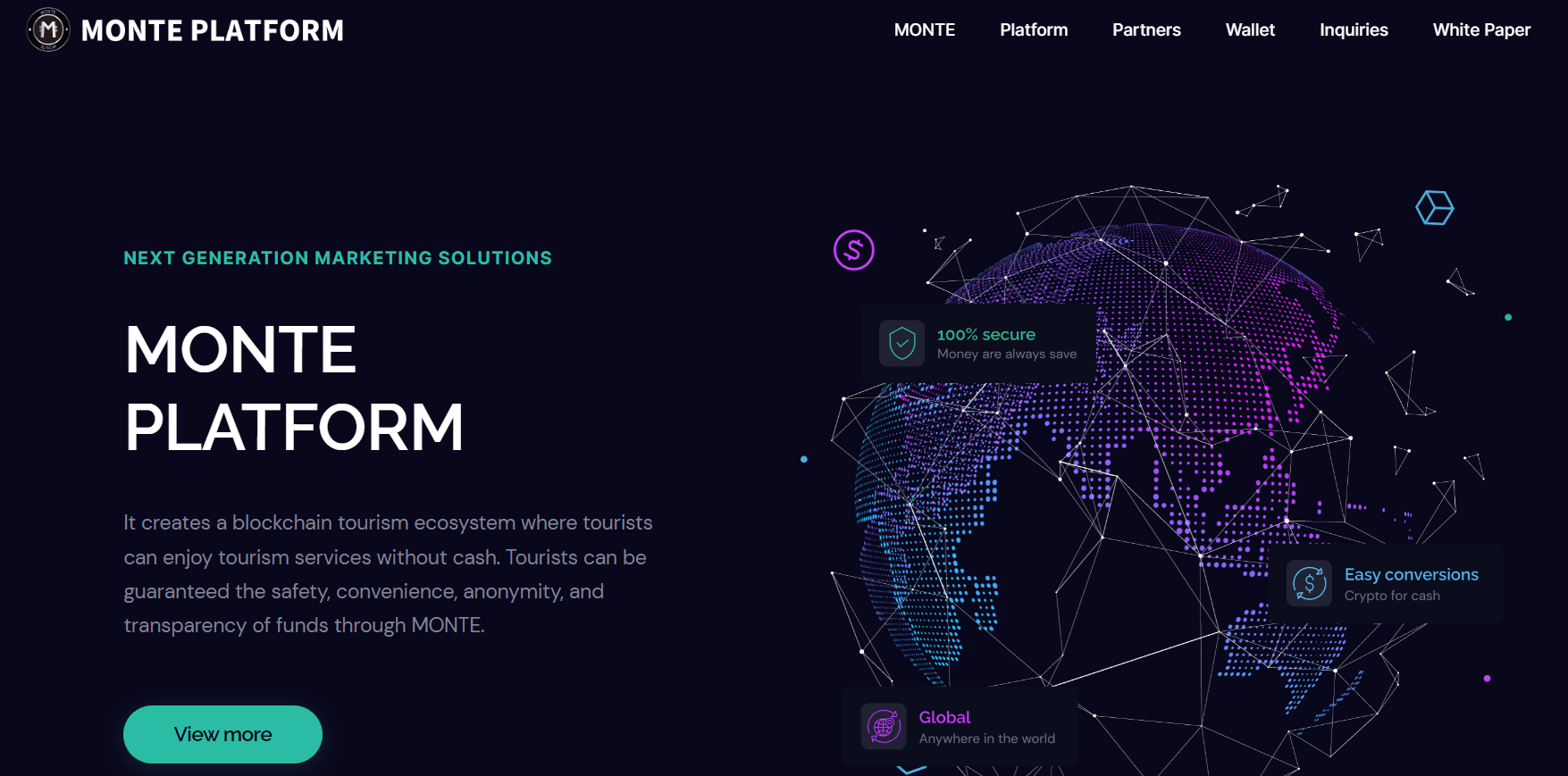 Monte is a Web3 platform that aims to take tourism to the next level with the use of blockchain technology.
The platform employs its native MONTE token to secure and streamline the booking process for tourists. Monte partners with tourist agencies worldwide to make it more convenient for travelers to plan trips and facilitate payments without using banks and third-party payment services.
Let's discover how Monte is introducing Web3 solutions to the travel industry with the help of the MONTE token.
How Monte (MONTE) Works
MONTE works as peer-to-peer (P2P) electronic cash, similar to Bitcoin (BTC), except that MONTE's primary use case is to facilitate payments within the travel industry.
The goal is to provide travelers, hotels, travel agencies, accommodation owners, restaurants, leisure activity providers, and transportation companies with a digital currency fit for mass use. 
The token itself is part of the Monte ecosystem, an innovative Web3 platform that lets users directly interact with all actors in the tourism industry without an intermediary. MONTE uses the Ethereum (ETH) network to facilitate transactions.
In contrast to banks and payment service providers that often charge high percentage fees for their services, Monte only requires travelers and service providers to have an Ethereum-compatible crypto wallet where they can store MONTE tokens. This can be done with any wallet that can store custom ERC-20 tokens.
The Monte platform even plans to launch its own digital wallet for storing MONTE tokens, connecting with different travel service providers, finding hotels and transportation, and more. Once they find an appropriate service and decide to make a booking, users will be able to pay with MONTE tokens. 
Instead of exchanging fiat currencies for local currencies at exchange rates provided by payment services and banks, users can pay service providers in different countries with MONTE tokens. 
The growth of the Monte ecosystem depends on securing new partnerships with service providers to make MONTE tokens more attractive to travelers because paying with MONTE will be cheaper than using cash.
What Is Monte (MONTE) Used For?
MONTE aims to become the Bitcoin of tourism, with higher speed and scalability. Thanks to the Ethereum blockchain, users can facilitate faster payments, but Ethereum blockchain fees tend to be pricey. The Monte team is trying to solve this issue by allowing users to stake MONTE in the Monte wallet and earn staking rewards from transaction fees. 
Staking is also beneficial for Monte partner companies because it contributes to the total liquidity of MONTE tokens, thus making the currency more attractive for individual users. Consequently, the businesses that use Monte will get more traffic from MONTE token holders.
Also, the team promises to introduce special discounts and cashback rewards for MONTE payments. 
Tourists benefit from MONTE by getting discounts while spending the token at Monte partner companies. The team plans to introduce a point ranking system that would allow users to reap special benefits and use promotions based on how many MONTE they hold or spend through the platform.
At the same time, companies that are part of the ecosystem benefit from exclusive marketing by the Monte platform, which drives traffic to those businesses in exchange for a portion of their revenue.
That's why a portion of MONTE tokens is reserved for marketing purposes to help boost the Monte ecosystem's popularity and grow both the user base and the number of partners.
If the popularity of the Monte platform grows over time, the MONTE token's market capitalization and price will follow. Essentially, crypto traders would benefit from MONTE as a standard digital currency for long-term holding and trading. 
Where to Buy Monte (MONTE)?
There are two centralized exchanges that support MONTE trading: BKEX and CoinW.
Since these are centralized trading platforms, before you buy MONTE, you must create a user account. Once you're done, you can deposit some fiat currency to purchase Tether (USDT) as an intermediary crypto and then exchange it for MONTE.
Both of these exchanges have low trading volumes and aren't very popular. So far, MONTE hasn't been listed on any reputable crypto exchanges.
How Long Has Monte (MONTE) Been Around? 
The development of MONTE began in 2022, but the first market phase of the project launched in January 2023. The MONTE token itself was launched in mid-April 2023.
The project's development is divided into several phases, with phase one ending in April 2023.
However, the team hasn't launched any essential features of the first development phase yet, such as the Monte Wallet or the MONDEX decentralized exchange.
What's Controversial About Monte (MONTE)?
The idea behind Monte is convenient and useful because the project aims to solve real-world travel issues and provide tourists with an all-in-one solution for planning and booking their trips with a crypto app. 
However, the team is still way behind their development schedule, and users can't access essential Monte features yet. There's no possibility of booking trips or paying for services with MONTE tokens since the Monte wallet app isn't available to users. 
Judging by the Monte Twitter account, there's no news about the Monte wallet's development. Instead, the profile is filled with news regarding new partnerships between Monte and tourism-related companies and service providers.
It looks like Monte is still in the phase of securing a sufficient number of partnerships before launching the app and giving users access to different service providers with the MONTE token.  
How Many Monte Coins Are There?
The MONTE token's total supply of 100 million tokens is distributed among seven causes. The largest portion of the tokens is reserved for the ecosystem's development (40%) and token sales (20%). The team has allocated 10% of the MONTE supply for staking rewards, another 10% for the team's salaries, and 10% for the Monte platform's development. 
Also, the developers reserved a third-party funding allocation of 5%, and the last 5% goes to Monte's partner companies.
Can MONTE Be Mined?
Instead of mining, users will be able to stake their MONTE tokens in the Monte wallet once the app goes live.
Market Cap and Price History of Monte (MONTE)
CoinMarketCap hasn't been able to verify MONTE's market capitalization. However, the fully diluted market capitalization of MONTE is over 300 million USD. The coin's value is around 3 USD, and since its launch, the token has been hovering in the 2.8 USD to 3 USD range.
Biggest Competitors of Monte (MONTE)
The idea of travel-focused cryptocurrencies is quite new, so there aren't any direct competitors of MONTE among the top 100 crypto projects. However, there's a recently launched project with a similar focus called LUXWORLD (LUX).
The idea behind the LUX project is to connect travelers and service providers through a blockchain-based app that uses LUX tokens to facilitate financial transactions. It's quite similar to MONTE. 
LUXWORLD has launched most of its functionalities, including the project's app, which works as both a crypto wallet and a travel booking app with social media elements. Monte, on the other hand, is yet to launch their app. After the app's launch, Monte might be able to compete with LUXWORLD if the project manages to attract a significant user base. 
What Does the Monte (MONTE) Project Road Map Look Like?
Monte has a detailed roadmap section on the project's web page, divided into several phases, but the team hasn't fulfilled its initial phase plans yet. 
The team needs to launch the MONDEX decentralized exchanges and the Monte wallet app first before moving on to the next phases of the roadmap. However, we can't know for sure when this is going to happen.
The next phase will be to expand the platform through partnerships with the travel industry in North America, Vietnam, the Philippines, and South-East Asia. Afterward, the team will focus on launching the Monte mainnet and migrating the project from the Ethereum blockchain to its own network. 
Finally, the plan for 2024 is to have a fully operational Monte tourism platform on its own blockchain and available in all global regions with a special focus on North America and South-East Asia.
Pros and Cons of Monte (MONTE)
Pros
The project idea is relatively new, and if the team sticks to its promises, Monte might become really popular

Users can pay for their travel arrangements with MONTE tokens

Users can stake MONTE to earn crypto rewards, discounts, and special offers

The project has very few competitors, which means it can position itself as a key platform and token in the blockchain tourism niche
Cons
MONTE is only available on two relatively small exchange platforms

Besides the token, none of the project's features are available

Users can't stake MONTE or use the token to pay for services yet