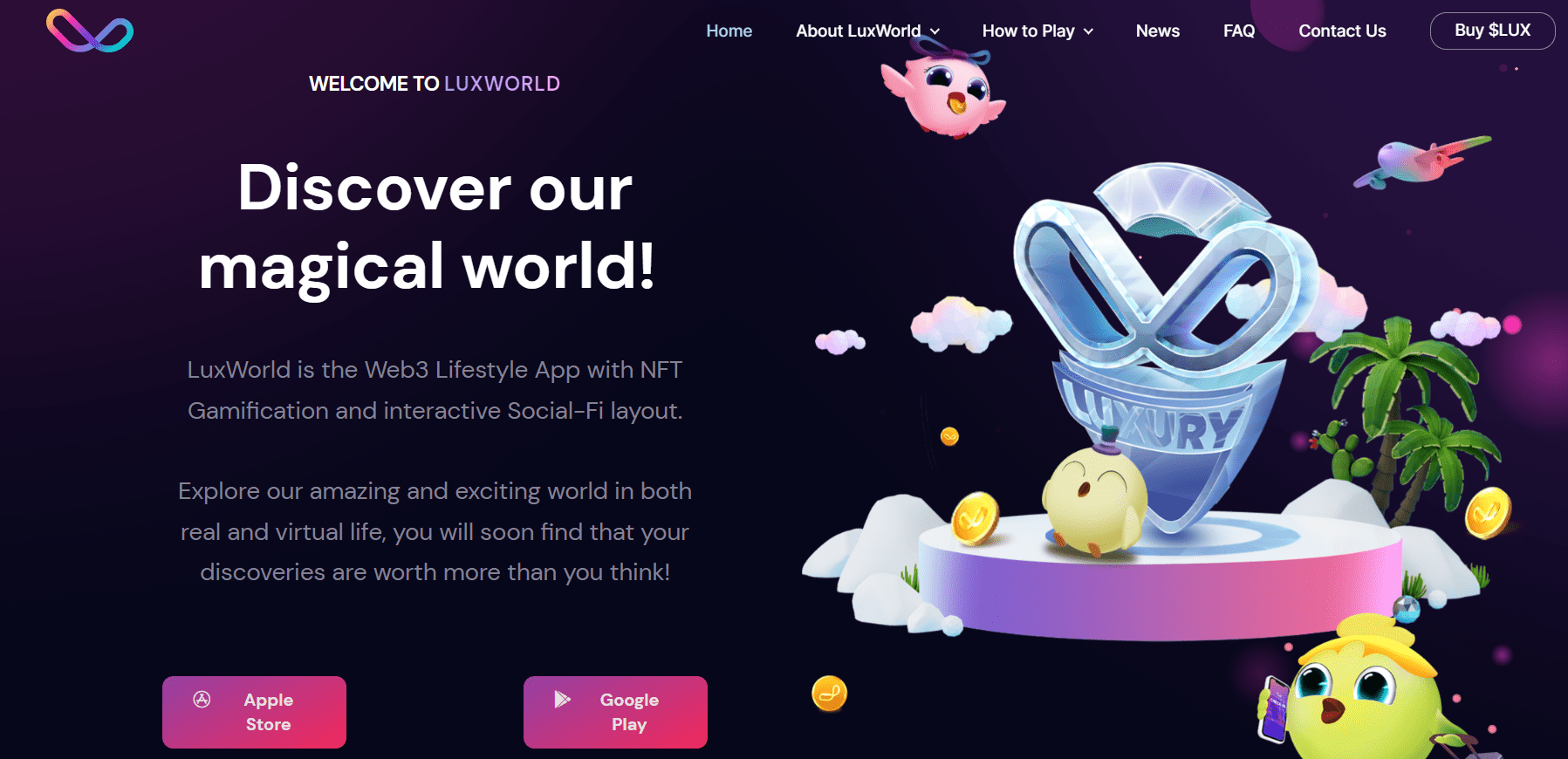 LuxWorld is a travel and lifestyle crypto platform that uses NFTs and LUXWORLD (LUX) tokens to provide users with an exciting real-world traveling experience that lets travelers and location owners earn crypto rewards. 
Let'sLet's check out how LuxWorld plans to transform everyday traveling experiences. 
How LUXWORLD (LUX) Works
LuxWorld developers have an ambitious goal of creating a Web3 social app that combines NFTs, crypto rewards, and traveling in a bid to revive the global travel industry in the post-COVID-19 pandemic era.
The team is yet to release the LuxWorld app itself, but the project has already launched the LUXWORLD (LUX) token on the market, and it's already clear how the app will work.
LuxWolrd uses Ethereum (ETH) to facilitate LUX transactions and create LuxWorld NFTs. The LUX token is a pioneer of the Travel to Earn concept that rewards travelers for checking into specific locations. Location owners also get rewards when someone checks into their property.
Both types of users will need to download the LuxWorld app, install it on their mobile phones, create a user account, and enable GPS locating to earn LUX tokens. Thanks to the GPS connections, travelers can log their locations and check-into specific places while validating their check-in on the blockchain in the form of a transaction. In turn, travelers will earn LUX rewards.
Owners need to register a check-in node, which is basically the blockchain representation of their hotel, apartment, or house for rent. They need to provide extensive additional information, just like on travel platforms like AirBnb. With LUXWORLD, owners get an extra financial incentive for operating nodes. 
Additionally, both travelers and owners get to upgrade their accounts with multiple tiers that earn higher rewards. Travelers advance to higher tiers based on their number of check-ins and type of luggage NFTs, while owners advance depending on the number of travelers who have checked into their property.
LuxWorld users must buy NFTs when traveling and check-in with their luggage. There will be several types of luggage NFTs with different rarity scores and other characteristics. Also, property owners will need to purchase node NFTs when creating accounts on LuxWorld.
What Is LUXWORLD (LUX) Used For?
LUXWORLD tokens are used for all transactions and operations on the LuxWorld platforms. If you want to use the platform as a traveler or an owner, you must first buy some LUX tokens to purchase LuxWorld NFTs within the app. 
Users will be able to purchase NFTs on the in-app LuxWorld marketplace. The team also plans to introduce a luggage rental system to let users rent out their luggage NFTs to other users and earn LUX in return.
As for the Travel to Earn mechanism, travelers will earn LUX after each check-in, depending on a series of factors. Depending on luggage NFT rarity and specific attributes, travelers will earn more or less LUX tokens.
The luggage attributes that define how much LUX travelers can earn include the space that their luggage takes up, the durability, and the luggage NFT's minting speed. Higher values accumulate more LUX. Also, the team plans to introduce extra LUX rewards for users who share location photos or submit reviews.
Regarding owners, node operators get LUX rewards based on the number of check-ins connected to their property. Over time, the LUX rewards and the growing number of check-ins can increase. The check-in nodes also have different attributes that contribute to the LUX reward rate, such as node energy, coverage, popularity, and check-in node luck. 
Earning LUX tokens with the help of LUX NFTs is a sort of NFT mining or NFT staking because your NFTs let you earn crypto rewards, which are determined by the characteristics of your NFTs and the number of interactions you have on LuxWorld as a traveler or owner. 
Where to Buy LUXWORLD (LUX)?
BitMart is the only crypto exchange where you can buy LUX tokens. To do so, you'll need to buy some Tether (USDT) on the platform with fiat cash or deposit some USDT to your platform account. Then, you can trade USDT for LUX tokens.
How Long Has LUXWORLD (LUX) Been Around? 
The project itself started in the second quarter of 2022, but the LUXWORLD token had its market debut in February 2023. 
What'sWhat's Controversial About LUXWORLD (LUX)?
LuxWorld is pioneering a brand-new concept on the crypto market, which carries a lot of development potential, but it's also very risky if the developers fail to deliver all of the promised features and the project goes sideways. 
The project's white paper and the official website have detailed descriptions of LuxWorld's features and mechanics, but the app itself isn't available yet. Once the app launches in the first quarter of 2023, users can see how LuxWorld works in practice.
Also, it isn't yet clear how LuxWorld will convince travelers to use the platform because it requires an upfront investment in NFTs. Travelers are already spending money on travel expenses, so the LUX rewards would need to be relatively high to justify investing in NFTs for travelers. Since LUX NFTs use the Ethereum (ETH) blockchain, it's safe to say that users will incur hefty gas fees, which can even be several tens of USD during the network's busy hours. 
How Many LUXWORLD Coins Are There?
LUXWORLD's max supply is two billion tokens, while there are 900 million tokens in circulation. The LUX tokens are pre-mined, but not all of the tokens are available on the market. For example, 400 million tokens are reserved for Travel to Earn rewards, while 900 million are up for community sales. 
The developers kept 200 million as an incentive for further project development, and another 200 million was spent on exchange platform liquidity. The project's strategic investors got 100 million LUX, and the developers kept the remaining 200 million to invest in the LuxWorld ecosystem's development. 
Can LUX Be Mined?
You can't mine LUX like Bitcoin (BTC), but you can put your NFTs to work and earn LUX tokens either as a traveler or as a node owner. 
Market Cap and Price History of LUXWORLD (LUX)
LUXWORLD has a solid market capitalization of seven million USD, which is quite nice given that the token was launched on February 10, 2023. Furthermore, the project lacks large-scale investors or high-profile marketing activities, making the seven million USD market cap even more significant. 
LUX world'sworld's current price is a fraction of a US dollar, at 0.0078 USD, while the all-time high of the token is 0.0091 USD.
Biggest Competitors of LUXWORLD (LUX)
Although LuxWorld has a genuine concept with its Travel to Earn mechanics, it has some similarities with STEPN (GMT), a once highly-popular Move to Earn project that has since dramatically fallen in terms of popularity. 
Still, STEPN maintains a market position close to the top 100 projects and poses quite a challenge for LUXWORLD regarding market capitalization and adoption. 
What Does the LUXWORLD (LUX) Project Road Map Look Like?
LuxWorld has a very detailed project roadmap. The team plans to launch the LuxWorld app in the first quarter of 2023, along with the LuxWorld crypto wallet. Also, the team promises to secure various listings on centralized and decentralized crypto exchanges.
Furthermore, LuxWorld will introduce Web3 social network features during the second and third quarters of 2023, allowing users to communicate with each other, along with additional social activities. Additionally, LuxWorld will get its own crypto wallet for storing LUX tokens.
During the first half of 2024, the team plans to launch a carbon offsetting mechanism, DeFi services, and some LuxWorld metaverse traveling features. 
Pros and Cons of LUXWORLD (LUX)
Pros
A very refreshing idea that merges traveling and crypto reward mechanics.

Users get to earn more rewards as they upgrade their NFTs and user accounts over time.
Cons
The platform requires an upfront investment in LuxWorld NFTs.

The app isn't available yet.