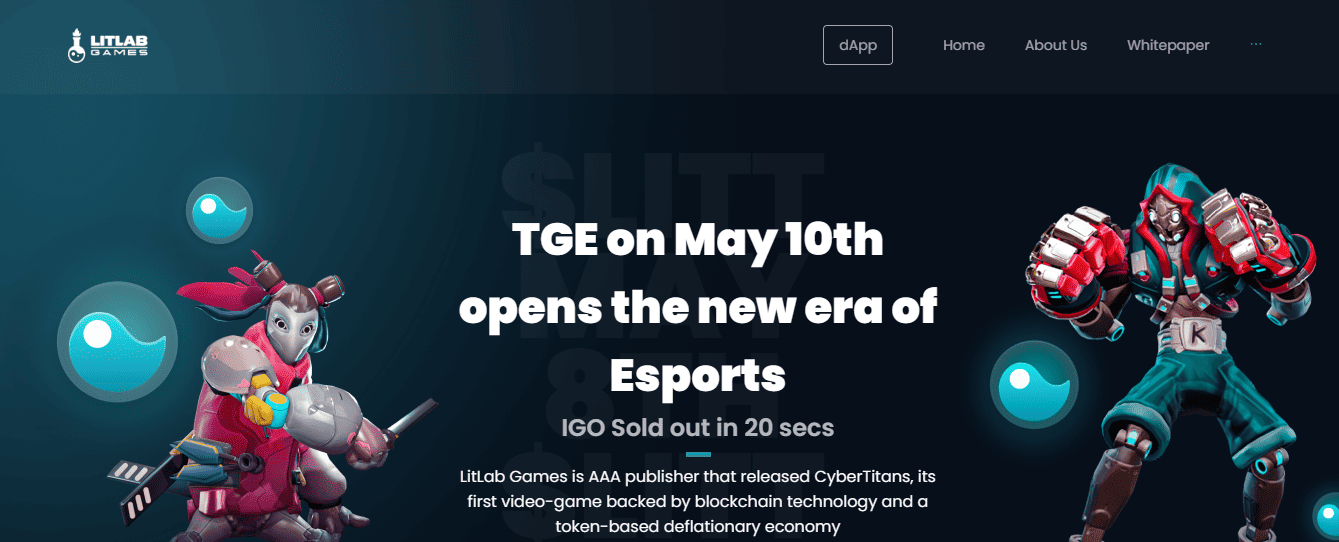 LITT is the utility token of the LitLab Games platform that focuses on developing video games and blockchain-based esports. If you belong to the category of gamers that would like to make a profit out of their gaming dedication without depending on streaming platforms, then this article is for you. 
Introducing you – the LitLab Games (LITT) token and crypto ecosystem. 
How Does LitLab Games (LITT) Work?
LitLab Games focuses on creating an esports gaming environment powered by crypto, where the players would be able to participate in various VR and blockchain games. 
For now, you can play the CyberTitans game until new games are introduced. The Cyber Titans is a strategic video game where several players form their respective teams of Titans online and design their winning strategy to eliminate all other teams. 
There are two types of games you can participate in: a quick game or a tournament. The quick game will take you no more than 20 minutes. You can compete in these games for free and make an effort to win Challenger Tournament Tickets that will help you enter a Challenger Tournament, thus increasing your chances to win an even better price.
You can also participate in a LITT-powered quick play, where you'll be required to pay an entrance fee for an even bigger crypto reward. 
If you opt for a tournament, you'll compete with 7 more players through 8 brackets of games. The first 4 of these players will move on to the next round until they get to the last round of the game. It's worth noting that these tournaments are scheduled, and you can't enter the game past the start time. 
The Challenger Tournaments on LitLab Games are daily tournaments in which you can take part by paying an entrance fee or redeeming a Challenger Tournament Ticket (CTT) that you got as a reward by competing in a quick game. 
Expect to pay 100 LITT tokens or redeem 10 CTT to enter one of these daily tournaments. These challenges always have a guaranteed prize, i.e., you'll always get at least the amount you have paid to enter a Challenger Tournament. 
What Is LitLab Games (LITT) Used For?
LITT is a BEP-20 utility token built on the Binance Smart Chain. It has wide usefulness within the LitLab crypto ecosystem. 
The main use of the token is to power all of the LitLab gaming operations. LITT is basically a cross-game asset as it helps you use everything you acquire or create on the first game developed on this platform, CyberTitans, into future games that are yet to be developed. 
With the help of this token, you can also join matches and competitions with other esports players, provide liquidity to the ecosystem, buy NFTs, and more. 
Where to Buy LitLab Games (LITT)?
MEXC Global and Bitget are currently the most prominent crypto exchanges where you can find and trade LITT. If you'd like to have some more options, feel free to browse our detailed reviews on some of the currently best cryptocurrency exchanges in the industry.
How Long Has LitLab Games (LITT) Been Around?
The LitLab Games (LITT) token is a relatively new addition to the Web3 and blockchain industries, having been launched in 2023.
What's Controversial About LitLab Games (LITT)?
As this crypto project is still in its infancy, it's too early to discuss any possible controversies. 
How Many LITT Tokens Are There?
There's a total supply of 3,000,000,000 LITT tokens. According to the project's whitepaper, this supply is guaranteed for the next few years. 
The creators are probably thinking about the overall supply of tokens as they continue to work on the update. They also intend to widen the platform with additional games and capabilities to attract new users and position themselves as the number one e-gaming platform. 
Can LITT Be Mined?
No. You can buy the token from an exchange or acquire it as an in-game reward, which is the most popular way of getting your first LITT tokens. 
Additionally, you can stake your LITT tokens for a chance to earn passive income on them.  The Annual Percentage Yield (APY) will be calculated based on the number of platform users and allotted rewards during a pre-set period. 
Market Cap and Price History of LitLab Games (LITT)
Currently, the LITT token's price fluctuates around $0.007566, while it's 24-hour trading volume reaches up to $334,914. The circulating supply of this token, which is listed on the 3127 position on CoinMarketCap, is not available yet. 
Biggest Competitors of LitLab Games (LITT)
The Dotmoovs (MOOV) token is currently the biggest competitor of the LITT token, as both of them power blockchain platforms that focus on providing esport competitions and chances for players to earn crypto rewards.  
What Does the LitLab Games (LITT) Project Road Map Look Like?
Aiming to become a leader in the video gaming and esports industry, LitLab Games plans on attracting more players to their platform by opening a marketplace. Once the marketplace has been established, there would be a logical need for the players to have their crypto balances handy, so developing a mobile app is also on the agenda. 
Finally, the developers of this Spanish blockchain gaming platform intend to develop a new gaming concept and more new games for their users, as well as to refresh and redesign the current ones. These activities will be accompanied by a more aggressive marketing campaign to boost the platform's visibility and entice new users that enjoy earning crypto by competing in esports. 
Pros and Cons of LitLab Games (LITT)
Pros
A well-developed project;

Has a promising roadmap.
Cons
Listed on a handful of exchanges.