How to Buy Dogecoin on Gemini
Dogecoin is a famous meme coin you can purchase on many exchanges, including Gemini. DOGE is quite cheap and easy to trade.
If you want to buy Dogecoin on the Gemini exchange but don't know where to start, we have you covered. Here is a step-by-step breakdown of how to buy Dogecoin on Gemini.
A Step-By-Step Guide on How to Buy Dogecoin on Gemini
1. Register an Account and Verify Your Identity
First, visit Gemini's official website to register an account.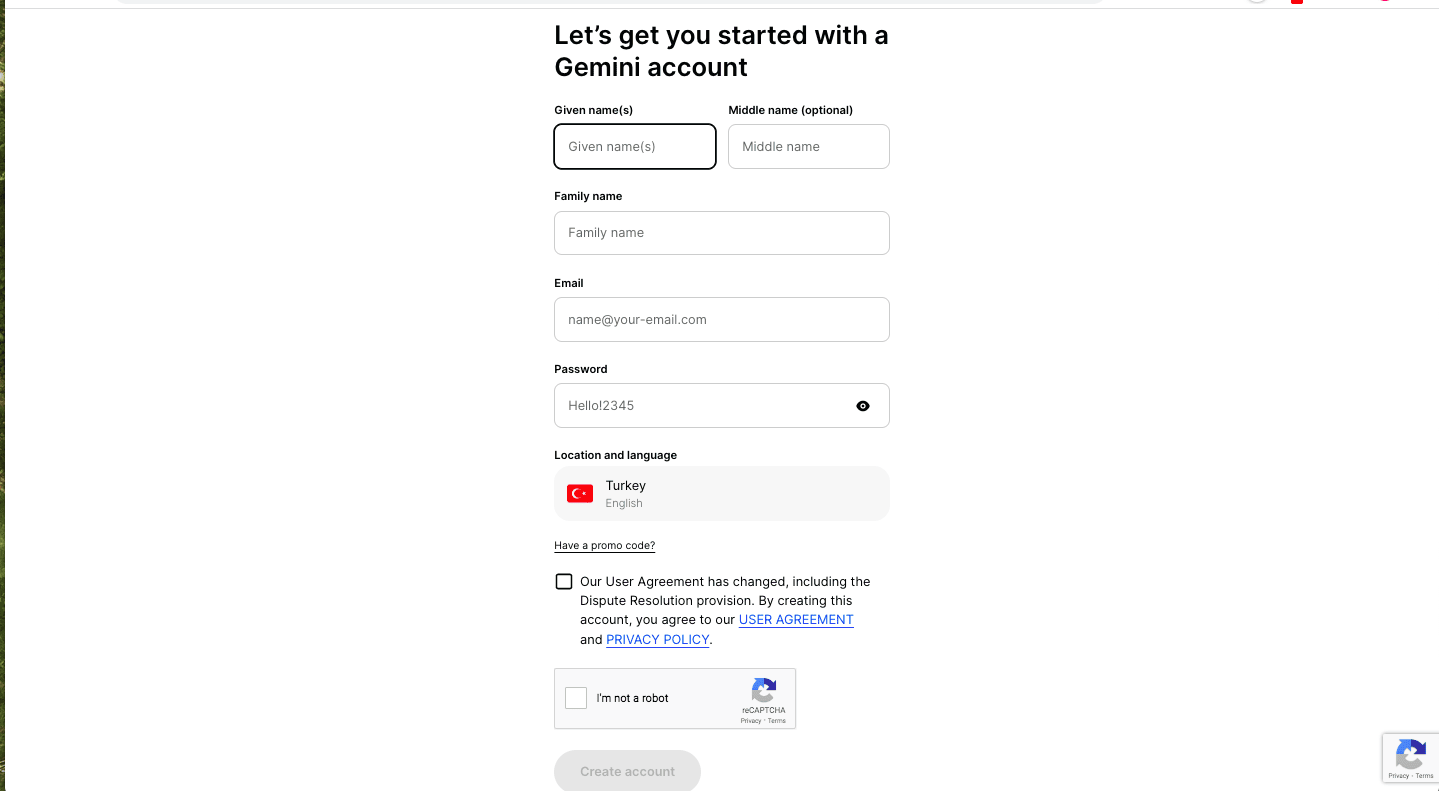 Opening a Gemini account is easy: Enter your name and last name, email address, and a strong password. You must enter a valid phone number as well. Gemini will send you a link to log in to your new account.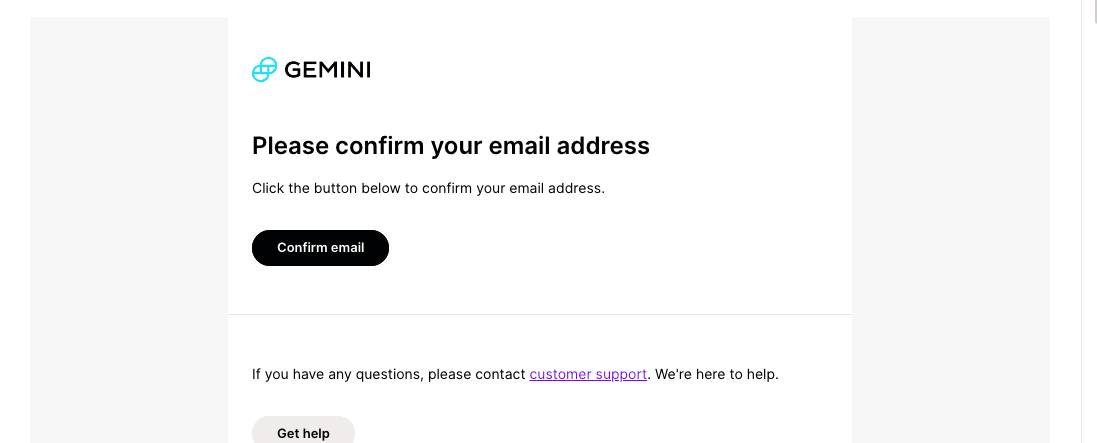 Click "Confirm Email" to continue.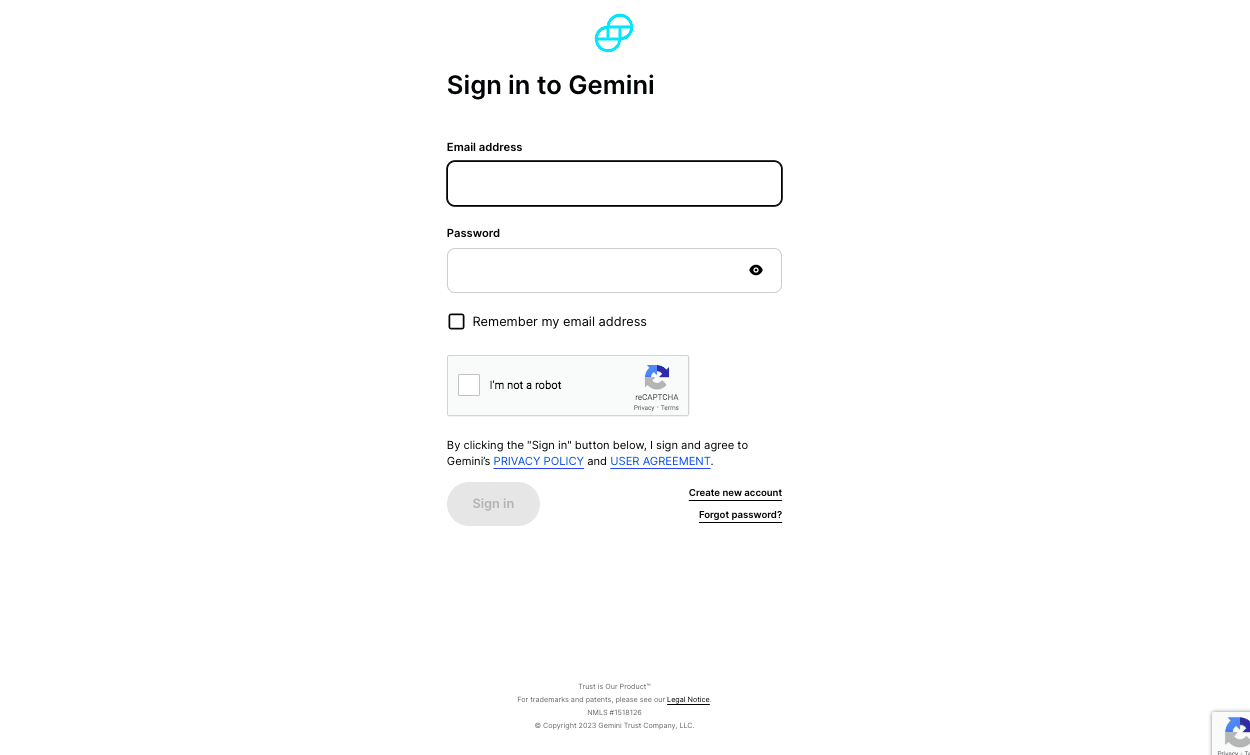 On the new window, sign in with your email and password.

Enter the verification code sent to your phone number.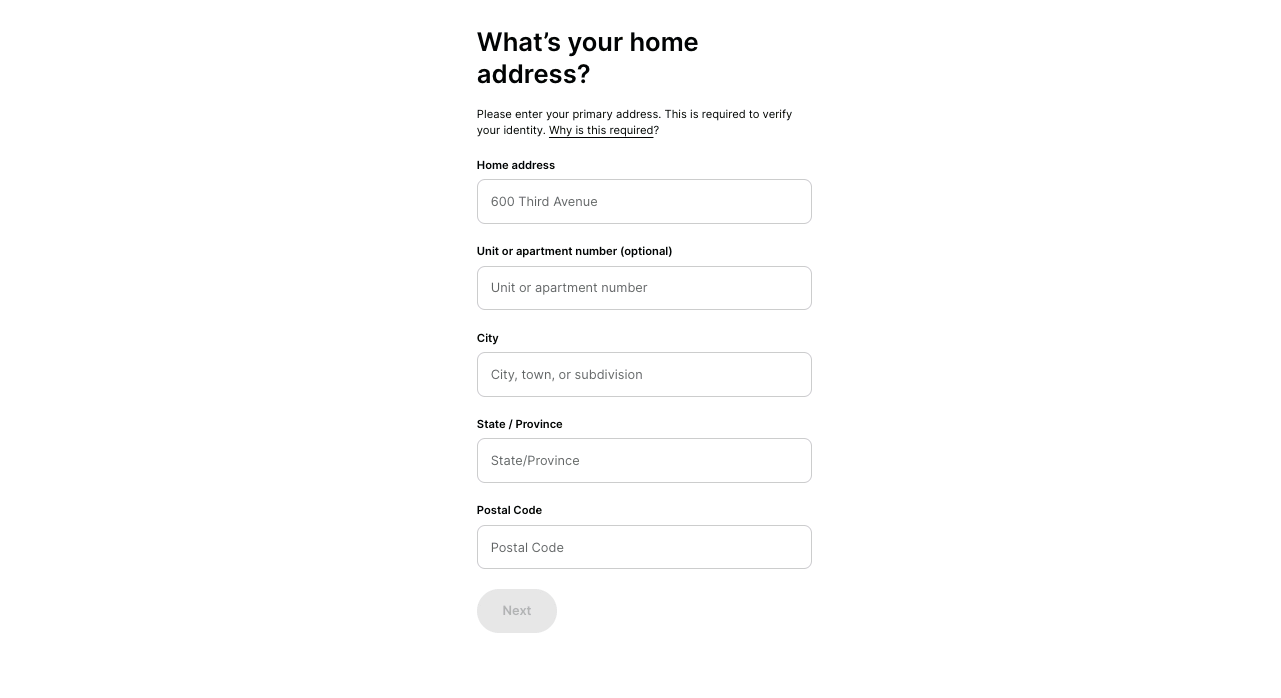 Enter all the relevant information, including your home address, and click "next."
Enter your date of birth and click "Next."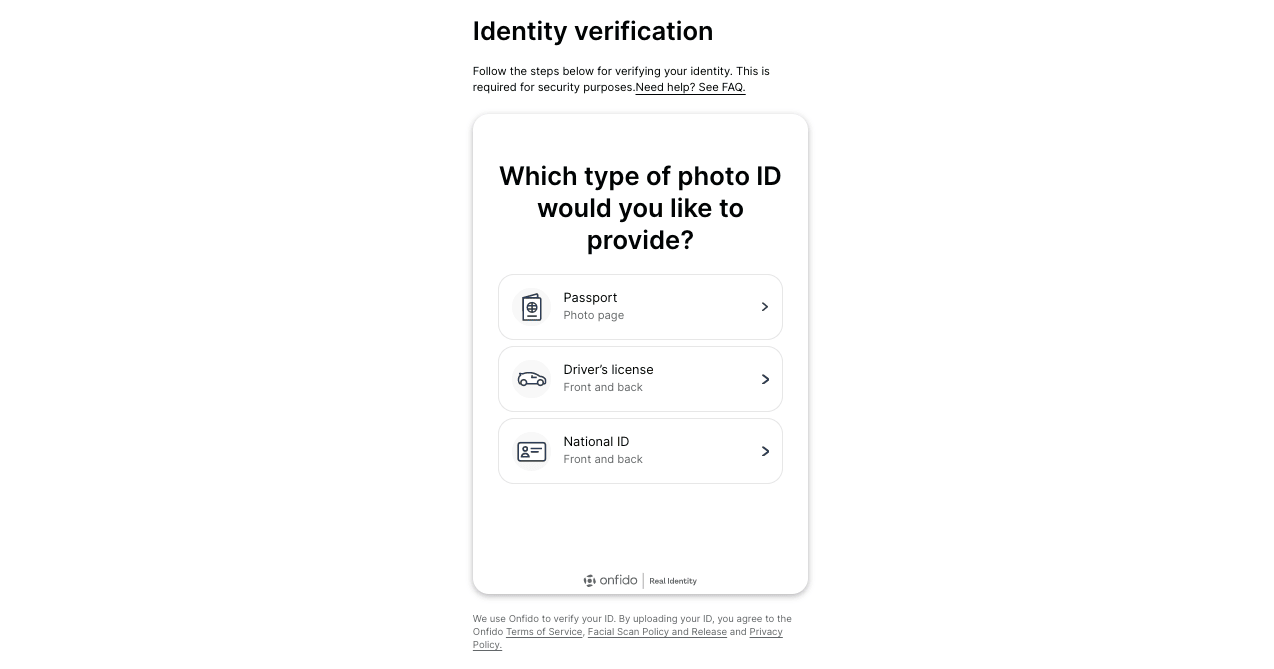 Select a photo ID type you want to upload.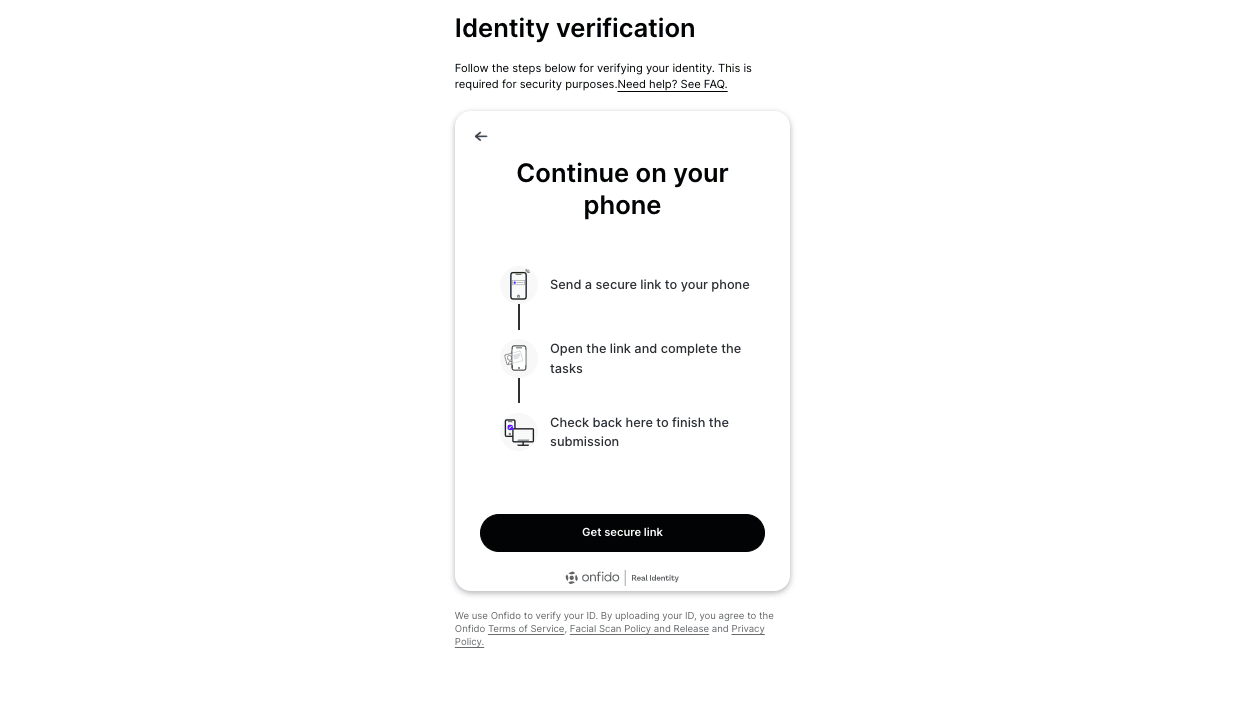 You can upload the photo via a secure link sent to your phone. Don't close this window while you upload the photo, and check back in once you complete uploading.
3. Deposit Funds/Crypto
Once you verify your identity, you can deposit funds to your Gemini account.
There are two ways to buy dogecoin on Gemini: with fiat currency or with cryptocurrency. If you don't have crypto funds on another exchange or wallet, you must deposit fiat to Gemini via a bank account or debit card to buy DOGE.
To make a fiat deposit, click on the "Account" tab on the top left. Select Payment Methods on the left panel.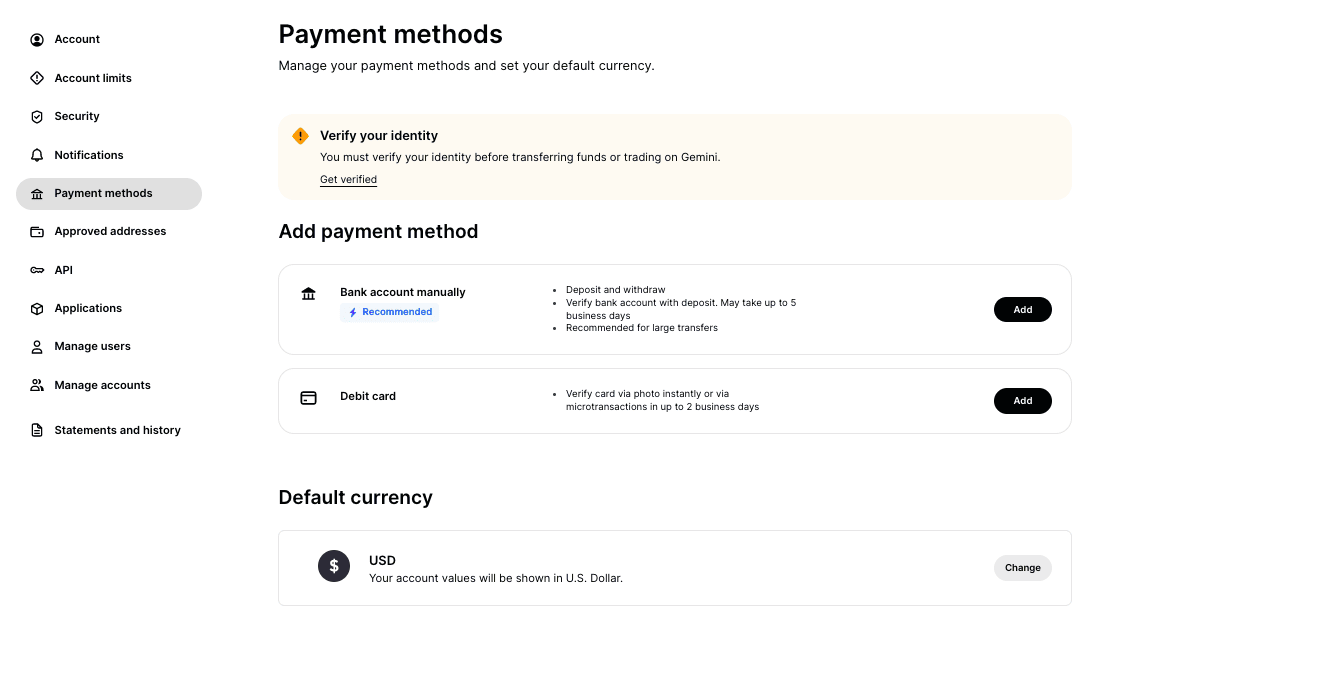 You can either add a bank account manually or link a debit card to your account for your purchases.
Select the debit card option and click "Add."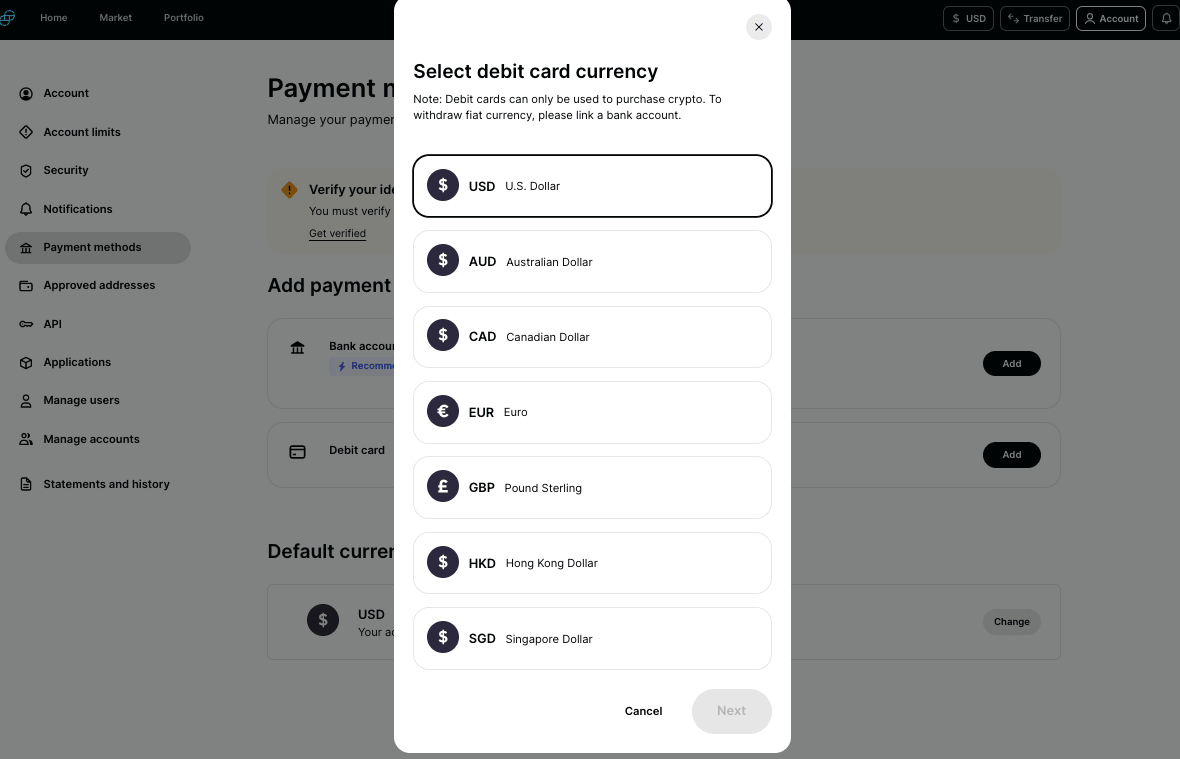 Select debit card currency and click "next."
Enter your billing address and click "next."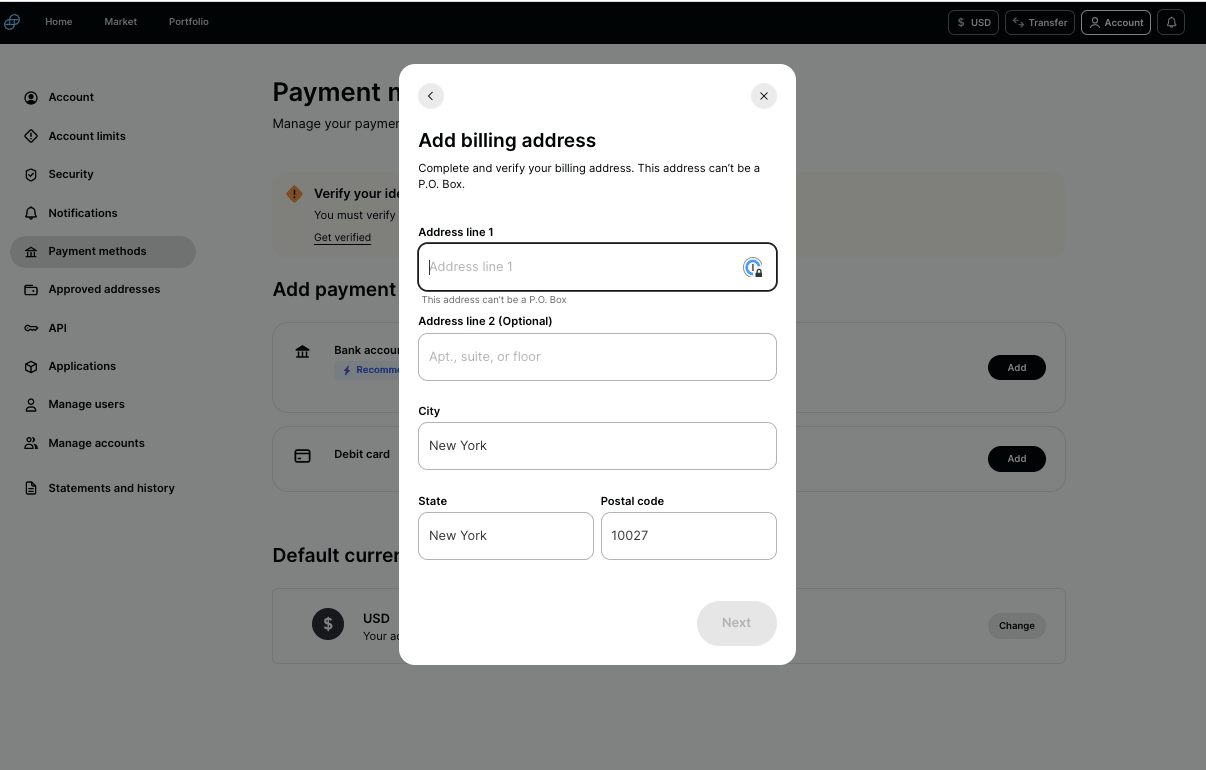 Enter your full address and click "next."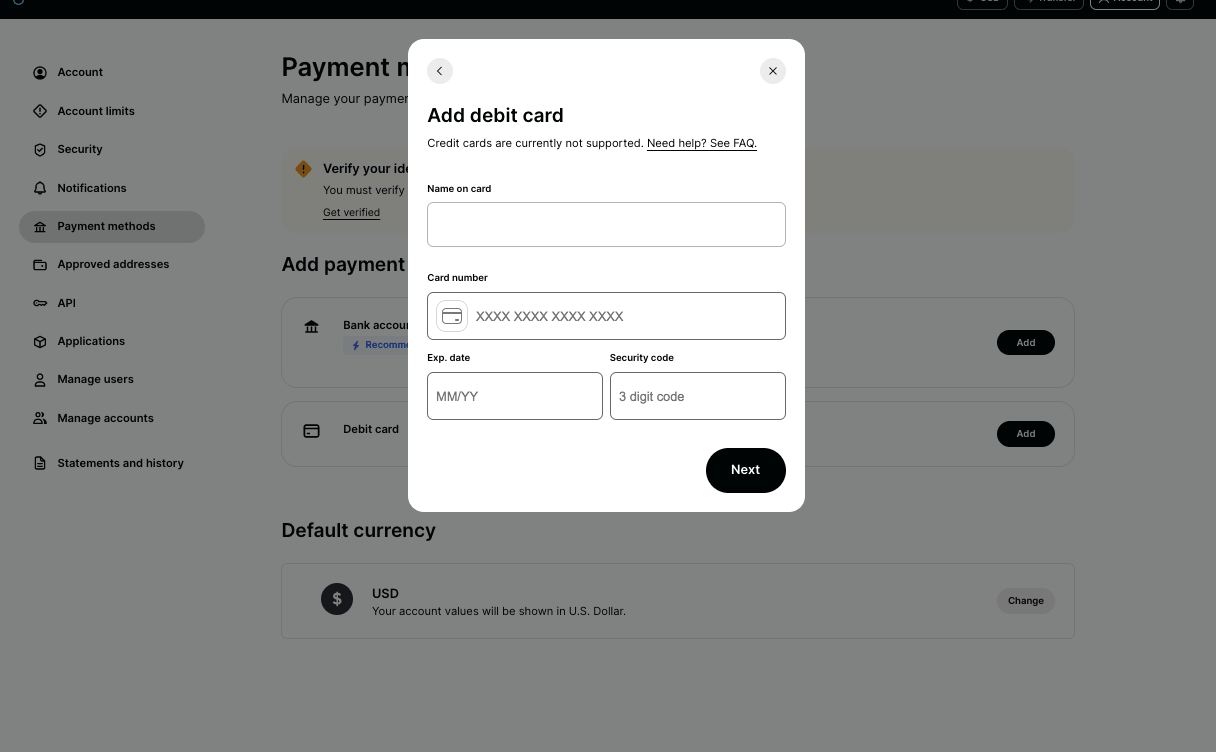 Enter the name on the card, your card number, expiry date, and security code. Click Next, and you'll be prompted to verify your card. There will be two microdeposits from your card to your Gemini account worth between $0.99 and $1.99. Once you confirm the charges, the amount will revert back to you.
Once you successfully add a debit card, you can easily fund your account with fiat currency.
4. Navigate to the Relevant Screen to Buy
On the Gemini Homepage, select the Market tab.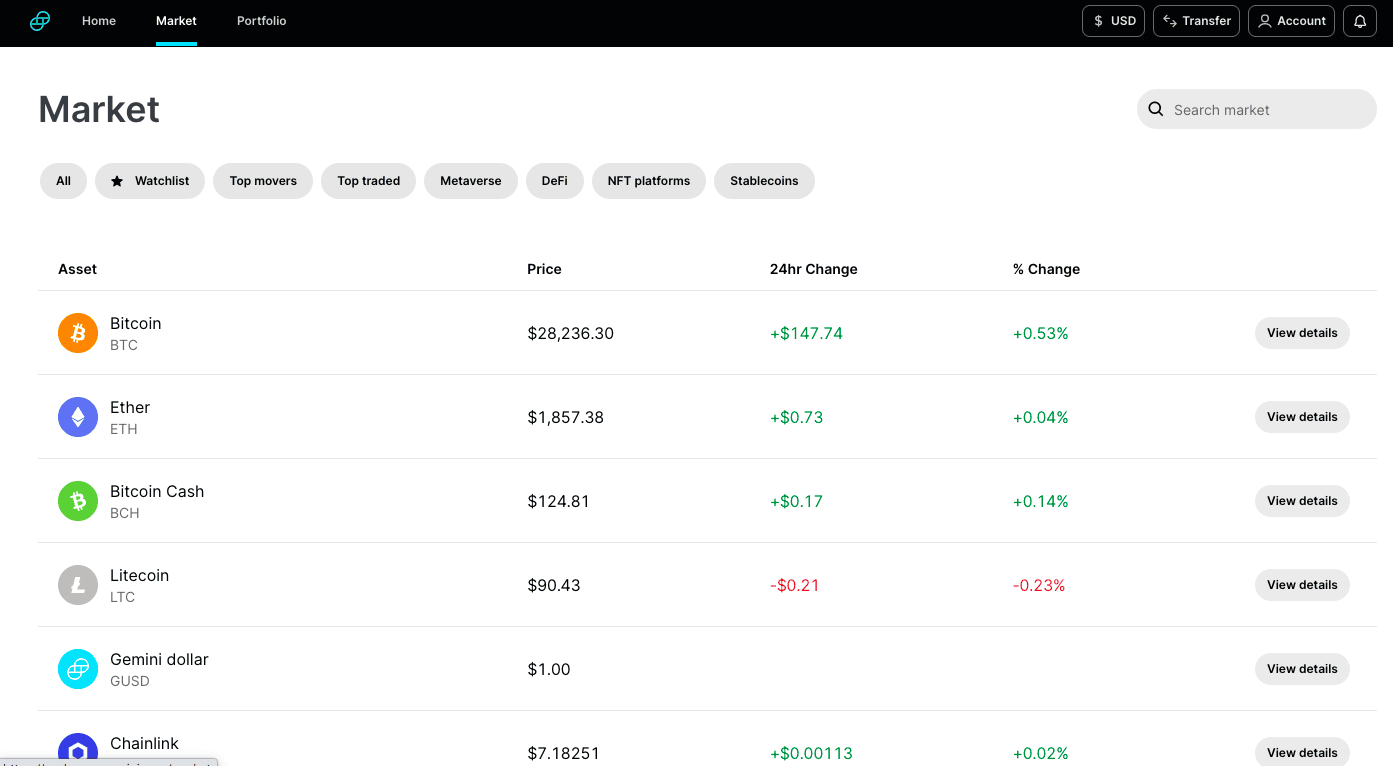 Search for DOGE on the search bar.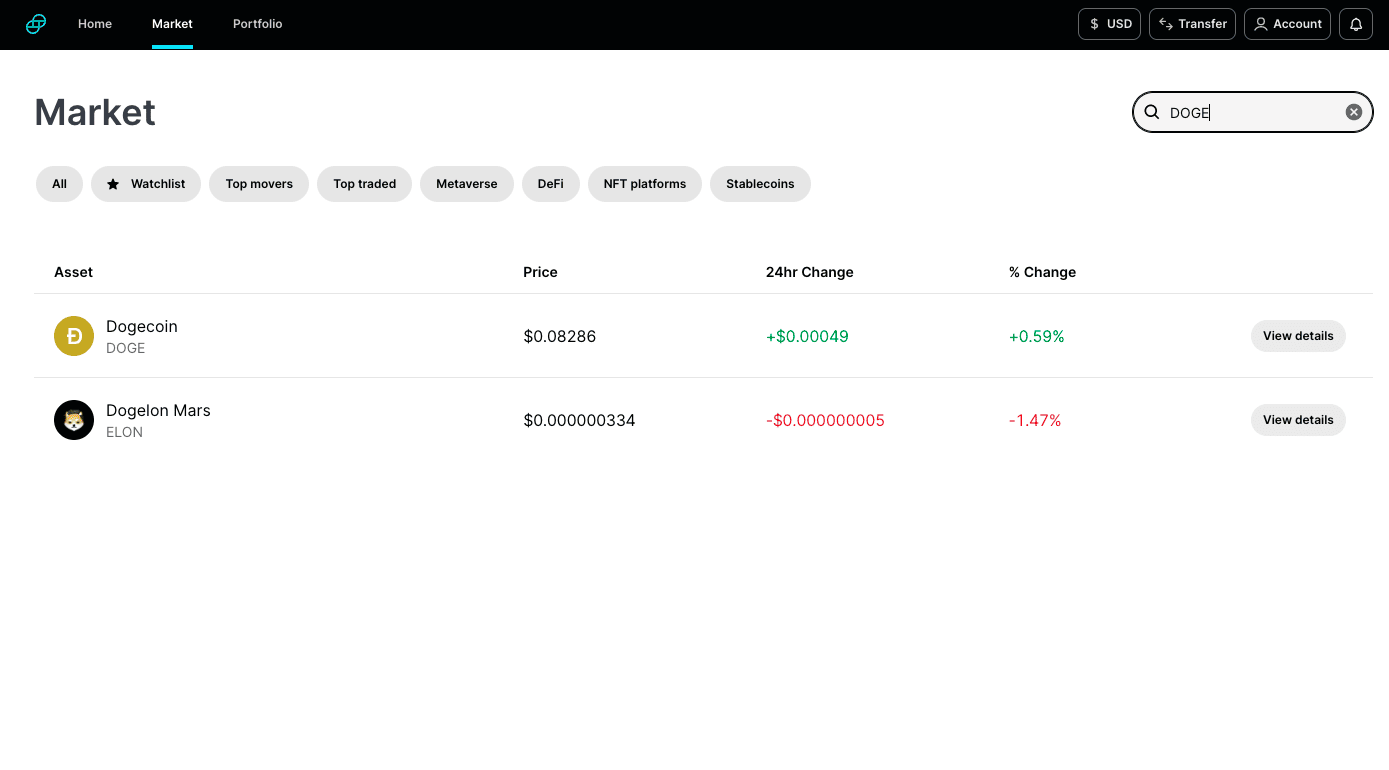 Select Doge and click "View Details."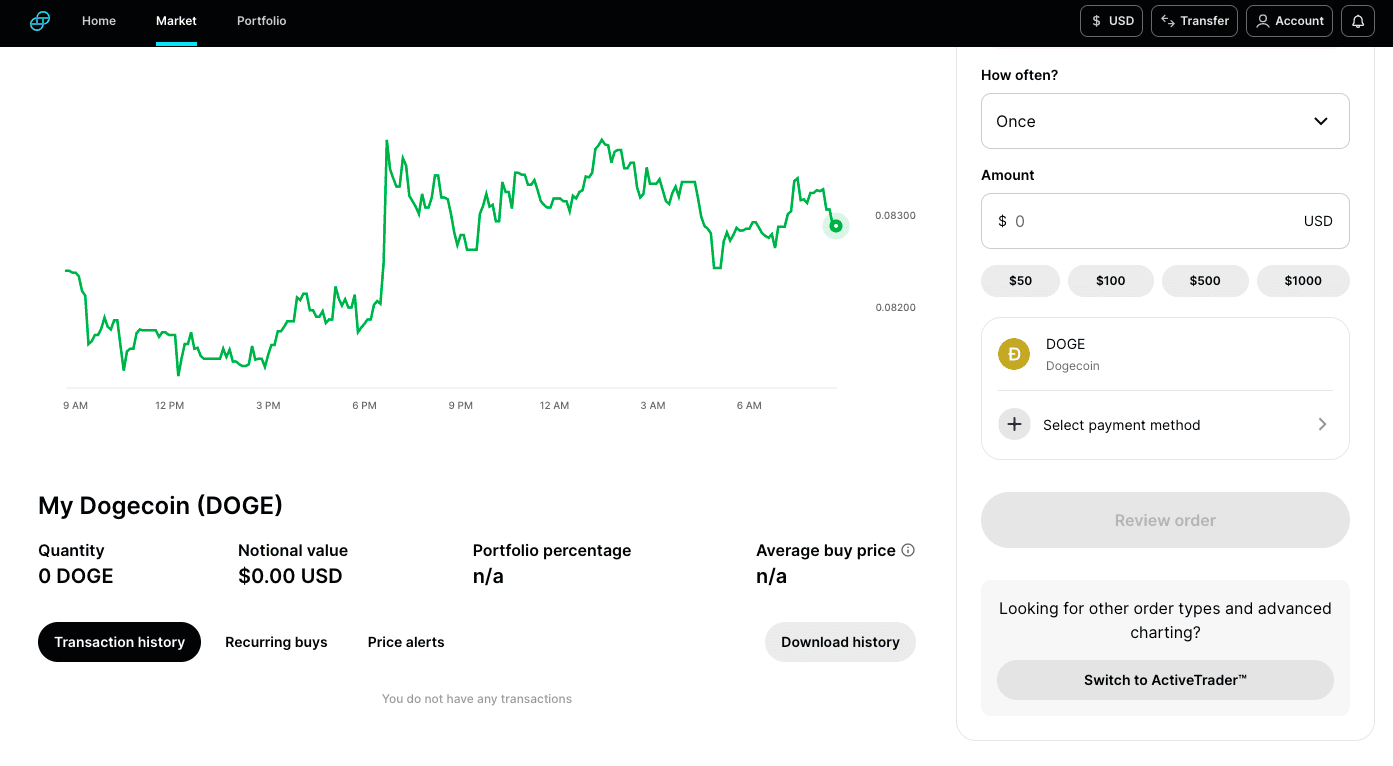 On this new page, you can buy DOGE and view real-time DOGE price and price history and set up price alerts. To set up a price alert, click on the bell sign in the top right corner. You will receive an alert when a significant price change occurs, or you can set up a custom alert.
To buy DOGE, fill in the details of your order on the right panel. You can make a recurring buy or a one-time purchase. For your first order, select "Once."
Enter how much you want to spend on DOGE in the "Amount" box.
Finally, select a payment option. If you have already added a debit card or a bank account, you can select one of those. If you haven't added a payment option, click on "Select Payment Method" and enter your debit card information.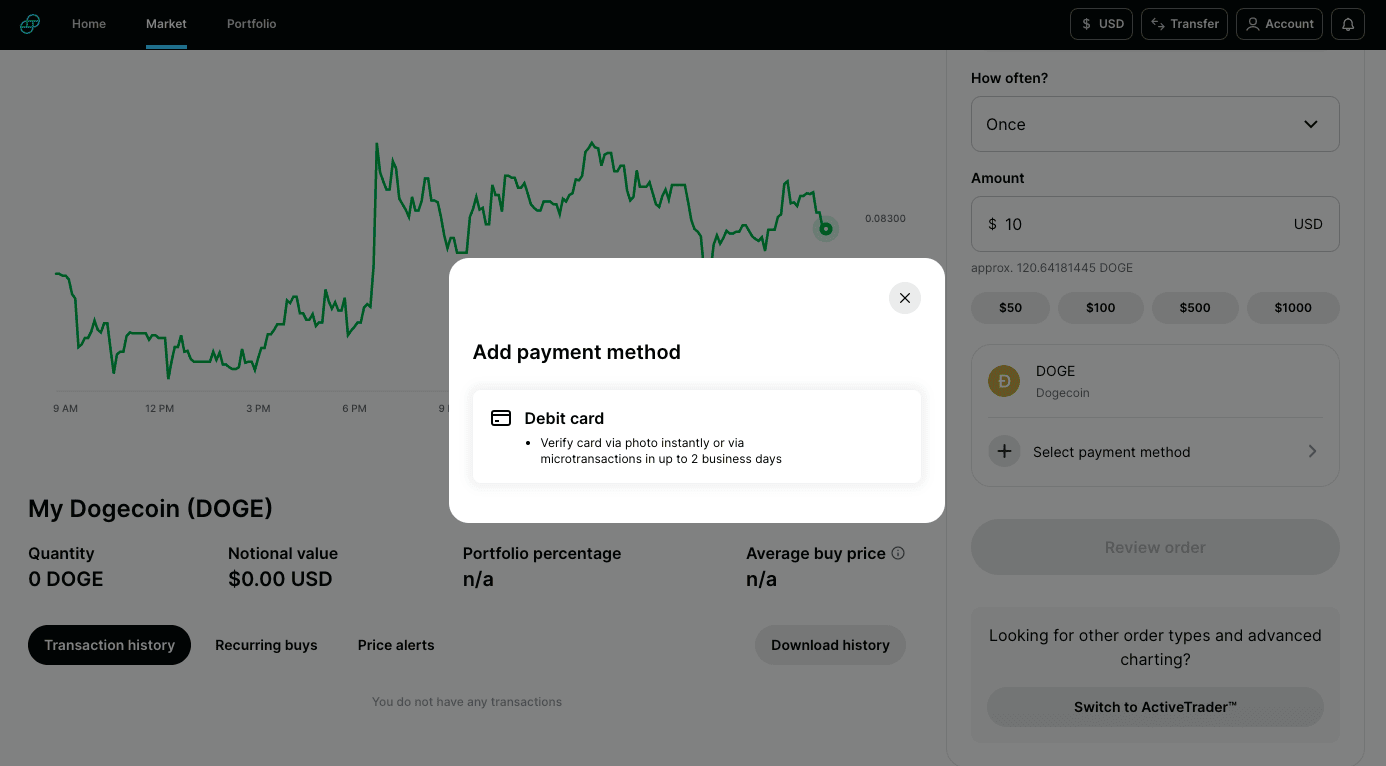 Once you are done, click "Review Your Order" and hit "Confirm." Congratulations bought Dogecoin on Gemini!